Last Updated on May 14, 2021 by NandiNN
How to make 5000 a month
I remember when I first started this blog a little over 4 years ago and all I really wanted to do was just to make 5000 a month and call it a day!
Then I switched directions after achieving that goal and all I wanted to do was help other women entrepreneurs reach the same goal too!
In fact, let's take it back to when I first earned my first few dollars.
It was only $84 and I was so determined to grow fast that I took in everything I saw on Pinterest just to help me become successful!
I even outlined everything I did to make my first $100 with my blog right here.
I actually owe most of my blogging success to these female entrepreneur blogs.
And as of today, I still follow them.
I remember constantly staying up late, every single night reading every tip they suggested, and implementing them the best I could just to help me get one step closer to my dream.
My mission at the time was to learn how to make 5000 dollars in a month!
I love blogging because it has given me so many opportunities to grow and help others as best as I can.
I can tell you for a fact that I have grown so much more as a person and as a blogger since those days.
Ladies Make Money Online now focuses on teaching other female entrepreneurs like you how you can make money online and become a full-time blogger.
It could be with a blog, a side hustle, or an online business of your choice. Either way, blogging is something I am totally passionate about.
Be sure to check out this post where we outlined over 32 ways to make money from home.
But if you have a blog and you want to know how to make 5000 a month online, then this post is for you!
Blogging for money is definitely possible and we are going to show you how.
It's time to become more strategic than ever if you plan to make 5000 fast with your blog!
Blogging is a never-ending journey and you definitely need to continue to tweak that strategy as you move forward.
Something that worked 3 years ago, like getting easy traffic from Pinterest, is now a little harder these days.
I am not saying that it is impossible but it requires a more strategic plan than what was done back then.
In fact, the other day I was aimlessly scrolling in a few amazing Facebook groups for bloggers that I am a part of, and this new blogger mentioned that she was aggressively focusing on Pinterest.
And in just 4 months, she was getting 25K sessions and she was on track to get over 90K sessions in her 5th month of starting a blog!
I asked her what her niche was and it happened to be in the beauty and lifestyle niche.
She also invested in one of the best Pinterest courses out there for bloggers to get those epic results.
So Pinterest still works, but you need a plan.
If you are here because you really want to know more about how to make $5,000 a month working from home online or with a blog, I am glad you landed on this page.
Today we will be focusing on these things:
Tips for making 5000 a month online

How to make 5K a month blogging

How long it takes to earn 5000 per month

And can you make 5000 a month with a small blog?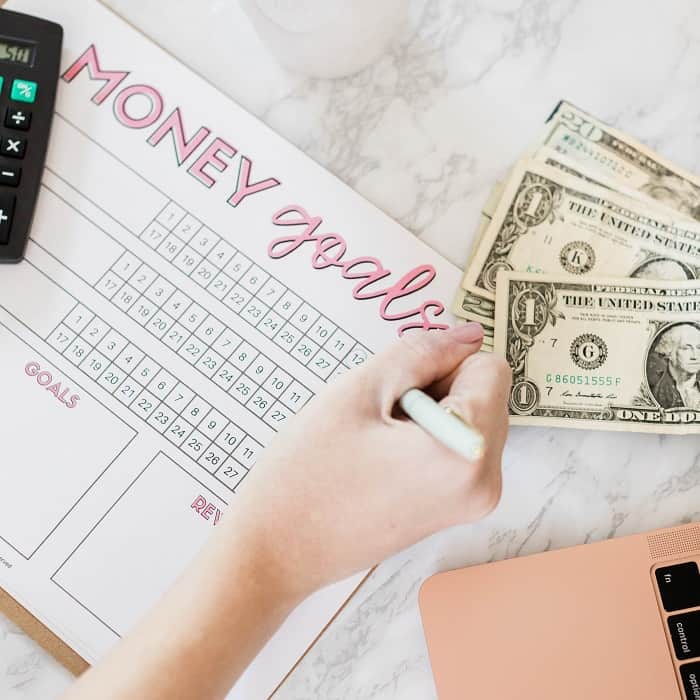 How can I make 5000 a month blogging?
Before we get started with our best tips on how to earn 5000 per month, we did want you to follow us on Facebook for more awesome ideas for monetizing your blog. You can also follow us on Instagram for more tips.
We also wanted to take the opportunity to let you know that we use Affiliate links on some of our blog posts. This means that we could make a commission if you click on an affiliate link and purchase something. Read our full disclosure and blog policy for more information.
How I planned to make $5000 a month from home with my blog
For the longest time, I was really inspired by all the fascinating stories of how bloggers were earning several thousands of dollars a month blogging.
I knew I wanted to be just like them.
My goal was honestly simply to learn how to make $5000 a month online with my blog and that was it.
And that's when I embarked on my journey of starting a blog from scratch in the hopes that I could make even just $800 a month from it.
That would be a great start for sure!
Obviously, the first step to making 5000 a month online with a blog is to first have a successful blog that you can monetize.
For that, you need to sign up for my free 7-day blogging course on exactly how to start and set up a profitable blog from day 1!

Go ahead and create your blog, this post will be waiting for you.
All you have to do is have the courage to start a blog, and you will be well on your way to working from home and earning money online while being able to spend more time with your family and friends.
Now that your journey on making money is well underway, I am going to show you exactly how I was able to make $5000 over a month with my small blog.
With a lot of hard work, I was able to make money with my blog and now I make over $5000 per month blogging.
I documented my actionable tips on getting a blog from 0 to $5, 000 in my book!
Blog Income Strategies Simplified has over 60 strategies and tips I use on my blog each month to ensure it continues to be profitable.
If you are ready to start making money with us, keep reading.
We are going to show you how to make $5000 fast even with a small blog.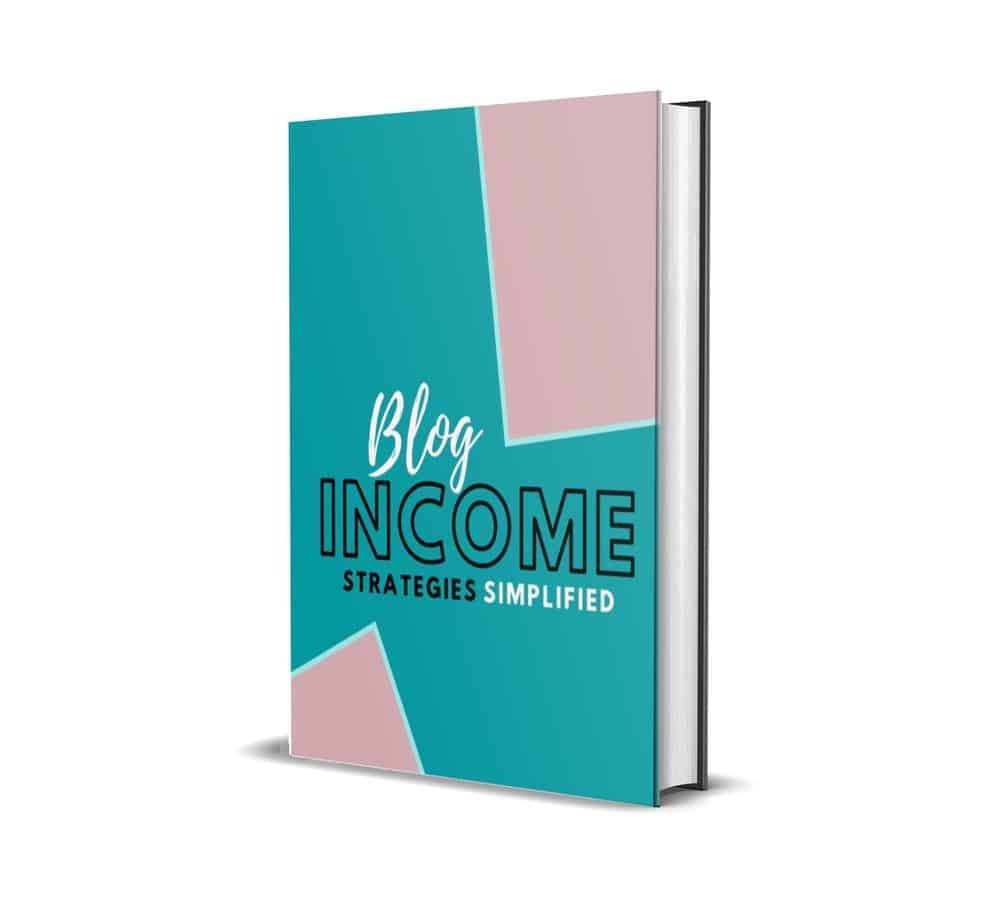 Tips to make $5000 a month working from home
Please remember that there are several ways to make money working from home.
If affiliate marketing or sponsorship is not working for you as a blogger, find other ways to substitute your income until other things start to fall into place.
We have pivoted, changed our minds, and used other methods to make money online from home.
And you can do the same.
At the end of the day, you have to do what works for you.
When I decided to learn how to make 5000 a month from home, there were plenty of options available to me.
But I stuck with what I knew best and that was blogging.
And I used all the steps below to make a full-time income blogging.
But as I said, there are plenty of ways to make $5000 fast from home.
For example, you can offer:
All these can have you making $5000 a month from home in no time.
The quickest way to make 5000 dollars is by offering services (or selling digital products).
Just add a service page to your site and outline exactly what you can do.
I know so many big bloggers that used to and some still continue to offer certain services to help make money each month.
It's a wise thing to do especially if you are just waiting to make a huge amount of money with your blog.
You need to adjust and work with things that make sense for your blog. In order to be successful and start making money blogging, you need to have a great plan.
That plan must be solid.
Ready to see how I make 5000 a month?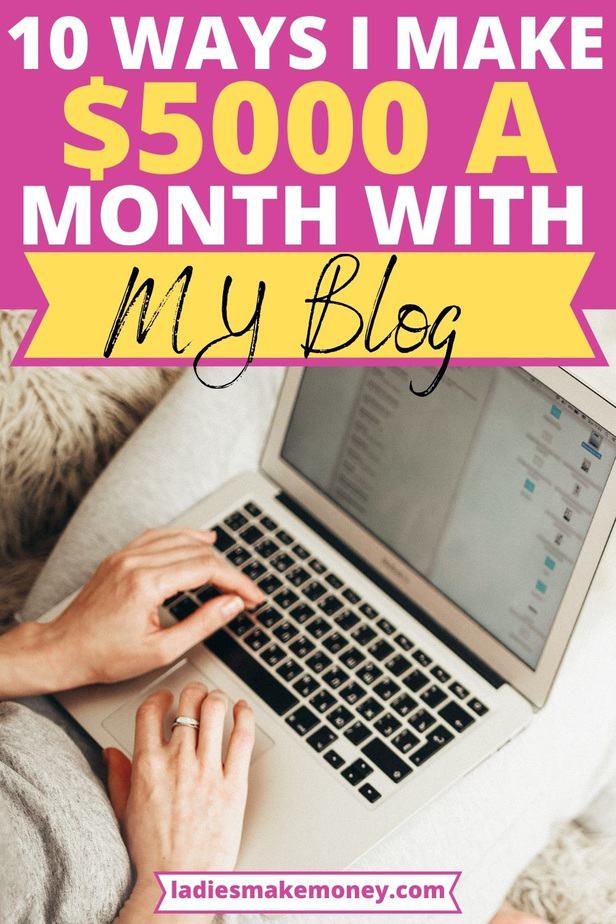 How to make $5000 a month online with a little blog
You will also need a great list of the best resources and tools that can use daily to help you grow your blog.
You can find all the tools I personally use to make an income from home using this blog right here!
I am going to share with you some of the best things I personally did with this blog and my other blogs to make over $5000 a month online from home.
The steps below really played a huge impact on me seeing consistent income seating in my PayPal accounts every single month.
I am hoping you can follow along, implement, and get the same results.
And obviously, tweak it so it works with your own niche.
1. Having A $5000 A Month Blog Plan
I will touch more on how to set up attainable blogging goals below, but the best way to make $5000 a month with a blog is to have a solid plan and strategy in place.
There are a number of ways to make money with a blog and you will definitely need to sit down and come up with how you personally would like to monetize your blog.
I listed over 10 ways bloggers make money right here!
Have a read and pick at least 3-4 ways you will actively monetize your blog.
For this, you will need a great blog planner where you will record everything in order to stay on track.
If you want to ensure that you make 5000 fast, I suggest grabbing this blog planner by Suzi of Start A Mom Blog today.
I found it completely useful for my blogging journey!
It is a 12 Month Blog Plan which outlines how to go from $0 to $9,000 per month!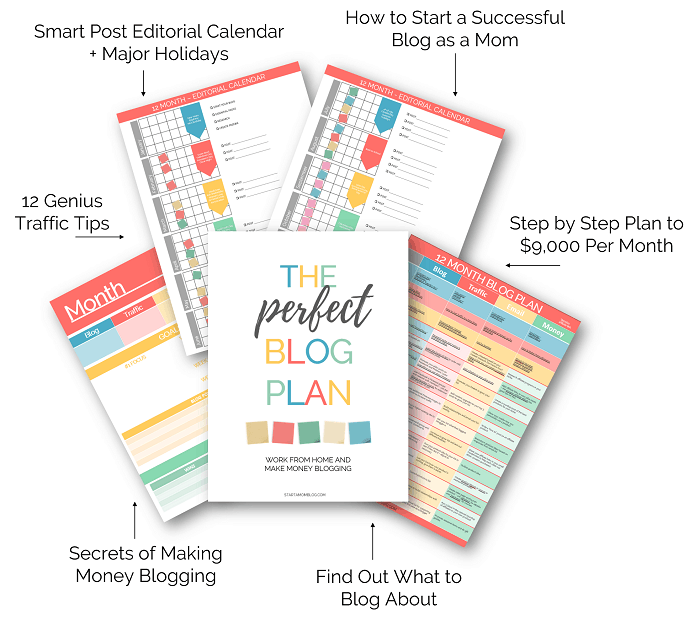 This planner will keep you right on track to help better monetize your blog for success with little effort.
It's one of the things I followed in order to learn more about how to make 5000 in one month.
Suzi is really amazing and will clarify a lot of things for you.
2. Creating Quality Blog Posts
Something else that really helped me make 5000 a month consistently was creating quality content consistently especially at the beginning of my blogging career.
The whole reason I got into blogging was to write so I could share my story.
The catch here is to create and produce quality content that readers just click over to read each week.
By offering great value to your readers, means they will come back frequently, share your work and it will also lead to higher conversion, and more money.
Here is a YouTube I found interesting that you might also resonate with.
After watching this video I decided to get to work.
So I created an epic list of about 28 to 29 high-quality blog post titles that I was going to pump out on my blog immediately.
This meant researching quality keywords that I could actually rank for and ensuring my posts met the user intent perfectly.
Writing 3000 to 3500 words was a lot of work but completely doable.
I used the exact strategies Mike outlines in Stupid Simple SEO to find quality post ideas that will help speed up the process.
Mike used SEO to build a niche site to making over $200,000 with the Amazon Affiliate program!

That's insane!
Read this next: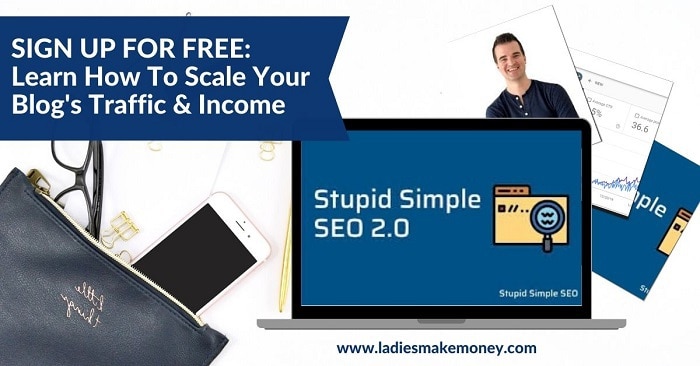 Just creating epic content won't do the trick if you want to make 5000 a month blogging.
You will also need to build backlinks to those posts to ensure they rank well on Google.
I think that this was the one step I was missing when I first started blogging.
Thanks to Debbie Gartner, I now know how to create easy Backlinks for SEO!
And with her simple strategies, I was able to grow really fast.
Learning how to make $5,000 a month from home online requires a lot of moving parts that typically all come together.
3. Monetizing Your Email List
Another fantastic way I make money from home using my blog is through the use of my mailing list.
Let me say this, you do not need an email list to start making money online.
I know of plenty of bloggers that have successfully made money without a list.
It just means that they had a solid monetizing strategy in place that did not involve starting an email list.
An email list has given me the opportunity to email my readers directly and this is how I make the bulk of my income.
Since implementing a solid strategy to earn 5000 dollars per month, I found that email marketing worked best for my audience.
I send out weekly emails that give value as well as those that promote my products and favorite affiliate programs.
The first time I attempted to grow my list I failed miserably.
Then I came across some free training from ConvertKit that helped me really grow my list.
You can find a list of all their free training here.
When I made my first $300 just by emailing my list, I knew that this was the way to go for me.
It required so little effort and yet the reward was a lot.
In order to grow, create an easy passive income stream, and get your freedom, you need to have an engaged email list full of people who will become your future buyers.
How exactly can you make money with your email list?
This is where Kate Doster saved me.
I signed up for her free course where she shares exactly how to flood your email list with 100's of new subscribers eager to throw their credit cards at you.
I knew if I wanted to make 5000 a month with my small blog, I needed this freebie in my life.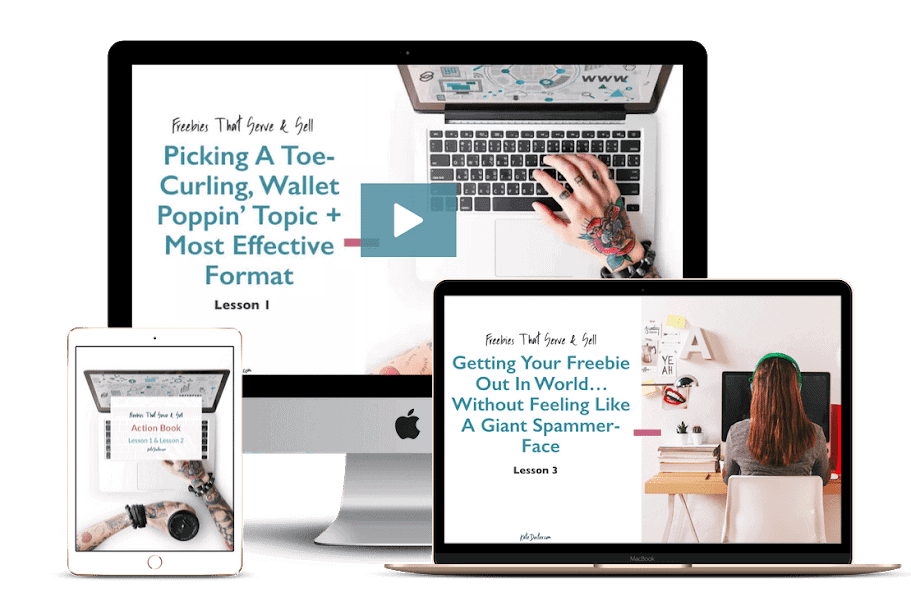 If you have a small blog (meaning no blog traffic) and you really want to earn 5000 per month online, then you need to sign up for this workshop today!
What if you have a great list but you do not know what to send them to actually make money?
Then you grab this now:
4. Getting My Blog Noticed
Another huge thing that I did to ensure I was making money with my blog consistently was to get it noticed.
If people do not know that you exist then how can you make any money?
Working on increasing my blog page view was the next step I worked on to ensure I was able to make money with my blog.
Increasing your website traffic is not as easy as it used to be but it will definitely help you make 5000 fast.
Please note that you do not need a lot of blog traffic to make money online with a blog.
You basically just need to drive the RIGHT people to it and if you have the right monetizing strategies in place, you can make money even with little blog traffic.
Learn exactly how this blogger was able to make $10k+ a Month with Just 10,000 monthly blog visitors!
How?
Because they had a monetizing strategy in place that worked well for them.
So how exactly can you get your blog noticed to help with making money?
You need to be consistent with your blog content creation

You need to use the right keywords to help you rank on Google

You have to focus on On-Page SEO optimization
Don't forget about building easy backlinks

Improve your domain authority

Network with other bloggers, directly and indirectly, related to your blog
You can find over 21 ways to get your blog noticed on this post!
The steps in that post helped my blog and brand grow which led to more email list sign-ups and more money for my blog.
Related: 10+ Places to promote your blog for free for massive blog traffic
5. Improve Blog Speed
For the longest time, I was ignoring my blog speed and that stopped me from making money with my blog.
Most people will exit your website if it does not load in 3 seconds or less.
This meant I was losing out and also Google hates it when people hit the back button.
This tells them that your blog is not good enough and it will stop ranking it.
So I knew I couldn't ignore it any longer.
When I run my site through the GTmetrix, I knew I had to change something. My blog speed was just horrendous.
Naturally, the images were taking up a lot of space so I got ShortPixel on my site to compress my photos!
But all the other tech stuff was just impossible for me to do.
I even checked my website on Website Grader and I really felt discouraged.
But then I hired Renee and she worked a miracle on my blog for a very affordable fee.
I am finally happy.
Check out her website here for more details.
6. Earn $5000 Fast with Product Creation
I have heard it being asked all over Facebook groups:
How can I make $5000 fast?
I talked about list building, creating quality blog posts for readers, and finding ways to get your blog noticed to increase your blog income.
These are my foundation for a great blog strategy!
As soon as you can get all those lined up, I think your blog can really start making money.
But adding product creation to the mix can really boost your income which I know helped me a lot in meeting my $5000 a month blog income goal.
If you want to stop depending on traffic for income, do this instead!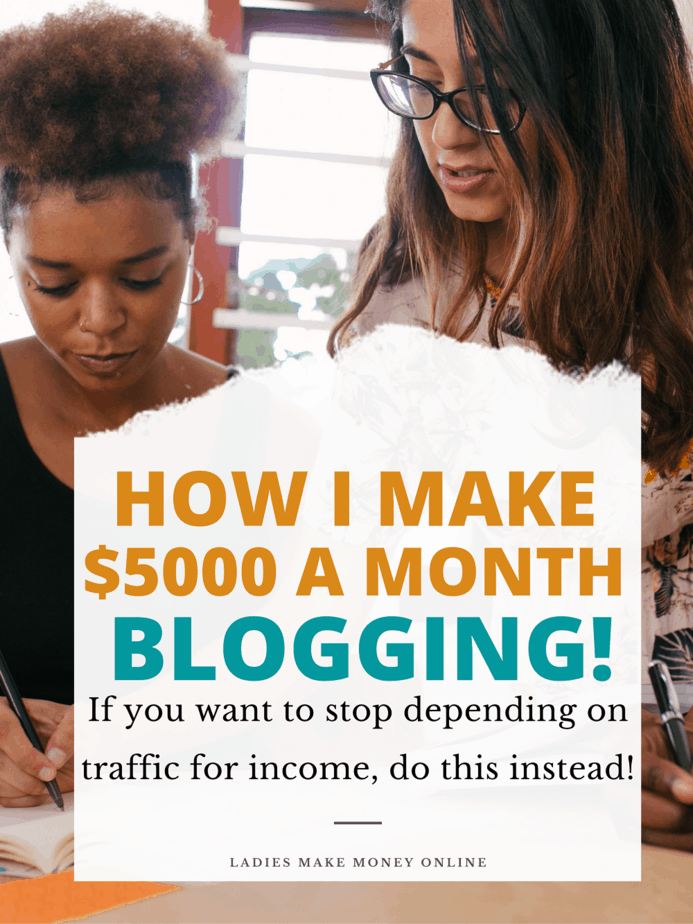 If are you serious about making money you need to sell products you create and control.
Here are a few profitable products you can create to make a profit:
Checklists

Calendars

Planners

Trackers

Templates

eBooks

Workbooks

Worksheets
Printable products are one of the easiest ways to make passive income with your blog.
I use Canva Pro, Google Slides, and PowerPoint to create my digital products!
If you are not sure where to start when it comes to this, you can learn the five steps to creating products your readers will want to buy right here.
More ideas to increase blog income: Read how I use these 7 Strategies to Boost Blog Income Every Month
7. Make 5000 Fast Promoting Quality Affiliate Products
The only way to make good money using affiliate marketing is to promote great affiliate products.
If you are getting clicks on your affiliate links but not making any sales then you are leaving money on the table.
Most bloggers are guilty of this.
It's time to get your affiliate marketing in check by using the strategies Carly teaches.
Anyone can stick a link in a blog post.
To get that link to make money though is another story. I thought I was good at Affiliate Marketing until Carly made me understand it better.
Affiliate Marketing for Bloggers is an eye-opener and is perfect for those struggling to make a decent income on the blog via the use of Affiliate links.
If you want a comprehensive course that walks you through the ins and outs of affiliate marketing, this is it.
The course dives into everything you need to know about making money as an affiliate, both through your blog and through email marketing.
Once you know how to properly use affiliate marketing on your blog, you will need quality affiliate products to promote.
Here are a few awesome affiliates I have had great success promoting over the last few years as a blogger earning 5000 a month:
Selling digital products is the easiest way to earn 5000 dollars per month hands down!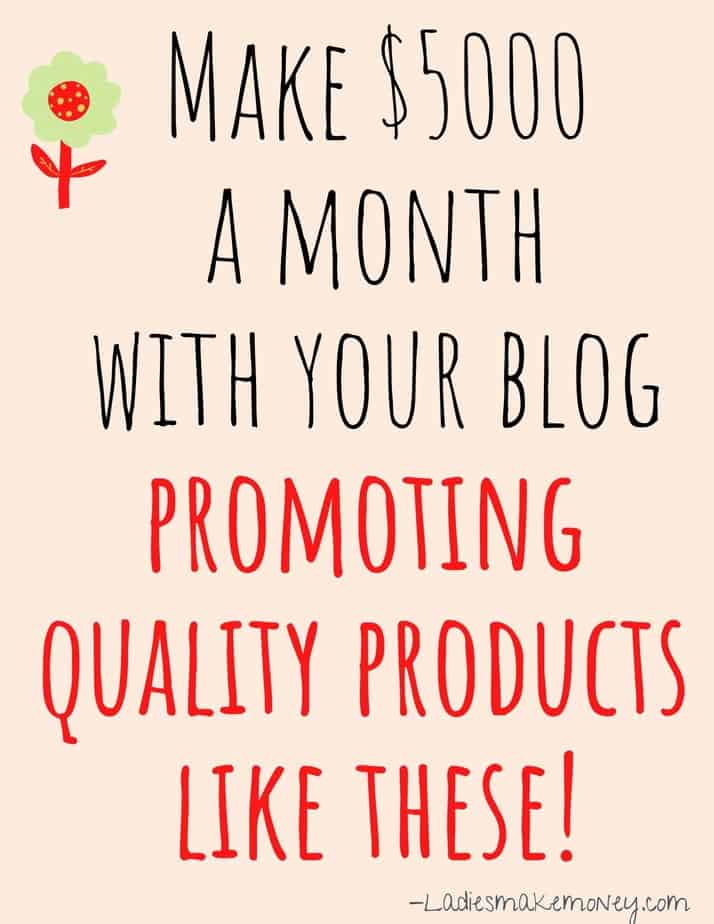 If you want to make $5000 a month blogging, I suggest breaking it down into attainable goals.
Don't chase blog traffic as most bloggers do.
You can make money with your blog if you have a solid monetizing strategy.
Product creation (such as selling printables, eBooks, planners)

Sponsored blog posts opportunities

Offering coaching services or other services such as writing

Affiliate marketing is huge and it has helped me make thousands each month
8. I earned $5000 a month online by creating multiple Income Streams
My plan early on in my blogging career was to create multiple streams of money-making ideas so that I wasn't relying on just one thing.
Everything is so unpredictable.
For example, social media traffic could all disappear with just one click tomorrow.
In fact, this happened to me this year when Pinterest decided to suspend my account for spam.
I really do not spam but it took over 1 week to get my account back.
Do you know how much income I lost that week? (Enough that we do not speak of it ever!)
I had to up my email marketing plan that week just to try to close the gap.
The best way to make 5000 a month from home with your blog is to diversify your income streams.
Here are the main ones I typically focus on:
Product Creation

Affiliate Marketing

Email Marketing

Ad Network

Sponsored Blog Posts
I do the first 4 a lot more than I focus on Sponsored Blog Posts but that is about to change thanks to this.
Here are my top two products that I sell actively on my blog -The Blog Income Strategies Simplified and my popular Canva Pinterest Templates for Bloggers.
These are the templates I use to get over 150, 000 page views with my blog each month!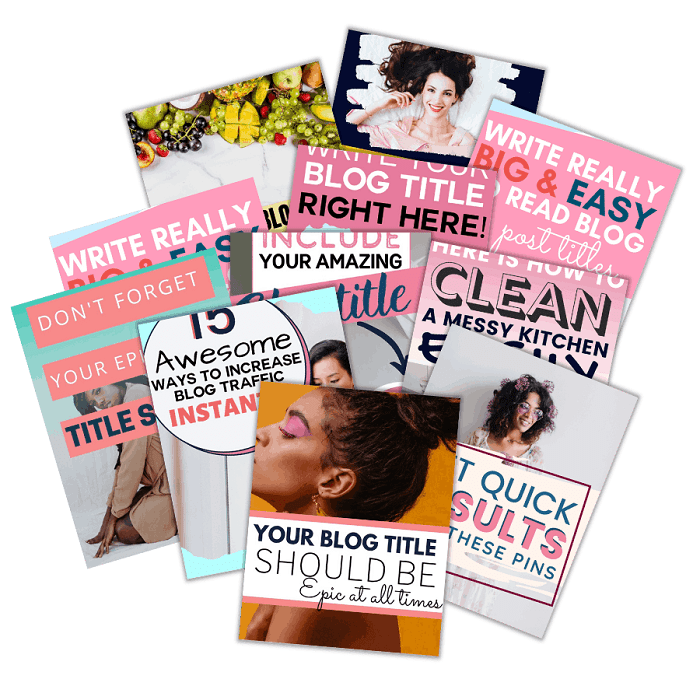 9. Learn to Make Money with your Blog from Pro-Bloggers
If you want to make a decent income with your blog, you need to study and learn from pro-bloggers.
I let almost 3 years go by before I was able to earn a decent living with my blog.
Things definitely changed when I finally decided to invest as well as to learn from other bloggers in my niche.
Just taking that simple step, things started to make sense right away.
This alone attributed to me making a huge amount of money blogging each month.
Know only did I learn how to make 5000 in a month with a small blog, build last relationships with these bloggers.
Here are the resources from pro-bloggers that helped me the most:
I have taken and read every single one of these, and that led me to make $5000 a month pretty quickly!
10. Make an extra 5000 A Month by Creating a Realistic Strategy
In order to make money with your blog, you need to plan it all.
This means sitting down and writing down exactly how much you want to make each month and exactly how you are going to make that.
If you are going to create products, how much will you sell them for and how will you promote them?
Plan it all and ensure it makes sense.
Here is a little blog income plan you can create for yourself if you want to seriously make $5000 a month: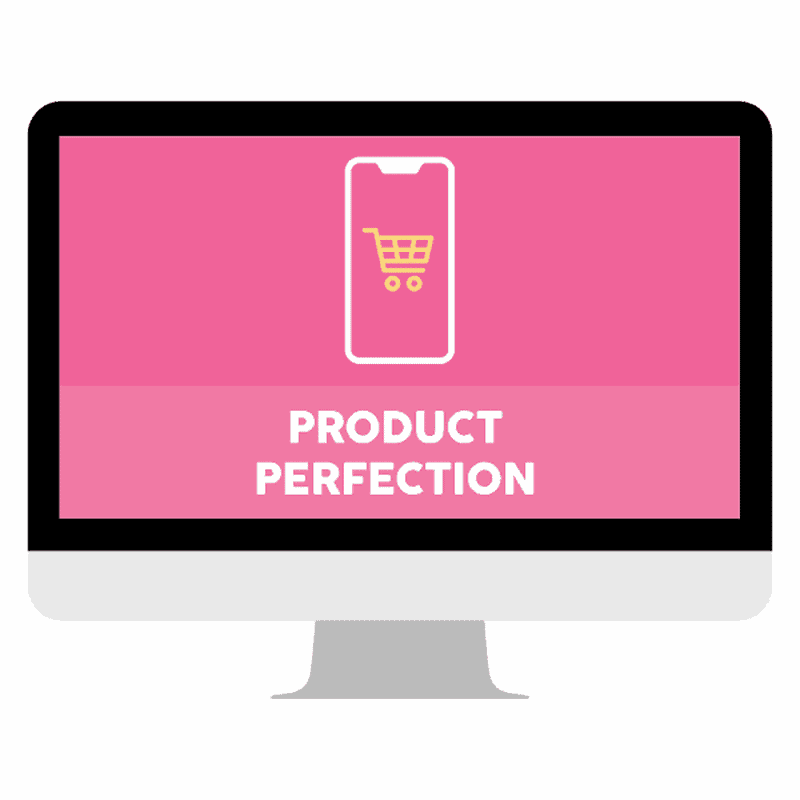 Related: Brands to Join to make money online.
I hope you enjoyed our breakdown on how you can make $5000 a month online using your blog.
You can switch up the plan to make it work for you, this is just an idea.
The plan is to set up attainable blogging goals that you can achieve easily.
Now that you have my best tips on how to earn 5000 per month, will you get to work?
We want to hear about your success below.
Are you making 5000 a month?
If you are making $5000 a month, tell us how you are doing it below.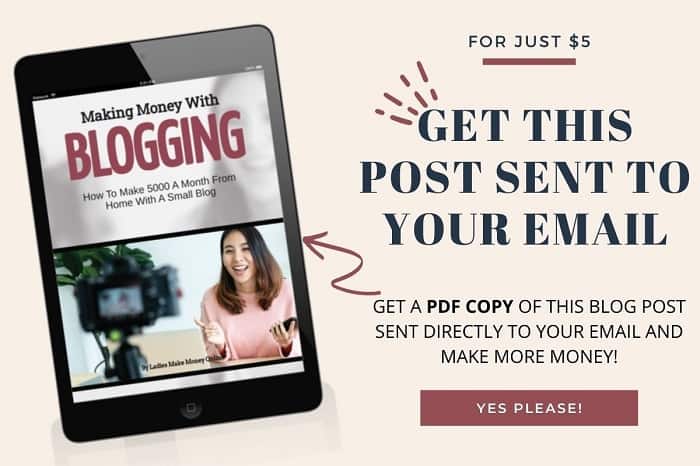 If you would like a PDF copy of this post, you can purchase it here for $5.00!
This way, you have it on hand should you need it to help you work on your blog and start your journey to making $5000 per month online with your blog.
Related: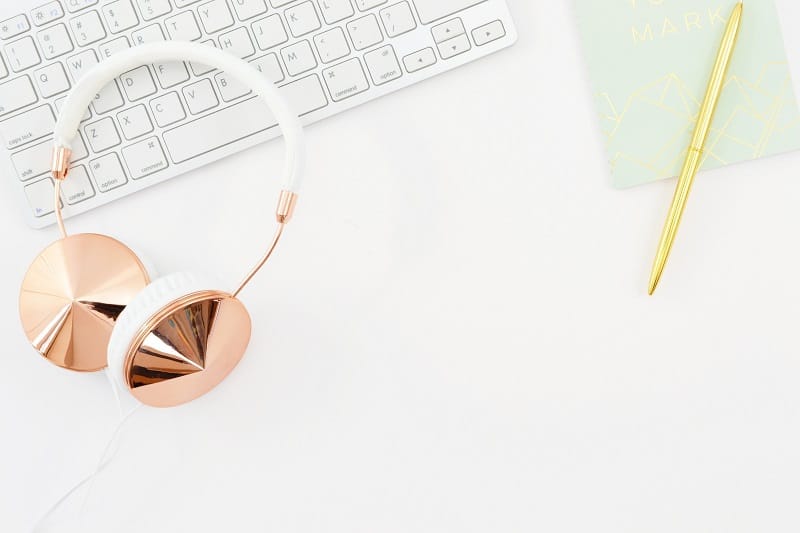 Other tools that helped me earn 5000 per month:
Including everything else I use in my blog resource page, these are the main tools I use to boost my blog income every single month.
If you are looking for ways to make 5000 a month quickly, definitely start with my blog resource page and the list below.
Shareasale affiliate program– This easy and free program is great for those looking into earning extra income with affiliate marketing. It's free to join and has a lot of great products you can promote as a blogger in any niche. If you want to know how to earn 5000 a month effortlessly, use Shareasale to find products that resonate with your readers and promote those.
Qualify for Mediavine Challenge and make 5000 a month– If you are ready to take your blog business to the next level and you are looking for ways to quickly qualify and get into Mediavine, then this challenge is really for you! Give it a try today – It's free! Once you get into Mediavine, you can make $5000 fast if you have the traffic.
Make money using affiliate marketing in the next 24 hours– An amazing course that will help you make money using Affiliate marketing within the first 24 hours of purchasing. I am still getting emails every day about affiliate sales that are coming through. It specifically focuses on using Pinterest as a way to promote your affiliate link.
Get your first 1,000 Email Subscribers with convert kit – Are you hoping to get your first 1, 000 email subscribers? You might want to sign up for the convert kit-free webinar! Get an actionable list-building plan you can start implementing today with Convert Kit!
Tailwind for FREE – Tailwind is one automation that has doubled my traffic with Pinterest in the last few weeks of using it. If you are not ready to invest yet, try it out for free and see how beneficial it can be for your online business. Pinterest is so much easier using Tailwind!
Grammarly – is the tool I use to edit my blog posts. It's the best proofreading tool I have ever come across and it is worth your while to sign up for it.
Making Sense of Affiliate Marketing– Want in-depth knowledge of how to make money using affiliate marketing? This course covers everything you need to know about affiliate marketing, including the different rules that apply to make your affiliate links legal. Learn the right way to promote your links on social media and more. It's perfect for new bloggers wanting to know how to earn 5000 a month!
Good luck on your journey to make 5000 a month!
Take the time to make notes and slowly start implementing the strategies outline in the post.
And in no time, you too will be making $5000 a month with your own blog.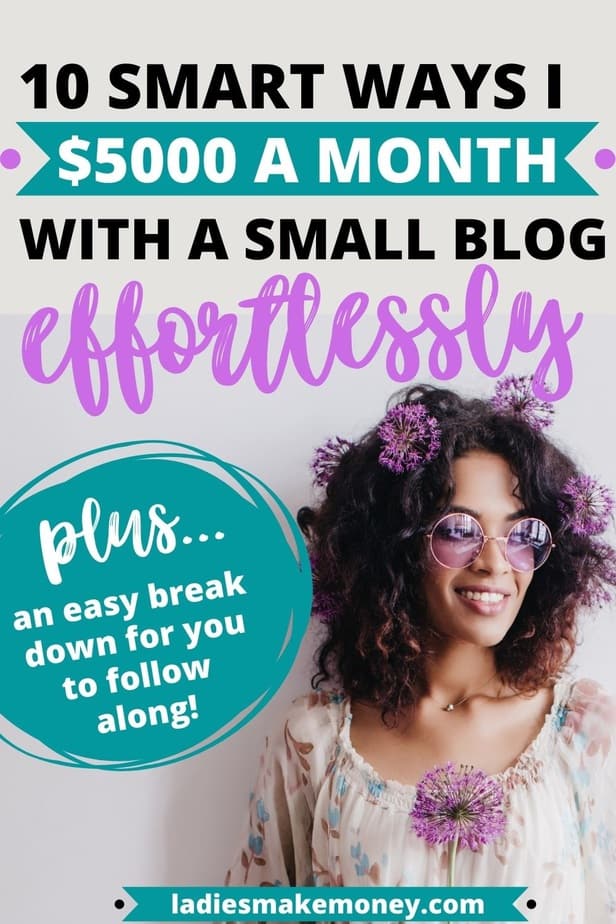 If you enjoyed our blog we would like to have you join our email list and receive weekly money-making tips, you can join now! Don't forget to like the Facebook page. The page is created to share your work, pitch your services, and learn from other experienced bloggers!
---
***We would like to note that this post and most posts on our blog may contain affiliate links. This means that if you purchase something that has an affiliate link, we will get a commission from it. Not all items recommended on our site are affiliate links. We only recommend items that we have used and tried. These items have brought us much success and we highly recommend them to you in order to be successful. Thank you for your trust!
How To Make 5000 a Month From Home With A Small Blog