Last Updated on April 2, 2019 by NandiNN
Turning A Hobby Into A Job
Are you thinking of turning your hobby into a money making side hustle or full-time job? What could be more fun than making money doing something you love, or teaching something you love?
That's the topic of this article today! How to turn a hobby of yours into a money making machine!
This is a pretty daunting task for a lot of people because I find people are generally confused on what steps are needed in order to make money with a side hustle.
I want to share my top 9 steps you need to take in order to build an online business based on something you love. These steps will give you guidance on what the landscape of making money on the side looks like.
You can start this after your day job and on the weekends! It's incredibly exciting to be building a better future, especially one that you love!
Before we get started on how to turn your hobby into a money making side hustle, we did want you to follow us on Facebook for more awesome ideas on saving or making more money. You can also follow us on Instagram for more tips.
We also wanted to take the opportunity to let you know that we use Affiliate links on some of our blog posts. This means that we could make a commission if you click on an affiliate link and purchase something. Read our full disclosure and blog policy for more information.
Steps to Make Your Hobby A Career
If you are looking for ways to turn your hobby into a money making side hustle, follow the 9 steps below in getting started the right way.
If you are not sure which of your hobbies you can turn into a job, get a career counselor to help or consider asking your family or best friend for help.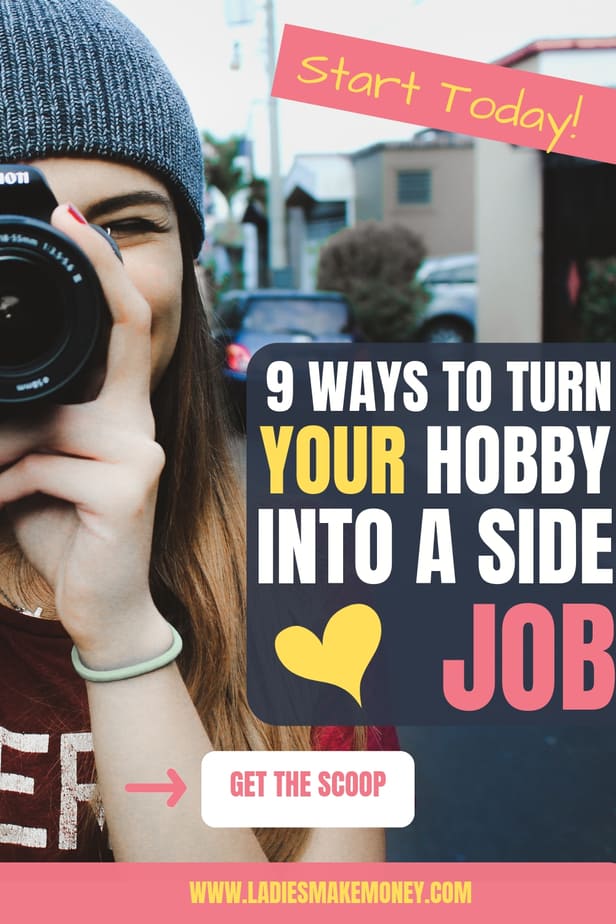 1// Pick a Hobby idea!
The first thing you need to do is to pick a hobby topic! You very likely have many things you love and enjoy doing. And they can all work.
The most important thing you need to remember is that your topic needs monetization value. Which means it needs to be able to make money.
If people are spending money around your hobby, which they almost certainly are, then you have the opportunity to make money from it.
For example, golfing, knitting, singing, photography, web design, etc., are all excellent examples of hobbies that people spend money on. If you need more ideas, check out this list of 50 money making hobby ideas.
2// Research what your competition is doing right now
The next step is to figure out what your competition is currently doing.
When you create your product or service, you want to create something that is new, better, or in some way different than what is being currently offered.
Take some time to look at what everyone else is doing and make good notes. This will be handy for you later when you create your own product.
A good example is a friend of mine that was able to make over $2 Million with an online store selling printables.
3// Think about how you can be better than your competition
You need to be different in some way. That's how you will stand out. With your notes of what your competition is doing, figure out how you can stand out from them.
Is there something unique about your method? Is there something you know and can teach that others cannot? Do you have experience that virtually nobody else has?
These are a few things that can really separate you from your competition.
4// Build a website around your hobby topic
I highly recommend starting an online business to promote your hobby! The costs are much lower than any other way, and you can work your business from any computer in the world.
A website is an excellent tool to introduce people to what you are about and how you can help them. People search online for all sorts of things related to your hobby idea. You want to be a big source of this information.
Building a website is easy with all the tools available today. There's a lot of free advice on the internet on how to get started with this.
You can also check out this blog post that talks about making money with a website.
5// Start creating content around your product
Your website needs content to succeed! Your content is often the first point where people get introduced to you.
For example, if your hobby is traveling on a budget, you can create articles that talk about budget credit cards, how to find cheap accommodations, and how to book a cheap flight.
Once you start getting traffic to your content, people being to get to know you and what you are about. And you definitely want to capture them for the long term.
Which leads to the next step.
6// Start an email list of hungry potential buyers
It is very important to keep in contact with people who come across you as much as you can. The most powerful way to do this is to grab their emails so you can stay in touch.
This is called email marketing, and growing your email list will be a huge asset to your business.
When you have their emails, you can communicate with them any time you want.
This is really important for when you are ready to introduce them to your product or service that you'll eventually create!
7// Create your product or service
A big step in this whole process is the product itself!
It can be very daunting to create a product for people to buy. But embrace that challenge!
Your product will not be perfect right off the bat. NO product is. So don't stress for perfect, rather go for execution.
Your product will be determined by how you best feel you can help your potential buyers and what your competition is doing.
An online course of some kind or an eBook are both excellent ideas to teach your hobby to others.
Sticking with budget travel, you could write a book about budget travel around the world and sell it for $50 lets say. A few book sales would change a lot of peoples lives.
This is why an online side hustle is so worth doing!
8// Promote your product to your audience
Creating your product is half the equation. Once it's created, you will need to promote it to as many people as possible who could be interested in it.
You will hopefully have an email list of potential buyers already if you've been following the steps outlined here.
They are your first people you should promote your product to because they are the most likely to buy from you since they already know you and have been exposed to you before (you aren't a stranger to them!)
Your current audience is also the people who you will get feedback for about your product and how you can improve it. Which is the next step!
9// Continually improve your product by providing value
You will need to continually make your product as good as it can be. Which means updating it when you see fit, creating more relevant content to add on, and anything else that will keep your product relevant.
Get started today!
Nobody knows how to "start" when they begin something like this. Don't worry about that! Remember, it's not about perfection, rather it's about execution.
You'll make mistakes and you'll do it smarter next time. But it's so important to start taking steps in the right direction.
The eventual goal will be to have enough success with your money making hobby that you don't need to work your day job any more, and you can pursue your hobby full time. This is 100% a reality with an online based business that anyone can start!
Good luck to you!
About the author:
Jason Lee is a personal finance blogger who likes to talk about ways to make more money. He believes the best way to wealth is to increase your income as much as you can! You can learn more from him on his blog Mint Habits.
Tell us in the comments below if you will be turning your hobby into a money making side hustle.
Read this next:
3 Extremely Popular Work from home Side Jobs you Can Do for Extra Cash
9 High Paying Side Jobs That Can Become your Full-time Job
Find more amazing money making ideas here!
If you enjoyed our blog we would like to have you join our email list and receive weekly money-making tips, you can join now! Don't forget to join our Private Facebook page. The page is created to share your work, pitch your services and learn from other experienced bloggers!
---
***We would like to note that this post and most posts on our blog may contain affiliate links. This means that if you purchase something that has an affiliate link, we will get a commission from it. Not all items recommended on our site are affiliate links. We only recommend items that we have used and tried. These items have brought us much success and we highly recommend them to you in order to be successful. Thank you for your trust!
9 Steps To Turn Your Hobby Into A Money Making Side Hustle