Last Updated on July 31, 2018 by NandiNN
It's hard to believe that November is over and we are almost coming to the end of the year. Time flies when you are having blogging fun. When I started this blog back at the beginning of November, my goal was to show other female entrepreneurs that it was possible to make money online. I decided right there and then to create a new blog to document my journey on how to achieve this (Want to start your own blog? You can get started for as low as $3.95. Check out the full tutorial here to start a blog).
Before we get started on our Blog Income Report, we would love for you to join our growing Facebook group right here! You can also join our Pinterest group by scrolling to the bottom of this page! If you are looking for guest blogging opportunities or if you need a personal affordable coach to take you from A-Z, we can help you. Get all the juicy details right here! Have you seen our brand new shop! 
The real goal of this blog is to eventually start making a minimum of $5000.00 per month. Today we will be taking a look back at my blog journey to date and I will show you the breakdown of my November Blog Income Report to determine if I succeeded (or failed). 
Steps I took to make $83.14 in my 1st Month Blogging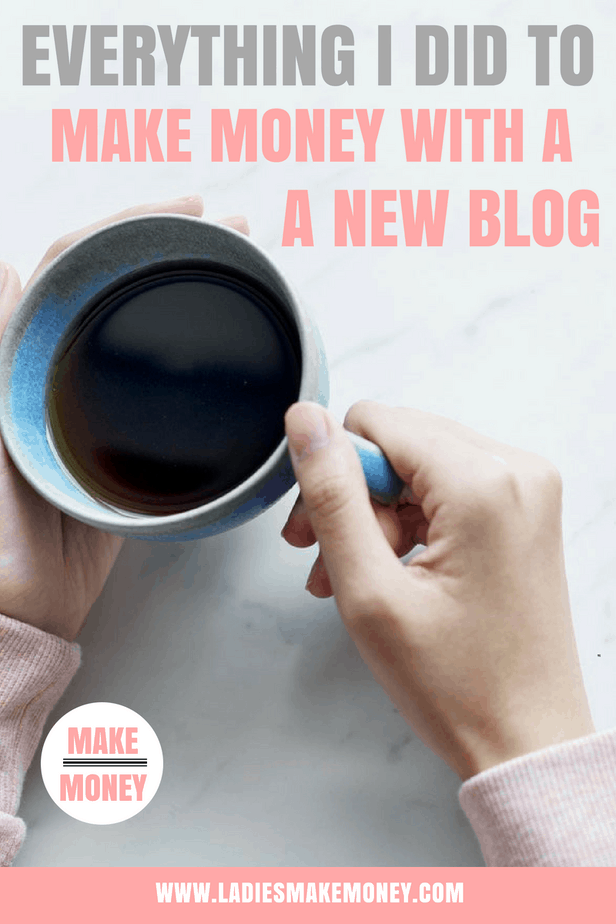 In my opinion, I did extremely well. Blogging is not as easy as it looks. You need to put in a lot of work and effort to get the results that you want. I look at so many other blog income reports and think to myself, if they can do it, I can do it too. And if I can do it, you can do it too. Before we jump into the report, I wanted to briefly outline what my original goals for November were so you can see how far I have come and we can compare it. 
Related: 
5 Blogging courses worth taking that will make your blog money
From Hobby to Biz: Getting your online Business to make money
NOVEMBER GOALS:
Start a new blog to document my journey  – Done (Win)
Create 25 Blog Posts  – I managed to only get 19 posts created (FAIL) – I needed to do a lot of work in the background such as setting up the blog itself, creating an SEO strategy plan, editing my theme and just a lot of backend work that took up a lot of my time. Remember, you only want to produce great quality work. If you can't get it done, don't do it. 
My Most Popular posts include: 
– How I plan to make Five Thousand dollars per month blogging
– 10 Female Entrepreneurs Making Money Online Income Report
– 8 Tools for Bloggers to help Grow your Blog and Make Money
–The Strategy you need to Grow your blog on Pinterest
Get 25 email list subscribers – I managed to get 44 Email subscribers (WIN). Alright, one of the 44 is me and none of them include my family members or friends. I only wanted targeted and engaged subscribers on my email list. 
Launch 1 e-course  – WIN – My new course "Blog Traffic: Traffic Building Bootcamp for Bloggers" These are the exact strategies I am using to get so much traffic to my blog for the first month. NO LONGER OFFERED. Get this as an alternative.
Launch 1 e-guide – My new e-guide – "How to get 1000 email subscribers in just 30 days" – WIN
Aim at making a $100.00 – I was almost there. I made $83.14 (FAIL). My first month of blogging, so I am not too discouraged. It will only get better from here out with your amazing support.
Aim at getting 5000 pageviews for the month of November. – Most bloggers can barely get 10 page views a day on their blog. I was happy with my 4000 page views this month. (FAIL)
SNAPSHOT OF MY PAGES VIEWS ON GOOGLE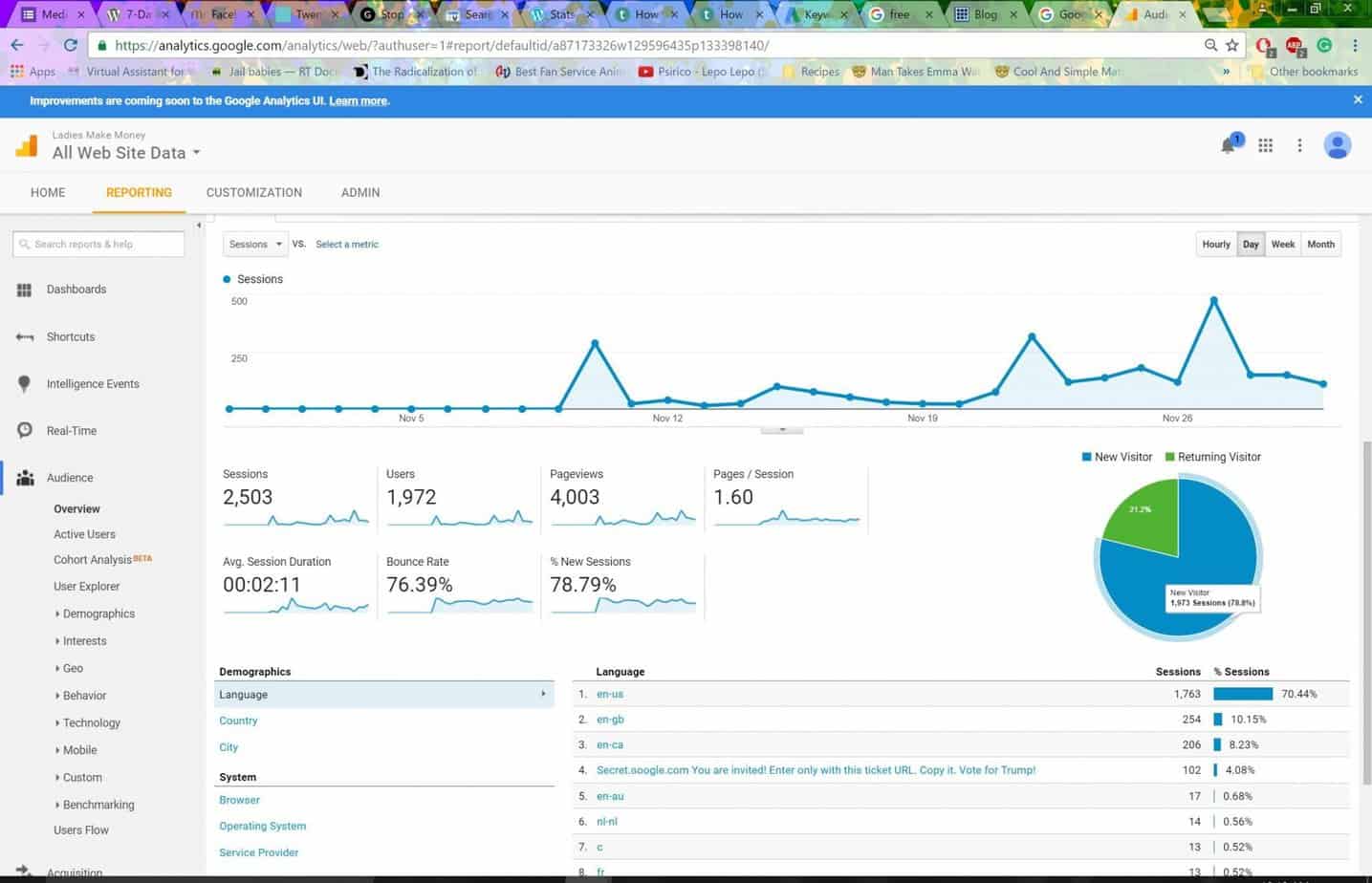 Overall, I think I am really pleased with my results. As you can see, my goals are not huge goals, especially for a new blog. I have experience running other blogs and I am implementing a lot of the same strategies here. You need to create goals that are realistic so you can easily reach and manage them.
Now let's look at the second part of my blog income report which is my stats on Social Media. Keep in mind I had to create brand new accounts for this new blog. Everything here started at zero! 
SOCIAL MEDIA STATS FOR LADIES MAKE MONEY ONLINE
Instagram 0 followers – 114 (I am not really working hard on this one yet). 
Pinterest 0 followers- 281 (I am pushing Pinterest, so be sure to follow me- I have amazing group boards you can join). 
Twitter 0 followers- 137 (I am pushing this account, be sure to give me a follow) 
Facebook Page – Did not create one. Not sure yet I will have one. Updated – created one. 
Facebook Group (0 followers) – 17 amazing members – be sure to join us so we can promote our work.
What do you think? Fail or win for my first-month blogging? You can be honest. We are all here to help each other. Now for my Blog Income report, let's talk dollars. 
BREAKDOWN OF MY BLOG INCOME REPORT:
Income:
Expenses:
Board boaster – $0.00 (I am still part of the free trial, it is helping me grow). 
Blue Host – $0.00 (Promo for the year, I already own other sites and I guess I got a bonus FREEBIE) 
Total Expenses – $0.00
Total Blog Income = $$83.14
What do you think of my first-month blog income report? 
DECEMBER INCOME AND BLOG GOALS:
I will now tell you what I plan for this Month in terms of goals. I definitely want to grow bigger, but given that it is December, I feel like things might slow down again. But this is no reason to take it easy. I will keep pushing and hoping to see how I can grow 
Blog post goals – 25 (All my posts are longer than 1000 words.) 
Email subscribers – 250 (it will be a slow month for pushing promos) 
E-Course sales for – Blog Traffic: Traffic Building Bootcamp for Bloggers – 20 sales 
E-guide sales for – How to get 1000 email subscribers in just 30 days" – 5 sales 
Sales – The above numbers are what I am hoping for – But I am aiming to make at least – $300.00 in sales 
Blog Pageviews- 10,000
Instagram 150 followers – (As I mentioned, I am not pushing this one yet). 
Pinterest 500 followers
Twitter – 200 followers 
Facebook Page – Not sure if I will create one, maybe in January – Created one
Facebook Group –25 members (a group created to encourage each other to promote our work- to join us).
I am looking forward to the month of December. Hoping each one of you succeeds with your goals. What goals have you set for the month of December? We are doing monthly blog income report more to keep us in check and accountable. Tell us in the comments below. 
GIVEAWAY, THANK YOU FOR YOUR SUPPORT:
To celebrate our November success, we are giving away something to thank you for your support. We are giving away our TRAFFIC BUILDING BOOTCAMP COURSE To 25 amazing bloggers! Yes, you read that right, 25. – NO LONGER OFFERED -Get this instead. 
If you would like the chance to win this amazing opportunity to see our secret on how to increase your blog traffic and start monetizing, please sign up below(CLICK THE IMAGE BELOW) – NOW CLOSED: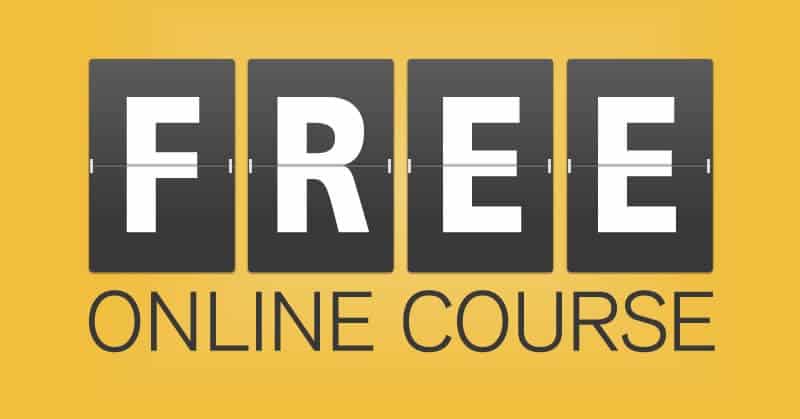 FREE COURSE SIGN UP! – NOW CLOSED
Winners of this amazing course will be announced on Monday via email. Please keep in mind that if you do sign up, regardless of if you win or not, you will be added to our weekly newsletter where we document our journey of getting to the $5,000 a month blogging goal. Winners will be picked randomly. If you do sign up for the opportunity, you agree to the terms and conditions. Good luck to everyone. – NOW CLOSED.
Thank you for your continuous support! Let's rock December! 

Did you enjoy the post – Share your Blog Income Report? Be sure to PIN IT here. You can find more blogging tips here.
If you enjoyed our blog we would like to have you join our email list and receive weekly money-making tips, you can join now! Don't forget to join our Private Facebook group. The page is created to share your work, pitch your services and learn from other experienced bloggers! Our Blog Policy can be found here. 
---
***We would like to note that this post and most posts on our blog may contain affiliate links. This means that if you purchase something that has an affiliate link, we will get a commission from it. Not all items recommended on our site are affiliate links. We only recommend items that we have used and tried. These items have brought us much success and we highly recommend them to you in order to be successful. Thank you for your trust!