We understand that a lot of you are just starting out with your blog and you have no idea how to monetize your blog or if you even want to make money with your blog. I am here to tell you that it is absolutely possible to make money online with your blog. In fact, my very first-month blogging, I made about $80.00 or so. As you can see, it is totally possible to make money online. A Girl's Guide to making your first $100 online with your blog will touch on a few things you can do this month to start making money with your blog. 
Before we get started, we would love for you to join our growing Facebook group right here! You can also join our Pinterest group by scrolling to the bottom of this page! If you are looking for guest blogging opportunities or if you need a personal affordable coach to take you from A-Z, we can help you. Get the details right here!
And if you want to start making your first $100 online but do not have a blog, then you can start one today. I created a tutorial that will help you start a blog of your own for cheap, starting at only $3.95 per month – This is an amazing price considering that you can make so much more each month with your blog.  If you really want to make money with your blog, " – my top tip is to be self-hosted. This is essential if you want to monetize your blog as you will appear more professional and this will help you monetize your blog tremendously. 

Different ways to make money from your blog
We have countless articles that are available to you to read about making money online using your blog. If you have not had the opportunity to read through them, you should really take the time to do so. We are going to outline our most popular articles below to help you get started. 
These articles outline a few things you can start that will help you with making your first $100 online with your blog. These are tried and tested ways that have allowed us to make a regular income from our blog.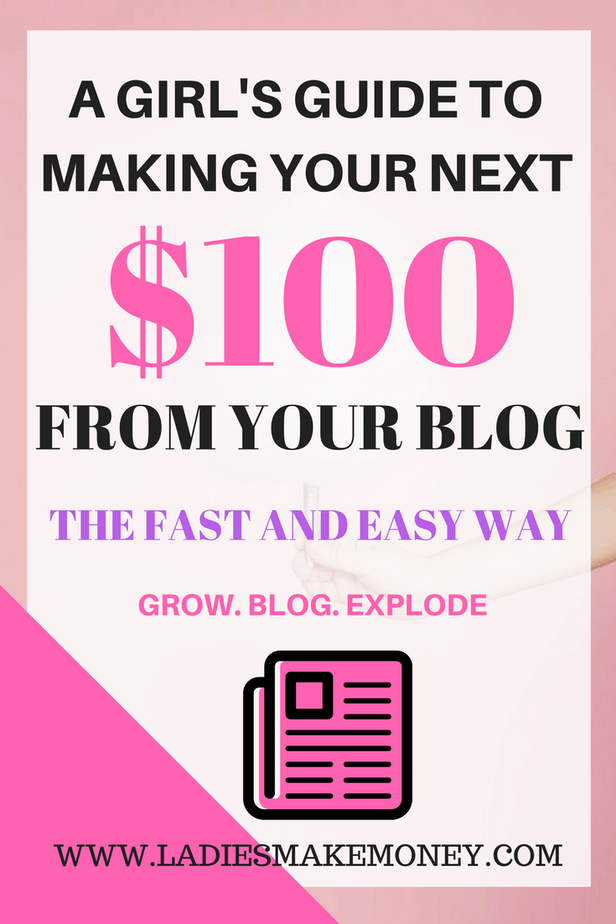 Using Affiliate Marketing to Boost your income
Affiliate marketing is my top earner on this blog. Take a look at my June Blog income report and you will see how well I do this with this venture. If you want to tackle affiliate marketing, you will need to know the basis of how it works.
It's not as easy as slapping a few affiliate links on a blog post and hope to get results. The one eBook that helped me increase my affiliate sales is "How to make money in affiliate marketing in 24 hours using Pinterest." It's a great ebook on fast-tracking affiliate income and we highly recommend it. It's a long-term strategy that has helped me earn ongoing Affiliate marketing income every month. 
What high-paying affiliate programs can you join today in order to start making your first $100 online? We are going to give you some easy ideas that will help you right away. But definitely, grab the eBook to boost your sales. We wrote a review on how it helped us almost within 24 hours of purchasing the book.  
Making your first $100 online shouldn't take you months and months to achieve. If it does, then you need to revise your strategy and eliminate anything that is not working for you. By the second month with this blog, we were able to make over $1000.00. We are continuously tweaking and restructuring our marketing approach to making money online. 

Join these affiliate programs:
Affiliate marketing is a great way to start making your first $100 online from your blog. I do 3 three things to achieve sales. 
Write up a review of the item I am  recommending 
I write a tutorial on an item I am recommending 
And I use social media, specifically Pinterest to promote my affiliate links. 
Selling stock photos to increase your blog income
You are a blogger and you know what other bloggers need? They need amazing images for their blogs. Photos to beautify their blog, to create graphics and market their business. If you are already great with a camera, then you are ahead of the herd. If not, then do not worry. If you are a creative entrepreneur and you love taking photos, you can start making money with this venture. Do you have an outstanding Instagram account? Is it well branded? If so you can update your skills and make some money. 
This is how: 
Is there a market for this? Yes!! Bloggers like me are always looking for beautiful images to promote our work. With this, you will be well on your way to making your first $100 online with your blog. 
Using ads on your blog 
They are several bloggers that feel that you should not use ads on your blog because it distracts the reader. But I think if you have the right ads that relate to your blog, then it should work. I keep the ads on my blog to a minimum and mostly use affiliate banners. But using high-end ad companies is best and you will be able to bring in income for your business without losing your style and authenticity. 
Making your first $100 online with ads is really easy. 

In order for ads to work, you need blog traffic. There is no getting around this. In fact, some of the best high-end ad companies require you to have over 100 thousand page views before they can accept you. I personally use Media.net. Again, to see the benefit, you need traffic. They are bloggers making thousands of dollars just by having ads on their site. Just ensure the ads that appear match your blog theme and topic.
You might also like: Make Six Figures Per Month Online – 5 Successful Entrepreneurs Stories
If you do not have page views, we recommend purchasing this eBook which is only $32.00. It has the best Pinteresting strategies that will help you get from zero to 200 thousand page views per month. The bloggers in my Facebook group are seeing great results after using this method to promote and market their blog. 
You will not be spending thousands of dollars on a course but as little as $32 and the results are amazing. Blog traffic does take a while to come, but Carly does an amazing job of explaining the best way to get traffic with Pinterest. With 200 thousand page views, your blog will be making thousands of dollars in ad revenue and sponsored work in no time. 

Sponsored blog posts 
You can make over $300 with sponsored blog posts easily. A few blogs that have success with this include parenting blogs, fashion/beauty blogs, lifestyle, health and much more. We are going to highlight a few places you can find sponsored posts today. Make sure you have a media kit ready, and you have a great following on social media and only accept posts that work with your niche and brand.
You might also be interested in this: The Best influence Network for Bloggers to earn income
How else can you start making your first $100 online?
We have given you a few ideas on how you can start making your first $100 online with your blog. We wanted to add a few more things you can consider. 
Don't stop at only making your first $100 online from your blog, multiply this. We recommend having multiple streams of income in order to be successful. This month you may really rock it with affiliate marketing and the next, your sales may deep below the norm. But your sponsored posts might be really good. Last month alone, I made over $100 with them.
Sign up for a few things and work your magic each month. $100 will turn to $200 and this $200 could turn to $2000 easily. 
CHECK OUT MONEY-MAKING STRATEGY WHERE WE EVALUATE AND TALK ABOUT THE STEP BY STEP WAY OF MAKING YOUR FIRST $1000  FROM YOUR BLOG? GET THE SCOOP HERE FOR MORE RESULTS AND DETAILED STRATEGIES FOR SUCCESS!
If you liked this post, pay it forward and pin it to your Blogging tips board right here: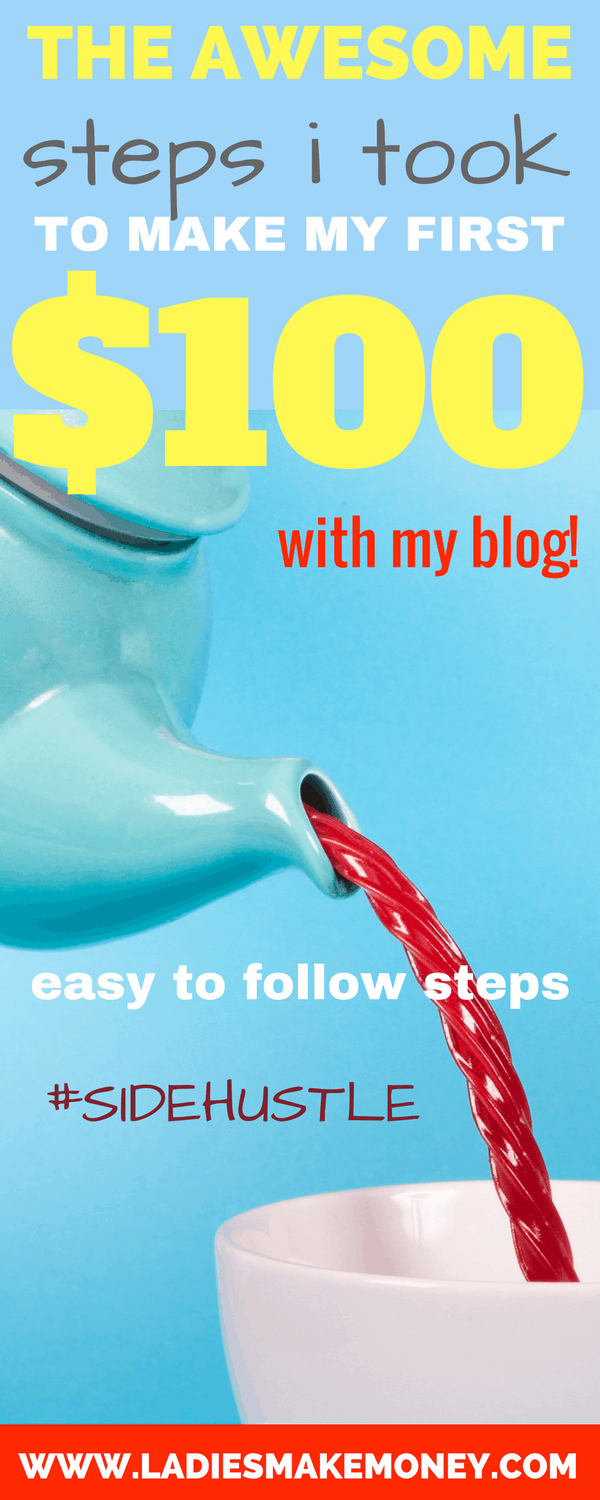 I'm taking part in the Money Making Madness Linky hosted by Charlotte Burns from Lotty Earns, Emma Bradley from Mum's Savvy Savings, Emma Drew from EmmaDrew.Info and Lynn from Mrs. Mummy Penny.
If you enjoyed our blog we would like to have you join our email list and receive weekly money-making tips, you can join now! Don't forget to join our Private Facebook group. The page is created to share your work, pitch your services and learn from other experienced bloggers!
---
***We would like to note that this post and most posts on our blog may contain affiliate links. This means that if you purchase something that has an affiliate link, we will get a commission from it. Not all items recommended on our site are affiliate links. We only recommend items that we have used and tried. These items have brought us much success and we highly recommend them to you in order to be successful. Thank you for your trust!