Last Updated on March 16, 2020 by NandiNN
Arfa is an amazing blogger that blogs over at Epife and we are honored to have her on our blog today. I am glad to state that Ladies Make Money has become a hub for all things blogging. We are are hoping that her detailed blog post on the top 4 reasons your blog strategy isn't working will help inspire you to refocus your online business.
Before we get started, we would love for you to join our growing Facebook group right here! You can also join our Pinterest group by scrolling to the bottom of this page! If you are looking for guest blogging opportunities or if you need a personal affordable coach to take you from A-Z, we can help you. Get all the juicy details right here! Have you seen our brand new shop!
We also wanted to take the opportunity to let you know that we use Affiliate links on some of our blog posts. This means that we could make a commission if you click on an affiliate link and purchase something.
Your Blogging Strategy, does it suck?
Many bloggers write about blog strategies and how it can help your blog grow. But, do they really talk about strategies that don't work at all? Most of the times, it's all about implementing and experimenting with new ideas. Have you ever considered why your blog strategy is not converting?
A successful blog strategy can, of course, bring more visitors, generate more leads, increase your email subscribers and give exposure to your blog. Sometimes these strategies don't perform tremendously. What are some of the reasons your blog strategy is not working? What are some of the things you are doing wrong? What steps do you need to take to revamp your whole blog strategy?
In this post, I'm going to discuss 4 pain points of your blog strategy. People suggest formulating strategies for blogs but what things make these strategies highly effective?

4 REASONS YOUR BLOG STRATEGY IS NOT WORKING
Maybe you've created a blogging strategy that you researched online. Maybe you are implementing few things you have read on your blog. But, all you see is a very small percentage of growth on your blog and you are not satisfied with the results.
The thing is your blog strategy might not just be working. There's no obvious growth in your blog. You don't get any collaboration opportunity. People don't return to your blog. You don't give exclusive value to your readers. Your content is not distributing well. Something definitely must be missing.
Below, I've discussed 4 top reasons why your blog strategy just doesn't work.
Give these reasons a thought and see how you can make improvements to these 4 important areas.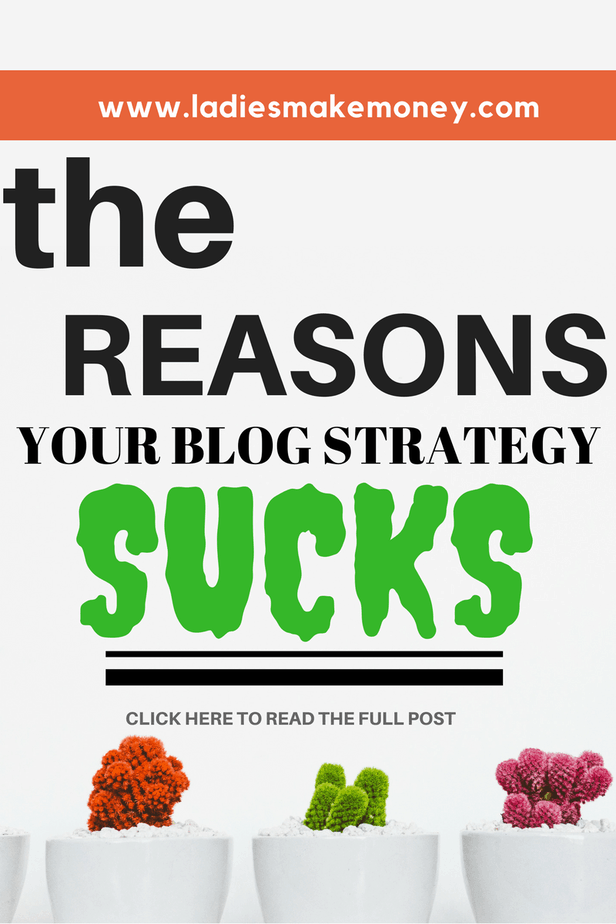 1- UNCLEAR BLOGGING GOALS
Blogging goals are basically targeted actions you take for your blog growth. These actions direct you towards the next steps and make you more focused.
The number one reason your blog strategy is not working is mainly due to unclear goals. Your blog doesn't have any set goals. Maybe you know how many posts you are going to write in a month, but you don't know the purpose? You won't achieve your goals unless you make them specific and clear.
Make your goals achievable. Set your blogging goals according to your main objective. Don't just randomly set a goal and start targeting it.
Think about the ultimate objective of your blog. The main purpose of your blog. Why did you start blogging?
Setting clear goals doesn't only help in reshaping your blog strategy but it also increases your blogging productivity. You tend to become more organized and focused. You get a direction to work on.

2- NOT UNDERSTANDING YOUR AUDIENCE
No strategy will work if you fail to understand your audience. Knowing your audience is the first step in creating a successful strategy. If you are not understanding your readers, you are not going anywhere. There will be no progress on your blog.
All blogging efforts go in vain when you don't write for your audience. You need to know what your audience is looking for. Maybe you know who your targeted audience is but you don't know what problems they are having?
Let's suppose you are a travel blogger, and you planned to write about advantages of traveling, various traveling places, destinations etc. Have you considered writing about problems faced by travelers? What things make them uncomfortable while traveling? What first-aid knowledge should they have before they go on their travels?
Dig deeper into understanding your audience. Nothing works if you have poor relationships with your audience. Before planning your blog strategy, understand your audience and then, formulate your strategy.

3- DUPLICATING OTHER STRATEGIES
Always create your own strategy. Whether it's about your social media, content strategy or blog strategy it has to be your own.
Many bloggers duplicate strategies of other bloggers and hope to get similar results. It will not work at all. You have to figure out your own blog objectives, audience needs, and the purpose in order to create a strategy that works.
For example, a blogger uses Twitter platform for promoting his/her blog posts. You shouldn't just follow his tracks. His content marketing strategy will have Twitter as the main source of traffic. Maybe, Pinterest is your first priority. Start looking where your audience is and what channels they often use to get content.
Another blogger makes money from advertisements. Maybe your blog isn't suitable for ads. What other ways you should use to monetize your blog without ads? In your blog strategy, think about different methods to make money from your blog. As simple as that.
If you copy others, you won't progress. That's totally fine if you take some inspiration from influential bloggers. See what they are doing with their blogs. Note down what they are experimenting.
In the end, make your own strong strategy that performs.
You might also like:
Money Making Ideas that guarantees amazing results
How making this one switch tripled my blog traffic
A Girl's guide to turning a Blog into a Money Making Machine
3 Easy steps to a successful content Marketing Strategy
4- UNWILLINGNESS TO FOCUS
Maybe someone has asked you to create a strategy for your blog. And, you just did it. Ask yourself if you are actually implementing it on your blog? Are you using your top abilities to make changes to your current blog strategy? Are you focusing on your blog?
Your unwilling nature will not make the strategies work for your business. As a blogger, it's your responsibility to take blogging seriously. Drive your focus to your blog. Do a few more research on your blog purpose. Calculate things that work and those that don't. It's also important to measure the performance of your blog. Always focus.
Have you found a few reasons for your failing blog strategy?
Everyone has a unique blog with different goals and objectives. The techniques you follow are maybe different from the other blogger. The most important thing is to calculate the metrics and analyze the strategy. Figure out what's not working. Once, you know why your strategy is not effective it becomes easier to make changes and implement new ideas.

AUTHOR'S BIO: Arfa is a passionate blogger who helps other aspiring bloggers to grow and expand their online businesses. She knows how to attract readers to her blog through the power of quality content. Download her free ebook on strategic planning to drive traffic and grow your blog. Other than blogging, she usually writes for freelance clients and businesses.You can also connect with her on LinkedIn, and Twitter for more blogging adventures.

If you enjoyed our blog we would like to have you join our email list and receive weekly money-making tips, you can join now! Don't forget to join our Private Facebook group. The page is created to share your work, pitch your services and learn from other experienced bloggers!
---
***We would like to note that this post and most posts on our blog may contain affiliate links. This means that if you purchase something that has an affiliate link, we will get a commission from it. Not all items recommended on our site are affiliate links. We only recommend items that we have used and tried. These items have brought us much success and we highly recommend them to you in order to be successful. Thank you for your trust!