Last Updated on May 12, 2021 by NandiNN
Passive Income Blogging
Are you interested to learn more about how to make passive income blogging?
If that is you then I am so glad you are here.
If you are looking for blogging independence, you need to find a to be able to monetize your blog without working long hard hours on it every single day.
This is where "Passive Income" comes in.
If your goal is to start a blog that makes money but still allows you the freedom to enjoy time with your family, then you will need to implement money-making strategies that will allow you to earn money passively.
Once I implemented a passive approach to making money blogging, I didn't have to stress anymore.
I was making money on auto-pilot with little to no promotion on my part.
This post is perfect for entrepreneurs and bloggers who want to learn more about how to earn passive income from blogging.
Earning passive income blogging is not as complicated as most people think it is.
The idea is to do all the work upfront, set up everything needed to earn passive income from blogging and let it run on autopilot.
Once you have a solid system in place, you can simply tweak, adjust and duplicate the process over and over.
As you know, there are plenty of amazing proven ways bloggers can make money blogging.
In fact, go ahead and read this post where we outline over 10 ways to make money online as an entrepreneur!
In there, you will seriously find all the different ways you can make money online as a blogger and a female entrepreneur.
At the end of the day, I prefer making money passively with my side hustles.
This means creating an income stream and a solid system that will earn me money passively directly from my blog.
I would hate to sit in front of my computer every single day just to earn a dollar to two.
If this can be done passively, the process becomes more attainable.
Be sure to grab my free simple system below that helps me earn money passively with my blog.
It's 27 pages of free blogging strategies that will boost your blog income in no time.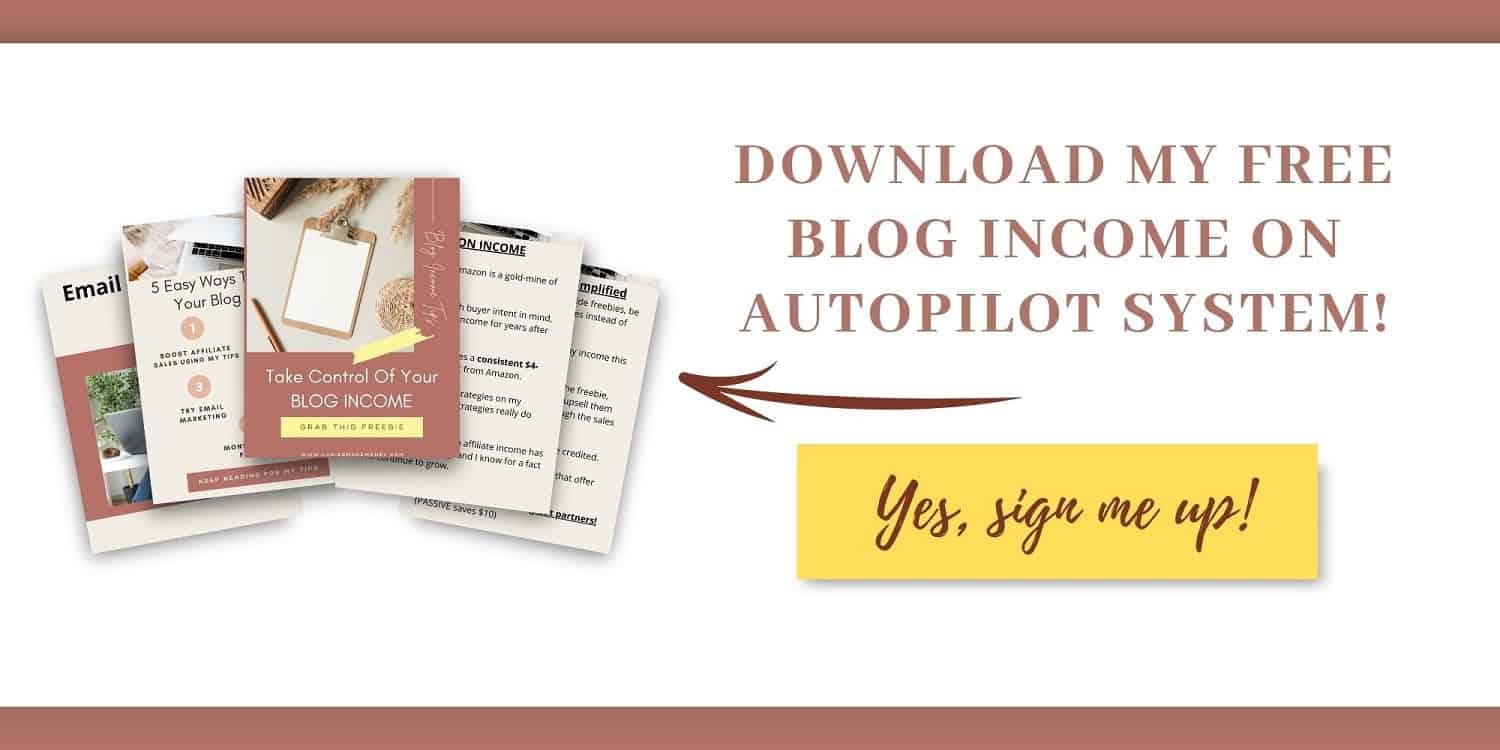 If you are ready to set up a passive income blog that will generate money while you sleep every single month, then you need to keep reading.
Learn how exact tips for creating a successful passive income blog
Before we get started on the steps for how to make passive income blogging, we would love for you to join our growing Facebook group right here! Be sure to give us a quick follow on Instagram as well!
We also wanted to take the opportunity to let you know that we use Affiliate links on some of our blog posts. This means that we could make a commission if you click on an affiliate link and purchase something. Please check out our full disclaimer and policy page here.
What Is Passive Income
Passive income is money you make from your blog with little to no effort involved from you during the process.
In other words, you are not trading your time and hours for dollars.
You earn the money from your blog on autopilot from the effort and system already put into creating your income streams.
A great example would be creating your own profitable digital products and selling them on your website or blog.
This process would ideally be automated so you are not spending hours promoting.
The hours you will spend will include creating the product itself, promotional graphics, and your promotional plan.
Once this is set, you can now watch your income come in passively, even when you are asleep or away on vacation.
This sounds like a pretty amazing plan to me.
And below, you will find everything you need to create solid passive income strategies for beginners!
Remember, just because you create the perfect system does not mean you should not check up on it.
In order to be successful with this, you need to make some changes, maybe a few tweaks here & there and just monitor your passive income systems as you go.
Other than this, it becomes an evergreen system with no expiration date but hopefully a lot of income coming your way.
Why Passive Income Is The Best Way To Monetize your blog?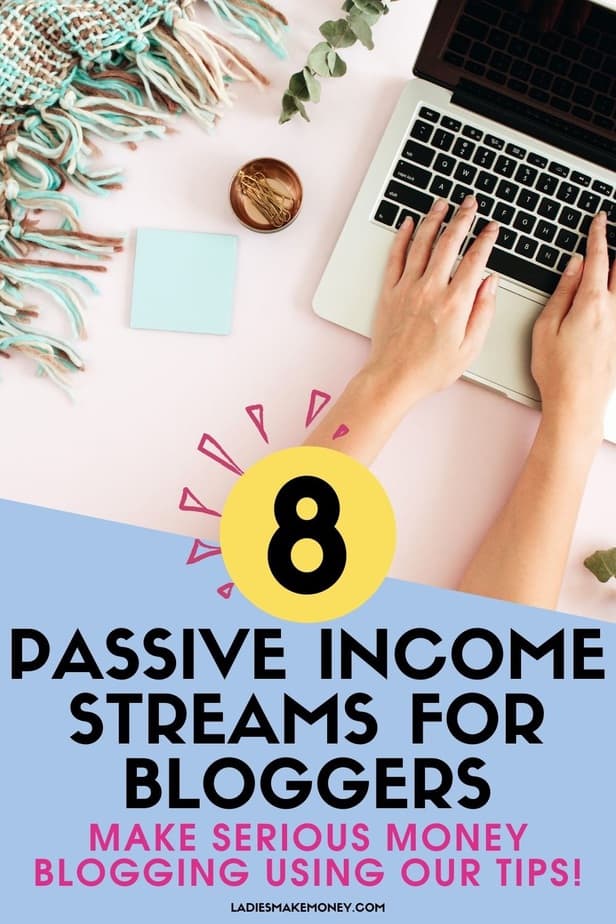 I believe as a blogger, you should consider adding multiple streams of passive income opportunities for your online business.
Relying on only one source of income can quickly kill your blog if that income stream becomes unstable.
For example, to earn money with ads, you need consistent pageviews.
But if your pageviews drop or the ad company cuts down your earnings per pageviews, you might not have money the following month.
Be sure to grab my eBook – "Blog Income Strategies Simplified"!
It includes over 65 different ways I monetize my blog every single month.
By implementing 3-5 items of these money-making strategies to my online business every month, I am able to earn a full-time income blogging.
By choosing the right income stream for your blog to promote that your audience will love means you will be making money for years to come with little effort.
Imagine only working 5 to 10 hours each week but making crazy money every single month?
Sounds like a life I want to live every day.
Creating the systems you need to make a passive income blogging every month is a lot less stressful than chasing page views every month to make money with ads.
I have multiple passive income streams that I have put in place in order to streamline my blog income every month.
I will share them below.
So if you are looking to learn exactly how to earn passive income from blogging, take note as I am sharing all.
How to make passive income from your blog
In order to successfully generate passive income blogging, you need to organize your blog and business to attract readers that are willing to pay for what you are sharing.
If you only attract an audience that wants freebies all day long, you won't be able to make them open up their wallets and purchase your products or affiliate recommendations.
The right audience + the right products = more blog income for you.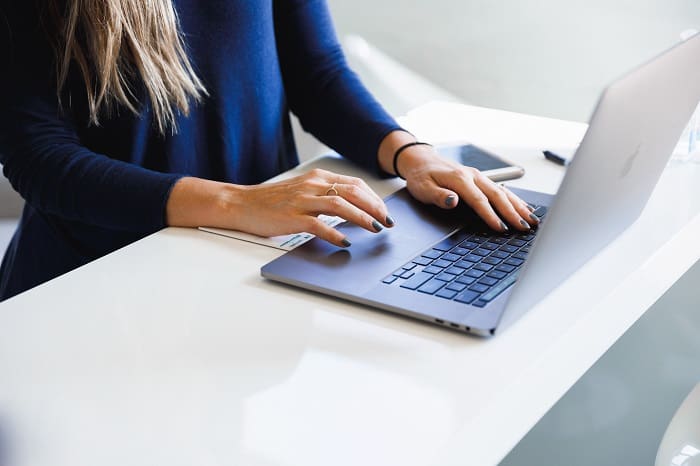 Here are the exact steps I took to make passive income with my blog:
1. Learn SEO
As you know, passive income means that you are making money with little to no effort required from you.
You would set up the process once and it should generate money for you month after month.
The best way to do so is to have blog posts and your content, in general, show up in search results when your audience goes looking for it.
For example, if your client is looking for "The best way to spend 3 days in Paris", you better be showing up first in search results.
Your post should also thoroughly answer their questions from, the best time to visit Paris, tips for getting around, places to stay, eat and including activities to do.
Obviously, you should have affiliate links included to the hotels you recommend, the activities you suggest and transportation.
If you are able to show up first in search results, you could be making money passively every time someone lands on that blog post.
You can generate massive monthly affiliate revenue without spending money on ads or any other traffic-generation strategies simply by learning proper SEO.
And we are not talking about having green lights on your Yoast plugin.
There are a few ways you can learn how to get consistent blog traffic to a new blog every month.
I suggest starting out with these free resources:
Once you master SEO, making passive income blogging will become a breeze.
2. Simplify your passive income with affiliate marketing
How would you like to make an extra $50, $100, $400, $1000 per week?
Affiliate marketing is basically the process of promoting products and services from other businesses on your blog and every time someone purchases these using your link, you get paid a commission.
Affiliate marketing is how I make the majority of my income every single month.
So if you want to make passive income blogging, you need to master affiliate marketing.
I suggest learning everything you can about making a full-time income using affiliate marketing.
The reason why most bloggers fail to make a decent income with affiliate marketing is that they are simply promoting the wrong affiliate programs on their blog.
If there is a huge disconnect with the type of products you are trying to promote to your audience then you won't make any money.
As much as I recommend creating content that solves problems, if you want to make passive income blogging, you need to recommend products and services that solve your audience's problems.
One of the hardest parts of affiliate (referral) marketing is finding products your audience loves, that you get paid to share.
Once you can figure this out, your blog income will drastically increase.
So how can you find profitable affiliate products to recommend that will increase your income every single month?
The first thing you need to grab is Affiliate Success Strategies – packed with amazing tips for increasing your passive income within 30 days.
If you've tried to turn affiliate marketing into a solid income stream without success, then you need to try to implement this passive income affiliate strategy.
Next, you absolutely need Passive Income Jumpstart: How to Find Profitable Affiliate Products (video course)!
It is an easy-to-follow guide for finding profitable products you can repeatedly earn commissions from.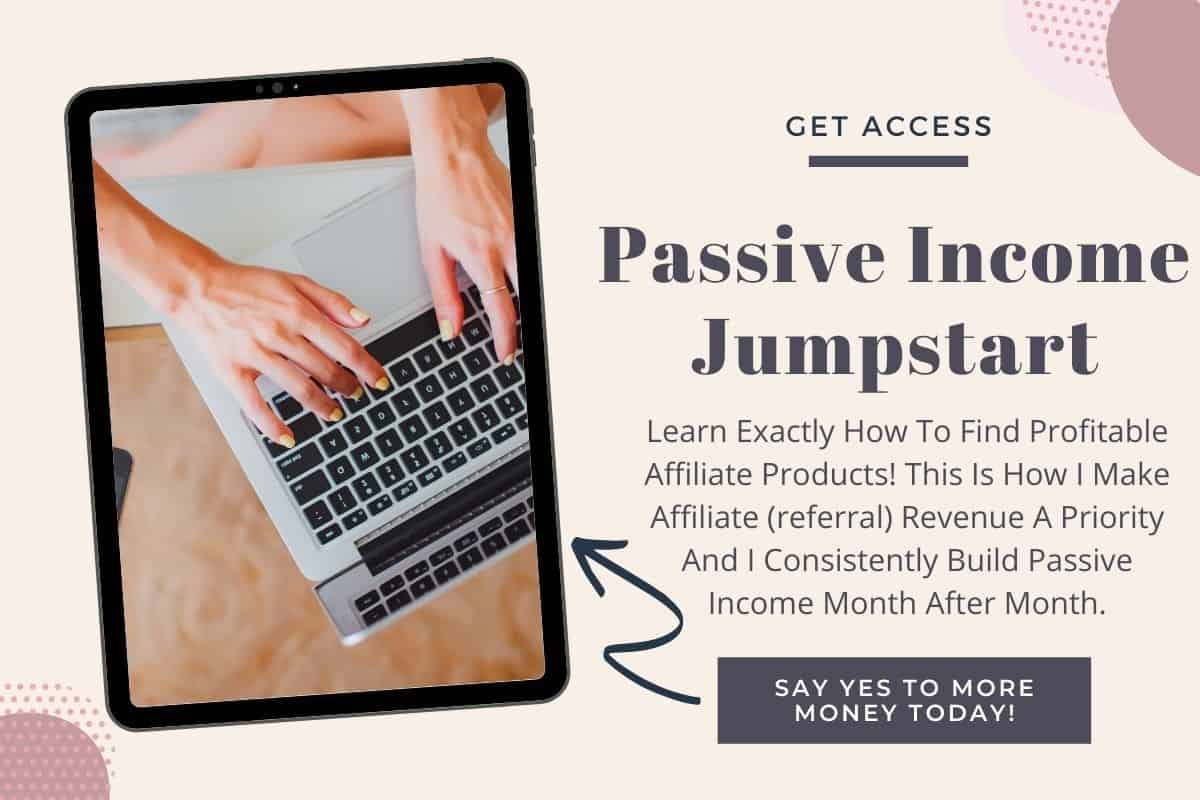 3. Increase your passive income using freebies
Did you know that you could create freebies for affiliate products you promote and make money on autopilot?
Earlier I talked about finding the right audience that will take the time to buy what you recommend, well this process works beautifully for growing your email list and making money at the same time.
This strategy is absolutely amazing and you can earn passive income on autopilot if done the right way.
Here is a list of the exact freebies I have created and promoted to grow my passive income month after month.
Making passive income blogging using freebies:
Is quick to create (you can be ready in 7 days or less).

It involves no selling from you.

Pulls double duty to grow your list and earn you passive affiliate commissions.

Brings in fresh, qualified traffic when shared.

Allows you to give something away for free with no selling needed.

Delivers high conversions for your favourite affiliate products.
Simply create your own epic freebie to promote an affiliate product.
I use this template to create quick freebies to promote my affiliate products.
You can also create guides, infographics, a checklist, a cheat sheet. — whichever format you are most comfortable with.
By offering this free content to your audience, not only will you build trust, but you will be growing your email list which is important for growing a steady business, but you will also be making passive income.
Check out this free guide to learn more about how to make passive income blogging this way.
4. Build a niche site that makes money
If you haven't niched down and are blogging on multiple topics, it might be time to make the change.
When bloggers email me because they are struggling to make money blogging, the first thing I look at is the number of topics they blog about!
And from here, I want to see how these blog topics all relate to each other.
Don't get me wrong, if you have a lifestyle blog, you can still make money.
It's just a lot harder and you definitely need to learn how to organize your blog if this is the route you are going to take.
(Learn how to successfully organize a blog with multiple topics right here.)
If you can find a way to define your blog niche, you will find that making passive income will become much easier.
What is a Niche Site?
A niche site is a website focused on a very specific topic (niche). This could be a blog about coffee, an affiliate site about outdoor gear, or an authority site about antique book collecting.
The main point is focusing on one specific topic, or a series of closely related topics, not a general blog or website with multiple random articles or keywords.
For example, I have a wedding site that makes crazy money.
I also niched it down further to focus on Canadian weddings.
If you have never created a niche site before, I suggest you sign up for this free webinar.
Here is what you will learn from this epic free webinar (It's a 4-part niche site Bootcamp for bloggers):
Don't forget to grab this epic freebie where I outline 5 ways I use these passive income ideas to grow my income every month.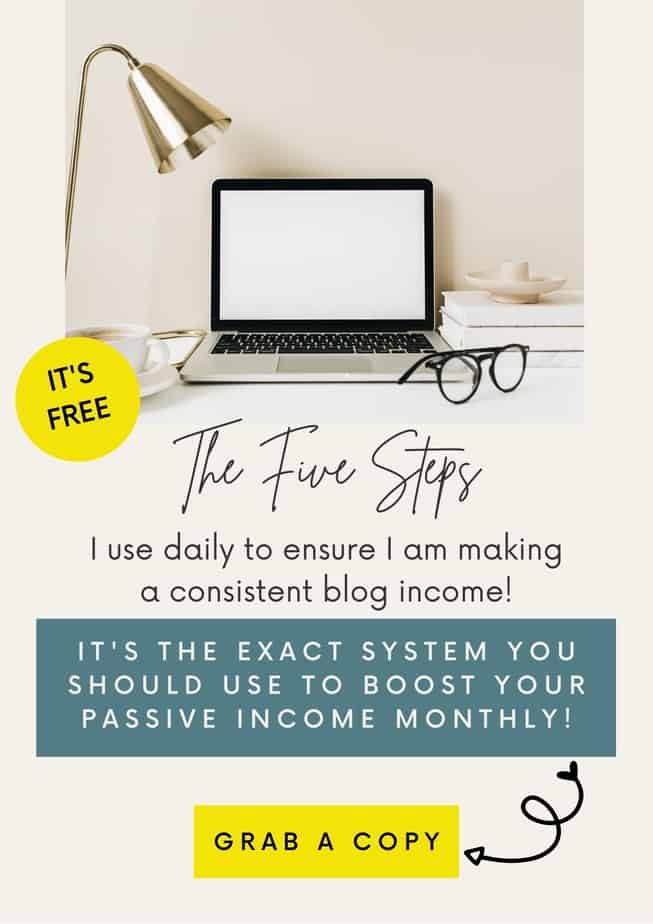 6. Create your million dollars digital product
You can rely on affiliate marketing all day long or other people's products but what if they stop creating them? Or even stops offering them as an affiliate?
This is what happened to a popular affiliate program I was partnered with.
They simply stopped offering their products as part of the affiliate program.
I was completely bummed out.
Once they cut the affiliate program, instantly stopped earning $300 per referral to that product.
My revenue suddenly suffered that month.
I chose to promote high-paying affiliate programs that allowed me to earn $10, 000 a month with little blog traffic.
But when these programs cease to exist, you can go from making great passive income blogging to making no money at all.
Don't get me wrong, I make a huge portion of my income with affiliate marketing still, but I find that creating your own digital product that you can sell your client to be the most profitable way of earning passive income.
Having multiple streams of income is the smartest thing you can do for your online business.
Creating digital products as a secondary income stream is a smart business move that everyone can make.
The first step to creating your product is to find the perfect digital product that will make you month after month.
For this, you need to grab my simple guide: Find and Create Your Next Million Dollar Digital Product in 24 hours.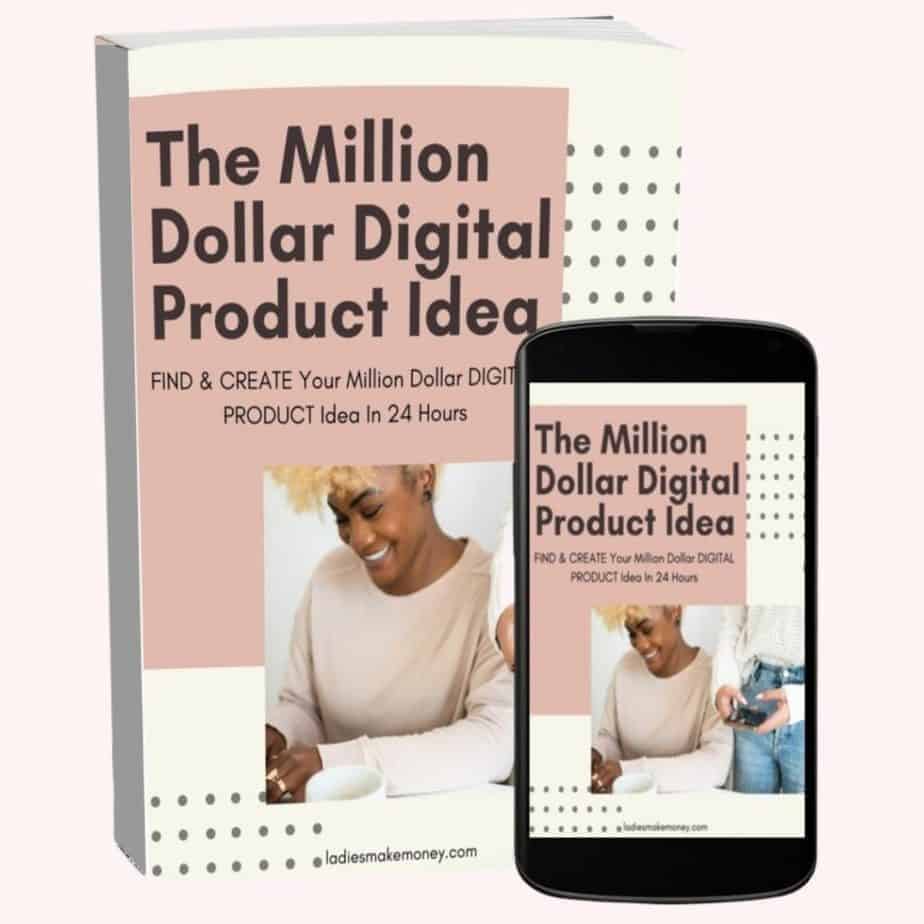 Next, you need to promote your product so you continue to make money passively with little effort.
This is how I do it:
7. Build A Simple Ever Green Sales Funnel
An evergreen funnel automates your sales machine to make you profit passively.
This means that if you set up the right sales funnel for your digital product or affiliate products, you could be making money while you sleep or working on your next big digital product.
As you can see, they are so many things you can do to make passive income blogging.
Let's really break down what funnels are.
A sales funnel describes the process in which a potential customer becomes a buyer which is what you ultimately want.
An evergreen funnel is a type of email sales funnel that's automated — so whenever anyone signs up for your email list, they receive the funnel without you having to be actively involved.
This is why many people call it "passive" income. Once you set it up, it should be able to run with little day-to-day work by you.
List building in this case is crucial for your success.
Here is what a simple evergreen sales funnel could look like:
Email 1: Welcome to my list

Email 2: Here are some of my digital products

Email 3: How the digital products can help them

Email 4: Here are some testimonials from my products

Email 5: Buy it today
You can also use it over and over again — ideally for years to come.
That's what makes it "an evergreen sales funnel."
If you want to earn $20, $50, $100 in sales every single day using your ever-green sales funnel, you need this guide to set up a proper funnel.
A good Sales Funnel will convert your readers into buyers effortlessly.
And you only have to set it once!
Learn exactly how to go from an inconsistent, low income to making sales every single day using evergreen sale funnels!
8. Earn Passive Income Blogging Using Tripwires
I love sharing my best passive income strategies for beginners as it allows you to make income even if you are a new blogger.
PS: If you are a new blogger, I urge you to read this post where I share my best tips for new bloggers and how to get started growing your blog.
Tripwires are an AMAZING way to make income online passively.
Once you set it up, it works on autopilot for you which is the whole point of this post.
To show you how to make passive income blogging.
Before you can set up a tripwire you really need to have your email series set up.
These are a set of emails you send to your subscribers after they sign up to receive your freebie.
The goal is to warm them up further and maybe offer another product to them during the email series.
I always recommend Mailerlite to new bloggers because they offer excellent service and their pricing is pretty great.
Here is what a basic Tripwire system would look like:
Your reader signs up for a freebie that you promote —> then they are automatically redirected to a landing page with your tripwire offer (usually a cheap offer around $7 to $27) —> then they can buy the offer or sometimes they don't.
The offer has to somehow relate to the freebie for the best conversion.
You give them the freebie and they are put on a series of emails where you can sell other products if you have any.
Setting up this system is not too hard, but it can get confusing.
I personally got these two guides to help me set up my Tripwires:
The key now is to grow your email list every single month which gives your readers the opportunity to come across your tripwire offers.
The more those grow every month, the more money you make passively.
This is a set-and-forget system worth implementing if your goal is to make passive income blogging.
Once you take the time to create the perfect email series and set up your tripwire landing page, you can just forget about it…and watch the money come in.
To grow your email list quickly, I suggest signing up for this free 7-day email list challenge today.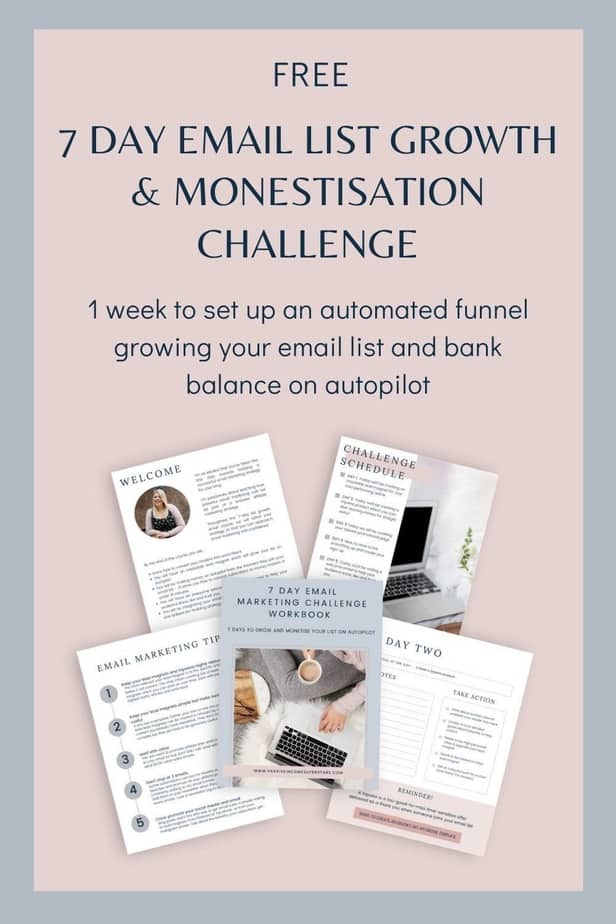 8. Make money using display ads
The most popular way for bloggers to make money online with a blog is to use display ads on their blogs.
All you have to have is the traffic and you can be making a full-time income in no time.
Obviously, you want to sign up for a premium display ads firm like Mediavine or AdThrive and in order to do that, you need DIVERSE blog traffic to qualify.
I am sorry to say that, if you only rely on Pinterest traffic, you will not get in.
Basically, you can make money quickly on any blog if you focus on:
Getting traffic to your blog (fast)

Figure out how to monetize that traffic
We have given you every possible way you can make money passively with your blog.
If you choose to use display ads (as one of your many options) for making money, you need traffic and plenty of it.
When you monetize your blog using premium ad networks, you are basically selling billboard space on your website.
Please note that while display advertising sounds like an amazing way to make the most passive income, it is truly harder to make it work with less than 5,000 visitors a day on your blog.
And for this reason, display advertising is most suitable for blogs that get a lot of traffic on a daily basis.
Here is a list of 9 amazing bloggers that make a massive amount of income with display ads.
You can also check out the different ways you can make money posting ads right here.
Sign up for my 7-day free email course to learn how I boost and diversify my blog traffic every single month.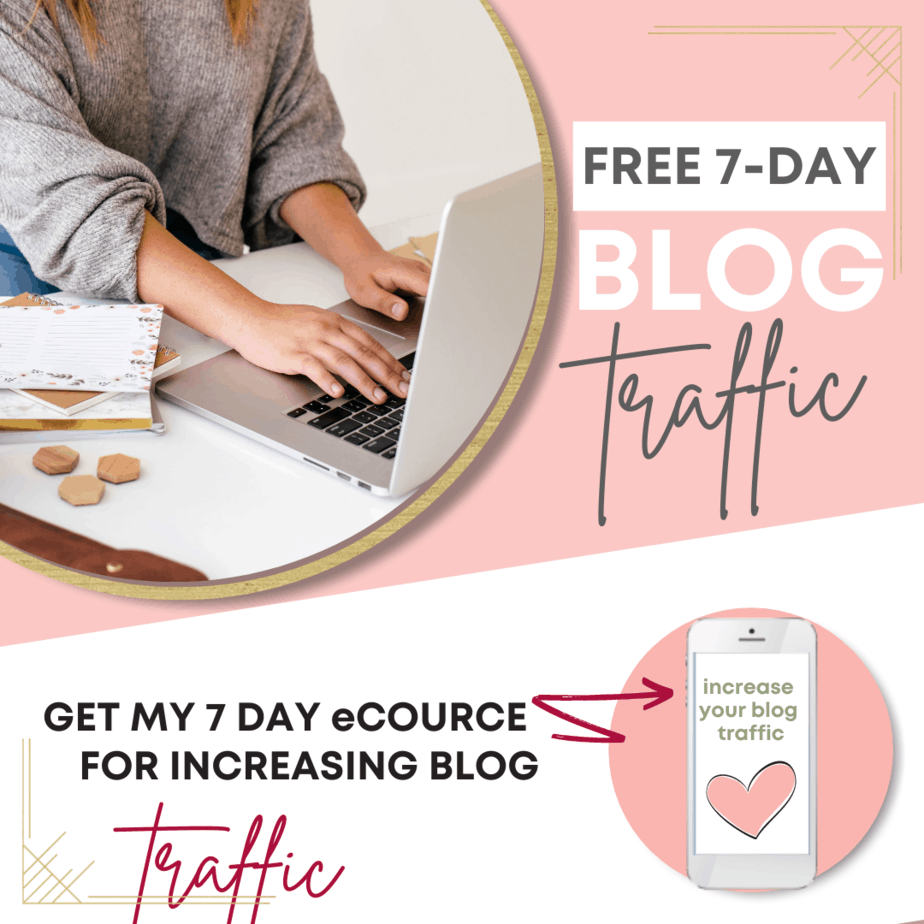 WANT TO MAKE YOUR NEXT 1K, $3K AND EVEN 5K FROM YOUR BLOG IN THE NEXT 45-60 DAYS? THEN GET ALL THE DETAILS HERE!
And there you have it, our best tips for earning passive income blogging effortlessly.
These are the exact strategies we use every month to make money on autopilot.
We highly recommend that you DIVERSIFY your blog passive income streams if your goal is to make a full-time income with your blog this year.
Doing everything on this list will certainly boost your blog income and make you some serious money.
Now, most of these strategies require upfront work from you.
And in order for these to become truly passive, you absolutely need to focus on SEO.
The traffic you get from SEO will also you to grow your income on autopilot for years to come.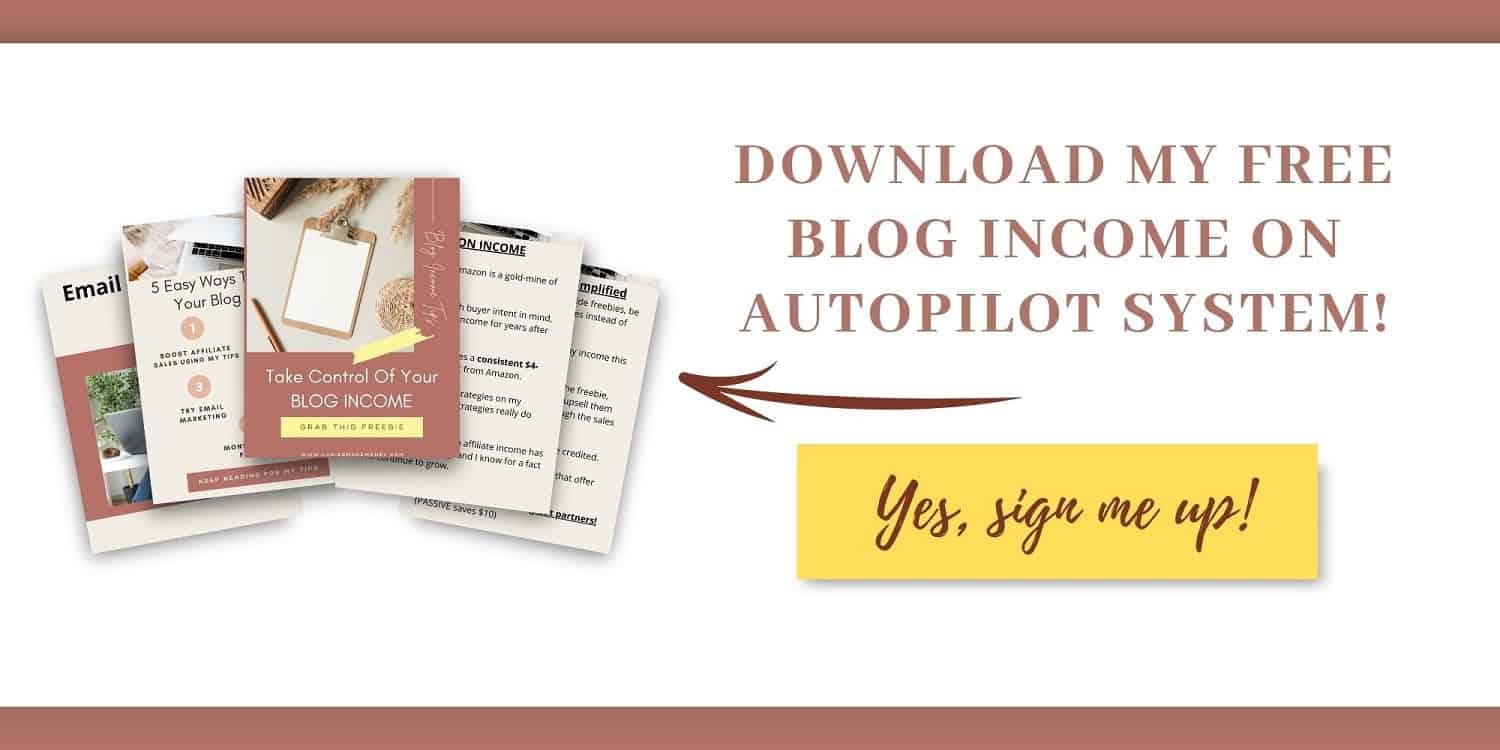 If you are looking at different ways to promote your passive income strategies, we have a few blog posts to help you get started below:
Don't forget to track your blog income using this spreadsheet and create more of what is working for you.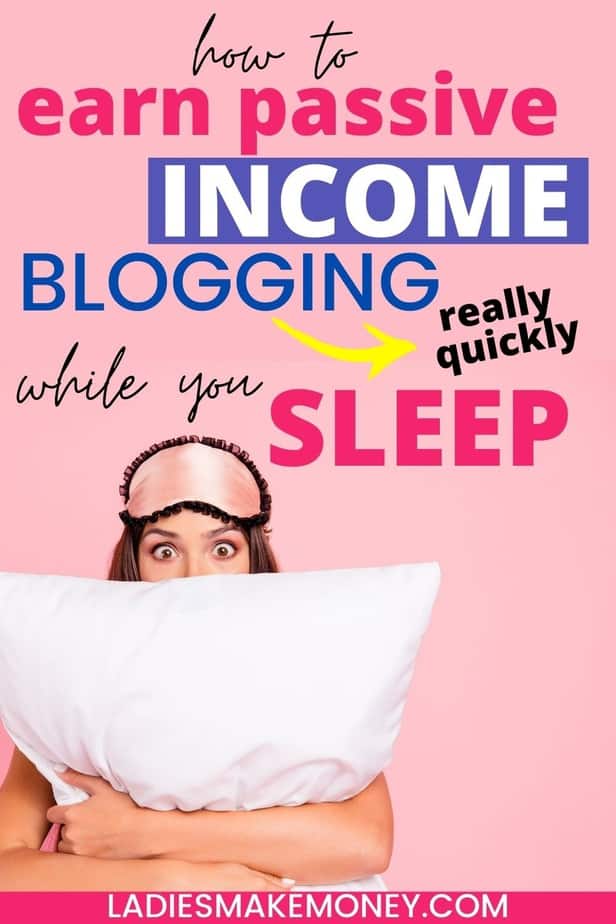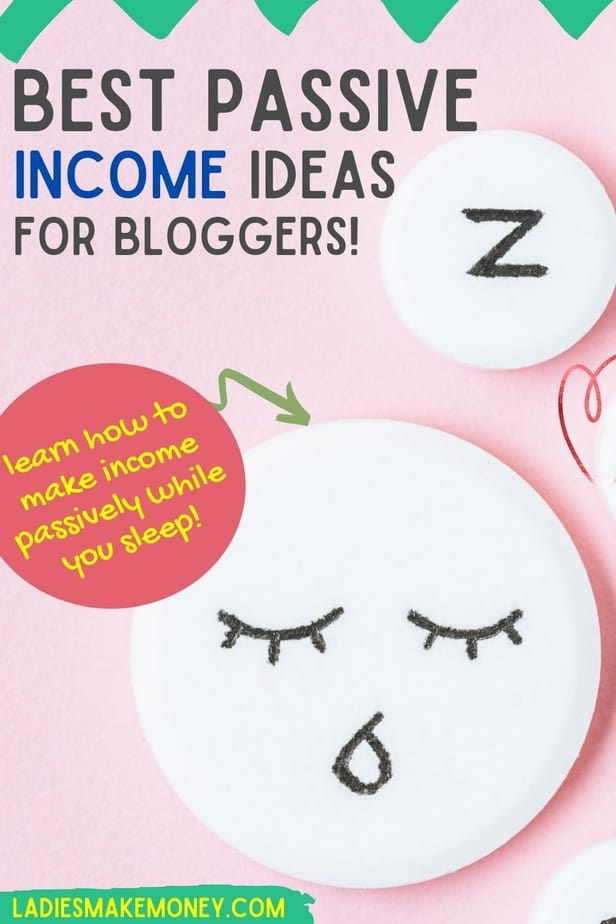 If you enjoyed our blog we would like to have you join our email list and receive weekly money-making tips, you can join now! Don't forget to like the Facebook group for bloggers. The page is created to share your work, pitch your services, and learn from other experienced bloggers!
---
***We would like to note that this post and most posts on our blog may contain affiliate links. This means that if you purchase something that has an affiliate link, we will get a commission from it. Not all items recommended on our site are affiliate links. We only recommend items that we have used and tried. These items have brought us much success and we highly recommend them to you in order to be successful. Thank you for your trust!
The Exact Steps You Should Take To Make Passive Income Blogging