Last Updated on April 23, 2021 by admin
Passive Income Blogging
Are you interested to learn more about how to make passive income blogging
If that is you then I am so glad you are here.
The whole point of blogging independence is to be able to monetize your blog without working hard and long hours on it.
This is where "Passive Income" comes in.
If your goal is to start a blog that makes money but still allows you the freedom to enjoy time with your family, then you will need to implement money-making strategies that will allow you to earn money passively.
Once I implemented a passive approach to making money blogging, I didn't have to stress anymore.
I was making money on auto-pilot with little to no more promotion.
This post is perfect for entrepreneurs and bloggers who want to learn more about how to earn passive income from blogging.
Earning passive income blogging is not as complicated as most people think it is.
The idea is to do all the work upfront, set up everything needed to earn passive income from blogging and let it run on autopilot.
As you know, there are plenty of ways bloggers can make money blogging.
In fact, go ahead and read this post where we outline over 10 ways to make money online as an entrepreneur!
You can also sign below
Learn how exact tips for creating a successful passive income blog
Before we get started on the steps for how to make passive income blogging, we would love for you to join our growing Facebook group right here! Be sure to give us a quick follow on Instagram as well!
We also wanted to take the opportunity to let you know that we use Affiliate links on some of our blog posts. This means that we could make a commission if you click on an affiliate link and purchase something. Please check out our full disclaimer and policy page here.
What Is Passive Income
Passive income is money you make from your blog with little to no time involved from you during the process.
In other words, you are not trading your time and hours for dollars.
You earn the money from your blog on autopilot from the effort and system already put into creating your income streams.
A great example would be creating your own digital products and selling them on your website or blog.
This process would ideally be automated so you are not spending hours promoting.
The hours you will spend will include creating the product itself, promotional graphics, and your promotional plan.
Once this is set, you can now watch your income come in passively, even when you are asleep or away on vacation.
This sounds like a pretty amazing plan to me.
Remember, just because you create the perfect system does not mean you should not check up on it.
In order to be successful with this, you need to make some changes, maybe a few tweaks here & there and just monitor the product progress as you go.
Other than this, it becomes an evergreen system with no expiration date but hopefully a lot of income coming your way.
Why Passive Income is the best way to Monetize your blog?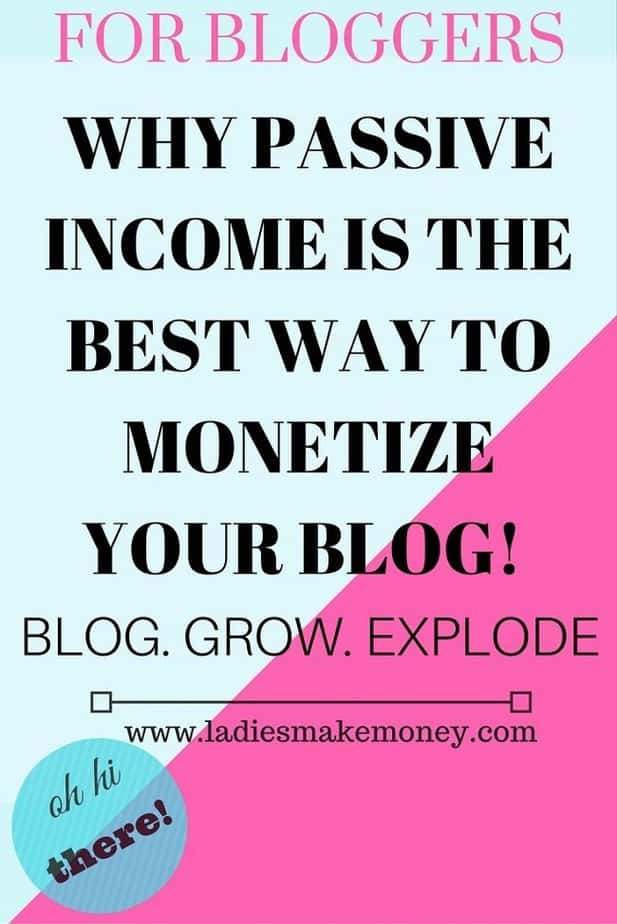 I believe as a blogger, you should consider adding a few different streams of passive income sources as one of your money-making strategies. If you work on a product for about 25-30 hours (the time needed to create it) and have that same product bring you over $3000 in sales per month with 1 hour of promotion a week, wouldn't you be so much happier?
I have a few passive income streams that I have created in order to streamline my income. I have one course on building traffic and an e-guide on building your email list with an amazing strategy! These sources of income have made it easy to run my business. I can easily promote them on social media and to my email list a few times a month and get a couple of sales out of them. These courses and guides will continue selling even when I am away on vacation. I love vacation time.
How can you succeed with Passive Income?
In order to be successful with this type of income stream, you need to get your blog and business organized. This process will break or make your business.

Create a good plan – No business ever ran successfully without a business plan. Your business plan will include your blog name, tagline, mission statement and your goal. What are you trying to achieve? For example, you want to earn 5K Monthly by blogging, it will take you 6 months to get there, these are the steps required to get there and so on.
Simply for your passive income process
Grab this epic freebie where I outline 5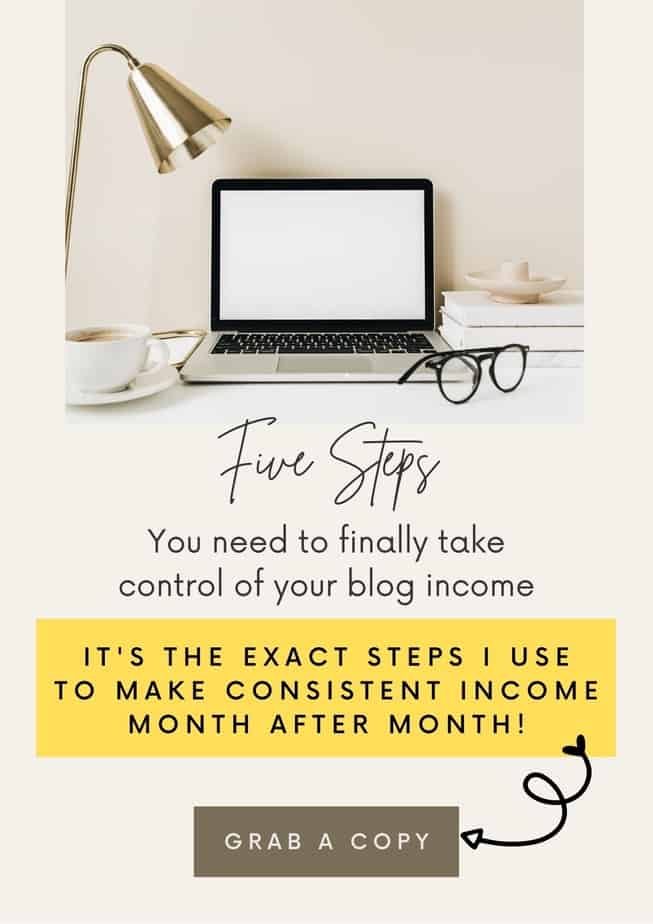 Define your blog niche

– Who are you targeting? Who will your course and products be sold too? What sort of items is your niche interested in? Where do they hang out? Facebook groups or on Instagram? Make a detailed plan of how you will get them onto your email list to send them your products? My e-guide of getting your next 1000 email subscribers goes through the process of defining your audience and the process of easily getting them signed onto your email list!
What's your product? – Figure out which type of passive income stream you want to offer your clients. You can create surveys to really determine what your audience needs. In order to be successful with this, please build your email list. This way you can send your survey to the list and create the product that is most needed. You are more likely to succeed this way. Because the product will be on-demand.

Create content based on your product

– If you want to succeed with passive income, your audience needs to know and trust that your products will be good. Create a few pillar posts with great information to entice your audience. This will ensure that your audience can trust your work and you are creating credibility for your future products at the same time.
Promote your product – Don't think that if you build it they will come. Promote it, promote it and promote some more Getting on social media, send it to other blogger friends and especially using your list will help you succeed. If your course is selling for $50.00 and you have a list of 1000 email subscribers, let's hope 2% decide to purchase it. That's 20 buyers. You have now made $1000.00. Now keep growing your list, repeat the process the following month. Grab your e-guide and grow your list of engaged buyers today.
WANT TO MAKE YOUR NEXT 1K FROM YOUR BLOG IN THE NEXT 45-60 DAYS? THEN GET ALL THE DETAILS HERE!
As you can see, they are so many things you can sell in order to make money easily. A few honorable mentions also include arts, fonts, graphics, themes and more.

What products can you offer as part of your passive income process
E-COURSE

– They take a lot of time to create and we suggest pricing them at $69 going up. It is a lot of work.

E-BOOKS

– This should not take you to long. You can use one of your blogs and expand on the details. You are more likely to sell these on a daily basis. Price them no more than $30.00.

WORKBOOKS

– Almost like an e-book but very instructional. It involves a lot of exercises. You want to provide lots of information on this too. Again, no more than $30.00.
WEBINARS –

Webinars are known to be popular and convert well. This is a way of live teaching something. I know bloggers that sell conferences and classes as online webinars. Most webinars are offered free of charge and then you do a pitch to your course at the end. But you can also sell webinar courses for those that can't attend a conference. Use this over and over as a sales product.

PLANNERS AND ORGANIZERS

– A few bloggers I know sell planners and organizers to their audience. This is extremely popular and bring in tons of money. It's huge in the market.
What tools and products will your be using to sell your work?
My number one teaching platform is TEACHABLE. It is easy to use, it has an amazing sales page that is automatically created when working on the course and it is user-friendly. They have a free option available to choose from when you start and they have a fantastic way for you to add affiliates. If you want to learn more about Teachable and how to successfully create online courses, they have a weekly webinar you can join and they will teach you the 7 Steps to launching your own profitable online course. Anyone can teach online. If you are a beauty blogger, you can upload your YouTube tutorials and sell this. If you are a food blogger, you can have YouTube tutorials where you have instructions on recipes and more. A fashion blogger? Have videos on different styling methods. The possibilities are endless. Join the webinar for free and see how it can change your business.

DPD (Digital Product Delivery)

– I use this to deliver my e-courses. You can sign up for a FREE trial! I love this as you can get money within 2 days with PayPal. You also have the option to create affiliates in the group. When someone purchases the product, they can automatically download it. It is really easy to use. Fantastic for hosting your passive income products.

Etsy

– You can use etsy to sell products such as themes, arts, printable and planners. A lot of DIY people hang out on ETSY. It is really easy to set up shop and start selling your products.
These are are the outlets I have personally used and I am highly recommending them for your success!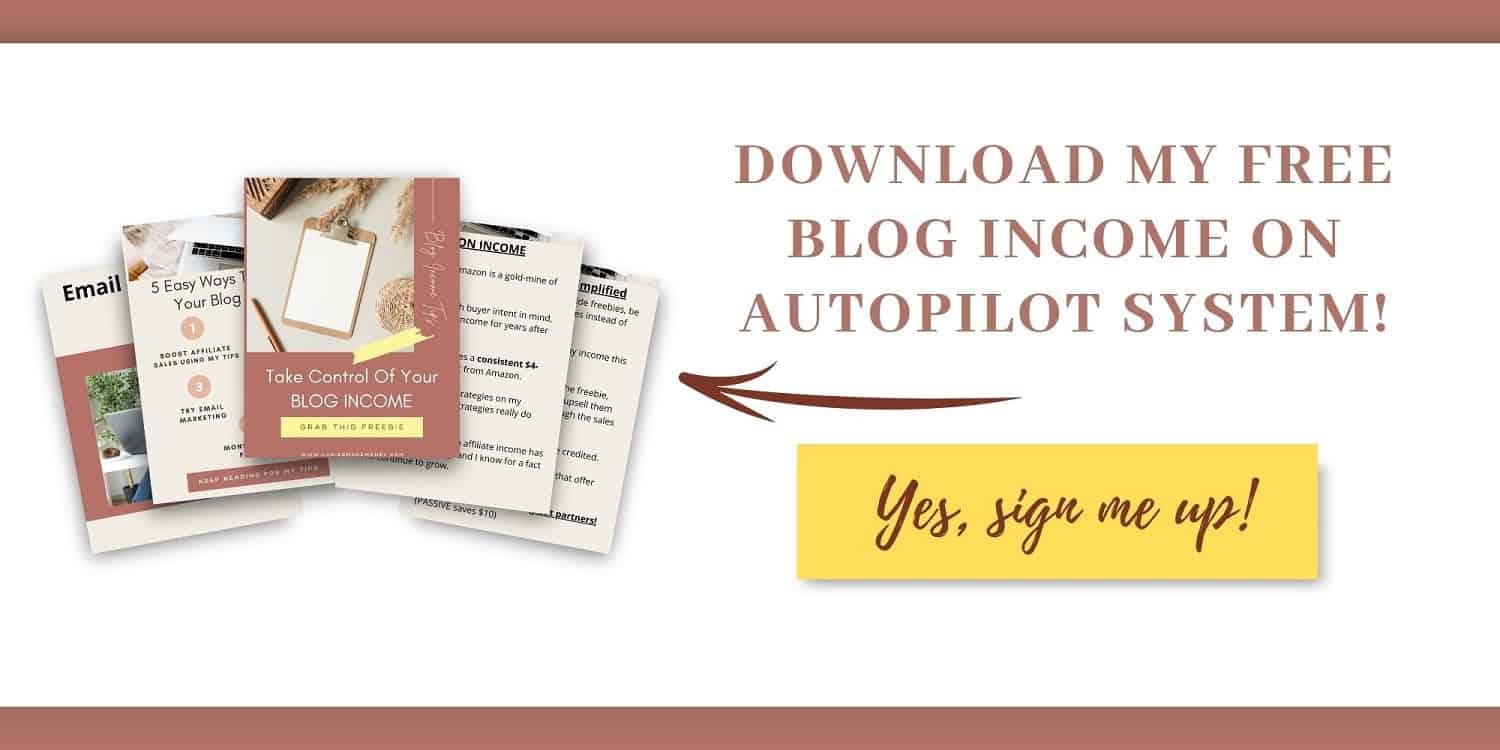 If you are looking at different ways to promote your passive strategy, we have a few blogs to help you get started:
Will you be creating your own courses to maximize your passive income sources? Tell us in the comments below.
If you enjoyed our blog we would like to have you join our email list and receive weekly money-making tips, you can join now! Don't forget to like the Facebook group for bloggers. The page is created to share your work, pitch your services, and learn from other experienced bloggers!
---
***We would like to note that this post and most posts on our blog may contain affiliate links. This means that if you purchase something that has an affiliate link, we will get a commission from it. Not all items recommended on our site are affiliate links. We only recommend items that we have used and tried. These items have brought us much success and we highly recommend them to you in order to be successful. Thank you for your trust!
The Exact Steps You Should Take To Make Passive Income Blogging