Last Updated on March 21, 2019 by NandiNN
How to Earn $10, 000 Per Month From Home
Would you be excited to make $10,000+ per month blogging? For many people, this is considered to be an income level that would allow them to finally quit their day job and blog full-time from home! Are you serious about earning $10, 000 a month?
Achieving a 5-figure monthly income from a blog allows you to spend more time at home, with your kids or significant other.
You can escape the stress of a conventional job and be free from that boss who, for some reason, always thinks he owns you because he pays you JUST enough to live on.
You can even take a vacation whenever you want to.
For some people, it simply means living a life that they don't need a vacation from. For me, the freedom that a successful blog brings is priceless.
A blog continues to make money for you even while you are sleeping! Any work that you put in will increase your income and not make someone else rich!
My wife and I regularly make $10,000 a month and more from our two blogs.
We have a small audience of around 10,000 visitors per month, which shows that you do not need massive amounts of traffic to make a significant income from a blog.
It is worth noting that we do things a little differently from most bloggers.
We do not have a huge number of visitors to our sites and we don't have an email list. We make the majority of our income from affiliate marketing. expensive products and services.
Here is a short list of the 'normal' blogging tactics that we don't use. These might be surprising to you given our blogging income:
We have very few (like 5 – 10!) blog subscribers.

We don't use an email list to market to our visitors. We probably should but we don't!

We don't have much traffic or a huge Google presence. Our sites are not very large and don't attract much traffic from Google. The domain authority is in the '20s for both sites.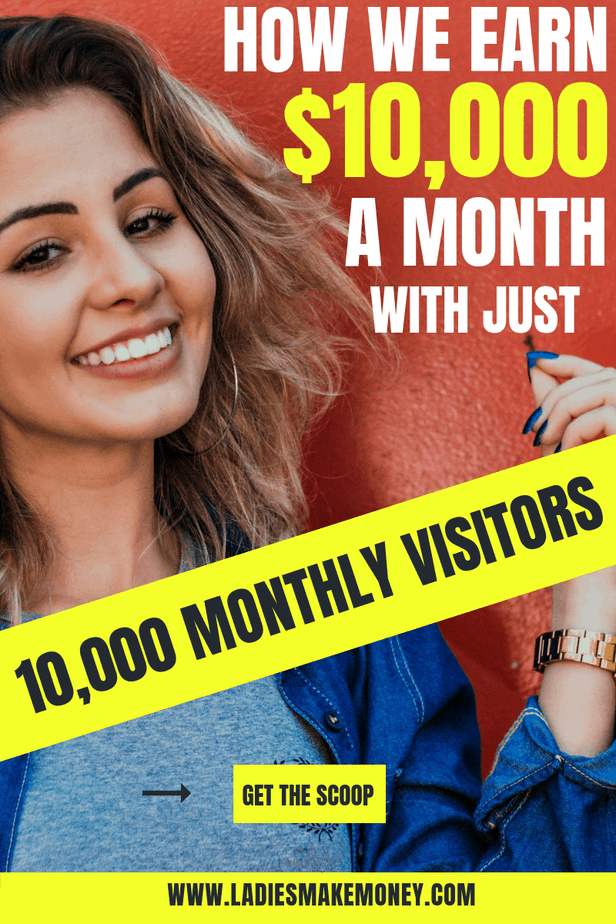 Related:
10 Creative Ways to Make a Full-time Income from Your Blog
How to Boos Your Affiliate Marketing Income and Make Money Online
So what is our secret to making 5-figures per month blogging? With this article, we hope to show you how it is possible to do this with none of the above!
You going to learn exactly how to make $10, 000 a month working from home. If you are interested in learning more about how to make sense of affiliate marketing this article will help.
But before we get started on how to make $10, 000 a month blogging, we would love for you to join our growing Facebook group right here! Be sure to give us a quick follow on Instagram as well!
We also wanted to take the opportunity to let you know that we use Affiliate links on some of our blog posts. This means that we could make a commission if you click on an affiliate link and purchase something. Please check out our full disclaimer and policy page here.
How We Make Money With Affiliate Marketing
We focus almost entirely on affiliate marketing.
We partner with companies that pay us a commission every time a visitors buys a service or product through our links to their site.
We only really sell expensive courses that cost $1,000 – $ 10,000!
These courses provide massive value to the customer. We often receive 50% of the purchase – which is awesome!
Is it more difficult to market expensive products and services?
Bloggers often think that because a product costs thousands of dollars that very few people will buy it.
This reduces the competition for promoting the product.
With the right sales funnel and a smart approach, it is not always that much harder to sell expensive products.
In some cases, it is easier!
It was also hard for me to believe that people would buy $5,000 courses. Finding the right audience can be tricky, but when you do the money just flows in!
There are millions of people out there that will buy a course that helps them – even if it costs $10,000.
These people are serious about improving their lives by learning how to trade stocks, start a business or learn how to invest in real-estate.
Often, they will have an investor mindset. They realize that a few thousand dollars now can help them to make a lot more in the future.
These are our target customers.
Here is what we promote and how we choose the products
It takes a bit of finesse to 'date' your leads and encourage them to buy expensive products.
This is normally accomplished via your email list.
However, we have taken a different approach – we let the companies that we are affiliates for, do the hard part of the sales process.
We just send them as many leads as possible!
We pick companies that have expensive, high-quality products and excellent sales funnels. This way we leverage their resources and expertise – they are way more experienced at this than we are.
They have invested a ton of money into testing and perfecting their sales funnels. Something we cannot do for every affiliate product that we promote.
By choosing the right affiliate products, we are able to easily make $10, 000 a month with our two blogs.
Here is exactly what we look for in the products and companies that we are affiliates for:
An excellent product that we have tested and absolutely love.

A freebie (usually a masterclass or something of high value) to capture email leads.

A high ticket product – usually a minimum of $300 but preferably $1000+.

Dedicated email follow-ups after the freebie are sent. Typically we like to see the company offering special deals and a nice long email sequence encouraging the lead to buy.

We have found that we make a lot more money if the company offers multiple products and has a good 'up-selling' process. We often make multiple high ticket sales over the course of a few months.
Finding these types of affiliate offers can be quite challenging and availability will depend a lot on the niche that you blog about.
We are able to find many that fit our criteria in the personal finance and investing niche.
We blog about stock trading, work at home side hustles and real estate investing.
These subjects all offer numerous high ticket affiliate opportunities.
We look for products that are popular. This usually involves talking to people at the company and figuring out how many clients/customers they have.
If it is a monthly subscription service, we check to see what the recurring percentage is. This is a good indication of customer satisfaction.
We also want to see that the company is well established and profitable.
The last thing we want is for them to shut their doors after we have invested a lot of time and money in promoting them.
Here are a few ideas that fit our criteria. These are products that we promote in the personal finance niche.
These are the least expensive products that we promote but you can still make a lot of money from them.
If you read these blog posts, you can see that there is a free webinar/masterclass offered for all of them. This makes promoting them much easier and conversion rates much higher.
If you are interested in Proofreading, sign up for a free course right here. It's an amazing course.
Promoting Expensive Products
Promoting these higher priced items does take some practice.
We often write reviews of the product and try to rank the review in Google. People want to read reviews of expensive course before they buy and intercepting them in a Google search is the best way to do this.
We also write informative articles by interviewing students that have had success from the courses. This acts as social proof to potential customers and gives them a deeper insight into the product.
Once we have found a product that converts well, we will go all out on promoting it.
We will target social media traffic, write tons of articles about it from different angles and even pay writers to help us.
If an article costs $200 to write, we know that this will be paid for by a single affiliate sale.
At the end of the day, if you are going to make $10, 000 a month, why not go all out and promote the product as much as possible?
Finding the best possible potential customers is key
We test audiences all the time.
Usually, this means trying different social media platforms to find the platform that has the 'hungriest' audience for the product that we are promoting.
The platform makes a huge difference to our conversion rates.
We have found that Pinterest works well for promoting work-at-home courses such as freelance writing and proofreading.
Twitter has proven to be very effective in promoting our stock trading courses.
If we try switching these, our conversion rate for the products falls dramatically.
Given that our conversion rate from clicking our link to purchasing is only 2% – 5% for these expensive products, it really matters who we are promoting to.
Related:
10 Places to Promote Your Blog for Free for Massive Traffic
How to Increase Organic Traffic from Google – Without Tearing Your Hair Out
How to Manage Your Personal Finances As An Entrepreneur
Conclusions
Hopefully, we have inspired you to try promoting some more expensive affiliate products.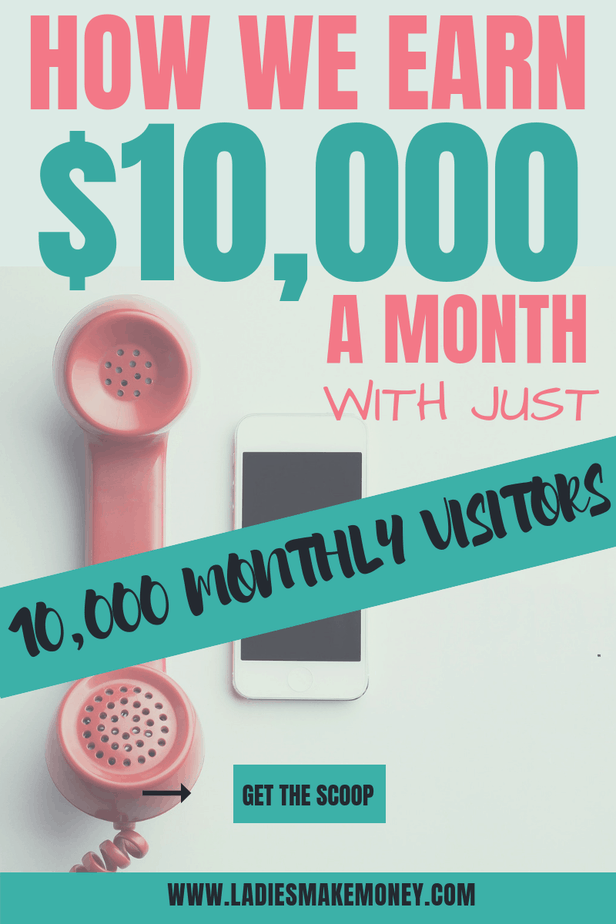 We refuse to promote products that send us $12 per sale now! It really is not that hard to receive $1000 commissions, so why would we work so hard for the commissions from a low-cost course or eBook?
Would you rather not make $10, 000 a month?
Even if you just have a few thousand visitors per month to your site, it is totally possible to wake up to thousands of dollars in affiliate commissions.
Once you make that first commission from a high ticket item all you have to do is keep doing more of what is working to scale your affiliate income!
Good luck!
Russell and Maleah
Author Biography
Russell and Maleah own Unconventional Prosperity (a blog about personal finance) and StockMillionaires (a website dedicated to reviewing stock trading education services). Russell and Maleah struggled financially for years. They were able to achieve financial freedom in their early thirties and now try to help other people to do the same thing.
Find more amazing Blogging and Entrepreneurship tips here!
If you enjoyed our blog we would like to have you join our email list and receive weekly money-making tips, you can join now! Don't forget to join our Private Facebook page. The page is created to share your work, pitch your services and learn from other experienced bloggers!
---
***We would like to note that this post and most posts on our blog may contain affiliate links. This means that if you purchase something that has an affiliate link, we will get a commission from it. Not all items recommended on our site are affiliate links. We only recommend items that we have used and tried. These items have brought us much success and we highly recommend them to you in order to be successful. Thank you for your trust!
How We Earn $10k+ a Month with Just 10,000 Monthly Blog Visitors