Last Updated on March 30, 2021 by NandiNN
The Best Lifestyle Bloggers
We love blogs, and we especially really love Lifestyle Blogs. And with that in mind, we think these 15 lifestyle bloggers absolutely rock!
Why we think lifestyle blogs are so cool.
I personally love the convenience of finding and reading everything I need in one spot and this is where great lifestyle bloggers do a good job at making this work.
If you are looking for a few travel tips, makeup tutorials, fashion trends or even wedding tips, then most likely, a good lifestyle blogger has this already covered!
Am I a lifestyle blogger?
Hmm, yes and no.
I talk about a few things on my blog, but I mostly personal finance stuff, blogging tips and career tips.
But I do have a few lifestyle blog posts that you might find interesting.
Example of the best lifestyle blog posts you can find here are:
If you are looking for blog post ideas to inspire your creativity, we have lots of amazing tips on this blog!
And also by following these top female lifestyle bloggers, you will find plenty of amazing ideas for your own blog.
We are hoping to cover and answer the following:
Are lifestyle blogs popular?

Can lifestyle blogs make money?

What should a lifestyle blog include?

Is starting a lifestyle blog good for making money?
And we are going to share top lifestyle blogs for creative women in business.
But before we get started on the best lifestyle bloggers and lifestyle blogs you should be following this year, we would love for you to join our growing Facebook group right here! Be sure to follow us on Instagram too!
We also wanted to take the opportunity to let you know that we use Affiliate links on some of our blog posts. This means that we could make a commission if you click on an affiliate link and purchase something. Please check out our full disclaimer and policy page here.
Ready to find out what top women lifestyle blogs you must follow?
But first, we need to understand what a lifestyle blog is.
Everyone has their own true definition of what they think a lifestyle blog or a lifestyle blogger is.
And you are entitled to your own opinion to be honest.
Once you read a few of the women's lifestyle blogs we mention below, you will see why we find them the best creative blogs out there!
They write on several different topics but are all considered lifestyle blogs.
This will give you the opportunity to make a decision on what you consider is a lifestyle blog.
But we still wanted to share our definition below.
What is a Lifestyle Blog?
Typically lifestyle bloggers tend to blog about their personal lives and interest which is why they are sometimes known as personal blogs.
They will often create content posts that are inspired by the way they live, places they visit and their day-to-day lifestyle.
A beauty blogger or fashion blogger is a niched blogger and typically blogs only about all things beauty or fashion.
This is not to be confused with a lifestyle blog.
A lifestyle blog will defer from blogger to blogger as obviously each person has their unique intake of how they live.
Lifestyle bloggers are also known to be more social on most social media platforms like Instagram!
Some of the best female lifestyle blogs I have seen myself are bloggers that truly inspire me as a businesswoman.
A few topics you can see written on a creative lifestyle blog includes but not limited to the following:
Fashion

DIY Tutorials

Home Décor

Parent Tips

Relationships
And a lot more.
You can pretty much be as creative as you want with a lifestyle blog.
Can you make money with a lifestyle blog?
We know a few luxury lifestyle blogs that make money and we are excited to share our favourite ones below!
Ready to learn more about luxury lifestyle blogs to help inspire you?
We are sharing who the most popular lifestyle blogs are on the internet

The best lifestyle blog for women that inspire us daily

As well as who think are the best blogs for women
A lot of excitement coming your way so keep reading below.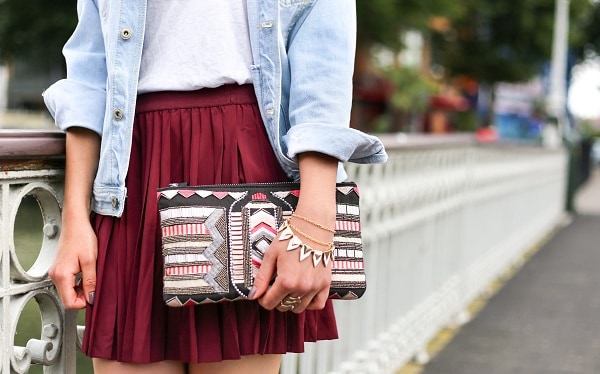 How Do Lifestyle Bloggers Make Money?
Lifestyle bloggers make money just like all the other bloggers out there.
By having multiple income streams for your lifestyle blog, you will see so much more success than only focusing on one area.
I highly suggest starting and mastering one income stream at a time and then fully using all your strategies to really make a living from your lifestyle blog.
They are over 10 creative ways bloggers can make money online every month on a consistent basis!
So how do lifestyle bloggers make money online:
1 – Sponsored Blog Posts:
Using sponsored posts to make money with your lifestyle blog is not uncommon.
This is an extremely popular way of making money with a lifestyle blog. You can talk about almost anything on your blog and this opens up more opportunities to work with brands.
Most brands love to work with lifestyle blogs for this reason.
I have a few posts available to help you with this if you feel like you want to monetize your blog with sponsored blog posts work.
Read these:
2- Affiliate Marketing
This is my favourite way of monetizing any blog and especially if you have a lifestyle blog.
Lifestyle bloggers can do reviews of products they love, share photos and tutorials on how to use these products and link your affiliate links for people to buy from you.
You will then get a commission from each purchase made. Want to rock with Affiliate Marketing? Read this next:
3- Make money using Ads
Depending on how much blog traffic your lifestyle blog gets, you can make great money with your lifestyle blog using ads.
But you definitely need a lot of website traffic.
Without this, you will only make pennies and you should avoid using ads in that case.
"Some of the best luxury lifestyle blogs are definitely making big money using ads."
Check this out:
4- Starting An Online Store
Remember how I mentioned that Sarah a lifestyle blogger friend of mine made over $2 Million selling printables and products with her online store?
Well, as a lifestyle blogger, you can set up a store with a platform like Shopify.
5- Offering Unique Services
As a lifestyle blogger, you have the luxury to offer services that fit your blog niche and theme.
For example, if you love remodelling and changing your home décor, you can offer in-house consultation or even full packages to style homes.
If you blog about fashion, beauty or pretty things, you can offer make-up consults or anything your lifestyle blog focuses on.
These are just a few of the many ways a lifestyle blogger can monetize their blog and online business.
Starting an online business can be extremely successful if well planned.
How Much Do Top Lifestyle Bloggers make?
How much lifestyle bloggers make will differ from blogger to blogger depending on several factors.
In fact, I am always saying that you should diversify your blog income to ensure you have your basics covered.
As I was mentioning earlier, they are a few factors that can determine how much top lifestyle bloggers make with their blogs such as:
How long they have been blogging

How much blog traffic they get

The method they use to monetize their blog

Their goals and marketing strategies

The target audience can also determine how successful your blog can be

And the content on their lifestyle blog
You can check out how Unconventional Prosperity makes over $10K a month with their semi-lifestyle blog!
Be sure to get inspired by these girl bosses so you can learn more about how they monetize!
How to start a successful lifestyle blog:
We have an amazing free course you can join if you want to learn more about starting a profitable lifestyle blog.
If interested, be sure to sign in here:
We will share with you exactly how to start a WordPress Blog with Siteground. If you decide to start a lifestyle blog will need to decide on a few things:
A Blog Niche – I know we mentioned that a lifestyle blog has many topics but finding one main topic and adding no more than two supplementary topics is ideal. You want to be known for something. You can have many categories within your lifestyle blog but choose one core topic.
Choose your Blog Platform – I go through this section in my free course, but choosing a platform like WordPress will allow you to monetize your lifestyle blog easily. Go with the paid option for sure.
Choose your blog name – Ensure you pick a good name for your lifestyle blog, one that is not too hard and something that relates to your potential new blog. A poor blog name can damage your brand value, so keep this in mind when choosing your lifestyle blog name!
Best Lifestyle Blogs to Follow:
I am only going to share a few successful lifestyle blogs that I personally love, but they are plenty of lifestyle bloggers out there that you can take the time to follow and study what they do!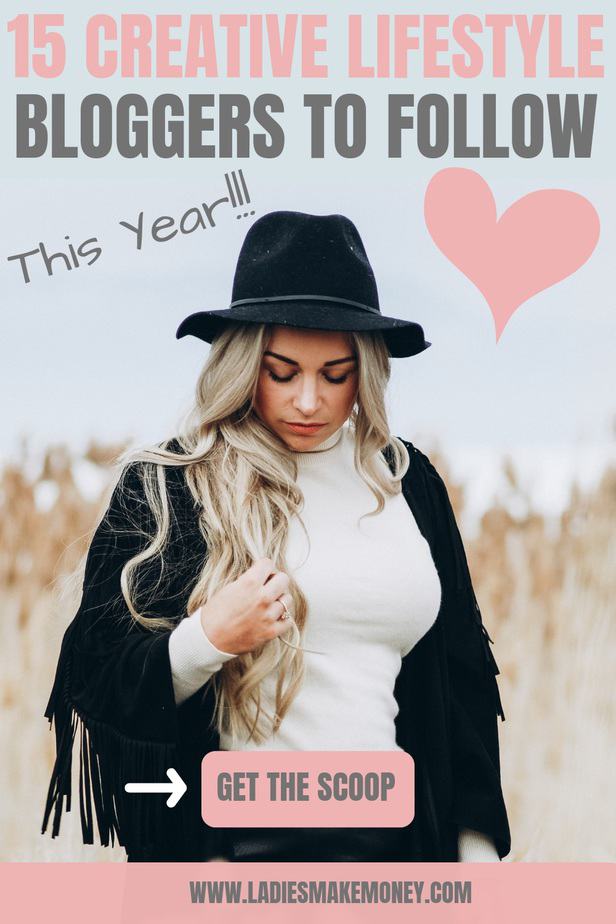 Here is a list of creative lifestyle blogs to follow today:
1. The Everygirl Lifestyle Blog
One of the most successful lifestyle blogs out there is the Everygirl Lifestyle Blog!
It is also one of the best lifestyle blogs for 20 somethings.
Whether she is searching for her dream job or a new city to call home; is saving for a down payment or a ticket to travel the world; is learning to cook or speak another language, she needs a bit of guidance, she wants to be inspired.
Be sure to visit Everygirl for amazing lifestyle tips!
The Everygirl is one of the best lifestyle blogs out there.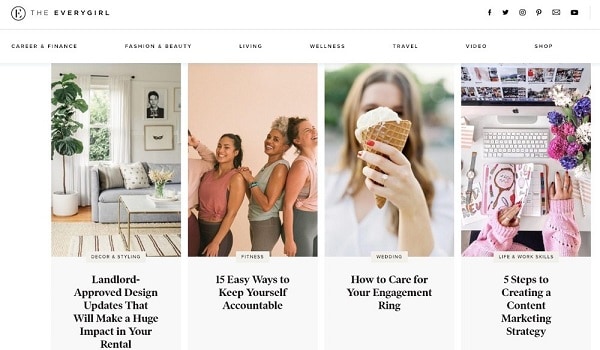 2. A Beautiful Mess
A Beautiful Mess is one of the best lifestyle blogs I have come across to date! The founders of this amazing lifestyle blog are sisters Elsie Larson and Emma Chapman.
On the blog, you will find home décor projects, recipes, crafts, natural beauty, and lots of random bits of their lives in the Midwest!
A Beautiful Mess is one of the best women's lifestyle blogs I have ever come across.
Just take a look for yourself!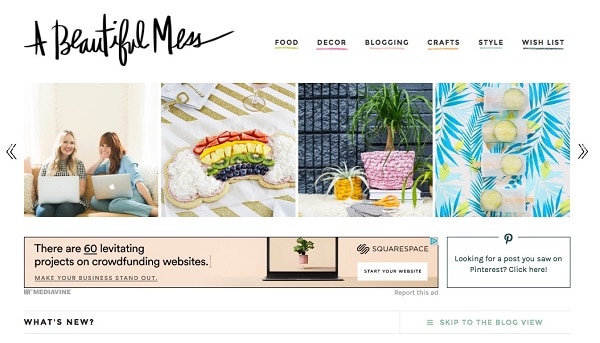 3. Gal Meets Glam
Gal Meets Glam is a source of inspiration that covers everything from fashion and beauty to home and travel!
This amazing lifestyle blog was started back in 2011 by Julia Engel when she was still a Junior in college.
In late 2013, the owner decided to turn this side hustle into a full-time gig! Read the full story here!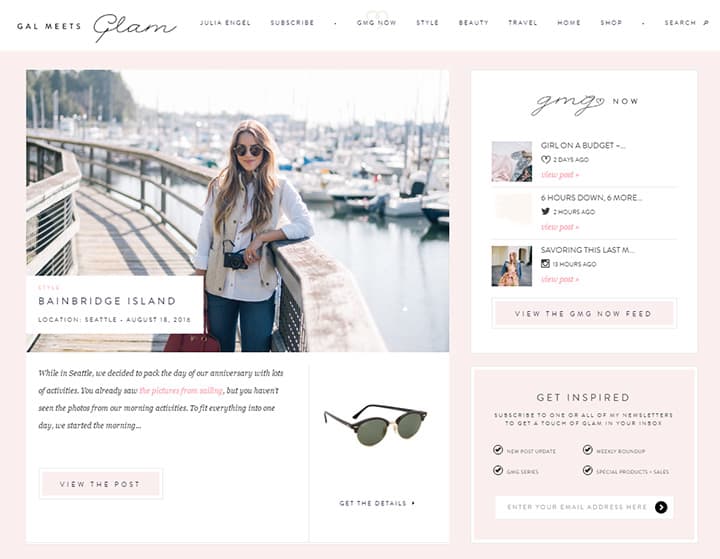 4. A Pair A Spare
Founded by designer and craft lover Geneva Vanderzeil, A Pair & A Spare was created in 2010 as a place for stylish DIYs and How-to tutorials.
Within a year it had been named in the top 50 Fashion & Lifestyle blogs by The Times UK, and Geneva had published a book based on her love of DIY.
Her blog is considered one of the top lifestyle blogs out there.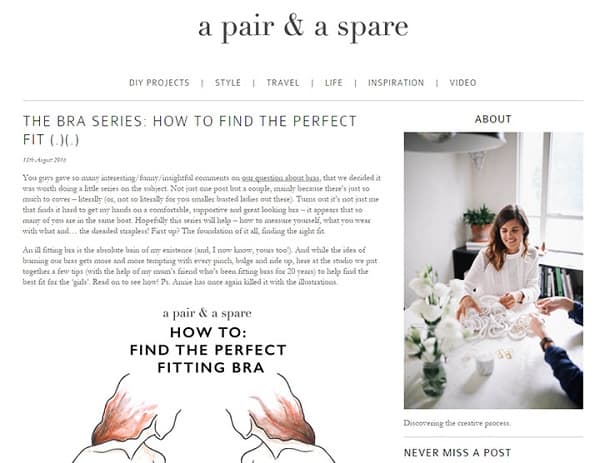 6. Pinch of Yum
A Pinch of Yum was started as a casual hobby for nights and weekends while Lindsay was working as a fourth-grade teacher.
It has since grown into a full-blown business (!!) that reaches millions of people with fun recipes each month. I love learning about how much food bloggers make with their yummy blogs.
If you want to know more about Pinch of Yum, be sure to check them out now.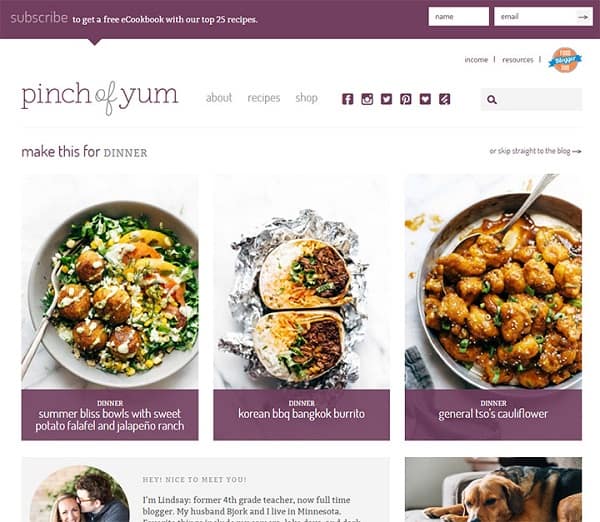 7. PS – I made this
P.S.- I made this… is the innovative creative lifestyle brand founded by Erica Domesek?
If you are looking for fun lifestyle blogs to follow, be sure to follow Erica's blog!
As the ultimate destination for customization and personalization, our mission is to inspire and empower people around the globe to cultivate their inner creativity and embrace the ever-growing do-it-yourself (DIY) way of life.
In my books, she is one of the best female lifestyle blogs out there.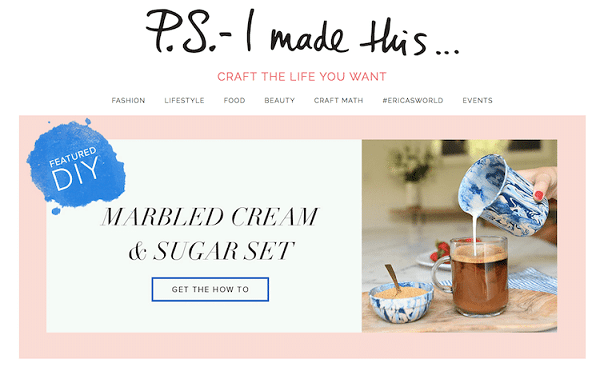 8. A Piece of Toast – One of the Best Lifestyle Blogger
This great lifestyle blog is full of life!
A Piece of Toast spiralled from many ideas, but to make the long story short – Sally and Molly liked the idea of doing a piece of something but thought "A Piece of Cake" would have signified a charmed life.
A cake is not an everyday something you get a piece of. Toast is simple but beautiful.
It's versatile – you can pair it with other foods or top it with an endless list of delicious things. But, no matter what, toast is warm and yummy and makes you feel good.
Their blog is a place where the simple things in life are just as grand as the finer things. The content is for fun and inspiration.
The blog authors vow to post with honesty, humour, and a true sense of self in hopes to hold your attention and keep you coming back for more.
If you are looking for the best creative blogs to follow, this one should be on your list.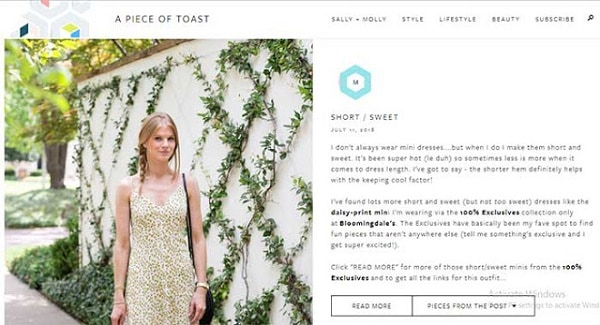 9. Camille Styles Lifestyle Blogger
Camille Styles is the owner and creative director of this lifestyle blog. She is a Texas-based lifestyle blogger.
For everyone who aspires to a life well-lived—a life that includes a happy home, bringing people together, a passion for healthy food, a hunger for travel, and a strong sense of self—we've got you.
Every day, Camille Styles provides engaging storytelling and imagery to inspire the pursuit of your passions on the path to creating the best version of yourself.
Consider this your go-to guide to living well and truly happy.
If you are looking for a great lifestyle blogger to follow, check out Camille Styles!

10. Inspiration Indulgence Lifestyle Blog
Chelsea Korpi is the founder of Inspiration Indulgence, a lifestyle blog inspiring you to be your best self!
Inspiration Indulgence was created in 2014 to blog Chelsea's travels with her now-husband and has transformed into a self-help & style blog throughout the years.
Inspiration Indulgence has reached millions of page views worldwide, and they work with some pretty awesome brands, some of which have included Adidas, POPSUGAR, H&M, WeddingWire, and Becca Tilley's brand.
So be sure to check out the Chelsea Korpi blog today!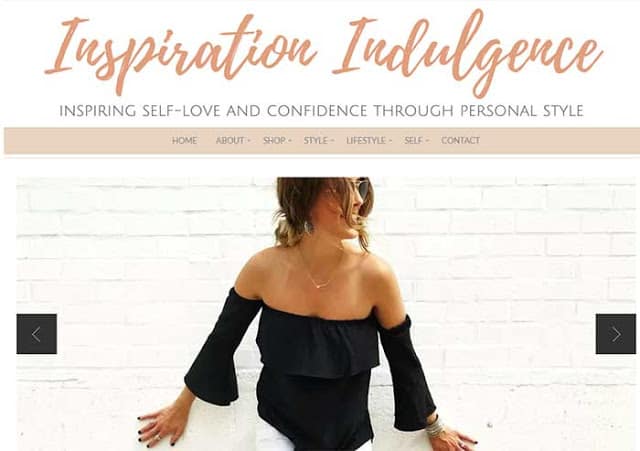 11. Gen Y Girl
If you are looking for lifestyle blogs to follow that features career tips, mom tips and freelance tips, you will find them on this blog.
Kayla Buell is the owner and creative director of Gen Y Girl! This 28-year-old mom blogger is considered a freelance content creator, and author.
Her lifestyle blog features amazing content from motherhood, career tips, travel, adulting and more.
If you want to know more about this amazing lifestyle blogger, be sure to pop over to her blog right now!
It's filled with amazing posts that you don't want to miss.
12. Among Other Things
I am really in love with this lifestyle blog.
Among Other Things is owned by Hallie who is the creative blogger behind this amazing blog!
You can expect to find lots of travel-related content — plus, outfit inspiration, lifestyle chats and an overall no bullsh*t approach to balancing life, dating, beauty, and wellness… Among Other Things.
We have talked a lot about who we consider some of the top female bloggers, but I truly believe that Hallie should be on that list!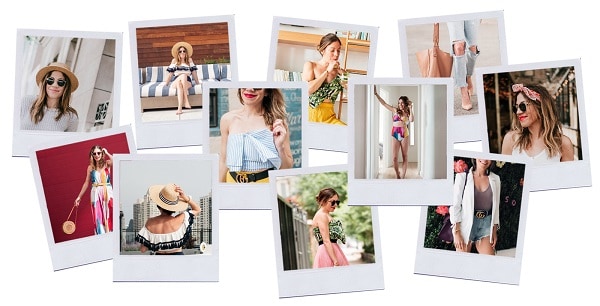 13. The Blonde Abroad
I know we have shared plenty of lifestyle blogs to follow but trust me, you will want to follow the Blonde Abroad!
The Blonde Abroad is the go-to website for solo and female travel around the world- for all women, by women.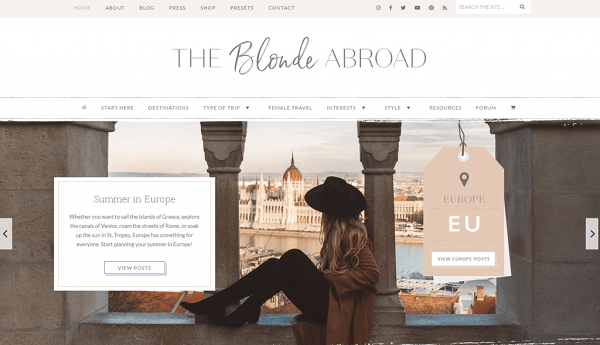 14. Barefoot Blonde
Another amazing lifestyle blog created by Amber!
Amber is known for documenting all things from lifestyle, beauty, travel to fashion. Barefoot Blonde began as a place to share Amber's hairstyles and daily outfits.
It has since grown and even includes a line of clip-in hair extensions.
This lifestyle blogger definitely knows what she is doing.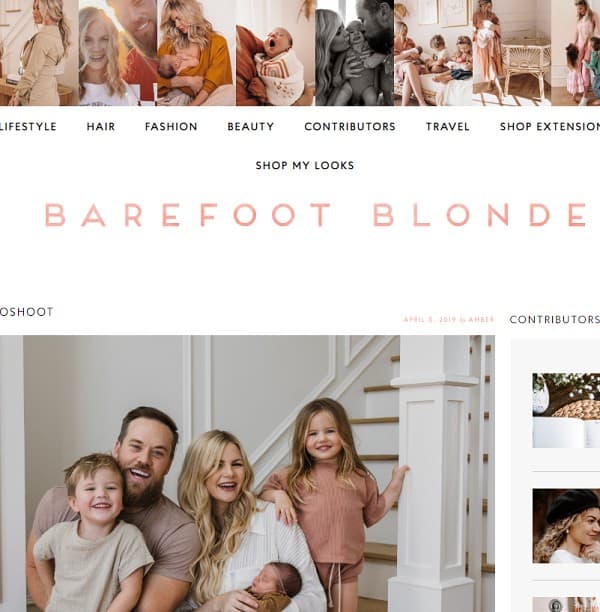 15. Brit & Co Lifestyle Blog
Brit + Co is a media company that inspires, educates and entertains real women with a creative spirit.
The "Brit Girl" uses creativity and a do-it-herself attitude in all aspects of her life: To take charge of her career, forge strong friendships and relationships, curate her own style, decorate her home, and entertain a crowd.
Through their content, online classes and products, they enable you to use creativity to shape your future.

Should You Become A Creative Lifestyle Blogger?
If you felt inspired by these lifestyle blogs, then yes, you should definitely become a lifestyle blogger.
Whether you choose to do it for fun, as a hobby or for money, you should let your creative side shine through.
I am sure they are people out there that would love to read what you write.
Not only that, wouldn't it be great to get paid to write articles from home? I know I would love to start a lifestyle blog that makes money for sure.
We hope this post inspires you to start your own blog today!
Networking With Other Creative Lifestyle Bloggers
Why should you be networking with other creative lifestyle bloggers?
If you plan to start your own lifestyle blog, or you wish to land paid sponsorship, it's best to connect with other bloggers in your niche.
This will quickly open up and grow your readership as well as position you as a leader in your niche.
With this in mind, here are a few solid and proven ways to network with other lifestyle bloggers:
Follow them on social media and interact with them there. A good social media platform would be Instagram.

Lookup a few of the lifestyle bloggers mentioned here, and leave meaningful comments on their blogs at least once or twice a month.

And lastly, read out to them via email to introduce yourself!
Who knows, new friendships might begin this way, you might gain some collaboration gigs especially if they share them with you.
There you have it, a list of top female lifestyle bloggers!
I hoped you enjoyed our list of lifestyle blogs and that you take the time to follow some of them today.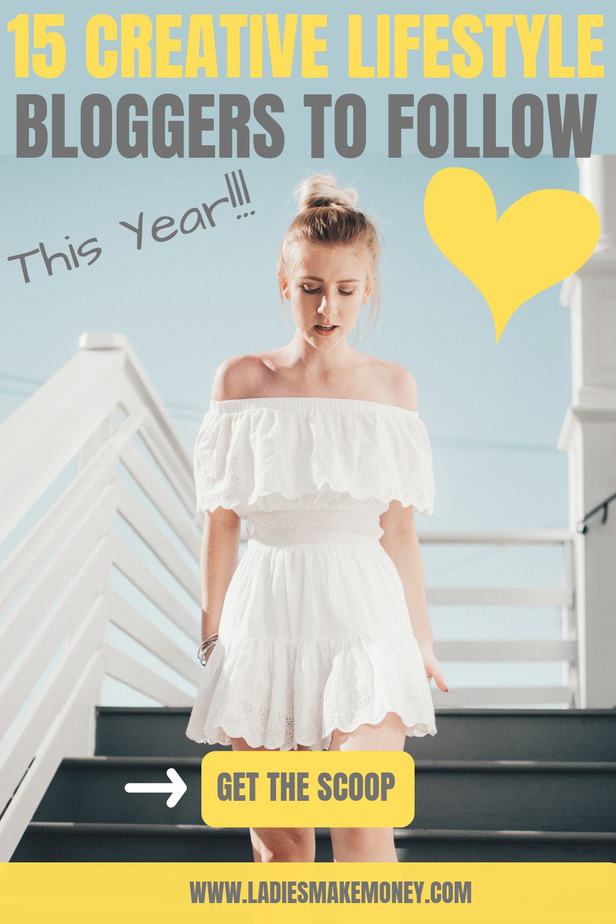 Best Lifestyle Bloggers to Follow for more Inspiration:
What are some of the best lifestyle blogs you follow daily? We want to follow them too!
If you have a list of creative lifestyle blogs you want us to feature, be sure to leave the name below!
If you are looking for more lifestyle posts to read, find them here!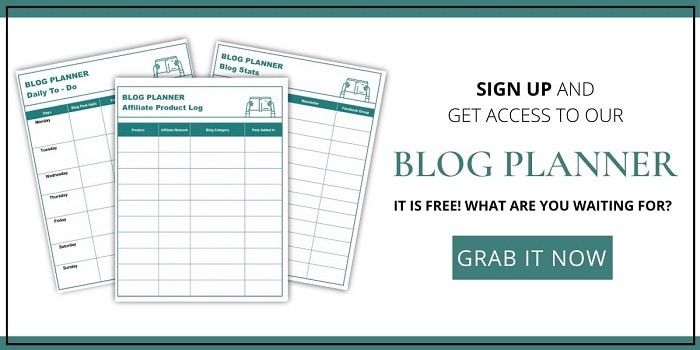 If you enjoyed our blog we would like to have you join our email list and receive weekly money-making tips, you can join now! Don't forget to like the Facebook page. The page is created to share your work, pitch your services and learn from other experienced bloggers!
---
***We would like to note that this post and most posts on our blog may contain affiliate links. This means that if you purchase something that has an affiliate link, we will get a commission from it. Not all items recommended on our site are affiliate links. We only recommend items that we have used and tried. These items have brought us much success and we highly recommend them to you in order to be successful. Thank you for your trust!
15 Creative Lifestyle Bloggers, You Need To Follow This Year (2021)