Last Updated on August 6, 2018 by NandiNN
My top profitable way of monetizing my blog is by using affiliate marketing. Welcome to our 4 Part Affiliate Marketing series! We will be focusing on how to boost your affiliate Marketing income and sales. Once you know how to effectively use Affiliate marketing, you can grow your income monthly in a more passive way.
Before we get started on amazing tips to help boost your Affiliate Marketing Income, we would love for you to join our growing Facebook group right here! You can also join our Pinterest group by scrolling to the bottom of this page! If you are looking for guest blogging opportunities or if you need a personal affordable coach to take you from A-Z, we can help you. Get all the juicy details right here! Have you seen our brand new shop! 
So many amazing bloggers such as Michelle from Making Sense of Affiliate Marketing are making hundreds of thousands of dollars per month just in affiliate sales. I am by no means close to making that kind of money, but I am seeing the potential. If you would like to start seeing results with your affiliate sales, consider getting this e-book: How to make money in affiliate marketing within 24 hours using Pinterest. Learn how to boost your affiliate marketing income today! 
This is part one of How to Boost your Affiliate Marketing Income Blogging series. 
Want to catch up on the Affiliate Marketing Series?: 
Creative Ways to Boost your Affiliate Income and Make Money Online
You really need to understand Affiliate Marketing before undertaking this. I get at least 10 emails a week with bloggers feeling frustrated about Affiliate Marketing and are wondering why they are not making any money. Slapping a few links here and there won't guarantee a sale. You need to be strategic about how you market yourself. 
If you do not understand Affiliate Marketing, but you are willing to learn in order to boost your Affiliate Marketing Income, then be sure to start here first.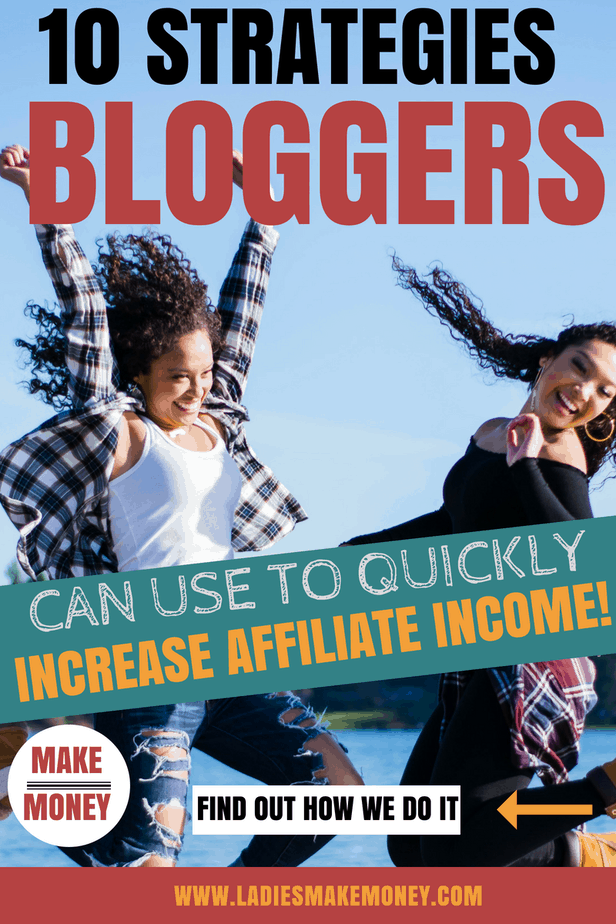 Step 1: Always recommend products that you love using 
The first step of succeeding with affiliate marketing is to only recommend and work with products that you have used and tried out. If you blindly recommend a product for the sake of making money, you won't make much. You should be able to demonstrate how the product has helped you, why you love it so much and how it will solve your reader's problems.
Doing this will boost your Affiliate Marketing income as it will make your pitch believable.
Here is a list of Affiliate Programs to sign up for!
Related: 
Blog Income Report – 2018 First Quarter
8 Reasons why your blog is not making money
Step 2: Promote your affiliate Marketing links

on 

your blog
They are so many amazing ways you can promote your affiliate links via your blog. But they are a few ways that we highly recommend as they will get you more of a return on investment (time). The best way is to write a review on why someone should purchase a certain product or service you are recommending.
As we mentioned earlier, try to solve a problem that most people are facing. Describe in great detail how a particular product has helped you resolve this issue or is still helping you. If you can include social proof, this will be great as it is guaranteed to boost your Affiliate Marketing income. 
Here is a review I wrote about Swagbucks and how I am able to earn about $500 per month from using their service! 
Be honest with your review, show examples if you can and really aim to solve an issue that most of your readers may have. So aim at writing reviews, tutorials on how to use something, and interviewing your affiliate manager for their perspective on the product. 
In my opinion, this has helped me make more money and it will also help you boost your Affiliate Marketing Income. 
Step 3: Promote your Affiliate links with Social Media
Use social media to promote your affiliate marketing links. I recommend using Pinterest to boost your Affiliate sales and one of our blogger friends created this amazing e-Book about getting the most out of affiliate marketing with Pinterest.
I wrote a whole review on it right here: How to make money in affiliate marketing within 24 hours using Pinterest! It has an amazing e-book and I make sales every day now using Pinterest with the strategies she shares. Pinterest alone will help boost your affiliate marketing income
When posting on Social media or your blog and pretty much every else, do not forget to disclose that it is an affiliate link that you are promoting and that you will be making a commission. If you have a large following on Twitter and your Blog Facebook page, these are also good places to directly promote your links!
Consider joining Maven, the new Pinterest to promote products you love. It's free to join and easy to share on all social media platforms with one click. This means more exposure. If you do join Maven, please complete your profile and include your blog link for the traffic to work! 
Related: 
15 Affiliate Programs to boost your monthly income

Step 4: Promote your Affiliate Marketing links to your email list
Your email list is your bread and butter. It is guaranteed that at least 40% of your list will see your email, open it up and read what you recommend if you use a great subject line. The bigger and engaged your email list is, the better for you to boost your Affiliate Marketing income.
If you have an email list of 1000 people and 40% read your email, that is about 400 people. That's amazing! I know bloggers with over 10,000 email subscribers. Work on growing your email list. This list should be filled with people that will engage with your work. 
Read this now:
Grow your email list with Pinterest!
Step 5: Create Sales Funnels to boost your affiliate Marketing income 
In order to convert your website visitors into sales, you need a great sales funnel. A sale funnel is a perfect way to get your client into a buying mood. Create awareness for your product by creating a great sales funnel. 
Build a connection with your readers by getting them to sign up for an email list preferably a FREE course and then recommending your products or Affiliate products. Never force, just give your opinion on why it's great. And let the cash flow in. 
Now promote your sales funnel over and over again (ideally on autopilot, using Pinterest) and watch your income grow. A sales funnel is the perfect way to boost your affiliate marketing income.
Related
List of Affiliate programs you can join to make money
Step 6: Create great visuals/ graphics for your affiliate 
Most affiliate managers will provide amazing images that you can use to promote your work. This is great. The only thing with this is that if they have a lot of affiliate associates, you will be all using the same images.
This does not make you stand out. So try to create some of your own equally as attractive graphics that match your brand. Stand out from the crowd and watch your sales improve. 
In other words, the best way to boost your Affiliate Marketing income is to stand out and focus on a different angle than your competitors. 
Step 7: Increase your Affiliate Marketing sales by taking advantage of specials 
Once in a while, my affiliate managers will email me with special promos on affiliates. It could be bonuses, it could be discounts or bundles. But they make for great sales.  Stay up to date with your managers in order to get these specials sent to you. You will be amazed by how much more sales you will make if a product is discounted by a percentage. 
With this in mind, you can boost your affiliate marketing income by just emailing your managers to see if they are able to run a sale or ask if they are any specials coming up. 
I love special holiday promos such as Cyber Monday's, Black Fridays and the such because the sales are awesome. Your homework is to increase your email list to 1000 by Christmas. More if you can in order to make more money during the holiday season. 
Step 8: Boost your affiliate Marketing Income by creating trust with your readers
No one will click on your Affiliate Marketing links or purchase any products from you if they do not trust you. You should be creating and building trust with your readers with every information you put out.
The best way of doing that is by showing testimonials from real people that have bought from you, proof of how a product has worked for you and offering lots of FREE information on your blog and newsletter. 
You can also show that you are an expert by Guest Blogging on popular sites. 
Step 9: Increase your affiliate Marketing sales by signing up for the best affiliate programs 
You want to ensure that you are getting the most for what you are putting out. Some bloggers spend days crafting out the perfect blog post. If you are going to earn money online, you do not want to earn as little as $1.00. You won't get anywhere.
You want affiliates programs that have a great return on investment. Don't be afraid to ask for an increase. That's why I came up with a list of affiliate programs you can join that will help you get started and it will also help boost your Affiliate Marketing income.  Get your list now: 
Step 10: Sign up for "Making Sense of Affiliate Marketing" course
This is hands down the best course out there. It teaches you about the rules involved in affiliate marketing, how to promote it, how to get started and a lot of other amazing things. Hands down the best investment I have ever made.
Michelle is currently making over a $100,000 per month with affiliate marketing and I will get there someday. As with everything, if you want the best, educate yourself with the best in the industry. We highly recommend you taking the Making Sense of Affiliate Marketing course with Michelle! We guarantee that it will help boost your Affiliate Marketing Income really fast.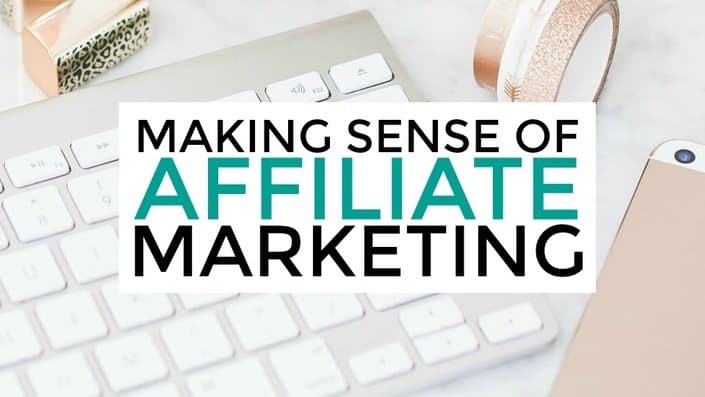 You view my blog income report to see how much I make with Affiliate Marketing. I used the strategies outlined here to boost my Affiliate income and I am now making a full-time income working from home. 
If you would like to work with us or join any of our Pinterest groups, please visit this page for more information. 
IF YOU WANT TO MAKE MONEY WITH YOUR BLOG OR LOOKING FOR MORE WAYS TO BOOST YOUR AFFILIATE MARKETING INCOME, JOIN OUR COURSE FROM HOBBY TO BIZ, TO FAST TRACK YOUR BLOG INCOME. 
If you enjoyed our blog we would like to have you join our email list and receive weekly money-making tips, you can join now! Don't forget to join our Private Facebook group. The page is created to share your work, pitch your services and learn from other experienced bloggers!
---
***We would like to note that this post and most posts on our blog may contain affiliate links. This means that if you purchase something that has an affiliate link, we will get a commission from it. Not all items recommended on our site are affiliate links. We only recommend items that we have used and tried. These items have brought us much success and we highly recommend them to you in order to be successful. Thank you for your trust!