Last Updated on May 29, 2019 by NandiNN
How to Start A Wedding Planning Business
I am a successful owner of three profitable blogs. One is a wedding planning business turned wedding blog.
I enjoy working on all three of our blogs along with raising my now 6 months daughter.
I joined the wedding industry over 7 years ago while working for a hotel. Since then I turned my wedding business into an easy $50,000 a year profit.
If you are in the wedding industry and are struggling to make ends meet, I feel you. I was there once. Starting a wedding planning business can be stressful especially if you do not attract brides.
Today we wanted to share with you how to start a wedding planning business that attracts clients on a more consistent level.
Before we get started on starting a wedding planning business that is profitable, we would love for you to join our growing wedding Facebook group right here! You can also follow us on Instagram here.
We also wanted to take the opportunity to let you know that we use Affiliate links on some of our blog posts. This means that we could make a commission if you click on an affiliate link and purchase something. Please check out our full disclaimer and policy page here.
Starting your own Wedding Planning Business from Home
When I first started my wedding planning business, it was a huge disaster.
My website was not as attractive, it did not attract the type of clients I wanted to work with, it did little to get my brides attention and I barely booked any weddings the first year.
I almost gave up.
I wondered to myself every day, how was I going to make money as an event planner. So I looked up profitable wedding businesses and these 10 wedding blogs stood out.
But I still didn't understand how a successful wedding planning business was able to turn a profit each month even when I did all the promotions and attended wedding shows.
After my almost disastrous attempt on starting a wedding planning business, I decided that I needed to change a few things in order to be successful.
And the only thing that helped me was to invest in myself as a business.
If you are in the wedding planning business, you know very well that other planners or even professionals do little to help (very secretive).
How Much Money do Wedding Planners Make?
How much do wedding planners make? This really depends on the business as a whole.
According to The Wedding Planner Book, it was reported that in 2004, those top wedding planners were making about $120, 000 plus a year.
These numbers are much higher as most wedding planners are charging more, they have big teams and are offering more services.
The area you focus on will also determine how much wedding planners make.
Starting a wedding business from home is not a bad idea, however, you need to put in the work to be successful.
The Steps I took to book more Brides
After all that information, and you decide you want to start a wedding planning business, the first step is to invest, invest and invest some more!
This is the only way to run a successful wedding planning business!
Once I decided to invest in myself and my wedding business, my wedding business become extremely popular and this resulted in a lot of profit.
I made the changes in November and December of 2014 and by January 2015 (at a wedding show I attended), I had booked my first 10 weddings and already 4 for the following season.
These were just bookings I made in January. A lot more followed throughout the year.
Wedding planning businesses are fast becoming profitable work from home job opportunities, and I am so glad I started something I was passionate about.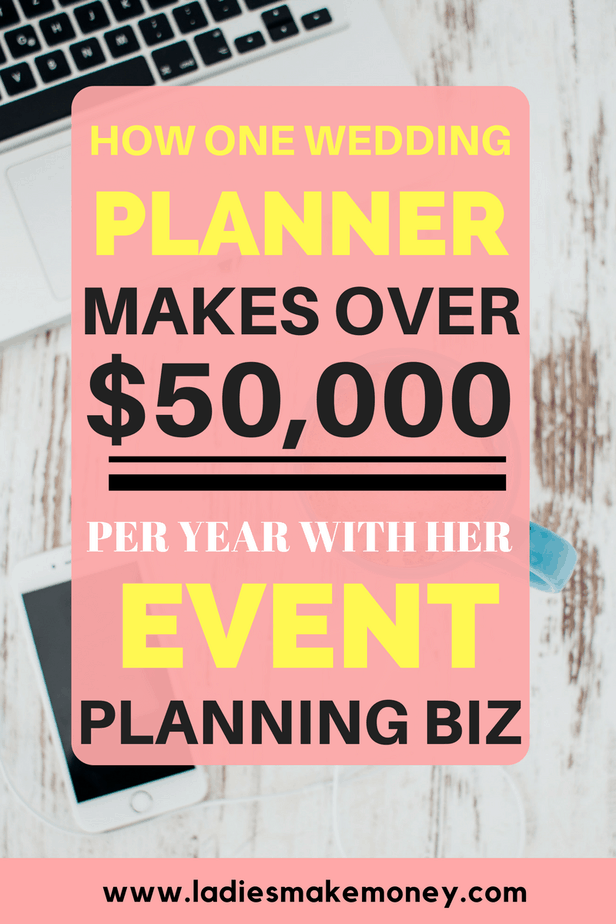 How to Be A Wedding Planner and Book More Weddings
Here are a few things I did in order to start a profitable wedding business that booked clients after clients:
I rebranded – new website, very affordable wedding theme!

I blogged more to attract brides

I took a few courses (I was already certified in wedding planning.)

I networked more – the right way

And I put myself in front of the brides without being too forward

And I created new strategies to attract more weddings to my business.
By the following year, I was making a consistent $50,000 per year in just wedding business. I doubled that by hiring more wedding planning consultants.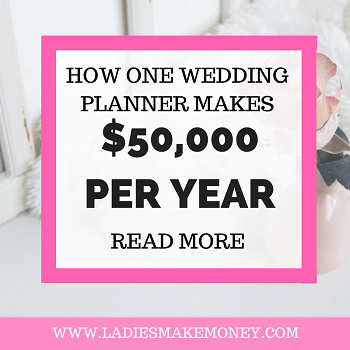 I repeated my marketing steps the following year and my income increased with little promotion.
My wedding planning business name was out there and my inbox was flooded with wedding inquiries.
With all the knowledge I gained, I decided to help other wedding and event professionals by starting my wedding blog.
And from there I created a detailed wedding course on how you can turn your own business into a successful money-making machine.
Starting a wedding planner business just got a lot easier with the easy to follow steps.
Online Wedding Planning Course to Take
Why should you take this online wedding course?
The online wedding course is geared towards wedding professionals that already have a wedding business.
Or those that cater their services or products to brides.
It goes through all the technical elements of what you must do to book more weddings and includes details on how to attract the right types of wedding clients for your business.
It makes the wedding booking process easy by having you recreate unique wedding packages in order to make it completely irresistible to brides and grooms.
The online wedding course is created based on my experience and outlines all the changes I made to really attract the right clients which allowed me to book more wedding clients and make more money.
You can now start your own wedding planning business today and know that you will be profitable.
You will also learn how to make $50000 a year planning weddings.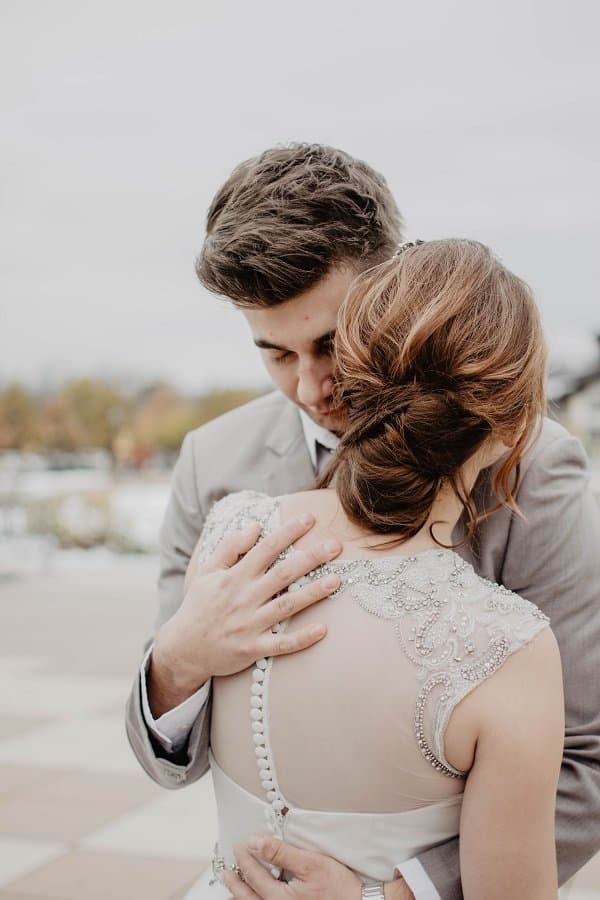 What Inspired Me to Create an Online Wedding Course?
The course is a step by step process of the process I took to turn my wedding business into a successful one.
You get my experience, my process, and the best wedding business tips!
I had a hard time booking wedding business and even though I had a certification, I lacked the experience.
Yes, I offered to plan a handful of free weddings in exchange for a few wedding portfolios. But that did not really get me more bookings.
But once I tweaked my process, implemented a few changes, I saw a huge jump in wedding inquiries and bookings.
The online wedding course was a great way to help as many wedding professionals as possible without spending hours answering everyone' questions via email.
I spill all my tactics in this course and it's really easy to implement.
When I started receiving emails day in and day out, I figured a course would work well.
You might also like: How to get 100,000 Likes on Facebook
Who is this Online Wedding Course for?
This course is designed for those that are in the wedding industry – Planners, DJs, Wedding Decorators, make up artists, Transportation and much more.
If you cater to the wedding industry and are looking for convenient ways to make a more consistent profit with your wedding planning business, then this is for you.
We have over 126 Wedding professionals enrolled in the course at the moment. And a lot of them have seen amazing results.
What can someone expect to learn from the course?
How to set up your website to attract brides using your blog

How to up your wedding rates(AVERAGING OVER $2500) and still book your clients

Determine how many clients to book in order to achieve this

Creating a special wedding package that will be irresistible to your brides

3 Email templates to use when clients contact you

How to use Social Media to book clients (Including a social scheduler plan)

The best times of the year to Market your wedding business to get the most of your revenue and how to do it

Choosing the right wedding shows to showcase your work

How to display your wedding portfolio to attract your brides

It will include templates for you to follow and record your process

A 30-day marketing plan that you can use over and over to generate leads

A lead magnet to start building your list and marketing to this list
And much more…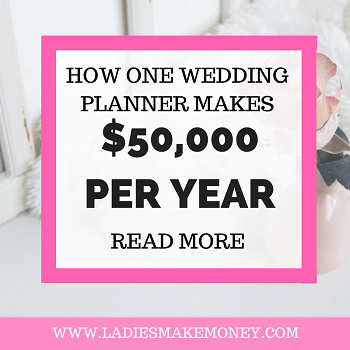 Updates on the wedding course?
The course will be updated in the next few weeks and everyone already enrolled will get the updates at no additional cost.
With the new update, the cost will increase and anyone purchasing the course after the update will get the new price.
What updates will we feature:
How to make money even during offseason

How to use your blog to make money

How to get yourself published on big wedding sites for publicity

How to get additional buzz around your wedding business

How to properly use a secret tool to book more weddings (a tool so many wedding pros neglect)
What do Wedding Professionals love about the Wedding Course?
The fact that it has so much great information that we update frequently

That you have lifetime access to the course with all it's updates

The course is actionable

It caters to everyone in the wedding and event industry

You get free features on our blog
How much is the investment?
It is $159 dollars which is a great price for lifetime access to a course that will increase your wedding bookings.
This is a small investment that you make up front which will give you great results. If you are not satisfied after 30 days, you get your money back.
We hope you enjoyed this post on tips on how to start a wedding planning business that is successful!
If you have any tips or comments you would like to share, please do so below! You can find more work from home jobs here!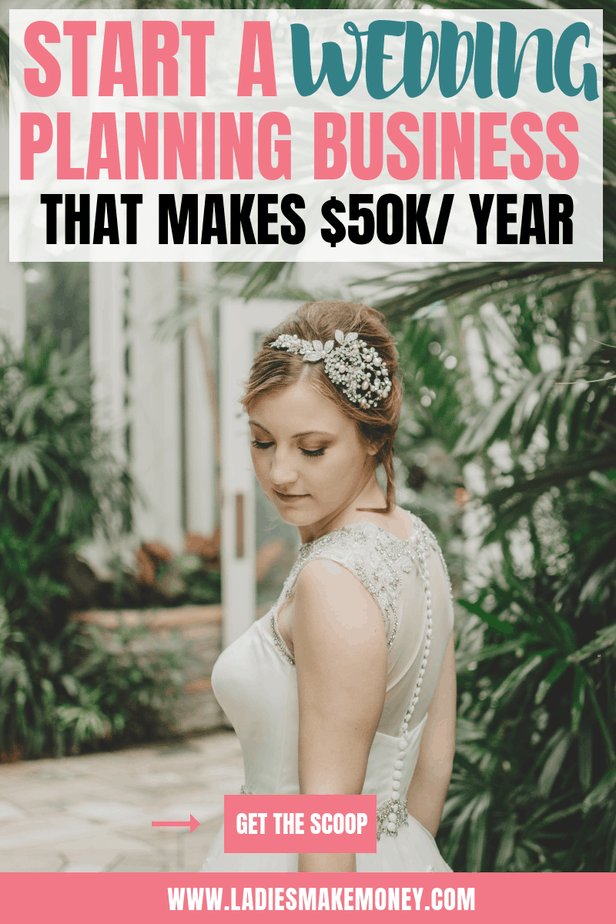 Wedding Planning Business – Start Today
Feel free to visit the wedding blog here!
If you enjoyed our blog we would like to have you join our email list and receive weekly money-making tips, you can join now! Don't forget to join our Private Facebook group. The page is created to share your work, pitch your services and learn from other experienced bloggers! Our Blog Policy can be found here.
---
***We would like to note that this post and most posts on our blog may contain affiliate links. This means that if you purchase something that has an affiliate link, we will get a commission from it. Not all items recommended on our site are affiliate links. We only recommend items that we have used and tried. These items have brought us much success and we highly recommend them to you in order to be successful. Thank you for your trust!
Starting A Wedding Planning Business That Makes $50, 000/ Year