Last Updated on April 21, 2020 by NandiNN
Land Sponsored Blog Posts Every Time
If you are a blogger and the majority of your blog income comes from sponsored post opportunities, you should consider joining these 3 amazing networks.
Keeping up a blog can become costly especially when you are paying for your blogging platform, collecting and maintaining an email list and maybe selling products or services on your blog.
All these little things can add up and end up costing you more money in the long run. So why not get paid to write wonderful blogs.
Making money through sponsored blog posts is a great way to monetize your online business.
In fact, if you are wondering how to land $10, 000 worth of sponsored blog posts with brands, you might want to check out our latest post.
You are here today because you have the following questions:
How do you get sponsored posts?

How much should a blogger charge for a sponsored post?

How do I get sponsored content for my blog

How much do sponsored posts costs?
Well, we are so glad that you are reading this as we have so much to share.
You have taken the best steps forward to monetizing your blog.
We are going to show you exactly how to get sponsored posts for your blog!
Because we are nice and we want to help where we can.
But before we get started on ways to land sponsored blog post opportunities, we would love for you to join our growing Facebook group right here! Be sure to give us a quick follow on Instagram as well!
We also wanted to take the opportunity to let you know that we use Affiliate links on some of our blog posts. This means that we could make a commission if you click on an affiliate link and purchase something. Please check out our full disclaimer and policy page here.
What is a sponsored post?
A sponsored blog post is simply a blog post that you write on behalf of a brand or business to advertise or promote them.
You are simply bringing awareness to their brand using your platform.
In other words, you will get paid to sponsor companies and brands which results in more publicity for them.
Your platform could be your blog, social media (Instagram/ Facebook) or your email list!
In return, the brand or business will pay for your effort and time.
The more audience you have, the more money you can charge as you are going to be bringing them a large audience.
Now that we know what a sponsored post is, how do you land them to make money?
You might also like this:
Bloggers getting paid: All your questions answered
Two easy ways to get money without working the 9-5
5 Great Sites that will pay you to write for money
If you are ready to make some serious money using sponsored post opportunities you have come to the right place.
We recommend using a blogging network.
It is a good idea to join networks that are good at bringing bloggers and brands together.
This is especially crucial if you are new and still learning about sponsored blog posts.
A blogging network is the easiest way to land sponsored blog posts.
They are a lot of networks available that you can join in order to get sponsored blog posts. Some networks are invitations only, but most are open to all.
Ready to Land Some Sponsored Blog Post Opportunities?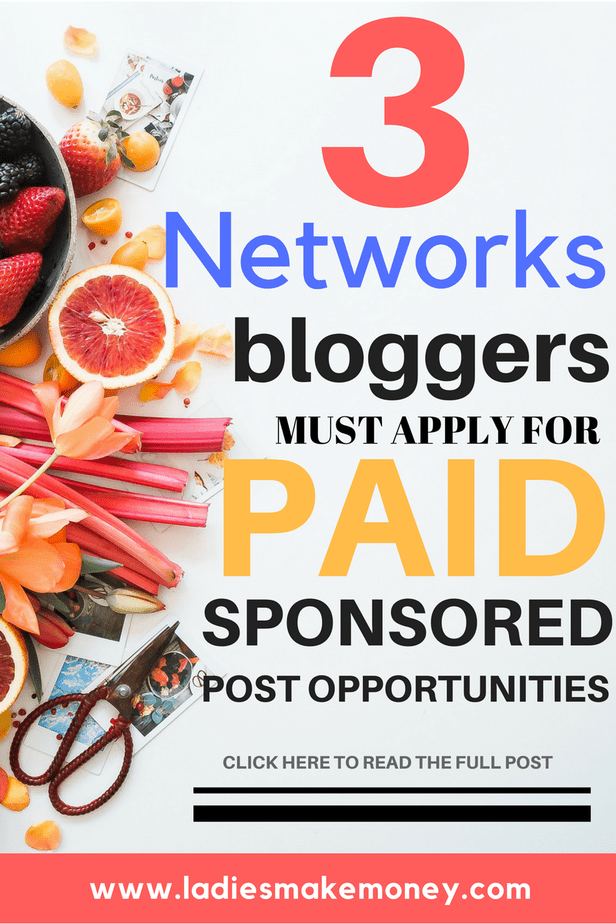 How to get sponsored Blog Posts for Your Blog
Sponsored post opportunities may be hard to come around but it shouldn't be. They are a few ways you can get yourself a few sponsored post opportunities for your blog.
You can approach a brand that you want to work with by just contacting them and letting them know your wishes of wanting to work with them.
If you go about using this route, ensure you have an outstanding media kit to go along with it.
Another way of getting sponsored post opportunities for your blog is to apply to networks that can connect you directly with brands.
I have personally done both options and sometimes reaching out to brands have worked well for me.
That is because I am well established and I have done a lot of research. Either option is fine. Just make sure you are getting paid well for your sponsored blog posts.

What networks accept bloggers for Sponsored post opportunities?
They are a few networks that you can work with when it comes to getting paid for sponsored blog posts work. You can also search the internet to find brands looking for bloggers.
We have personally worked with a few and today we will be outlining the 3 networks bloggers can apply to work with that pay well.
Keep in mind some of these networks have certain requirements that you must meet prior to joining.
Otherwise, these brands below are looking for bloggers to work with.
Linqia
Linqia is our top recommended network for those looking to get paid for sponsored post opportunities.
To sign up for this network, you need to ensure that you have at least 2500 social followers among all your social media platforms.
If you do not have this, please spend one week obtaining this by joining these Facebook groups which will help boost you.
You can also join the network if you have over 2500 monthly visits to your site.
Maven X
Updated: September 2018 – We will no longer receive sponsored blog posts from Maven as they have decided to close down. This is very sad but we wanted to make you aware. We will be adding another blog network below to help you score more sponsored post opportunities.
Maven is another amazing network that I recommend bloggers in any niche to join. They are so many amazing ways you can make money with Maven.
Once you decide to join them, create a few boards just as you would on Pinterest.
Then you would go about clipping beautiful images from around the web in any niche such as beauty, fashion, toys, etc.
If the company you are clipping from is part of Maven's network you could potentially earn a commission if someone purchases from your board.
As a blogger, you can also earn by taking part in sponsored post opportunities. In order to be considered for sponsored posts, please ensure you complete your profile with the appropriate blog URL in order to receive frequent opportunities.
Sign up for Maven here!

Blog Dash
Blog Dash is a large network of over 100 thousand bloggers.
I enjoy getting sponsored blog posts from them. They are not very frequent, but when I get one, the pay is pretty good.
I have received gigs from a company registered on this site that paid me over $2000 to create 3 sponsored blog posts for them.
This was pretty amazing, really in my niche and I enjoyed working on the project.
If you are looking for a network that has a lot to offer in terms of blog post opportunities, then Blog Dash is your gig.
They have brands looking for bloggers like you to work with them.
If you want to score sponsored post opportunities, you will need to be active on this site, which means checking it every couple of days for potential gigs.
Your job is to respond to every brand looking for sponsored blog posts that fit your style.
If you go longer than 3 to 4 days before checking, you might miss out on great opportunities. So add this to your calendar or to-do list!
Sign up for Blog Dash here!
BlogHer
If you cater to mostly female demographics as we do, then you will love working with BlogHer!
This is a premium ad network for bloggers who create excellent content and conversations with women – covering topics from news to politics to food to fashion.
You find amazing brands to partner with and create sponsored blog posts with BlogHer. In order to join, you need to absolutely focus on women's demographics.
If you think your brand aligns with them and you want more sponsored post opportunities, be sure to sign up here –BlogHer!
Tips for making over $1500 with sponsored blog posts
Sponsored blog posts are not my main gig, but I can see how you can make a huge amount of money with this side hustle.
I did get a client sign up for $2000 worth of blogging services for my Wedding Website. And this was huge.
My tips to you to getting paid well is to know what your worth is. The more social media influence you have, the more brands are willing to pay. You can quickly grow your following on Social media by:
A) Posting authentic items on your social media platforms.
B) Networking with other bloggers or people in your niche and c) Posting consistently.
Tips for growing your social media following:
How to get over 100,000 likes on Facebook
How to grow your Instagram followers
Your blog traffic will also play an essential part in how much money you make when getting paid for sponsored blog posts.
If you are having a hard time getting blog traffic to your articles, we have a few suggestions for you below:
How to get 200,000 Pageviews using Pinterest
How to Create Epic Blog images for Pinterest
You can also sign up for this:
FREE Five Day Traffic & Monetization Mini Challenge
The more blog traffic you have the more in control you are on getting paid well for sponsored blog posts.
Most influencers will require you to have a certain amount of blog page views before you get accepted.
Now it's easier than ever to get accepted with the tools I have provided. If you follow the steps provided, it will make easy to land more sponsored post opportunities!
If you are struggling to land sponsored blog post opportunities, check out our steps on exactly how to make $10, 000 to $20,000 per month using this gig!
Should You Accept Paid Sponsored Posts
If your goal is to make extra money for your blog and you feel that working with brands is your strategy then yes.
Not every blogger accepts paid sponsored posts as they might work with their niche.
However, if you are frequently writing about brands that you love and your audience seems to love it, then, by all means, feel free to contact the brand directly to come up with a paid opportunity.
What you should not do is to accept paid work if the post does not work with your business.
You will turn your frequent readers away.
There you have it, a list of ways on how to get sponsors for your blog!
Apply for as many networks as you can for a chance to get paid sponsored post opportunities.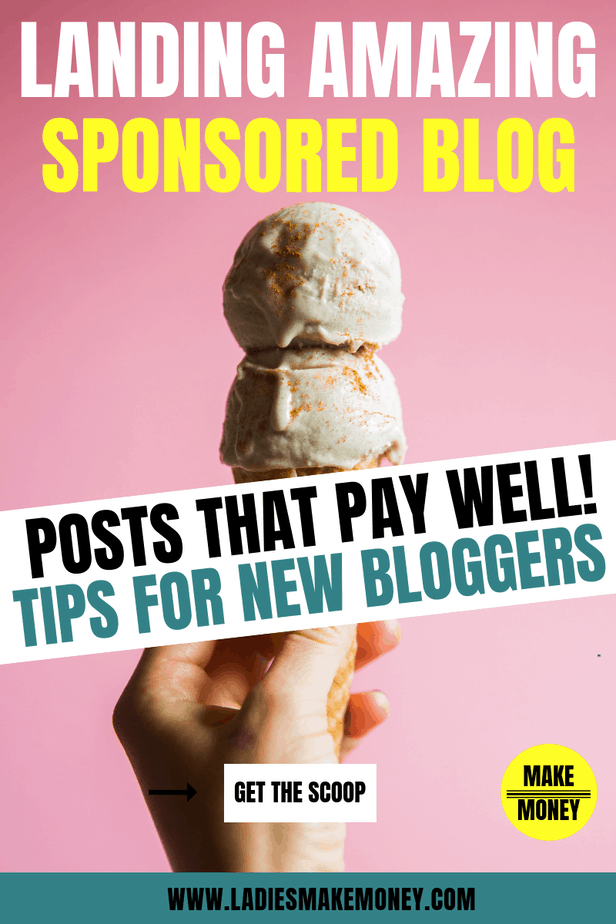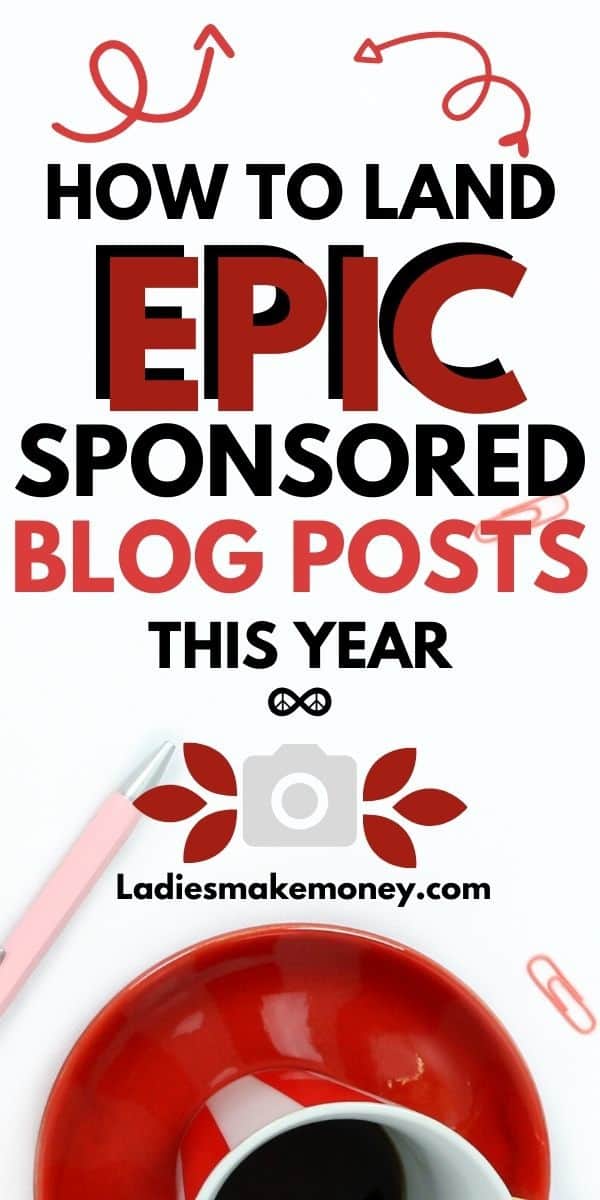 Want to know how to make over $20, 000 with your blog?
Check out the 45 Not so obvious lessons you can learn on the way to $20,000/month!

If you enjoyed our blog we would like to have you join our email list and receive weekly money-making tips, you can join now! Don't forget to join our Private Facebook page. The page is created to share your work, pitch your services and learn from other experienced bloggers!
---
***We would like to note that this post and most posts on our blog may contain affiliate links. This means that if you purchase something that has an affiliate link, we will get a commission from it. Not all items recommended on our site are affiliate links. We only recommend items that we have used and tried. These items have brought us much success and we highly recommend them to you in order to be successful. Thank you for your trust!
3 Networks Bloggers Should Apply to Get Paid Sponsored Post Opportunities