Last Updated on February 4, 2019 by NandiNN
Real Instagram Followers
Are you looking for more Instagram followers? Instagram is now the most powerful marketing channel out there and you should consider using it.
Whether your purpose is to do content marketing, paid advertising or to communicate and offer your services to your customers, Instagram Marketing can drive great engagement and return on investment to a marketer, brand or agency.
If you are a brand who wants to get more exposure to reach your potential clients, we suggest you use Instagram Marketing as it allows you to grab an amazing opportunity and to extend your reach in your niche market.
Being an expert of Social Media Marketing, I am here to share with you my proven Instagram Marketing strategies that helped me a lot in growing followers on Instagram.
Though I started from a big '0' followers on my Instagram account, today I reached '103K' followers.
Won't you like to know my secrets of growing followers on Instagram?
But before we get started on how you can get 103k Instagram Followers Increase, we would love for you to join our growing Facebook group right here! Be sure to follow us on Instagram here.
We also wanted to take the opportunity to let you know that we use Affiliate links on some of our blog posts. This means that we could make a commission if you click on an affiliate link and purchase something. Please check out our full disclaimer and policy page here.
Check out the following step-by-step guide where I'll show you my secret or strategy to grow followers on Instagram within the next 60 days.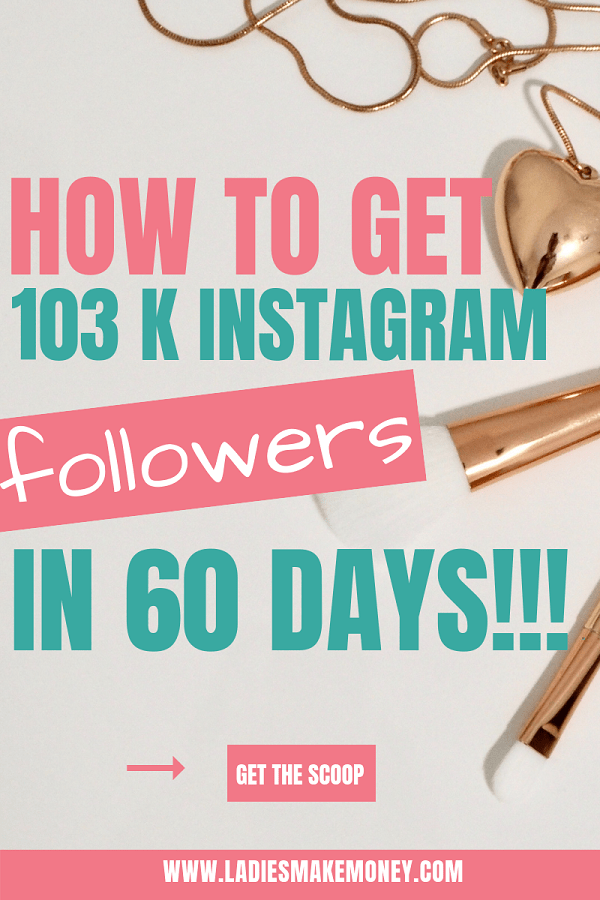 Set up A Business Profile On Instagram
As you are going to go about establishing your brand impression, it's required to use a Business Account on Instagram rather than a personal one.
Be absolute sure to include an attractive profile picture along with a bio of your business. It is advisable to use your brand logo as the profile picture of the business.
When writing a bio for your Instagram account, tell your audience how different your brand is from others. This will allow you to stand out right away.
For example, you will see in the image below how I added my profile picture and bio on my Instagram account "@firifashion" to make it more impressive and to ensure it grabs attention.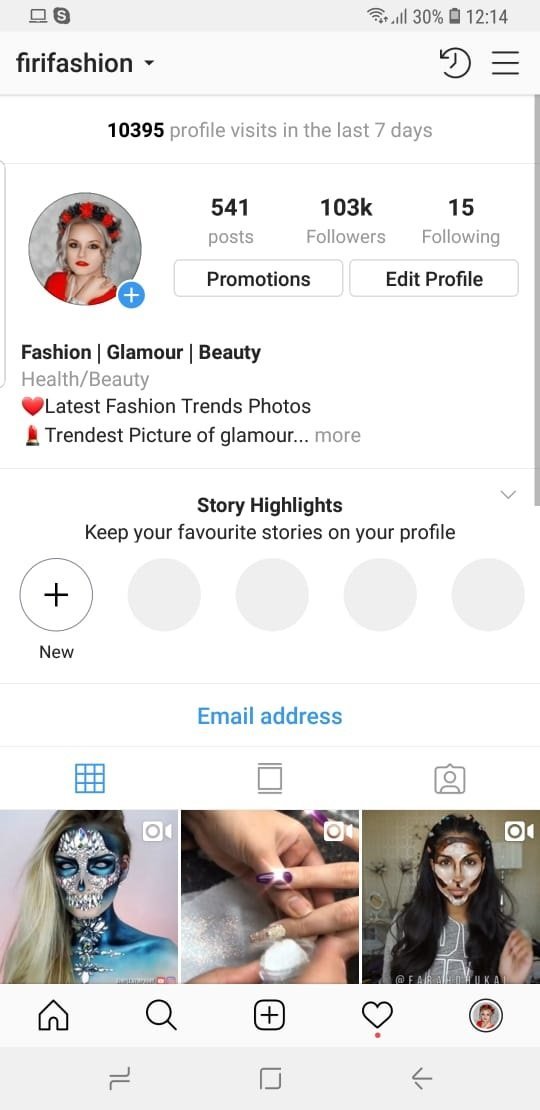 Apart from adding a profile picture and writing a really good bio, another important thing to understand is the username you will use. Try to keep it as short and simple as possible.
My recommendation to all of you is to keep your username as short and simple as possible to help your followers memorize it easily. Remember, you are build a brand.
Explore Accounts Related To Your Industry
The next important step that you must focus on is to explore and connect with those accounts that relate to your niche and industry. Instagram's Explore Page is very useful in finding out all the relevant accounts based on your specific interest.
What Is An Explore Page?
The Explore page is the page on the Instagram account which focuses on showcasing content that's relevant to the account users, based on the Instagram accounts and hashtags they follow.
This is different for each user on the Instagram platform.
When you tap on the search icon on your account, the page showcasing the results you see is nothing much but an explore page.
It consists of a mix of all those posts and categories you've previously liked.
This is really important for all brands running a business account on Instagram because when their followers like their post, it can show up in the explore page of the followers' account. Moreover, a post having a good amount of engagement can go viral on Instagram with this explore page alone.
How Explore Page Makes It Possible?
The Instagram Algorithm plays a vital role in providing only relevant content to all Instagram users while searching on their explore page based on their specific interests and demographics.
Actually, Instagram Algorithms keeps track on users activities every time. As per their activity, they will show them content accordingly.
Therefore, our next strategy involves searching for some big accounts related to your Industry.
As we know how actively Instagram Algorithms keeps track of each activity, every time you go and tap on to the explore page, it will first show tall the posts that are related to your previous searches.
This is a great way to get in front of your potential followers frequently.
How Instagram Algorithms Chooses Content For The Explore Tab?
Instagram, generally selects content for the explore tab that have gained a lot of engagement within a short span of time after they're posted on someone's (either you or your competitor) account.
Apart from that, there is one other thing that Instagram algorithm pays attention to and that is the conversation and interaction which takes place regarding that particular post or content.
And, if your account doesn't have a lot of content, it definitely won't be as eligible for the Explore tab.
Increasing Your Chances of Being Featured On The Explore Tab
Being featured on the explore tab is the best way to get the attention of potential followers and compel them to follow your brand.
But how will you ensure that your content gets featured on the explore tab?
Here are a few tips that you must focus on if you would like your content to be featured on the explore tab on Instagram:
Engage with those who are the part of your industry.

Try to build a continuous stream of new Instagram followers.

Create content that will attract your potential audience.

Ensure consistency while posting content.

Give a call-to-action whenever possible.
Follow Relevant Big Accounts on Instagram
After exploring some big accounts using the Explore Page, Analyze them carefully.
Find out what posts have got a good amount of engagement. A good post engagement has a lot of likes, comments and shares. The higher the engagement, the more viral that post can be.
For example, we have a niche for Fashion. That's why we searched for accounts that were related to the Fashion niche like "makeup accounts".
After analyzing carefully, we picked out 12 posts from those accounts that have gained a good amount of engagement and are considered viral among their followers. We then reposted this content.
As you can see in the image below, we got a good amount of engagement from the post.
Post Format on Instagram
To make your posts reach a large number of people in the right way, it is recommended to use the correct format to post.
Remember that your post or image should preferably be in a square size format. Try not to post horizontal or other dimensions except the square dimensions.
An ideal square image on Instagram is up to a maximum of 1080 x 1080 pixels. Similarly, a video in square dimensions ratio is found most worthy across all social media platforms.
Give Proper Credit To The Content Owner
Remember, we have just learned that you have to find the most engaging posts from your competitors. The main idea behind this, is that you can reuse those posts.
But, don't forget to give them credit on your post.
Since these posts are liked, commented or shared by most of their followers, chances are high when you repost them by giving proper credit, these posts may become viral.
By using this strategy, you will also gain a huge fan following.
Include Relevant Hashtags & Caption While Posting
Hashtags provide the account users the most suited categories that they want to see. For businesses, they allow businesses to get their posts discovered by new audiences on the Instagram platform.
Therefore, a simple formula of success is:
"Relevant hashtags = more engagement, more followers, and even more customers."
By using proper caption and hashtags, you can get a good amount of engagement with your content leading to generating high-quality followers and clients.
How To Target Hashtags?
When you want to build your identity that makes your brand stand out from the crowd, targeting and following the relevant hashtags are required.
Moreover, Instagram Algorithms can also better understand what your brand is all about.
An ideal strategy to target hashtag is to follow 5-10 Hashtags at the beginning.
Make sure you are following only the hashtags that are relevant to your industry and also are not too popular or over saturated. This is because your brand new content will lose its chances of appearing in search results because of the huge amount of noise on that particular hashtag.
Hence, it will be a little bit difficult for you to target them.
Also, try to follow hashtags that are not too generic but are relevant to your business category.
Join DM Groups With A Large Number Of Instagram Followers
The next step you need to proceed with in order to see an Instagram Followers increase is to join some big DM groups that represent your industry and brand.
Before understanding how you can divert a huge amount of traffic to your site, let's first understand clearly what a DM group stands for and what it does.
What Is DM Group?
"DM" simply means "Direct Message".
While using your Instagram Business Account, you can directly approach someone to be the part of their group.
Apart from that, using Direct Messages, you can invite others to join your own DM group. Thus, by approaching someone through direct message it is known as DM and the groups formed in such a way is called DM groups.
How To Use DM Groups As Part Of Your Instagram Marketing Strategy?
DM groups are one of the best ways to grow Instagram followers.
I recommend you to use it strategically because it can provide you a personal touch and connection with major influencers in your niche.
First of all, identify who your competitors are and all the major influencers in your industry. Try to observe their account in-depth. Find out which posts or accounts have gained more likes and comments from their followers.
Approach those DM groups.
You can either be a part of your competitors' DM group or other influencers' group. This will give you a good deal of traffic from using quality groups.
Sometimes, you'll also confront that there are some groups that might ask you to pay some pennies in order to join their groups.
Create Your Own DM group
So far we have talked about how you can join other DM groups to divert their traffic on to your account.
Another way to get and grow Instagram followers to your business account is to create your own DM groups. This also requires you to approach competitors and other influencers personally and ask them to join yours.
How To Create A DM Group?
There are many ways to create your own DM group. For example, you can approach others while creating your own DM groups by saying:
"I'm creating 5K DM group. Would you like to join it?"
Ensure that your message tone is conversational and not the aggressive one. So, give proper attention to your message tone.
As you can see in the image below, see how I approached others to ask them to join my DM group:
Check out the reply which I got from them? This was possible because of a conversational tone and being part of their industry. And, no doubt, it's the first step for success.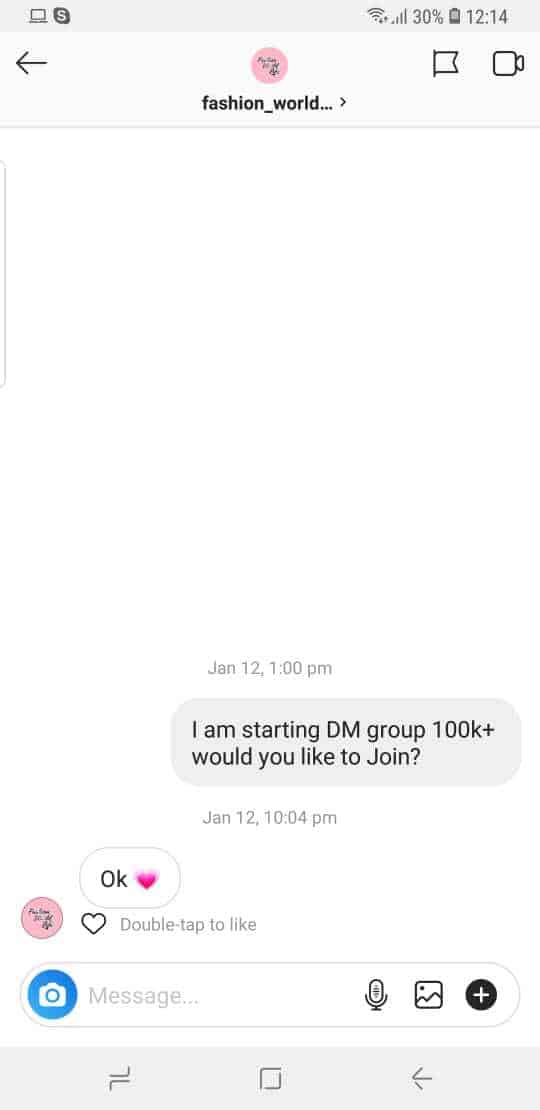 Another important point to be understood is that you need to start slow, just add 20 to 25 members at first.
Leave room for big competitors to join your group every other day. In other words, add 20 people and invite 5 competitors. Don't get banned from Instagram for adding people to quickly.
Gradually, you'll start to see Instagram followers increase in no time.
One-to-one engagement
One to one engagement is another amazing Instagram Marketing Strategy to help you connect with more followers. This marketing strategy helps to build quality relationship with your competitors.
How To Get Instagram Followers With One to One Engagement?
You can engage with your competitor and other influencers by inviting them to like and comment on your recent posts. And, when this gets done, they just leave you a direct message saying:
"Done Yours. Liked and Commented On your Post."
Now, it's your turn.
This means that you have to do the same thing to theirs. You both benefit from this partnership as long as it is genuine.
Find other ways to partner with others in your industry in order to help each other.
Conclusion
You will see that this Instagram marketing strategy will start to bring you good results.
By following this properly and consistently, you'll be able to grow your Instagram followers in no time.
We hope this Instagram Marketing strategy works well for you.
Lastly, if you have other recommendation, i.e., whatever strategies you adopt to grow your brand exposure and get tons of fan followings, ensure that you are not violating any norms of Instagram Algorithms, please share them below.
We want everyone to get more real Instagram followers and by sharing, we will all grow!
Author Bio :
M. Akram is CEO of LiquidDo, a digital marketing agency focusing on small business and entrepreneurship.
If you enjoyed our blog we would like to have you join our email list and receive weekly money-making tips, you can join now! Don't forget to join our Private Facebook page. The page is created to share your work, pitch your services and learn from other experienced bloggers!
---
***We would like to note that this post and most posts on our blog may contain affiliate links. This means that if you purchase something that has an affiliate link, we will get a commission from it. Not all items recommended on our site are affiliate links. We only recommend items that we have used and tried. These items have brought us much success and we highly recommend them to you in order to be successful. Thank you for your trust!
How To Get 103k Instagram Followers Increase In 60 Days?