Last Updated on April 13, 2021 by NandiNN
Advice for new bloggers
If you are new to blogging I would like to congratulate you as well as share some of my best tips for new bloggers.
There are only two questions that new blog owners need to ask themselves before they set up their own website.
What do I need and how much will it cost?
We will be answering both these questions today and ensuring that you have everything you need for your blog to be a success.
We also want to ensure that you make a lot of money online.
For some of you, you might think that setting up a free blog is the way to go.
Or you may have even read a few articles online telling you how easy this is and that it is the way to go.
So, let's look at all these things and come up with better options.
I will be sharing some of my best tips for new bloggers and how to take your blog from new to making a full-time income effortlessly!
Blogging does require a lot of upfront work.
As soon as you build that solid platform you be making passive income online in no time.
Once you hit that point, it's all about maintaining and adding to your effort.
But how do you start earning a full-time income blogging and what are some of the best blogging tips for new bloggers?
I started my blogger over 5 years ago (goodness) and it has changed my life in so many ways.
Not only have I improved my blogging skills, but I have been able to earn a consistent $5000 and more from my blog every single time.
Blogging can definitely be overwhelming for a new blogger, to surf through all of the information that is out there and to figure out what you should really be focusing on to become successful.
Hopefully, you will go through my tips for new bloggers and implement what you need so you can start making money with your own blog.
Do you need a new theme?

Should your blog look pretty?

Should you be following new blogs?
Here is everything you need to focus on as a new blogger so you are not wasting unnecessary time.
Blogging for money is definitely possible and we are going to show you how.
And before you start, be sure to get all your legal pages in check so that you are blogging legally!
This step is not to be missed.
Now, what are my best tips for new bloggers?
I have plenty of tips, so get ready.
I will be looking at answering these popular questions:
Can new bloggers make money?

How can I become a good blogger?

What are the basics of blogging?

And what are the best tips for new bloggers?
These are all great questions.
If you already have a blog and you are looking for the simple basics of blogging, then sign up for my free 30-day blogging challenge to help improve your chances of becoming a successful blogger.

And if you are looking for new blogger tips that work, keep reading.
Before we get started with my best tips for new bloggers and don't forget to join our private Facebook group for bloggers like you for more awesome ideas on saving or making more money. You can also follow us on Instagram for more tips.
We also wanted to take the opportunity to let you know that we use Affiliate links on some of our blog posts. This means that we could make a commission if you click on an affiliate link and purchase something. Read our full disclosure and blog policy for more information.
Blogging for new bloggers – Tips and Tricks to Consider
Now, if you don't already have a blog, then I highly suggest you look into my simple step-by-step guide that teaches you exactly how to build a profitable blog from scratch!
This where I suggest all my new bloggers start out.
You definitely want to start a new blog the right way as you will have a lot of headaches later.
Make sure you enjoy the process as much as possible.
You are also more than welcome to take my free 7-day course on starting a blog that makes money on autopilot!

I am going to be completely honest and say that blogging has a lot of moving parts that you need to focus on for it to all come together.
And sometimes focusing on just one thing can delay your success.
For example, for the longest time, I neglected SEO and building backlinks for my blog.
This really slowed me down when it came to getting blog traffic.
I did however put all my eggs in one basket and focus on Pinterest.
Now I focus on both and more to get the best results.
If you are too are struggling with blog traffic, sign up for my free 7-day blog traffic email course perfect for boosting your traffic and growth!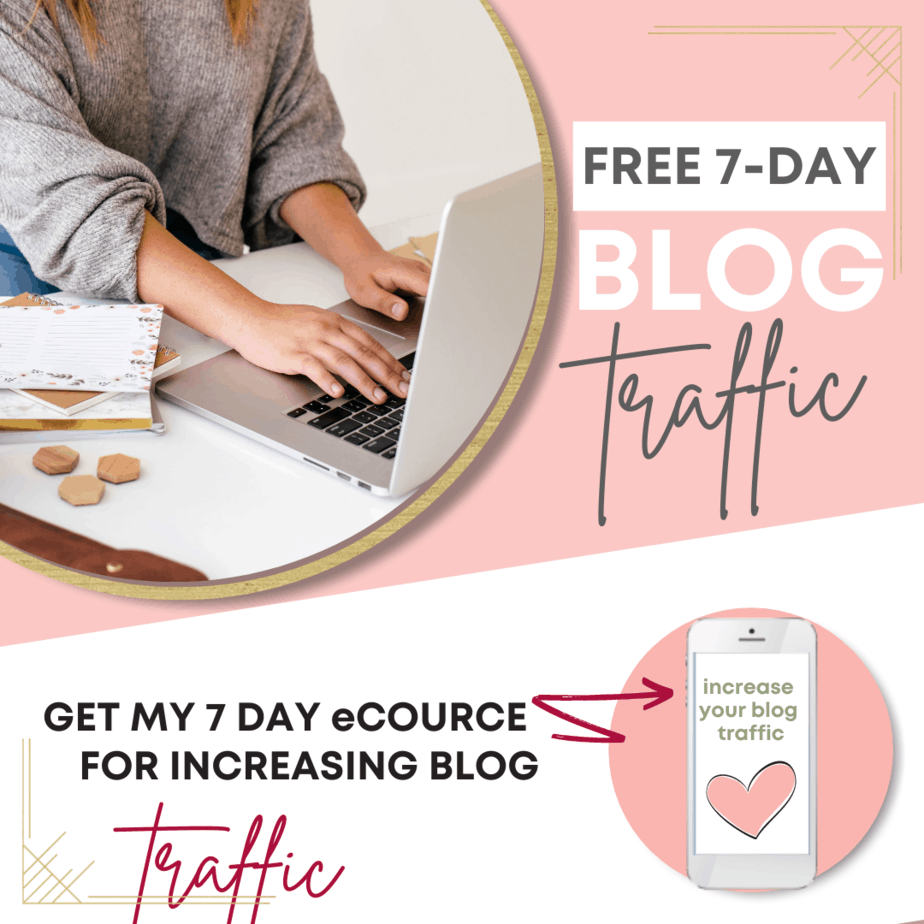 15 Blogging Tips For New Bloggers
There is so much that goes into blogging and I really hope that you take the time to read and implement the tips and advice for new bloggers we will be sharing below.
At the beginning of your blog journey don't expect too much, take the time to learn and familiarize yourself with the blogging world, terminology and everything there is to know about blogging.
With that in mind, here are our top tips for new bloggers: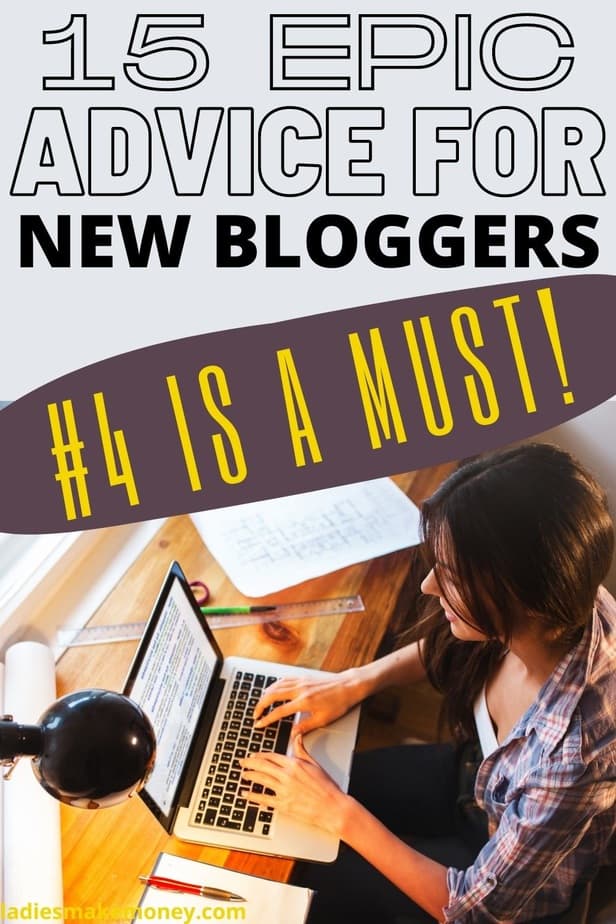 1. It Takes Time & Patience
As a new blogger, I am here to tell you that blogging takes time.
Depending on your goals, I am here to tell you that it takes time especially if you want to make money.
You need to have patience and time to become a full-time blogger or even to see any real progress from your efforts.
I am not talking about blogging for 1 or two months.
I am talking about 9-12 months of consistent hard work.
You can go ahead and read this post where I share patient strategies for growing your blog to a full-time income which also includes a lot of amazing tips for new bloggers.
On average it could take you 9 to 12 months to start making money and a little longer for it to become your full-time gig.
I started making money with my blog from day 1, but I did invest in courses and programs at least 3 months prior to starting.
If you don't have the right blogging strategies in place from the beginning, you might not make any money.
Make sure you have the right foundation in place.
I share 12 amazing tips on what to do if your blog is not making any money!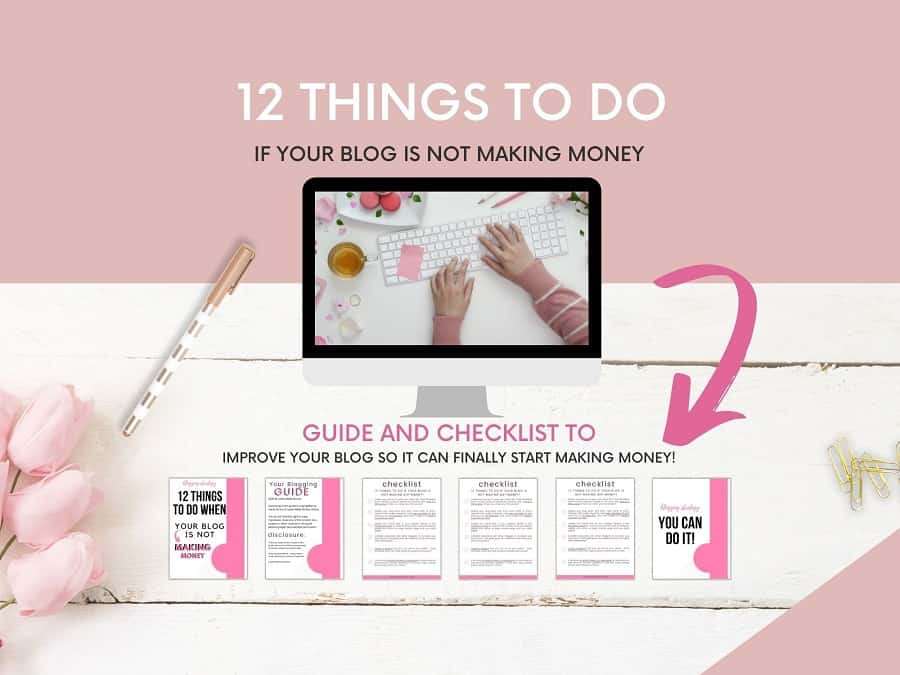 2. Working on creating a blog schedule
It is extremely important that you treat your blog like a business from the beginning if you wish to make money blogging which is totally possible.
I have seen bloggers that post one blog this week, the next post 6 weeks from the last and then back to back for a few days.
This is extremely inconsistent.
I am not telling you to blog every day.
Simply create a realistic schedule and stick to it.
In the beginning, new bloggers should focus on posting at least once or twice a week to build that library of amazing content.
Once you have 100 (EPIC CONTENT), then you can kick it back a notch to once a week or even bi-weekly.
It's not uncommon for established bloggers to post once a month.
In my case, I have over 400 blog posts in my achieve and I spend a majority of my time updating old posts and making sure they stay relevant and fresh.
So how do you create a blogging schedule if you are new to blogging?
The first step is to grab your free blog planner right here.
Next, you want to check out my daily blogging schedule right here to get an idea of how you can come up with a schedule that works for you.
3. Create Quality Content
This one is one of the best pieces of advice for new bloggers.
You need to create quality content if you want people to keep coming back.
A blog post that is 300 words (depending on what it is) may not be quality content.
If you truly want your new blog to take off and make some money, the number one piece of advice I am going to give you is to write extremely amazing content and post it regularly.
So what is quality content?
As a new blogger, it may be tempting to write what you want to write about.
But if you want to be found in search engines, you definitely want to write about what people are actually typing and searching for in Google.
I hope that makes sense.
So the best tips for new bloggers, in this case, would be to do some research and create quality content.
To determine what epic content is, be sure to read this!
You can read my last blog posts –Blogging Best Practices: How to Write Blog Posts for Maximum Impact!
You will find a lot of amazing blogging tips for new bloggers on that post as well!
For those that really want to increase the quality of their blog posts and make money, I suggest looking into Post By Numbers.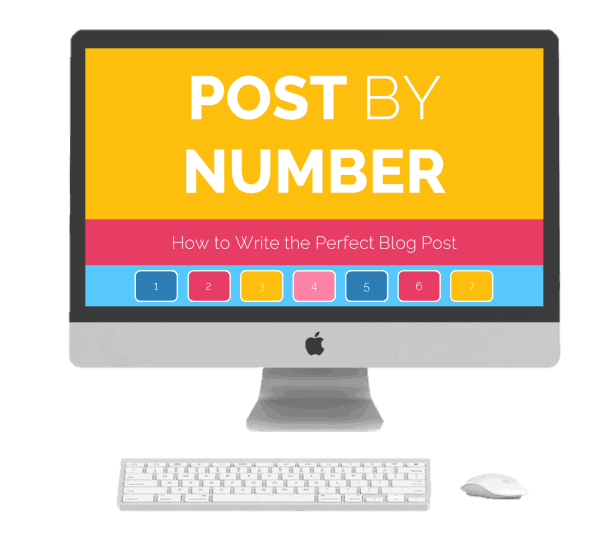 You will learn exactly how to write epic blog posts that rank including:
Learn how to do simple keyword research

Follow a proven structure to write posts that rank

Get more traffic back to your blog
Get all the tips you need right here.
It includes a lot of amazing tips for new bloggers!
You should also take the time to learn more about how to format your blog posts to keep readers engaged and interested when they land on them.
Don't forget to grab this blog post checklist to ensure you have all your basis covered!

4. Hosting For New Bloggers
Hosting online is a little like hosting a party.
Hosting a party is a lot better if you own your property.
If you don't own the property, then you'll have limitations on what you can do and this is also going to be the case if you don't host your site and decide to do things for free.
In some cases, if you host your site on a free platform, you may not be allowed to monetize your content.
Some brands and affiliate partners do require that you have a paid host and a legit website.
Personally, as a new blogger, when I first started blogging, I knew I wanted to make money and so I decided to treat my blog as a business right away which meant self-hosting and investing in what I needed to become successful faster.
For these reasons, I knew right away that I need to pay for good hosting from the very beginning.
I definitely recommend using a self-hosted WordPress site because you'll have access to the functionality that you need to grow your business.
We are talking about having access to plugins that will put your online business on autopilot which will have you making money all year round.
I love making money on autopilot.
In fact, I encourage you to read this epic blog post I found the other day —>No-Bull Passive Income: 3 Must-Haves For Making Money While You Sleep!
Now, in terms of hosting, there are a few great hosting companies like Siteground.
I host all my five blogs on BigScoots.
It's cheaper for my five blogs and an online store.
5. How about Security?
If you plan on monetizing your blog, you need to be covered.
Collecting personal information such as email addresses, names, addresses and payment information is personal information and this information needs to be secured.
Your readers need to know that you will be protecting this information.
Breaching this could get you in so much trouble.
How can you ensure that your blog is secured and that you are blogging legally?
The first thing first is to protect yourself from potential lawsuits.
Ensure you research your blog name thoroughly and make sure it's not taken or could be taken especially by big brands

Create a blog privacy policy – get yours right here
Don't forget about having a disclaimer, blog terms and conditions (don't make it up) – get your legal templates here
You will also need Blog Disclosures for Affiliate Links and Sponsorships
For other legal documents, you may require – check this blogging lawyer!
There are plenty of blogging tips for beginners out there but doing it legally from the beginning should really be your priority.
Legal Bundle – These are legal templates bundle that I use and always recommend to make sure you are protecting your blog with privacy, disclosure policies, and everything you need.
6. Do I Need SEO?
Do you need to focus on SEO as a new blogger?
If you are looking for tips for new bloggers that will help you get results, then try focusing on SEO!
You definitely want to focus on writing blog posts that you hope are going to rank on Google and make them as helpful as possible by adding videos, bullet points, checklists, and more if you can.
Your articles or products should help someone with a question or a pain point and be extremely useful!
How can you learn about SEO as a beginner?
I have taken a total of about 5 SEO courses as everyone has different approaches and I use all the approaches to ensure I have a great chance of ranking.
I started this new blog (it's a travel blog) end of November in 2019 and a year or so later the traffic had seriously increased.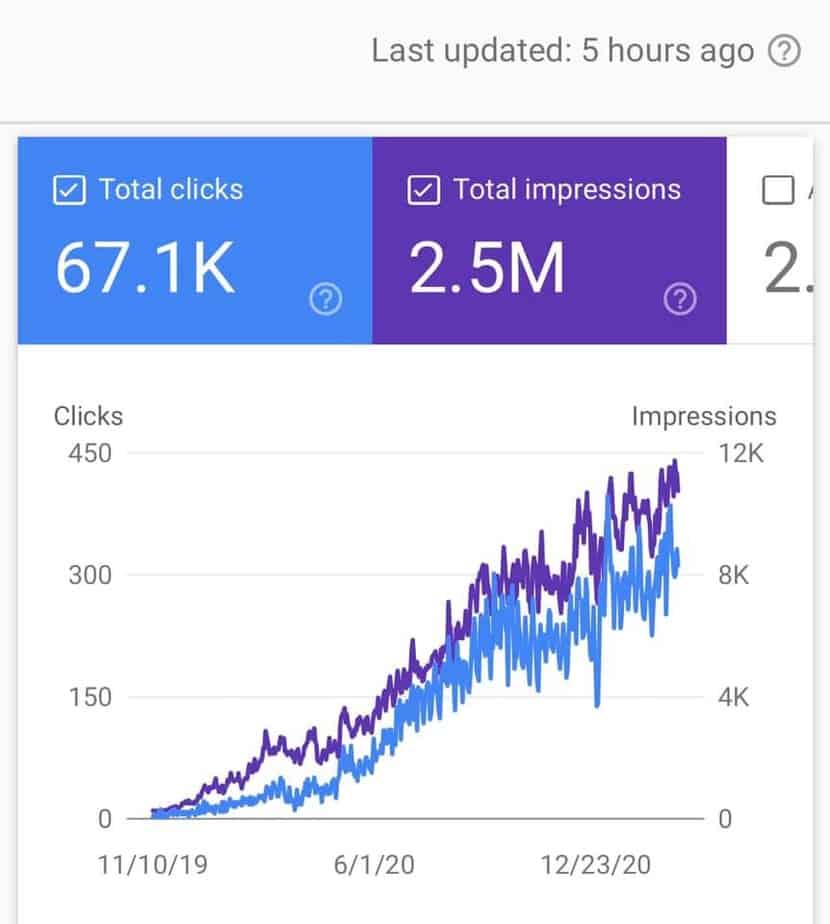 As you can see, I started this blog with the pure intention of growing it using search traffic.
My traffic steadily increased over time (with little to no up and downs) due to the proper SEO tactics I implemented from the very beginning of starting that blog.
A few things I did to boost traffic:
Use targeted keywords

I wrote in-depth blog posts
And I also followed the strategies in this free training!
I also use KeySearch – This is the keyword research tool I use and absolutely love which costs only $17 a month.
It's perfect for finding the perfect keywords to ensure I rank my posts every time.
You can also grab my affordable Blog Traffic Simplified eBook right here.
One of the best blogging tips for beginners I would say is to learn SEO.
Related: My full review of Stupid Simple SEO!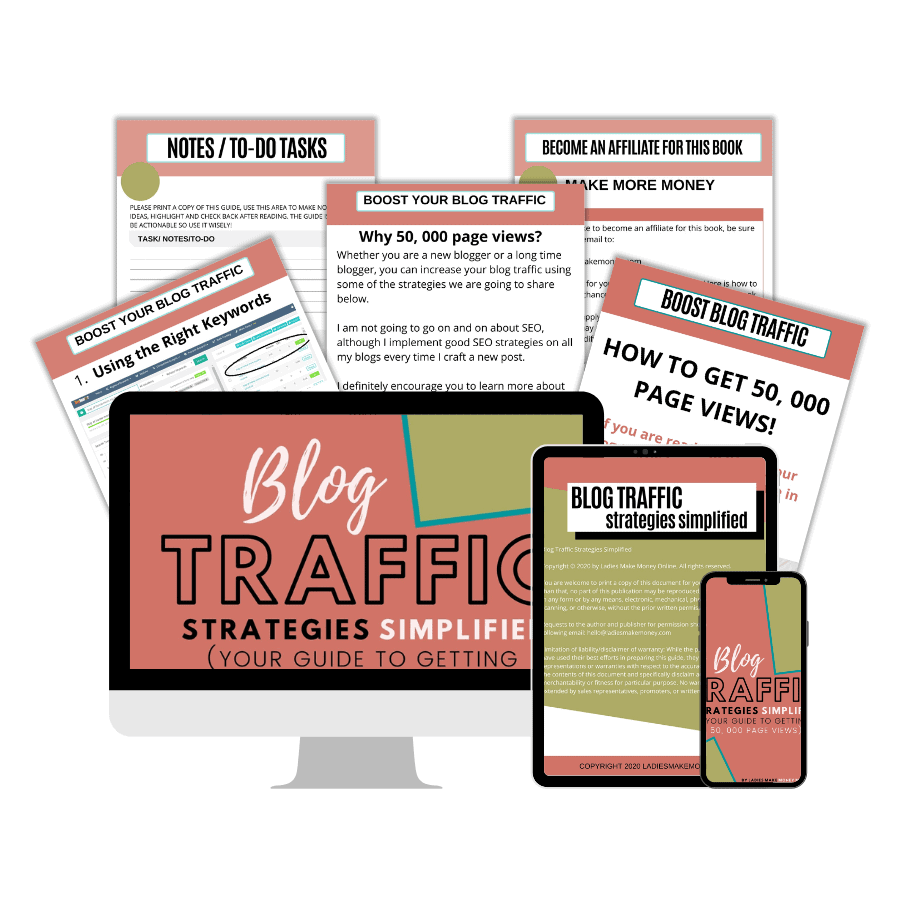 7. What About Pinterest?
Don't forget the power of Pinterest.
Warning though, the Pinterest algorithm changes frequently so traffic is really unstable (the Google algorithm does the same too.)
You might be thinking…does Pinterest marketing still work in 2021?!
Pinterest is an amazing marketing tool for bloggers especially if you know how to use it.
The answer is absolutely YES!
You can get as much as 4,000-5,000 daily blog traffic per day if you have the proper Pinterest marketing strategies.
Obviously, it will also depend on your niche, your pin design and how much Pinterest SEO effort you put into your research.
At the end of the day, Pinterest STILL works for bloggers that dedicate time and effort!
Pinterest is the quickest way to grow blog traffic.
There are so many ways to make Pinterest work for you!
Make sure:
You have an epic Pinterest strategy in place – Take a look at any of these Pinterest Courses
Use creative Pinterest titles to entice pinners to click through to your account- use power words
If you are a beginner blogger, and you are new to Pinterest, this free Pinterest Course (Pinterest Primer)- Includes plenty of great Pinterest tips for new bloggers
And make sure that you add pretty pins to your blog and pin them on Pinterest so that people who are scrolling through Pinterest will be curious enough that they want to click through.
One of the best tips for new bloggers is to focus on creating pins that stand out.
You definitely want to use pins that stand out like these ones for your chance of getting some traffic to your posts.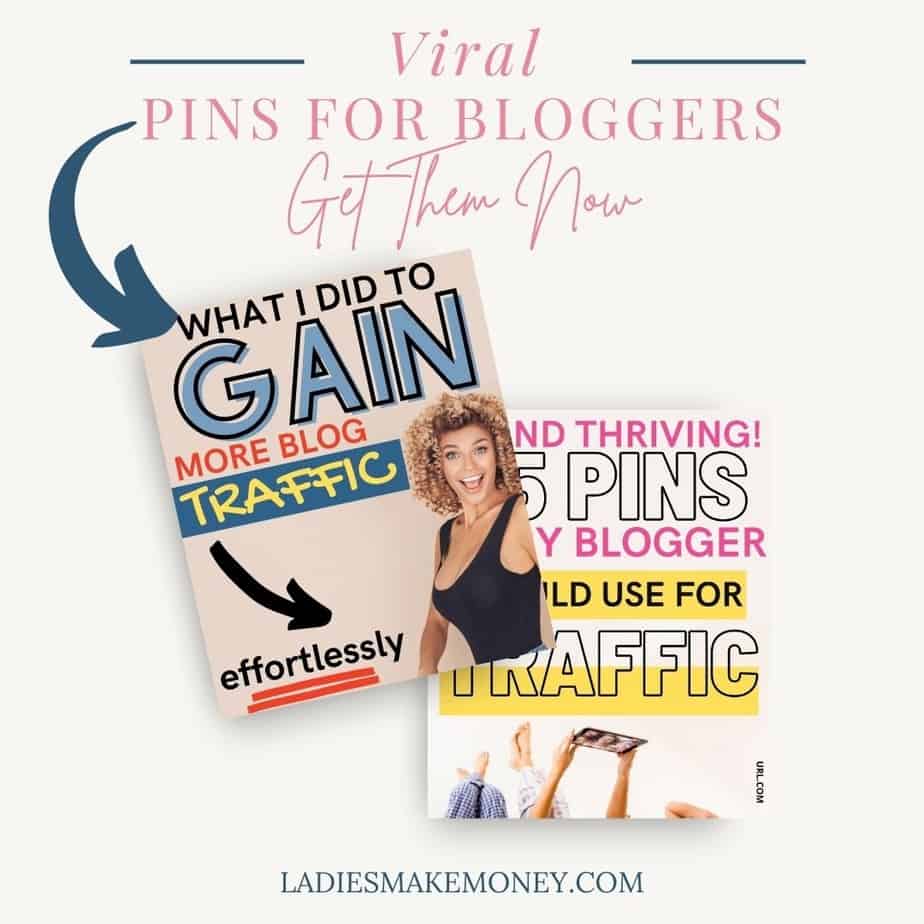 8. Blog Traffic for New Bloggers
If you are a new blogger and you are thinking of giving up on your blog due to lack of traffic, don't do it just yet.
As a new blogger, getting traffic is one of the hardest things.
But you have to keep going.
It takes Google anywhere from 6 to 12 months to send you traffic provided that you know how to do proper SEO and you know how to do keyword research.
If you know how to market your blog and you write great content, the traffic will absolutely come.
Read this post learn how I get blog traffic to my new blog posts consistently.
Basically:
Use the right keywords

Create quality content

Be consistent with your content

Get on Pinterest
Be sure to learn the steps to promote your blog on social media for extra traffic!
9. Stock Images for Bloggers
If you cannot take your own photos, don't be afraid to use stock photos.
But be careful on which sites you use to get your photos.
You really do not want to be sued for stealing photos and putting them on your blog.
Instead, use stock photos from trusted websites.
I personally use stock photo memberships to get photos for my website and blog graphic designs!
If there is one tip for new bloggers I recommend, it is to use quality photos for your blog.
Do not use non-professional-looking photos on your site.
And I am not saying professional photos in a bad way, I am just saying poorly lit photos, out-of-focus photos and just bad photos won't do your blog justice.
I love using feminine stock photos so you will find plenty of that on this blog and my other blogs.
It gives my blog that look and style that represents me as a brand.
Using stock photos helps to brand my website and it also helps me create pin graphics which is a huge part of my content marketing strategy.
You can find free feminine stock photos for bloggers right here.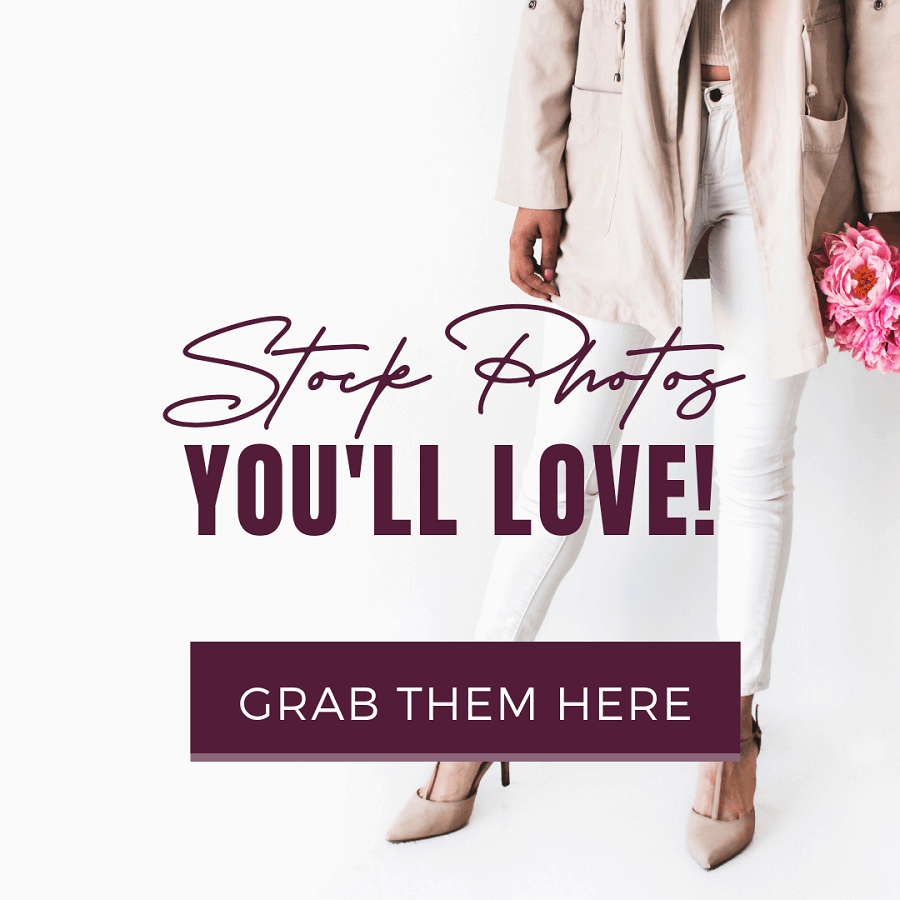 10. Blog Design For New Bloggers
Keep your blog design as simple as possible.
Honestly, you don't need to spend a lot of money on this either, but I wouldn't suggest a free theme either.
Keep the overall look of your blog simple, clean and easy navigation.
I get all my blog themes from this awesome blogger.
As a reader, I should be able to easily navigate your blog and find content that I want to read.
This will allow readers to stay longer and enjoy your blog more.
If you have tiny fonts, make it bigger.
And if you have a blog that is purple or pink, consider keeping it basic by only using white as a background.
Keep your topics consistent.
So if you blog about pregnancy and stay-at-home moms, writing about Pinterest or Instagram is not really ideal.
Lots of bloggers want to write about multiple topics, if this is you, then you need to organize it properly.
You want Google to see you as an expert on one topic or niche.
When your blog is organized and helpful, it will be MEMORABLE.
Your readers will return over and over again and recommend your blog to their friends (in real life!)
Here is how to successfully organize a blog with multiple topics.
11. Make sure to collaborate with other bloggers
As a new blogger, it is important to collaborate and network with other bloggers.
Collaborating with more established bloggers is a great way to expand your reach quickly and get more blog traffic.
If you collaborate with other bloggers you are more likely to grow your reach and influence.
Ways to collaborate with other bloggers:
Offer to guest posts: Feel free to accept guest blog posts and write for other bloggers too (accepting guest posts is a great way to also get free quality content)
Engage with other bloggers in your niche: Tag them on social media, comment on their blog posts and share the post if you can
Collaborate on projects
Here is everything you need to know about working with other bloggers!
12. Don't be afraid to invest
Investing will take you far and grow your business much faster than doing it all on your own.
And you do not need to spend thousands of dollars to start but getting the ball rolling on your goals will require a bit of investment on your part.
When I first started my blog I had the mindset of "I'm not going to invest in my blog until my blog is making money."
But very quickly, I changed my mind and started investing.
This was the best decision for me as I knew what my end goal was.
It was to make money blogging.
My first business as a wedding planner didn't go well for 12 months because I didn't invest.
I DIYed my business cards, website and marketing material.
Let me just say that people thought I was a joke.
The year I invested, I made $50,000 that year.
I learned quickly that you have to spend money to make money.
Here is a list of blogging courses worth investing in.
13. Focus on your goals
Whether you have a business plan or blogging goals you wish to achieve, I suggest you focus on those.
The smart thing to do is to write down what your ultimate goal with your blog is.
If you want to use your goal to drive awareness to your other businesses, write down what steps you need to get there.
If your goal is to make money, then come up with a blog income strategy that will give you those results.
Let's say your blog goal is to make $5000 per month, break those up into achievable tasks.
Here is a little blog income plan you can create for yourself if you want to seriously make $5000 a month: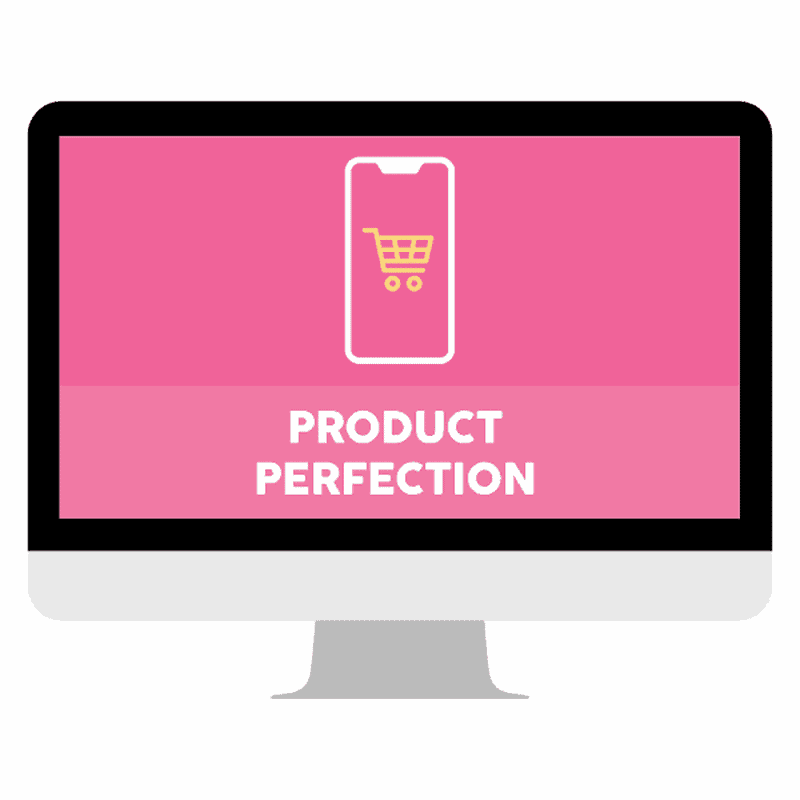 From here, ensure you keep your plan in mind every time you work.
14. Don't expect to make money right away
I mentioned having a lot of patience.
You want to get into blogging because you love to blog and if done correctly, the money will come.
Blogging for a living is possible but make a plan as I shared above.
There are five main ways bloggers make money: ads, affiliate marketing, sponsored posts, products, and services.
I started monetizing my blog from the beginning because I wanted to treat my blog as a business.
I made a whopping $83 my first month.
But not everyone makes money right away but it is possible.
Go ahead and develop your monetization plan for your blog ideally one that does not solely rely on high traffic or ads.
My blog income strategies simplified goes over 65 easy ways to keep your blog into gear to make money.
15. Don't forget your call to action
Do you have a clear call-to-action (CTA) on your blog?
If readers found your blog and actually took the time to look around will they know how to connect with you later on during the week for more of your awesome posts?
Ensuring your readers can learn more about you is one of the best things you can do for your business.
A successful blog uses a clear call-to-action, making it easy for visitors to convert quickly into customers.
You can do this by creating freebies that your readers can sign up for and join your email list.
Here is a list of over 50 freebie ideas you can offer on your blog to get readers to sign up for your mailing list!
Not only do I make the majority of my blog income using my email, but it is also the best way to stay connected with my readers.
This is the tool I personally use to make money with email.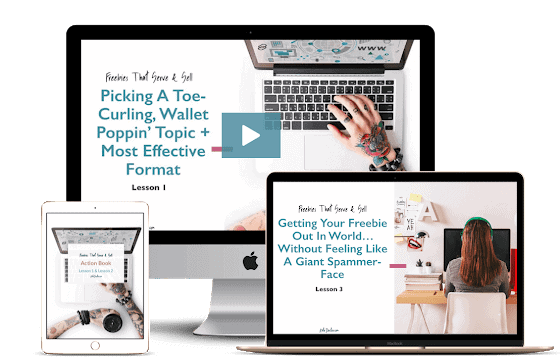 There you have it, the ultimate tips for new bloggers!
Read this next: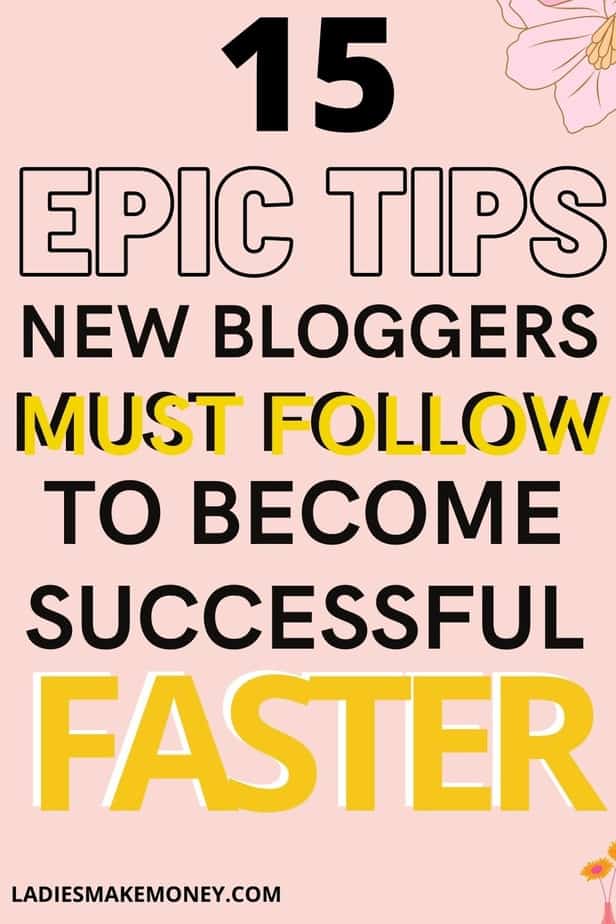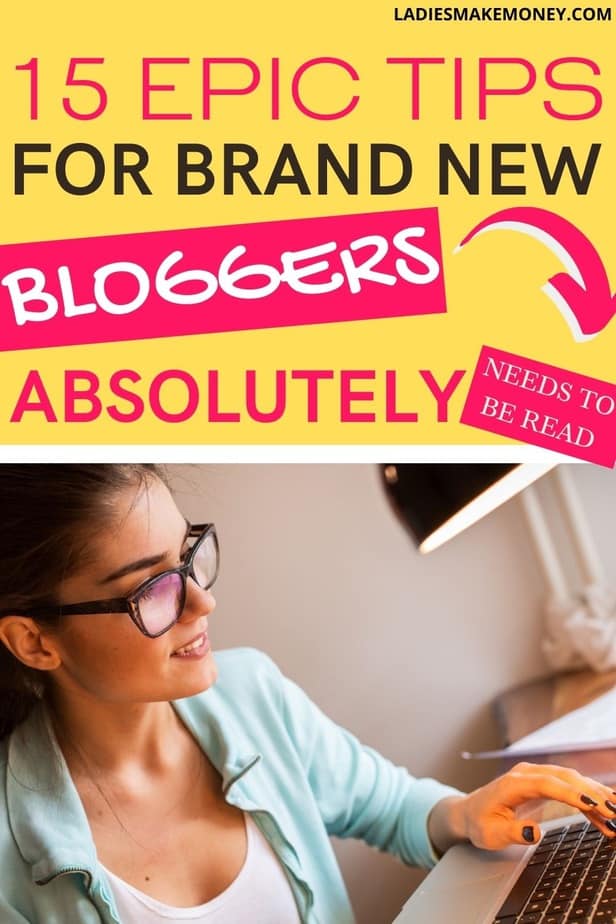 If you enjoyed our blog we would like to have you join our email list and receive weekly money-making tips, you can join now! Don't forget to like the Facebook group for bloggers. The page is created to share your work, pitch your services, and learn from other experienced bloggers!
---
***We would like to note that this post and most posts on our blog may contain affiliate links. This means that if you purchase something that has an affiliate link, we will get a commission from it. Not all items recommended on our site are affiliate links. We only recommend items that we have used and tried. These items have brought us much success and we highly recommend them to you in order to be successful. Thank you for your trust!
15 Blogging Tips for New Bloggers + How To Become Successful