Last Updated on September 3, 2020 by NandiNN
Stupid Simple SEO Review
Here is my honest review of the Stupid Simple SEO course, one of the best courses for bloggers looking for blog traffic and a way to increase income.
Mike Pearson's Stupid Simple SEO course is really one that you should consider taking if you are planning on taking your blog o the next level.
The more people that can find your blog, the more potential there is for making MORE money with your blog.
I have 2 amazing blogs that I am currently tweaking to implement the strategies I learned from the SEO course.
Before starting the course, I decided to start a new blog from scratch and to implement everything I learned from this course.
YEP NOW I HAVE 5 BLOGS!
The new blog is now booming, and I am giving myself another two months to apply to Mediavine.
Either way, I know the blog will be successful with or without ads as I started to focus on adding Affiliate Marketing links on it.
Why should you focus on SEO as a blogger?
Before learning anything about SEO, I was heavily dependent on Pinterest traffic for the success of my blog.
That was good for about 2 years of starting my blogging career.
As you may or may not know, getting traffic on Pinterest is now much harder than it used to be.
Don't get me wrong, I am still getting amazing traffic from Pinterest thanks to this Pinteresting Strategy I put in place.
But with Pinterest algorithms always changing and now the new focus on creating fresh pins daily, I knew I needed to find more than two ways to drive traffic to my blog without losing my mind.
And this is where Mike's Stupid Simple SEO course played a huge factor in increasing my traffic. I believe it is one of the best SEO courses for bloggers.
I forced myself to really concentrate on the course even more so when my Pinterest account was wrongfully shut down for almost a week for apparent spam!
And no, I do not SPAM.
These were honestly the two main reasons why I decided to 100% percent focus my efforts on SEO.
Understanding the importance of SEO is crucial to the success of your blog, especially if you blog for money.
This is the ultimate Stupid Simple SEO course review especially for bloggers having a hard time deciding if it is worth it.
First, who on earth is Mike Pearson SEO Guy?
The first time I heard about him was through a blogger I love and follow.
I signed up his email list and I was blown away.
Mike is obsessed with teaching bloggers how to grow their audience, traffic, and income with SEO. He founded the popular Stupid Simple SEO in 2018 after trying and failing with SEO for years before finally "figuring it out".
And guess what?
He used SEO to build a niche site to making over $200,000 with the Amazon Affiliate program!

That's insane!
Mike also recently started a new site in the credit niche, CreditTakeoff.com, and has already been featured on big sites like CreditCards.com, Bankrate, The Simple Dollar, Investopedia, and LendingTree!
This new niche site is already making over $7000 in affiliate sales with no Pinterest and no email list.

If you are excited to learn more on the best tips for using Stupid Simple SEO to rank your blog, THEN KEEP READING!
What will SEO do for your blog?
Search Engine Optimization (SEO) is critical for the growth and success of any online business.
Whether you have a blog, just a stand alone site or an online store, you will need SEO.
SEO is what gets you to the top of search results and puts your business in a position to be seen by other readers and potential clients.
This means you get to promote your products and services to those looking for it.
This is worth billions and billions of dollars and it is honestly the best way to continue growing at a rapid pace.
Those that find your blog via Google are more likely to purchase from you, subscribe and even become long-lasting repeat readers or customers.
So how do you get to the top pages in major search engines such as Google and Bing?

What are some of the SEO tools available to you to take you in this direction?

And can you increase your blog traffic with simple and easy SEO strategies?
We will take the time to review one of the best SEO courses popularly known as Stupid Simple SEO!
But before we get started on the Stupid Simple SEO Course which I consider the best SEO course for bloggers, we would love for you to join our growing Facebook group right here! Be sure to give us a quick follow on Instagram as well!
We also wanted to take the opportunity to let you know that we use Affiliate links on some of our blog posts. This means that we could make a commission if you click on an affiliate link and purchase something. Please check out our full disclaimer and policy page here.
What is Stupid Simple SEO?
Stupid Simple SEO is an amazing course created by noted blogger Mike Pearson.
If you are in the blogging world, you would have heard about Mike or even the course itself.
Mike has tons of experience in blogging and has used Search Engine optimization to drive traffic to his websites, which helped him go from $0 to $95,124.05 using SEO and Amazon as an affiliate.
He decided to share these strategies with the general public by creating the Stupid Simple SEO Course, which allows people to learn the critical skills to grow their own blogs and online businesses.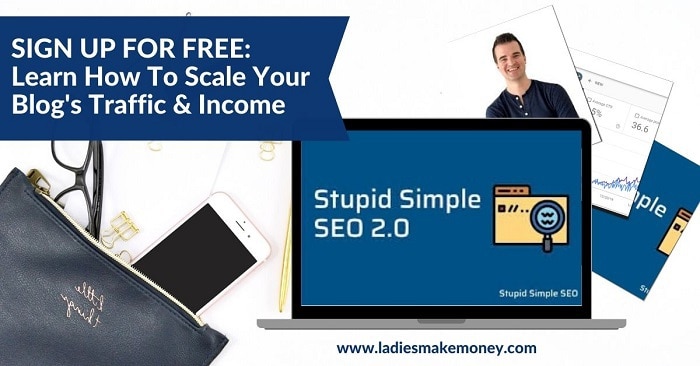 Here is a bit of what I learned from Stupid Simple SEO and what I immediately implemented on my blog to see fast growth right away:
Every new post I wrote was done using keywords my blog was actually capable of ranking for using the keyword research Mike uses.

Every post is now crafted in such a way to really help the reader. They are taken down a journey of what to do next, where to click next and through the end result. No more writing posts just for the sake of writing.

I have gone back to old posts to make changes that include making them longer, adding more long-tail keywords and improving the style. Overall, they are more in-depth and detailed.

I have managed to optimize some old and new posts for Google. Meaning I went back to ensure they are Google friendly but still focusing on user-intent!

I am constantly reaching out to bloggers for guest posts and collaboration opportunities. This will help me become an authority in my niche and improve my blog over time.
Other things you can do to improve your SEO quickly is to sign up for this free SEO quick starter Pack!
You will learn how to do proper on-page SEO to make sure each post you publish on your blog is optimized perfectly for Google and SEO.
It's a pretty awesome training packed with valuable SEO tricks you can implement right away.
Results from my new blog since implementing Simple Stupid SEO:
Does the course really work?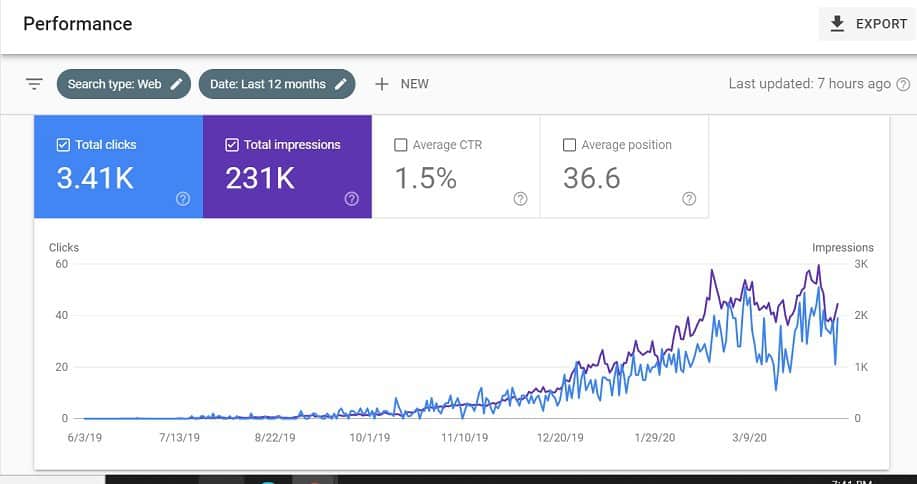 These stats are for a new blog I launched in June of 2019!
Here are the results after 2 months of writing the post!
Total clicks have doubled: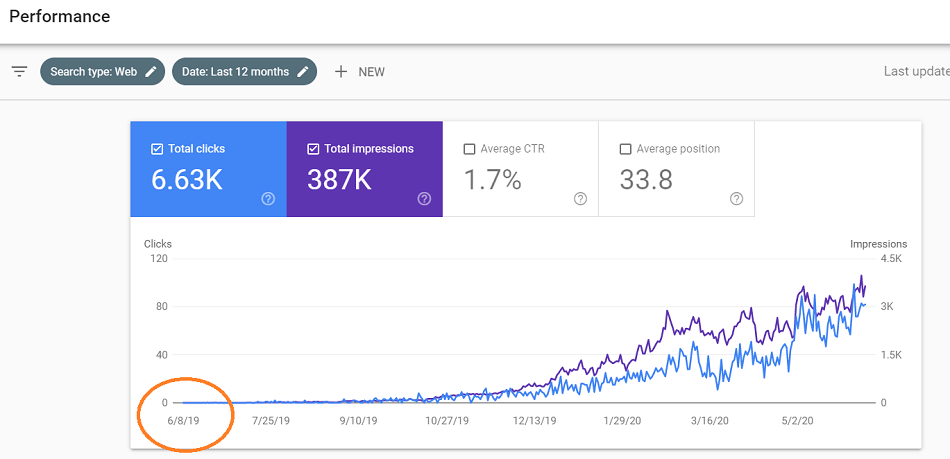 I bought and implemented the tactics from Stupid Simple SEO from the very beginning.
In fact, I believe I bought the course in April of 2019, studied it and took crazy notes.
I bought my new domain in June of 2019 and implemented the strategy from Stupid Simple SEO from that very first day.
Yes, I had articles and keywords ranking on the first page of Google within 3 months of using his techniques.
As you can see, everything is only going up because I did things the right way from the very beginning.
You can find The SECRETS to writing content that ranks highly in Google right here.
I invite you to sign up for the FREE SEO Starter Pack, where he walks you through how to do keyword research, create content that ranks, and optimize that content to rank high in Google!
Here, You Will Learn How To Increase Your Google Traffic … In Less Than One Hour!
So Who is the course for?
The Stupid Simple SEO course is designed for bloggers and online business owners who use content marketing to drive traffic to their blog.
As I mentioned earlier, I took this course and implemented the strategies on a brand new blog.
So I would suggest taking it at the beginning of your blogging career.
For those that have been blogging for years, this course is for you, especially if you want to increase your blog traffic from search engines.
I started Ladies Make Money Online back in 2016 and I started to implement proper SEO strategies in early 2019.
Trust me, I thought I knew SEO.
Definitely not the tricks that Mike teaches in this course.
Whether you are just starting out or have been blogging for years, after taking this course you will have a much better understanding of using proper SEO!
And you will also have a content plan in place that is optimized for SEO and Google.
Other big-name bloggers such as Fitnancials, Making Sense of Cents, Tracie Fobes and Suzi from Start a Mom Blog are all part of this amazing course!
Because it's just amazing!
Check out this YouTube Video to learn more about why over 800+ bloggers in 40 different niches are taking Mike Pearson's Stupid Simple SEO to rank high on Google!
What is included in the Simple Stupid SEO Course?
This course includes over 12 hours of video content and many other resources that give you in-depth details about how SEO works and strategies that will help you rank higher in Search Engines.
The course is presented in a laid back and straightforward way, which makes it easy to understand.

The course covers well-organized models such as the Getting started module, which outlines exactly what will be included, setting clear and realistic expectations.

There is also the Site Structure module, which speaks specifically about using categories and pages to optimize your website or blog.

You will then move on to the Link Building module; this module teaches intricate details about backlinks and how you can go about getting the perfect ones for your website.

You will also find the secret to creating epic content module which gives you details about how to create not only great content but how to structure your content in such a way that search engines love it and rank you higher.

The Keyword Research Module is probably the most important of all the modules, in this module Mike teaches you how to find the best keywords to optimize your site and provides some valuable tools to help you do this.
Mike also gives you the bonus spreadsheets highlighting the keywords and backlinks that your competitors are using.
This is by far the best tool I have and I use it every time I sit to craft a post.
All these tools that you will learn in the Simple Stupid SEO Course if implemented, will result in a significant increase in the traffic to your website or blog.
And let's not forget about all the amazing bonuses included in the course such as the priceless Facebook Group!
Start by joining the FREE SEO masterclass today:
What is the cost of the Simple Stupid SEO Course?
This valuable and life-changing course currently costs $497!
For what you get, and how much money you can make after taking the course, it is totally worth it.
You also have the option of paying $147 monthly over four months.
The stupid simple SEO price is completely worth it due to all the value you will get for your online business.
Over 1500 bloggers have taken the course because it just offers so much value!
If you want to do a test run before plunging into the Simple Stupid SEO Course, you can try his 4 Step SEO Framework To Scale Your Blog's Traffic & Income class.
Our verdict of the course
The Simple Stupid SEO Course is exceptionally comprehensive and gives you all the tools that you need to increase traffic to your website if appropriately implemented.
This is a course that we recommend for all bloggers and website owners that are serious about growing their website traffic and revenue
The simple SEO tips you will get is worth every penny.
You will get the exact strategies Mike used to take his Affiliate website from $0 to $95,134.05 Using SEO!
If I were you I would also jump on this amazing opportunity right now!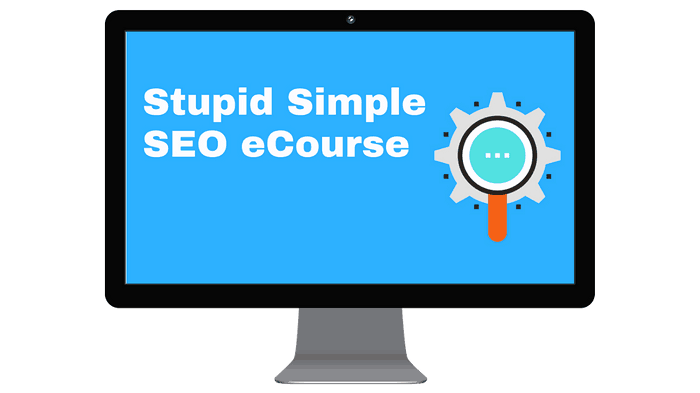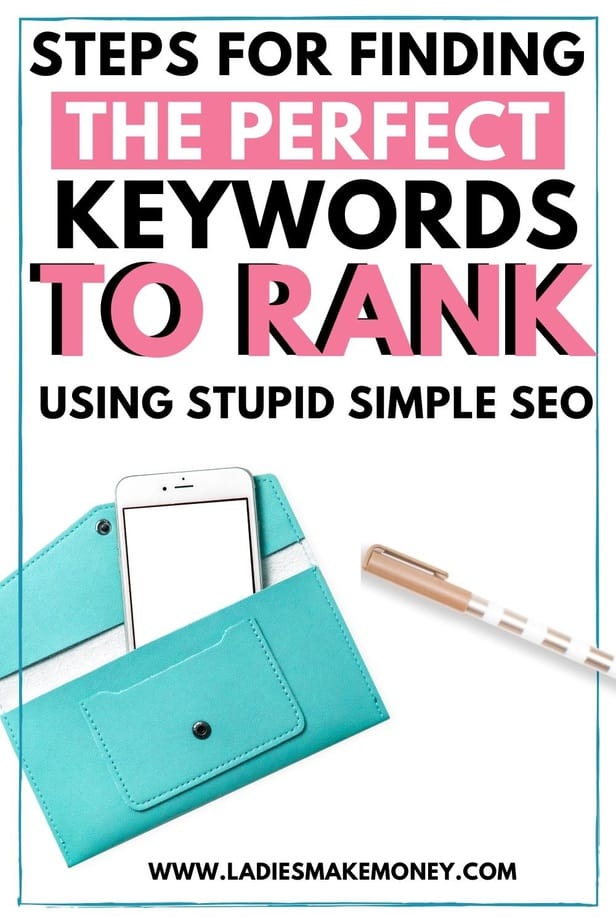 What you should read next:
Backlinks for SEO: A strong strategy for blog traffic – "a must-read"
7 Totally Affordable eBooks Guaranteed to Increase your blog traffic – "Trust me!"
If you enjoyed our blog we would like to have you join our email list and receive weekly money-making tips, you can join now! Don't forget to like the Facebook page. The page is created to share your work, pitch your services and learn from other experienced bloggers!
---
***We would like to note that this post and most posts on our blog may contain affiliate links. This means that if you purchase something that has an affiliate link, we will get a commission from it. Not all items recommended on our site are affiliate links. We only recommend items that we have used and tried. These items have brought us much success and we highly recommend them to you in order to be successful. Thank you for your trust!
Stupid Simple SEO Review – The Best SEO Course for Bloggers