Last Updated on December 14, 2020 by NandiNN
Writing Great Content
Guys, I get it, creating epic blog posts can be time-consuming.
I too would rather craft a quick blog post and call it a day if I had a choice.
For those that work full-time or are busy looking after your family while embarking on a side business with your blog, time is not your friend.
No matter how much I plan or how well I create a blogging schedule, sometimes I simply just fall behind.
So I completely understand where you are coming from.
Blog posts come in all shapes and sizes and range widely in both formatting and word length.
Can you believe that some bloggers have posts that have little to no content in them?
They simply add an infographic, or even a simple link from a YouTube video and call it a day.
And that's why today I really wanted to take the time to compare two different styles of posts that are on opposite ends of the content creation spectrum!
Quick blog posts, or epic blog posts?
So what exactly do I consider a quick and short blog post?
In my opinion, a short blog post is any post that is under 500 words.
In fact, I have seen bloggers that have written 300-word posts and called it a day. I used to be one of them.
To me, the post you are currently reading right now is on the long end of a quick post.
Most of my blog posts range anywhere from 3000 words to 5000 words.
This brings us to defining what I consider an epic blog post.
Epic blog posts on the other hand are long, well-thought-out blog posts that convey a lot of useful information for the reader.
They are usually at least 2,000 words long or more.
When I write long and thorough posts, I tend to do a lot more research and it's definitely not something you can quickly sit down and write in an afternoon.
In fact, these posts take me over 1 week to write and tend to do well when it comes to blog traffic.
Sometimes, bloggers chose to go with the quick posts in order to throw something out there.
So how do you decide which one is better? Quick Blog Posts or the Epic Blog Posts?
Before we get started on this, if you are not part of my 30 Day Blogging Challenge, where we share some of the best tips to grow your blog and monetize for profit, you need to join today.
You can get the full details below:

We are so glad that you are here today and before I get back on the topic at hand which is what to write: quick blog posts or epic blog posts, we would love for you to join our growing Facebook group right here! Be sure to give us a quick follow on Instagram as well!
We also wanted to take the opportunity to let you know that we use Affiliate links on some of our blog posts. This means that we could make a commission if you click on an affiliate link and purchase something. Please check out our full disclaimer and policy page here.
What is epic content?
I briefly touched on this earlier, but exactly what is the big difference between quick posts and epic posts – it goes much deeper than just the word count.
Did you know that you can have an epic post that is just 300 words?
An epic post definitely requires a lot more research and planning than something you quickly put together for the sake of putting something out.
When you take the time to answer a blog post thoroughly and give your readers a lot of valuable information, they tend to read it which increases your time spent-on-page.
The reader is also most likely to share this type of content as it probably inspired them, and often time link to it which is extremely great for SEO!
With an epic blog post on your hand, you tend to spend some time writing a long post that covers a lot of ground as much as possible.
The readers are usually left completely satisfied and do not go elsewhere to find additional information.
If you create long-form blog posts, I urge you to focus on always providing value for your readers. Don't fluff up your blog posts for the sake of creating long-form content.
Make it your goal to always provide value.
This should always be your top blogging goal – even if you were focusing on short quick blog post content.
Tips for making your epic content feel readable:
Include several different images and graphics to show your point

Embed videos

Make the paragraphs shorter

Don't forget infographics

Call to actions is important

Interlink to more information

Link out to additional sources
As you can see, there's a lot more work that goes into crafting an epic blog post that people will really love.
It's not something you can do in an hour or two and as I mentioned earlier, it sometimes takes me over a week to complete one.
If you want to get traffic to a new blog consistently, you need to create more epic blog post content whenever you can.
It's one of the best ways to gain authority, Backlinks for SEO, and hopefully a lot of traffic via social media and search engines.
It also gives you the chance to add more related keywords more naturally which will help you rank on Google much faster.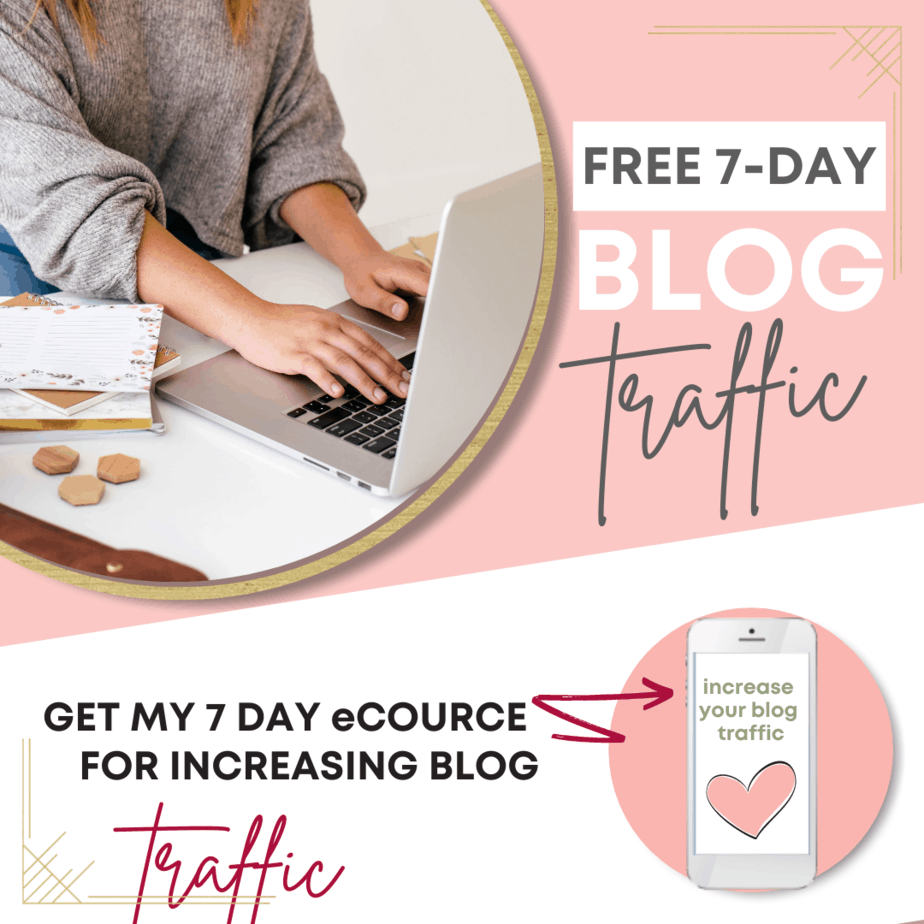 Guide to Writing Epic Content
It takes a lot of work to come up with epic content that your readers are just going to love.
The first step is to find a blog topic that your readers are definitely searching for.
For this, I research topics in a variety of ways.
If you are looking for our best tips on how to research for a blog post, you are in luck.
The goal of this post is to help you determine what type of blog post you should create for maximum impact.
Here is a quick way to find topics for you to write epic blog posts:
Check Pinterest

Look at your blog comment section

Search in Facebook groups – what are people constantly asking

Ask your email list what they want to read more of

Look at your top blog posts and write more on that topic
Once you have this, you need to determine how you will deliver your content.
And what I mean by this is, how will you craft your post?
Is it a tutorial, a list post or an educational blog post?
The easiest way to determine how to craft your blog post is to Google your keyword.
What do you see on Google? Is it mostly list posts or educational posts.
Google ranks posts depending on popularity and what readers tend to relate more with.
Make sure that the format you choose matches the content.
Now you can go ahead and write the post by answering the topic extensively.
I use the Grammarly tool to ensure I have no mistakes in terms of grammatical errors or spelling mistakes.
The pro version definitely does a better job with this.
Don't forget to come up with a catchy blog title to wrap it all up.
If you want more tips on writing a blog post that captures your readers read this!

Quick Blog Post And Why I love them
A quick post is something you can sit down and write quickly.
They tend to be much shorter and typically go straight to the point and are much easier to read.
This type of blog post can be completed in a couple of hours or at the most in a day.
Quick posts are posts that most bloggers especially if you are a beginner blogger tend to publish several times per week to keep readers happy & engaged and your blog fresh.
There is absolutely nothing wrong with these types of blog posts as long as you have provided as much value to your readers as you can.
A few ways you can make quick short blog posts count:
Embed a video with more information about the post

Give them an epic freebie that contains even more information

Get them to your email list so you can continue to share valuable content
Each type of blog post included here should have its own place in your publishing schedule.
If you are writing a blog recipe blog posts, I don't see why it should be 3000 thousand words.
But if you are writing a round-up post of your top 10 quick chicken recipes, that post might be 3000+ words.
Or if you are doing a review on a particular mac lipstick, I don't see myself reading a post that is 2000 words.
I see myself reading your pros and cons and watching a YouTube video.
But if you are doing a post about everything you need to know about having the perfect night routine for awesome skin, I expect at least 1000 words that show examples.
As you can see, some of your blog posts will need to be longer and others, not so much.
Are you using both types of posts?
I hope you enjoyed this post and will consider using a mix of quick blogs post as well as writing epic blog posts content that is much longer.
If you want more amazing ideas like these, be sure to sign up for our 30 Day Blogging Challenge if you have not done so yet!

Read this next:
Continue reading and improving yourself as a blogger.
In no time, not only will your blog traffic increase, but your blog income will also sky-rocket!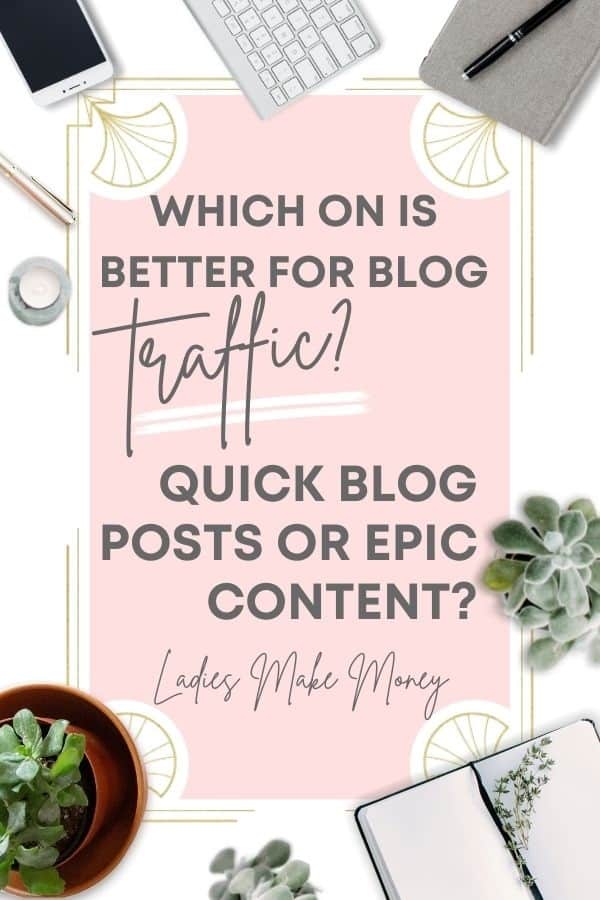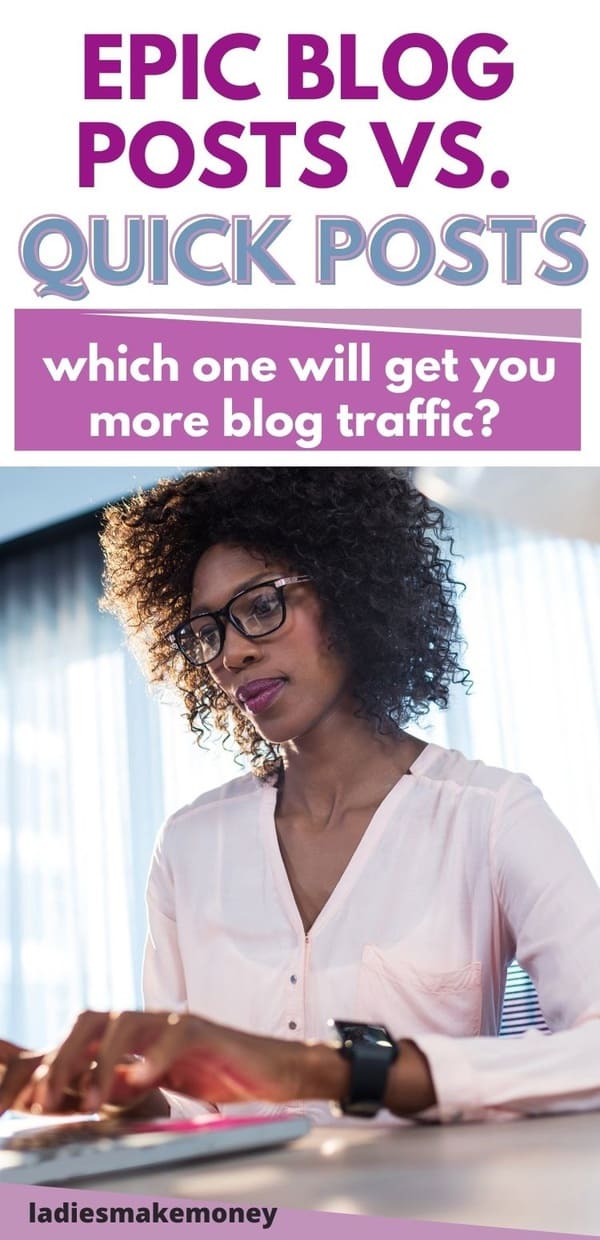 If you enjoyed our blog we would like to have you join our email list and receive weekly money-making tips, you can join now! Don't forget to join our Private Facebook page. The page is created to share your work, pitch your services and learn from other experienced bloggers!
---
***We would like to note that this post and most posts on our blog may contain affiliate links. This means that if you purchase something that has an affiliate link, we will get a commission from it. Not all items recommended on our site are affiliate links. We only recommend items that we have used and tried. These items have brought us much success and we highly recommend them to you in order to be successful. Thank you for your trust!
Which One Is Better? Quick Blog Posts Or Epic Blog Posts?