Last Updated on August 26, 2021 by NandiNN
How Do I Create A Blog Schedule?
As a blogger, I have a list of daily blogging tasks, weekly tasks, and monthly things I do to maintain and keep my blog going.
Most of my daily blogging tasks are things I do to ensure I make money at the end of each month.
Blogging is my full-time job, and in order to ensure I get paid every month, I perform daily, weekly, and monthly money-making tasks to help achieve these goals.
If you want to know how I do it all, you will need to grab a pen and paper to take notes from my suggestions below.
In today's post, I will break down my blogging schedule so you know exactly what I do daily, weekly and monthly to make money each month.
I will show you exactly how to create a blogging schedule that works for your needs.
It will include a sample of my blogging tasks so you can understand how it all works.
Your daily blogging time management is what will determine how successful you are.
Should You Have A Blogging Schedule?
You really do NOT need an actual blogging schedule to be successful.
I know of plenty of bloggers that blog successfully without following a set schedule, and honestly, I used to be just like them.
So what changed?
Once I had a child, I found that I was constantly stressing out about what I was and wasn't achieving on a daily, weekly, and monthly basis.
I found that managing my time more efficiently was the key I needed to continue to be successful.
Creating a blog schedule has really helped me meet my blog income goals a lot faster than blogging aimlessly.
My blogging schedule is extremely flexible to some extent, but for the most part, I try to stick to it as much as I can.
I also decided to come up with a daily blogging task list once I started managing and running multiple blogs.
It was a great way to stay on track, keep focused, and prioritize what needed to be done when it came to maintaining my blog.
After all, there are only so many hours in a day and with so much that needs to be done, it's only fair that I organize myself accordingly.
With that in mind, you might find the next question intriguing.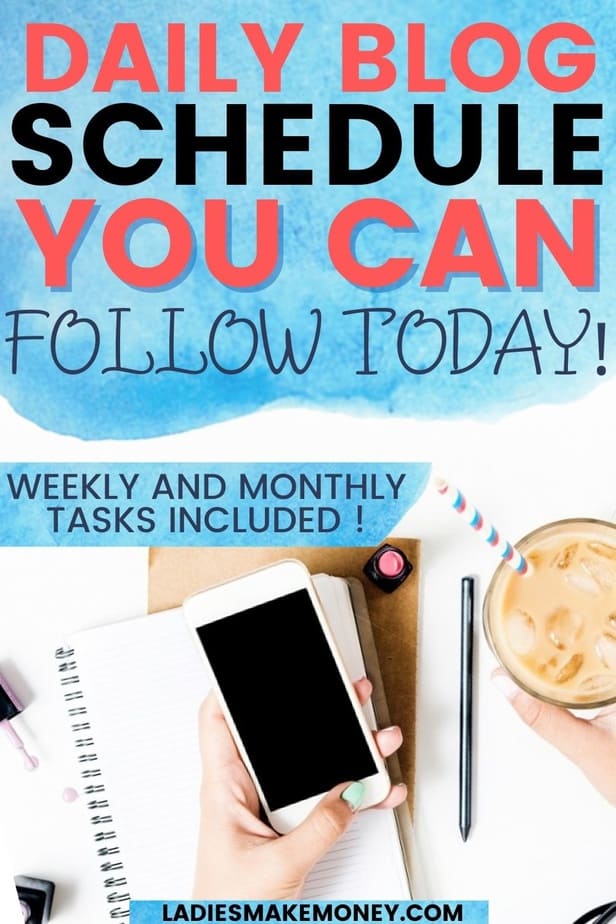 How many hours a day do bloggers work?
The number of hours you work will really depend on how far along you are with your blog.
I find that most established bloggers can get away with working 15 – 20 hours a week on their blogs and still make a full-time income.
That is because they have an amazing system put in place to help them monetize their blog passively.
This means they do not need to physically be working in the business to generate any blog income.
At the beginning of your blogging career, I think spending more time creating great content, growing your brand, and building an email list is crucial to your success.
And putting a system in place to make money passively is a great idea for the long term.
Building relationships with other bloggers is also really important for your growth.
At the end of the day, you will need a blogging plan that works with your goal in order to become successful.
Working with bloggers in my niche helped me grow my business pretty quickly.
Blogging for money is definitely possible if you follow a daily blogging schedule and you set some great goals for achieving just that.
When I first started blogging, I was working about 25-30 hours on my blog each week to grow it and increase website traffic.
This is what I could do realistically.
By sticking to a blogging routine you can manage, you can achieve anything!
If you want more concrete tips for increasing blog traffic each month, sign up for my free blog traffic boosting tips right here.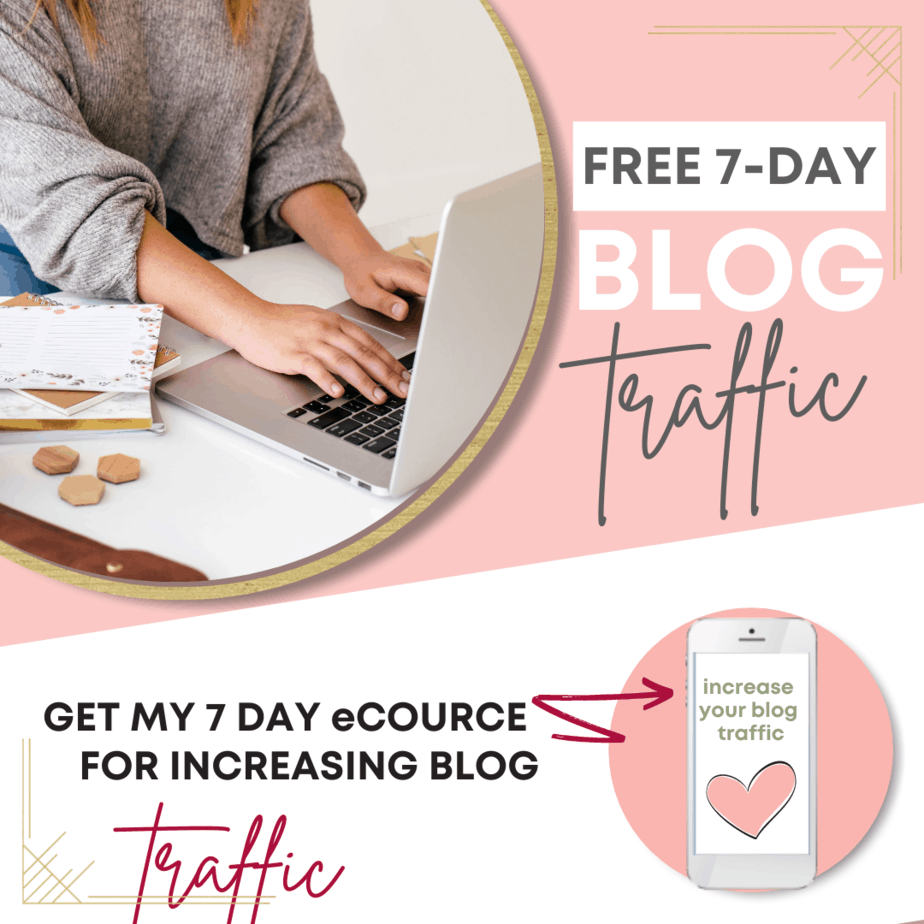 Here is a list of daily blogging tasks I perform to make money each month!
We are so glad that you are here today and before I get back on the topic at hand which is a list of daily blogging tasks you can do, we would love for you to join our growing Facebook group right here! Be sure to give us a quick follow on Instagram as well!
We also wanted to take the opportunity to let you know that we use Affiliate links on some of our blog posts. This means that we could make a commission if you click on an affiliate link and purchase something. Please check out our full disclaimer and policy page here.
Coming Up With A Blog Post Schedule
I really wanted to horn on my best tips that will help take your blog to the next level.
These are the things I do daily, weekly, and monthly to really move my blog along from one stage to the next.
I have mentioned this already a couple of times in some of my blog posts, but time management is an important component of becoming a successful and profitable blogger.
You might want to check out my big list of productivity tips for bloggers packed with things you can do to quickly grow your business.
Today, I want to focus on:
Tips for Creating A Blog Post Schedule That Works

My Daily Blog Routine That Keeps Everything Together

And A Daily Blogging Checklist You Can Follow Below
You do not need to follow my exact schedule, tweak it so it fits with your goals and lifestyle.
I get asked this question all the time – how many hours do bloggers work?
This question is not important, as I mentioned earlier, you can get away with blogging 15 – 20 hours a week and a little bit more if you are a beginner.
I can tell you this, blogging every day is also NOT necessary to be successful.
The key is to be consistent and produce quality posts.
So how can you create a daily blogging task list and schedule that works?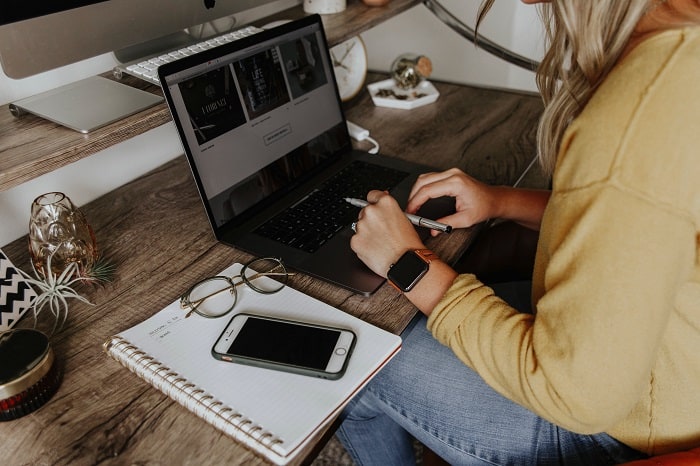 Simple Daily Blogging Tasks
My day-to-day blogging tasks change up frequently.
This means sticking to a strict blog post schedule is almost always impossible.
I am a mom and a busy blogger with 5 blogs so, on certain days other tasks might fall through the cracks, but other than that, I try to stick to a blog schedule as much as I possibly can.
But sometimes, you might just not have enough time during the day to get anything done.
When this happens, you can perform quick tasks when you are waiting to pick up the kids, waiting for that lasagna to bake, or relaxing in the bath.
It also helps if you have a daily blogging checklist that you use to check off quick tasks that require very little effort.
These are the tasks I perform when I know I am going to be destructed with my child, but I can quickly pull them off and they will still give me great results.
Look through these daily blogging tasks and pick a few things you can quickly do:
Blogging daily is not recommend as I suggest you focus on quantity over quality.
You will do so much better this way.
Don't forget to grab this free blog post checklist to ensure your post has everything you need to succeed on Google and on Pinterest.

Weekly Blogging Tasks
My weekly blog tasks are tasks that I can take my time on but should be able to complete before the weekends.
These are a little more comprehensive and sometimes require a lot more concentration.
This means I will block some time on certain days and focus on the tasks at hand for 3-4 hours at a time.
At the end of the week, I should have provided value to my audience in a form of an email, a blog post, and or a freebie.
I should also have performed a blogging task that would make me money.
1. Write weekly blog posts
I try my very best to write up weekly blog posts.
Not only is this great for regular readers which I now have, but I find that Google crawls my site more frequently the more write on it.
If you do not have time to write an article, I would definitely recommend you update at least one article a week.
This will allow Google to keep crawling your site.
I tend to write very comprehensive blog posts as I find they perform well on Google and my readers tend to love it more.
I know this because I get a lot of blog comments and a lot more email subscribers after readers read a particular post.
I did a quick Google search on this and it came up with interesting stats.
This is what I searched: how long should a blog post be for good SEO?
For SEO, the ideal blog post length should be 2,100-2,400 words, according to HubSpot data.
And I tend to personally write 3500 words.
Writing long posts typically takes me up to one week to fully complete with images, Pinterest Pins, and proper blog formatting to help keep readers engaged.
Writing 4 blog posts a week helps my overall blog stay relevant, and if I can't get 4 posts written, I try to do the very minimum of 2!
Read this:
Learn how to create roundup posts quickly that can help increase your blog traffic.
2. Email my readers weekly
I used to have this as part of my daily blogging tasks, but I quickly moved that to weekly.
Sending emails weekly is definitely way better than the daily emails unless I am doing a sales funnel or welcome sequence.
I found that emailing my list weekly worked better for me and my email subscribers appreciated that way better.
In fact, in the new year, I will try to update and tweak all my email sequences to ensure it's working to its full capacity.
At the end of the day, I would like my email list to be making money on autopilot.
Here is a full list of emails I send my readers weekly to make more money, improve relationships, and build trust!
Email marketing is how I make the majority of my income and that is where I spend the majority of time perfecting the process weekly.
I have used the email marketing strategies from Kate Doster to boost my email income.
You can use her proven templates & workflows to help you generate some income for your blog as well on autopilot.
Grab your email marketing guide here.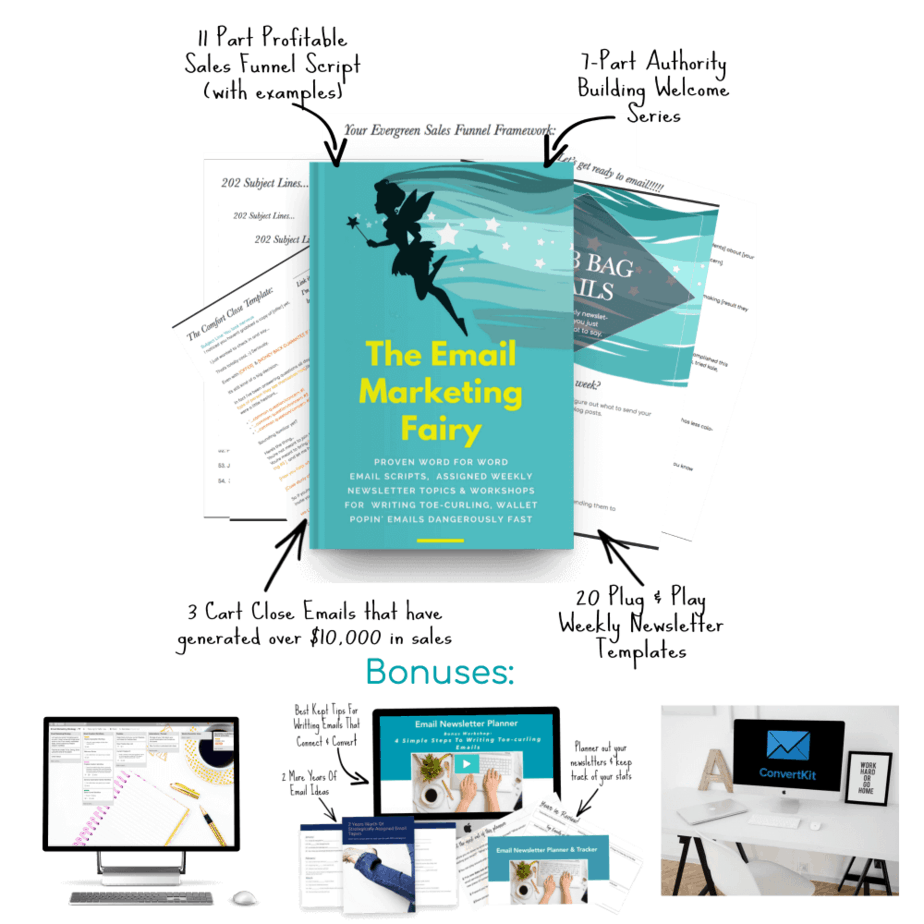 3. Build Backlinks for SEO
If you are not into SEO, as a blogger I must insist you learn.
Make it part of your blogging routine.
Don't be like me.
I left it for almost two years before I actively started implementing proper SEO tactics.
You can take it back to the basis by first enrolling in this FREE SEO blogging course to help you get some understanding of what to expect.
Even this year, I keep reading of bloggers that truly believe having the Yoast or Rank Math plugin is a solution to SEO.
Hate to break it to you, but it is not!
In fact, that accounts for maybe 5% percent of your blog SEO.
But did you know that having and building strong backlinks is great for SEO?
If you are trying to grow your page views organically, you definitely need to focus on backlinks.
The SEO traffic you will get from building backlinks is more consistent and more passive (as it requires less ongoing maintenance) vs Pinterest where you need to keep creating new pins, repinning/ scheduling, etc.).
What are backlinks in SEO?
A backlink is simply a link created when one website links to another. Backlinks are extremely important for SEO and they can help you grow quickly.
There are plenty of great ways to get easy backlinks for SEO.
4. Create & Schedule New Pins
Even though this is part of my daily blogging tasks list, I tend to do bulk scheduling over the week and I use Tailwind Communities for this!
Pinterest is huge on Fresh Pins, and that is why it is extremely important for me to create new pins daily if not weekly which I then schedule out.
My new Pinterest Strategy involved me creating at least 20 -30 new pins which are then scheduled to the Tailwind community.
To quickly create amazing pins, I use these Feminine Canva templates which help in bringing me the traffic I need from Pinterest to continue making money online.
These are the exact templates I use to get thousands of blog traffic each month using Pinterest.

5. Back up your blog
It's a good idea to get into the habit of backing up your website regularly.
Some hosting companies backup your site but mistakes always happen.
To back up a WordPress site for free, you will first need to install the Updraft Plus plugin.
At the end of the day, it is your responsibility to keep regular backups of your website.
If you are not already backing up your WordPress website, be sure to do so at least weekly and even monthly works.
Don't forget to check out my list of over 65 money-making strategies that I use to Make Money Blogging.
The guide details over 65 strategies I use to make money with my blog, starting with the easiest and working through the income sources that make thousands a month.
Each chapter walks you through how much you can make and how to set it up on your blog.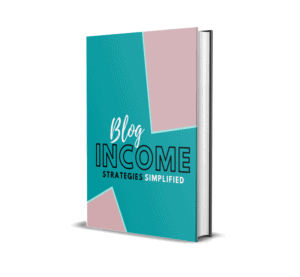 Monthly Blogging Tasks
Every month, I perform more extensive tasks to keep my blog moving.
These are tasks I do at least monthly to ensure my blog continues to grow and make money.
Whether you choose to perform these monthly blog tasks every week or every 30 days, I think you should totally make time to do so.
1. Update Blog Posts
Every month, I make the conscious decision to update my older blog posts to bring them back to life.
By digging deep in my Google Analytics and Google Search Console, I am able to find posts that tend to linger on the second page or third page of Google that could use some updates.
I have been able to revive these posts and bring them up to the first page of Google with easy updates.
Easy SEO Revamp walks you through the steps you have to do to improve your rankings and conversions of your existing articles by leveraging Google Search Console.
Google Search Console is one of my favourite tools for researching keywords, finding new post ideas and identifying posts that I can improve.
I use it monthly to improve 1 to 2 posts at a time as this is how much I can without messing with my blogging schedule.
Last month, I used the strategies outlined in Easy SEO Revamp to improve a post that was barely getting traffic.
It is now my top blog post.
2. Update Affiliate Links
Although this task is the most frustrating one, I can tell you that it is absolutely needed especially if you want to keep making money.
Do you know how many times I have gone through a blog post that used to make me the most money and now the post makes no money?
This is usually due to two things.
The first one is because you may have lost traffic either from Pinterest or Google.
In this case, I would create more pins to send more traffic or use Easy SEO Revamp to improve the post.
The second reason could be because your affiliate links are no longer working.
The brand you may be working with could have deleted the link, discontinued the product or the product might not be available.
This happens a lot with Amazon links.
It is a good idea to go through your top money-making blog posts and ensure your affiliate links are still working.
If not, be sure to update these links.
You can use this tool to check for broken links.
Personally, I do it manually as I want to ensure that I can rework the post in case I have to totally change the link or product recommendation.
3. Find New Affiliates To Work With
Blogging for money is definitely possible especially if you stay on top of things.
As I mentioned earlier, sometimes links become broken, affiliate links tend to stop working or something just goes wrong.
It is important to update these links which sometimes means finding new affiliate companies to work with.
It's a good idea to also find better affiliate programs to work with and ideally those that pay more.
Affiliate marketing is much more than just slapping links on a post hoping people will click on it and make the actual purchase.
You definitely want to be more strategic with your approach.
Affiliate Marketing For Bloggers walks you through the exact process for writing blog posts that make sales.
At the end of the day, you want to make more money right?
So where can you find the best affiliate programs for bloggers to make more money?
As you may now know, the secret to making money with affiliate marketing is finding the right affiliate programs to join in your own niche.
This means, if you are a beauty blogger, don't share Pinterest services or products with your clients.
Here is where you can get access to over 600+ high-paying affiliate programs to choose from that are not only profitable but convert into sales each time today.
You can grab it here.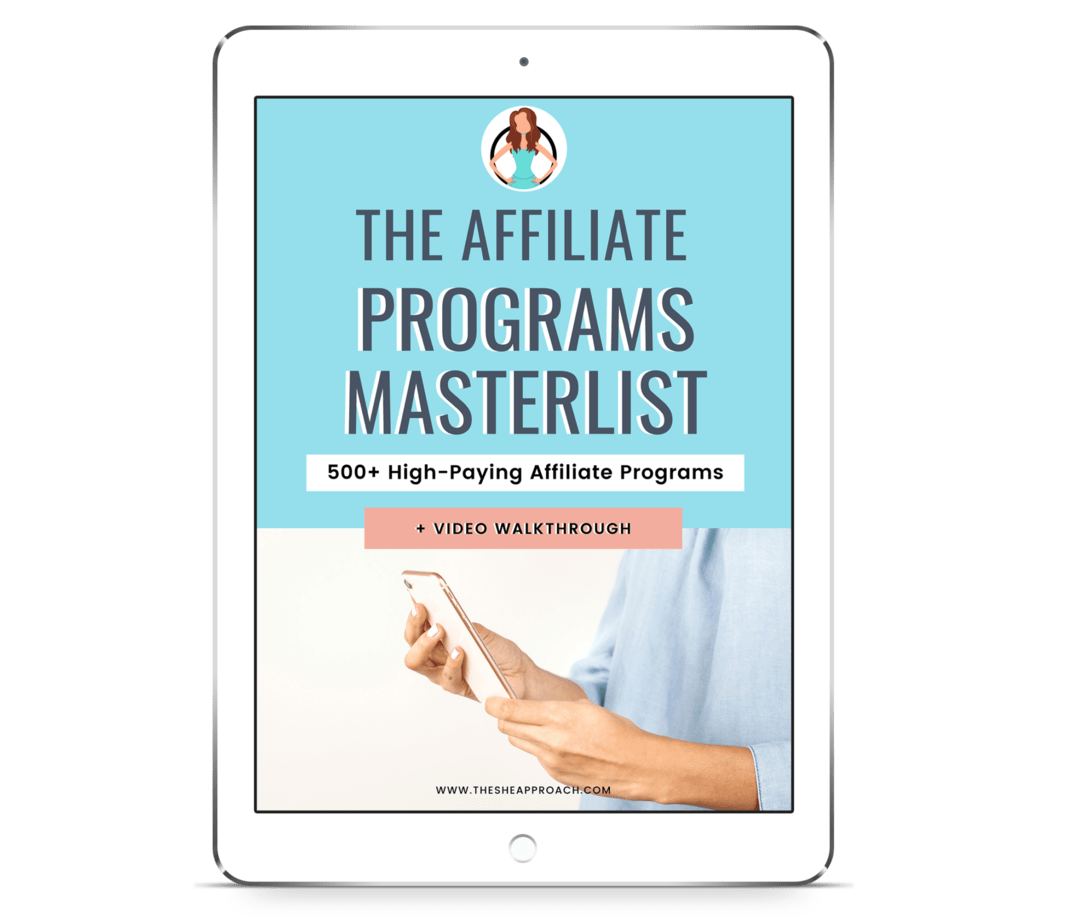 4. Clean Up Your Email List
Do you have an email list?
If not, you should ensure you make a plan to start building an email list for profit.
And even though an email list can make you money and you are probably wanting to grow it as fast as you can, you need to keep an eye on your numbers.
This means, how many of your readers are:
Opening your emails and reading

Click on the links you are recommending

Or are buying from you?
If you notice a few that are not doing this, it's time for them to GO!
I use MailerLite as my email provider and the more emails I have, the more I pay.
Why on earth would I pay for someone to be on my list if they are not interacting with me?
This makes no sense.
They probably signed up for a freebie and that's all they wanted.
Now that they have it, they can leave if they are not going to interact and engage with me further.
It's as simple as that.
And that's okay.
You can try to resend them a re-engagement email to get them interested again if you want and then totally delete them if it did not work.
Deleting your emails that have zero open rates is great for the overall health of your mailing list anyway.
Once a month, I do a cleanse and get rid of dead weight.
Usually, these are people that have not opened any of my emails in the last 6 months!
5. Perform Keyword Research
This one typically goes hand in hand with brainstorming blog post ideas.
That is because I typically want to ensure I come up with blog posts that I can actually rank for on Google.
I typically use 3 tools to find the best keywords for my posts:
Pinterest

Google Search Console
These tools help me come up with a massive list of keywords that I can actually rank for.
Ever since I become more strategic about coming up with great keywords, my blog has grown each month.
No more relying on blind luck to grow my blog traffic.
Getting your blog noticed by readers and brands will ensure that you make more money every single month.
Grab my full Keyword Research procedure right here.
6. Brainstorm Blog Post Ideas
At least once a month I like to brainstorm ideas for what I will blog about the following month.
This will keep me organized and ahead of things.
I have a great list with thousands of keyword ideas in place, so I know I will not run out of things to write about any time soon.
Most bloggers usually just sit down with a notebook and jot down blogging ideas as they pop up and the one that stands out the most is what they go with.
I used to do that.
But now I am more strategic.
Most of my strategies are in this eBook! But basically, I go into my Google Search Console and determine what my readers want and love.
Once I make note of this, I write more of that as this is what people are looking for when they land on my blog.
You also want to think about the time of the month, the season and what's going on around the world.
Let's say Valentine's Day is 45 days away, you want to start writing posts related to that.
In this case, you can check out my list of over 100 Valentine's Day blog post ideas you can use to create your content.
If you are having a hard time coming up with anything, this post will help.
It will help you brainstorm blog post ideas to help spark your creativity.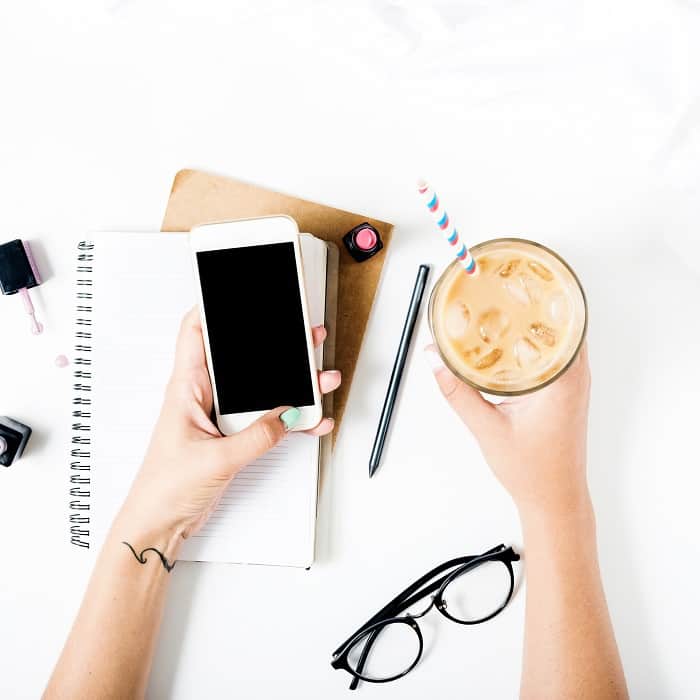 Yearly Blogging Task
At least once a year, it's a good idea to perform high-maintenance blogging tasks that get put off in order to ensure your blog is functioning the way you want it to.
These small blogging tasks can do wonders for your blog in the long run.
1. Brainstorm Product Creations for Your Audience
Once every 6 months or so, I take the time to brainstorm new project ideas, freebies I can create or even simply update the freebies I already have.
Some people create products every 3 months but if you are new, once a year or so is just fine.
Creating products is not that easy.
So start small and work your way up.
For example, my friend suggested I bundle up a few blog posts and sell them at a low cost.
This is great for those just starting out.
This 1-hour eBook creation PDF mini product will help you do just that.
Learn how to turn one or more of your blog posts into an eBook (or a PDF) that you can sell to your audience for $5.
Other things to think about are new projects you may think of starting, new blog posts, a special newsletter for your subscribers, you name it.
The options are endless.
2. Speed up your blog
Did you know that one of the reasons your blog traffic might suck is because your page speed is bad?
Not only does a slow site mess with SEO, but your readers will bounce off your site if it's taking too long to load.
I personally hired someone to look after this for me.
Be sure to check your site's speed here – Google's Page Speed Insights!
A few things that might slow down your sites:
Your hosting, I personally recommend Siteground or BigScoots! I am currently using BigScoots for all 5 of my blogs.
I have a lot of images on my website and this tends to slow down my site. I use ShortPixel an image optimization and compression API that significantly reduces the size of photos without compromising quality.

Plugins can also mess with your site speed, so I try to only have 10 max and only if I absolutely need it. Otherwise, I deleted a lot of them.

Use a Caching plugin like WP Total Cache! Caching is the process of temporarily storing frequently accessed data in a cache.
If you are still having a hard time with your page speed, hire a professional like this affordable specialist!
Just ensure you make it part of your blogging schedule to work on your speed!
3. Perform a Full Content Blog Audit
A content audit reviews the performance of your blog posts and how effective your overall content strategy is at driving leads or sales.
You might also find posts that extremely similar that may be combined or deleted.
If you do delete anything, make sure you redirect that link to a post that makes sense.
Make your blog title makes sense, the structure of your blog works well in terms of SEO and that you have optimized your post well to drive traffic and income.
Here is a step-by-step guide to conducting a content audit more effectively for great results.
Having a daily blogging schedule or a blogging schedule is one thing.
The problem most bloggers have including me is sticking to it is a whole other thing!
If you want a blog planner to help you stay organized with your daily blogging tasks or monthly blog schedule, we have you covered.
Check out this post with over 15 Free planners for bloggers.
If you are looking for other blogging tasks I use to monetize my blog each month, then you will need to pick up my Blog Income Strategies Simplified guide.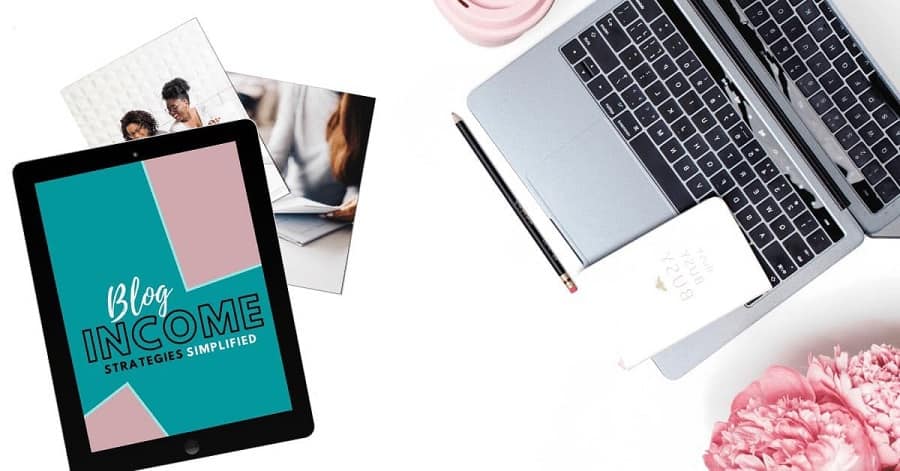 Which of these Daily Blogging Tasks do you perform?
Tell us in the comments below.
It's always interesting to see what other bloggers do to stay on top of things.
If you want more amazing ideas like these, including tips to grow your blog from zero to profit, be sure to sign up for our 30 Day Blogging Challenge to a better blog if you have not done so yet!

Read this next: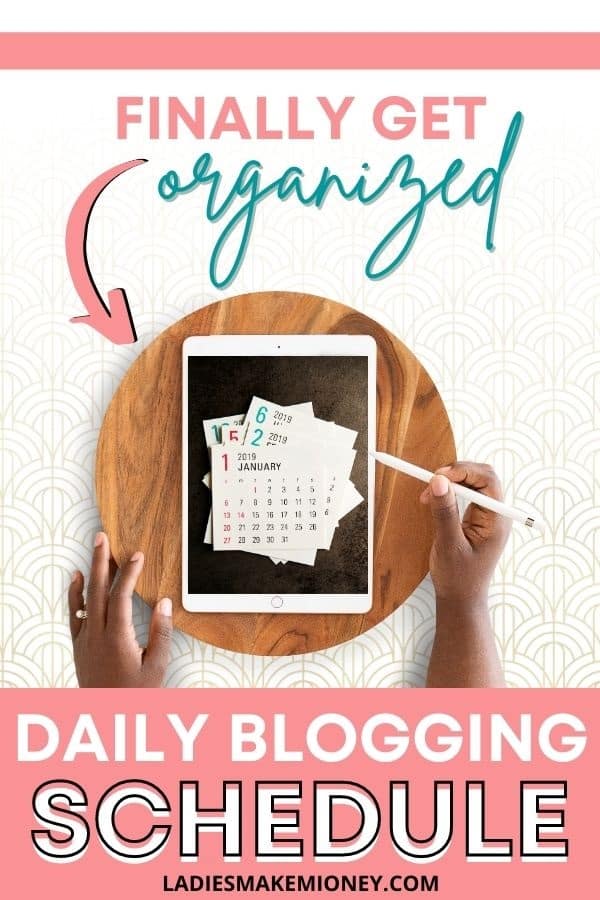 If you enjoyed our blog we would like to have you join our email list and receive weekly money-making tips, you can join now! Don't forget to join our Private Facebook page. The page is created to share your work, pitch your services and learn from other experienced bloggers!
---
***We would like to note that this post and most posts on our blog may contain affiliate links. This means that if you purchase something that has an affiliate link, we will get a commission from it. Not all items recommended on our site are affiliate links. We only recommend items that we have used and tried. These items have brought us much success and we highly recommend them to you in order to be successful. Thank you for your trust!
Daily Blogging Tasks & Weekly Blogging Schedule For Bloggers