Last Updated on October 17, 2017 by NandiNN
As regular readers of this site will know, blogging is an effective way to make money. Being able to work on your computer at home, with all the flexibility a home business brings, is something that appeals to many of us. Whether you are a stay-at-home mom, or just tired of the daily grind of a 9 to 5 existence, there is career potential in becoming a freelance blogger. But (and there is always a but, isn't there), it's not as easy as just throwing something online and expecting people to show an interest in what you are offering. There are hundreds of blogs online, and your competition is just another click away. You need to dazzle your blog readers, making sure they stick around to read beyond your introductory page and make return visits in the future.
Before we get started, we would love for you to join our growing Facebook group right here! You can also join our Pinterest group by scrolling to the bottom of this page! If you are looking for guest blogging opportunities or if you need a personal affordable coach to take you from A-Z, we can help you. Get all the juicy details right here! Have you seen our brand new shop!
We also wanted to take the opportunity to let you know that we use Affiliate links on some of our blog posts. This means that we could make a commission if you click on an affiliate link and purchase something. 
Want to take your blog to the next level? Sign up below: 


Here are some ideas to take your blog to the next level.
Get your website noticed

You probably have a 'hit counter' installed on your blog. If you haven't, your website host should give you the option to include one. This is your way of knowing how many visitors come to your blog each day. To improve the number of visitors coming to your site, you need to get to grips with SEO and move your site up the search engine rankings. Surf Results Marketing has an excellent tool to let you know exactly how your website is doing. You won't get many visitors if you are on page 10 of Google, for example, so learn how to use SEO to rise to the top of the search engine, and vastly increase your readership.

Improve the blog's usability


Your reader needs to be dazzled from the moment they enter your website, ensuring they stick around for long. The page design needs to be clean and uncluttered, with clear signposting to pages and articles of interest. The font needs to be readable, and background colors shouldn't mask the writing on the page. Ensure no dead links are leading to pages that no longer exist, and cut down on unnecessary buttons or pop-ups that may irritate your readers. Showcase your best articles on your front page, giving your reader a taste of what you are offering. In short, impress your readers at the first instance, that moment when they first stumble onto your blog. The better the experience, the less likely they are to leave.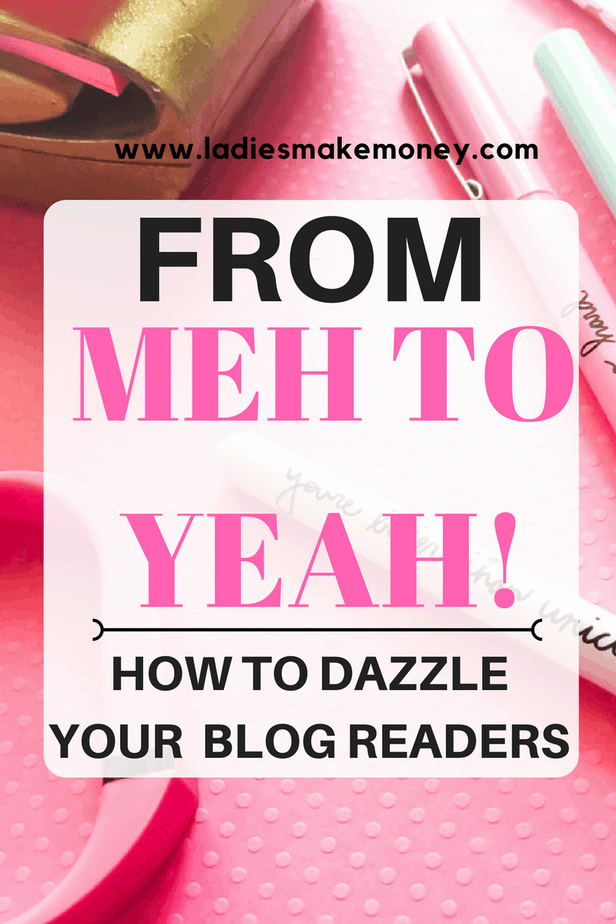 Engage with your readers

You aren't trying to make new friends, but your readers need a reason to return to you. Those people who use their website to sell a specific product will find this much easier than those who make money through advertising or affiliate marketing. Therefore, content is key, so your articles need to be interesting to read and relevant to the reader. You should also aim to post something new each day, giving people a reason to come back to you. If you don't have time to post regularly, consider hiring a freelance writer, or offer your readers the opportunity to write guest posts for you. You will need to moderate them, of course, to keep up to a reasonable standard. To stay fresh, ask your readers to complete a survey occasionally, asking them what they enjoy (or don't enjoy) about the blog. Take on board the feedback, and make the necessary changes to ensure your blog continues to appeal.



Final word


As well as following our advice, do your research online and have a look at other blogs. What do other bloggers do to impress their readers? Learn from the best, and format your website accordingly. With a good looking site and engaging content for your readers, you will gather a loyal legion of fans behind you.
Want more blogging tips that will help take your blog to the next level? Keep reading. 

Managing the 3 C's: Things to consider!
How to start a blog with Siteground that makes money.
Side hustles that will make you $1000 per month
If you enjoyed our blog we would like to have you join our email list and receive weekly money-making tips, you can join now! Don't forget to join our Private Facebook group. The page is created to share your work, pitch your services and learn from other experienced bloggers!
---
***We would like to note that this post and most posts on our blog may contain affiliate links. This means that if you purchase something that has an affiliate link, we will get a commission from it. Not all items recommended on our site are affiliate links. We only recommend items that we have used and tried. These items have brought us much success and we highly recommend them to you in order to be successful. Thank you for your trust!
Skip to content