Last Updated on January 28, 2021 by NandiNN
What is the quickest way to become a millionaire?
Ready to learn more about how to become a millionaire from nothing?
And when we say nothing, we mean no money at all?
As in zero dollars!
Is this even possible and do people really just randomly become millionaires?
As you know Mark Zuckerberg is co-founder and CEO of the social-networking website Facebook, as well as one of the world's youngest billionaires.
He started this business from the comfort of his dorm room at Harvard University!
By the end of 2004, Facebook had over 1 million active users.
With the help of a few friends, Facebook was created and it's now a multi-billion company.
When he started his work on Facebook he got so indulged in the work that he did not talk with his friends, neither sleep nor eat and Mark took two weeks to finish his work on Facebook.
Hard work and passion definitely pays off.
He definitely became a millionaire before he was 30!
In fact, he became a billionaire in 2008 at the very young age of 23.
But I get it, not everyone is Mark Zuckerberg, but anything is possible.
Ready to learn more about how to become a millionaire fast? Keep reading!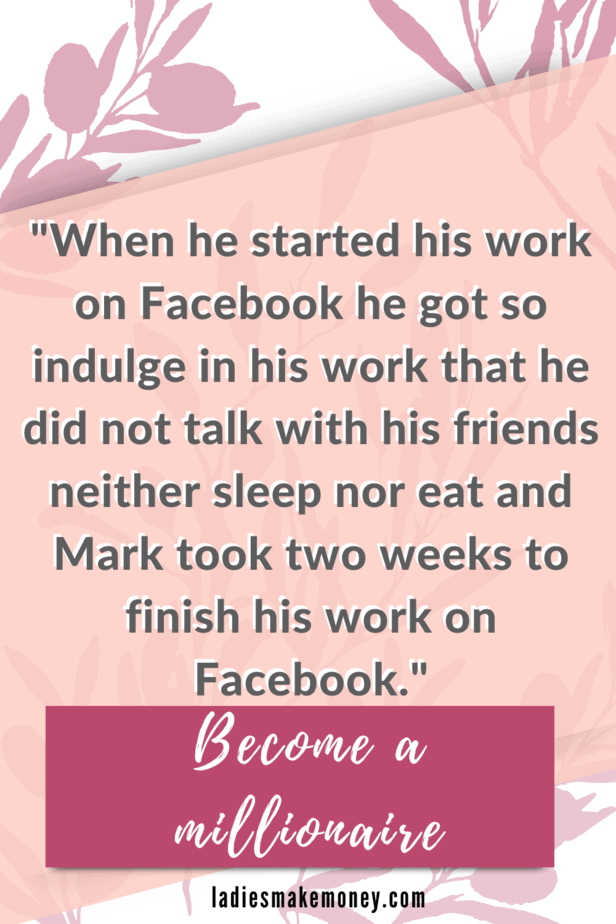 Women Entrepreneurs that become millionaires from nothing
I have written a lot of success stories on the blog about successful entrepreneurs.
One of my most popular interviews done on this blog is one I did with Sarah Titus.
She is my true definition of a girl boss that became a millionaire from nothing.
Sarah Titus was successful enough in making over $2 Million selling easy to make Printables from home.
"A little update – This blogger is now making over $4 Million a year selling printables on Shopify from the comfort of her home!"
As you can see, if you put your mind into it, you can definitely come up with an epic business idea that may one day turn into something successful.
But you have to work hard for it.
We can give you the tools and direct you to the path that will help you become a millionaire from scratch, but the work falls on you.
The best way to become a millionaire is to work as hard as possible and the direction that will get you that success.
If you are not sure where to start, this might help you get your million dollar business ideas going:
If you look around you, you will definitely find a lot of amazing self-made millionaires that you can learn from!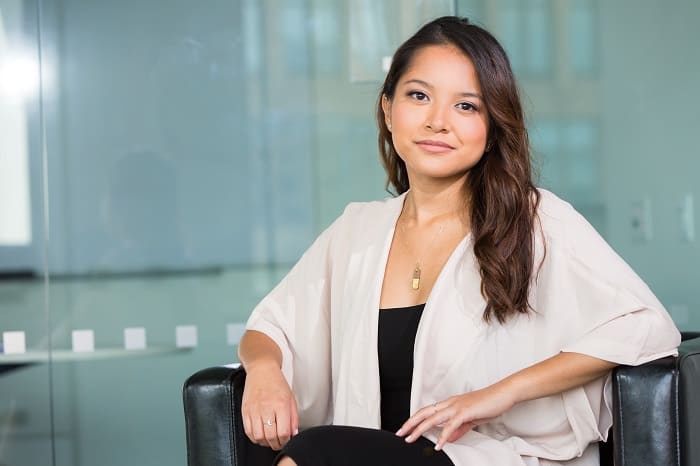 What does it mean to be a millionaire?
In simple terms, you can be considered a millionaire if you make or have $1 Million.
But this doesn't necessarily mean that you are a millionaire.
If you make or do receive $1 Million but you have debt or owe $1 Million then your net worth is not $1 Million.
For example, if you own a home that is $1 Million and you recently made $1 Million then your net worth is technically $0.
But for the average person, I doubt that you carry a debt that is more than $1 Million!
And if you do, PAY THAT OFF!
If you don't, making $1 Million would be AMAZING right about now.
So how exactly can you get rich quickly?
First I wanted to do my best to address the following questions on this post from people on the internet on how to become a millionaire with no money.
These were some of the top questions I thought I would address today:
How can I get rich with no money?

Is it possible to become rich from nothing?

How can I become a millionaire overnight?

What is the fastest way to be a millionaire?

Best tips on how to become a millionaire online

And what are the easiest ways to become a millionaire?
"Phew, those are a lot of questions, but I will keep them in mind and answer them below in the post as we go along."
We are going to show you just a little more than 10 ways to become a millionaire with no money!
For now, before we learn more about how to become a millionaire from nothing, we would love for you to like our growing Facebook page right here! Be sure to follow us on Instagram here.
We also wanted to take this opportunity to let you know that we use Affiliate links on some of our blog posts. This means that we could make a commission if you click on an affiliate link and purchase something. Please check out our full disclaimer and policy page here.
Here is how to become a millionaire with no money: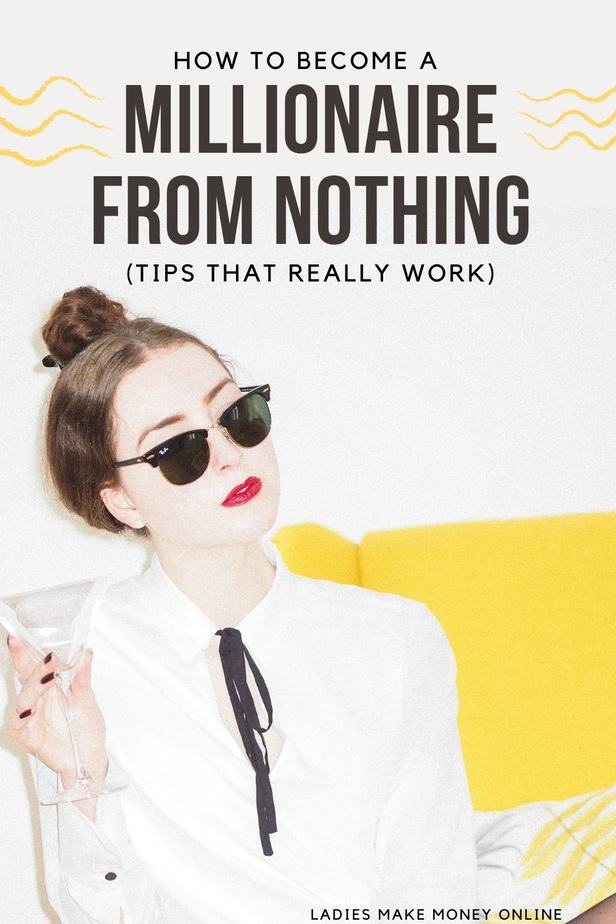 1. Start Your Millionaire Dollar Goal Early
If you want to become a millionaire from nothing, meaning you have absolutely no money to spare, you need to start early.
This means creating a plan that will help you get to your goals faster.
You will need to feel motivated, get a plan together, and work on that plan like your life depended on it.
I have hired coaches in the past to help me with any big projects I was embarking on to make it easier. This also ensured I was on track with what I was working on.
Writing it all done makes any project real.
Remember, a goal without a plan is just a dream!
To make any of my big plans a reality, I have used a "Get it Together Planner" like this one to write down step by step everything I needed to make my project come to life.
Paper and pen make it so much easier to write down everything required to make that dream a reality.
But you need to start early.
Daydreaming and wishing you were a millionaire is not going to do you any good.
The sooner you start working on your dream, the more chances and the more time you will have in succeeding.
So go ahead and grab yourself this "Get it Together Planner", and plan out your million-dollar plan!
It's a great start to becoming a self-made millionaire.
2. Get Inspired From Others that Have Become Millionaires
How to become a millionaire with no money – is this truly possible?
I know for a fact that surrounding yourself with like-minded people will only help you succeed.
When I was in college, I remember when I use to surround myself with a group of girls that did nothing but party all day long. I mean what's wrong with that?
After all, you are in college right? We are meant to party and live our best lives at that age.
Personally, as long as I still got straight A's, attended all my classes, and had all my assignments done on time, I had no issues with this.
But after a while (2 years later), I knew I wanted more.
I was 22, ambitious, and was craving to have more in life to show than just hard-partying. I knew right there and then that something needed to change.
That is when I started surrounding myself with more older people, mature women and women that were ambitious.
Because of this, I got a job, I still partied but more sensibly and worked on creating a career for myself.
By surrounding yourself with people that you wish to become one day, you will create an environment for success.
I took it upon myself to find and follow the habits of successful women so I can get into that mindset.
So where do you find all the millionaires?
First of all, I encourage baby steps. I am sure they might not want to hang out with you but who knows.
Instead, focus on finding other successful people online and comment and share their work.
Start here:
Will you become a millionaire by following them?
Probably not!
The point is, you want to know what they do to be successful? How do they make their money?
Can you create or come up with a unique business plan that will make you rich?
By surrounding yourself with like-minded individuals, will help you better become the person you want to be.
Maybe you want to be like Michelle Obama or another epic figure, either way, get in the mindset.
Read this:
3 lessons we can learn from successful and ambitious women in business.
MAKE FRIENDS WHO FORCE YOU TO LEVEL UP!
3. Work on Your Online Portfolio
Do you want to know how successful people become the way they are?
They take the time to work on their online presence.
Remember, we live in a day and age where everyone is constantly online.
Whether that's on YouTube creating epic content or on Instagram getting a following, you want to start working on your online portfolio now.
How do you want to be viewed?
Do people follow you because you are worth following? And who do you socialize with when you are online?
All of this makes an impression and will also determine how successful you are!
So how do you improve and grow your online portfolio?
If you want authenticity, I suggest networking with other people in your niche or with people you want to inspire to become.
We wrote a full post here where we share exactly how to gain and increase Instagram followers.
The goal is to create a brand for yourself that people will begin to recognize and relate with!
Here is a quote I came across that resonates with me and should help you become a millionaire:
4. Have a Positive Mindset About Money
Becoming rich overnight is virtually impossible unless you win money, you inherit it or you are just special.
But this doesn't mean you shouldn't have a positive mindset about money.
Think like a millionaire but act like a lady!
If you know me by now, you should know that I am a big believer in affirmations and having a positive money mindset will only help you grow and become better with money.
So what exactly do I mean when I say you have to have a positive money mindset?
Basically, a money mindset is an attitude you have towards money and your finances as a whole.
I use to surround myself with negative thoughts about money which created a lot of self-doubt in my abilities.
Here are a few negative money mindsets one could have:
That is too expensive, we can't afford that

We can't go on vacation, because we can't afford that

No, we are too broke for that

Wow that is a lot of money

It is not within my budget

It is above my budget

I would pay $5 for that, it's what it is worth
"With a positive money mindset, you will make better decisions about properly managing your money."
If you are ready to become a millionaire from nothing, check out this awesome post with over 20 positive money mindset affirmations you could use to increase your wealth!
You can also grab this Money & Abundance Daily Mindset Planner to help manifest money and grow your wealth every single month.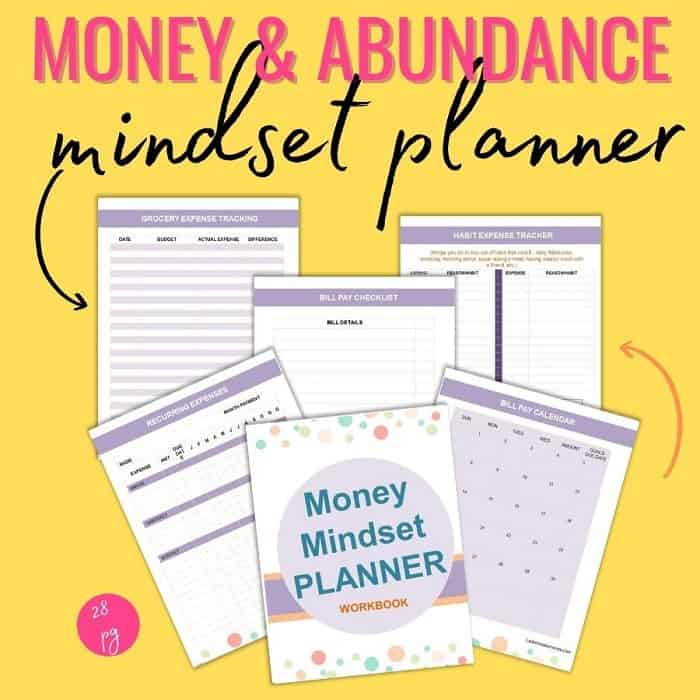 5. Do a No Spend Challenge (not once but frequently)
If you are planning to get rich or even become a millionaire, you definitely need to avoid spending money as much as you can.
The more money you can save and invest in things that make you more money, the better for you.
A no-spend challenge is choosing a period of time, for example, one week or a month where you spend no money.
It could even be just one day a week or a weekend.
A no-spend challenge is a perfect way to get your spending under control and discover exactly what you are truly spending all your money on.
No-spend challenges are flexible and customizable.
You can choose to do it for only a short period of time, maybe a year, it just all depends on what you can do.
It doesn't mean stop paying bills.
Just don't spend money on unnecessary items such as booze, subscriptions, clothes, and all the things you do not really need.
If you are not sure where to start or how to go about starting the challenge, grab my no-spend challenge Workbook!
6. Try A 52-Week Money Saving Challenge
There are so many amazing ways to become a millionaire, but one suggestion would be to save money.
This means you need to decide to spend and save intentionally.
In other words, become money smart.
This is where I recommend trying out one of my 52-week savings plans.
Basically what this means is that you would create a solid money plan to save a certain amount of money each week for the next 52 weeks.
Here is an example of 52-week saving plans: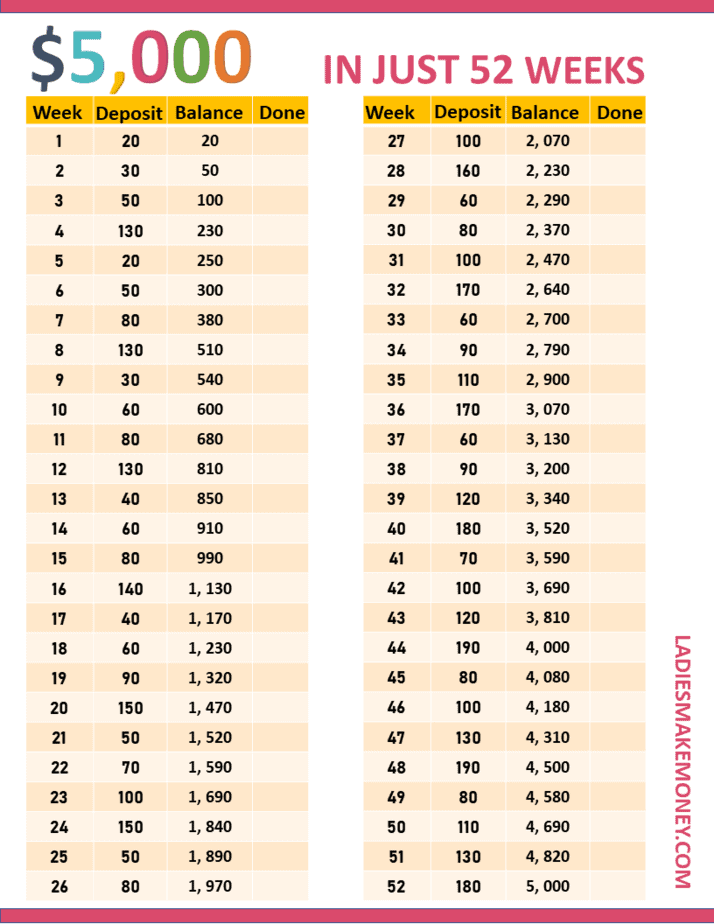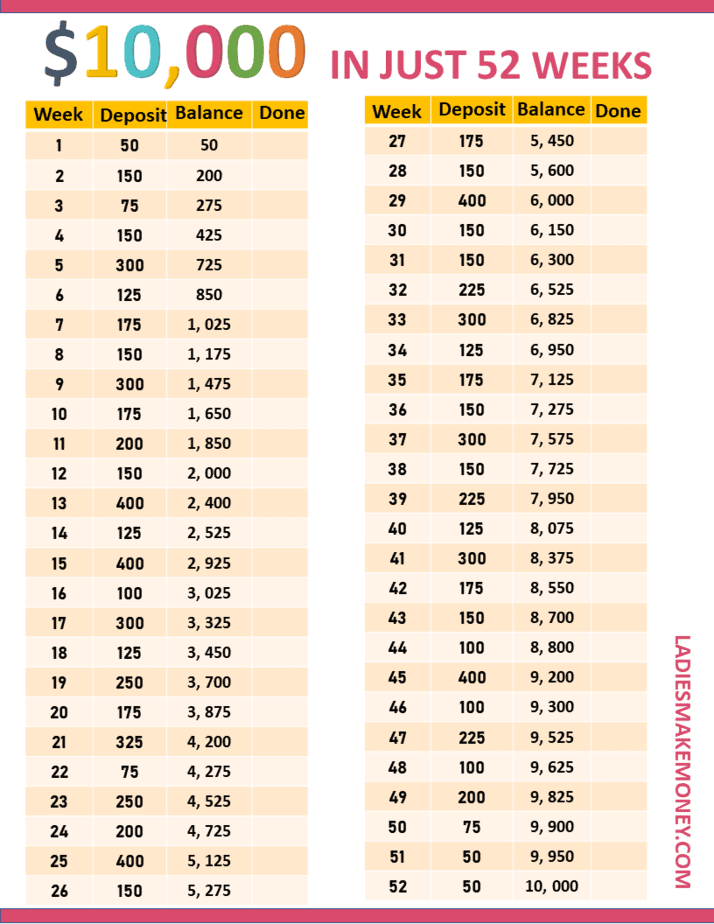 If you are serious about saving money so you can one day become a millionaire, then you need this.
We have flexible challenges that you can easily use to help you save some serious money in 30 days or over the year (52 weeks).
Whether you are looking to save $100 or $10, 000, we have money-saving templates you can use to reach your goals faster and easier!
Grab it now!
They are over 8 amazing challenges:
Save $100

Save $500

Save $1000

Save $3000

Save $5000

Save $10000

Save $15000

Save $20000
Grab the full bundle right here!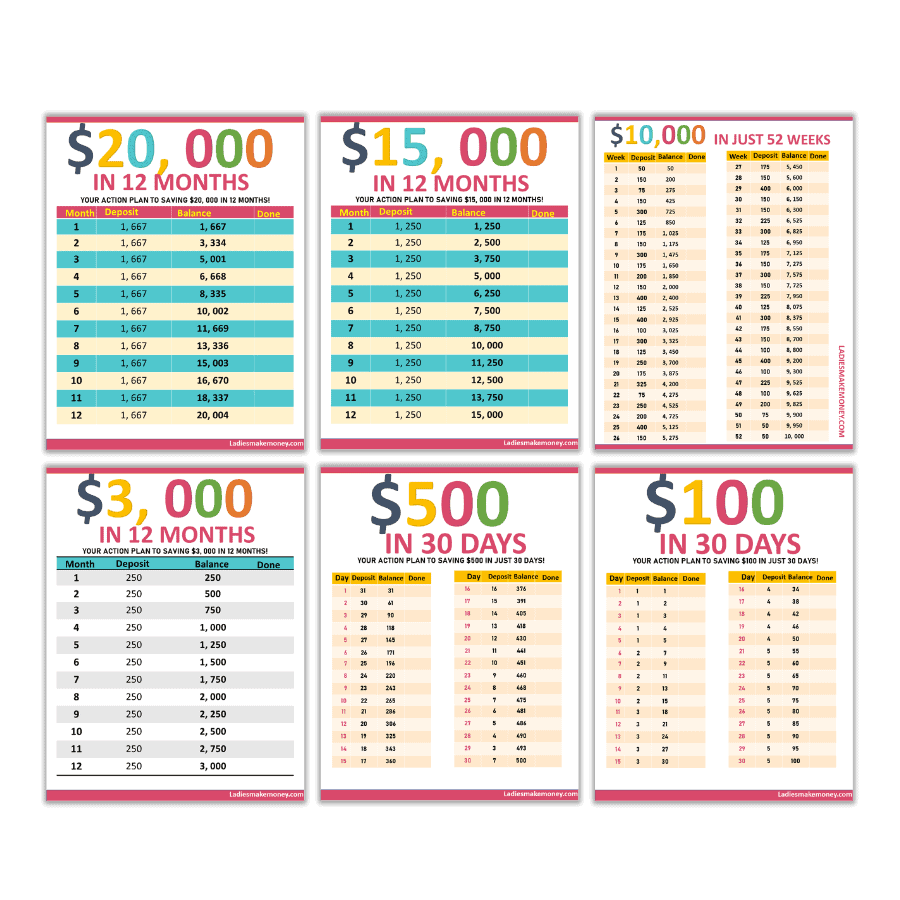 7. Have a Budget That Includes Your Millionaire-Making Tab
Your goal is to become a millionaire no matter what the circumstances.
In order to make this a reality, you need to budget for it.
For example, if do choose to do the money-saving challenge above, this needs to be added to your budget.
So re-do your budget (here is a free budget template you can use if you do not already have one), and add a category for your money-saving challenge.
This ensures that you are actually budgeting it and it will just feel natural.
If you do not put it on paper, unfortunately, your dream of becoming a millionaire might not come true!
So, get on it.
8. Increase Your Monthly Income
I recently made a list of over 10 high-paying careers for women that you absolutely need to check out.
What I am trying to say here is that by staying in a job or career that is paying almost next to nothing will make it extremely hard for you to become a millionaire.
So find a way to make more money if you can.
There a few things you can do to increase your income and make more money to add to your bottom line.
First thing is that you can ask for a raise at work.
If you have a great job and you do a super great job, be sure you get the recognition for this. Simply asking for a raise is not a bad thing.
The worse you can get is a no!
Another way of making more money is by getting a better job or a second job.
Getting a part-time job is not a bad idea especially if your end-go is to become a millionaire.
A few other non-traditional ways to make extra money from home is to find online jobs that pay good money.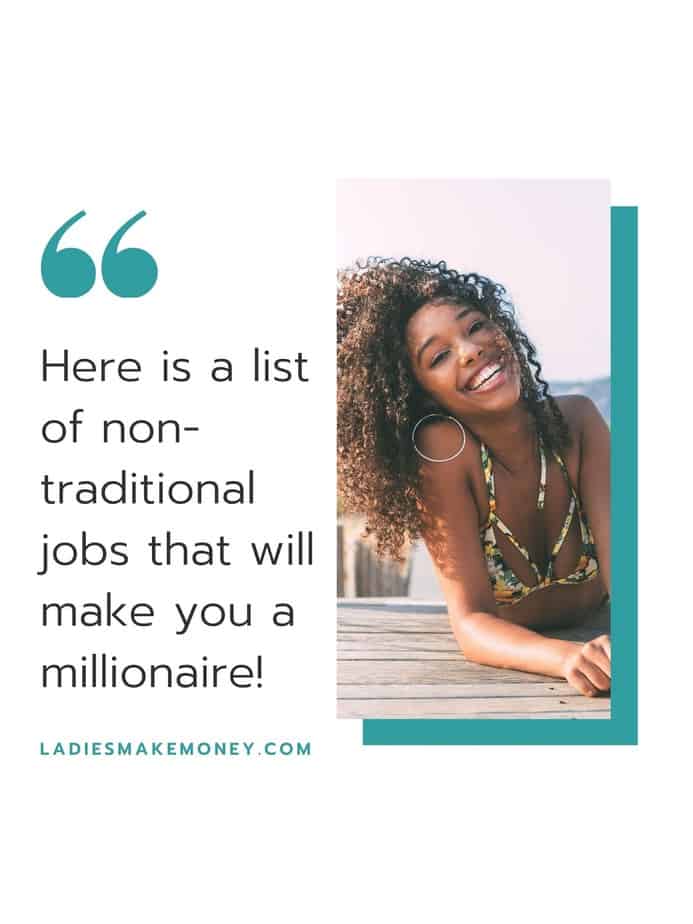 Here is a list I would suggest you look into:
Most of the jobs can bring you anywhere from $100 to over $50, 000 a month working from home.
Once you increase your income, it's time to invest.
9. Invest Your Money To Become A Millionaire
In order to make more money, you need to invest.
I suggest investing at least 10% of your return back into the business.
Most people that start to make more money tend to spend more. That's because they feel that they can.
I would recommend you not do this.
Instead, invest that money back in areas that are making you more money.
Let's say you create a product that people are loving and buying, I would suggest you invest time in creating a complimentary product that goes with your initial winner.
Other things you can invest in to grow your income in order to become a millionaire:
Did you know that compound interest allows your money to grow over time?
The sooner you can start investing, the more money you will have by the time you are 50 or 60!
If you want to become a millionaire right now, you need to start investing.
Even if it is $5!
Acorn will allow you to start investing for as low as $5 a month!
In fact, if you use my link, you will get $10 after you make your 1st investment.
So invest with Acorn today!
Check out how I make $200 fast when I am in a bind.
This can help you get started on your investment portfolio.
10. Start An Online Blogging Business
If you are looking for the best tips on how to become a millionaire online, then this right here is for you.
For the longest time, I was really inspired by all the fascinating stories of how bloggers were earning several thousands of dollars a month blogging.
I knew I wanted to be just like them.
And that's when I embarked on my journey of starting a blog from scratch in the hopes that I could make even just $800 a month from it.
I have seen bloggers that have become a millionaire from nothing and I wanted to have a little taste.
With a lot of hard work, I was able to make money with my blog and now I make over $5000 per month blogging.
I documented my actionable tips on getting a blog from 0 to $5, 000 in my book!
Blog Income Strategies Simplified has over 60 strategies I use on the blog each month to ensure it continues to be profitable.
Blogging for money is totally possible if you put your head down and work through what you need to do to make money.
Sign up for my free 7-day blogging course on exactly how to start and set up a profitable blog from day 1!

All you have to do is to take the courage to start a blog, and you will be well on your way to working from and earning money online while being able to spend more time with your family and friends.
11. Read up on How To Become A Millionaire from Nothing
I got asked to write about this topic a while back:
"How to become a self-made millionaire with no money?"
And it took a while but I did want to share it as there are so many people that have succeeded in becoming millionaires from nothing.
I can tell you, it's not easy.
If your goal is to become a millionaire, the best thing you can do for yourself is to find books and materials that will help you reach your goal successfully.
This is the only way I believe you can become successful.
Read up as much as you can in everything you want to do.
This way you are constantly improving your craft.
Here are a few books I suggest starting with if you really want to become a millionaire:
These are the books that have made a huge impact on my life in terms of helping me become more confident in everything I do.
You can also check out this list of over 10 books every entrepreneur should read this year. We listed a lot of great books for you.
I love this amazing video I found on YouTube by Carrie Green!
Tell me what you think about the video below.
Think Like a Millionaire to Become a Millionaire // Carrie's Tips
12. Start A Profitable Business
The easiest way to become a millionaire is to start a profitable business.
Whether you chose to become a wedding planner, a fashion designer or a successful blogger, you need to find something that will bring you cash.
For example, I know a lot of top female bloggers that are making a crazy amount of money blogging each month.
This could be you.
I also know a lot of amazing and successful female entrepreneurs that opened up online stores and are making huge amounts of money each month.
If you want to start your own online store, I would recommend going with Shopify!
They have a 14-day trial which gives you the opportunity to try it out first.
But first, you will also want to take this course to learn more about how to start a Million Dollar Online Store!
I mean, I don't want you to start an online store without a solid plan that will help you actually make money every month.
Not sure what to sell on your brand new store?
Here are the top 13 things you can sell to make money with an online store.
You can also check out this list of the most profitable side business ideas to start while working full-time.
13. Can You Make Million Selling Printables?
Make and sell printables for extra money!
If there is one profitable side business I encourage everyone to explore, it is this one.
You can read up here exactly how these easy to make printables made my friend over 2 million dollars in a year!
Talk about becoming a millionaire effortlessly.
There are so many different printables you can create and sell using a program like Canva or even PowerPoint.
Here are printable ideas for you to consider:
Templates

Home Budgets

Checklists

Workbooks

eBooks
For some reason, people really love templates, so if you can create some that are gorgeous and practical, they will sell like hotcakes.
Not sure how to create printables that will sell?
Here are three courses I personally took:
14. List of Ways To Get Free Money
If I had to give you free money today would you take it?
Of course, you would.
What if I told you there was an opportunity to get more free money, would you jump on the idea?
I would hope so.
I wrote a post on how you could make money online for free that you need to check out. Here I mention a lot of fun ways to get free money.
Be sure to use this extra cash to help you become a millionaire.
As you can see, I am urging you to take advantage of free money whenever possible to add to your success.
15. Create Multiple Income Streams That Make Money 24/7
Most millionaires I read up on have multiple income streams to help maintain the amount of money that comes in.
You need to do the same in order to have the same success.
Becoming a self-made millionaire will require a lot of up-front work from you, but it can be done if your head is in the game to succeed.
So if you are looking for ways to be a millionaire, I suggest increasing the number of income streams you currently have.
I don't suggest going all out and building 7 income streams at once, but build them up to the point where you can outsource and focus on your other businesses.
Keep doing that until you have multiple businesses bringing you extra cash every month.
Here are a few income streams you can do to become a millionaire from nothing:
There you have it, 7 creative things you can try for the fastest way to become a millionaire.
Try one from the list, perfect it and hire freelancers to keep it going.
Then move one to the next.
You can also check this post out where I outline 32 legitimate ways to make money at home effortlessly.
Don't forget to grab this monthly income task list today to ensure you stay organized and on track with your money-making journey!
PS it's free!

Can anyone become a millionaire?
Let me say this, it will definitely take a long time for you or anyone to become a millionaire unless you inherit some cash, win it or luck out.
Here are 7 Women Self Made Millionaires I admire:
Rihanna – $600 M from Cosmetics and Music
Janice Bryant Howroyd – $390 M From her Staffing Agency
Tory Burch – $850 M from her Fashion Lifestyle Brand
Kendra Scott – $550 M from Her Jewelry Line
Katrina Lake – $380 M founder of Stitch Fix (Fashion)
Whitney Wolfe Herd – $290 M Founder of Bumble (Dating App)
Karissa Bodnar – $275 M Founded Thrive Causemetics (Cosmetics)
Kendra founded Kendra Scott LLC in 2002, designing her first collection with $500 in the spare bedroom of her home just after her oldest son was born.
She is now a millionaire.
So what exactly is stopping you?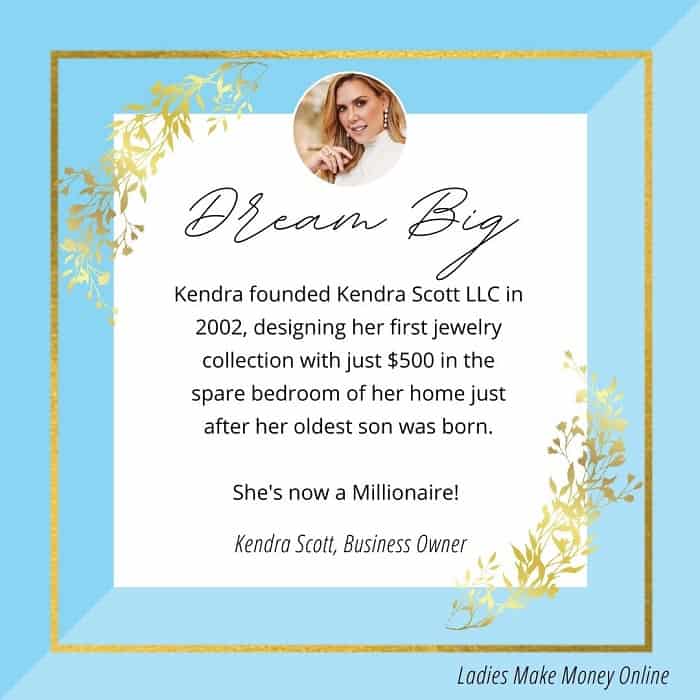 Now that you have all our best tips on how to become a millionaire from nothing, will you make your dreams come true?
We want to know your plans so we can support you.
Tell us all about it in the comments below.
"For those looking for tips on how to become a millionaire overnight, it will not happen!"
Unless you win a lottery or someone gives you $1 million, stop dreaming and put in the work!
Read this next: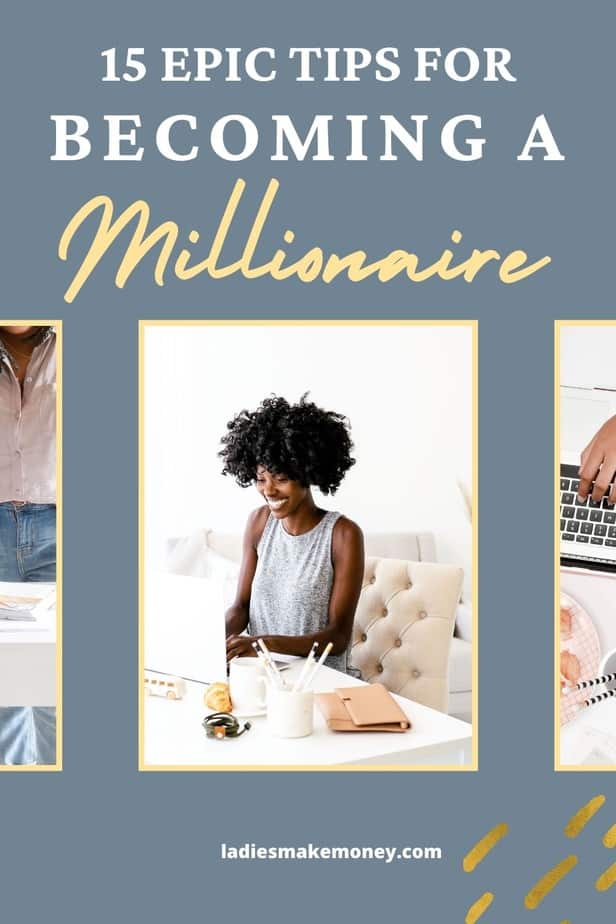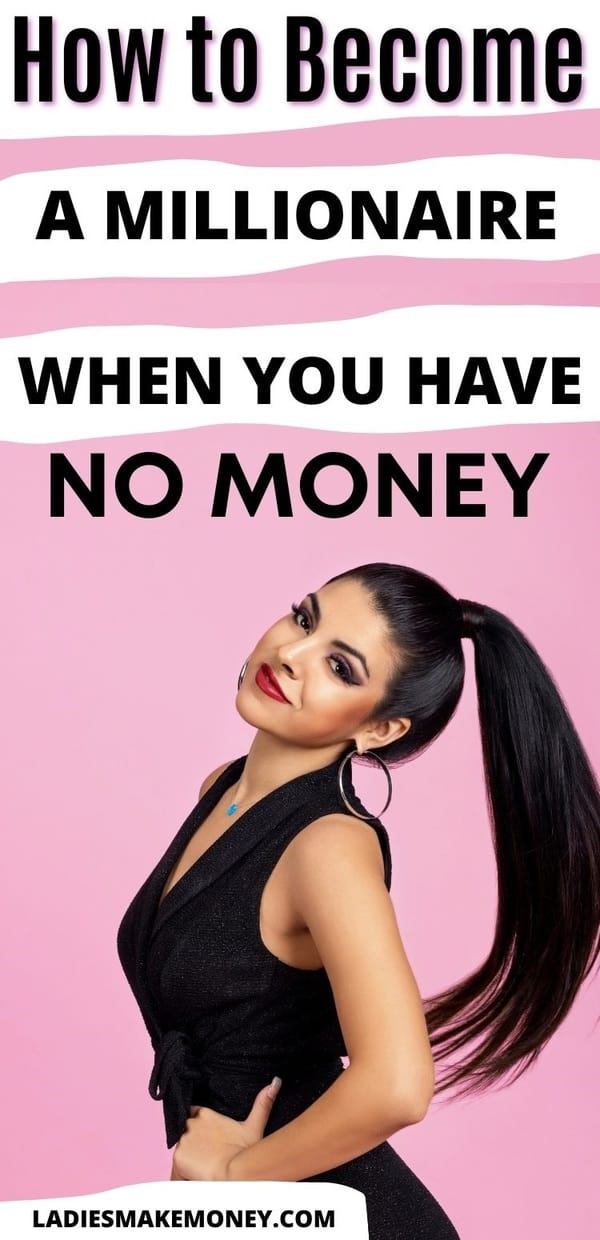 If you enjoyed our blog we would like to have you join our email list and receive weekly money-making tips, you can join now! Don't forget to join our Private Facebook page. The page is created to share your work, pitch your services, and learn from other experienced bloggers!
---
***We would like to note that this post and most posts on our blog may contain affiliate links. This means that if you purchase something that has an affiliate link, we will get a commission from it. Not all items recommended on our site are affiliate links. We only recommend items that we have used and tried. These items have brought us much success and we highly recommend them to you in order to be successful. Thank you for your trust!
How to Become A Millionaire From Nothing (12 Things To Focus On)