Last Updated on April 22, 2021 by NandiNN
Inspiring Female Entrepreneurs on Instagram
If you are looking for outstanding female entrepreneurs to follow on Instagram this year, this post is for you and only you!
Instagram is where you need to be if you are looking to connect with brands or your community.
But you honestly do not need to be on it to be successful as a blogger. I am not big on Instagram, but I am on it to connect with people I love and to also learn from them as a business owner.
Many have used this amazing platform to create killer and successful businesses.
And I applaud them for doing just that!
It's just not for me, probably will never be.
Who knows, maybe a year from today I might change my mind and start using it more.
For now, I love learning and following these amazing female entrepreneurs on Instagram to see just how they make it happen behind the scenes.
If you know us and you follow us, you know we love promoting and uplifting inspiring women and girl bosses that have shaped the way we do business as bloggers these days.
There is one thing I know for sure, you can never stop learning.
Things come and go, technology keeps evolving and something that worked yesterday may stop working tomorrow.
And the best way to stay in the know is by following those that keep up with it.
Coming up with a detailed list of the best entrepreneurs to follow on Instagram was a bit difficult, but we love our list.
We are going to share the following today:
Top Female Business Influencers

Best Instagram Bloggers that are Successful

I

nspiring Female Entrepreneurs with Top Instagram accounts
With all of this in mind, we wanted to create a solid list of the top female entrepreneurs on Instagram that will continuously inspire you to be the best that you can be.
Instagram is the place to be if you want to build relationships with other top female business influencers like yourself.
The platform has proven to be a powerful marketing tool for businesses looking to expand their presence and the visibility of their products and brand.
If you have not jumped on the Instagram bandwagon yet, you may be doing your business a great disservice.
Once you get on the platform, be sure to use this list of female entrepreneurs to follow on Instagram to jumpstart your fun experience.
So who are the top inspirational women on Instagram?
Before we get started on our list of the best female entrepreneurs to follow on Instagram, we did want you to follow us on Facebook for more awesome ideas on saving or making more money. You can also follow us on Instagram for more tips.
We also wanted to take the opportunity to let you know that we use Affiliate links on some of our blog posts. This means that we could make a commission if you click on an affiliate link and purchase something. Read our full disclosure and blog policy for more information.
Female Entrepreneurs to Follow on Instagram:
We worked hard to come up with this list of what we consider the best female Instagram accounts worth following.
Take the time to only follow only female entrepreneur influencers that you feel the most connected to.
Not only will this motivate you to work harder on your own content, but you will feel inspired daily.
We also took the time to come up with over 60 creative hashtags for female entrepreneurs worth using to help grow your account.

Here is a list of the best female Instagram accounts:
1. Melyssa Griffin (@melyssa_griffin)
As a businesswoman, I am sure you will come across a lot of inspiring business women to follow.
Melyssa is just of those women.
Melyssa is amazing and I have done my fair share of learning using her blog and listening to her Instagram stories.
She was one of the very first female bloggers that inspired me to start a blog and to own an online business.
At the time, I had little to no idea what I was doing, but her tutorials, videos, and courses have made me a better blogger for sure.
If you want to feel just as inspired, be sure to follow her on Instagram today!
I keep learning from her and I believe I will keep learning from her as she is amazing and is never afraid to share.
2. Jasmine Star (@jasminestar)
A business strategist and photographer, this amazing female entrepreneur has a lot to share with you.
I really love her Instagram feed which is typically filled with actionable tips or girl boss quotes that are all relatable to me as a businesswoman.
She recently shared her productivity tips on how she gets things done and I took a point or two out of her books to use.
If you want to see the points, follow her today!
3. Victory Omotayo (@VictoryOmotayo)
She is an extraordinary woman who founded Twenty-Four Hour Woman!
I actually just came across this powerful woman entrepreneur the other day and I knew I had to add her to my list.
She is the amazing creator and founder of 24 Hour Woman, a virtual accelerator training women how to package and monetize their knowledge, skill or expertise online.
Her mission is to inspire, empower and elevate women to get out of their own head and simply "do."
I love this and it aligns with my value as well!
Be sure to personally follow her on Instagram as well as her brand "Twenty-Four Hour Woman"!
View this post on Instagram
4. Helene Sula (@HeleneInBetween)
There is never a shortage of great female entrepreneurs to follow on Instagram, and if you are not following Helene from Helene in Between, then I can assure you that you are truly missing out on great content.
Helene is a lifestyle and travel blogger that enjoys helping other bloggers succeed online.
I have personally followed Helene for a few years now and I love everything she stands for.
She's definitely one of the top female entrepreneurs on Instagram and is worth following.
If you want blogging and business tips that will actually grow you as a person and business person, then be sure to follow Helene on Instagram.
5. Dheandra (@dheandranicolette)
I am all about manifesting this year.
It works and I have become a huge believer in this.
In fact, I wrote a great post the other day on using money affirmations that work fast in order to attract more money in your life.
And the one thing that got me to follow Dheandra is her manifestation beliefs. She even runs an amazing podcast and my favourite one is manifesting career changes.
Go ahead and follow her on Instagram for daily manifestations.
She is one of the best Instagram accounts for entrepreneurs that enjoy daily manifestations and believe in affirmations to get success!
View this post on Instagram
6. Jenna Kutcher (@jennakutcher)
With so many amazing female entrepreneurs to follow on Instagram this year, I know the choices can be hard.
I do not like messing my feed with unproductive people, and that's why I believe Jenna Kutcher should be on your list as she offers so much value!
I enjoy everything Jenna shares because they work.
You can definitely take it a step further and listen to these top Jenna Kutcher Podcasts for more valuable blogging tips.
Not only is she one of the best female business coaches I have seen lately, but she is also one of the most followed entrepreneurs on Instagram that is seriously genuine.
Definitely make sure to follow her Instagram.
7. Natalie Elizabeth Ellis (@IamNatalie)
They are so many women to follow on Instagram and I can tell you that Natalie is absolutely one of them!
Natalie is the amazing founder of BossBabe, and she is a true believer in a tribe of Boss Babes uplifting and supporting each other in both their personal and professional goals!
Boss Babe exists to encourage and support women to be unapologetically ambitious.
Whether you're just starting out in business, a successful serial entrepreneur or you're killing it in your career, this Boss Babe is here to provide you with the inspiration, information, and resources you need to level up.
She is one of the most followed female entrepreneurs on Instagram that shares uplifting messages on a daily basis.
Be sure to follow Natalie right here!
8. Libby Crow (@libbycrow)
Libby has helped tens of thousands of people all over the world through her coaching programs, retreats + workshops, digital courses, and 1:1 consulting services!
She has been featured in Forbes, Entrepreneur, ABC, NBC, FOX, CBS, and more!
Did you know she was able to build and grow successful wellness and life coaching company, then later transitioned to mentor other coaches/consultants to grow their own businesses via her marketing strategy program, The Business Accelerator?
Yes, this fierce female entrepreneur should be followed on Instagram!
9. Rachel Hollis (@MrsRachelHollis)
The Hollis Company exists to arm people with the tools to make positive and lasting change.
This mission alone should make you want to follow Rachel on Instagram.
Rachel Hollis is an American author, motivational speaker, and blogger.
Her first self-help book Girl, Wash Your Face was released in February 2018 and had maintained a spot in the top 10 best-selling books in the country for seven months.
She has gone on to make more books which you can also find on Amazon!
Rachel should be on your list of female entrepreneurs to follow on Instagram if you plan on growing and expanding your online business this year!
Be sure to follow her on Instagram.
I feel that my list of fierce female entrepreneurs to follow on Instagram is pretty damn solid!
What do you think?
I know they are so many other amazing female entrepreneurs out there and this list might change or grow, but for now, this is a great start!
More Women to follow on Instagram:
I love doing an honourable list of those that I could not add to the main list but are absolutely worth following.
If you are eager for more women to follow on Instagram to help with your own business growth, then I highly suggest:
How do you become an Instagram entrepreneur?
Basically, I personally follow any entrepreneur that is able to offer value.
The more free information you are able to offer, the more your followers will trust and eventually buy from you or your business at some stage.
But first, you need to be established, give more and you will reap the benefits.
Very soon, people will start to follow you, quote you and swear by what you preach!
Which of these Female Entrepreneurs will you Follow on Instagram today?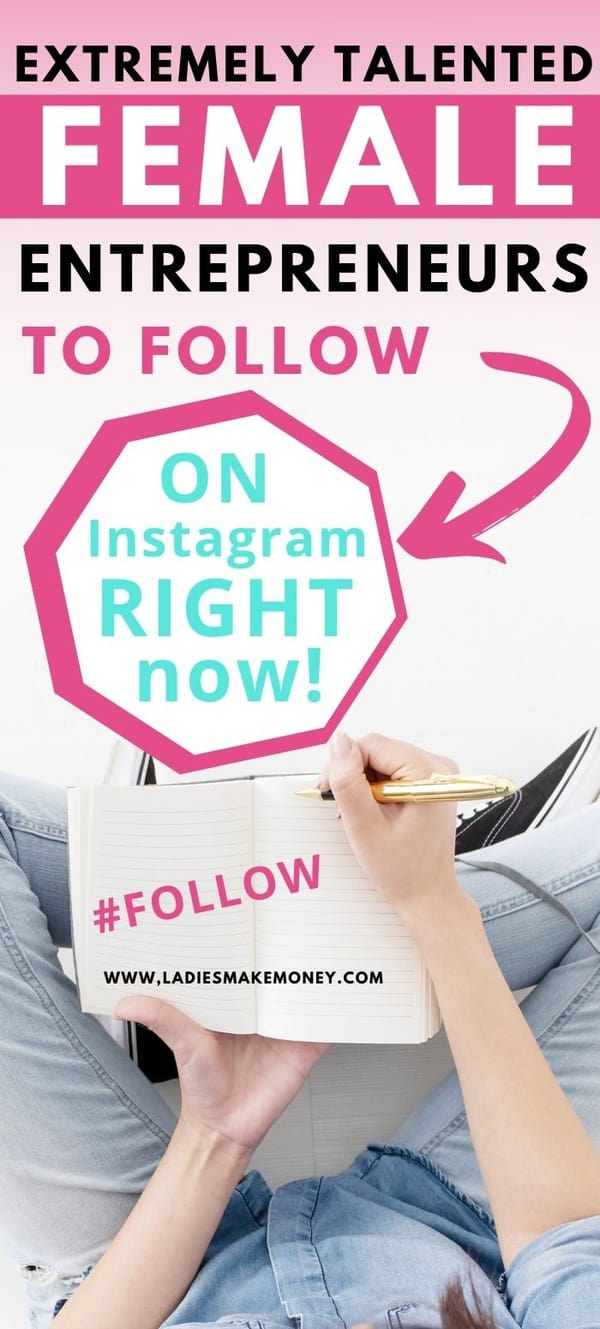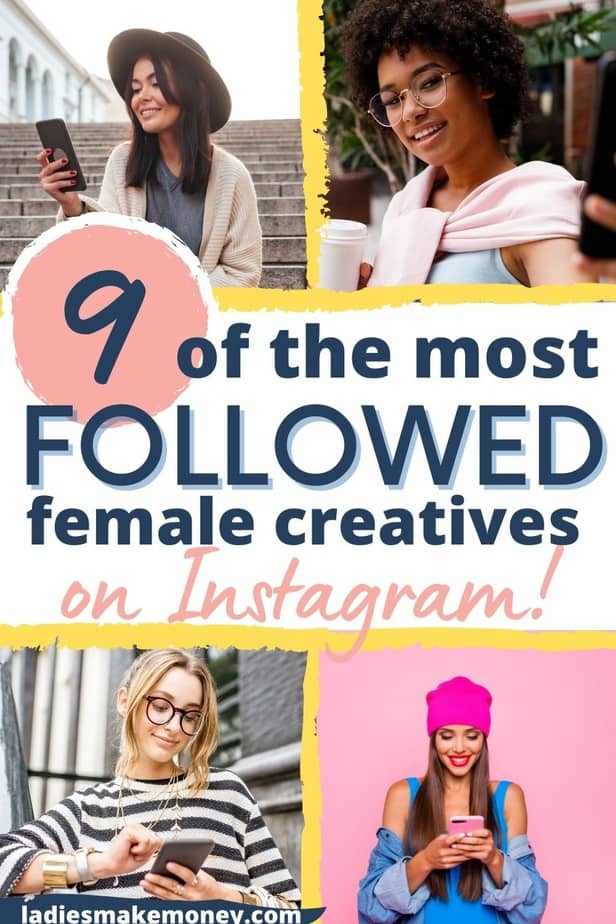 Other

blogs for female entrepreneurs

:
If you enjoyed our blog we would like to have you join our email list and receive weekly money-making tips, you can join now! Don't forget to like the Facebook page. The page is created to share your work, pitch your services and learn from other experienced bloggers!
---
***We would like to note that this post and most posts on our blog may contain affiliate links. This means that if you purchase something that has an affiliate link, we will get a commission from it. Not all items recommended on our site are affiliate links. We only recommend items that we have used and tried. These items have brought us much success and we highly recommend them to you in order to be successful. Thank you for your trust!
9 Fierce Female Entrepreneurs to Follow on Instagram This Year