Last Updated on July 28, 2020 by admin
Best Business Ideas to Make Money
Looking for a few side business ideas to make extra money this year?
Side businesses have come out of the shadows and into the light. They are the future and learning how to effectively do them will serve you right.

Many people are turning to side businesses to help make that vital extra money for vacations, cars, or other expensive luxuries in their lives.
As you can imagine, society is now looking into earning much more than just the one salary.
Others are just trying to keep the bills paid!

There is no greater feeling than knowing that you can always earn extra money on the side to pay for unexpected expenses or even finding a way to pay for that trip.
Are you looking for a lucrative side business idea that will help you make more money?
Or maybe you just need that extra money to invest into something.
From online jobs at home to jobs that will take you outside the four walls of your house, consider some of these side business ideas listed below.
They are here to inspire you and help you make some extra money.
As always, we only share things that work and are tested in terms of making extra cash.
If you are ready to make extra money, this list is full of some of the best business ideas to make money today.
Before we get started on the few side business ideas to help you earn more money, we did want you to follow us on Facebook for more awesome ideas on saving or making more money. You can also follow us on Instagram for more tips.
We also wanted to take the opportunity to let you know that we use Affiliate links on some of our blog posts. This means that we could make a commission if you click on an affiliate link and purchase something. Read our full disclosure and blog policy for more information.
Now knowing very well that some of you may have full-time jobs but are still looking for ways to make extra money on the side, we came up with a few side business ideas we feel will make you the most money with the little time you may have.
What Do We Consider Profitable Side Business Ideas?
I consider any business idea that is actually bringing me money profitable.
Obviously, you need to consider things like time, how much effort needs to be put into the side business vs the amount of money you end up making.

You don't want to be making pennies for the time and effort you put into it.
A profitable side business should be just that, profitable.
When considering your profitable side business ideas, be sure to take into account your time. For example, if you have a young child, working evenings, might be cut out for you.
But maybe working a couple of hours on the weekend works best. And think about how much you will make.
Does $8 an hour work for you? This might be too low for some but $50 an hour might be more enticing for you. To make $100 you will only need to work two hours vs working 12.5 hours at $8 an hour to make the same amount.
By taking this into account, you will find it more profitable working with high paying side jobs in order to make it worthwhile.
We hope these side business ideas will inspire you to start making extra money during your free time.
Related:
Extremely Unique Side Hustle Ideas for Making Extra Money
Make $500 a Month Using Simple and Practical Tips
7 Side Business Ideas to Consider Starting

1// Drive for Uber or Lyft
Does Uber or Lyft (or both!) offer services in your city? On average, Uber drivers take home about $364 per month.
Adding in extra hours or working peak times can help increase the amount you are bringing home. In order to become a rideshare driver, you will need a vehicle that is in good repair and insurance to cover you when you're driving.
That is all it takes to get started!
This is one of the best profitable side business ideas highly recommended by those that work from home. It is an extremely flexible side hustle, the income is great and there is a demand for it.
Be sure to sign up for Uber or Lyft today !
2// Put Together an Online Course
Do you know how to do something incredible–something that other people are always asking you how to do?
Whether you make gorgeous cakes for friends and family or you know how to balance a budget and help someone get out of debt, there is a place for your online class.
With your first online class launch, you may be able to make $3,000 with ease.
Some online courses can also be designed to help provide recurring passive income, which will boost the amount you have coming in with minimal effort on your part.
Definitely choose your best business ideas by going for something that you really like doing!
3// Find a Place to Write
Writing is a fantastic side business no matter how you choose to pursue it.
You can work from the privacy of your own home or take your laptop or tablet with you wherever you go, allowing you to work while the kids are in swim lessons or playing at the park.
There are several types of writing that can help you earn money, including:
Ghostwriting

Guest blogging for other websites

Proofreading
As you can see, they are so many side business ideas to choose from if writing is your thing!
Many writers shy away from so-called content mills. These platforms, however, turn out large volumes of content on a regular basis and often provide access to clients you would not be able to find on your own.
Not only that, they take much of the effort out of finding clients and provide you with easy access to a wide range of topics on a regular basis, which allows you to focus on simply turning out content.
Related:
How to Get Paid to Blog and Write Articles from Home
Amazing Ways to finding Freelance Writing Gigs That Pay Well
4// Make Use of Your Hobbies
Do you have a hobby that ignites your passions? Using your hobby as a basis to come up with side business ideas is a great way to have a profitable business.
You are taking something you are really passionate about and making money from it. This alone is a recipe for success!
Many creative individuals find that the biggest problem with their hobbies is that no one needs the materials they are creating. From cake baking or crocheting to metalworking, construction, and more, there are plenty of opportunities to make positive use of your hobbies as a side business.
Start a business page on social media. Show off what you create, then go looking for future orders! Offer existing products on social media or through Etsy.
Make sure you do your research: you may be surprised by what people are willing to pay for, for example, the types of cakes that your friends and family turn away on a regular basis because you bake too often or the crafts you put together in your spare time.
5// Become a Virtual Assistant
People are busier today than they ever have been before.
Many people struggle to find the time to take care of even simple tasks: making appointments, reading through emails, or returning phone calls.
As a virtual assistant, you can help some lucky person take care of all of those tasks, keep them organized, and earn money while you're doing it.
Even better, you'll often be able to complete those jobs in your pajamas, seated comfortably on your couch.
You make someone else's life easier, and you get the funds you need: it's a win/win! Virtual assistants make an average of more than $15 per hour.
Related:
Become a Pinterest Virtual Assistant That Actually Makes Money
6// Take Up Tutoring
We have already mentioned a few side business ideas to get you started making extra money, but you might want to also look into tutoring.
Tutors are in high demand, especially among parents who genuinely want their children to succeed. On average, tutors cost as much as $30-40 per hour.
As your experience increases, especially if you're tutoring in a very difficult subject, you may be able to earn $85 or more per hour.
Students who are learning English as a second language are particularly eager to find English-speaking tutors, and in many cases, the process is as simple as sitting and chatting with the student as they try out their new language skills, introducing new vocabulary or helping them adapt their language skills as needed.
Can't find students in your area who need to be tutored in the skills you possess?
Skype tutoring sessions mean that you can take your skills across the world with a few clicks. It's time to put those old college skills to use again!
Related:
The One Stay At Home Job that Will Make you $2000 Per Month
7// Become a Personal Trainer
Okay, you might not be able to take on personal training clients from your couch, but you can wear your favorite leggings or workout clothes.
Not only that, working as a personal trainer may make it easier to fit in your own daily workouts!
Full-time personal trainers average around $25 per hour. If you're personal training as a side business, you may not be working many hours at first, but you will quickly find that the extra money adds up fast!
Work with a local gym or do some personal training on your own. If you want to boost your income even more while working for a short period of time, try putting together a fitness class. You'll get paid by everyone who attends!
Is your hope, through your side business, to earn more money and allow you to better support your family? Do you struggle with financial balance or need to learn more about how to manage your finances? If so, leave a comment below.
I would like to help you get a better handle on your finances or provide you with the tools you need to effectively get your side hustle off the ground!
If they are any other profitable side business ideas you want us to feature, let us know.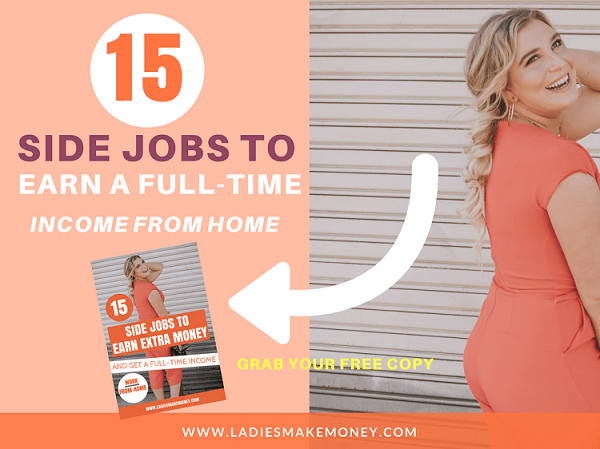 About The Author: Cara Palmer paid off over $20K of debt and then started buying rental properties with her husband, Daron. Cara writes about real estate, working from home and Smart Money Tips over at CaraPalmer.com. You can also find her on Pinterest.
If you enjoyed our blog we would like to have you join our email list and receive weekly money-making tips, you can join now! Don't forget to like the Facebook page. The page is created to share your work, pitch your services and learn from other experienced bloggers!
---
***We would like to note that this post and most posts on our blog may contain affiliate links. This means that if you purchase something that has an affiliate link, we will get a commission from it. Not all items recommended on our site are affiliate links. We only recommend items that we have used and tried. These items have brought us much success and we highly recommend them to you in order to be successful. Thank you for your trust!
7 Most Profitable Side Business Ideas to Start While Working A Full-Time Job