Last Updated on
Make Money Online For Free
Are you looking for ways to make money online? There are a ton of ways, however, there are some jobs that require start-up costs.
If you're thinking, "I'm trying to make money, not spend it?" You're in the right place because I'm going to show you "How to Make Money Online Without Paying Anything".
Thanks to the advancements in technology you can even make money from your phone! There are a ton of money-earning apps out there, you just need to know what to look for.
I have vetted the companies on this list and will show you different ways to make money online without spending it!
Making money online is huge right now, it's called non traditional ways of making money.
But before we get started on how to make money online without paying anything, we would love for you to join our growing Facebook group right here! Be sure to give us a quick follow on Instagram as well!
We also wanted to take the opportunity to let you know that we use Affiliate links on some of our blog posts. This means that we could make a commission if you click on an affiliate link and purchase something. Please check out our full disclaimer and policy page here.
How can I make money online without paying anything?
As you may know, the internet as well as Pinterest is full of creative ways one can go about making some extra cash online.
But are they legit? How long can these tactics take to actually produce any good results?
Honestly, you can make money online but following low quality tactics or scams will bring you zero results and probably no money that you can actually rely on!
That is why we have taken the time to carefully lay out exactly what you can do to make money online without paying anything or falling for crazy scams!
If you are looking for other genius ways to make money on the side, we have plenty of ideas on this blog. Be sure to check back frequently.
As we have mentioned, all you need is internet access in order to make extra money online.
Can You Make Money Online For Free?
Absolutely! When we say here is how to make money online for free, we mean that you are not providing a credit card or making some sort of weird payment in order to reap the benefit!
That is just crazy, it's like starting a new job and they ask you to pay them first.
This makes sense only in certain circumstances. For example, you might want to invest to buy new clothes first for work, or maybe you might want to buy a phone for work related things.
I think special circumstances like these, it's okay to spend money to make money!
I have been asked so many questions about how I make money online for free.
And I have a few tips up my sleeves on how you can do it too.
Here's How to Make Money Online for Free
If you are already living paycheck to paycheck and you are looking for ways to make money online for free, this post is packed with actionable tips to get started!
We have outlined a few amazing ways for you to follow if you want to know how to earn money online without paying anything.
By following the steps below, you will be well on your way to making some extra money from home.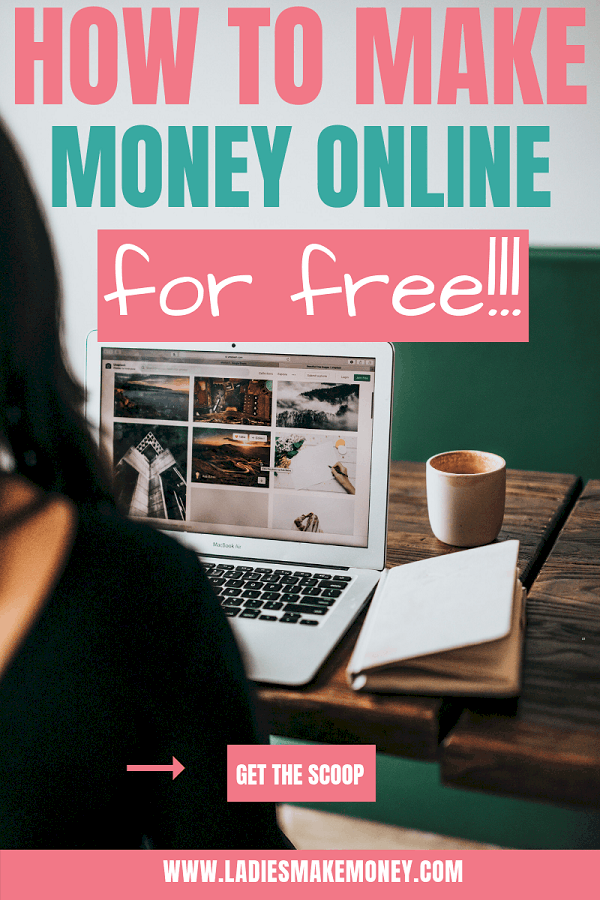 Make money online with Freelancing jobs
Freelancing is one of the best business ideas because you're your own boss! You work where you want when you want, and the earning potential is limitless.
And the other great thing about FREElancing is that it's FREE to get started.
I started my Freelance hustle by looking for opportunities on Upwork. Upwork is a site where they bring Freelancers and Small Business Owners together to connect. You can look at all their freelancing opportunities here.
When I applied for a job on Upwork, I was hired as a Project Coordinator for a woman who ran her own marketing agency.
I charged $25 per hour and it was only for 5-10 hours a week which was perfect for my schedule. Making $500-$1000 a month was not bad for working only a couple hours a week.
If you're interested in applying to jobs on Up-work here are some tips:
Focus on the projects with only 5-10 proposals or less submitted (less competition)

Check that the client has the "blue verified payment check" before applying

When you see a job that fits you, apply for it immediately!

If you're pitching for your first job, try to offer your services for free for one week to ease the client's mind since you have no references or reviews yet. If the client likes you move on with the "paid service" the following week. That's how I won my first job, and the client still paid me for my first week.
If you wondering how can I make money online with no money, here is how:
1// Freelance Writing Jobs
If you enjoy writing and you're good at it, you should start getting paid for it. This is one of the best ways to make money online without investment.
How much you earn is really on you, I know a writer making over $200,000 a year. If you put in the time and work you can make a great income.
Here are 7 Sure-Fire Ways to Finding Freelance Gigs that Pay Well.
2// Become a Virtual Assistant
Are you well organized, tech-savvy and have great communication skills? Would you like to get paid to help others achieve their goals? If so, you should consider becoming a Virtual Assistant.
Virtual Assistants can make between $15-$50+ per hour!
If you want to get started here's how you can start a Virtual Assistant Business and Work from Home.
Related:
Become a Pinterest Virtual Assistant that Actually Makes Money
How to Get Paid to Blog and Write Articles from Home
3// Become a Stay at Home Proofreader
Are you one of those people who cringe at misspelled words or incorrect grammar? If so, you may have the skills to be a proofreader.
Caitlin Pyle of Proofread Anywhere made $43,000 in her first year, proofreading while working part-time and studying abroad.
You can learn the skills you need to start your freelance proofreading hustle here.
4// Teach English Online
You can make $2,000 a month from home for just 3 hours a day teaching children in China learn English as a second language with VIPKID. The typical pay ranges from $14-$22 per hour for children 4-12 years old.
VIPKID does require a Bachelor's degree (in any field) and you must live in the US or Canada with at least one year of experience with children.
Forbes ranked VIPKID as #1 of their "Top 100 Work from Home Companies".
5// Sign up for Research Studies – Up to $400 per study
You can make quick easy money by participating in research studies. Respondent and User Interviews are the only two companies I recommend with pay between $20-$400 per study.
6// Make Money Online For Free with Online Surveys
Another easy way to make money online without paying anything is by taking surveys.
There are many surveys out there that aren't worth your time so I recommend only signing up for the following:
Pro Tip: Open a separate email account solely for surveys. You'll start to get inundated with emails and it will be easier to manage in a different account.
More tips on how to make money online without paying anything:
A Guide for Moms to Make Extra Money Online
The Best Online Surveys that Pay Cash for Stay At Home Moms
7// Get Paid to Test Apps and Websites
Companies need feedback on the user experience of their websites and apps and they'll pay you to get it. Here is a reputable list of companies to work with that will give you $10 per test and they take around 15-20 minutes each:
Final Thoughts
I hope this list will inspire you to try new things and showed you how to make money online without spending a dime!
Do you know of other ways to make money online that don't require an investment that we don't have listed?
Let us know.
Find more money-making ideas here.
About the Author:
Max is a personal finance blogger at Tried and True Mom Jobs who writes about ways moms can have the best of both worlds; to make money and stay home and raise their kids in addition to ways to save money and invest.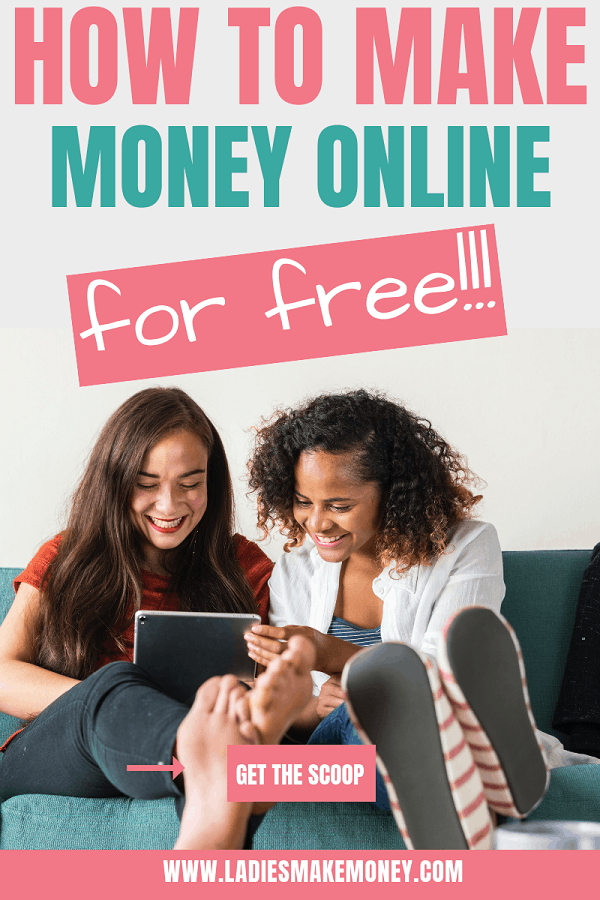 If you enjoyed our blog we would like to have you join our email list and receive weekly money-making tips, you can join now! Don't forget to join our Private Facebook page. The page is created to share your work, pitch your services and learn from other experienced bloggers!
---
***We would like to note that this post and most posts on our blog may contain affiliate links. This means that if you purchase something that has an affiliate link, we will get a commission from it. Not all items recommended on our site are affiliate links. We only recommend items that we have used and tried. These items have brought us much success and we highly recommend them to you in order to be successful. Thank you for your trust!
How to Make Money Online Without Paying Anything