Last Updated on July 30, 2018 by NandiNN
Are you a stay at home mom? Or a college student looking to make some extra money on the side? Or maybe you are a recent blogger and you are looking for the perfect side hustles that will make you an extra $1000 from home, then this is the blog for you. If you are looking for ways to make some extra money then keep reading. Side hustling is a great way to make more money each month in order to allow you some financial freedom. 
Before we get started, we would love for you to join our growing Facebook group right here! You can also join our Pinterest group by scrolling to the bottom of this page! If you are looking for guest blogging opportunities or if you need a personal affordable coach to take you from A-Z, we can help you. Get the details right here! 
We also did want to mention that we use affiliate links on some of our posts. This means that if you click on an affiliate link, we make a commission from it. 

The guide that takes you from making zero dollars to $1000 in just 60 days of starting your online biz! Don't have an online business yet? Be sure to start it today with our free 7-day course.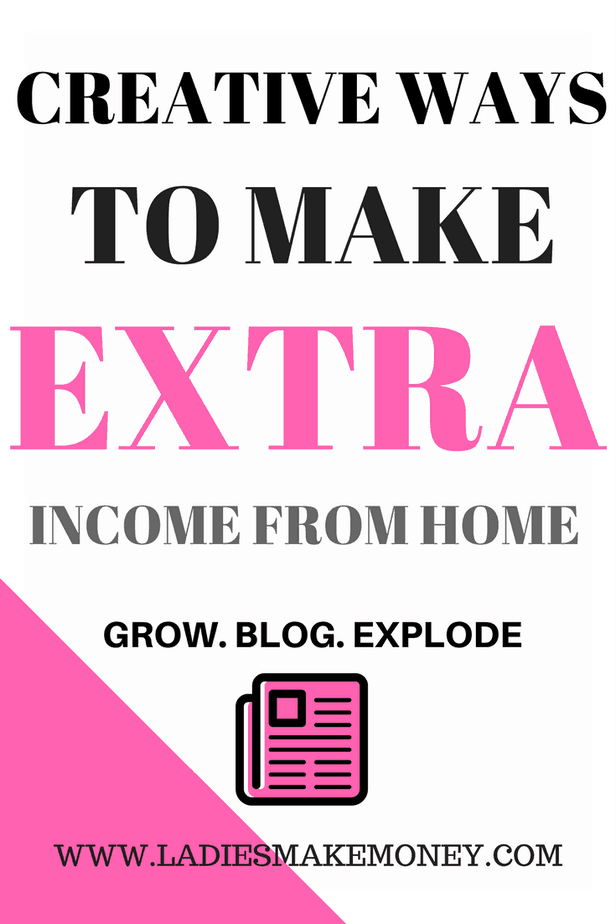 Real ways to make extra money from home
Finding legit ways to make money from home can be difficult and frustrating. So when a friend of mine asked me the other day if it was really possible to make money from home online, my big answer was "Absolutely!" I have been home for a while and I have managed to make somewhat of a consistent income using the internet. 
You can find my latest income report here (I typically publish my blog income reports on the 15th of each month if you want to stay up to date). You can also see how these 10 amazing female entrepreneurs make money from the internet or you can see how these food bloggers managed to monetize their blog! 
Starting a profitable blog
Since we are talking about the different ways to make money online, blogging comes to mind as one of the many sides hustles that can make you $1000 online. The first thing you would want to do is to create an online platform to market any services you may have (Photography, wedding planning services, or anything you think you might be good at).
You can also sell your product directly on your websites such as books or courses. It's also a great place to add affiliate links and promote. Starting a blog is not as expensive as you may think, however, we do ask that you do not use a free site. I recommend using siteground as your hosting company! Please click the image below for more details on starting your own profitable blog. 

Once you have your website designed, ensure you have at least 10 solid blog posts that are evergreen and have been optimized for money making objectives. This may include affiliate links, your own products or promoting your service pages. Just don't Spam. I make a majority of my income by using Affiliate Marketing! You can even do sponsored posts as a way to monetize your blog.  
Affiliate Marketing is when you promote other people's products for a commission. A few affiliate marketing programs we highly recommend are:
Don't just sign up for these affiliates programs. Promote them on your blog. I am making a steady $500 per month just from Affiliate marketing. Not sure how to use Flexoffer, do a quick search on a tutorial. Not sure how to use ShareASale, do your research! Go make some money! 
Here is a list of a few more affiliate marketing programs you can join: 
Become a FREELANCER and work from home
Are you creative in any way? You can start blogging for other bloggers and get paid for it. People are typically always looking for original content. Some bloggers are also always looking for VAs to help out with managing social media content and other small tasks. You can definitely find VA and Freelancing writing jobs in Facebook groups, on Upwork and on Fiverr! Freelancing and VA jobs are the best types of side hustles that will make you an extra $1000 easily! 
The typical rates for running a Pinterest or Instagram account for a company is $250 per month. Some VAs charge $150 for 4 hours of work per week. Just know your worth. 


Side jobs- customer service representative 
Do you know that some companies pay people to work at home just by answering calls for them? Some provide full at home training and once that's complete you can start working for them. A few companies that come to mind are Pizza places, taxi drivers, and some home offices. Look up a few jobs online and see what you come up with. 
You can easily make about $14-$20 per hour with this gig from the comfort of your home. 
Make money with Amazon Affiliate program 
We had to give this one it's own section because you can make so much money using Amazon affiliates. I shop on Amazon almost every other week, you shop on Amazon I bet and so do millions of other people. The great thing about Amazon affiliate is that if someone lands on your affiliate link and purchases other things, you get that commission as well. Pretty neat I should say. 
If you really want to boost your income with Amazon then read this book that teaches you how to make $1000 by using this gig! You can make this even without a blog. 
Rent your room out to earn extra cash – AirBnB
They are a few other side hustles that will make you an extra $1000 and you can start by renting a room in your house is one of them. If you have an empty room or a fully furnished basement, why not rent them out to make some quick cash? AirBnB is the way to go. I rented an AirBnB when I went on vacation last year and it was the best thing ever. You will be saving on a mortgage (rent) and making money at the same time. 
 You might also like: 25 Ways to Make Money Online and grow your monthly income
Want to know if you are financially stable? You can also check out Financially Fit which is a site that specializes in financial education and services that teach people how to get out of debt and build wealth. Check them out by clicking here!

Surveys are the real thing
Want to know more side hustles that will make you an extra $1000? Consider doing some surveys on the side. Do you know I once made almost $500.00 just by completing some online surveys in the evenings and on weekends? Ready to complete a few online surveys? Here are a few we recommend: 
Sign up for as many as you can and do them when you have some free time on your hands. 

Earn Cashback with FREE tools
Do you shop online? Why not earn money back while you at it. Sign up with our link and get up to $5.00 just for signing up. I purchase a lot of my baby toys and items from Amazon. If I can get a great $25 back every time I shop, I will be a happy camper. Every dollar counts right? Here are a few applications that we suggest you use. 
Get PAID to write articles
If you are a blogger or just someone that loves to write consider writing for other bloggers or publications. The good thing is that you get paid to do so. What? Someone will pay you to write for them. Yes, they will. Blogging is one of the most amazing side hustles that will make you an extra $1000 per month. 
A few places that pay bloggers to write for them include: 
You might also like 5 Sites that pay bloggers to write! 

Clean houses for extra income 
If you have some free time on weekends, why not clean homes. You can pick up 2 or three gigs per week. If you are lucky, you can strike regular clients that will call you either weekly or monthly to clean homes. I typically have someone that comes in to clean my home (busy with a newborn and blogging). She charges me $35 per hour for 4 hours minimum. If you do this on Saturday and Sunday, that's $280 per weekend. For the month you will be at $1,120.00. 
You can post ads on Kijiji and Craigslist (as always, proceed with caution). 
Make Money with Social Media 
Do you like social media? Are you on it frequently? Social media is a billion dollar industry and it's easy to use as a type of side hustles that will make you an extra $1000 because it is easy and doable. How? Well, I use Maven. Maven is almost like Pinterest in a way that it lets you clip gorgeous items you find online on a board. And if the item you clipped is part of an affiliate program and someone purchases from you, you earn a commission. 
If you are a blogger, ensure you add your blog URL to be considered for sponsored opportunities. Oh, and it's free to join. Start using these side hustles that will make you an extra $1000 right now. 

We have given you a couple of side hustles that will make you an extra $1000, what will you do now? 
Don't forget to follow us on Twitter, Instagram and Pinterest for some more money making/saving money tips. PIN This post here.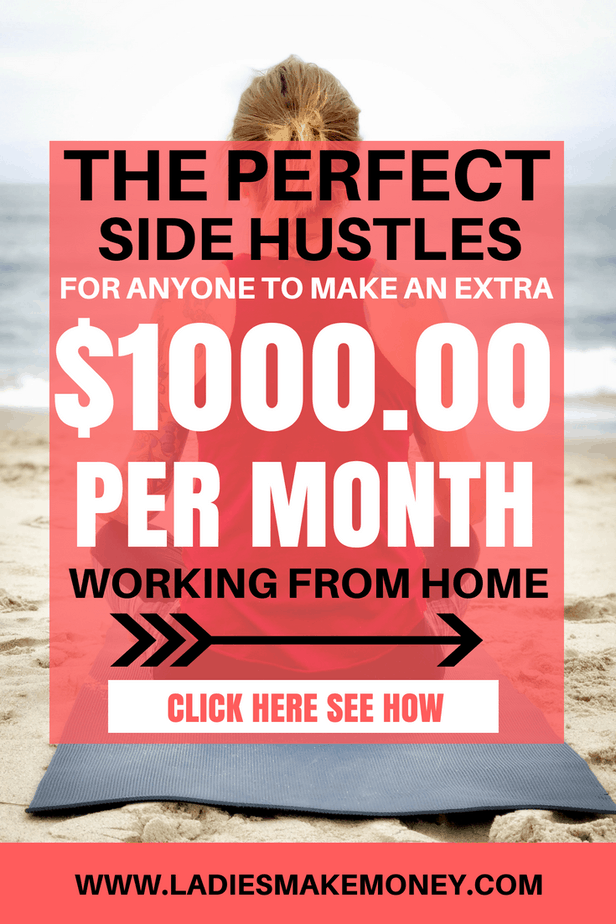 7 ways to boost your online income
5 Ways to make money using Pinterest
If you enjoyed our blog we would like to have you join our email list and receive weekly money-making tips, you can join now! Don't forget to join our Private Facebook page. The page is created to share your work, pitch your services and learn from other experienced bloggers!
---
***We would like to note that this post and most posts on our blog may contain affiliate links. This means that if you purchase something that has an affiliate link, we will get a commission from it. Not all items recommended on our site are affiliate links. We only recommend items that we have used and tried. These items have brought us much success and we highly recommend them to you in order to be successful. Thank you for your trust!