Last Updated on May 5, 2021 by NandiNN
How To Make $3,000 Fast
Whether you are looking for tips on how to make $200 fast or you want to jump-start and find ways on how to make $3000 a month, we have great tips for you!
What would making $3000 a month from home mean to you?
To some, this could easily be a full-time income.
For others, it could simply mean extra money to pay off debt!
Whatever your reason, we are hoping to explore some high-paying online side gig to help you get started with your money-making journey!.
The goal is to find a few great jobs that are reputable enough that you can do to make money working from home.
If you know me, then you know that I am always trying to find creative ways to make extra money from home.
And so if you are trying to find ways on how to make $3000 a month, you are definitely in the right place.
The more side jobs you can do, the more opportunities you have to make 3000 a month fast!
Before you can start on that, be sure to grab this monthly income task list today to ensure you stay organized and on track with your money-making journey!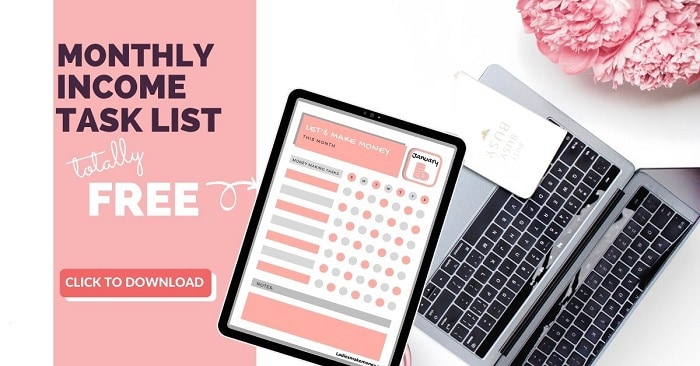 Before we get started on our tips on how to make $3000 a month, we did want you to follow us on Facebook for more awesome ideas on saving or making more money. You can also follow us on Instagram for more tips.
We also wanted to take the opportunity to let you know that we use Affiliate links on some of our blog posts. This means that we could make a commission if you click on an affiliate link and purchase something.
You are here because you want to learn how to make 3000 dollars a month.
We are always striving to give you the best information possible available out there.
Most of these jobs that make $3000 a month below are tried and tested. You just have to put in the effort to actually do the work required every month.
What will we be focusing on today:
6 Major Ways I Make $3000 A Month
They are so many amazing ways you can make money working from home these days.
But today I really wanted to focus on how I make $3000 a month using 6 creative work from home jobs.
If your goal is to learn exactly how to make $3000 fast, you might want to grab a pen and paper for this.
We have an epic list available that you can absolutely start tonight.
Here is How To Make $3000 A Month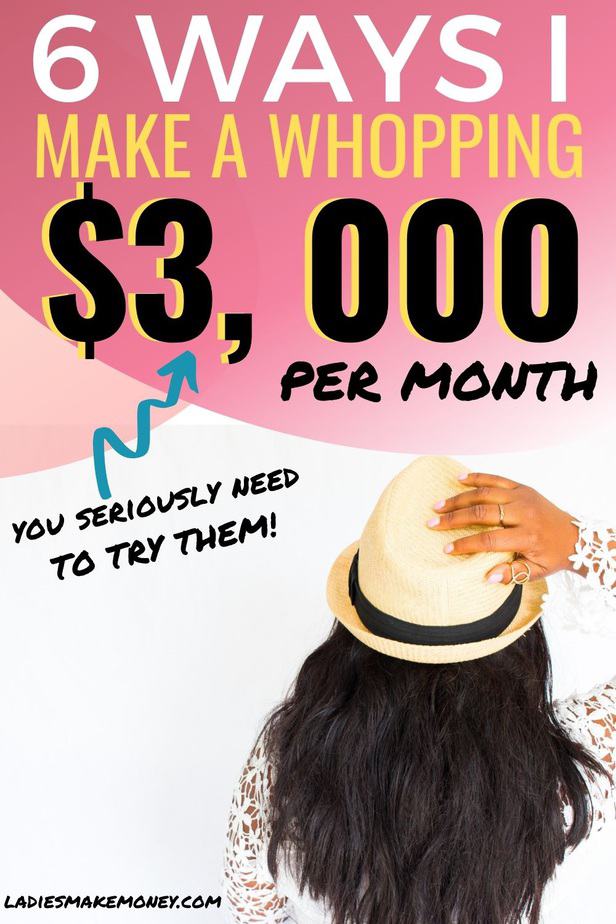 1. Make $3000 A Month Blogging
Blogging has been a major life-changing event for me in so many ways.
I now rely on it frequently as this is how I make the majority of my income working from home.
After taking the 6 Figure Blogger Course, a course that teaches you the intense strategies for making 6 figures with your blog, a lot of my thinking and strategies changed.
They share with you the exact formula for earning six figures from your blog.
Now if you do not already have a blog, you should really consider starting one today for as low as $3.95 per month Siteground.
I am so lucky to be earning a great amount of income from my blog each and every month doing what I love and you can do the same.
Making $3000 a month with a blog is completely doable. If you want my detailed tutorial on how to get started building a blog that makes money, you can find it!
When I first started my blog, I was able to earn over $3,000 per month in extra income on top of my day job as a beginner who started with little to NO experience.
This was definitely earned gradually, but I did it.
Here is a look back at my very first blog income report!
You can also read my post where I detail exactly 10 great ways bloggers can make money blogging about what they love!
Honestly, blogging is one of the best ways to make money at home for those looking for ways on how to make $3000 a month fairly quickly.
Feel free to join this FREE 7-day e-mail course here where I share my personal experience and teach beginners how to start a profitable blog all from scratch.
My best recommendation for those wanting to know how to get $3000 fast is to really get into blogging.
2. Make 3000 Fast Flipping Blogs
To be honest, the most I have made was $2, 500 but this does not mean you can not find a way to make 3000 fast flipping blogs.
You absolutely can.
But what exactly is blog flipping and how can you use it to make money from home?
If you are familiar with what house flipping is, flipping a blog works the very same way.
Blog flipping is when you purchase or start a new blog and after a while, you sell it or (flip it) for a profit.
How much exactly can you make with flipping blogs?
This will totally depend on how much value your new blog has.
I like to put things in perspective, someone wanted to purchase my blog for $65, 000 last year, this just shows you the potential you have!
If you believe blog flipping is for you, you can get all the information you need about it right here.
I know of so many amazing female entrepreneurs that make 3000 a month from home flipping blogs.
Chelsea Clarke is a great example of one that has made more than $3000 a month flipping blogs and you can get more details here.
3. Make Money Flipping Items at The Flea Market
How can I make 3000 a month flipping items?
We talked about blog flipping, now we are going to share our best tips for making money flipping items.
So what type of things can you flip to make extra cash on the side?
Think home furniture, appliances, clothing, books, toys, and anything you can think of.
Do you enjoy finding unique things at flea markets, garage sales, or even the dollar store?
If you can find really cool things at a very reasonable price, you can resell them for a profit on sites like eBay, Amazon, and other online marketplaces!
Can you make 3000 a month flipping things you find from the flea market?
According to Rob, an expert in flipping items for a profit, you can easily make an extra $1000, $2000, $5000, or even $10, 000 buying and selling stuff online!
That's insane.
If this sounds like the perfect side gig for you, you might want to sign up for his free workshop where you will learn some great strategies on how to make money flipping items in as little as 14 days!
Find out how to make $3000 a month by saving your seat right here! This is an amazing training program available for aspiring flippers called "Flipper University!"
4. Become a Proofreader and Make $3000 Fast
For those that really want to know how to make $3000 a month, I really suggest and highly recommend you look into becoming a proofreader.
As a blogger, I have used proofreading services for myself and I know many small businesses and bloggers who are also in need of this service.
It's the perfect side hustle.
How much money can you make as a proofreader?
Caitlin Pyle who I love was able to make over $43, 000 in her first year as a proofreader part-time!
If you are looking at ways on how to make 3000 a month from home, I encourage you to learn all the skills you need to start your freelance proofreading hustle here.
Check out my full review here, where I share exactly how to make over $40, 000 a year as a proofreader!
5. Make $3000 a Month Selling Printables
Are you looking for ways to make money at home?
If you are here to find out how to make 3000 a month from home, then you might be interested in making money selling Printables.
I have recently started to make my own printables to sell, and I am excited about what will happen.
Sarah Titus was able to make over $2 Million a year selling Printables.
She is definitely more advanced than most, but if she can do it, you can too!
Watch the video below to see exactly how a stay at home mom was able to make over $6K+ per month selling Printables!
This means that you and I can also learn how to make $3,000 a month from home if we truly try.
As you can see, if you are wondering how to earn 3000 per month, you should consider selling printables!
I learned everything I know about making printables from Suzi!
She even gives you ideas about what you can make as printables to sell, how to sell them, and how to promote them.
It is the best side hustle idea out there!
If you are looking for jobs that make $3,000 a month and more, I can assure you that selling printables online is a dream job.
6. Become a Freelance Writer and Make $3000 Fast
You can make extra money fast as a freelance writer and thanks to the internet, you will find so many ways to get started.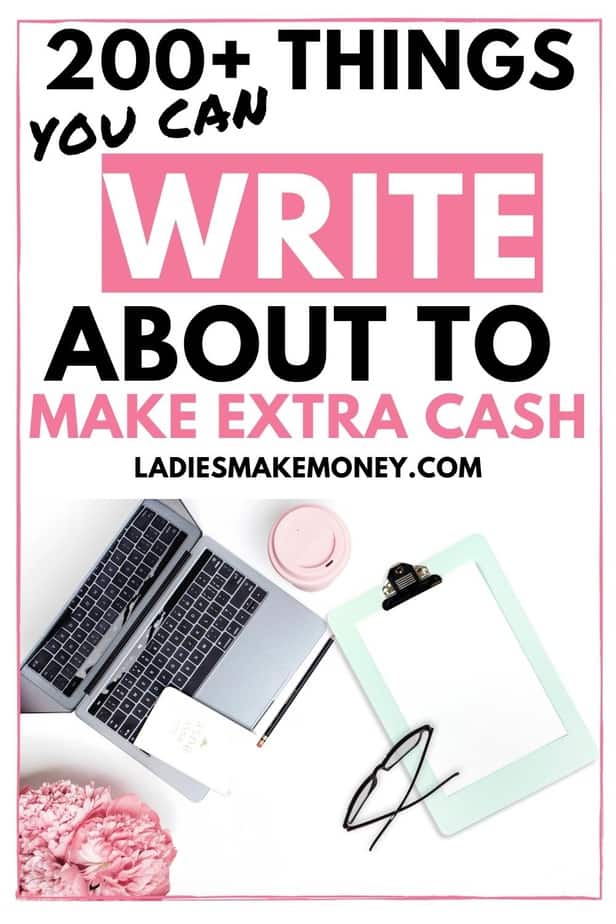 Whether you are looking for ways on how to make $3000 a month from home or a full-time income, becoming a Freelance Writer is the way to go!
This work-from-home job can literary become your full-time 9-5 job!
If you are eager to learn how to make $3,000 fast as a professional VA, keep reading.
What you will need to become a freelance writer:
Get $3000 fast by becoming a freelance writer. Here are a few resources to get you started:
Get Fully Booked VA to jump start your freelance writing career.
It will really help you START your virtual assistant business off strong with a great VA Foundation – and it includes everything you need to build a rock-solid foundation as a VA!
One more thing.
You will get access to all of the resources you'll need to start building out your client roster (aka client leads and skills courses) and your income!
Get full details here and start a business that will allow you to make $3000 a month from home.
There you have it, a creative list on how to make 3000 dollars working from home.
Dedication is the best way to make good money working from home, be sure to use the tools provided here to get started on your journey!
You can absolutely do it.
Making 3000 a month using the tools we outlined in the post will ensure that you succeed.
More reading:
Check out more ways on how to make 3000 fast:
We have shared a lot of amazing tips on how you can make 3000 a month, but here is a summary including more ideas:
We hope you love all our ideas on how to make $3000 a month from home and that you will try out one or two of our side hustle recommendations!
To receive even more tips on making and saving money online, sign up below!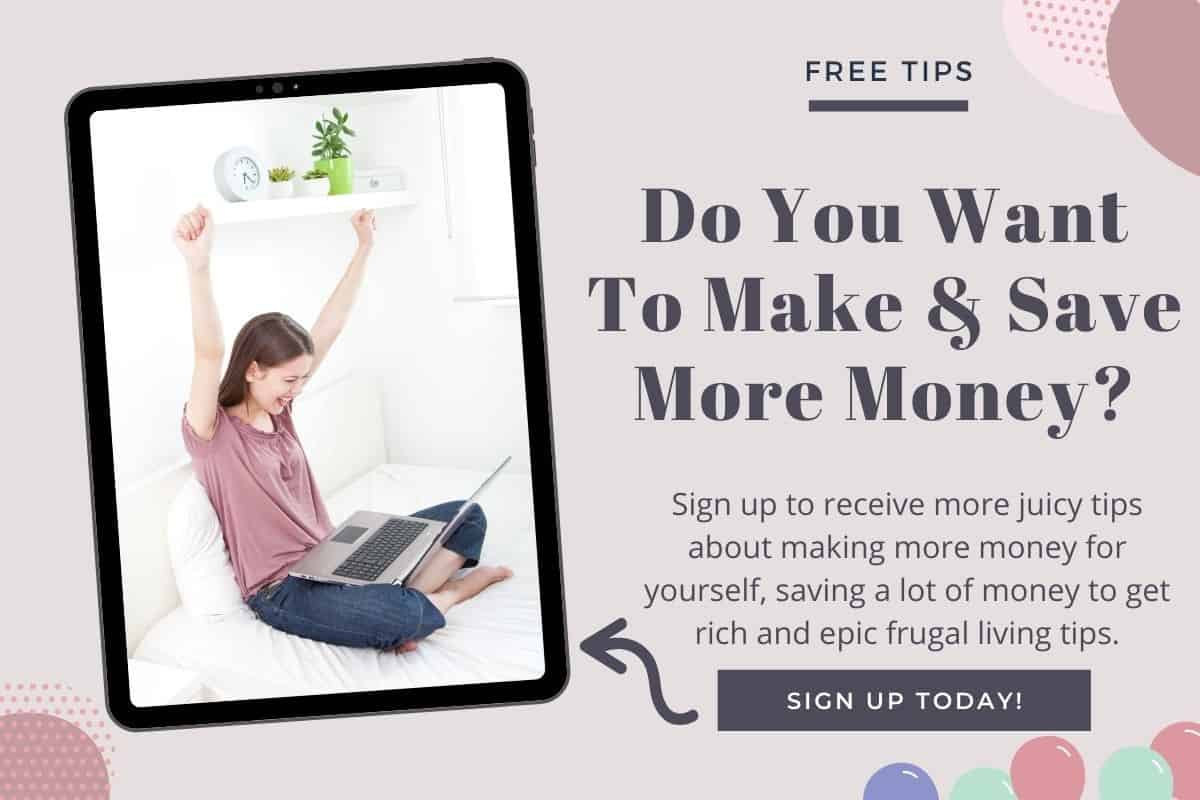 Don't forget to document your progress here with this free income tracker!
Which work from home job will you start today to make $3000 a month?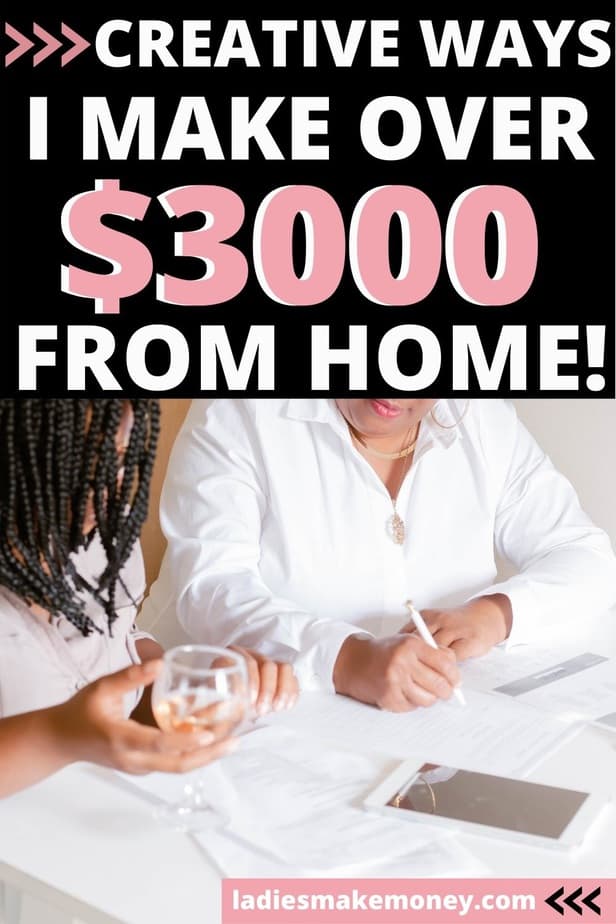 If you enjoyed our blog we would like to have you join our email list and receive weekly money-making tips, you can join now! Don't forget to like the Facebook page. The page is created to share your work, pitch your services, and learn from other experienced bloggers!
---
***We would like to note that this post and most posts on our blog may contain affiliate links. This means that if you purchase something that has an affiliate link, we will get a commission from it. Not all items recommended on our site are affiliate links. We only recommend items that we have used and tried. These items have brought us much success and we highly recommend them to you in order to be successful. Thank you for your trust!
How To Make $3000 A Month From Home Every Single Time