Last Updated on
If you run a blog and it is not making any money then you might be doing something wrong. You can make money blogging in many different ways. But I really want to focus on 8 reasons your blog may not be making any money. It is definitely possible to make a couple of thousands of dollars from your blog if you put in the hard work. But how do you get started?
Before we get started on possible reasons aren't seeing results with your blog as well as to explore a few ways to make money blogging, we would love for you to join our growing Facebook group right here! You can also join our Pinterest group by scrolling to the bottom of this page! If you are looking for guest blogging opportunities or if you need a personal affordable coach to take you from A-Z, we can help you. Get the details right here!
Make Money blogging- is it possible?
You can definitely make money blogging if you have a good strategy. The first step is to treat your blog as a business and get serious about blogging if you wish to make money blogging.
Blogging seriously means blogging more consistently, investing in tools that will take your blog to e next level such as this blogging tool and this one.
Treating your blog as a business will ensure that you start making money blogging sooner than later.
Related:
How to make your first $100 blogging
How to start a $2,500 per month side business flipping blogs
Possible reasons why your blog isn't just making money
Without really knowing about your overall blogging and marketing strategy, we can't really pinpoint the real reasons your blog isn't making any money. But if you are blogging for money here are a few reasons why it just may not be working out for you.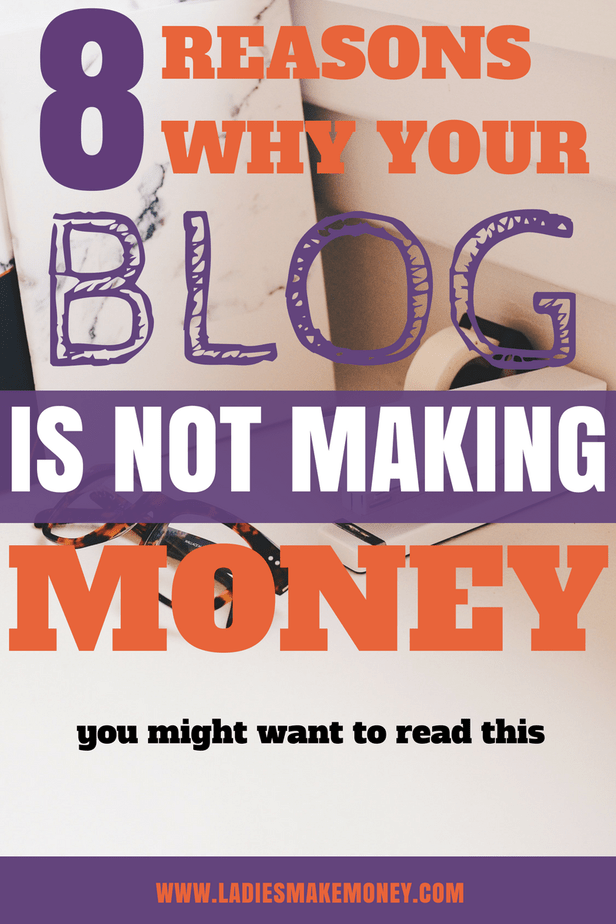 Not enough content that matter
You may not be making money because your content is just not good enough or it may be that people are just not connecting with your blog. If you are considering blogging for money, you need to produce high-quality content that will relate to your readers. This entrepreneur wrote a very interesting blog post that explained why content marketing is King.
Do you have repeat readers? If not, then you may struggle to make money with your blog. You want to write great articles that will brand your online business, connect with your readers as well as help your readers take action such as signing up for your email list or buying from you.
Make money blogging by producing and writing blogs that are valuable, longer posts that really tell your story and it must be extremely interesting.
For example, if someone has already blogged about chocolate cake, why not hit a different angle like 10 reasons why you should eat chocolate cake for a happy life. Include examples, graphics, and proof.
Related:
How to write Blog posts for maximum impact
The top 35 blogging ideas that are guaranteed to be popular
You do not have an email list
Honestly, the money is in your email list. Everyone on your list is a potential buyer and client. If you are not collecting emails to continue the communication between yourself and your readers outside of your blog, then you are missing out on good money.
The more engaged and bigger your list is, the more money you will make. Blogging for money requires a great strategy and building your email list is the best strategy you could ever do for your blog.
Don't rely on social media for possible traffic. This will get you temporally gain but won't make you money in the long run.
Make money blogging today by starting an engaged email list and nurture your list by sending great emails packed with value that will make them stick around.
My email list is my money maker. When I have offers and good things to share, I email it directly to my list and because they trust me, they will eventually purchase my products or connect with a product that I highly recommend.
Related:
How to grow your email list with Pinterest
Check out this list building webinar
You are inconsistent with your blog
Before you can even think about how to make money blogging, you need to build a trust factor among your readers. If your readers do not trust you, they will not make a move towards anything you may recommend. The best way of earning trust is to provide value to those that read your blog.
Your trusted reader might frequently look up your blog to get more tips, ideas, inspiration and if they find that you do not frequently update your work, they will either not return or forget about you.
Another great way to stay connected to your readers and still provide value is to send them weekly or monthly newsletters. Once they trust you, they will make purchases or look through your recommendations. Only then will you make money blogging.
Do you know that Google loves fresh content? The more consistent you are, the more chances you give Google to crawl your site. This is a way to build a relationship with Google (if you wish). This doesn't mean that you always need new content, you could also update older content.
Check Melyss Griffin's post about ways to increase blog traffic by updating old posts. The more readers you are able to atrract the more chances you have to make money blogging. It just means you can make more money as you have more people to sell to.
Related
How to get consistent blog traffic to your blog
Why you need a social media marketing and content calendar
How to make money blogging with no blog traffic?
Wondering how to make money blogging with little to no blog traffic? You can make money blogging with no traffic. This is where your email list comes into big play. As we mentioned earlier, the more email subscribers you have, the more money you can make when you stay in contact with your readers.
But if you are thinking of blogging for money using other methods such as using ads like media.net or sponsored blog posts, then traffic will need to be your main priority.
Brands want to work with established bloggers that have a big following on social media and lots of blog traffic. Most of these brands are extremely established and they want to work with bloggers and influencers that can expand them more. And the more weight you bring to the table, the more money you can make with your blog.
Blogging for money using other diverse methods should be part of your on-going strategy.
Related:
How to increase your blog traffic
How I got 19K on one blog post
You are not marketing your blog enough
Are you writing a lot more blog posts than you are marketing it? How are people supposed to know about your blog posts if you are not marketing and sharing your posts? You want to spend 20% of the time creating really amazing content and then spend the rest of the time promoting it.
We wrote a great post about the different things you can do promote your blog. You can read the post here: 10 Places to promote your blog after you hit the publish button!
If you are not promoting your blog nearly enough, then you will not see the results you wish for. How are new readers supposed to find you? This doesn't mean that you need to be on every social media platform, you just to promote effectively for better results.
The more people know about you, the more chances you have to make money blogging. I love the article the EveryGirl has about the different ways to market your new blog.
I use Pinterest to market and show off my blog. This is where my audience is and that's where I get the most results. I use Carly's Pinterest method to attract massive readers from Pinterest in order to make money blogging. The more people I can pull in, the more money I can definitely make with my blog.
If Facebook is your jam and you want to know how to effectively use to attract more readers and make money blogging, then you might want to see how Brittany does it so well.
Did you know that you could also generate massive blog traffic with Instagram? Helene from Helene in Between is your girl. The ultimate guide to consistent blog traffic is a must read.
Please note that you do need thousands of blog traffic to make money blogging. You need a strategic plan. For example, I make the most money when I email my email list every month. Blogging for money just requires a lot of planning on your part.
The Busy Budgeter explains how many page views you need to make money blogging that you may find interesting.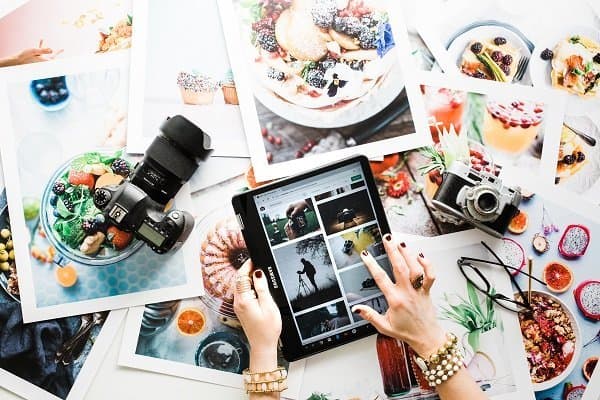 You do not have a plan for making money with your blog
What plan do you have in place for monetizing your blog? Making money from a blog is not that hard, you just need a plan. Are you planning on monetizing your blog with sponsorship? Then what have you done to join and form partnerships that offer sponsorship opportunities such as Linqia? And after joining these companies? How often do you check for opportunities? Where else are you looking for opportunities?
In order to make money blogging, you need a solid money making plan. That is the only way you will succeed. Create a goal every month and work towards getting things done. You can get my full plan of how I make money here.
As long as your plan is not to make money blogging, you will not make money. Most bloggers are passionate about blogging whether they are in a travel niche, beauty or any other niche. If they are passionate and also looking to monetize they are a blog, they will achieve this.
It takes a lot of commitment, time and passion to make money blogging. You also truly need to understand your readers and attract them each time you have a new post. The only way to do this is by writing compelling content that people want to read.
The more people you attract to your blog, the more page views you get and this can equal money. But the only way to make that money is to set your blog up for success.
A successful blogger, Paul, owner of multiple blogs, wrote a great article on 7 blog niches that get good traffic and make good money. If you want to make money blogging and wondering if you blog can make money, check out to see if your blog niche is on the list.
Related:
How to make money in 24 hours using Affiliate Marketing
Become an Affiliate for the Ultimate Bundles to make money
You are not selling your own products
Your blog may not be making money because you are not selling your own products. You can create simple products to offer your readers which includes a little price tag attached to it. The fee will depend on how much work you put into your product. My bigger seller is my course "From Hobby to Biz." This course literally teaches you every step you can take to make money blogging.
We do not focus on one niche either, we talk about and give solid examples you can use on your own blog to make money with it. To make money blogging, you need a plan and that is what we share with our students.
My students love the section where I break down exactly how to make $1000 per month in 45-60 days and also how I break down how to make $5000 per month with your blog.
So if you have an idea, go ahead and sell them using either Teachable, SendOwl or Shopify. Blogging for money in order to make massive profits really requires you to sell some sort of your own product. Although Affiliate marketing is also just fine.
A very well known affiliate marketer did not own a product for a few years. And she was still able to make money blogging strictly by using ads and Affiliate marketing. When she eventually created her course, her income increased to making over $700, 00 each month.
Related:
Here are 7 steps to launch your own profitable online course
How to make your first $1000 with your blog in less than 60 days
Your blog isn't making money because you refuse to invest
Just like everything else, if you do not invest in yourself, no one will invest in you. It's a two-way street. When I first started my wedding planning business 3 years ago, I did not have formal training except for work experience. Without an education or a formal training, my wedding business did not take off.
A few things you can invest in to make money blogging are a good hosting company like siteground. You also need a good email provider, not a free one if you are making money. I love this email provider and the start of free for the first 1000 email subscribers you have.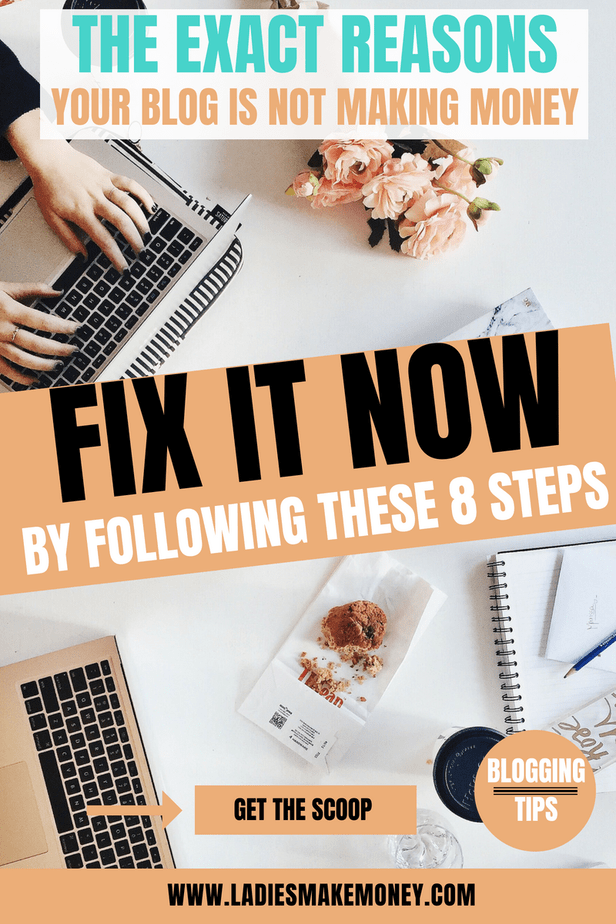 And for more ways to set up a successful business that makes money from day one, go here. Blogging for money just got a lot easier.
Do you make money blogging? Are you struggling to make money blogging? We would love to hear from you. Share your income reports below or tell us about your money making strategies. Leave us a comment below and you can check out all our blogging tips here.

If you enjoyed our blog we would like to have you join our email list and receive weekly money-making tips, you can join now! Don't forget to join our Private Facebook page. The page is created to share your work, pitch your services and learn from other experienced bloggers!
---
***We would like to note that this post and most posts on our blog may contain affiliate links. This means that if you purchase something that has an affiliate link, we will get a commission from it. Not all items recommended on our site are affiliate links. We only recommend items that we have used and tried. These items have brought us much success and we highly recommend them to you in order to be successful. Thank you for your trust!