Last Updated on September 21, 2020 by NandiNN
Good Podcasts to Listen to
Grow your blog by listening to Podcasts for bloggers created by bloggers.
As a female entrepreneur and creative blogger, I find myself eager to learn something new daily as a way to improve myself mentally as well as to grow my online business.
I spent the majority of this year listening to inspirational podcasts for Bloggers and Women Entrepreneurs.
By listening to motivational podcasts, I found myself learning more and more each day.
They literally inspired me to start a side business while working a full-time job.
Now I earn a full-time income with my blog and owe it all to hard work and continuous education.
I spend about 3-4 hours of my day commuting and the easiest way to continue learning was to find good podcasts to listen to on a daily basis.
Some of the podcasts listed below include men and women that I consider creative entrepreneurs, and that I found very inspiring as they have helped me better my blog.
I will list them under my Podcasts for Bloggers and Women Entrepreneurs, due to the fact that they make it really easy to follow and implement the steps they recommend.
This is important to me as I am not very technical, and I like to follow easy instructions.
For more inspiring podcasts, be sure to check out our latest posts where discuss the best money Podcasts to help you make more money from home.
So what are the best blogging podcasts?
But before we get started on the best Podcasts for Bloggers, we would love for you to join our growing Facebook group right here! Be sure to give us a quick follow on Instagram as well!
We also wanted to take the opportunity to let you know that we use Affiliate links on some of our blog posts. This means that we could make a commission if you click on an affiliate link and purchase something. Please check out our full disclaimer and policy page here.
How are podcasts different from blogs?
Did you know that you can deliver your message in so many ways? It's 2020 and writing blogs is not the only way to reach an audience.
You can use your email list, create videos on YouTube, Facebook Live or Instagram Live.
And another popular way of delivering information is using a podcast.
The difference between a blog and a podcast is that a blog is really meant for reading and podcast is more for listening.
A podcast is basically an online audio file that is compressed into digital format. This works for some and not so much for others.
Either way, it is a different way to deliver information.
We are going to be looking at the following today:
Top Podcasts about Blogging

Inspirational podcasts to listen to if you need ideas

The best podcast for female entrepreneurs

And so much more!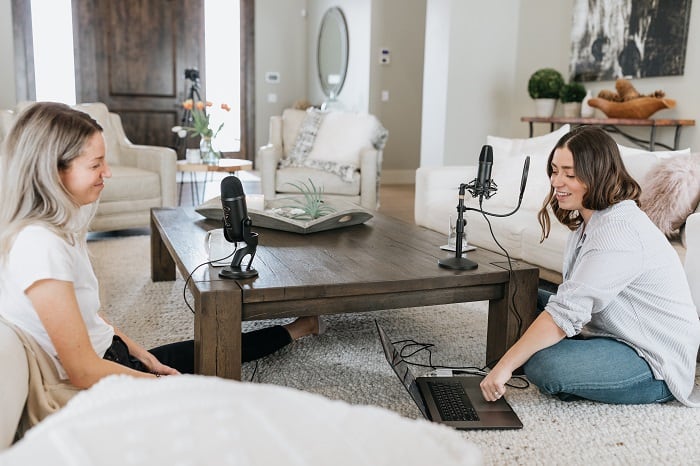 The Best Podcasts for Bloggers and Creatives
Before we dive deep into which podcasts for bloggers you should spend your time listening to, it is important to use your time wisely.
Listen to only the best podcasts and those that offer valuable information will be crucial to your success!
These are usually determined by how actionable the messages offered are, as well as podcasts with less fluff.
You can also determine how great a podcast is depending on if you have previously implemented tactics and seen good results.
Don't just listen to podcasts for the sake of listening to them. Make notes, take action, and measure your results.
Podcasts have changed my life and they have inspired me to be a better business owner as well as helped me succeed.
When I lack time to read, I know I can listen to podcasts from the best bloggers and learn just as much.
The best way to learn about blogging is definitely to listen to blogging podcasts. This is really important especially if you are planning to make money blogging.
Want to know what is on my list of the best inspiration podcasts for bloggers? Read on: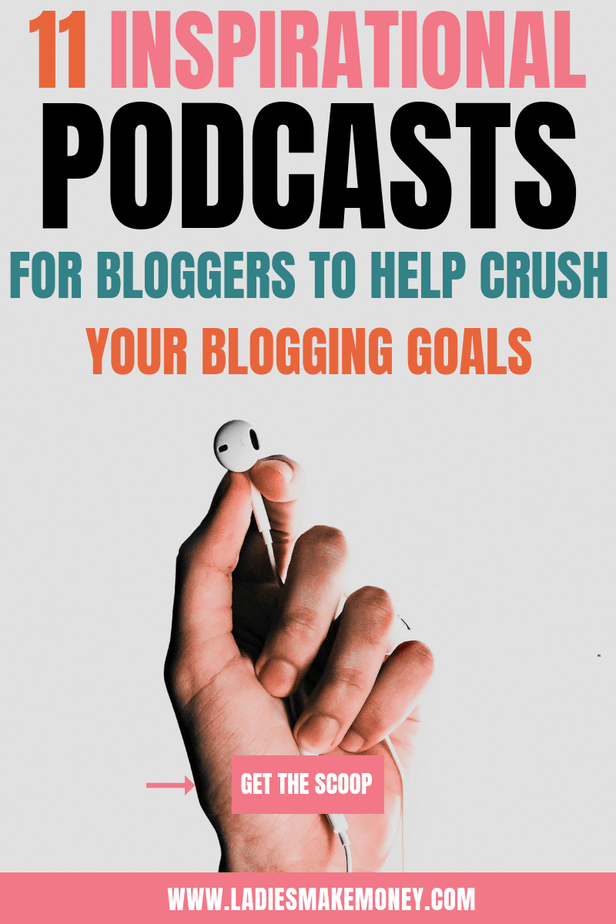 Here is your list of highly recommended podcasts for bloggers and creatives:
1. The Simple Pin Media – The Best Blogging Podcast
If you are a blogger, then you know that Pinterest is one of the best platforms you need to master to start seeing almost instant success!
And when I was putting my list together of the best podcasts for bloggers, I knew I needed to have Kate Ahl on this list!
This podcast is designed to make Pinterest marketing easy to understand and implement without feeling overwhelmed.
Pinterest is growing fast and changing constantly and the Simple Pin Media Podcast does a fantastic job in keeping you updated.
The Simple Pin Media should be added to your Podcasts for Bloggers' listening list today!
When it comes to Pinterest, Kate knows her stuff!
And when in doubt, she interviews other Pinterest Experts to fill in the gaps which make this one of the best Podcasts out there for bloggers.
Not sure where to start? Here are a few good places to start:
What to do When Your Pinterest Marketing is Not Working
Manual Pinning vs Scheduled Pinning: Which one Gets Better Results
How to Pin Strategically on Pinterest

2. Online Marketing Made Easy
I am sure you have heard of Amy Porterfield and if not, then you are a little behind and you need a little catch-up action in your life right about now.
If you are one that likes to learn step by step process, Amy is your girl!
This is definitely one of the best podcasts for women entrepreneurs that are looking to grow in business.
This Online Marketing Made Easy Podcast includes expert interviews, mini execution plans, and intimate behind-the-scenes secrets from my biggest launches.
They tie this all together to make EVERYTHING you listen to as actionable and profitable as possible.
This marketing guru talks about branding, SEO, Affiliate marketing and so much more on her podcast!
"When a podcast not only inspires you but gives you the clear steps needed to put the insights you learn into rapid, profitable action" then you know that it is the one podcast for bloggers you need in your life!
A few of my favorite episodes are:
How to Start Earning Affiliate Money with Pat Flynn
How to Create a 3- Month SEO Plan with Neil Patel
Creating Multiple Streams of Revenue in your Business with Jennifer Allwood
3. The Femtrepreneur Show by Mariah Coz and Megan Minns
I am pretty sure this was the first podcast for bloggers that I ever listened too.
In fact, I only listened to Mariah as she was the only blogger I knew at the time with a podcast.
I was there from the very beginning.
If you want absolute autonomy, freedom, and independence through running your own business, learn the way from the Femtrepreneur show with Mariah and Megan.
You will learn the most effective strategies and systems for online course creators and sellers, whether you're starting from scratch or starting to ramp up and scale.
This podcast for bloggers covers everything from finding your niche, choosing your course topic, creating your course, answering all of your questions about online courses, list-building, launching, webinars, evergreen sales, passive income, and tools and tech!
This is one of the highly recommended podcasts for bloggers.
My favorite topics are:
Passive Income on Etsy with Kelsey Baldwin
How to Launch your Course when you Work A Full-time Job with Brittany Berger
How to Build Relationships in your Niche
4. The Blogger Genius Podcast
This is a podcast for bloggers created and maintained by Jillian Leslie!
If you are an upcoming blogger or you need direction for your blog or online business, you might want to start listening to the Blogger Genius Podcast. One of the best podcasts for bloggers!
In each podcast, Jillian Leslie, founder of MiloTree, interviews successful bloggers and online business owners and dissect their businesses.
Real takeaways promised in every episode!
This podcast is brought to you by MiloTree, the smart pop-up app you embed on your site to grow your social media following on Instagram, Facebook, YouTube, and Pinterest, plus your email list.
A few episodes I have personally enjoyed:
How to Get More Pinterest Traffic by Crushing the Pinterest Algorithm with Jennifer Priest
The Easiest Ways to Make Money as a Blogger with Monica Froese
5. Smart Passive Income with Pat Flynn
If you want to take your blog from non-existent to wow, then I highly suggest not only listening to Pat Flynn but reading his blog as well!
The smart passive income online business and blogging podcast is one of the best blogging podcasts out there.
Pat Flynn from The Smart Passive Income Blog reveals all of his online business and blogging strategies, income sources, and killer marketing tips and tricks so you can be ahead of the curve with your online business or blog.
Although Pat confesses he is not a millionaire, he's been supporting his family 100% with passive income generated online, easily earning a six-figure salary while working only a few hours a week.
With this in mind, I absolutely needed to add Pat Flynn on my Podcasts for bloggers' extensive list to follow.
If you were looking for some of the best podcasts about blogging, then this is it.
So what are some of my favorite podcasts from Pat?
21 Top Places to Include an Affiliate Link
How to Work Less and Make More with James Schramko

6. Blogged: A Podcasts for Bloggers and

Influences
I personally just started listening to Blogged while I was doing my research for this blog post. I really wanted to give you helpful tips and a great list of podcasts for bloggers that could be really useful to you.
I listened to a few episodes before deciding to add them to this list.
I was really impressed.
Blogged is founded by C.J. & Cara, founders of My Haute Society.
They talk with bloggers, industry experts, and brands to give you an honest and straightforward insight into how to grow your following, build your blog, and monetize your influence as a blogger.
My favorite podcast topics are:
Using Facebook Groups to Connect with Blogger Community + Tips for Social with Katie of Girlcrush Collective
Planning your Instagram Feed + Inside Tips for Perfecting your Grid
7. The Goal Digger Podcast AKA Jenna Kutcher Podcast
If you are looking for the best podcasts for women entrepreneurs, then Jenna Kutcher is your girl.
I truly enjoy listening to Jenna Kutcher who is an Instagram Guru.
My Instagram game is not on point yet, although I created a solid plan on I was going to get more Instagram followers and finally start growing my online business.
If you really want to improve your brand and online marketing, then you better start listening to the Jenna Kutcher Podcast!
Jenna Kutcher is a brand and she has built a very successful online business.
Week after week, host Jenna Kutcher brings you the productivity tips, social media strategies, business hacks, and inspirational stories that can help YOU design your dream career.
Jenna Kutcher shares tangible tips and hacks that she used to become a self-made millionaire in photography, online courses, Instagram sponsorships, and navigating the world of being a #girlboss social media influencer.
Along with sharing her best-kept secrets, she interviews the best in the industry (Amy Porterfield, Jamie Ivey, Melyssa Griffin, Lori Harder, Cathy Heller and so much more) who will share their secrets to ensure you are seen, heard, (and hired!)
With these credentials, we needed to add her to our Podcasts for Bloggers' elite mega list.
My top 3 Jenna Kutcher Podcast Episodes are:
How to Write Killer Blog Posts
5 Things to Do Before your Leave your 9-5
Want to be a Social Media Influencer? Here's How!
Honestly, you can learn a lot from the Jenna Kutcher Podcast, be sure to check out our other recommendations.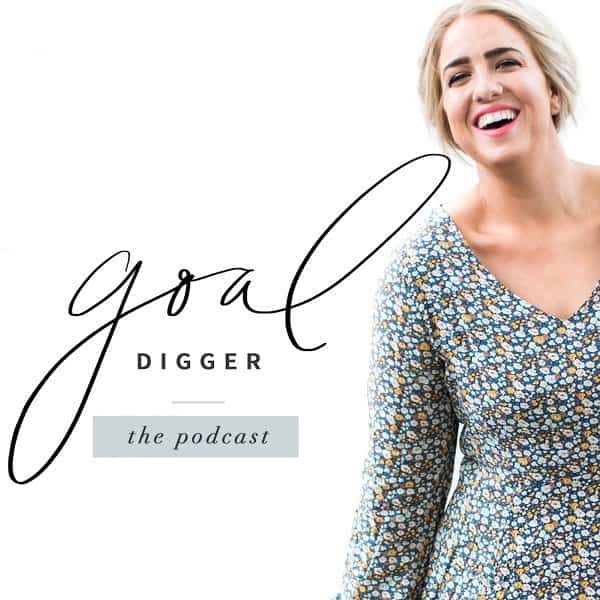 8. The Rebel Boss Ladies Podcast
Eden Fried is my homegirl and I just needed to add her as part of the Podcast for Bloggers listening elite list.
She is a successful creative blogger who I respect and she has a lot to share with you.
When I got the email from her about starting a Podcast, I just had to be her first listener. I believed I gave her a review as well.
What is Rebel Boss Ladies all about?
Rebel Boss Ladies are creating a life of freedom for themselves and their families by building a business online! Join the movement! #RebelBossLadies
My Favorite Episodes:
Earn More Money By Overhauling your Money Mindset in 3 Steps with Krista Dickson
What to Do When Your Spouse Isn't Supportive of your Business
9. The Side Hustle Show Blogging Podcast
You know I had to add the Side Hustle Show on our favorite Podcasts for Bloggers elite list. We talk about making money on this blog frequently and this Podcast fits our niche perfectly.
The award-winning Side Hustle Show podcast featured actionable tips to make extra money in your spare time from people who are actually doing it.
Listen to actionable tips and business strategies from successful entrepreneurs.
Each week you'll get new business ideas, side hustle opportunities, and high-value content to help you earn more money and make the most of your time.
What to listen to first:
After School Programs: How to Make $200 an Hour Playing with Kids, with May Najafabadi
Blogging ROI: From $18 to $100k a Month in 2.5 Years, with Rosemarie Groner
The $5k a Month Part-Time Girl Scout Blog, with Jodi Carlson
10. The Strategy Hour Podcast
The Strategy Hour Podcast is an hour of business strategy with Abigail and Emlyee. Each episode the girls chat about entrepreneurship.
Get actionable strategies and killer marketing tips to grow your creative business inside The Strategy Hour podcast.
Say goodbye to the "side-hustle" mindset and hello to getting paid (and paid well) to do what you love.
Your hosts Abagail Pumphrey and Emylee Williams from Think Creative Collective share all the ins and outs of their experience growing a successful 6-figure online business.
Start here:
5 Steps to Replace your 9-5 Income with Christine
7 Reasons your To-Do List Isn't Getting Done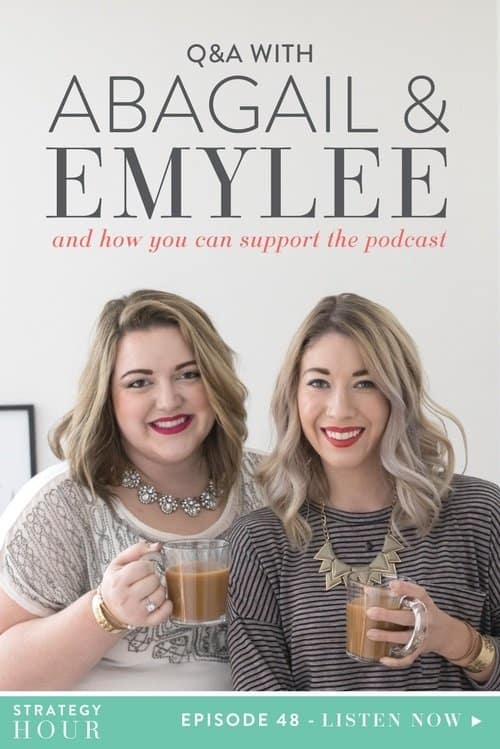 11. The Blogging Millionaire Podcast by Brandon Gaille
Last but not least, my all-time favorite Podcaster, Brandon Gaille!
I listen to Brandon Gaille every morning and I think I am almost caught up with every single Podcast ever released!
This is an absolutely fantastic podcast for those still learning the ropes about blogging and if you want to know what to focus on and how to get results!
The Blog Millionaire podcast teaches you the secret blogging strategies that pro bloggers use to grow their traffic and monetize their blogs.
Brandon Gaille built his blog to over 1 million monthly visitors in less than two years after his first blog post.
He will guide you down the path to becoming a master of blogging, WordPress, SEO, search engine marketing, internet marketing, social media marketing, email marketing, email list building, content marketing, website engagement, conversion optimization, and many many more to help you build your very own blogging empire.
Listen to this:
How to Dramatically Increase your Traffic with Discipline
The Perfect Blog Post Length Formula
Triple your Traffic with the Post Title Mod Growth Hack
12. Food Blogger Pro Podcast
The Food Blogger Pro Podcast helps both aspiring bloggers and seasoned bloggers alike in creating a beautiful, functional, and profitable blog!
Thanks to my readers, I just started listening to the food blogger pro podcast and I am totally hooked. Created by Bjork Ostrom this podcast is not to be missed.
They help bloggers in all niches so do not let the Food portion full you!
My favorite podcast from them are:
Your Questions Answered – Bjork Answers Your Blog Monetization, Content, and Social Questions
Optimize – Making Old Content Better, Building Authority, and Understanding the Impact of Your Optimizations
13. Elise Gets Crafty
This amazing Podcast is hosted by the amazing Elise Blaha of Elise Joy!
This is a weekly blogging podcast that talks mostly about creative small businesses.
She also has show guests from other creative businesses come on the podcast to talk about tips, experiences, and everything in between.
If you are looking for fun, outside of the box tips then stick around with Elise!
This is what I am loving from her:
Elise chats with writer Sarah Von Bargen about blogging with a purpose
Elise chats with Gina Stovall of Two Days Off about building a side hustle
We really do hope you enjoyed our list of the Best Podcasts for Bloggers?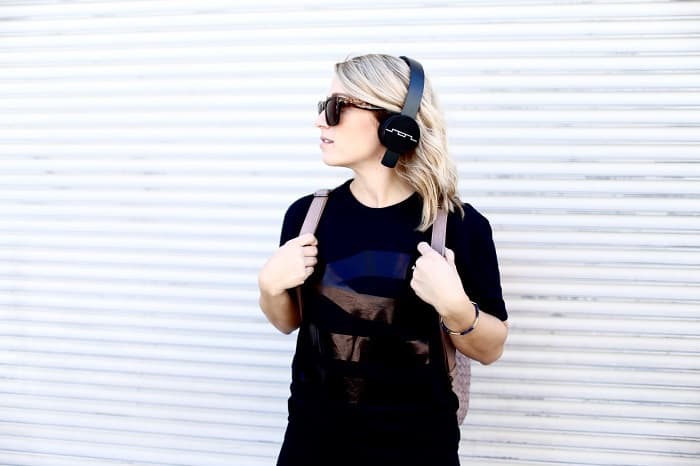 Are we missing any other Podcasts for bloggers on our list?
We listen to our readers, and this prompted us to add more amazing blogging podcasts to our list. As you can tell, I love to learn and encourage others to do the same.
It's the only way you will grow and be a better you for your online business.
If you can think of a few more blogging podcasts you need to add to your list, please share them with us in the comment section.
Amazing Reasons to listen to blogging podcasts
You will be completely mind-blown by how much you can learn from listening to blogging podcasts. It is really the best way to consume information on the goal.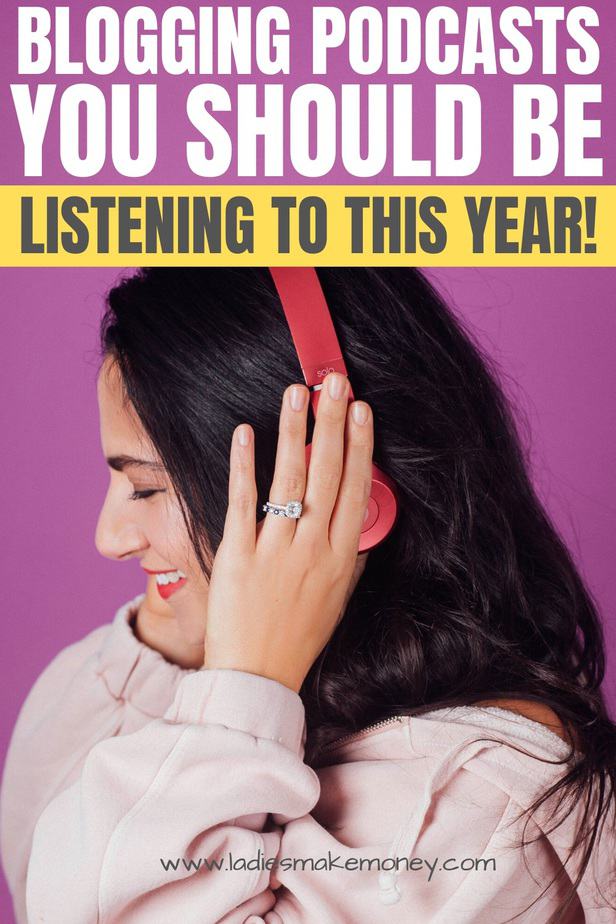 Here are a few reasons we enjoy listening to inspirational Podcasts for Bloggers:
Podcasts about blogging are designed to help you get better at your blogging business by teaching you actionable items you can do

The best blogging podcasts are easy to digest and go straight to the point (making learning easy)

Listening to podcasts is passive learning – be sure to take action

Blogging podcasts will help you grow your blog or online business and they can also help you make money

Podcasts are a great use of your time. Listen, learn, and implement.
If you love listening to blogging podcasts as we do, we want to hear from you. Please share more podcasts with us below!
Read this next:
Creative Blogs For Women that you need to read this year
13 Inspiring Girl Bosses You Need to Know About and Follow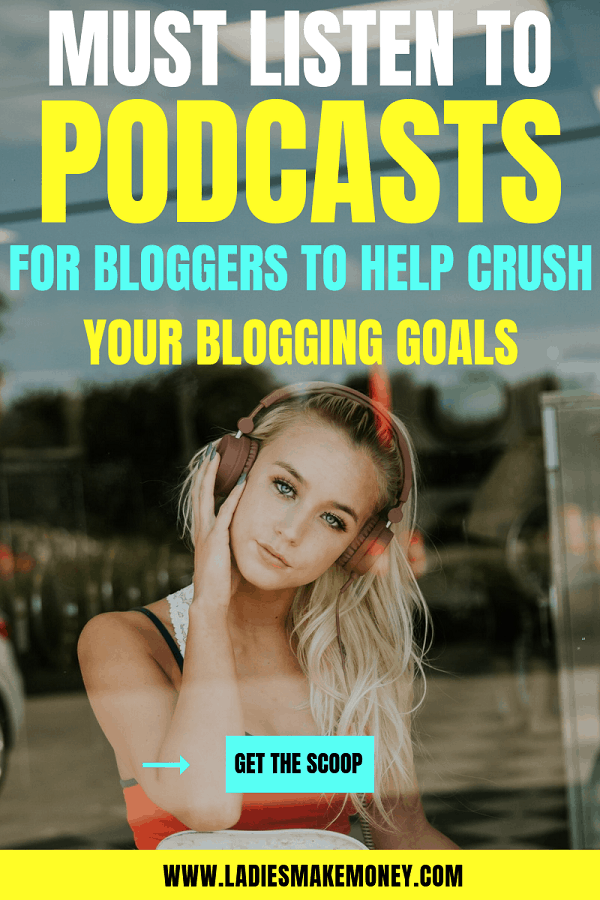 Find more amazing Blogging and Entrepreneurship tips here!
If you enjoyed our blog we would like to have you join our email list and receive weekly money-making tips, you can join now! Don't forget to join our Private Facebook page. The page is created to share your work, pitch your services, and learn from other experienced bloggers!
---
***We would like to note that this post and most posts on our blog may contain affiliate links. This means that if you purchase something that has an affiliate link, we will get a commission from it. Not all items recommended on our site are affiliate links. We only recommend items that we have used and tried. These items have brought us much success and we highly recommend them to you in order to be successful. Thank you for your trust!
11+ Best blogging podcasts for Women Entrepreneurs