Last Updated on April 8, 2020 by NandiNN
The Best Online Jobs for Students
College or University costs a lot of money. I know this! I was in your shoes less than 3 years ago. That's why I decided to come up with amazing online jobs for college students that pay good money.
These jobs are perfect for students that are looking to make extra money on the side, without spending too much time away from the books.
The internet has made it possible to find great online jobs for college students that can be done in the comfort of your dorm or home.
You set the time, set the rules, and you do the work.
If you look up online jobs for students you are most likely going to find a lot of options available for you to earn extra cash.
Our blog is also full of creative ways you can make money from home, or great tips on how to make $500 a month from home which you can try out as well as a student.
They are full of amazing online jobs that are practical for students looking to make extra money on the side.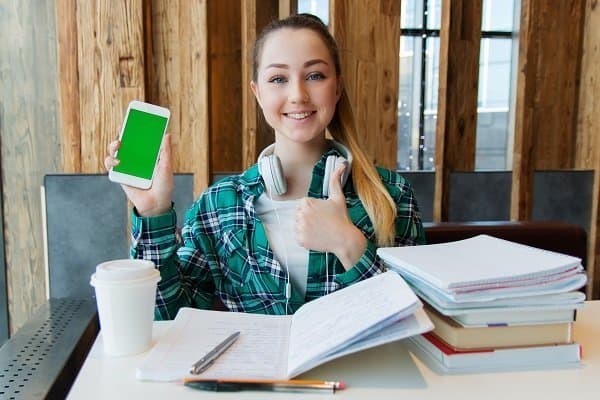 But before we get started on online jobs for college students that are worth looking into, we would love for you to like our growing Facebook page right here! Be sure to give us a quick follow on Instagram as well!
We also wanted to take the opportunity to let you know that we use Affiliate links on some of our blog posts. This means that we could make a commission if you click on an affiliate link and purchase something. Please check out our full disclaimer and policy page here.
Online Jobs for Students
Do you have a part-time job? Does it feel like it is taking you away from your main focus which is college?
If so, then you definitely want to try out at least one of these online jobs for college students that we are going to recommend to you today.
With the internet continuously growing you are guaranteed to find work from home side jobs you can do to make extra money or you can also attempt to try these ways to make money using your cell phone if you are serious about earning extra money.
Now, are you ready to find online jobs for students to earn money? Check out the list below:

15 Online Jobs for College Students With No Experience
Here is a list of 15 online jobs for college students that can be started immediately:
1// Teach English Online in Your Spare Time
If you are desperately looking for online jobs for students, what better way to earn money than to teach English online?
This is one of the most popular online jobs for college students as it gives you the flexibility to work when you can as well as where you want.
You can find really great teaching jobs by signing up for VIPKid or with QKids.
You do not need to have teaching experience as they train you to do all the leg work up front.
You can make $2000 a month with this easy side gig depending on how much work you put in.
2// Get Paid to Blog and Write Articles from Home or College
You can now get paid to blog and write articles from home.
In fact, I pay my freelance writers each month for submitting articles that I can use on my blog and other side projects.
Next time you are looking for online jobs for college students that pay well, consider writing articles.
In other words, you can write articles online for money and make a great income from it.
Find more freelance writing jobs right here!
3// Become a Virtual Assistant today
Instead of applying for a personal assistant job, why not become a Virtual Assistant? This is a popular job and many entrepreneurs are doing it from the comfort of their homes.
I am always saying that small businesses are always looking for and are hiring virtual assistants every day.
This is an opportunity for college students to find a job as a VA and make some money on the side.
Check out our post where I detail how to start a virtual assistant job from home today!
You can sign up to become a VA here.
4// Become a Pinterest Virtual Assistant
I love Pinterest and I could spend hours on it. I loved Pinterest, even more, when I found out I could make some extra cash with it.
You can now help people manage and promote their businesses on Pinterest if you are a Pinterest Pro.
This is when you become a Pinterest Virtual Assistant and offer your services to manage other businesses Pinterest presence.
Sign up to become a Pinterest VA here!
Related:
9 Ways to Make Money on Pinterest this year
10 Ways you can help a Business Make more money as a Virtual Assistant
5// Find An Online Proofreader Job
If you are a Grammar Police (which I am not), then finding an online proofreader job is perfect for you.
Caitlin Pyle, the queen of Proofreading Anywhere earned herself over $43, 000 in her first year working as a proofreader. Can you imagine making half that with part-time hours?
That would be amazing for any student looking for successful online jobs.
The best online jobs for students are definitely the proofreading side hustle.
You can learn the skills you need to start your freelance proofreading hustle here.
Read my review here, where I share exactly how to make over $40, 000 a year as a proofreader!
6// Make Passive Income Selling Printables
Did you know you could make thousands and even millions of dollars selling Printables online?
Just read up on how a very good friend of mine is able to make over $2 Million dollars a year selling Printables with her online store.
I was so impressed with her story that I started my own online store using Shopify!
If your dream job is to start a successful online store the way Sarah did, and you want to turn your hobby into a successful business, I highly suggest you sign up for the Million Dollar Shop course or How to create Printables that people will want to buy.
Will you start an online store? Tell us in the comments below.
7// Start a Money Making Blog
From all the online jobs for students to attempt, I think starting a blog is the most fun and perhaps the most profitable of them all.
Don't get me wrong, it is a lot of work.
Mostly you will need to put up all the work upfront and hopefully if done right you can earn great passive income from it.
You definitely do not want to start just any blog, you want a money-making blog for sure.
Check out how a very good friend of mine makes over $10, 000 a month every month from their small blog.
If you feel like this is you and you see yourself blogging, then be sure to give it a try.
Follow my very detailed step-by-step guide on how to start a blog here!
Related:
10 Creative Ways Bloggers can Make Money consistently
8 Reasons your blog is not making money
8// Make Money Blog Flipping
Want to know how to make money flipping websites? Also known as blog flipping. You can literally start a $2, 500 a month business flipping blogs.
Blog flipping is definitely a side hustle that all students must try at least once.
Not sure what blog flipping is?
Blog flipping is buying a Blog or building a blog, then selling it (flipping it) for a profit. It works just like house flipping.
If this is a side gig you want to try out in order to work at home and make more money, you can get more details here.
Use code LADIESFLIPBLOGS to join the university today and learn how to make money flipping websites.
Online jobs for students come in various forms. You just need to find something that resonates with you.
9// Get Paid to Watch Online Videos Today
Do you spend most of your time online watching videos? How about getting paid for it?
Now you can! By using the Swagbucks apps, you can now get paid for browsing the internet.
Watch great videos on your computer, tablet and even your mobile phone using the Swagbucks TV app!
This is a great way to make money online for students.
If you know of others looking for online jobs for students, be sure to tell them about this easy side job.
You can get paid using PayPal or gift cards.
Get a $5.00 Bonus for signing up today.
10// Become A Freelance Writer with Contena
This post is totally dedicated to those searching for online jobs for students.
And as I recall, in college I spent a lot of time writing.
I get it, most of you do not want to spend more time writing if you don't have too.
But for those that love writing, this is the perfect online job for you.
With Contena, you can find great companies that are paying anywhere between $50 to $400 + per article.
This is a pretty great writing gig!
You can submit as many articles as you wish each month as long as you do not disturb your schoolwork.
It's the perfect place to find work and get paid to write.
There is no minimum amount of time or a maximum amount of time required when you work with Contena, you can find clients that fit your schedule.
And it's perfect for those that want to kick start their Freelance writing career.
As you can see this is ideally one of the best online jobs for college students as it offers lots of opportunities and flexibility.
Get more information here about writing with Contena!
11// Become a Stella and Dot Stylist – Make $400 in two days
Alright, why am I promoting this super-easy side job?
Well because I was able to make over $400 in just two days (a weekend actually!)
As you know, I am always looking for great and easy ways to make extra money while working from home, and when I stumbled upon the Stella and Dot business, I knew I had to give it a try.
Nothing here is recommended unless we have tried it ourselves.
You can make between 25-35% of referral fees for each sale you make from them.
Bonus tip for you: Earn more money with Stella and Dot by referring to other stylists.
12// Earn money for referring friends
You are in college and I assume you have friends. A lot of friends!
Did you know that you can make money for referring friends and family to products that you totally love?
You would pretty much be rewarded for inviting friends to use the apps you love and already use.
Here are a few passive income ideas that will help you earn extra money just for referring them to a product or service that you love:
Find more creative ways to make money on the side by referring friends in this blog post!
Jobs for college students typically only require to use your creativity.
13// Lend Money and Get Paid Back with Interest
I know as a student, you may not have the funds or the ability to invest any money.
However, even if you have as little as $25.00, you can loan money and get a return of between 4-10% in Interest. This is really a great investment especially for students looking to make extra cash.
We highly recommend an amazing company like Lending Club who makes it easy to participate in one of the best passive income opportunities on the internet!
It's pretty safe and easy to use Lending Club.
If a student wanted a loan of $5, 000 and instead of using a bank, they can use the Lending club instead.
He would be able to borrow $25 from 200 people that are part of the club.
This is risk-free for you as you can invest a small amount to start!
14// Get Paid to have an App on your Phone
If you are looking for some quick cash, be sure to download this amazing app and get paid for it.
You will get paid just for downloading their app on your phone and use your phone as you always do. Just click to get started and download the App!
You can make up to $50.00 per year for having this app on your phone. What an easy way to make $50.00 for something that takes you less than a minute to install.
You can find more amazing free apps that pay you real money here.
15// Find Creative Small Business Ideas to Start
If you are a go-getter and you are really focused on earning extra money while in college and you have gone through our list of online jobs for students, then you might want to start a small business on the side.
They are plenty of small business ideas you can start that require minimal or no investment to get up and running.
If you have amazing small business ideas that you would love to share with us, be sure to comment below.
They are plenty of online jobs for students to earn money even with no experience.
Look no further than the internet to find the perfect online jobs for college students if you are looking for more flexibility.
Most of these jobs pay a lot more than your traditional jobs that usually pay minimum wage.
If you are really good at something or you are really passionate about something, chances are you can make money with your skills.
Have you had the chance to work any of these online jobs for students before? Tell us in the comments below.
Related online jobs for students:
9 High Paying Side Jobs that can become your full-time job
How to Make Money Online Without Paying Anything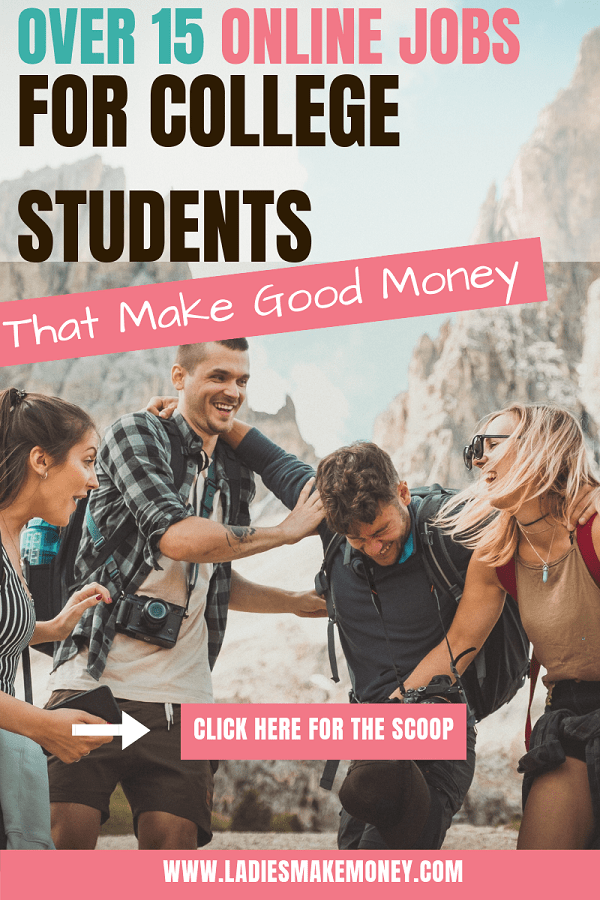 Find more online jobs for college students for extra money here!
If you enjoyed our blog we would like to have you join our email list and receive weekly money-making tips, you can join now! Don't forget to like the Facebook page. The page is created to share your work, pitch your services and learn from other experienced bloggers!
---
***We would like to note that this post and most posts on our blog may contain affiliate links. This means that if you purchase something that has an affiliate link, we will get a commission from it. Not all items recommended on our site are affiliate links. We only recommend items that we have used and tried. These items have brought us much success and we highly recommend them to you in order to be successful. Thank you for your trust!
15 Online Jobs for College Students With No Experience