Last Updated on July 22, 2019 by NandiNN
Creative Ways To Make Extra Money Fast
Creative ways to make money from home, a very popular topic.
Money making is a desire that is embedded in everyone irrespective of gender, caste, and creed.
But the desire is proportional to the skill set a person can possess for making money through the online resources.
We have found a few creative ways to make money from home.
Having control of your finances is the best way to go about life in general.
And usually, it only involves cutting back on unnecessary expenses to ensure you are not living paycheck to paycheck.
Other times just finding creative ways to make money from home will help you pay for mounting debt!
Creative ways to make money on the side
By finding creative ways to make money from home on the side, you will be able to leave a much more stressful life.
For example, I just found out that I needed to fix something in my car to get the A/C to work.
It's going to cost me an extra $500 that I currently do not have. I went home and put a plan in place to make $500 in the next few weeks to pay for it.
That's I love what I do as it allows me to make money if I put the effort into it.
But before we get started on creative ways to make money from home, we would love for you to join our growing Facebook page! Be sure to follow us on Instagram too!
We also wanted to take the opportunity to let you know that we use Affiliate links on some of our blog posts. This means that we could make a commission if you click on an affiliate link and purchase something. Please check out our full disclaimer and policy page here.
PS: We do make a steady income from our blog.
If you are looking to start your own blog that makes money, sign up for our FREE email course today and get started on this journey.
We feature a lot of creative ways to make money from home and online on our blog.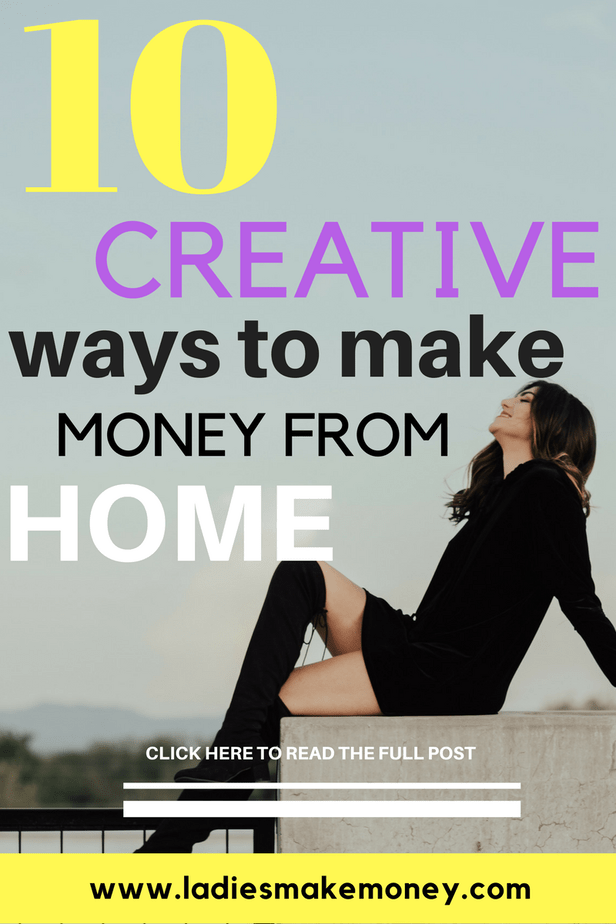 Also, be sure to check out this list of different ways to make money on the side today to help you manage your daily finances!
Creative Ways To Make Money From Home Online
As I mentioned above, I wanted to find a way to make an extra $500 to pay for my new AC.
I used my creativity knowledge in order to find ways to make money from home fast!
I definitely used every I know about making money online to make that extra income that I needed really fast.
These are also the ways I use to make extra money fast if I need cash for a vacation, for emergency needs and much more.
Now we are going to dive deep into what creative ways to make money from home you can use today!
Creative ways to make money from home this year
There are many online jobs that can help you to make a decent living from your home. This can be taken advantage by professionals, stay at home moms, students, retired people, etc.
Although some people look for ways to earn money on a part-time basis or on weekends, working from home can be the perfect solution for them.
Let's have a look at 10 online jobs that can help you in money-making from home:
1. Online Tutoring:
Online tutoring is the solution for many people and is perfect for students looking for extra ways to make money from home.
The time has come when you can do what you are good at and under your own conditions.
There are many websites that can help you in connect with the global audience for yourself and help them with their assignments, subject matters and the topics you are proficient in.
You can up to $2, 000 with this gig. Sign up to tutor now.
Online tutoring is one of the most creative ways to make money from home for Entrepreneurs looking for extra income.
PS: You can also read how one blogger flips blogs for a living and makes over $2,500 per month doing so.
2. Freelancing websites:
If you are looking forward to a money-making job from home, then nothing can be as best as the freelance websites.
They are trustworthy as they are regulated by authorities and makes sure that the payment comes through too.
The jobs available on the websites are through various skills and you can list the one you are proficient in.
This will help the website to get you through the jobs matching your skills and applying to them as per your own conditions.
3. Online Survey Jobs:
Paid surveys are one of the best and creative ways to make money from home.
You do not need to be an intellectual to submit them, basic knowledge of English is also enough to complete them.
Shortlist some websites that offer free online survey jobs as the company to use the data extracted from them to know about the market responses.
You might also like:
The best online surveys that pay cash
5 ways to make extra money with your phone
7 Phone hustles to make you an extra $800 per month
Want more amazing and creative ways to make money from home as an Entrepreneur? Sign up to receive weekly money-making and saving tips:
4.

Affiliate Marketing:
There are many companies who offer people a portion of sales for promoting their products or services.
The money earned is known as affiliate marketing and it can be one of the options that you can explore for getting yourself a good income in a short span of time.
You can earn approximately about 50% of sales through the marketing of the products sold on e-commerce sites.
A few amazing people that are making up to $50,000 per month affiliate marketing include Michelle from Making Sense of Cents.
Promoting things you love as one of the ways to make money from home is a dream for many people.
5. Become a part-time seller:
A lot of e-commerce giants like Amazon, eBay, etc are finding ways of helping individuals to open their own e-shops.
If you are great at making your own products, you can create a few things and feature them on the web-store of these e-commerce websites.
The possibility of earning a lot of money is endless and you can tap the global clients in a go by taking the first step to becoming an entrepreneur today.
6. Buy and Sell Domains:
A website is the face of the business and as a business, they would like to brand their domains in such a way that it matches their work.
If you are looking forward to buying and selling domains to earn an extra living, then a bit of research is required and once you by them, you can make approximately 10 times more than the money you initially invested.
This is another popular and most creative ways to make money from home for Entrepreneurs.

7. Micro Jobs:
There are many online jobs listed on MoneyConnexion where you can work on a micro-task like watching a video, sharing/following a page, writing a small article, doing short surveys, downloading an app, etc.
In a micro job, you get paid 5 cents to 1 dollar depending on the time you spend on completing a task.
The amount is also fixed, and you can also be offered some advance for the job too.
The micro-jobs give you the liberty to spend your day as you wish and as long as you spend at least one or two hours per day on a task.
Check out the site to see what they can offer you in terms of micro-jobs to tackle.
You can also check Fiverr as they often list jobs.
You will definitely find creative ways to make money from home especially as an Entrepreneur from that site.
It is worth creating an account!
8. Online Transcription Jobs:
Transcription means to extract the raw data from a video or an audio recording and convert them into text files.
Starting and earning through online jobs requires the user too work hard and master the linguistic and listening skills.
There are many high paid transcription jobs too which can help you in getting into the salary range of $35,000 to $1,50,000 per anum.
The job can be in the sector of medical, police, legal, entertainment, etc. Perfect for those that are looking for creative ways to make money from home.
9. Sell your Photos:
Photography is a hobby pursued by many people while traveling the world, or just roaming around, etc.
The photographs taken can be uploaded at many portals and you can sell them through your website too.
The photographs quality should be above average. This is one of the best ways to make money from home.
A lot of people are looking for photos to share on social media, on their websites, marketing materials, and other things.
You can make a lot of money from this.
10. Online Consultancy:
There are many people around the world who are constantly looking for a solution to their problems online.
The online consultancy is one such way in order to get in touch with people in the area that you are good at.
You can take Skype calls with your client and let them know what you can do for them and consult with them.
This is an extremely popular and most thought after ways to make money from home.
The online money-making from home is not tough but yes it takes time to grow.
Once you set up your network, you do not need to worry about the output.
As money starts pouring in, you will reap the benefit. Hard work does pay off.
As you can see, we have given you lots of different ways to make money from home.
This was an amazing article that was sent over for a guest post opportunity about creative ways to make money from home.
Other Creative Ways to Make Money From Home:
Earn Money by Inviting Your Friends To Your Favorite Apps
9 Amazing Free Apps That Pay You Real Money To Use Them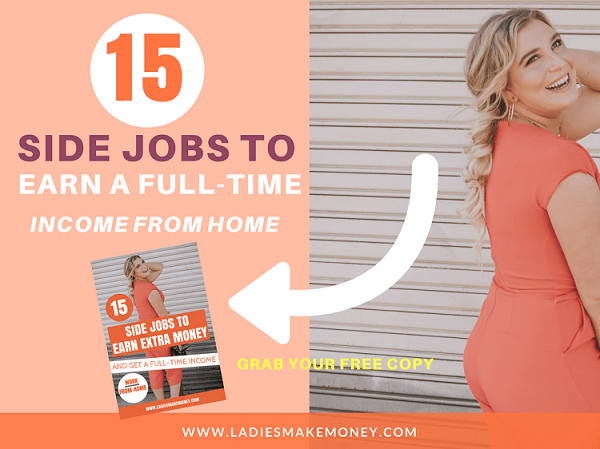 There you have it, a list of creative ways to make money from home as an Entrepreneur. Which one of these will you try? Tell us in the comments below. Find more money-making ideas here.
If you enjoyed our blog we would like to have you join our email list and receive weekly money-making tips, you can join now! Don't forget to join our Private Facebook group. The page is created to share your work, pitch your services and learn from other experienced bloggers!
---
***We would like to note that this post and most posts on our blog may contain affiliate links. This means that if you purchase something that has an affiliate link, we will get a commission from it. Not all items recommended on our site are affiliate links. We only recommend items that we have used and tried. These items have brought us much success and we highly recommend them to you in order to be successful. Thank you for your trust!
Creative ways to make money from home as an Entrepreneur