Last Updated on December 22, 2018 by NandiNN
Ways to Find Freelance Writing Jobs from Home
So you are thinking of becoming a freelance writer? And you want to alternately make good money with this job. If you are a stay at home mom or a female entrepreneur looking to find well paying freelance writing gigs, then you have come to the right place. 
We share with you tips on how to earn money freelance writing even with little to no experience. Starting a freelance writing career will help you to make extra money from home.
This career is extremely stress-free if your dream is to work from home. Ready to find freelance writing gigs? 
Freelance Writing Gigs that Pay 
We really want to focus on ways to help you land freelance writing gigs for beginners especially if you are struggling to get consistent clients. Follow the steps below if you really want to make money freelance writing. 
But before we get started on amazing ways to find freelance writing gigs we would love for you to join our growing Facebook group right here! You can also join our Pinterest group by scrolling to the bottom of this page! If you are looking for guest blogging opportunities or if you need a personal affordable coach to take you from A-Z, we can help you. Get all the juicy details right here! Have you seen our brand new shop! 
We also wanted to take the opportunity to let you know that we use Affiliate links on some of our blog posts. This means that we could make a commission if you click on an affiliate link and purchase something. Please check out our full disclaimer and policy page here.
Places to Land Freelance Writing Gigs Online
This career doesn't require a lot of money in the beginning so you won't have to take a penny out of your budget.
Moreover, it doesn't necessarily require a lot of time in the beginning, either, so it would be easy for you to make a transition to becoming a freelance writer while successfully performing all your responsibilities as a full-time mom or someone looking to build a career working from home.
On top of that, you don't need any special skills like coding, design, or programming.
In fact, you don't even need a journalism degree.
By becoming a freelance writer, you'll also be a part of a growing trend. According to this Forbes article, one in five Americans (more than 30 million people) work from home, and this number is expected to rise by 63 percent in the next five years.
So, let's imagine that finding freelance writing gigs that pay well will allow you to work from home and earn a decent living.
Here are the steps that you'll need to take to make this exciting career work for you and your family: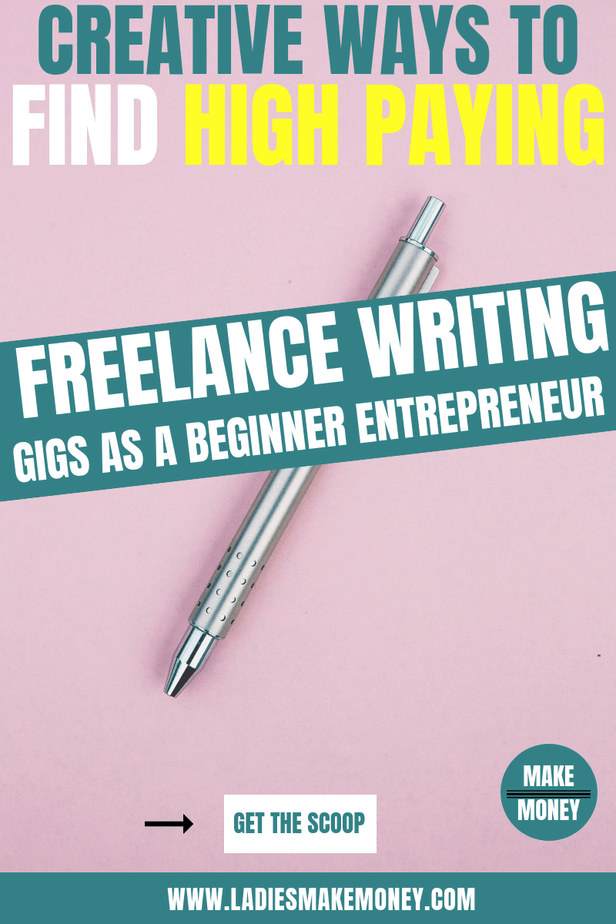 Step #1: Choose a Writing Niche
Before we get to writing and attracting clients, we need to make one thing very clear: you won't make a good start in this freelance writing career if you're unsure about what to write.
They are plenty of freelance writing gigs online but you need to have a specialty. 
That's why you have to come up with a writing niche – it'll comprise the area of writing that you'd like to write about.
By sticking to a niche, you will be able to find freelance writing gigs that pay well very easily. 
Examples of writing niches you can target: babysitting, marketing, time management, yoga, you name it – it should ideally be something that you know and can be good at explaining and helping people to know better.
This works well for those wanting to become bloggers and those who would like to earn by completing projects on freelance platforms such as Contena. 
Writers that specialize in an area have proven to find well well paying freelance writing gigs. We definitely suggest spending time on this. 
Related:
5 Sites that will pay bloggers to write
3 Places to find sponsored blog post opportunities
Step #2: Become Familiar with the Skills Required
Of course, you can start a freelance writing career without a degree in journalism and experience, but if you want a better chance of succeeding, it's a good idea to learn what your future clients want from you.
Most of the clients that you'll meet throughout your freelance writing career will require insightful, well-researched, helpful content written in natural, easy-to-understand language. If you're an experienced reader of blogger, you know what we mean here.
"Writing for blogs, for example, is totally different than writing academic essays," explains Mia Walton, a content writer at A-Writer. "You'll need to use straightforward language to make sure that everyone can understand what you mean plus most articles should feature lots of tips and takeaways for readers."
For this, you'll need some skills and knowledge.
Enrolling in an online course for beginner freelance writers is a cheap (and often free) and effective way that doesn't require a lot of time off your daily schedule.
Just look up "freelance writing gigs for beginners" and plenty of options will come up. 
This is an essential step that must be followed if you wish to find freelance writing gigs that are absolutely well paying. 
Some of the good options include (all of these are free!):
You are definitely going to find remote freelance writing jobs that will pay a decent amount of money, but you need to research your clients and niche. 
Step #3: Write a Few Pieces for a Portfolio
Your potential clients will want to see what you can do, so it's a good idea to write two or three pieces to show off your writing skills and expertise in your niche.
Expect others to find you and pay you for freelance writing gigs by showing them what you can do! 
The niche that you selected probably has a never-ending supply of topics, so you can choose several and write articles ranging between 800 and 1,500 words. The more in-depth you can go, the better. 
You can upload the completed articles to your online profile at a freelancing platform of your choice or send them directly to the clients along with your application to complete their writing projects.
Show off your writing skills on your blog as well! Start a Freelance writing blog to showcase your amazing portfolio! 
The more outstanding you can make your online portfolio look, the more Freelance writing gigs you will get. 
Step #4: Set a Regular Working Schedule
If you don't set limits for yourself right from the beginning, chances are you'll end up working until 3 in the morning most of the days. Since you have responsibilities to take care of, work out a schedule where you can have at least a couple of hours free every day.
These will be your writing hours.
Remote freelance writing jobs require a lot of discipline and you need to learn how to set proper boundaries. 
Same applies to all the freelance writing gigs you land. You want to be able to set deadlines, meet these deadlines and impress your clients. 
Step #5: Decide on Your Rate per Word
Every freelance writer has a rate that they give to clients. You can base your rate on either per word or per batch of words (per 300 words, for example). This Forbes article, for example, offers a good formula for setting your freelance writing rates.
It is commonly recommended to set the rate of $.10/word for beginners but take it on a case by case basis depending on the complexity of the project and the number of pages you need to write.
Definitely, know your worth if you wish to get paid well for your freelance writing gigs. 
Step #6: Start Offering Your Services
At this point, you're ready to start your career as a freelance writer, so begin by finding writing projects online. Even a simple Google request like "freelance writing jobs online" will return a lot of interesting options.
Be sure to check out what's available and focus on writing about your niche topics at the beginning of your Freelance writing career.
Once you are ready (meaning you have a great portfolio and you are reading to finding freelance writing gigs), check out the next step. 
Step #7: Listing for Freelance Writing Gigs
Definitely, check the internet to find great Freelance writing gigs. A few places to find freelance writing jobs online:
We hope you use these resources listed above to find great paying freelance writing gigs for your online business.
Over to You
Being a freelancer is a good way to earn quick money while staying at home with your kids or starting a new exciting career, so we encourage you to give it a try. The number of people working from home increases every week because of the flexibility and income it provides, so you can also become a part of the trend.
The tips described here will help to make a good career start in Freelance Writing while you continue running your household, work and much more. Feel free to use them!
Lucy Benton is a writing coach, an editor who finds her passion in expressing own thoughts as a blogger and currently provides online assignment help. She is constantly looking for ways to improve her skills and expertise.
Ready to Find High Paying Freelance Writing Gigs?
Don't forget to pin this post Find more Blogging Tips here. 
If you enjoyed our blog we would like to have you join our email list and receive weekly money-making tips, you can join now! Don't forget to join our Private Facebook group. The page is created to share your work, pitch your services and learn from other experienced bloggers!
---
***We would like to note that this post and most posts on our blog may contain affiliate links. This means that if you purchase something that has an affiliate link, we will get a commission from it. Not all items recommended on our site are affiliate links. We only recommend items that we have used and tried. These items have brought us much success and we highly recommend them to you in order to be successful. Thank you for your trust!
Sure-fire Ways to Finding Freelance Writing Gigs that Pay Well