Last Updated on
Looking for ways to make extra money? Today we are excited to have Jesse who is the wife of Jacob from the personal finance blog, Dollar Diligence. Over at his site, Jacob has shared a lot of information about how he paid down his student loan debt in a short amount of time and how he looks after their finances since. Over to Jesse who will be talking about the struggles, successes, & tips for women looking to make extra money. 
Before we get started, we would love for you to join our growing Facebook group right here! You can also join our Pinterest group by scrolling to the bottom of this page! If you are looking for guest blogging opportunities or if you need a personal affordable coach to take you from A-Z, we can help you. Get the details right here! We also did want to mention that we use affiliate links on some of our posts. This means that if you click on an affiliate link, we make a commission from it. 
If you are looking at starting your own profitable blog, we have a step by step guide here: 

You might also like: A girl's guide to saving money each month! 
Now back to Jesse:
Like many of his followers, I myself am very impressed with him and his journey. I am his number one supporter and I wanted to take a moment to talk to all of you, especially any women who are out there.
This article is going to be about side hustles and how I got started and any of the successes I've had, struggles, and also my tips for you. I myself also had student loan debt, and I'm not alone either. There are many women like me who took on student loan debt. Like Jacob, I used side hustles to pay it down sooner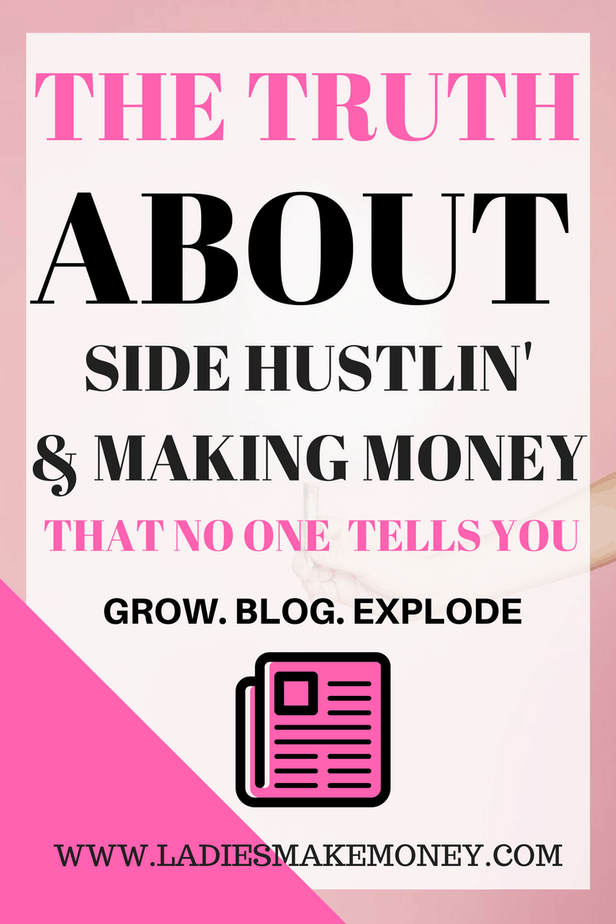 THE BEST SIDE HUSTLES TO MAKE EXTRA MONEY
I never even thought about taking on any side hustles until I met Jacob and I saw how incredibly he did with them. It just never crossed my mind and I was content doing the 9 to 5 and being done with it. When I started to see the money roll in, I wanted to be a part of it too. Who wouldn't? Money is money and you need it to survive.
My first side hustle (it is still one of my side hustles today) is helping out with Jacob's blog. Since his blog is successful, he needs help running it sometimes and I will do things to help out when I can such as reaching out to women through this blog. I like to write and I have fun thinking of topics that I can cover, but let me tell you, it is not always as easy as it sounds. You can ask Jacob…I had a long list of topics, but he looked over them and told me they wouldn't work out. Why? Because you can't just write about anything and the content needs to have a focus. Okay, I got it. I am still new to this, so some luck is needed.
I have slowly started to dabble in some other side hustles to make extra money where I generate content for other people to use. I like to write about finances, couponing, and I even write about cooking and provide recipes too. Since I do cook, I have a small side hustle where I make some ethnic desserts that I sell at local vendor events too. I enjoy it, it gets me out of the house, and I make some extra cash.This is a win win situation.
Okay, let's take a deeper look into this whole side hustle thing ladies and of course any gentlemen who may be reading his.
You might also like: 5 Side Hustles every entrepreneur must start today
Struggles of Side Hustling
One of the first struggles that I had with my side hustles is getting customers. No matter what it is that you choose to do, you need customers and without experience, you may find it extremely hard to find someone to trust you. Eventually, someone will give you the chance, but you will hear the word no a lot, but you will get that yes. One of the best tips I can give you hear is to try and offer your service for free on the basis that the client will allow you to feature them in your portfolio or use them as a recommendation.
One of the other struggles I really had was finding the time and energy to make it work. When I came home from work, I did not want to go right back to work again and it took me a while for it to become a habit. I found that I didn't enjoy the first side hustle I chose so it was more of a chore than enjoyment. I currently love my side hustles, so the time and the energy for it comes naturally to me and I do not feel like I have to force myself to do it anymore. If you are looking to make extra money, you just need to commit. 
Successes and Tips of Side Hustling
I have enjoyed some success from side hustling and I would gander to say that I will continue to enjoy success. I do not have any plans to stop any time soon and I would suggest that if you want to take on a side hustle, that you find something you like to do. Since it is a side hustle, you will likely already have a job and you must enjoy what you choose as your side hustle because you will be putting in additional work. Depending on the type of side hustle you take on, you may need to invest in yourself or work very hard to get it up and going. Think about my ethnic desserts. I had to get the word out there and I went through A LOT of samples before the first purchase. It takes time, but you can do it and I know that you will enjoy it because I do too.
One of the goals that myself and Jacob had and our intentions with our side hustles was to pay off debt, but now, our side hustles have become our babies and we love to do them!
You might also like: Money Making Ideas that guarantees amazing results
Jess Evans is the (just recently) wife of Jacob over @DollarDiligence. Aside from her full-time job, you can find her helping out with the blog, working at her side hustles (see above), or working out.
Did you like the post? These are the tips to make extra money from your blog. We really enjoyed it. Leave a comment below, we would love to hear from you. 
25 Ways to make money online and grow your monthly income 
How to Save (or Make) and Extra $500 per month 
Money Making Ideas that guarantees amazing results
Did you enjoy our blog? We would like to have you join our email list and receive weekly money-making tips, you can join now! Don't forget to join our Private Facebook page. The page is created to share your work, pitch your services and learn from other experienced bloggers! 
***We would like to note that this post and most posts on our blog may contain affiliate links. This means that if you purchase something that has an affiliate link, we will get a commission from it. Not all items recommended on our site are affiliate links. We only recommend items that we have used and tried. These items have brought us much success and we highly recommend them to you in order to be successful. Thank you for your trust!