Last Updated on June 17, 2020 by NandiNN
Ways to Getting Rid of Debt Fast
They are so many reasons why one would consider paying off debt fast such as just wanting to get rid of it.
Maybe you are planning to work on your credit score to purchase a big-ticket item, or you are thinking of making room on your credit card for expenses or it might be that you just want to spend extra money on things that matter.
Either way, your goal is to get get rid of debt and you want to find ways of paying off debt fast. And we want to share brilliant hacks on becoming debt free without filing for bankruptcy.
If you are currently in debt. don't feel ashamed, we have all been there at one point in our lives.
The only focus we have right now is to look forward and find ways of paying off paying off debt fast.
Is it Better to Pay Off Debt or Save Money?
This is a hard question, I typically suggest paying yourself first (meaning adding to your saving account) before doing anything else with your paycheck.
But if you really think about it, the more debt you carry and the more time you take to pay it out, the more you are spending on interest or penalty fees.
In some cases, if you are living paycheck to paycheck, paying off debt first may make more sense.
Before we get started our best tips for paying off debt fast, we would love for you to like our growing Facebook page right here! Be sure to follow us on Instagram here.
We also wanted to take the opportunity to let you know that we use Affiliate links on some of our blog posts. This means that we could make a commission if you click on an affiliate link and purchase something. Read our full disclosure and blog policy for more information.
PS: We do make a steady income from our blog. If you are looking to start your own blog that makes money, sign up for our FREE eCourse today and get started on this journey.
If the debt is weighing you down, the best thing to do is to try to do everything possible to get rid of it. It can become very stressful, depressing and its just not a good thing to have.
If you are a single mom, a student or just anyone that has a lot of debt, this post will ultimately help you pay it down as fast as you can.
Do you know what your credit score is? It's a good idea to find out where you stand especially if you plan on paying off debt fast. I love using this free credit score app to check where I stand.
Recommended articles for you to read:
How to live frugally and plan retirement
Stop letting your finances control you
The Money Saving Aims/Goals everyone must have
10 ways to save money each month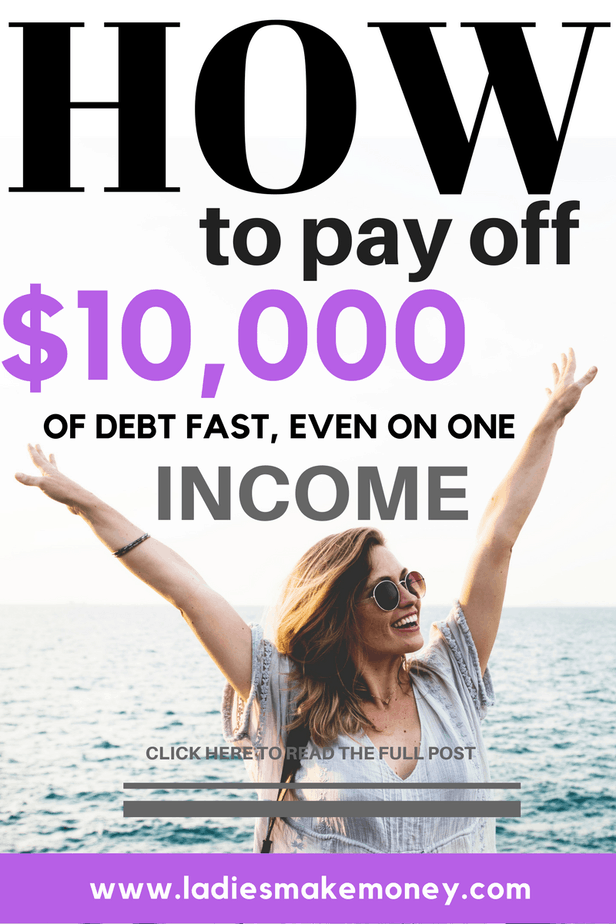 Paying off Debt Fast on one Income
If you do a quick Google search, you find multiple posts on how to pay off credit card debt or how to pay off debt in a year and much more.
My ideal plan and the best way of life for myself and my family is to be debt free. And after reading countless of blog posts, some where just so unrealistic.
Almost not achievable, although I was getting set up for failure.
That's why we wanted to share with you realistic steps to paying off debt fast even if you have a low income.
Help Tips to Pay Off Debt Quickly
If you are like us and you are ready to get your personal finances in order, follow our easy steps to getting started. You do not need to do it all at once.
They key is to get started in tacking your debt, one at a time.
Step one: Find out exactly how Much Debt you have
In order to get rolling on paying off debt fast, you need to know exactly how much debt you have. Most people don't even know this amount and go about paying or spending money without a clue.
You need to have the exact figure in place in order to start the repayment plan.
In order to fully attack your debt, create a plan of paying off debt fast with the snowball method which is a way paying off the smallest debt first in order to get more money to tackle the next small debt on your list and so on.
I highly recommend Dave Ramsey's book to learn more about this snowball effect. This is how to get out of debt fast even with no money.
We also highly recommend entering the "The No-Spend Challenge Guide: How to Stop Spending Money Impulsively, Pay off Debt Fast, & Make Your Finances Fit Your Dreams".
Step two: No Money? Stop Spending!
If your ultimate goal is to find how to get out of debt fast with no money, then you need to stop spending money you do not have.
If you are not yet part of my no spend monthly money challenge, then you are missing out!
When I went on maternity leave, I knew that our income would greatly reduce. I made all the changes I needed too on that same day. I knew this step would help me in paying off debt fast.
One of the things I did was to give myself a tight weekly spending budget that would cover groceries, gas, a few bills and nothing much. Not even money for fun.
I needed to come up with creative ways to have fun without spending money. In other words, you need a solid strategy for paying off debt fast and a no spend step is not to be skipped.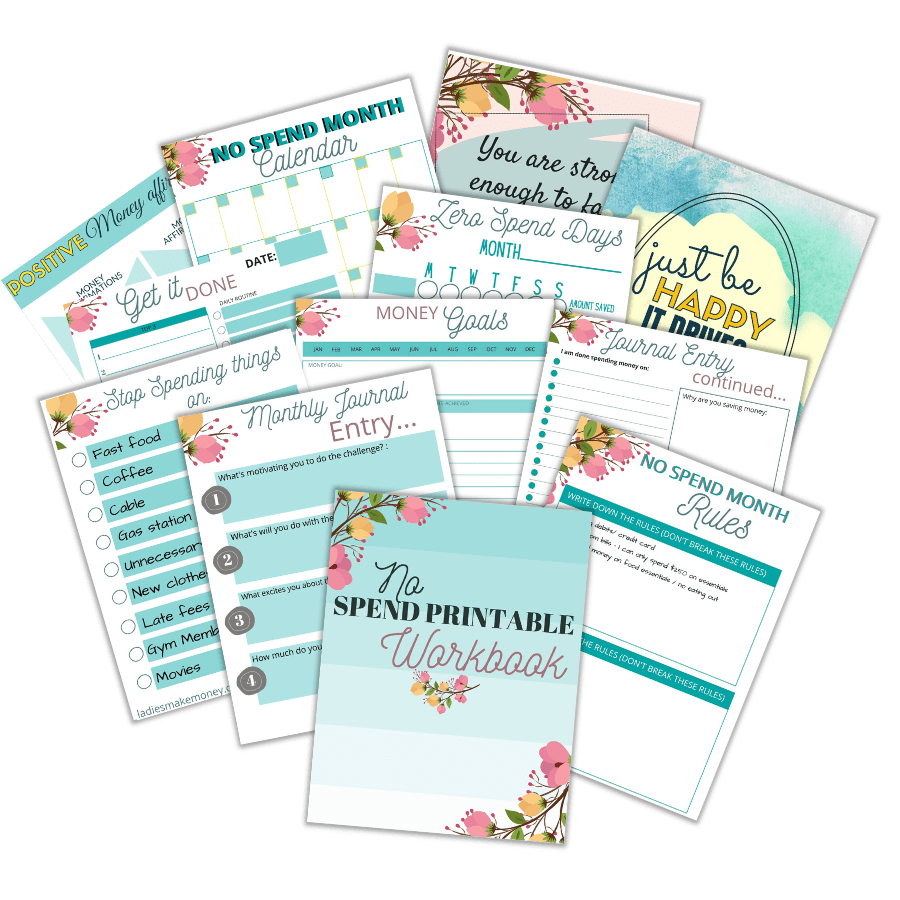 Step three: Stop Spending Money Altogether
We are trying to get you to pay off over $10, 000 of debt fast. Why are you still spending money? In step two we wanted you to stop spending money you didn't have like using credit cards.
Paying off debt fast requires you to use every dollar you have and try to pay down what you owe.
If you are spending money on unnecessary places, you need to stop. That extra $4.00 coffee a day adds up to $1, 460 a year that can go directly to your $10, 000 debt.
Trust me. I know. I love my coffees too.
Step four: Manage your Expenses with the Spent App
I really love the SpentApp for so many reasons. It's the best way for me to track my monthly expenses. They have partnered with thousands of financial institutions around the world to securely connect to your credit and debit accounts.
By connecting your account, your expenses will be pulled into the app and automatic cash back will be activated.
You read that right, not only will it monitor your expenses, but SpentApp will also give you cash back each time you do spend on things that matter.
Related:
17 Legit Passive Income Ideas to Increase your Income for Extra Cash
30 Ways to Make Money Fast to Pay for those Crazy Piling Bills
Step five: Get Help with Paying off your Debt Fast with No Money
Depending on how much debt you have, you may need help paying it off. The best tip I can give you is to consolidate all your debt into one lump sump. Get a better interest rate and pay off more than the minimum.
If you are really thinking of paying off debt fast, find ways to trim your monthly bills each month. The extra money can be used to pay off your debt.
They are programs such as the Trim Negotiator can help save you money in the long run and it's worth giving it a try.
The Trim App can automate ways to save money on your behalf. Trim cancels subscriptions, negotiates your Comcast bill, finds you better car insurance, and more.
Sign up for your FREE account today!
Step six: Find Extra Money to Pay Off Debt
You may have money that you do not know you have. As mentioned earlier, use the SpentApp to see what your expenses are and all expenses that don't make sense, use it to put towards your debt.
For example, if you can bike to work, walk to work or take the subway instead of using your car, get that extra $30.00 you would have spent on gas and put it towards your debt.
$30.00 every two weeks adds up to $780 a year. Parking also ads up.
Do you watch cable? Cut it off completely. Stop with smoking or coffee. Really you can be rich sooner than you think.
Another way to find some money that you may not know you have to pay off debt is to use my other favorite app – Paribus!
They literally find out if stores may owe you money from previous purchases and they refund you the difference. Oh, and it's 100% free!
Step seven: Cut down on Utility Bills
As I mentioned earlier, when I went on maternity leave my first step was to call all my service providers to either get rid of a service that I no longer needed such as cable and to reduce the services I already had.
This is a great step to take if you plan on paying off debt fast. The extra money should be put towards your debt.
If you are paying too much for your home security bills, phone bill or internet bill, try your best to find a way to cut it down.
The more you can reduce on utility bills the better chances you have of paying off debt fast.
Step eight: Make Extra Money to help with Paying off Debt Fast
This one is a no-brainer. In order to pay off debt fast, you need money. If you only have one person bringing in income, you can find a part-time job or do some online odd jobs that can help you pay down some of your debt. Jobscan is a good place to start looking for jobs.
Some great ideas include bartending, wedding planning or customer service reps.
You can also make extra money by selling items on craigslist or eBay. People are making serious money with this.
If you have a spare room or basement, why not rent it out through AirBnB? You can make a good $300 for per weekend depending on where you are.
Teach English as a second language right from the comfort of your home and make over $2000 per month. If you do the math, you can be paying off all your debt as early as 5 months. As you can see, your plan of paying off debt fast is doable.
Start a blog today for as little as $3.95 per month. I make a great income with my blog and you can do the same. Join our FREE tutorial and you should be well on your way to making great money on your blog.

How about completing some online surveys? Here are my most recommended sites you can use to make extra money in order to start paying off debt fast:
Here is $5.00 to start with Swagbucks– You can get paid to watch Cooking Shows.
Here is $5.00 to start with SurveyRewadz
Start with Opinion city and make as much as $100 for your opinion
Join Nielson Computer and get paid $50 for adding this App to your Phone.
You might also like these awesome ways to make extra money:
10 Creative ways to make money from home
The best online surveys that pay cash
5 ways to make extra money with your phone
7 Phone hustles to make you an extra $800 per month
Are you set to pay off your debt now? I hope you are. Paying off debt fast just takes a little push and encouragement to get started. And once you start, no one is stopping you.
Like this post? Pin it to your "Money Saving Tips" board and read it again. Be sure to share the love.
Did you like our tips on paying off debt fast? If you are in debt, know that you have options. Be sure to share this post with those in need of help.
If you enjoyed our blog we would like to have you join our email list and receive weekly money-making tips, you can join now! Don't forget to join our Private Facebook page. The page is created to share your work, pitch your services and learn from other experienced bloggers!
---
***We would like to note that this post and most posts on our blog may contain affiliate links. This means that if you purchase something that has an affiliate link, we will get a commission from it. Not all items recommended on our site are affiliate links. We only recommend great things.
Paying off Debt Fast Even with A Low Income – Pay off $10,000 TODAY