Last Updated on December 15, 2020 by NandiNN
How can I increase my income?
Having more money and finding ways to increase your income and savings doesn't have to mean working more hours.
More and more people are finding alternative ways to make more money to help pay bills without the hustle of working extra hours or finding part-time jobs.
If you are for ways to increase income without putting in any extra hours or work, you have come to the right place.
With the help of the internet, you are now able to do just that!
Make money online with little effort.
Why do you want more money?
By first understanding why you want to increase your income, you will become motivated to do what it takes to get there.
A couple of years ago, I remember thinking to myself, I really need to increase my income.
That was because I just found out I was pregnant.
Guess what, the very next day, I was fired from my job.
Not only did I now need a plan, but I also needed to make money and more of it right away without working too hard that it put stress on the pregnancy.
If you want to know how to increase your income without working more hours, we are here to share only our favourite tips.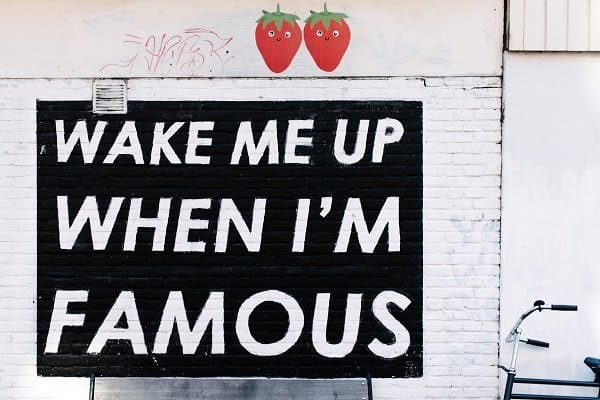 So with that in mind, I decided to dig deep to find ways to increase my income.
But the trick was to find ways to do it without working more.
So the question really was:
"How can I increase my income without working more?"
I knew I wasn't the only one asking this question.
I got a lot of amazing questions like these:
How can I increase my monthly income?

What are the best ways to boost your income?

And the popular one: How can I increase my income without working more?
We hope you will find our tips useful in terms of how to boost your income effortlessly.
All you have to really do is to find other sources of extra income doing what you already and using these sources to up your income.
It sounds complicated but it really is not.
These extra income ideas require little effort from you other than keep doing what you already do.
The first step is to take a hard look at how you currently earn income and then come up with different ways to increase what you already make.
And by saving the little money you have, you will be able to have more money each month.
The best way to save money while living paycheck to paycheck is to only spend on defined necessities and allow your savings to be a priority.
You can also use my epic Money Mindset Planner to help you get your finances in order and help you increase your income this month.
This pack includes 28 pages to help you get your finances and money mindset on track whether your goal is to save more, get out of debt, or simply managing your money better.
Get a full breakdown of what is included right here.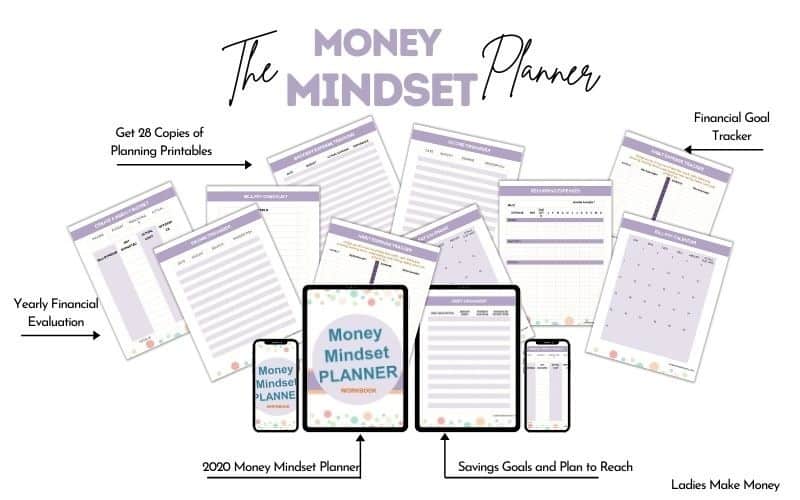 Of course, as you find the best ways to increase income and you are making more, reward yourself with small treats when needed.
Make the most from today's work.
List any opportunities you may have to make/save money from all your current sources of income.
Ask a manager or human resources about any commissions or reimbursements you could be taking advantage of.
Continue reading below to get more tips on how to make more!
We are going to share very actionable ways to increase your income.
Before we get started on the different ways to increase your income easily, we did want you to follow us on Facebook for more awesome ideas on saving or making more money. You can also follow us on Instagram for more tips.
We also wanted to take the opportunity to let you know that we use Affiliate links on some of our blog posts. This means that we could make a commission if you click on an affiliate link and purchase something. Read our full disclosure and blog policy for more information.
Why finding ways to increase your money rocks
Whether you are looking to increase your income by working much harder every day, or simply asking for a promotion at work, making extra money always has its benefits.
Increasing your income over time is a great way of gaining financial success and long-term prosperity.
It will allow you to do what you want when you want without relying on others.
You could finally:
By that house

Pay off that debt

Travel

Start an emergency fund

Afford daycare

By a car

Give your family a better life
Making more money each month always has its upside as you can see.
There are so many simple ways to increase your income, I suggest reading our tips below to get started with the basics.
Creative ways to increase income without working more: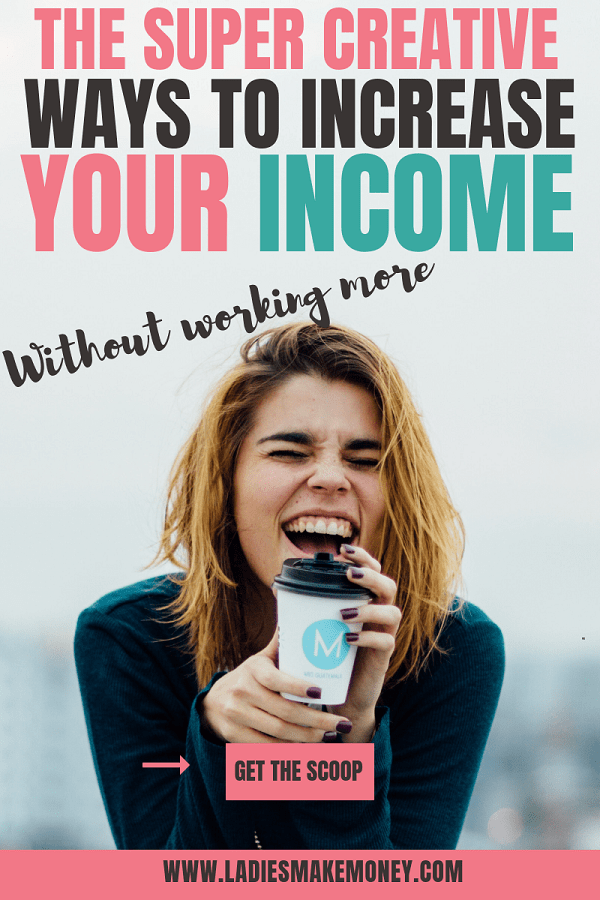 1. Ask for Commission Earning or a Raise:
As I mentioned that are several simple ways to increase your income and one of them is simply asking for a raise.
If you work in a sales environment, ask a manager if they are any opportunities for a commission.
Upsell – Is there anything at all that you can ask your customers to buy more of? Do you get any cut from those sales?
Gratuity – Seek duties that involve more customer interaction and opportunity for tips.
Incentives for quotas or good reviews – Get rewarded for getting the company positive recognition.
Referrals – Are there any referrals for recommending a quality new hire? Keep an ear out for someone you think would be a good fit for any job openings.
Bonuses – Are there any holiday or year-end bonuses? You could keep it a secret from your checking account and put that money straight into your savings.
Hourly/Salary Raise – If you have stayed with a company for a long time or just feel you deserve better pay, you owe it to yourself to ask.
Everyone's situation is different and finding creative ways to increase your income is really an effort you should put in; get creative with it!
Is there a commission? Devote some time to studying and practicing different sales techniques.
Do you get an incentive for positive Yelp or TripAdvisor reviews?
Slow down and focus on your customer service. At the end of a positive transaction, politely and genuinely ask guests to leave you a review.
Usually using your workplace and asking for an incentive is the best idea on how to increase income without working more. You will just be going the extra mile.
If there are no opportunities for additional income at your workplace, ask a manager to help you implement an incentive program that will benefit both the company and employees.
Do you have decent social networking skills?
Ask your employer if you could receive a bonus for gaining the company an extra 200 Instagram followers.
If you are ever unsure, ask! Have these conversations with your managers, and let them know you are ready to earn more money. You might even want to try some of these Passive Income Ideas!
As long as you can find ways to increase your income in a creative way, most people are willing to give your ideas a try.
2. Getting Money Back through Reimbursements:
Confirm any work costs that may be reimbursed from your employer and be sure you're submitting the proper paperwork to get money back.
Some things that may be reimbursable include:
Bus pass

Gas money

Work clothes

Phone plans

Meals or coffee on the clock, while doing research or attending a work-related event

Gym plan
All these reimbursements can increase your income without you needing to work more hours.
There is also a free app that I use to get everyday reimbursement for purchases I make online. You should give it a try.
Related:
11 Online Shopping Hacks Every Girl Must Know to Save Money
Extremely Unique Side Hustle Ideas for Making Extra Money
How to Make Money Online Without Paying Anything
3. Build your Savings
To build our savings, we should only spend money on what we need, which today consists of a broad range of things.
How to grow your savings?
Modern necessities may include: rent, water/gas, phone, WiFi, groceries, gym, student loans, and allotted mess-ups like dropping your phone into a toilet, uhh puddle, again.
It is important you only dip into that extra phone-fell-in-water money when absolutely necessary.
The less we tap into this money the more we save. This will not necessarily increase your income, but you will have more money in the bank.
As always, try to find ways to increase your income in everything you do.
4. Give Yourself a Monthly Allowance
Give yourself a monthly allowance or even a weekly allowance.
Apart from fixed bills, confine yourself to a $20 daily allowance. In this money-run world $20 does not seem like much, however, it is more than do-able.
Spending a lot of money every day does not account for the amount of fun you have.
You can and should still have heaps of fun while on a budget. Maybe you can live on $10 a day, or perhaps you have someone to care for or live in a pricey city, so at best you can live on $70 a day.
Whatever your situation is, pick a low, obtainable number and stick by it.
Unless you're keen on writing each cost throughout the day down, try an app to track your spending.
This money app makes it super easy to keep track of how much you spend each day, week or month. Digit will help you achieve your goals with little effort from you.
Will you be giving yourself a monthly allowance? Tell us in the comments.
5. Surround Yourself with Successful People
Find ways to increase your income with what you already make and decrease what you spend!
This will play an important role in how much you save.
If you feel that you are doing both of these things but still end up short-handed, consider hanging around supportive people.
The people we choose to surround ourselves with, especially in our free time should be those who encourage our personal growth as we encourage theirs.
Seek positive company and be sure to surround yourself with successful people.
In regards to saving money, evaluate in a genuine and non-defensive manner whether you have friends or family that mooch.
They could be mooching rides, food, or time.
Most people who are doing this are not thinking; "Mwahaha, I'm only going to hang out with David because he always shares his beer."
No, they are hanging out with David because they like his company and he happens to share his beer.
If you have these friends, be honest with them.
Have an open and easy conversation about how you feel: "Hey, I'm really trying to save for that badass trip to Colombia I was telling you about. Could you please chip in some cash? I'll do the same for you for sure."
If someone is mooching rides:
"Hey I love giving you a ride to work because you always sing Avril Lavigne songs at the top of your lungs, but I'm saving to put down on that condo right now. Could you please chip in a couple of bucks for gas when I drive? I'll pitch on snacks when you host our movie nights for sure."
If someone is taking up too much of your time:
"Hey, I love kicking it with you, but I have a lot of goals I'm working towards right now. Is there any way we could meet up for a workout or would you like to join me while I cook dinner? I would love to do things you prefer also."
If after different and numerous approaches certain company still feels like they are draining you, then spend less time with them.
Time is all we have.
Choose how you spend it.
Be sure to surround yourself with those on the same mission as yours.
And there you have it, five ways to increase your income.
But don't stop there.
You need to care for your savings and continue to save when you can. Just because you are making a lot of money does not mean you should not save.
Challenge yourself to low or no-spend days.
On these days consider eating leftovers, walking to work and playing games at the park for entertainment.
Being under your daily budget and having no-spend days are great buffers for unexpected costs that may arise unexpectedly.
Remember that every day is different.
There is no need to panic if some months you save less because you have an unexpected medical expense or a slow season at work. In other months you'll be able to save more because you receive a work bonus or took advantage of a new work incentive.
The most important thing is that you are aware of where you are and are consciously striving to save more.
Always work towards tightening up areas where you are losing or not making as much money as you could be. And remember to always find more ways to increase your income if an opportunity presents itself.
Embrace any efficient change in your life and your life will be changed for the better.
Related
Brilliant Hacks on Becoming Debt Free without Filing for bankruptcy
17 Amazing Free Monthly Budget Template Printables to Use
Keep Saving! It's crazy that even when we have all the tools and knowledge we need to accomplish something, we still mess it up; silly humans.
Because humans have a real margin for error, compensate by using these easy money-saving rules:
Any unexpected money you make does not exist! Put any extra money that finds its way into your spendy little hands, straight into your savings.

Reward your savings! Whenever you accomplish something that brings you closer to your goal, put a dollar in the savings jar as an extra little bonus. If you can't afford that, put $.50, or if you are able to, put $8 in. Again, pretend these extra savings never existed. Nobody saw anything man.
Make the most of your current income, respect your desire to save and you will see progress. Are they other ways to increase your income ideas that we missed out on? Tell us in the comments below.
This is a guest post contribution.
If you are looking for extra ways to make money, find them here!
If you enjoyed our blog we would like to have you join our email list and receive weekly money-making tips, you can join now! Don't forget to like the Facebook page. The page is created to share your work, pitch your services and learn from other experienced bloggers!
---
***We would like to note that this post and most posts on our blog may contain affiliate links. This means that if you purchase something that has an affiliate link, we will get a commission from it. Not all items recommended on our site are affiliate links. We only recommend items that we have used and tried. These items have brought us much success and we highly recommend them to you in order to be successful. Thank you for your trust!
5 Ways To Increase Your Income Without Working More Hours