Last Updated on October 2, 2017 by NandiNN
I am really excited about this post, as it is a round up blog of all the different ways you can make money from your blog, or without a blog and from simple side hustling. If you are in this to make money, keep reading. We rounded up our top money making ideas blog posts to get you started with your money making journey. These money making ideas are guaranteed to give you amazing results. 
Before we get started, we would love for you to join our growing Facebook group right here! You can also join our Pinterest group by scrolling to the bottom of this page! If you are looking for guest blogging opportunities or if you need a personal affordable coach to take you from A-Z, we can help you. Get the details right here! We also did want to mention that we use affiliate links on some of our posts. This means that if you click on an affiliate link, we make a commission from it. 

We have amazing ideas below to get you started with your money making journey. The first step we want you to take is to sign up for the following:
When you sign up for these money making platforms, ensure to complete your profile in full to get the credit you deserve. This means complete your profile with your company name, blog or website URL, your email address and so on. Leaving these crucial information out would mean leaving money on the table.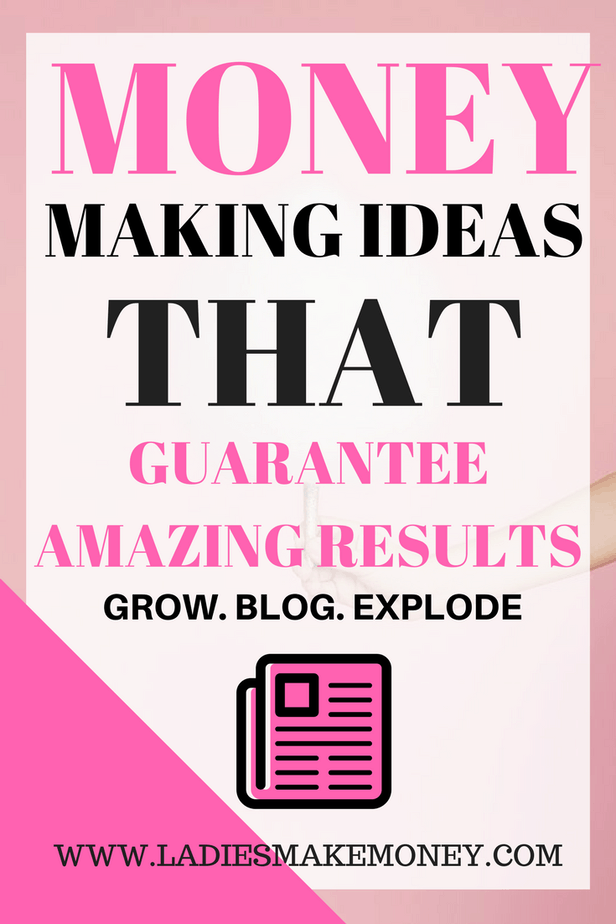 Do you have a blog but struggling to make even a little money from it? If you are barely making enough to even cover a cost of a nice warm cup of coffee then it's time to change your money making strategies. This post is filled with amazing money making ideas on how to make your first $100.00 with your blog. If you are ready to make your first $100 then read this blog: A Girl's guide to making her first $100! 
This post has been re pinned more than 1.1K times! That's nuts! It just goes to show how this money making idea post is really loved by many. Are you a writer? Do you like to write about things you love? Then consider sponsored post opportunities! Sponsored posts is a good way to earn a stable income with your blog especially if you have amazing relationships with your sponsors. Sign up for a few of the sponsors. 
You might also like: How one blogger managed to get over 200 thousand page views per month! 
If you don't already have a blog, or maybe you do, we have a full detailed post on how you can start to make money or turn your current blog into a money making machine! This post is full of amazing ideas on how to create a blog that will attract some crazy dollars. You can read the complete guide here: Start a money making blog!
If you already have a blog and you are making some money from it, we have an amazing post you can use to actually boost and maximize your blog income. We talk about the best affiliate programs you can join with high paying returns, how to create an amazing product that is guaranteed to give you passive income and many other fantastic ideas. Don't miss the opportunity to increase your blog income. 
With over 2 thousand re pins, this is a must read for anyone wanting to start a side hustle while working the 9-5 hustle. Bookmark this page and go back to it every time you need inspiration to get your side hustle moving. Every female entrepreneur must read this post in order to start making some serious income. 
You might also like: Want to make over $1000 with amazon? Find out how! 
This is a comprehensive list of 25 great ways you can start making money on the side right now. Ideas range from becoming a part time photographer to dog walking. The possibilities of making extra income is endless and we have 25 great ways to do so on this list! You won't go wrong with this amazing list, so start your money making journey now! 
Ever wondered if it was possible to make money with social media? We are hear to tell you it's absolutely possible. If the Kardashians can make a living on social media, you can become an influencer and start monetizing your efforts on social media! Pinterest is one area you should explore first. One of way of making money using this platform is to use affiliate links directly on the platform. Want 4 other ways? Read the full post! 
If you love to work with brands (especially if you are a mommy blogger, fashion blogger and make up blogger) you can earn some real income using this tactic. We have listed 4 amazing brands that want to work with you today. We urge you to take a look at this post if working with brands is your dream! 
This amazing "money making ideas" blog post is exactly what you need to boost your online income. They are so many success stories about doing surveys or watching videos to help increase your income. This can be done on weekends or in the evening while watching TV. Read our detailed post on how to better monetize your survey hustle and make up to $500.00.

What are you going to do with all this amazing information? Create a Pinterest board and Pin each of these ideas on the board and refer to it at least 3 to 4 times per month for great success. Happy Money Making. 
If you enjoyed our blog we would like to have you join our email list and receive weekly money-making tips, you can join now! Don't forget to join our Private Facebook page. The page is created to share your work, pitch your services and learn from other experienced bloggers! 
---
***We would like to note that this post and most posts on our blog may contain affiliate links. This means that if you purchase something that has an affiliate link, we will get a commission from it. Not all items recommended on our site are affiliate links. We only recommend items that we have used and tried. These items have brought us much success and we highly recommend them to you in order to be successful. Thank you for your trust!