Last Updated on April 19, 2021 by NandiNN
Best Affirmations for Women
Do positive affirmations for women really work?
As you may know, life can be stressful for everyone, there are no questions about this.
We all have issues that can lead to a heightened level of stress and anxiety.
Some of you might have loans such as mortgages, car loans, student loans, rent, and other major things.
These alone can really increase your stress level.
Some of you have children, parents, and other family members that we are responsible for taking care of.
And don't forget our jobs.
Work is another life necessity that leads to a significant amount of stress.
With that in mind, everyone needs an outlet to release some of this tension!
That's why we really wanted to help you become more positive regardless of all the stress that may surround you.
It can be hard to stay positive with life stresses, but we are going to help you the best way possible.
Today, we have taken the time to highlight over 11 positive affirmations for women that can help to reduce stress and lead to a more productive lifestyle.
I completely agree with using positive affirmation quotes for women to help reduce stress.
If you believe in this too, then you are in the right place.
We have a great list of words of affirmations for women that work wonders.
Before we get started on the best positive affirmations for women, we would love for you to like our growing Facebook page right here! Be sure to follow us on Instagram here.
We also wanted to take the opportunity to let you know that we use Affiliate links on some of our blog posts. This means that we could make a commission if you click on an affiliate link and purchase something. Read our full disclosure and blog policy for more information.
What is an Affirmation?
Before you can get started on your daily affirmations, you need to first understand what affirmations are!
By properly understanding what they are, you can then use them properly to attract some positivity in your life.
It is believed that using affirmations can help your brain think differently and this will help you make positive changes in your life.
Personally, I am a big believer in this theory.
You will need to continuously repeat a personal affirmation before you can see results!
I recommend using daily affirmations for at least a month straight before you can feel a change.
This means actually believing what you are saying.
Today we will be sharing:
A list of affirmations for staying positive

Affirmations for women for positivity

The best words of affirmation for her to use

And a list of women affirmations with saying daily
A list of daily affirmations for women
Use these daily affirmations to attract positive things in your life on a daily basis.
Here is a list of positive affirmations for women you can use starting today:
1. I LOVE MYSELF, RESPECT MYSELF, AND ACCEPT MYSELF EXACTLY AS I AM.
This affirmation, if said continuously, will result in you believing it, and your brain will suppress any negative information that goes against this.
You will be surprised by the positive impact that this affirmation will have on your mindset and your life.
2. I DESERVE TO BE HAPPY AND LOVED
Every woman deserves love and happiness. You should claim this and affirm this continuously until you believe it!
3. I AM DOING MY BEST, AND IT IS ENOUGH
Sometimes people do not appreciate what we do as women and what we do never seem to be enough.
This affirmation above will give you peace of mind and will allow you to feel less guilty about doing your best!
This is one of the best and powerful positive affirmations for women that I vouch for.
Your best is good enough.
4. I HAVE SOMETHING SPECIAL TO OFFER THE WORLD
As women, we need personal growth and development, both in our careers and personal life.
The first step to achieving this growth is to say the above affirmation until we believe it.
This will get us going in the right direction!
5. I LOVE MYSELF AND TREAT MYSELF WITH KINDNESS
As women, it is important that we love and take care of ourselves first.
If we do not love ourselves, we will not be able to love anyone else!
This affirmation will also help us to dismantle any negative information about ourselves that we might be hearing from others, such as our spouses or bosses!
6. I HAVE BEEN BLESSED WITH QUALITIES THAT UPLIFT OTHERS AND EVEN ON MY WORST DAYS, I AM THE BEST MOTHER FOR MY CHILDREN.
Sometimes the stresses of life might result in us feeling that we are not worthy of the successes and blessings that we have received in life.
The above positive affirmation for women will help you manage negative feelings and to have a positive impact on the lives of your children and others!
7. NO SUCCESS IS TOO SMALL TO CELEBRATE
This is a compelling affirmation.
This will help us to celebrate all our successes no matter how small they may be. This will, in turn, have a positive impact on our mindset!
8. I RECOGNIZE THE WISDOM, STRENGTH, AND COMPASSION THAT IS WITHIN ME
This positive affirmation will help us to make decisions without feeling guilty or second-guessing ourselves as women.
I resonate with this affirmation a lot.
9. IT IS NOT SELFISH TO BE KIND TO MYSELF
Been kind to ourselves can be difficult for us as women.
This affirmation will make us believe that it is truly okay for us to be kind to ourselves!
10. I WILL NOT ACCEPT ANY FORM OF DISRESPECT FROM MEN
As women, we need to recognize that men treat us the way we allow them to.
The above affirmation will result in men been more respectful to us.
This is something that is severely lacking in society today, and we, as women, hold the key to changing this!
11. I KNOW I AM ALIVE FOR A REASON. TODAY I HONOUR MY PURPOSE AND INSPIRE PEOPLE AROUND ME TO DO THE SAME
You are strong and you should believe that you can inspire those around you.
If you can help at least one person today, you could change the world for many. I believe in you.
Tips for using daily affirmations for women
As I mentioned earlier, Affirmations are typically statements that are said with confidence about a perceived truth!
They have since helped thousands of people, including myself to make significant changes in their lives.
Affirmations work because they can program your mind into believing what you affirm.
Here is how I make these women affirmations work for myself:
Write down anything that may not be working out for you – for example, debt, relationship issues

Now turn them into a positive statement. Write down your daily affirmations using this epic printable

Speak the affirmation out loud for about five minutes three times a day, morning, midday, and evening.

Breathe into the affirmation while you are saying or writing it. In other words, believe it.
Grab this printable here – it's free!
Words of affirmation for women only work on those that believe their words will come to pass.
Share your feelings below as we will love to hear from you.
PIN THIS: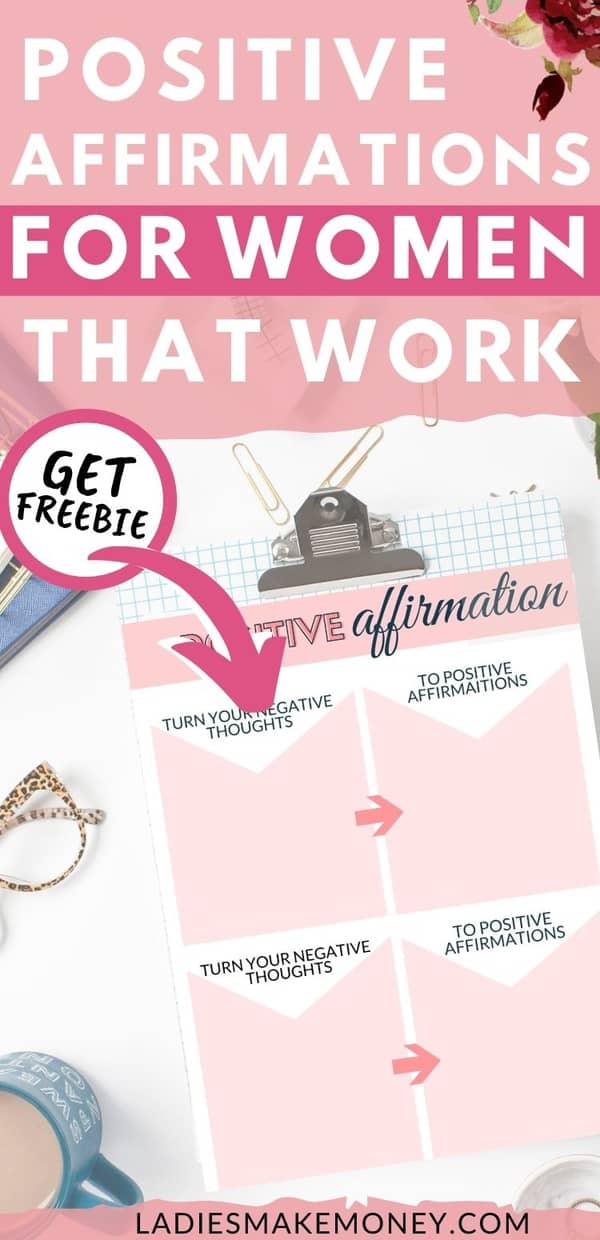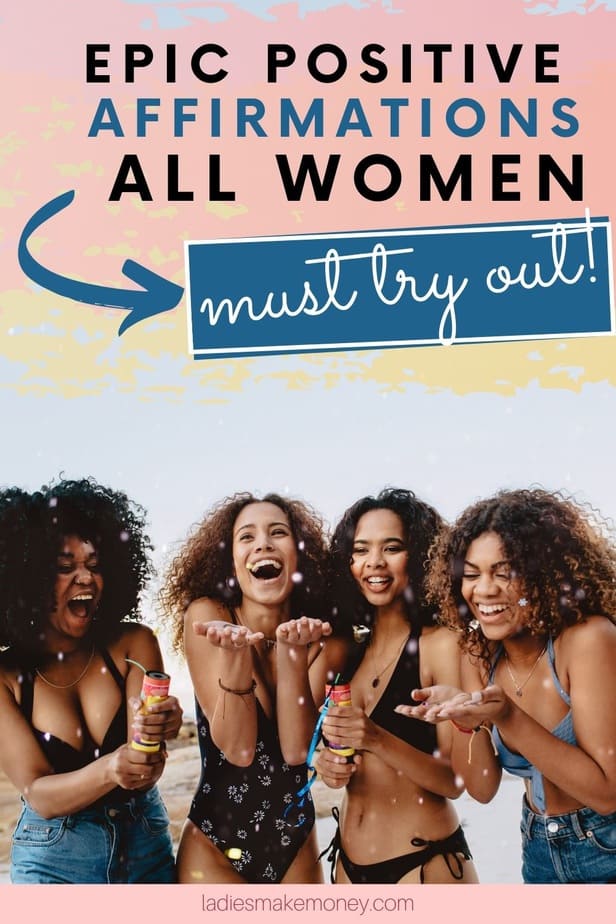 Read this next:
If you enjoyed our blog we would like to have you join our email list and receive weekly money-making tips, you can join now! Don't forget to like the Facebook page. The page is created to share your work, pitch your services and learn from other experienced bloggers!
---
***We would like to note that this post and most posts on our blog may contain affiliate links. This means that if you purchase something that has an affiliate link, we will get a commission from it. Not all items recommended on our site are affiliate links. We only recommend items that we have used and tried. These items have brought us much success and we highly recommend them to you be successful. Thank you for your trust!
11 Daily Positive Affirmations for Women for Personal Growth