Last Updated on January 13, 2021 by NandiNN
Best Roundup Blog Post Tips
Roundup posts if done correctly are one of the best ways to increase traffic to your blog effortlessly.
I have been talking a lot about "how-to" type information on the blog like how to interlink blog posts for more traffic (Did you catch how I'm using the cross-linking technique in today's post?).
Or this one where I share my best tips on how to come up with catchy blog post titles.
Today, I really want to get back to content creation, because we all know that content is king.
Our best tip today is all about ways to create quick content ideas which actually ties in well with cross-linking because you will be doing a bunch of it if you choose this strategy.
I love doing roundup posts because they are quick and can bring in a lot of traffic which most bloggers want.
I also do not recommend you do too many but just enough to bring stable blog traffic ideally all year-round.
What I really love about doing roundup posts is that it's another great way to showcase some of your older blog posts and get them a little extra attention.
I love working with content I already have especially if I am short on time.
If you work full-time and blog on the side, this strategy will work wonderfully if you have plenty of content in your blog library.
I have over 350 blog posts.
How do I create a roundup blog post that drives traffic?
Before we get started on this, if you are not part of my 30 Day Blogging Challenge, where we share some of the best tips to grow your blog and monetize for profit, you need to join today.
You can get the full details below:

We are so glad that you are here today and before I get back on the topic at hand which is how to write a roundup post that brings traffic, we would love for you to join our growing Facebook group right here! Be sure to give us a quick follow on Instagram as well!
We also wanted to take the opportunity to let you know that we use Affiliate links on some of our blog posts. This means that we could make a commission if you click on an affiliate link and purchase something. Please check out our full disclaimer and policy page here.
What is a roundup post?
I'm sure you have all come across "Best of" blog posts on Pinterest or Google or even 100 kid-friendly slow cooker recipes. But have you ever done one of your own?
As in one that consists sorely of your own blog content?
Even if you have, I am sure there are plenty of other compilation posts you could quickly put together to help increase traffic.
If you have absolutely no idea what I am talking about, let me give you a quick rundown.
A "Best of" Blog post is nothing more than a list of links to posts on a related topic.
You can either create a roundup post about your own posts or other people's work.
Basically, a roundup blog post is a collection of links that you curate for your audience that is all centered around one main theme.
Let's say you have a recipe blog where you typically share a variety of recipes.
You could do a roundup blog post about no-bake desserts or kid-friendly slow cooker recipes.
You start by introducing your readers to the topic and then just make a list of all the recipes on your site that follow that theme.
Now a good roundup post that gets a lot of traffic is one that goes into a lot more detail, which means adding a little paragraph about each recipe, how it can benefit the reader, and then maybe a picture of the dish.
For SEO purposes, I do all my roundups with little descriptions (usually 250 to 300 words).
You can do this for any type of blog you may have.
If you blog about online marketing, make the best of list building tips post.
And if you're blogging about weight loss, write up the best of weight loss tips and tricks post.
If you are a parenting blogger, why not share 15 easy summer crafts to do with the little ones at home.
Getting blog traffic this year is really easy.
If you want more concrete tips for increasing blog traffic, sign up for my free blog traffic boosting tips right here.
Types of Roundup Posts to Consider
I have a couple of roundup posts that bring me blog traffic all year round.
Not only are they perfectly optimized for SEO, but I frequently update them to ensure all links are still working and that the information is still relevant.
I have about 6 awesome round posts that bring me the majority of blog traffic.
In fact, this is one of the ways l ensure that I get consistent blog traffic over time.
Remember don't over these but doing 2-3 a year works well for me.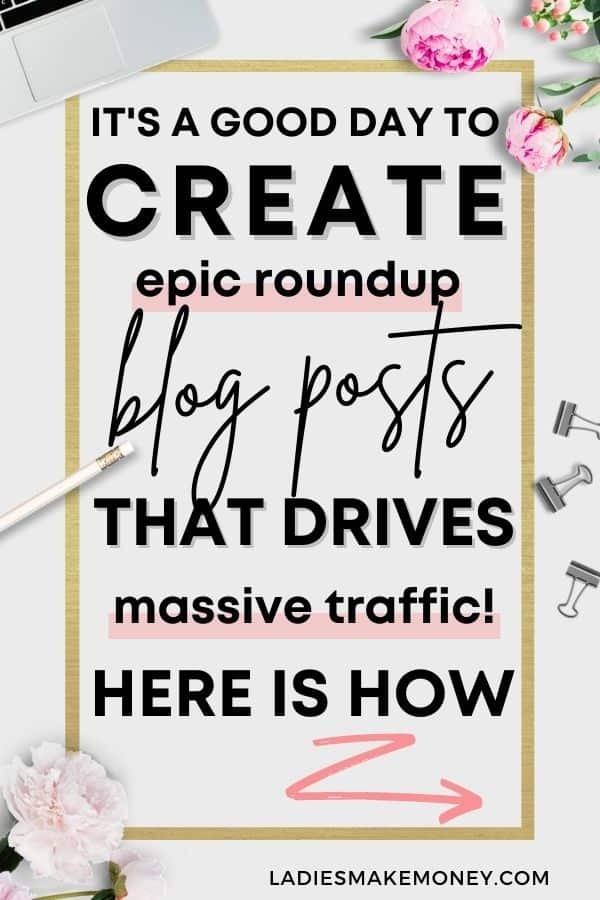 Here are a few types of roundup posts you can create to increase visibility for your blog:
The best way to grow your blog traffic is to get people to click around your blog.
Keep them on your site as long as you possibly can.
If you can do roundup posts of your most popular content that is even better.
Expert roundup posts are great if you can interview a bunch of bloggers in your niche about a particular topic and link out to them.
When you are done, email them with the link to the post.
You can even ask them to link back to it and if not, at the very minimum, have them share the post.
I believe every single blogger should publish at least one expert blog post in their career.
If you are looking for a roundup post example, the internet is full of them.
Just look up blog roundup examples on Google or on Pinterest.
But let's say you are a food blogger you could have an expert post on healthy food eating – here is an example:
12 Foodie Expert Share their #1 Tip for Healthy Eating!
Are you in the mom niche?
Here is an example of an expert round-up post:
12 Mommy Bloggers Share Their Biggest Mistake As a First Time Mom!
These types of roundup posts tend to do well as they get plenty of traffic, shares, and comments which is amazing for engagement.
Honestly, expert round-up blog posts is a great way to support your friends and get to know other bloggers in your niche.
Who knows, you may find other ways to collaborate with them once you establish that relationship.
I must warn you, just don't use anyone's images or more than a snippet of text without getting written permission first.
This is a big No.
Always ask for permission AT ALL TIMES.
Read this if you want to know more about how to write amazing expert roundups!
Today I really want to focus on how to create roundup posts using your own content to help increase your blog traffic.
Why should you write a roundup blog post?
Writing a roundup post of your own content is a great way to revive old posts that are dormant or old but still very relevant.
Provided that you typically write evergreen content, you can easily re-promote them when you do create a roundup post.
A roundup post is a great way to quickly pump out a post if you have little time.
Don't just write quickly and call it a day, what I mean is that you don't have to do a lot of research.
You already have the content on your blog.
You simply have to find all the related ones that you can add to your round-up post.
This type of content also increases blog traffic as it directs your readers to click around your blog.
More clicks equal more traffic.
Here are a few good reasons to write that roundup post today:
More blog traffic

More internal linking opportunity

It's quick and easy-to-do

You will be providing more value for your readers

You will get more shares and comments

You will earn more money (Yay)
I hope this alone encourages you to create a roundup post of your top blogs today!
> Learn How To Monetize Your Blog Today With My Blog Income Strategy guide!
How to find topic ideas for your roundup post
You might not rank for every post you write, but I like to give it a go.
Think of long-tail keywords that you could potentially rank for.
But the first step is to come up with a theme for your post depending on how many posts you might already have.
If you are a mom blog and you have a couple of blog posts centered around the same theme, start by making a list.
Just look through your blog and see what posts you can compile into a "best of" type post.
I like to have about 10+ links that I can use on my round-up posts.
So back to my mom blogger, let's say your theme is about becoming a new mom.
You could write a blog post about:
"15 Must-Read Posts About Becoming A New Mom – Everything You Need to Know!":
And if you have these posts, include them:
How to prepare for a new baby

How to get ready for maternity leave effectively as a new mom

Must-have Products for a Newborn Baby

The Best Car Seats for First Time Moms to Get

What to know about bringing a new baby home
And so on.
You get the idea, so give it a try.
Browse through your blog posts and make a list of thematically related posts.
If you have several topics on your blog, I find it helps to focus on one category at a time since those topics already follow a loose theme.
PS: If you have a lot of topics on your blog – get this resource to help you successfully organize your blog if you write on multiple topics.
Now that you have a great list going for you, get to work, and start a few "best of" posts in the drafts section.
They will be ready and waiting for you anytime you need to publish a new post.
Content roundup posts are some of the best posts for increasing traffic to your posts.
Best of all, since these posts are such a treasure trove of information on one specific topic, they are much more likely to get shared around a lot more.
Especially if you take the time to come up with a catchy title for your post and create a pretty collage image that makes it easy to share on social media like Pinterest.
Promoting your round up post:
Now that you are done with your post, I suggest creating a few pins that go with your post.
At least 3 pins for Pinterest and 2 collage pins to go with it.
Collage pins do really well (I have a few templates of collages on my Feminine Pinterest Canva Templates if you are interested).
Here are some awesome places to find free feminine stock photos for your new epic post.
If you are on Instagram, you can do a story to promote your latest post.
And the most important is to email it to your mailing list.
Here are 10 more places to promote your blog for free for massive traffic.
Other Places to Find Opportunities to Create Roundup Posts
We talked very briefly about how to create an expert roundup post, and creating round-up posts using your own content.
What if you want to avoid the expert route (don't) but you don't have enough links of your own to create the post?
If you do not have all the links available to create the perfect roundup posts, you can source them out from other bloggers.
At all costs avoid just spamming your post with links and images.
Write a few sentences to support your content.
The reason Google hates posts that looks spammy with just links added to it is that it considers it thin content.
And to be honest, it is thin content.
So if you are going to link to other bloggers, ensure you are first asking for PERMISSION and that you are supporting your links with a couple of sentences (250+ words).
The best place to find great bloggers to collaborate with are in Facebook groups like those mentioned below:
Facebook roundup groups:
Go ahead and write your posts as you normally would using the tips suggested here.
And don't forget to sign up for my free blog traffic boosting tips right here.
And you are done!
You can go ahead and create a few round-up posts to help boost your blog traffic.
I use this strategy every time I feel that my traffic is dropping.
It's my go-to pick me upper.
I can tell you this, some of my best roundup posts have brought me steady blog traffic year after year no matter how old they are.
All I do now is update them, make sure the links are still working, and sometimes create a few new pins using my Canva pin templates.
I hope you enjoyed this and you are ready to create your own epic roundup post!
If you want more amazing ideas like these, including tips to grow your blog from zero to profit, be sure to sign up for our 30 Day Blogging Challenge to a better blog if you have not done so yet!

Related post for boosting traffic easily: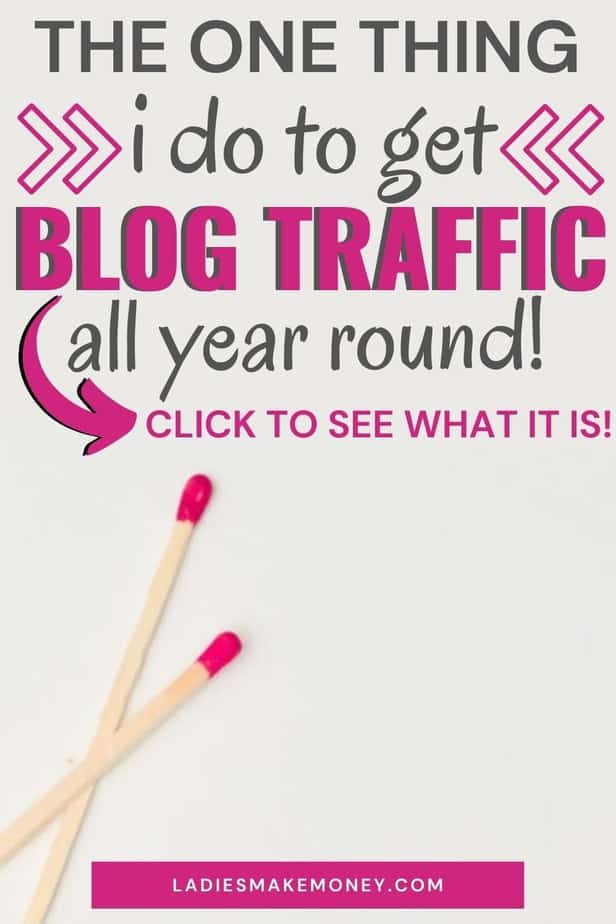 If you enjoyed our blog we would like to have you join our email list and receive weekly money-making tips, you can join now! Don't forget to join our Private Facebook page. The page is created to share your work, pitch your services, and learn from other experienced bloggers!
---
***We would like to note that this post and most posts on our blog may contain affiliate links. This means that if you purchase something that has an affiliate link, we will get a commission from it. Not all items recommended on our site are affiliate links. We only recommend items that we have used and tried. These items have brought us much success and we highly recommend them to you in order to be successful. Thank you for your trust!
How To Create Roundup Posts To Skyrocket Your Blog Traffic