Last Updated on April 28, 2021 by NandiNN
Pinterest Templates for Canva
If you want Pinterest Traffic, I recommend looking into using Canva Pinterest Templates to help you create fresh pins regularly.
According to Pinterest, it is very important for creatives, bloggers and entrepreneurs to create and pin fresh content on a regular basis.
They no longer prioritize repins you make on the platform.
This doesn't mean that your old pins are gone and done with. In fact, I have seen some of my older pins resurface on the home page from time to time.
But let's go back to the topic at hand.
Pinterest wanting "Fresh Pins!"
What exactly is considered Fresh Pins and how can you pump out frequent pins on the platform?
According to Pinterest, Pinners on the platform are responding strongly to fresh content that is pinned and with that in mind, they are now really focusing on prioritizing fresh content for distribution!
Pinterest's algorithm is highly favouring content that is:
Relevant

Timely
As part of your Pinterest Marketing efforts, you should start creating more fresh Pins as this means more exposure for your content.
Fresh Pins are defined by Pinterest as images or videos that they haven't seen before.
I have seen my traffic increase after pinning new content.
Just take a look at my Pinterest Stats after pinning fresh content.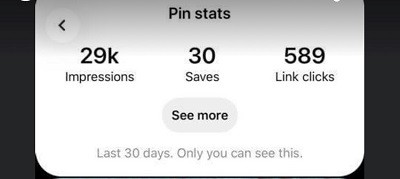 This is always almost seen immediately and sometimes it dies down faster than I would like.
Which really shows that they want to keep putting out new content.
I am experimenting with pinning 6-8 fresh pins at any given time and this has brought me the most results.
This would definitely not be possible without using Canva Pinterest Templates!
Pinterest Templates for Canva have saved me time and stress as I can spend about 15-20 minutes a day, pumping out fresh pins.
Trust me, it takes a lot of time and effort to create quality pins that will bring you traffic.
So my strategic plan was to create a few different templates that I could easily alter and put out quickly.
Doing this has seriously helped increase my website traffic as I am giving Pinterest what it wants which is Fresh Pins.
Pinterest will not consider these Fresh Pins:
Pinning the same image and changing the Pin title, Pin description or alt text

Making small changes to an image that has already been Pinned before
If you are changing a Pin that you have already pinned, make sure the changes are so significant that it looks like a new pin.
That is why using Pinterest Templates can save you so much time and energy.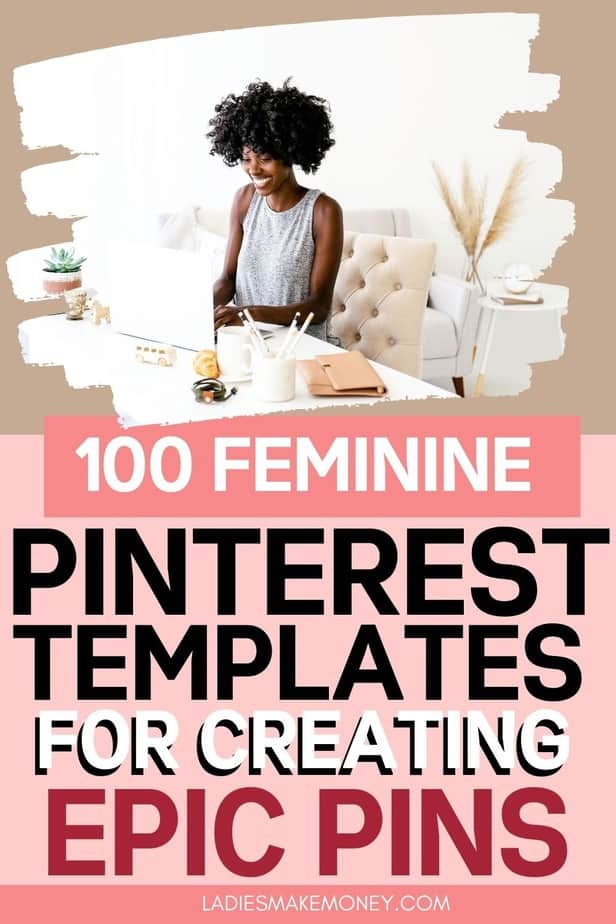 Today will be sharing:
How Pin Design Templates Can Boost Traffic

Why you should use Canva Pinterest Templates

And how to customize Pin Templates for your brand
By using Pin templates, I can get results like these instantly.
And sometimes I get about 300 views on a given day depending on how many fresh pins I can create.
I love looking at my active users on-site just to see how much Pinterest Traffic is coming in.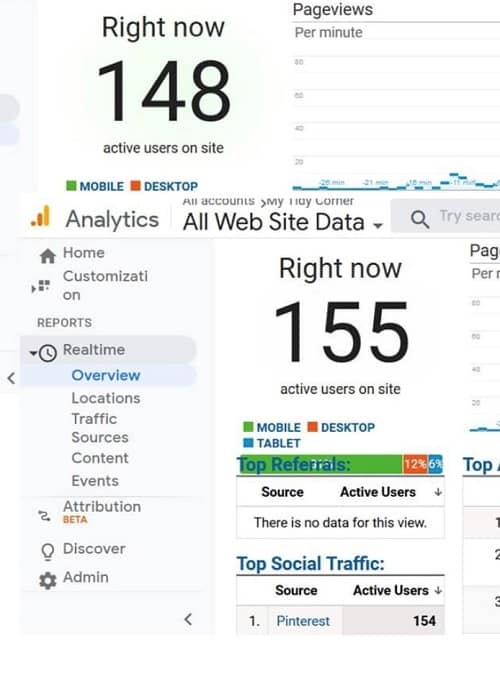 I would never have had results like these without using pin templates for the simple reason that it takes so much time to craft a great pin.
So what are the Best Canva Pinterest Templates?
Before we get started on the best Canva Pinterest Templates for Bloggers, we would love for you to join our growing Facebook group right here! Be sure to give us a quick follow on Instagram as well!
We also wanted to take the opportunity to let you know that we use Affiliate links on some of our blog posts. This means that we could make a commission if you click on an affiliate link and purchase something. Please check out our full disclaimer and policy page here.
Why Should You Use Canva Pin Templates?
I love Canva, there is no lie about this.
I know a lot of bloggers that use and prefer PicMonkey as they feel that it offers better designs, but Canva is where my heart is at.
The Pins I have created through them have gotten me better results.
Canva Pro is honestly great as it offers you a lot more options when it comes to Pin template creations.
It also includes amazing photos that you can use directly on your pins.
I really love the option to remove backgrounds on images that I often use!
Here is why I recommend using Canva Pinterest Templates:
It will save you a lot of time as it is impossible to come up with 5-10 fresh pins every day especially if you have a busy schedule

It is an extremely productive use of your time

You get professionally designed pins out of it very quickly

The templates are designed to grab user's attention on Pinterest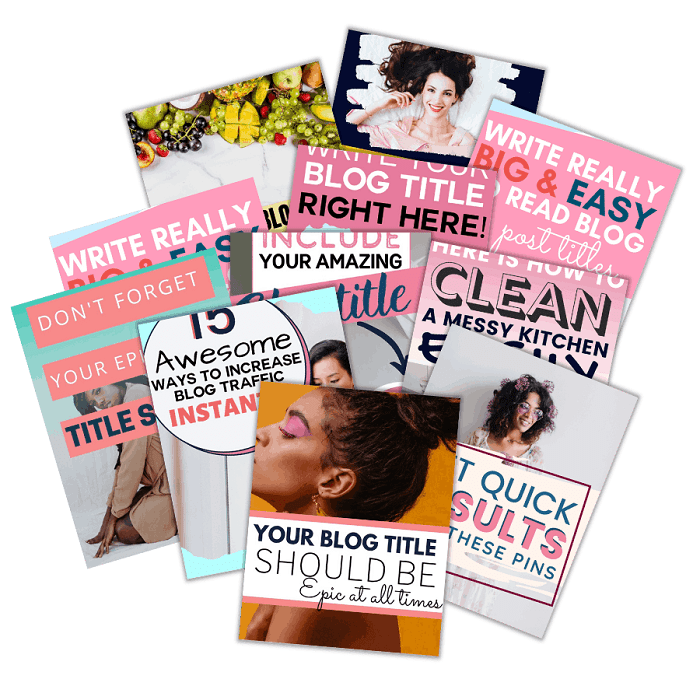 GRAB THESE CANVA FEMININE PINTEREST TEMPLATES
As we mentioned earlier, Pinterest is prioritizing and showing people on the platform FRESH Pins and the only way to get around that is to pin at least 5-10 new pins a day.
Do not for one second think you can not repin content, you can but not often.
Pinterest views these are duplicate content now.
Duplicate Pins are Pins with an exact image/URL combination that has already been Pinned to Pinterest before (by you or anyone else).
Because of all this added work now required by Pinterest, I went ahead and created a bundle of 100 Feminine Canva Pins or Pinterest Templates you can use today to create beautiful pins much faster.
Using Canva Pinterest Templates
If you are a blogger or creative that has little time to create scroll-stopping pins quickly, every single day, then you should absolutely be using Pinterest Templates.
Using templates is the most productive thing you can do for your business so you are not spending hours and hours on a task.
I personally have templates for:
Emails

Blog posts

Promotional templates

Blog Post title

Ebook Creation
Honestly, if I could have templates for everything, I would.
With these Feminine Pinterest Templates, I can whip out gorgeous pins in less than 20 minutes every day.
Yes, I do a combination of manually pinning as well as I use Tailwind to schedule out my new content!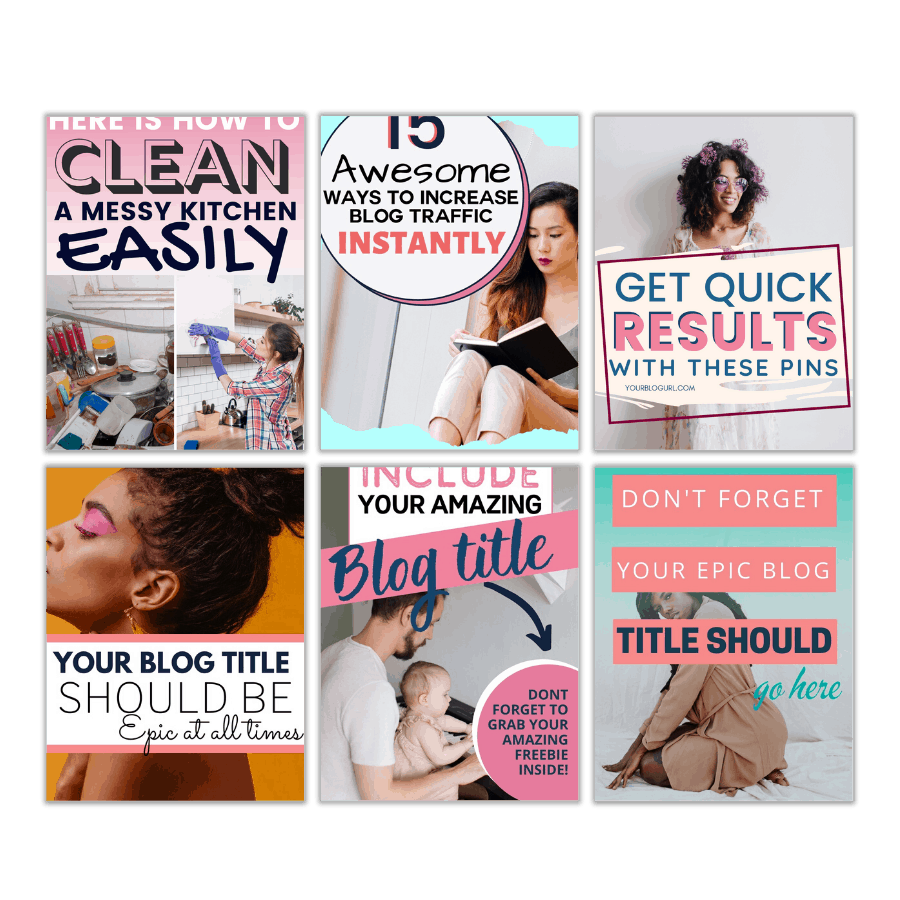 What Results Can I Expect from Using Pin Templates
Honestly, your results will really depend on your pinning strategy and consistency.
I make it a habit to pin at least 10-15 Fresh Pins a day, I do it in and around the same time each day and I ensure my pins have proper keywords.
I definitely pin to the most relevant board first.
And I have also experimented with using Hashtags on Pinterest.
Personally, I get about 150, 000 Page-views a month on my older blogs, and my much newer blogs are in the beginning stages but with Pin Templates, I am able to get about 1000- 2000 page-views a day.
I use these templates across all 5 of my blogs that are all in different niches (Travel, Mom Blog, Wedding, Lifestyle and this).
Each one varies, but the highest I currently get on one blog each month is 150, 000 Pageviews a month!
PS: These are page views on my blog.
Not the views you see on Pinterest as these offer no value to me as a blogger.
Who are these Canva Pin templates created for?
These feminine pin templates are perfect for bloggers, creatives and online female entrepreneurs who use Pinterest constantly to drive traffic and sales for their blogs and businesses.
If you rely on Pinterest on a daily basis, then these Pin Templates are perfect for you.
It will save you so much time each day as you will not need to spend hours each day to come up with a great pin to put out on Pinterest.
So basically, these Canva Pinterest Templates were created by a blogger for bloggers!
It will make creating 15-30 fresh pins per day so much easier, which you can then post to Pinterest throughout the day using either Tailwind or manual pinning.
How to edit Canva Pinterest Pin Templates:
To be able to edit your Canva Pin templates you need to create a Canva account if you do not already have one.
Go ahead and create a free Canva account here.
Once you purchase your Feminine Canva templates, you will immediately receive a PDF file with links to how to get your new pin templates. Once you click on the link, you will be redirected to the Canva platform and you will see a button that says "use templates."
Click on that!
Don't forget to make a copy of your template by going to the top menu -> File ->Then Make a copy!
Ensure you name your pin with a new name in the top bar.
You are now ready to edit.
And that's all for today!
Will you be using our Pinterest Templates today?
Be sure to tell us in the comment below, so many bloggers have already snatched some and are using them!
Grab your copy right here!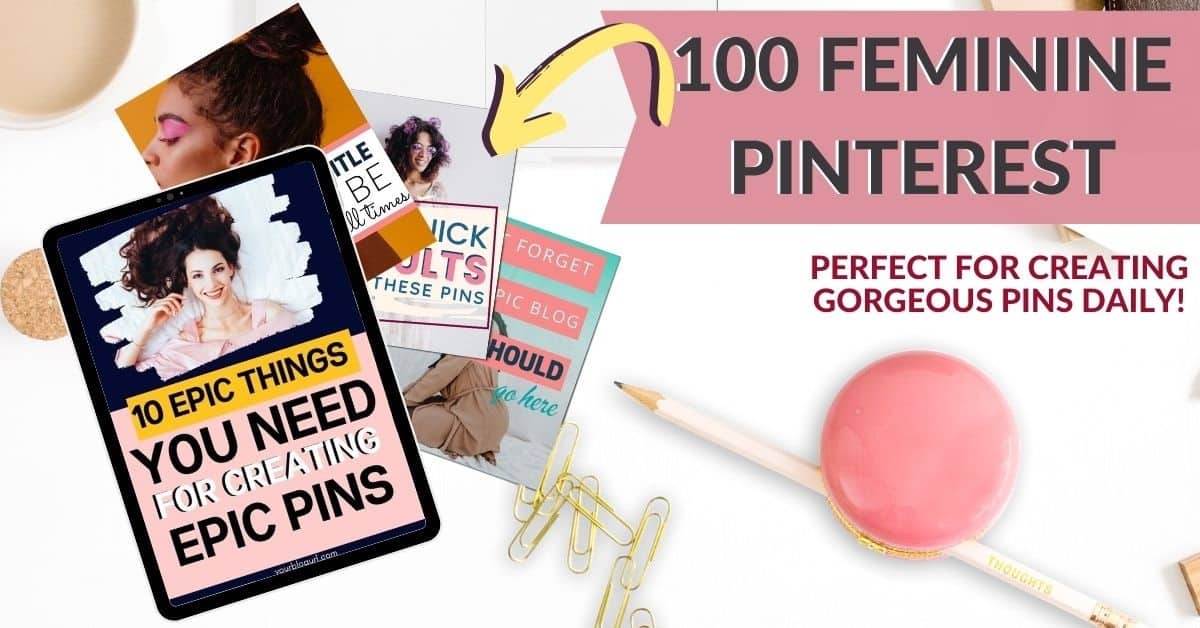 Affordable Pinterest Courses
If you do not have a Pinterest Strategy that you are following, I suggest having one.
You do this by either experimenting with your own account or taking a course.
I do not recommend buying multiple courses at this stage as Pinterest is always changing. But instead, get one or two and tweak the strategies to align with your business.
Don't forget to diversify your blog traffic with other sources such as using SEO for Bloggers!
Even with the best Canva Pinterest Templates, I always recommend having some sort of strategy that allows you to see the best results.
I recommend:
For free I recommend Pinterest Primer to help prime your account to attract traffic!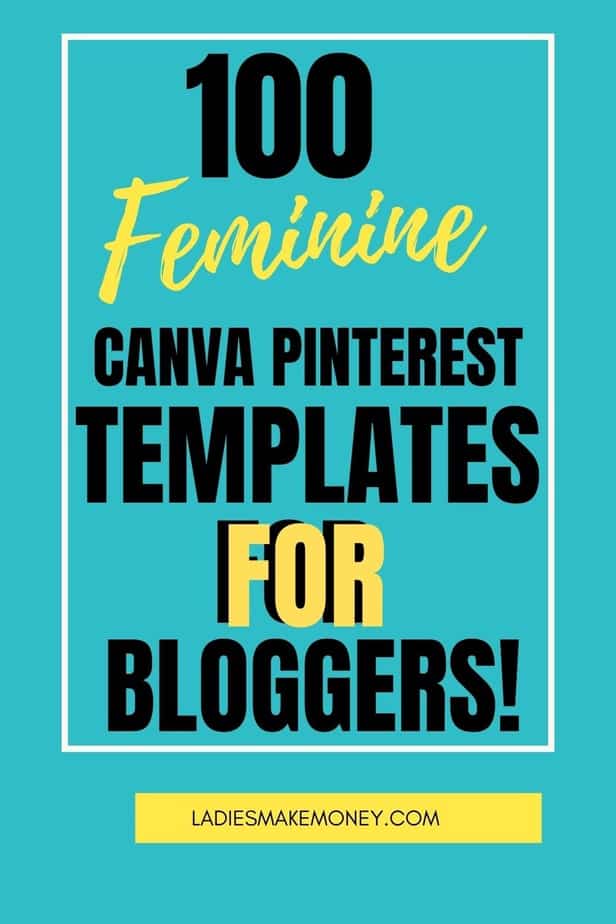 Read this next:
If you enjoyed our blog we would like to have you join our email list and receive weekly money-making tips, you can join now! Don't forget to like the Facebook page. The page is created to share your work, pitch your services and learn from other experienced bloggers!
---
***We would like to note that this post and most posts on our blog may contain affiliate links. This means that if you purchase something that has an affiliate link, we will get a commission from it. Not all items recommended on our site are affiliate links. We only recommend items that we have used and tried. These items have brought us much success and we highly recommend them to you in order to be successful. Thank you for your trust!
100 Feminine Canva Pinterest Templates for Bloggers