Last Updated on August 14, 2018 by NandiNN
Welcome to part two of how to boost and make more money with affiliate sales blogging series. If you missed the first part of the series, you can read more about it here: How to boost your Affiliate Income and Make Money Online. Today will be focusing on 5 of the best affiliate programs for bloggers we use daily that make us money online.  These are the ones that we get most of our commissions from, get the most conversion and are our favorite programs to use. Are you making sales from Affiliate Marketing yet? If not, then follow along with the series.
Before we get started on the best Affiliate programs for bloggers, we would love for you to join our growing Facebook group right here! You can also join our Pinterest group by scrolling to the bottom of this page! If you are looking for guest blogging opportunities or if you need a personal affordable coach to take you from A-Z, we can help you. Get all the juicy details right here! Have you seen our brand new shop! 

We also wanted to take the opportunity to let you know that we use Affiliate links on some of our blog posts. This means that we could make a commission if you click on an affiliate link and purchase something. And if you are interested in making money with Affiliate Marketing, here are the best affiliate programs for bloggers to use. 
A List of the 

best Affiliate Programs for Bloggers
We love affiliate marketing as it is the best way and the easiest way to monetize any blog. We have rounded up the Best Affiliate Programs for Bloggers to use in order to monetize their blog. If you are interested in learning more about how affiliate marketing works and how to use it, here are a few more other posts to check out: 
How to make money with affiliate marketing in 24 hours
How to earn a full-time income with affiliate marketing
How to succeed as an Affiliate Marketer
Struggles, successes, and tips for women looking to make extra money
Everything you need to know about making money with your blog
MAVEN X 
This new amazing app which is almost like Pinterest in a way that it helps you clip your favorite items onto a board. If you are big on social media you can earn money through this gig by referring items you found on the internet by pinning it to your board.
Once you create your boards, you have the option to instantly share that board on any of your other social media platforms easily. This is one way of making money with this platform. However, their referral program is awesome.
Refer a blogger and earn up to $9.00 per referral. Refer a friend and earn $1.00. As you can see, you can earn at least $1000 by referring 112 friends. Sign up today and start earning! PLEASE NOTE: COMPLETE YOUR PROFILE AND ADD YOUR BLOG INFO TO GET CREDIT IF YOU ARE A BLOGGER! 

LINQIA
The best affiliate programs for bloggers to earn money is via working with brands and sponsored posts! If you love working with brands, you will love working with Linqia. Are you a blogger and are looking to monetize your blog by working with brands? Then you must sign up for Linqia! 
Once you sign up, not only will you be eligible for campaigns that pay anywhere between $80- $150, but you can also sign up for their referral programs! If you refer an influencer, you get $5.00 and an additional 15% of their commissions on their first campaign when completed! If you refer 100 people, you could earn $500! Sign up and start referring!  
I find Linqia to be on of the best affiliate programs for bloggers to use to make extra money online with a blog. 
MILO TREE 
The goal of the post is to show you the best affiliate programs for bloggers to use make more money with their blog. These affiliate programs are easy to refer and you can make some serious money with them. 
Milo tree is another awesome platform for bloggers to use and we had to add it to our list of the best affiliate programs for bloggers to use. This is one of the pop-ups I use on my blog to grow my Pinterest account (besides Tailwind and BoardBooster).
It's one of the best affiliate programs for bloggers because it was created by bloggers. Milo is a new app designed for bloggers by a blogger. You can use it to grow your email list and your social media platforms. You have the option of starting out with a FREE account or upgrading to the $9.00 monthly option.
The upgrade feature gives you the option of branding the look of your pop up which matches your blog and brand. I like that option as I am big on branding. You can refer other bloggers to it and you could earn up to $20.00 if they upgraded to the next package. This means if you refer 100 people you could earn $2000!  Sign up for Milo Tree and start earning.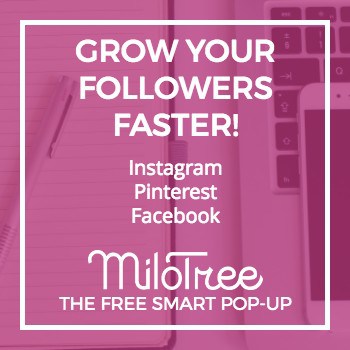 AWIN PLATFORM FOR BLOGGERS
I use Awin on a regular basis to promote high-end products to my readers. If you are a blogger and are not part of Awin, then you are missing out big time. Awin has the best Affiliate programs for bloggers such as Etsy, Fiverr and so much more. 
Awin used to be known as Affiliate Window and it is the affiliate program platform that makes me the top dollars on my blog. Don't forget to download the WordPress plugin that will automatically get links and turn them into affiliate links. 
You can sign up for this amazing program here. Awin is definitely the best Affiliate Programs for bloggers especially if you want to make money with your blog. It's honestly the best affiliate programs to make money with. 
Again, here is the link to sign up for the affiliate program.
THE ULTIMATE BUNDLES FOR BLOGGERS
This program has something for every blogger to promote. It is extremely easy to promote and you can make thousands of dollars by promoting them. As well as everything I have mentioned above, it is the best affiliate programs for bloggers to join as you can make literally lots of money. 
You can read my whole review about the Ultimate bundles for bloggers here. They pay a whopping 40% per commision and this adds up pretty quick. You can learn more about the affiliate program that every blogger uses here. 
Those are 5 of the best Affiliate Programs for bloggers that make me money monthly, which one do you use? We have a full list of 20+ more affiliate program that every blogger should be part of! We hope you are enjoying the series.
This post is part of a series and if you want to really boost your income with Affiliate marketing – then read the full series today: read it here! 
Pro tips: The best Affiliate programs for bloggers is to join Affiliates programs from other bloggers. You can make some serious money with affiliate marketing and it can become your main source of blog income.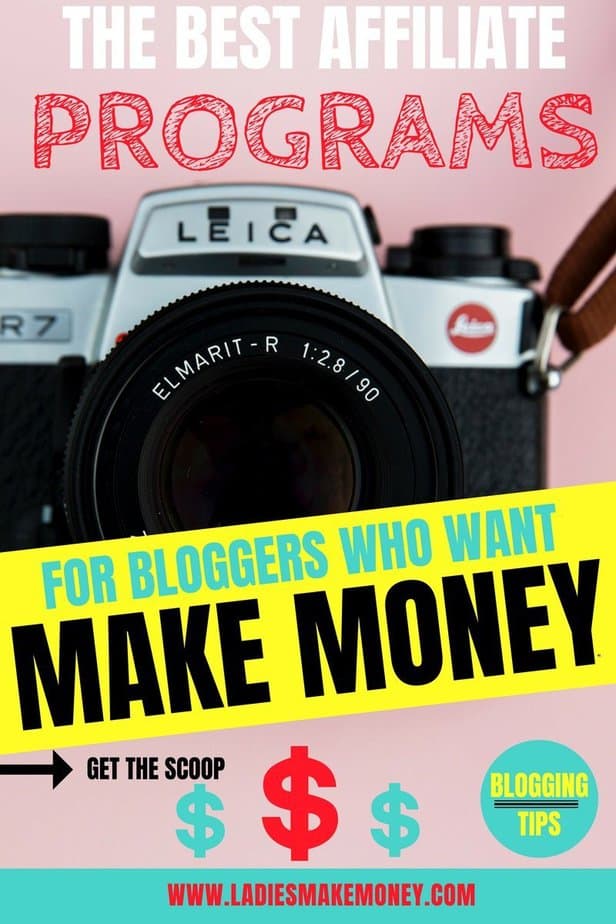 Our next blog post series will be on "How to make consistent  Sales with your Affiliate Blog posts." Stay tuned. Don't forget to grab your list of over 20 of the best affiliate programs for bloggers you can promote for extra money! 
If you are looking to boost your blog income and make a full-time income with your blog then sign up here. PIN this post your Blog Resource board.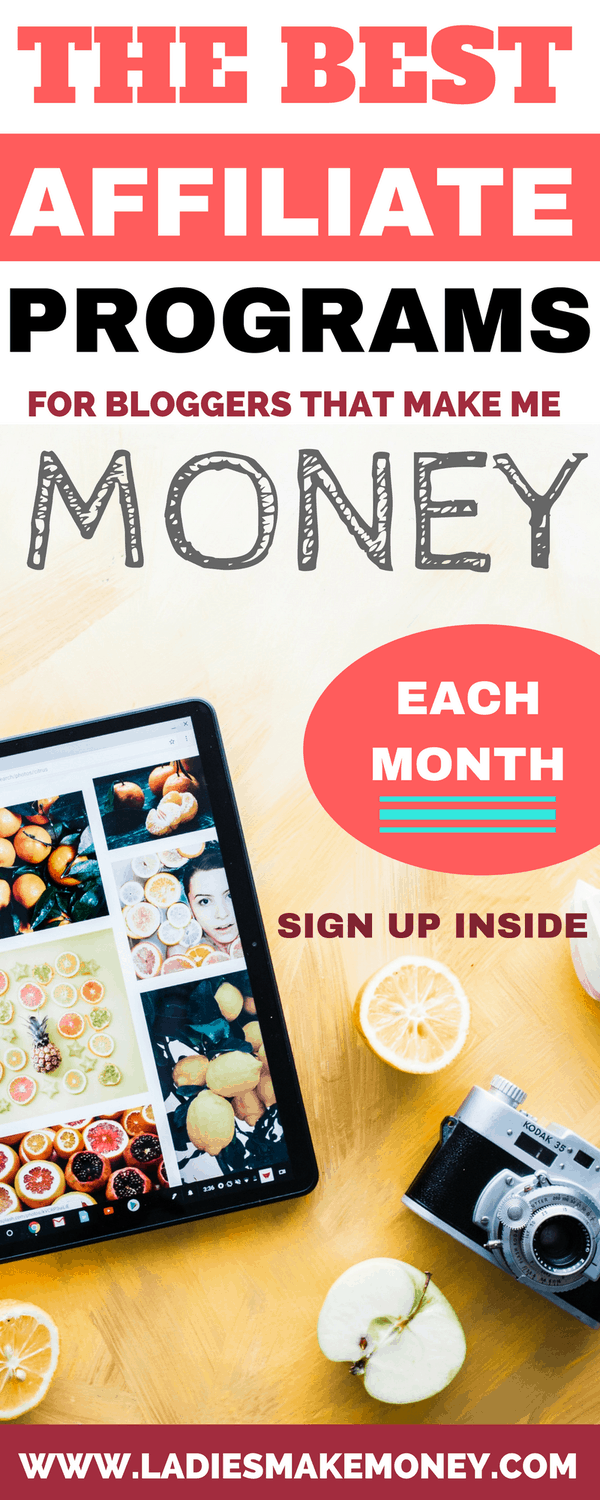 If you enjoyed our blog we would like to have you join our email list and receive weekly money-making tips, you can join now! Don't forget to join our Private Facebook page. The page is created to share your work, pitch your services and learn from other experienced bloggers!
---
***We would like to note that this post and most posts on our blog may contain affiliate links. This means that if you purchase something that has an affiliate link, we will get a commission from it. Not all items recommended on our site are affiliate links. We only recommend items that we have used and tried. These items have brought us much success and we highly recommend them to you in order to be successful. Thank you for your trust!