Last Updated on May 23, 2021 by NandiNN
How do I increase my affiliate earnings?
You are here today because you dying to know my secret for how to increase affiliate sales and make more money with your blog.
Making consistent income with all our blogs is important as this is how I make the majority of my income.
If you are in the same boat, then I understand completely.
For the longest time as a blogger, all I wanted to do, was to make a decent income like all the other bloggers I stumbled upon on Pinterest.
I knew for a fact that using affiliate marketing, was one of the best ways to make money especially as a blogger.
But making $20 this month, $100 the next was no longer looking like a dream job for me.
In fact, let's take it back to when I first earned those few dollars.
It was only $84 and I became even more determined to grow the blog that I took in everything other bloggers were sharing to help me become successful!
I needed to find a way to make consistent income with my blog using affiliate marketing and other strategies.
But what I really wanted to know, was how to increase affiliate sales so I could make more money each month without worrying.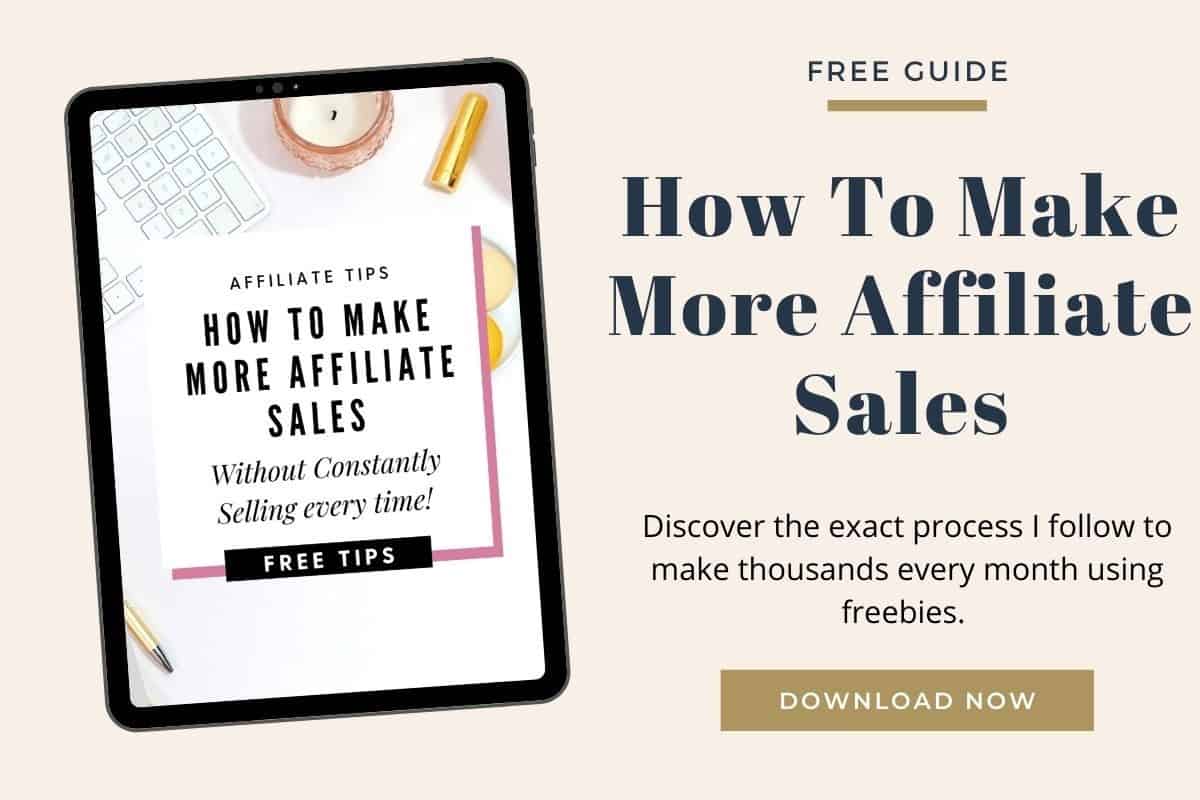 By understanding exactly how pro bloggers were doing it, I knew I had a better chance of success.
And not long after asking a few bloggers for their tips, I found myself earning a decent income with my blog.
You can find out exactly how I was able to grow my blog to making $5000 a month right here.
Blogging for money is definitely possible and we are going to show you how.
But if you have a blog and you want to know how to increase affiliate sales quickly, you are in the right place.
This is an affiliate blogging series designed to help you increase sales and make money with your blog each month because it is totally possible.
With a strategic plan in place, you can achieve anything as a blogger.
In this post, you will learn some pretty amazing tips and tricks pro bloggers use in order to boost their affiliate sales on a monthly basis.
Affiliate marketing income is absolutely possible if you can find a way to convert your website visitors into sales.
We asked a few amazing female entrepreneurs that we love and trust one question:
"What's one piece of advice you would give new bloggers on how to increase affiliate marketing sales?"
And we got some pretty amazing answers from 6 professional bloggers.
I love it when bloggers take the time to share their best tips.
If I were you, I would grab a pen and paper to make notes.
I am ready to learn. Show me how to get more affiliate sales!
Before we get started with our best tips on how to increase affiliate sales, we did want you to follow us on Facebook for more awesome ideas on saving or making more money. You can also follow us on Instagram for more tips.
We also wanted to take the opportunity to let you know that we use Affiliate links on some of our blog posts. This means that we could make a commission if you click on an affiliate link and purchase something. Read our full disclosure and blog policy for more information.
Affiliate Marketing Tips To Increase Sales
Let me start by saying that affiliate marketing is a lot more than just linking your affiliate links from one post to the next.
If you do not have a solid plan to make it work, you won't make it.
When I was first getting started with affiliate marketing, I was all over the place.
It felt like I was just adding links after links everywhere I could in the hopes that someone would click and make a purchase.
I can tell you right now that this strategy DID NOT WORK!
In fact, it won't work.
And if you are here looking for ways on how to increase affiliate sales, you need to stop throwing links that make no sense on your blog.
To become successful with affiliate marketing, you need to plan out your affiliate marketing income and promotions.
Anyone can stick a link in a blog post but the real problem is making money with that link.
You want your readers to click through to your link and make that purchase in order to have success using affiliate marketing.
Affiliate Marketing For Bloggers walks you through the exact process for writing blog posts that make sales.
You will also find out exactly 7 types of money-making posts you need to write if you want to increase affiliate sales.
Including ways to make your links STAND OUT to exactly WHERE they should go in your blog post to increase your chances of making more money every time.
If you are new to our affiliate sale boosting series, you can find the rest of the blogs here:
The whole series is perfect for bloggers looking for the best ways to make affiliate sales and become full-time bloggers.
And if you want to drive traffic to your affiliate blog posts to boost income, you need to grab my free blog traffic course.

What is affiliate marketing?
By now you should know what affiliate marketing is.
Simply put, affiliate marketing is when an affiliate earns a commission for marketing another person's or company's products.
You can also earn a commission for promoting someone else's services.
It's one of the best ways to make money as a blogger.
Can you really make money with affiliate marketing?
If you have never tried making money this way, all I can say is that Affiliate marketing can be lucrative, but it takes a lot of commitment of both time and money to make it a real business.
But by using the tips below, you can increase affiliate sales much quicker.
So how can you increase your affiliate sales?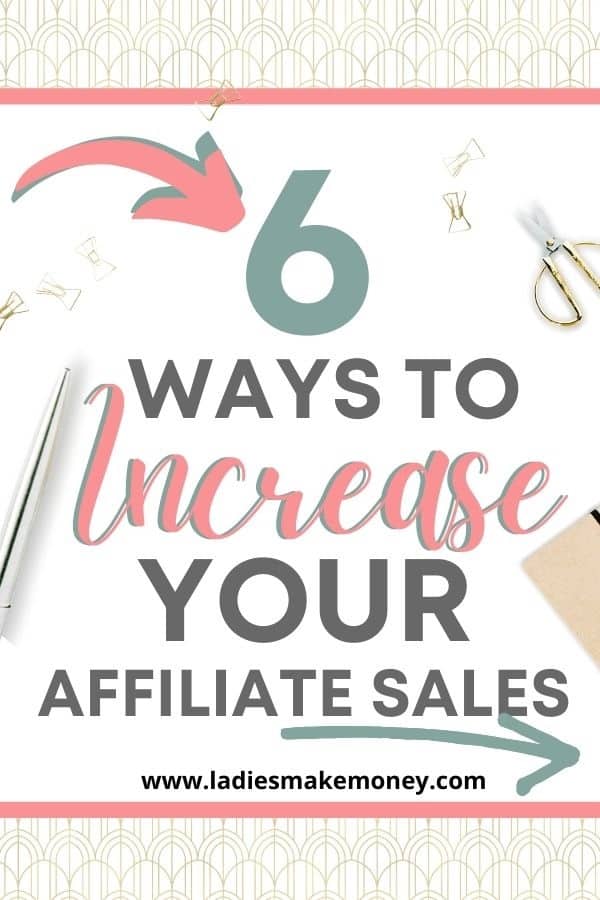 1. Use your email to increase affiliate sales
Kari Sayers shares some of the best tips on how to increase affiliate sales.
One tip that I use every time and it's one that makes me the most income is using affiliate links when I email my list.
And Kari has found the same success.
Here is what she had to say:
"I think it's important for new bloggers to focus on growing their email list and getting their readers to know, like, and trust them. Down the road, this will naturally boost affiliate sales."
Most of my income made using affiliate marketing has come from writing openly and honestly to my email list about my experience with a particular product/service and clearly stating the benefits that others might get from it.
I have spent a great deal of time building my email list and nurturing it.
This has allowed me to make money on a weekly basis, almost every time I send out an email.
If you are struggling with email, check out this list building for beginners blog posts to help you get started.
Kari Sayers Blogs over at Mompreneur Money!
For the exact process, I follow to make thousands every month using freebies and my email list, you can grab this free guide.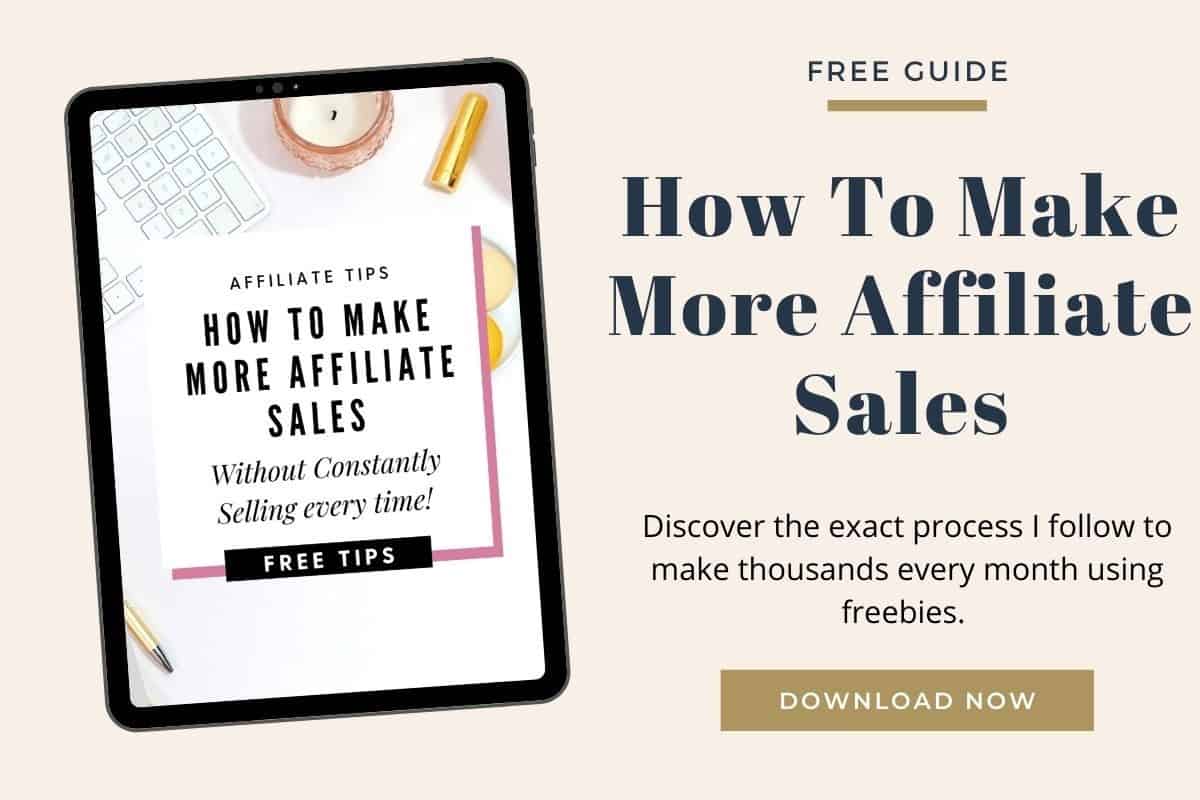 2. Stick to a blogging schedule
By sticking to a blogging schedule, you can increase your affiliate sales in little to no time.
In other words, consistency is key.
Here is what Yuwanda Black had to say:
"My advice is to stick to a blogging schedule….. and blog more".
And she goes on to say this:
"The reason I say this is, many new to blogging and affiliate marketing start out with a bang — maybe posting every day or every other day.
Then, when no sales come in, they'll get discouraged and may tailor off to once a week; then it may be once every other week; then once a month — then the blog dies, maybe being updated once a few months or forgotten about altogether.
I've seen it too many times."
And I get it.
Over the last two months, I managed to write over 100, 000 words on my blog which equated to about 30 new blogs.
I have seen improvements in my website traffic, more affiliate sales, and an increase in email subscribers.
So I advise starting with a schedule YOU CAN STICK TO in the beginning especially as a new blogger.
Even if that's once a week (I advise no less than this), then at least it's consistent.
Then, increase how often you post as soon as you can.
This is how you start to build a readership, which means you start to get subscribers, which means you earn more — and more consistently. "
Yuwanda Black blogs over at InkwellEditorial.com.
3. Email Your Best Affiliate Products
Here is another pro blogger that believes that the best way on how to increase affiliate sales is to use your email.
Her top tip for new bloggers to increase their affiliate sales and constantly make money is to start your mailing list from day one, or as soon as possible (personally, I recommend at least 6 months after starting).
Honestly, you are in complete control of your email list, where you can reach people directly into their email inbox.
The more you can connect with your readers on a personal level, the more money you can make each time you email them.
If they have landed on your blog, subscribed, and confirmed their email address, they are a lot closer to making a purchase than just coming across your blog.
Clearly, you resonated with them enough that they read and subscribed to you.
So go ahead and build a funnel that you can nurture and introduce them to your best affiliate product.
Here are 6 things you can send your email list to earn their trust effortlessly.
Emma Drew blogs over at Make Money Without A Job
4. Provide Value to Your Readers
Remember, above anything, your readers matter the most.
You need to provide them with as much value as you can before you can even consider asking for a sale.
Treat them like they can count on you for your best tips rather than treating them like they need to consistently buy from them.
If you can solve their problems using the products and services you are recommending, they will buy from you naturally.
My good friend, Eden Fried had this to say on how to increase affiliate sales:
"Prioritize providing value to your readers over making a buck.
Sometimes, that means writing blog posts that don't contain affiliate links and sending emails that don't promote a new product or service.
Provide real value to your readers in order to build that strong foundation of trust.
Eventually, before you know it, your readers will start buying".
Connect with Eden right here.
5. Promote Products You Love & Trust
The best affiliate products that make me the most money are the ones you trust and can vouch for.
If you can show and describe how a particular product or service helped you personally, then your audience can trust your recommendation.
When I had my daughter, everyone recommended I use Huggies.
Personally, I would not recommend that brand as I didn't enjoy it and it really did not meet my needs.
I would recommend Pampers, as I felt they held on to liquid better than Huggies. And I can go on and on about the advantages of one over the other.
If you can do this, and other moms can relate, then I am sure they will click on that link and make the purchase.
Here is what Amy Fillinger had to say about how to increase affiliate sales to your post:
"My best tip that I would give to new bloggers starting out with affiliate marketing is to really believe in the product that you are promoting.
People can tell if you're being genuine, even online!
Making the choice to only support products that you believe in, and that you believe will truly benefit your audience, is the best affiliate marketing tip that I can give."
I couldn't agree more.
People purchase if they can relate with you and trust your process.
You can follow Amy right here.
6. Speak to Your Tribe to Increase Affiliate Sales
I have shared so many amazing tips on how to increase affiliate sales today.
The tips listed here can really improve how much you can make each month if you plan it all out properly.
To take it a step further, I really recommend Affiliate Marketing For Bloggers which will walk you through the steps for writing blog posts that make sales.
But Emma also shared an amazing tip for boosting and increasing affiliate sales which I really wanted to share with you.
Here is what she had to say:
"The biggest key to boosting affiliate sales is to make sure you are speaking to your tribe.
If you have the right product for the right audience you will make sales because you are honestly helping people.
My sales increased once I started building an email list with people who were interested in the topic I wrote about.
This gave me an audience that had problems that I could provide solutions for via affiliate products."
You can find Emma Bates from Kids, Cash, and Chaos here!
These are all amazing answers from great bloggers that are rocking it with Affiliate Sales!
What tips or takeaway resonated with you the most?
I found all the tips extremely true and helpful. I would love to thank the contributors that took the time to share their thoughts to help us all.
Affiliate Programs To Increase Affiliate Sales
The secret to making money with affiliate marketing is to find the right affiliate programs to join in your niche and offers that your readers are going to love.
You can get access to over 600+ high-paying affiliate programs to choose from that are not only profitable but convert into sales each time today.
You can grab it here.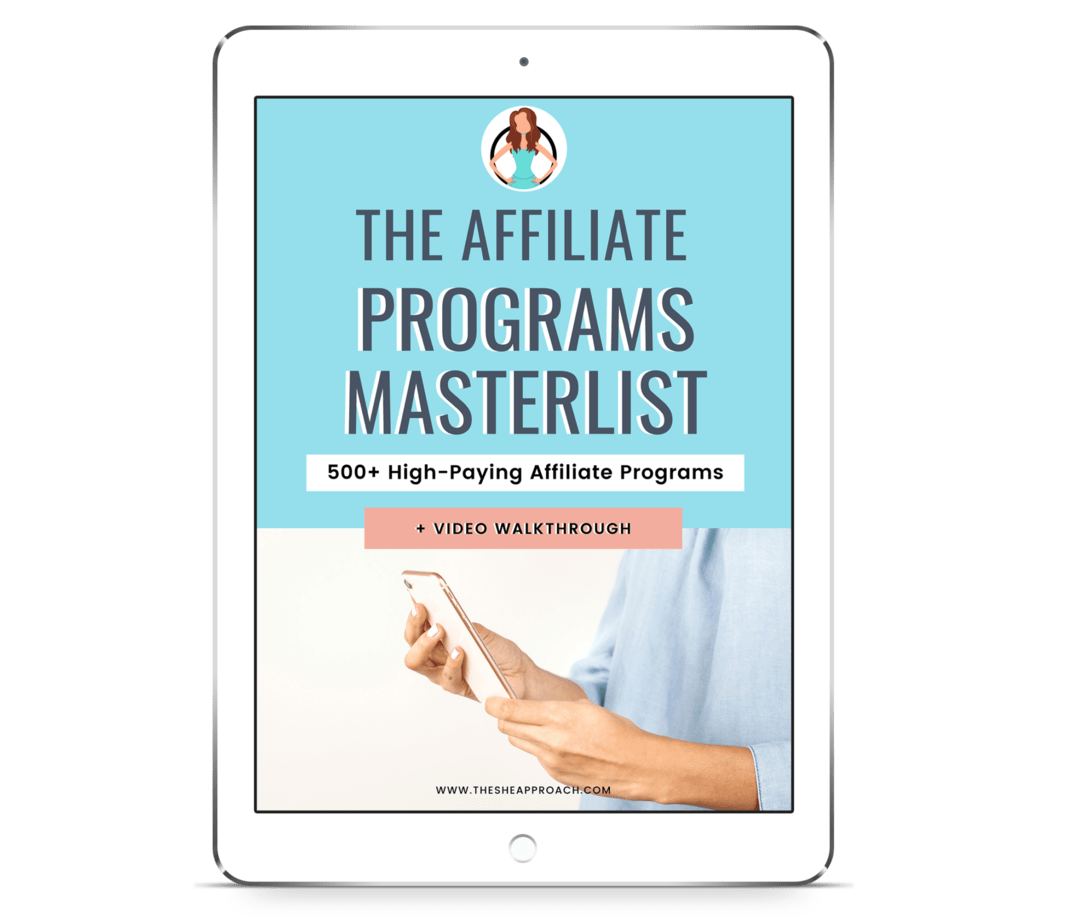 The affiliate master list includes a list of over 600+ affiliate programs along with their sign-up links, commission rates, minimum payment threshold and any other specific regulations you need to know.
This will save you hours of research in terms of finding the right affiliate programs that not only pay great commissions but convert into sales.
If you're not making a consistent income with affiliate marketing yet, chances are that you're promoting the wrong products.
Finding the right affiliate programs to promote can make a huge impact on your income because:
By promoting relevant products, your offers will seem less random and spammy and more helpful

You will find products and services that your readers actually need and that will solve their problems

As a result, you will increase your affiliate earnings and your chances to make passive income
In order to increase affiliate sales and earnings, you need to make sure you are promoting the right kind of products to your audience.
Go ahead and grab the Affiliate Marketing Master list here if you want to increase your affiliate sales this year.
More tips for increasing affiliate sales
If you are not connecting with your readers on a personal level, then you won't close that sale.
Most bloggers are not able to increase their affiliate income because they force people to buy something.
My best tip is to simply recommend why they need a particular product.
Find a problem, share a personal story, take them through the journey, and introduce the product.
Show them why this particular product will help them solve their problem.
The connection is absolutely important if you want to continue making that sale.
I share examples of how I do it in my eBook "Blog Income Strategies Simplified".
Next post on the affiliate marketing series coming up: 10 Ways Bloggers Use Affiliate Marketing Links to Make Money- Stay Tuned!
PS: If you want to boost your affiliate sales on Amazon, you need this!
It goes into so much detail on how to increase Amazon affiliate sales and make $4-5,000 in income.
It's perfect for those that want to know how to get more affiliate sales using the Amazon Affiliate program.
You will get insider tips to help you earn more commissions from Amazon.
There you have it, an epic list of how to increase affiliate sales for your blog!
If you want more amazing ideas like these, including tips to grow your blog from zero to profit, be sure to sign up for our 30 Day Blogging Challenge to a better blog if you have not done so yet!

Read more about other ways to increase affiliate sales below: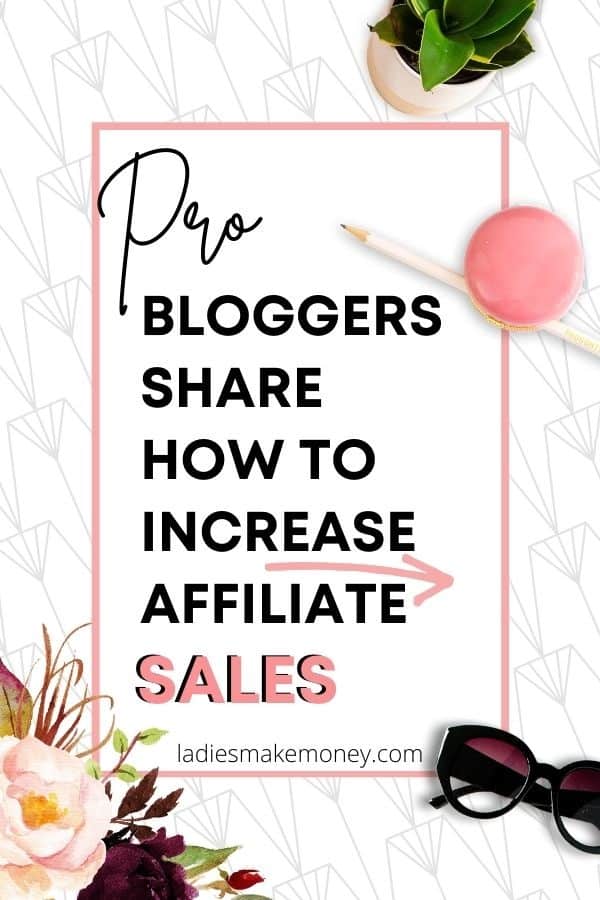 If you enjoyed our blog we would like to have you join our email list and receive weekly money-making tips, you can join now! Don't forget to like the Facebook group for bloggers. The page is created to share your work, pitch your services, and learn from other experienced bloggers!
---
***We would like to note that this post and most posts on our blog may contain affiliate links. Meaning if you purchase something that has our affiliate link, we could make a commission from it. Not all items recommended on our site are affiliate links. We only recommend items that we have used and tried. These items have brought us much success and we highly recommend them to you in order to be successful. Thank you for your trust!
6 Professional Bloggers Share Tips For How To Increase Affiliate Sales