Last Updated on March 21, 2017 by admin
Our Affiliate Blogging series is going extremely well. Today we will be sharing with you what tips and tricks bloggers out there use that help them boost their affiliate sales on a monthly basis. We asked a few entrepreneurs: "What's one piece of advice you would give new bloggers on how to boost affiliate sales." And we got amazing answers from 6 professional bloggers who share their tips on how to boost Affiliate Sales. Keep reading to see what they had to say. 
If you are new to our Affiliate sale boosting series, you can find the rest of the blogs here: (We are focusing on tips on how to boost affiliate sales). 
As always don't forget to join our Facebook group: Babes Make Money Online
6 PROFESSIONAL BLOGGERS GIVE YOU TIPS ON HOW TO BOOST AFFILIATE SALES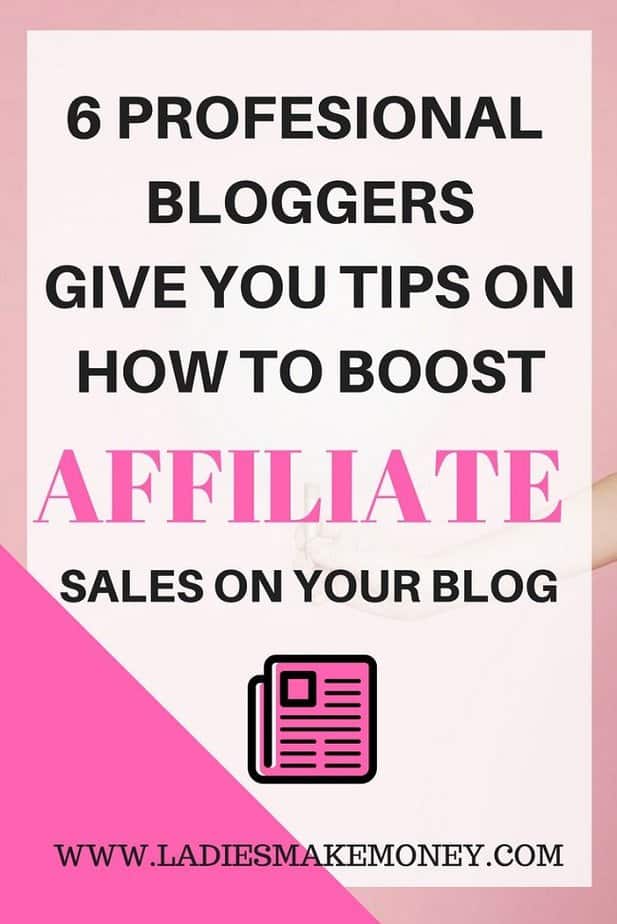 Kari is a Mompreneur and here is her tip: 
Kari has great tips on how to boost affiliate sales. 
"I think it's important for new bloggers to focus on growing their email list and getting their readers to know, like, and trust them. Down the road, this will naturally boost affiliate sales. 
Most of the larger affiliate sales that I have made from my blog have come from me writing openly and honestly to my email list about my experience with a particular product/service and clearly stating the benefits that others might get from it."



Kari Sayers Mompreneur, Teach & Flourish


[email protected]

 | TeachandFlourish.co | teachandflourish.co/digital-product-planner
   
Yuwanda's tips on how to boost affiliate sales are amazing! 
"My advice is to stick to a blogging schedule….. and blog more. 
The reason I say this is, many new to blogging and affiliate marketing start out with a bang — maybe posting every day or every other day. Then, when no sales come in, they'll get discouraged and may tailor off to once a week; then it may be once every other week; then once a month — then the blog dies, maybe being updated once a few months or forgotten about altogether.
I've seen it soooo many times.
So I advise starting with a schedule YOU CAN STICK TO in the beginning. Even if that's once a week (I advise no less than this), then at least it's consistent. Then, increase how often you post as soon as you can. This is how you start to build a readership, which means you start to get subscribers (you do have a way to collect email addresses, don't you?), which means you earn more — and more consistently. "
Yuwanda Black, Publisher
InkwellEditorial.com
P.S.: Ready to start earning $100-$250 /day as an online writer? Go to http://InkwellEditorial.com/e11-excerpt to get everything you need to get started.
---
 "My top tip for a new blogger to boost their affiliate sales is to start your mailing list from day one, or as soon as possible. You're in complete control of your email list, where you can reach people directly into their email inbox. If they've gone to your blog, subscribed and confirmed their email address, they're a lot closer to make a purchase than just coming across your blog. 
Our good friend Eden Fried of EdenFried.com says: 
Eden's tips on how to boost affiliate sales are on point-

My advice: Prioritize providing value to your readers over making a buck. Sometimes, that means writing blog posts that don't contain affiliate links and sending emails that don't promote a new product or service. Provide real value to your readers in order to build that strong foundation of trust. Eventually, before you know it, your readers will start buying.
Amy from Amy Fillinger Photography says: 
Amy has great tips on how to boost affiliate sales and you can read them below- 
"My tip that I would give is to really believe in the product that you are promoting. People can tell if you're being genuine, even online! Making the choice to only support products that you believe in, and that you believe will truly benefit your audience, is the best affiliate marketing tip that I can give. (Amy, http://www.amyfillinger.com)

—
See what Emma Bates from Kids, Cash, and Chaos has to say: 
"The biggest key to boosting affiliate sales is to make sure you are speaking to your tribe. If you have the right product for the right audience you will make sales cause you are honestly helping people. My sales increased once I started building an email list with people who were interested in the topic I wrote about. This gave me an audience that had problems that I could provide solutions for via affiliate products.
Emma Bates
These are all amazing answers from great bloggers that are rocking it with Affiliate Sales! What tips or take away resonated with you? I find all the tips extremely true and helpful. I would love to thank the contributors that took the time to share their thoughts to help us all. 
Don't forget to download a list of over 20+ affiliate programs we use every day to make money from our blog! 
Next post on the series coming up: Why you should be using Affiliate Marketing to Monetize your blog!
MAKE YOUR NEXT $1000 FROM YOUR BLOG WITH OUR NEW E-BOOK. USE PROMO "eBook10″ FOR LIMITED TIME AND GET IT FOR $10.00. BE WELL ON YOUR WAY TO MONETIZING YOUR BLOG TODAY! 
If you enjoyed our blog we would like to have you join our email list and receive weekly money-making tips, you can join now! Don't forget to join our Private Facebook page. The page is created to share your work, pitch your services and learn from other experienced bloggers!
---
***We would like to note that this post and most posts on our blog may contain affiliate links. This means that if you purchase something that has an affiliate link, we will get a commission from it. Not all items recommended on our site are affiliate links. We only recommend items that we have used and tried. These items have brought us much success and we highly recommend them to you in order to be successful. Thank you for your trust!