Last Updated on November 25, 2020 by NandiNN
Bullet Journal Ideas for Beginners
So excited to share some of the best bullet journal ideas out there!
Ever considered starting a Bullet Journal? As a blogger, I am always looking for creative ways to organize myself.
I love to write notes even though you can now use your own phone for note-taking.
But there is something about pen and paper that resonates with me more. That inspired me to look into some bullet Journal Ideas.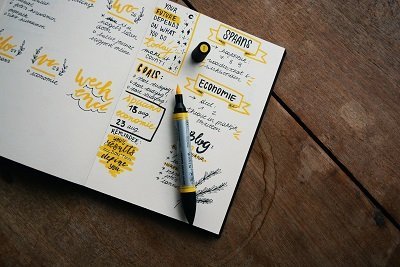 Not sure what bullet journals are and how to even get started?
First, you will need some inspiration.
That is why we searched Pinterest as well as connected with a few bloggers to come up with a few bullet journal ideas to inspire you.
I am personally very excited to try one or two of these bullet journal ideas to set up my online business for success.
However, we rounded up amazing bullet journal ideas that can be used by everyone.
We have a few bullet journal plans to help with household planning, budgeting, travel and much more.
Before we get started on a few exciting bullet journal ideas for beginners to inspire you, we did want you to follow us on Facebook for more awesome ideas on saving or making more money. You can also follow us on Instagram for more tips.
We also wanted to take the opportunity to let you know that we use Affiliate links on some of our blog posts. This means that we could make a commission if you click on an affiliate link and purchase something. Please check out our full disclaimer and policy page here.
Bullet Journaling Ideas for Beginners
So what exactly is a bullet journal and why do you need it? Why should you even look at these bullet journal ideas in the first place?
According to those that use is it frequently, a bullet journal or a BUJO is where you organize everything in life into a D.I.Y Planner of some sort.
You can have a bullet journal for wedding planning, event planning, budget planning, appointments, food ideas, exercise plan and much more.
It's almost like a logbook or a diary if you will.
We are hoping by putting a list of bullet journal ideas together, you will be inspired to start your own.
Also, keep in mind bullet Journal layout ideas before deciding on what look to go with.
After getting countless of questions like these:
What is the best Bullet Journal?

How do you set up a Bullet Journal?

What should I include in my bullet Journal?

What is the best bullet Journal for beginners?
A list of the best Bujo ideas was absolutely necessary! This way, you will have a great idea as well as a visual on how to start your own journal.
We have so much to share from journal list ideas, to dot journal ideas and even some of the best journal ideas for beginners.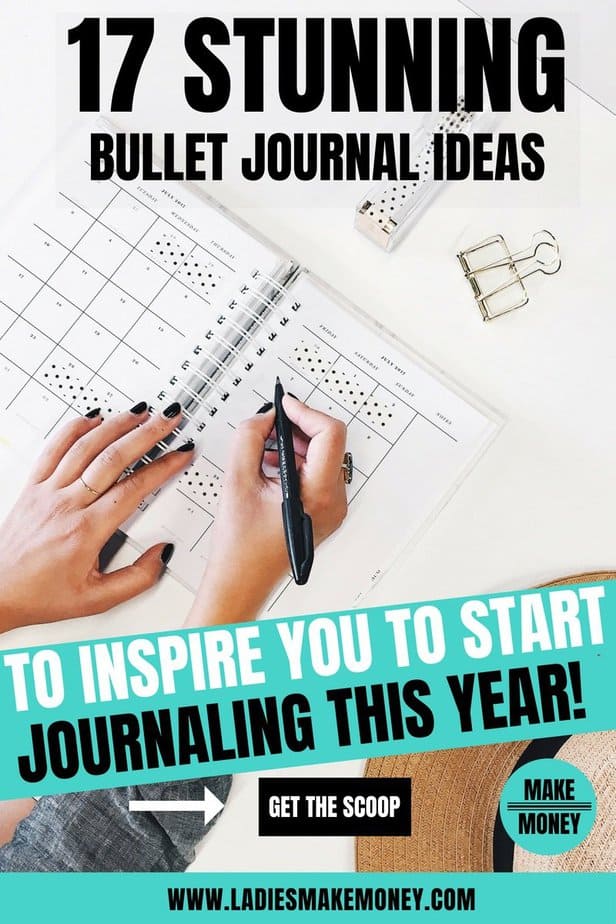 The Ultimate Bullet Journal Guide
This is the ultimate guide to starting a bullet journal of your own.
We are going to share the best bullet notebooks out there to inspire you to design your own.
After going through our Bullet Journal ideas, you might decide to start one immediately.
I am definitely starting one for my blog and I will share it with you once complete. If you do decide to start one, they are a few things you might need.
Take a look at these bullet journal supplies you might need for your own bullet notebook:
A notebook for Bullet Journalling. A popular one I see most people using is the Leautturms1917s one. Another amazing one is the

S

cribbles that matter.

Black Pens for Bullet Journalling. After looking at a lot of bullet journal ideas, they seem to use these amazing black pens that make everything pop. I ordered the Staedtler Triplus Fineliner and the Papermate InkJoy Ballpoint after reading a lot of sources.
Color Pens for Bullet Journalling. I kept with the brand and grabbed the Staedtler Triplus Fineliners Color pen sets.

You will also need a ruler and a pencil!

Don't forget your sticky notes. According to the bullet journal ideas I went through, you need the assorted types. And grab yourself some washi tape and brush pens while you are at it.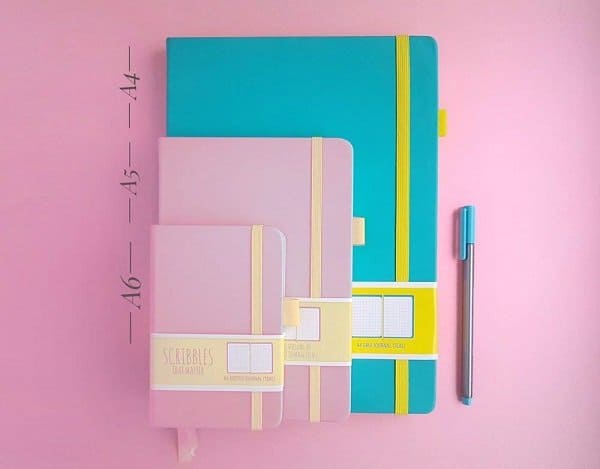 Bullet Journal Ideas Pinterest
I dug on Pinterest as well as contacted a few bloggers to share their best bullet journal ideas.
I plan to use these bullet journal ideas to start bullet journaling for my own blogs. I run multiple blogs and finding creative ways to stay organized is a priority.
I am also searching for a few bullet journal layout ideas to complete the overall style of my new bullet journal.
They are so many bullet journal layout ideas I came across, but I am hoping by the end of this post I will have a better idea of what layout I want to go with.
Are you ready to explore some cute bullet ideas? Here we go!
17 Bullet Journal Ideas From the Best:
1// Mood Tracker Bullet Journal
I love this Unicorn inspired bullet journal idea from Meraki Mother!
You can go ahead and check out how she designed this bullet journal. It even comes with a step by step hand drawing tutorial for those that are not very artistic.
Meraki uses her bullet journal to focus on a healthy lifestyle. The journal keeps her motivated and accountable and I really enjoyed her bullet journal set up.
This is the perfect bullet journal for beginners, especially if you are into healthy lifestyles and want to control how you feel mentally.
I highly recommend this journal for those that care for their mental health.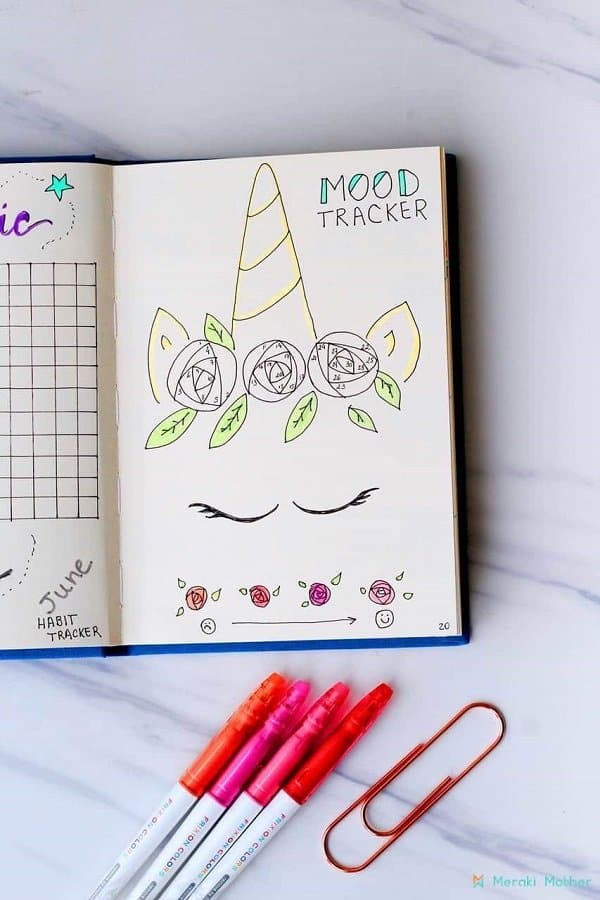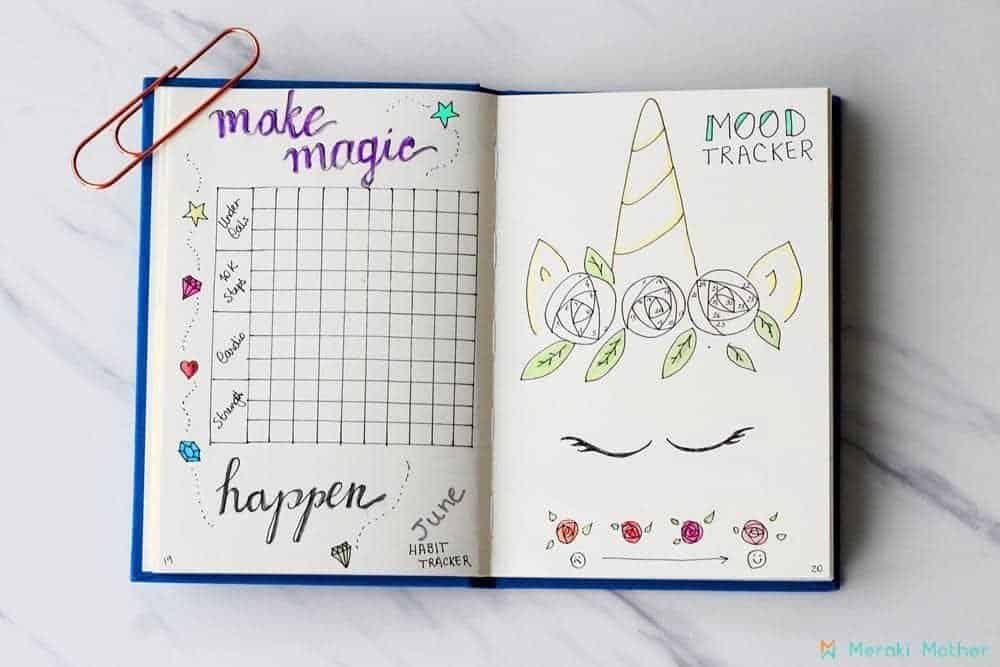 Image credit: Meraki Mother
2//Free Bullet Journal Printables
Be sure to grab these beauties from Mom Envy!
If you just do not have the patience to create your own Bullet Journal. Envy Mom has free bullet journal printables you can give a try.
She even has a few ideas on how to make it all beautiful such as printing them on card stock, using a paper cutter, and some strong glue.
I love all the bullet journal ideas she has on her site.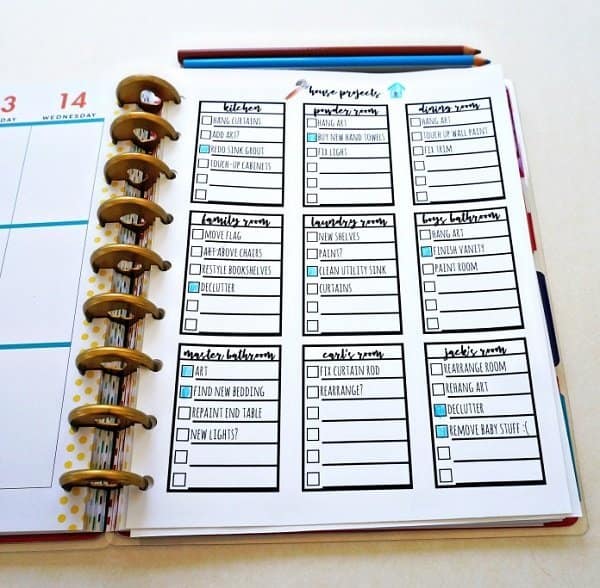 Image credit: Mom Envy
3//Packing List Tracker
Packing list tracker by Em Schwartz!
Honestly, this is a very detailed and visual Packing list that I totally fell in love with!
If these bullet journal ideas do not get you motivated to start one of your own, I am not sure what else will.
This bullet journal is perfect for beginners.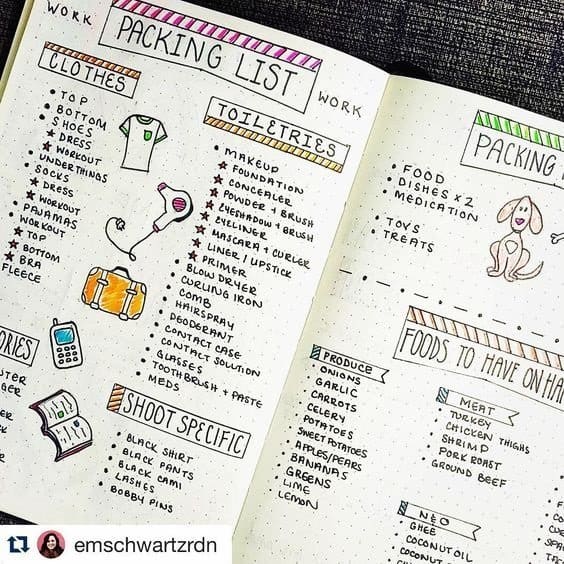 Image source: (via @emschwartzrdn)
4//Habit Tracker
Bullet Journal
Enjoy this Habit tracker via Archer and Olive (Love the blog name by the way).
This gorgeous tracker is what inspired me to start a bullet journal for my blog. I like the way it has the social media tracker on it.
Going through a lot of bullet journal ideas has definitely left me really inspired to start my own.
If you are ready to track your habit, take a look at these amazing habit tracker bullet journal ideas for more inspiration!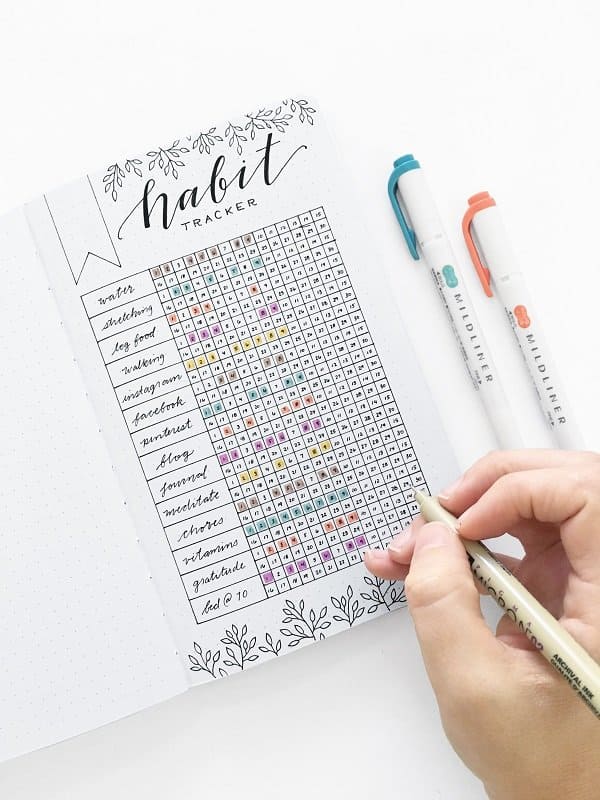 Image source: Archer and Olive
5// Bullet Journal Spreads for goal setting
Starting a Bullet Journal that will change your life.
Kristen from Joyfully Thriving has an amazing tutorial about starting a bullet journal.
According to Kristen, a bullet journal is a simple calendar and task notebook that you can create and maintain yourself.
I personally keep goals and she has amazing journals you can use to track these.
Ready to organize yourself and live your best life ever? Then I highly recommend starting a bullet journal today.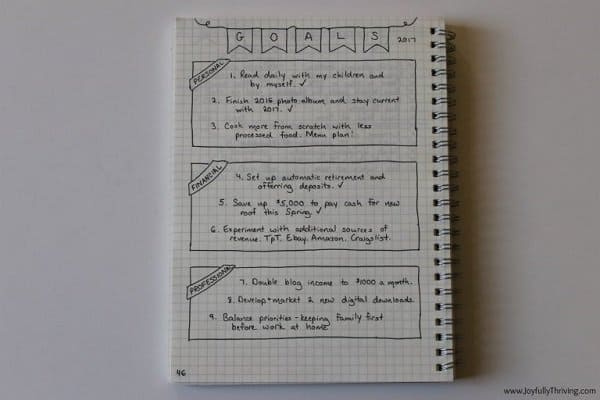 Image Source: Starting a Bullet Journal
6//Daily Routine Journal Planner
Check out this daily routine planner from @the.petite.planner on Instagram.
Another bullet journal that inspired me to start my own blogging journal.
It has a section for blogging, working out and a bedtime routine for kids. This is definitely perfect for working moms looking to get organized.
Download this journal and use the weekly spread to organize your week.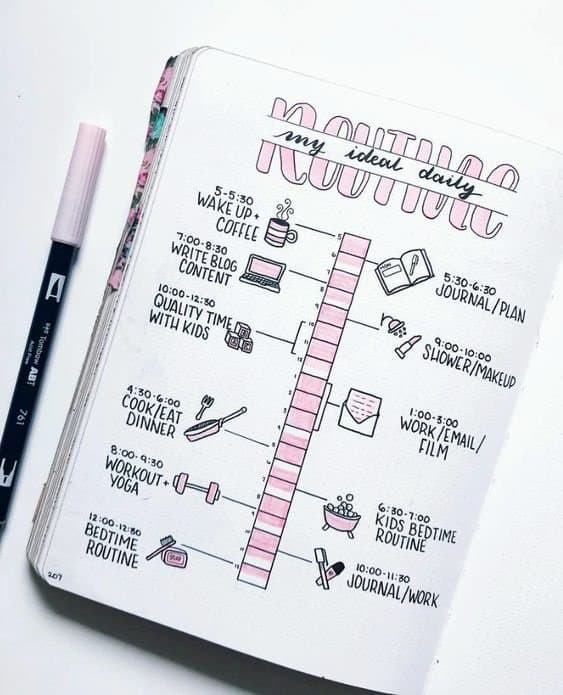 Bullet Journal ideas from the Petite Planner.
7//Daily Bullet Journal Collection
Setting up your first Bullet Journal with the Purple Pumpkin.
Learn how to organize your life with this amazing bullet journal tutorial.
If you love lists as we do, then bullet journaling is what you should be doing to stay more organized.
Michelle is going to show you how easy setting up your first bullet journal really is!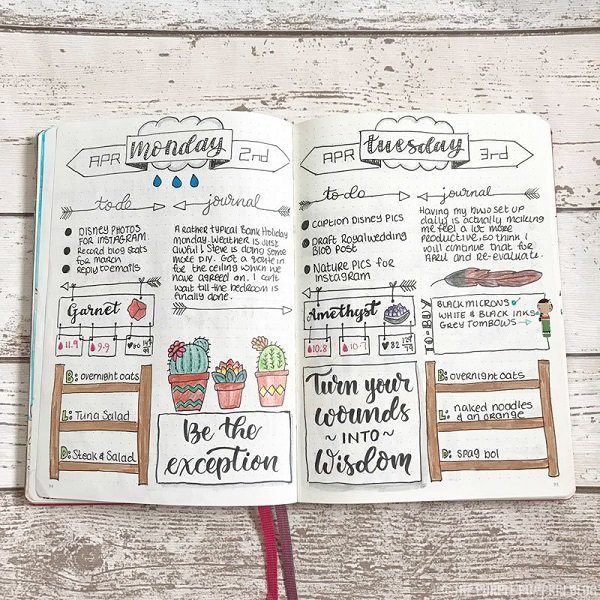 Source: The Purple Pumpkin Blog
Pro tip: If you want to get started with hand letting, then here is an amazing tutorial by Ruffles and Rainboots.
8// Habit Tracker Journal Spread
Habit tracker journal inspiration by Planning Routine.
By keeping a habit tracker, you keep track of your behaviors. This is absolutely perfect for me, as I am trying to kick my coffee drinking habits.
Do you have any reoccurring habits? Not all habits are bad though…They are so many habits you can track in a bullet journal such as:
Tracking your eating habits

You can track how much you spend

You can track your calorie intake

You can also track any goals you might have

You can track your medication intake
Your choices are endless, but I recommend you start your own habit tracker journal today!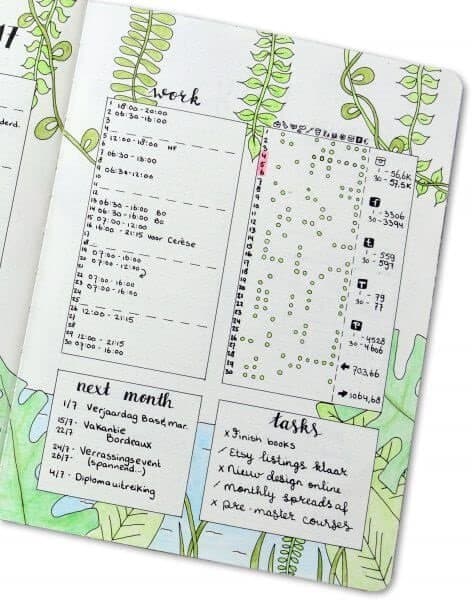 Source: Planning Routine
9// Financial Planning Journal
The best bullet journalling for gaining control of your finances.
Track where your money is going, your expenses, and plan out your monthly budget with the Petite Planner.
We recently did a post about budget planning and this bullet journal is amazing for it.
Budgeting and money planning is really important, especially if you are living paycheck to paycheck!
You would need to be extremely organized and starting a bullet journal might just be what you need to stay on top of things.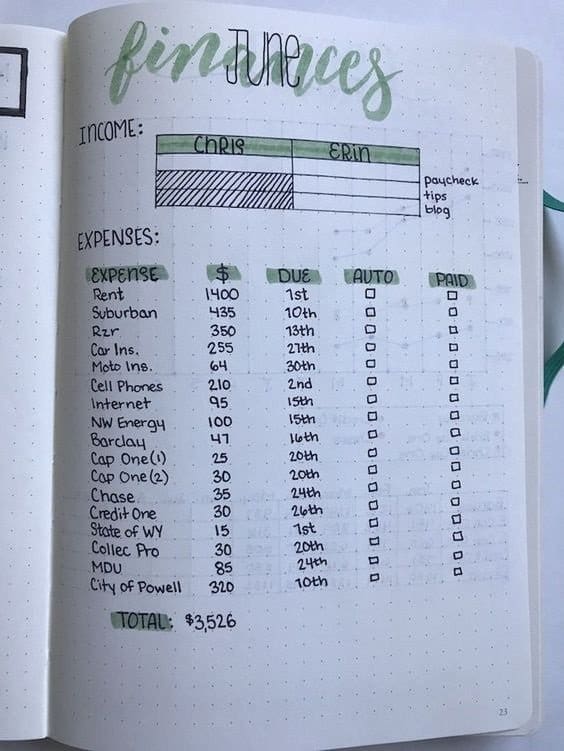 Image source: the Petite Planner.
10//Bullet Journal Weekly Spread
Use these weekly Bullet Journal ideas to plan out weekly duties.
I love this super colorful bullet Journal.
And I really love the top 5 priority corner area as well as the important section. Overall this bullet journal is simple but really colorful.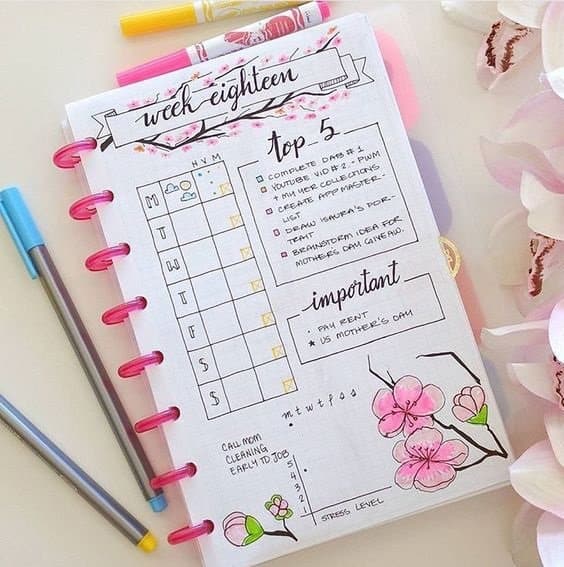 Image source: Instagram
11// Bullet journal themes
Colorful Bullet Journal Ideas to keep you inspired.
I am seriously in love with this bullet journal. And I truly believe it is my favorite.
I am in love with all the bullet journal layout ideas outlined that I will have a hard time deciding what layout to go with.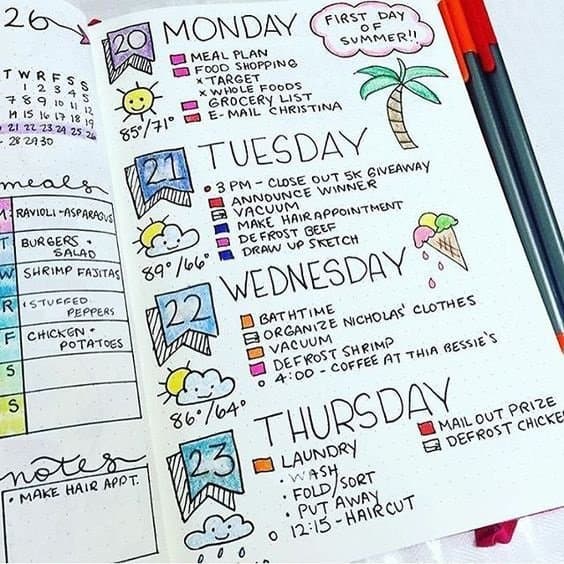 Source: Image
12// Bullet journal daily spread
The more I go through all these bullet journal ideas, the more I am getting close to finding the perfect bullet journal layout for my own project.
This one below is almost perfect.
I like the blog section but I especially like the water intake section. I am so bad at remembering when to drink water.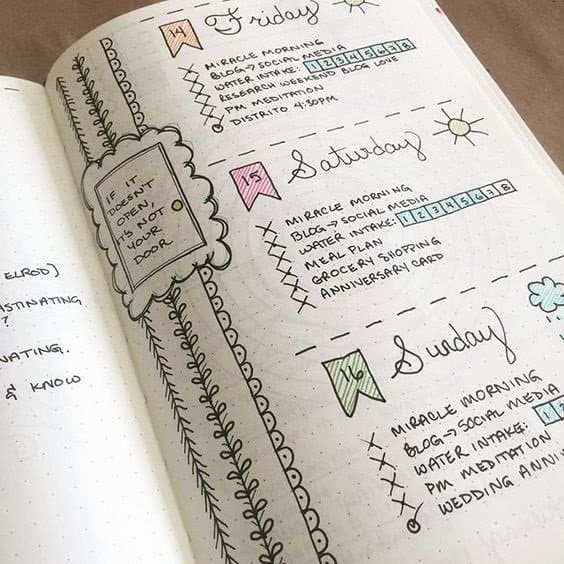 Source: Image
13// Journal to study with
If you are a student, then you will love all the bullet journal ideas from Study with Inspo. Seriously her bullet journals are amazing!
I love this one because of how detailed it is as well as the teal color.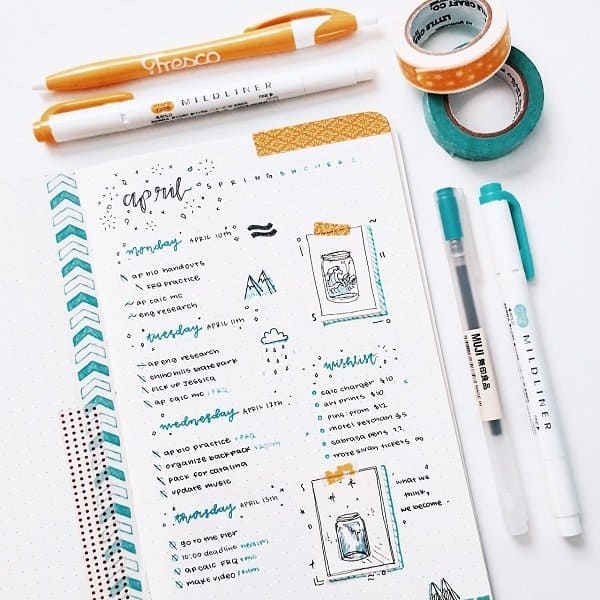 Source: Study with Inspo
14// Study Bullet Journal
Another bullet journal layout from Study with Inspo that I love.
Like the first one above, I also like the color, how neat the layout is and how she has different designs for every month.
This is neat because as a blogger, I would want to see something different each month to keep me motivated.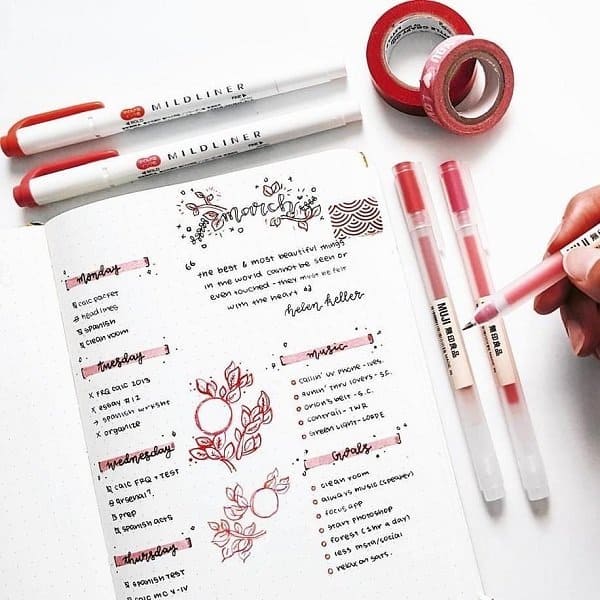 Source: Study with Inspo
15//

Blog Plot bullet journal
I totally love this blog plot journal idea with Tiny Ray of Sunshine.
After going through thousands of bullet journal ideas (literally – my ideas are burning, it's almost 1 am in the morning), I stumbled upon this Blog Plot.
What is a blog plot you ask?
Well, I had the same questions until Kim enlightened me.
A blog plot is a way to record your blog posts in a way that lays out the months by week in a continuous way (the way weeks actually are).
Without any more further blabbing from me, here is the blog plot!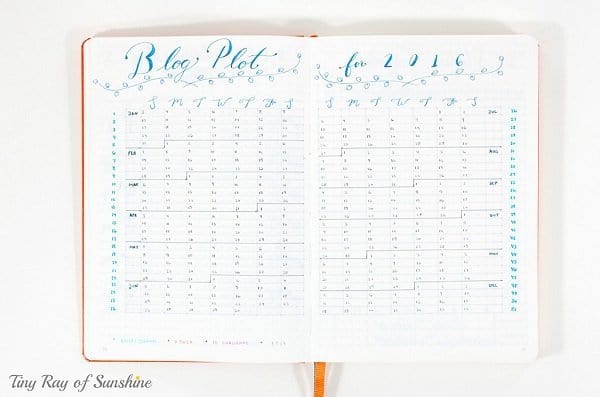 Source: Tiny Ray of Sunshine
16// Blog Stat Tracker
Another amazing bullet journal I found from Tiny Ray of Sunshine, was this blog tracker which is perfect.
If you are looking to track your blog stats such as well as page views, Users, email subscribers and much more, then this is the perfect bullet journal.
I would highly recommend all bloggers and online business owners to try out bullet journaling.
This one is definitely the ideal bullet journal notebook if you are interested in keeping a monthly log about your blogging journey.
For example, if you keep track of your website traffic or your blog income reports, you can use this bullet journal to log it all.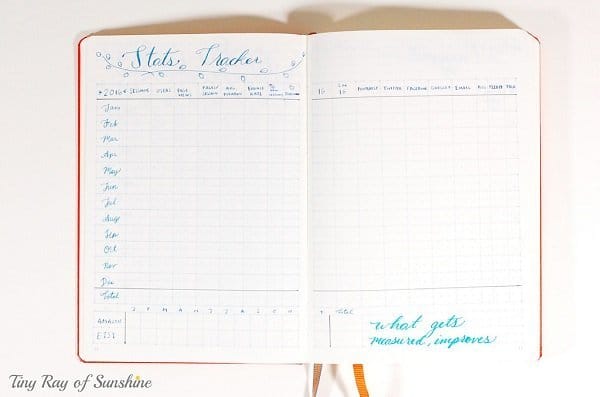 Source: Business Journal
17// Bullet Journal Hacks
Last but not least, Live Better Lifestyle has an amazing article about bullet journal hacks you can use to make your journaling much easier.
You can find a step by step tutorial for personalizing your own cute Bullet Journal. She shares a lot of journal page ideas that you can use to create your own bullet journal diary!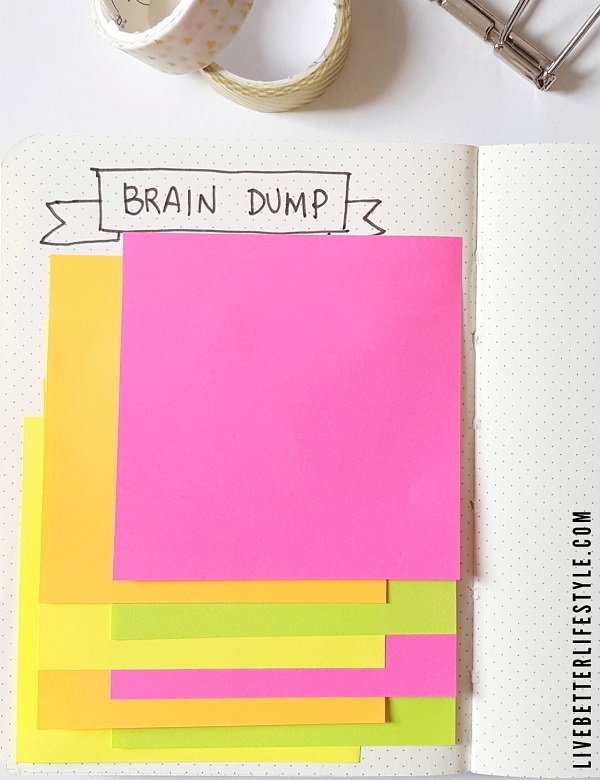 Source: Live Better Lifestyle
PS: Here is a pro tip we already mentioned, improve your hand letting for better journaling.
Sarah from Ruffles and Rain Boots (great blog name) has a full tutorial waiting just for you.
More ideas for bullet journal
If you are not sure what you will need a bullet journal for, I have a few more amazing ideas.
I really use it to stay organized with my multiple online businesses as well as for more family.
If you are like me and you need to keep track of multiple things, journaling might be for you.
It's really great for those that still prefer paper to electronics. Here are a few more ideas for bullet journal that you can start:
Shopping list

Chore list

Daily Cleaning to-do lists

Wedding planning

Food dairy

Medical History

Life changes

Volunteering

Meal planning

Bucket list bullet journal
And the list goes on.
As you can see, you can start a bullet journal for almost anything. It's also a great way to brain dump your ideas on a page to organize later.
They are so many great bullet journal topics you can choose from to create your own unique bullet journals.
I have a few great bullet journal collections of all my online business ideas that I will organize and priorities according to my business needs.
Here is How to Start a Bullet Journal
I love this easy YouTube video on how to start a bullet journal. I love how visual it is and makes it easy for beginners like you and me.
It's filled with amazing bullet journal layout ideas if you struggle in this area as I did.
But by the end of the video, you will definitely be a pro in creating the perfect bullet journal.
Bullet Journal Tips
If you are a beginner and you are thinking of starting your own bullet journal, we have some tips you can use in order to be successful.
1// Keep your notebook simple
The first step in starting a bullet journal as a beginner is to keep it simple. They are people that have been doing this for years and years.
To avoid being frustrated and giving up, go with one of the easiest bullet journal ideas we have shared above.
2// Avoid comparing your work
I always tell my readers not compare what you do with what others are doing.
You may not always get it right and practice only makes perfect.
Another reason to avoid the comparison game is that you do not know what experience one has over you.
A great bullet journal idea you find on Pinterest could have been that person's 100th time doing it.
3// Join a bullet journal community
Facebook groups are the best way to find others that are doing the same as you.
For example, this Bullet Journal Junkies Facebook is full of other obsessed bullet journal fans that you can get to know.
Here you can ask questions, find tips and even more bullet journal ideas to try out.
4// Invest in great Bullet Journal Supplies
In order to design and create out of this would bullet journals, you will need the right tools for it.
We have already listed all the bullet journal supplies you will need above, but you need to take the next step in investing in them.
For example, this Leautturms1917s
is a must and so is this Staedtler Triplus Fineliners Color pen!
Great Bullet Journals were created by using the right tools!
By following these tips, we know you will create some amazing bullet journal pages that we want to see.
Which of these bullet journal ideas will you try out today?
Did you enjoy all our Bullet Journal Ideas?
You might also like:
10 Celebrity quote to inspire Female entrepreneurs
Struggles, successes, and tips for women trying to make extra money
Don't forget to pin this post here to your work from home job board.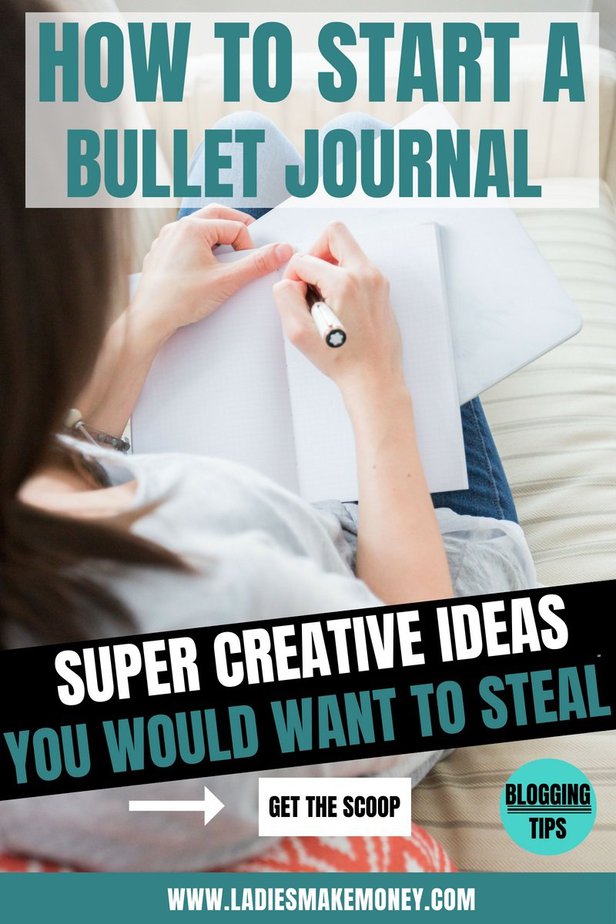 We hope you enjoyed some of these Bullet Journal Ideas!
If you enjoyed our blog we would like to have you join our email list and receive weekly money-making tips, you can join now! Don't forget to like the Facebook page. The page is created to share your work, pitch your services and learn from other experienced bloggers!
---
***We would like to note that this post and most posts on our blog may contain affiliate links. This means that if you purchase something that has an affiliate link, we will get a commission from it. Not all items recommended on our site are affiliate links. We only recommend items that we have used and tried. These items have brought us much success and we highly recommend them to you in order to be successful. Thank you for your trust!
17 Stunning Bullet Journal Ideas for Beginners that will Inspire You