Last Updated on March 17, 2021 by NandiNN
Blog Post Ideas for Valentine's Day
I should have written this post months ago as Valentine's day is just around the corner. If you are looking for great Valentine's Day blog post ideas, we have over 100 ideas for you.
It takes Google just about 6 months to properly rank a good SEO-optimized post, so the sooner you get started, the better your chances of ranking.
I do not recommend doing what I just did by waiting to post this blog post right in the middle of February when I should have done it months ago!
So use this post wisely and make note of a few Valentine's Day article ideas and work on your content.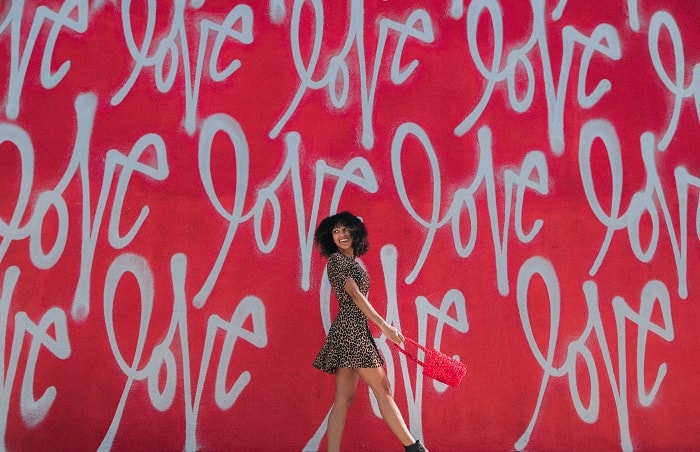 You are here today because you are looking for:
Valentine's Day Marketing ideas

Social Media Ideas to Post on Valentines day

Top Valentine's day article ideas

More seasonal Content to Write for Valentine's Day
Before we get started on the best Valentine's Day Blog Post Ideas, we did want you to follow us on Facebook for more awesome ideas on saving or making more money. You can also follow us on Instagram for more tips.
We also wanted to take the opportunity to let you know that we use Affiliate links on some of our blog posts. This means that we could make a commission if you click on an affiliate link and purchase something. Read our full disclosure and blog policy for more information.
When is a good time to post a Valentine's Day blog post?
If Google needs time to understand your posts and start ranking it, I would suggest writing epic content for Valentine's Day starting June or no later than July.
Ranking on Google was pretty easy a few years ago, now they make you work for your content.
With so much competition now on the internet, it takes a little longer to rank now.
In fact, according to this article, it could take six months to one year to rank on Google!
By using easy-to-rank keywords, you have a better chance to show up on Google.
Since I have started using the KeySearch tool for all my keyword research, I have never looked back and I appreciate how much easier my blogging life is (use KSDISC for 20% off).
You can start promoting and marketing your valentine's day blog posts starting January 1st, provided you have great quality content already.
Otherwise, if you are late with your post, promote it as soon as you publish them.
Valentine's day blog posts are huge on Pinterest!
And If Pinterest isn't part of your marketing strategy yet, you'll want to check out the exact steps I use to get instant traffic to my posts using this Pinterest marketing strategy.
With that in mind, here are 100 lifestyle blog post ideas for your Valentine content.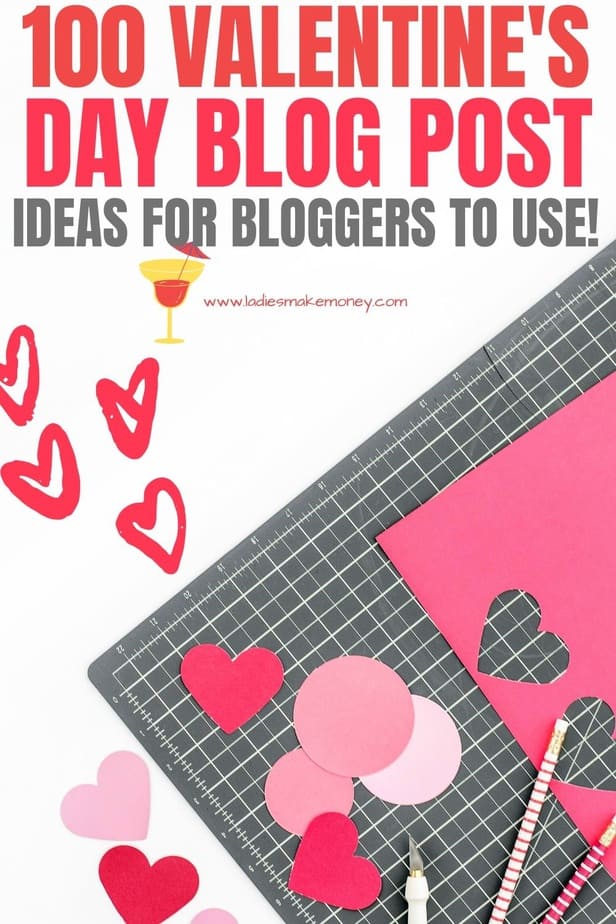 Here is a list of February blog post ideas to consider:
Whether you need last-minute Valentine's Day ideas for your business or you are planning out your February blog post content, these ideas should give you a head start.
Home & Decor Lifestyle Blog Ideas
Valentine's Day home decor ideas

6 Long-Lasting Floral Ideas For Valentine's Day

Home decorating ideas for Valentine's Day

Best Rustic Valentine's Day Decor

Romantic home decorating ideas for Couples

Valentine's Day Wreaths and Garland you will love

Easy Valentine's Day Table Decorations

Valentine's Day Decoration Ideas for the Office

Romantic Valentine's Bedroom Decorating Ideas

Cute Valentine's Day Homemade Crafts
Wedding & Relationship Valentine's Post
Valentine's Day Wedding decoration ideas

Valentine's day DIY date ideas

Valentine's day date ideas at home

10 Valentine's Day Quote to Melt Your heart

3 styles of wedding lingerie for the newly engaged

Valentine's gift ideas to surprise a new bride with when she gets engaged

9 Valentine's Day Dinner Ideas for Couples

6 Ways to share the love this Valentine's Day

5 Ways to surprise your partner this Valentine's Day

3 Valentine's Lingerie You Will Probably Want
Gift Guides and Gift Ideas Blog Posts
Valentine's Gift Ideas for Her

Valentine's Gift Ideas for Him

Valentine's day gifts for wife / Husband

Last-minute Valentine's day gift ideas

8 Valentine's Day Gifts For Under $15

12 gift ideas that say "I Love You"

DIY Valentine's Gift ideas to die for

Best Valentine's Day Gifts for Everyone on Your List

35 Unique DIY Valentine's Day Gifts for Men / Women

10 of the Worst Valentine's Day Gifts Ever!
Round-Up Valentine's Blog Ideas
15 Unique Ideas to Celebrate Valentine's Day

10 Valentine's Day Printables full of ideas

25 Craft Ideas to make for Valentine's to Sell

Dollar Store Valentine's Day DIY Decor Ideas

10 alternative Valentine's Gifts to roses

What to Watch on Valentine's Day – 5 Romantic ideas

Valentine's Day Crafts to Make You Feel the Love

25 Cheap and Easy Valentine's Day Gift Ideas

15 Romantic Valentine Dinner Party Themes

30 Valentine Party Snack Ideas that Show Love
Personal Finance / Frugal Savings Post Ideas
Valentine's day gifts when broke

Valentine's Day Date Ideas on a Budget

How to save money this Valentine's Day

What to Do When You Can't Afford Valentines Day

10 Budget-Friendly Valentine's Day Ideas to steal

12 Homemade Valentine Card Ideas

11 Ways to be romantic on the cheap

Free Ways to Celebrate Valentine's Day this Year

Cheap Romantic Getaways for Valentine's Day

Cheap Valentine's Day Decorations You Can DIY
Mom and Parenting Valentine's Day Post tips
Valentine's Day crafts for toddlers

Valentine's Day for single moms

Valentine's gift ideas for kids

10 Family-Friendly Valentine's Ideas

10 Cutest Valentine's looks for your baby

Valentine's Day gifts for pregnant women

Great ways to celebrate Valentine's Day with your family

11 DIY Valentine's day ideas for kids

6 Valentine's day outfit ideas for moms

12 Valentine's Day Activities for the Family
Blog Ideas for Travel Bloggers
Romantic places for a honeymoon/vacation

Tips to celebrate Valentine's Day when you're travelling

15 Romantic places you can spend your valentine

11 Romantic Locations In Your Local Area

20 Romantic Things To do In Your Local Area

Amazing hangout spots for lovers for Valentine's Day

5 Places to Travel for Couples Around the World

14 Romantic Places to Eat in the World

10 Valentine's Day Vacation Ideas

11 Romantic All-Inclusive Adult Only Resorts
Valentine's Blog Post Ideas for Personal & Lifestyle Bloggers
3 Romantic Movies to Watch on Valentine's Day

14 Romantic Love Songs You can Play on Valentine's Day

20 Valentine's Day Self-Care Tips

Fun Valentine's Day Games to Play

Fun things to do with friends on Valentine's Day

Simple Valentine's day makeup for the Evening

Easy Valentine's Day Hairstyles for Long Hair /short or Medium

Valentine's Day a time for selfless giving

How to be single on Valentine's Day and enjoy every second

Valentine's Day Games for College Students
Valentines Day Post for Food Bloggers
Easy Valentine's Day Dishes You Can Make in 30 Minutes or less

10 Heart-shaped cookie recipes you can make this Valentine's Day

Last-minute Valentine's treat you must get

6 Healthy Valentine's Snacks You Can Enjoy

11 Love Quenching Drinks You Can Make on Valentine's Day

25 Valentine's Day Food Ideas to Try in February

25 Valentine's Day Dessert Ideas to Try this Month

15

Valentine's Day Cake Ideas to Make

Valentine's Day Food Ideas for Kids

Healthy Valentine's Day Dessert for Kids
There you have it, a list of the best Valentine's Day Blog Post Ideas to help you this holiday month!
If you want more concrete tips for increasing blog traffic each month, sign up for my free blog traffic boosting tips right here.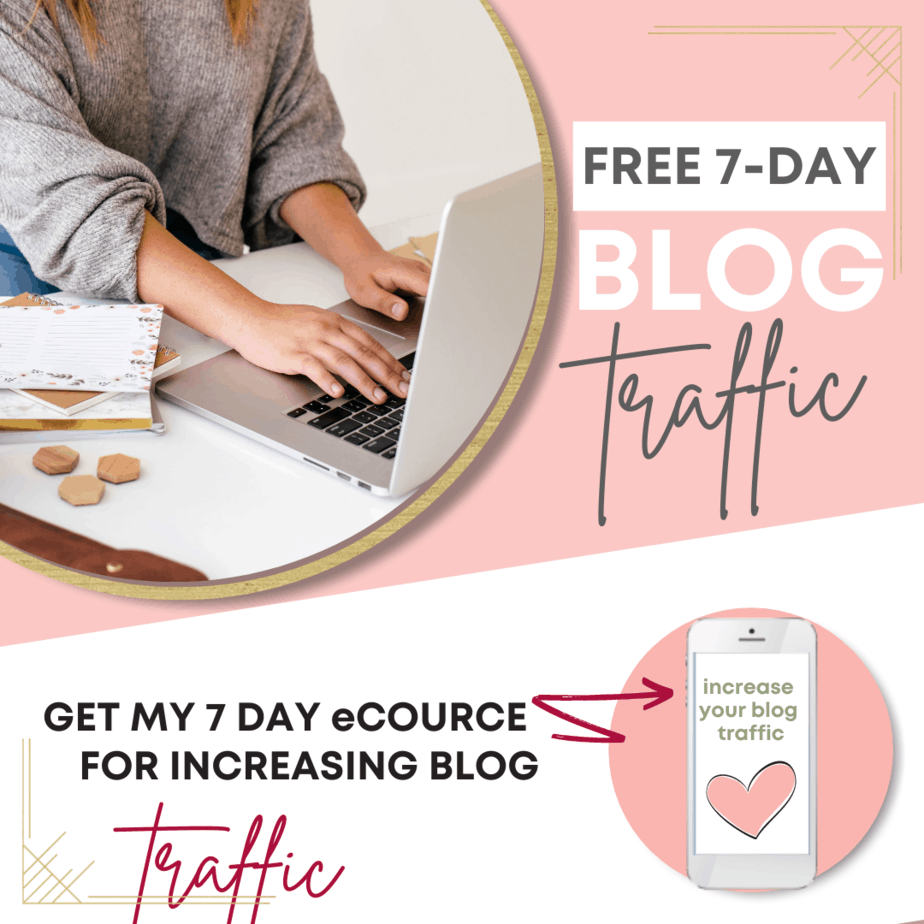 If you are looking for more valentine's day blog post ideas, you can use the ones below:
Valentine's Day Party Themes for Adults

Valentine's Day Games Everyone will enjoy and love

10 Creative Things to do for Valentine's Day to show love

12 Last Minute Valentine's Day Deals to Grab

6 Unique at Home Valentine's Day Ideas

The Best Valentine's Day Books for Adults

Great Ways to Celebrate Valentine's Day for Kids

Best things to send instead of Flowers on VDay

Thoughtful Gifts that are better than Chocolate

The best parent gift ideas for Valentine's day

Valentine's Day Gifts for Mom
Tips for using these Valentine's Day blog post ideas:
These are ideas, use them to create more enticing titles that will ensure your readers click over to your post.
Remember, they so many Valentine's day blog posts that go out every January and February!
As always, make sure you start writing these posts as early as right now, unfortunately, it doesn't mean that you will rank, but you might have a chance with Pinterest and you will also be prepared for next year.
If you want to use my ranking tips, you can read all about it here!
Basically, I use a combination of a keyword tool and Google to epic write content I can really rank for.
Why Write a Valentine's Day Post
Seasonal posts like Valentine's day Posts are a great idea to have to increase traffic to your website temporarily.
In fact, I was able to get into Mediavine, an ads network during December, due to all the traffic I got from my Christmas Blog Posts.
If Mediavine is where you want to end up, I really recommend the Mediavine traffic challenge today which I did. It pushed me to really work on my blog to get blog traffic.
Which of these Valentine's blog post ideas will blog about today?
Remember, it's never too late to try and if you other ideas we didn't mention, share them with us in the comment section.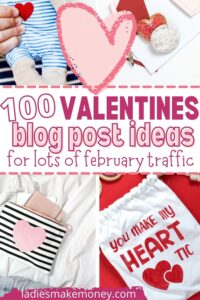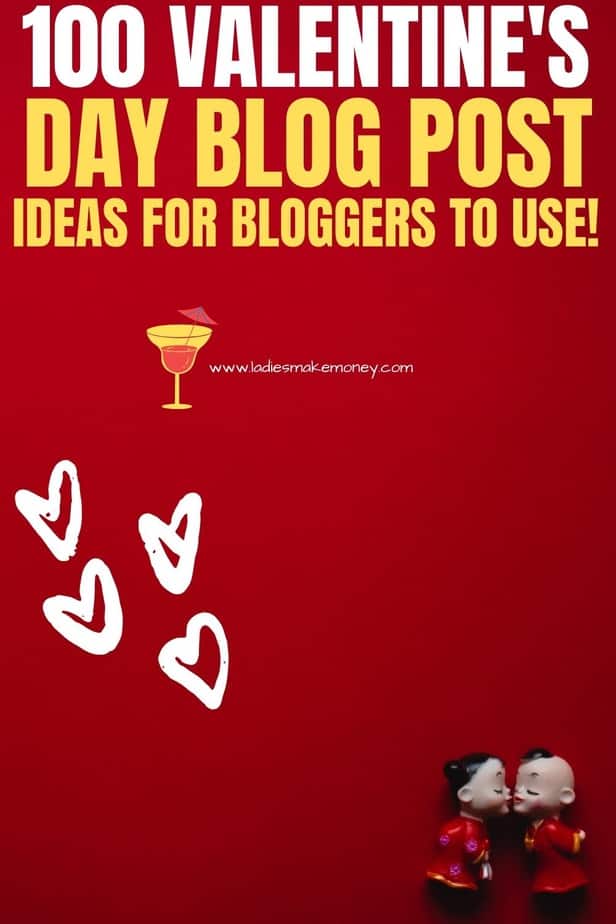 Related
If you enjoyed our blog we would like to have you join our email list and receive weekly money-making tips, you can join now! Don't forget to like the Facebook page. The page is created to share your work, pitch your services and learn from other experienced bloggers!
---
***We would like to note that this post and most posts on our blog may contain affiliate links. This means that if you purchase something that has an affiliate link, we will get a commission from it. Not all items recommended on our site are affiliate links. We only recommend items that we have used and tried. These items have brought us much success and we highly recommend them to you in order to be successful. Thank you for your trust!
100+ Valentine's Day Blog Post Ideas Your Readers Will Absolutely Love