Last Updated on March 29, 2020 by NandiNN
Profitable Side Hustle Ideas for Everyone
Find the best side hustle ideas online seems to be difficult these days!
So much information is now available and sometimes this can make finding the right money-making hustle hard!
Do you feel like you have some extra time on your hands and could be doing more?
Do you have an unbelievable drive to work and earn extra money?
If so, there are so many ways to make extra money, and while you take in those dollars, you can meet new people, learn new things and gain wonderful experiences as well!
That is why we came up with the best side hustle ideas that you can do to earn extra money fast.
But not just any side hustle ideas!
We really wanted to focus on the most profitable side hustles that you can try out for extra cash.
When I was in college, I often looked for ways to make an additional income to cater to my living expenses at the time.
This is commonly known as a side hustle and most of you prefer to find easy side jobs to make that extra money.
Now, if you have never heard of this term before, it basically means you are participating in smaller, part-time jobs to accumulate some extra cash.
As a young adult with a strong work ethic, you might find yourself stuck in a rut, making a decent amount of money but only seeing that big paycheck for a few days before the bills take over again.
Trust me, you'd be surprised at how much of a difference a little extra moola can make in your daily life!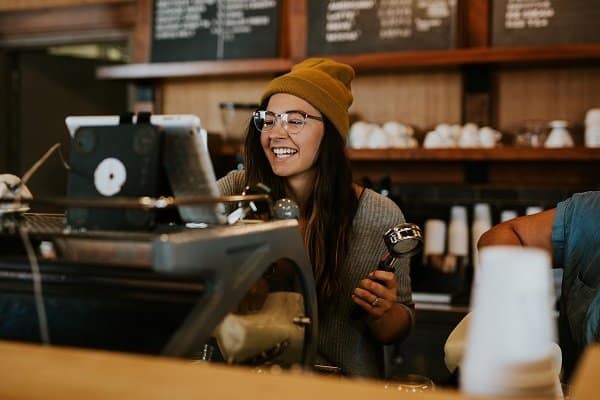 Before we get started on what the best side hustle ideas you must do, we would love for you to like our growing Facebook page right here! Be sure to follow us on Instagram here.
We also wanted to take the opportunity to let you know that we use Affiliate links on some of our blog posts. This means that we could make a commission if you click on an affiliate link and purchase something. Read our full disclosure and blog policy for more information.
I found a lot of amazing questions online about side hustling! A few that stood out to me were:
What are the most profitable side hustles?

What is the fastest way to make money on side hustle jobs?

What is a good side hustle to make money?

What is the best paying side job?

How do you choose a side hustle?

What is the best side hustle for me?
These were all interesting questions and we really wanted to dig in and explore all of the possibilities of making extra money!
What is a Side Hustle?
Before we even get started on discussing profitable side hustle ideas, we need to understand what a side hustle is!
So what exactly is a side hustle?
A side hustle is simply a way to generate extra income even when you have a full-time income.
Most of these side hustles can now be done from home, by starting your own side profitable business or freelancing for others to earn extra cash.
They are so many different hustles to make money that we are happy to share with you.
But the best type of side hustle is one that can make you passive income!
Just check out this video below where my good friend Gillian Perkins shares exactly how she made over $20, 000 in income passively while on vacation!
Why you need a profitable side hustle
Unfortunately, in today's expensive society, the money we are currently making may not be enough to cover life's expenses.
Bills are constantly pilling up, a regular 9-5 job is no longer enough, and catching up on debt is becoming almost impossible to do.
Half of us are not even landing in the jobs we went to college for and even if we do, the salaries don't seem to match the student loans we started with.
Side hustle jobs are great for:
Paying off debt fast

Paying for emergency expenses

Covering unexpected bills and expenses

Paying for lifestyle changes that we might have

Increasing savings accounts
Side Money Ideas, Do they Really Work?
Side hustles to make money do not always work!
Depending on hustle you do try, you can end up making only pennies, or you can make lots of cash!
That is why we recommend choosing the right side hustle.
You will want to keep time and how much is involved before officially choosing your perfect most profitable side hustle.
The Best Side Hustle Ideas Recommended
Money can't buy you happiness, but having a little more than usual to contribute to your social life (maybe a road trip, or a vacation with friends) can definitely bring you joy and some pretty incredible memories.
The days of sitting at home due to your restricted budget are over!
We are hoping these side hustle opportunities are going to positively change the way you earn and spend, and correlate with your hard work ethic!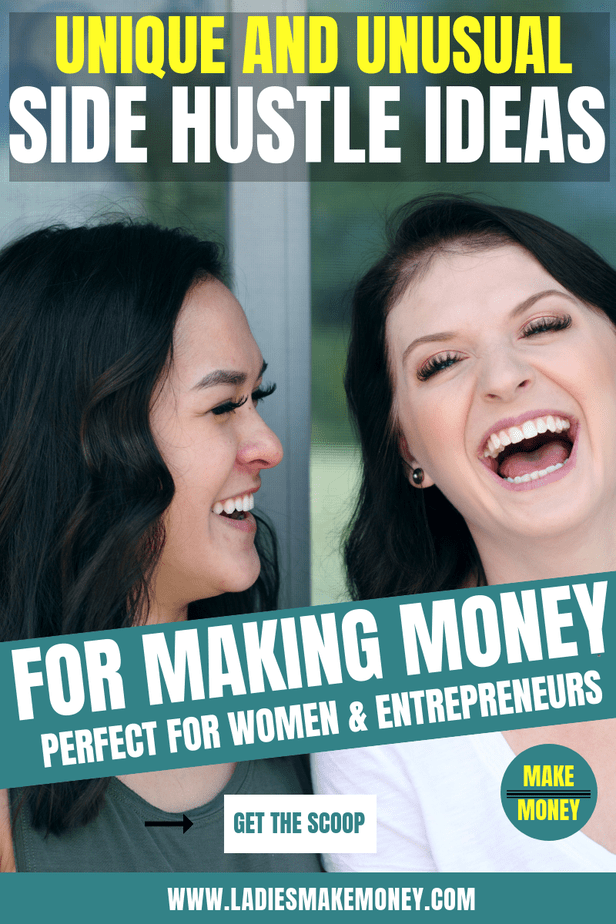 Creative side hustle ideas to make money
Here is a list of common side hustles you can do today to make extra money to pay for your lifestyle.
1// Become a Brand Ambassador
A few of the best side hustle ideas we truly believe in is working as a brand ambassador.
Representing a company or brand is a great way to showcase your loyalty to their product or service.
Usually, brand ambassadors are hired by a company to spread a positive word about their mission, products, and current promotions.
Some associated tasks are hanging up posters and passing out stickers at events, wearing brand merchandise all the time, building strong relationships with the community, and creating or improving an online presence.
Depending on your expertise, experience and where you're hired, brand ambassadors can make up to $30,000 a year!
If you have a blog, find out how to work with brands as a blogger!
2// Babysitting or Pet Sitting
Definitely keep a list of the best side hustle ideas and add pet sitting on your list.
Pet owners and parents are always looking for a reliable and responsible individual to watch their child or pet.
For mothers and fathers who have a busy work schedule, having a backup babysitter can be a lifesaver, and guess what, they pay really well in emergency situations!
Depending on how long you babysit or care for a furry-friend, sitters make close to $10-15 an hour!
To find clients, try setting up a profile through a website like Rover and spread the word through family and friends.
Building up a good reputation both by word of mouth and online is a great way to become a regular for a lot of families.
This is definitely an easy side job and can be done by almost anyone.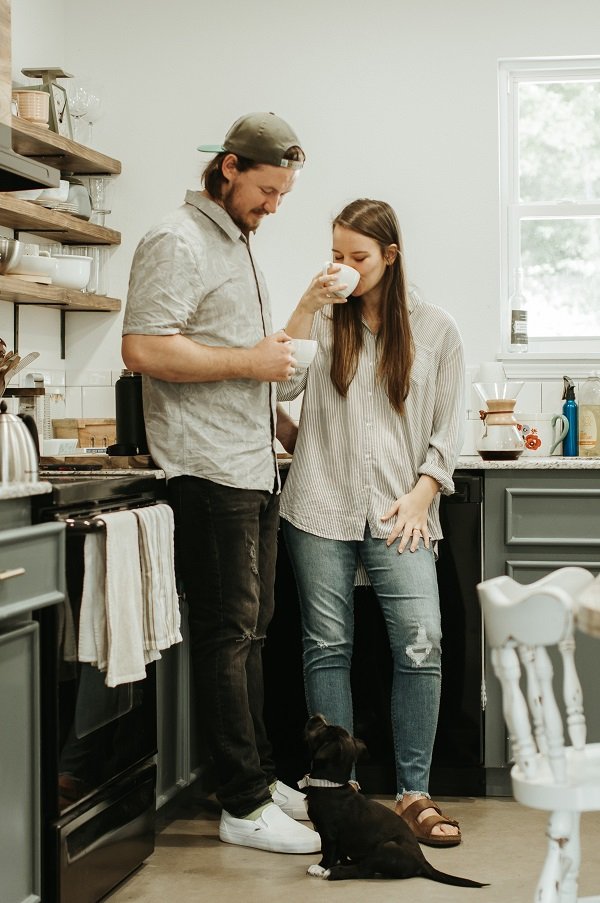 3// House Cleaning
Let's be real, everyone would love a clean home.
Unfortunately, day to day life can come with some stressful situations and a lack of time to tidy up.
Not only will becoming a house cleaner assist someone in need of some organizational help, but it can lead you into other avenues such as decorating, or grocery shopping to make even more money!
A housecleaning customer may not need you every day, so stay as available as you can for when homeowners need you.
This definitely has to be the best side hustle ideas ever created.
Home cleaning will always exist and therefore getting clients for this side hustle will not be that difficult.
4// Tighten Up Your Budget
This hustle doesn't necessarily bring in more income, but it will definitely leave you with more money in your pocket.
Take the time to go through your budget and see if there are any unnecessary expenses you can cut out.
Are you paying for a gym membership you don't use anymore?
Or can you research refinancing your student loans to end up with a smaller monthly payment?
Spending just a few hours looking at ways to cut costs can result in your earnings going a lot farther than you think.
The best part is the money you will be saving can easily be used towards investing in whatever side hustle you choose to pursue!
We are always looking for the best side hustle ideas and setting a budget should also be part of your daily life routine.
If you need help creating a budget, use these free monthly budget templates to get started!
5// Uber Driver
Uber has experienced an increase in popularity within the last couple of years.
Many town and city residents are "wishing they had an Uber service", and now that this company has taken advantage of that, they are always looking for drivers.
This side hustle is extremely easy to do (if you have a license of course!).
It involves picking people up and dropping them off to their preferred location, and it is mostly coordinated through a single app and can be done by using your own vehicle.
Earnings are determined by a variety of trip details: trip distance, vehicle type, ride acceptance time, and your set per minute rate.
It is really becoming popular and is now known as one of the best side hustle ideas invented.
Become an Uber Driver today!
Related profitable side hustle ideas:
13 Genius Ways to Make Money on the Side every Month
30 Ways to Make Money Fast to pay for Bills
Unique Side Hustles
We hope you give these a go! Here is a list of side hustles that you should totally look into!
1// Become a Tasker
Are you a home improvement junky looking for a way to help someone in need of specific home service?
Some of the most popular 'Taskers' make up to $2,000 a week, and this can differentiate from your own based on popularity, skill, and your set hourly wage.
Heavy lifting, moving and packing, furniture assembly and fixing appliances are all requests that you could receive from users.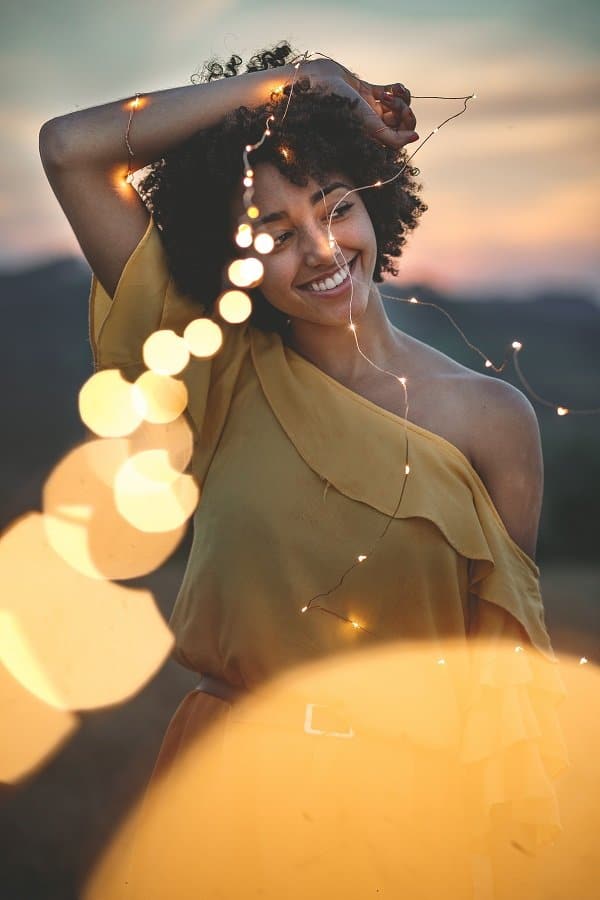 2// Art Class Model
Many college students who enroll in an art class get the opportunity to learn the basics of figure drawing or painting.
Depending on your professor, he or she may want you to complete a project involving the human form.
Being an art model means you're literally getting paid to be naked in front of 20+ people for a few hours.
Even though I have no experience in this, I can imagine how weird it could be at first, but if you believe you're bold enough and want to make $20 an hour, I say go for it!
3// Sell Your Hair
If you were blessed with long, luscious locks and find yourself getting a frequent trim, definitely look into this side gig!
The salary from selling your hair can range from $100-$4,000, and there are so many organizations and companies who look for donations!
Your hair can be turned into a wig for cancer patients who have lost their hair during treatment.
Hair can also be used for hair extensions or weaves for people who have thin hair, and used in the creation of cosmetology school mannequin so students who want to become hairdressers have real hair to practice on.
Talk about odd ways to make money, we have more tips on that in this post!
Best Online Side Hustles
If you are looking for online side hustles that will make you some extra money this year, then this list is for you:
1// Create and Sell a Product
By using platforms like Etsy or Shopify, you can promote and sell a product or service that you have created using your innovative skill set!
Whether you make jewelry, press graphics on t-shirts or develop cosmetic products, displaying your work on a website that acts as a personal online store can help you make money through sales!
Starting an online Shopify store was the most profitable side hustle business that I got myself into.
2// Share Your Opinion
If you enjoy writing reviews and commenting on online products, do so and make money for it! Earnings from sharing your opinion online can come in a couple of ways:
By answering questions from customers that ask for your opinion regarding the brand.

Testing products and leaving reviews about your experience for others looking for a second opinion.
If you are looking for a few weekend side hustles to do, this may be the one!
3// Become a Youtuber
YouTube is one of the most popular outlets for sharing your voice with the world. Through filming videos and uploading the content to this platform, you are sharing it will millions of people!
Gaining subscribers, followers and receiving and retaining positive comments can lead to a sufficient amount of extra cash through ad revenue on your videos.
Once you build your channel's popularity, other Youtubers and brands will want to collaborate, which can lead to other money-making opportunities too!
Find out how to make money on Youtube.
Online side hustles are the best way to earn extra money working from home.
4// Sell your product on Zazzle
Zazzle lets you create and design all your own products, and then sell them on your website or Zazzle's website!
You earn a commission of each sale and set your own rates.
If you love to sell products or you have been thinking of creating a product for sale, this may be your chance to get started.
5// Start Blog Flipping Business
Side hustling can be fun and so is blog flipping.
I have talked about blog flipping multiple times on this blog and that is because I truly believe in it.
Not sure what blog flipping is?
Blog flipping is simply buying a Blog or building a blog, then selling it (flipping it) for a profit.
If this is a side hustle job you want to try out in order to work at home and make more money, you can get more details here.
You're Joking, Right? Great Side Hustles
If you are looking for more creative ideas to make extra money on the side, what do you think of these tips below?
1// Rent a Friend
For some, it can be really difficult to make friends.
Saying a simple 'hello' to another person could cause, sadly, a lot of anxiety and stress for some.
If you are an individual who is extremely social and isn't afraid to spark a conversation with a complete stranger, this is a perfect hustle for you!
By using Rent A Friend, you can be paid to do a variety of random social activities.
They can range from teaching a child table manners, to playing cards at a senior living center, or even being someone's prom date!
2// Be a Professional Eater
Honestly, what could be better than boosting your bank account by eating food?!
Whether it's participating in a hot dog eating contest at a local carnival, or eating the most massive pancake meal at a diner, either way, you can actually make money just by eating food.
Hot-dog eating contests are no joke and if you win…major money-making opportunity!
Keep track of these events near you if you have a strong stomach and willpower for food consumption!
3// An Expert…Cuddler?!
This might be one of the most 'out there' ways to make money nowadays, but surprisingly, professional cuddling is increasing in popularity at a pretty fast rate.
In major cities like Portland, OR and Los Angeles, CA, there are cuddling facilities in which people can make an appointment to be cuddled for a certain amount of time.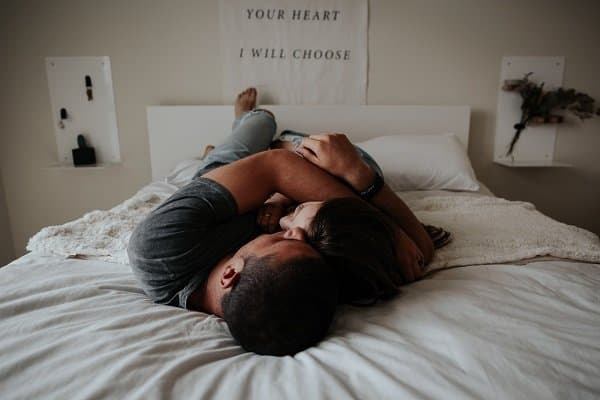 As a professional cuddler, you nurture and comfort people who are sad, or who have been through some tough stuff.
As a cuddler, you go through some training and can make up to $80 an hour!
More Profitable Side Hustle Ideas to try: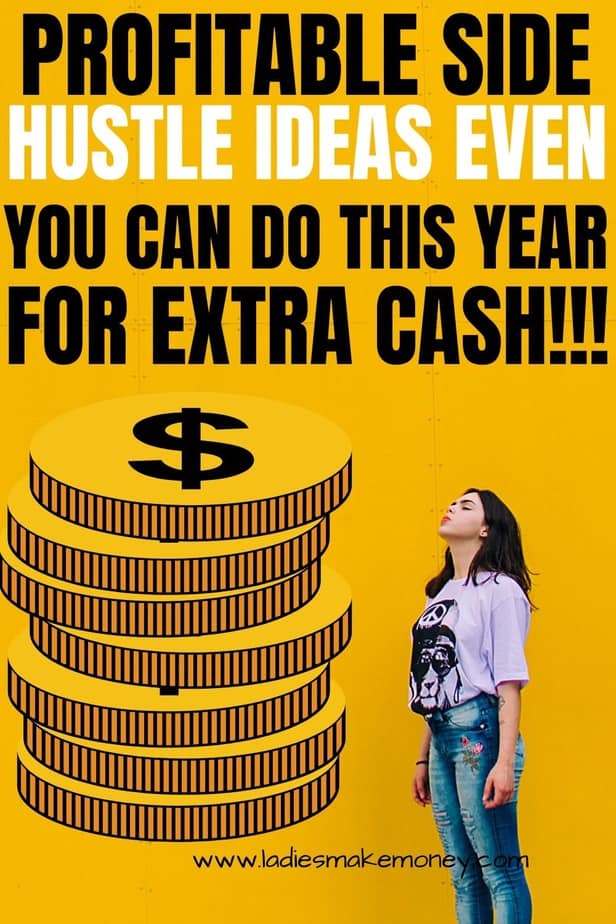 For more ideas and information about 'side hustles', or ways to make extra money on the side, check out this post!
And I really love this list of more ways to generate you extra income!
Which of these unique and most profitable side hustle ideas will you be trying out?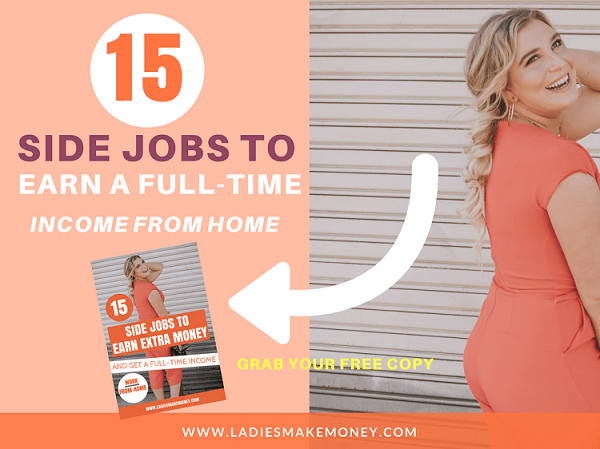 And there you have it, a detailed list of the best side hustle ideas to try out. If you would like to add more tips to our best side hustle ideas, feel free to leave a comment below.
We hope that you can find a side hustle that works for you!
Don't forget to pin this post here to your work from home job board.
If you enjoyed our blog we would like to have you join our email list and receive weekly money-making tips, you can join now! Don't forget to like the Facebook page. The page is created to share your work, pitch your services and learn from other experienced bloggers!
---
***We would like to note that this post and most posts on our blog may contain affiliate links. This means that if you purchase something that has an affiliate link, we will get a commission from it. Not all items recommended on our site are affiliate links. We only recommend items that we have used and tried. These items have brought us much success and we highly recommend them to you in order to be successful. Thank you for your trust!
Profitable Side Hustle Ideas for Making Extra Money in 2020