Last Updated on November 20, 2017 by admin
It's common knowledge that there are loads of ways you can make money online these days. There's an idea I'm very fond of, which is starting a blog and monetizing it with adverts. Then, there's another common idea of simply starting an online business where you sell products or services to other people. You'll also find many other endeavors along the way, but that's not the focus of today's post.
Before we get started, we would love for you to join our growing Facebook group right here! You can also join our Pinterest group by scrolling to the bottom of this page! If you are looking for guest blogging opportunities or if you need a personal affordable coach to take you from A-Z, we can help you. Get all the juicy details right here! Have you seen our brand new shop! 
We also wanted to take the opportunity to let you know that we use Affiliate links on some of our blog posts. This means that we could make a commission if you click on an affiliate link and purchase something. 
Instead, I want to focus on the laws behind making money online. A lot of us attempt to make money on the internet without really thinking about the legal side of things. The last thing you want is to be embroiled in a criminal charge and have all your money taken away from you. As such, here's some advice to ensure you're making money the right way, and aren't breaking any laws.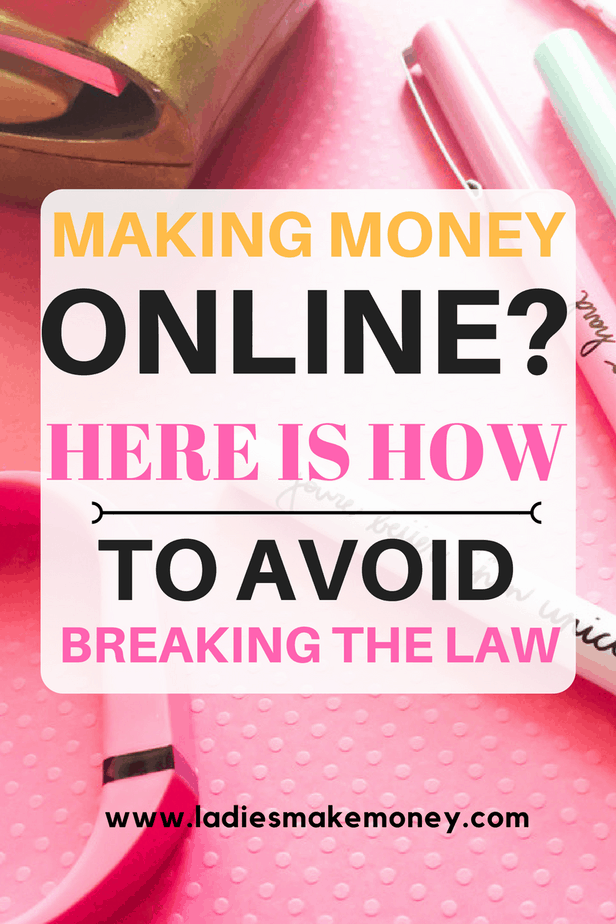 Read: #BossBabes: 5 Creative Ways You Can Make Money From Home
Pay Attention To Licenses if you are thinking of making money online
Perhaps the easiest way your online money-making idea can come into legal dispute is by using the wrong licenses on images and videos. This mainly applies to people with blogs, where you use images to complement the text. If you click on any of the images I've used in this post, you'll be taken to their source where it shows the license for that image. Each image has a license that explicitly says it's okay for people to use the image at no extra cost. But, if you're using pictures without the right licenses, you could end up in a copyright lawsuit and have to pay damages. Pay attention to licenses, always search for images or videos that are available for reuse.

Always Be An Honest Seller if want to keep making money online
One of the biggest problems in this modern age is internet fraud. This happens where people offer to sell you something online, and you end up getting something completely different or not receiving anything at all. You can learn more from Wallin & Klarich today if you're interested in the nuances of internet crimes like this. All I'm going to say is that you can easily stay out of trouble by selling what you offer. Be careful when writing descriptions of products and services to ensure you include all the right information. Don't be vague or lie about what you sell just to entice more customers. Be an honest seller, and you can make money without legal issues.
Don't Forget To Pay Tax if you are serious about making money online
If you're making a lot of money through your online endeavors, then you might have to pay income tax. I believe you currently need to file a tax return if you earn $10,400 a year or more. It's highly likely you could be earning way more than that through your blog or online store, meaning you need to pay tax. Too many online entrepreneurs forget about this and get hit with tax violations and penalty fares. Keep track of your earnings to see if you need to pay tax or not.
I know, thinking about legal issues is boring. However, you need to know about them, or all your money could come under threat. Follow these tips, and you'll make money the legal way.
Read this to make money online:
How to make $1000 per month by side hustling
7 Phone apps that will help you make $800 per month
 Make up to $1000 in income with Amazon
 25 Ways to Make Money Online and grow your monthly income 
 5 Sites that pay bloggers to write!
5 Ways to make money using Pinterest
If you enjoyed our blog we would like to have you join our email list and receive weekly money-making tips, you can join now! Don't forget to join our Private Facebook group. The page is created to share your work, pitch your services and learn from other experienced bloggers!
---
***We would like to note that this post and most posts on our blog may contain affiliate links. This means that if you purchase something that has an affiliate link, we will get a commission from it. Not all items recommended on our site are affiliate links. We only recommend items that we have used and tried. These items have brought us much success and we highly recommend them to you in order to be successful. Thank you for your trust!