Last Updated on May 2, 2021 by NandiNN
Legal ways to make money online
Are you looking for ways to make money online legally?
Then you have come to the right place.
It's common knowledge that there are loads of ways you can make money online these days.
You can choose to start an online business, start freelancing to make extra money or simply offer services to your clients.
I personally love creating and selling digital products online for extra cash.
With an online business, you can:
Work from home

Work while you travel

Make a great income

Help tons of people, and more.
Making money online has definitely opened up a lot of possibilities as I am able to control my hours, I work on things I enjoy and I do not need to meet crazy deadlines.
It hasn't been all roses and fun with my online business.
I documented a few amazing tips where you can learn more about how to make money online as a woman: my struggles, successes and tips.
And due to the popularity of that post, I wrote a mini-guide that is all about Struggles, Successes and Tips: How To Survive With Little to No Money!
Yes, at one point, I was pregnant, had no job and no money to survive.
The guide documents everything I did to finally make money and support my family working online.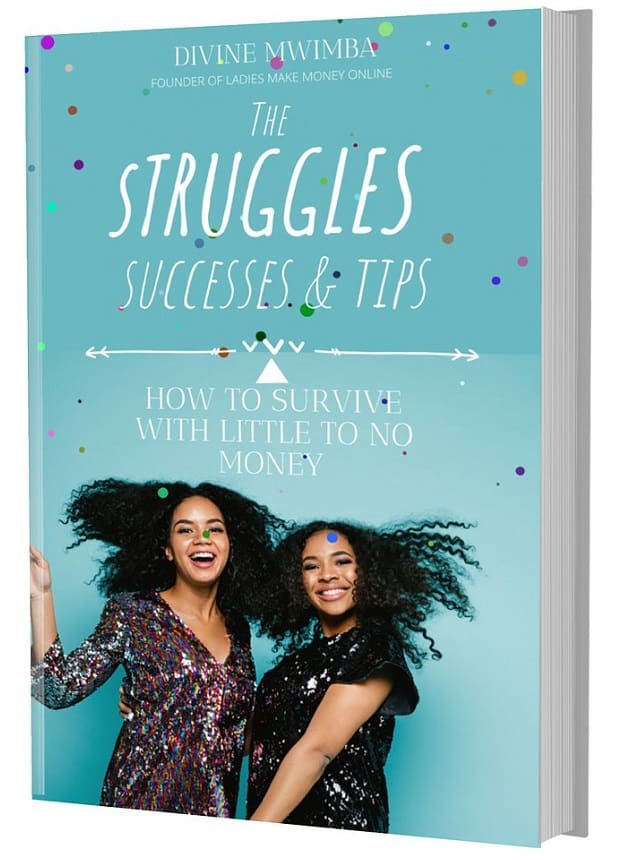 In this guide, you are going to learn about ways to:

Reorganize and Reduce Your Budget

Develop a Better Understanding of Your Needs

Start Investing and Saving

Find Help When and If You Need It

Perform Periodic Financial Checkups

Start a Side Hustle or a Full-on Business

What to Avoid

And More
Whether you are on a tight budget, having a hard time finding ways to make money, or you just need financial help, this guide will help you.
It's the exact guide I followed to get out of financial hardship.
Today, I really wanted to focus on how to legally make money online!
Before we get started on tips for making money online legally, we did want you to follow us on Facebook for more awesome ideas on saving or making more money. Be sure to give us a quick follow on Instagram as well!
We also wanted to take the opportunity to let you know that we use Affiliate links on some of our blog posts. This means that we could make a commission if you click on an affiliate link and purchase something. Read our full disclosure and blog policy for more information.
What you need to know about legal ways to make money from home
If you are interested in how to make money online from home, then you definitely need to keep reading this post.
In fact, you need to learn everything you can about how to make money online legally.
The amount of scams out there is truly unbelievable, but you also want to protect yourself legally at all costs.
That's why I really wanted to focus on the laws behind making money online.
A lot of us attempt to make money on the internet without really thinking about the legal side of things and it can personally affect you.
The last thing you want is to be embroiled in a criminal charge and have all your money taken away from you before truly building something for yourself.
As such, here's some advice to ensure you're making money the right way, and aren't breaking any laws.
Here is how to make money online legally: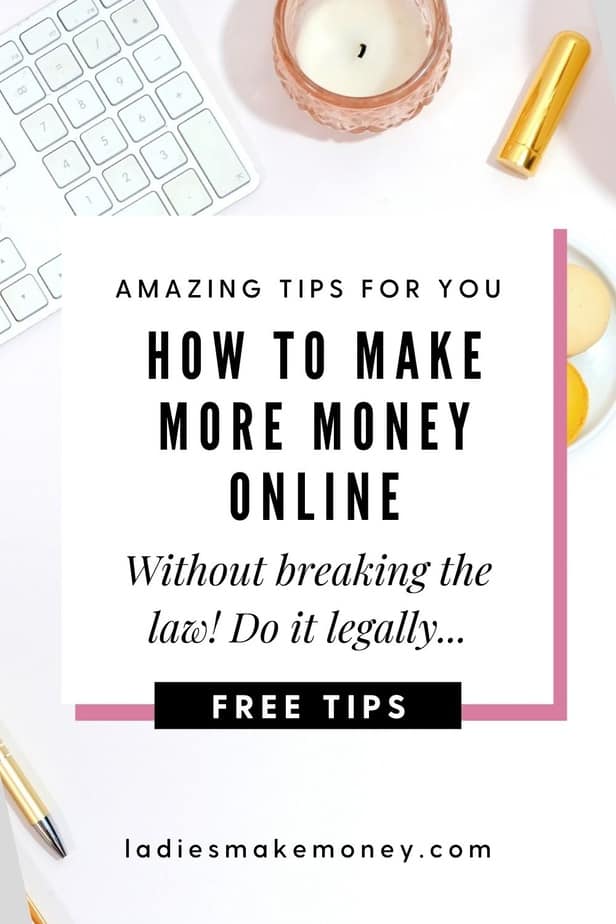 Consider Protecting your business legally
Did you know that hundreds and thousands of online businesses are sued every day because they don't have the right legal documents on their website or the right legal contracts to protect their business from lawsuits?
In fact, a recent survey conducted by the Small Business Administration showed us that 53% of business owners faced a lawsuit every year.
So whether you are a:
Blogger
Coach
Freelancer (subcontractor)
An Entrepreneurs
An Online Store Owner
Or someone that makes money online
You need to protect yourself from possibly getting sued.
That's why I grabbed myself these All-In-One Legal Policy Templates perfect for bloggers, coaches, marketers, consultants and all entrepreneurs!
Basically, if you are looking for ways to make money online legally, you need these templates to be protected.
These templates have worked for entrepreneurs in the US, UK, Canada, Italy, New Zealand, China, India, Australia, Thailand, and many more countries!!!
Most people make money online by:
Offering services

Selling products

Opening online stores

Starting an online business

Becoming influencers

Referring brands and businesses (getting paid as affiliate partners)

Starting blogs
Just to name a few (you can read more about other ways to legitimately make money online right here)!
And in order to make money online legally using any and all of these methods you need to protect yourself.
I personally got this V.I.P Legal Bundle Package which is perfect for bloggers and online entrepreneurs who want complete legal protection for their businesses and online money-making ventures.
This bundle also has templates needed to protect you when you start to offer your products and services to others and more!
The smartest thing I ever did was to get myself the Legal Bundle for an unbelievable price so that I could feel safe and secure knowing that my blog and online business was protected legally.
And I never have to pay again with all the Lifetime Free Updates these bundles get.
Obviously making money online legally is always my first priority.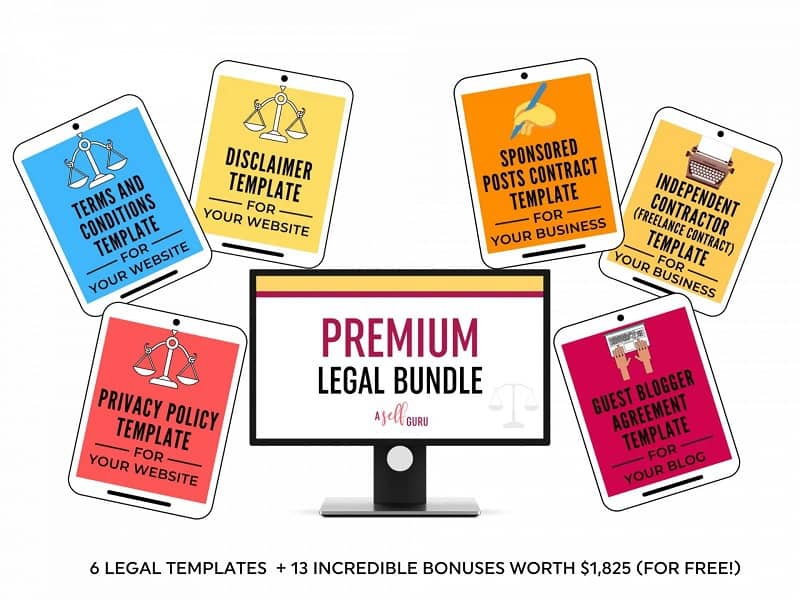 Get your V.I.P Legal Bundle Package here!
Pay attention to licenses if you are thinking of making money online legally
Perhaps the easiest way your online money-making idea can come into legal dispute is by using the wrong licenses on your images and videos.
This mainly applies to people with blogs, Youtube content, Instagram and even TikTok.
Basically, if you use music, images and video content to make money.
If you click on any of the images I've used in this post, you'll be taken to their source where it shows the license for that image.
I have also paid for my photos in order to legally use them.
Go here to find 17 amazing places to find feminine stock photos for bloggers and influencers.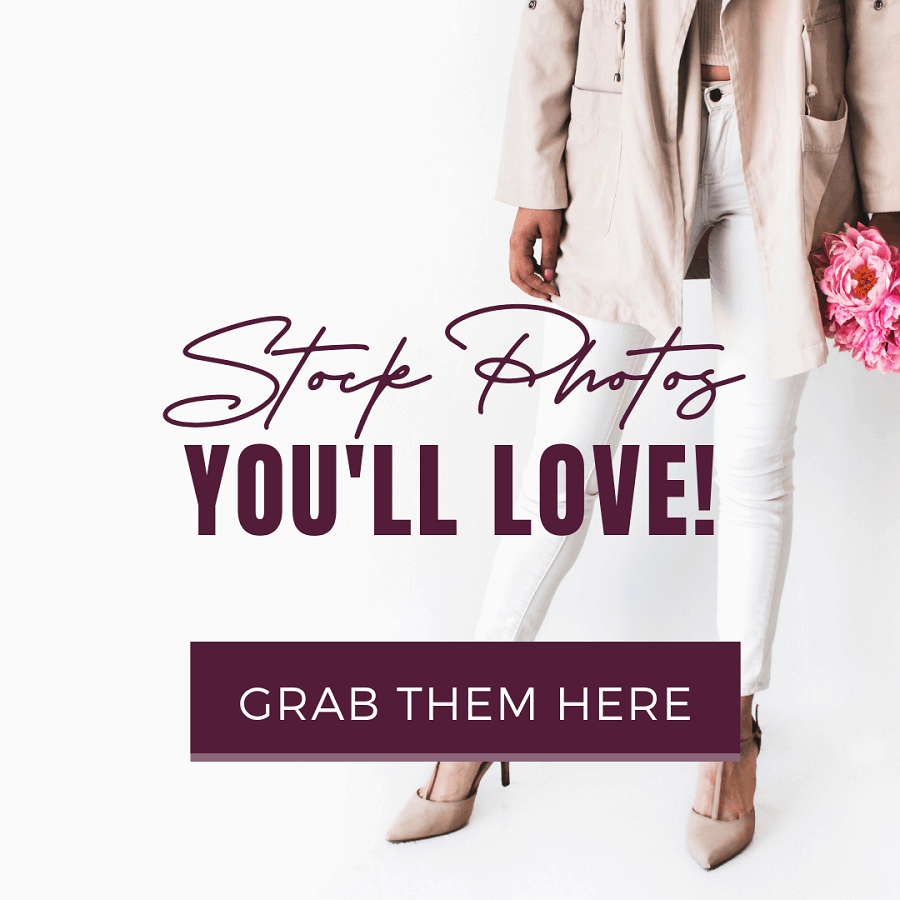 Each image has a license that explicitly says it's okay for people to use the image at no extra cost.
But, if you're using pictures without the proper licensing, you could end up in a copyright lawsuit and have to pay for damages.
And it is not cheap.
In fact, I know someone's business who was sued for over $90, 000 for using an image that he had no legal rights to use.
Do you have $90, 000 to cough up for this simple mistake and in some cases, an oversight?
Honestly, grab these bundles to protect yourself.
And pay attention to licenses, always search for images or videos that are available for reuse.

Always be an honest seller if want to keep making money online
One of the biggest problems in this modern age is the amount of internet fraud.
This happens where people offer to sell you something online, and you end up getting something completely different or worse, not receiving anything at all.
I am sure you know one or two people that have been victims of fraud.
All I'm going to say is that you can easily stay out of trouble by selling what you offer.
Be careful when writing descriptions of products and services to ensure you include all the right information.
Don't be vague or lie about what you sell just to entice more customers.
Be an honest seller, and you can make money without legal issues.
And if you accept credit cards, shipping addresses and email addresses, then you need this to be legally protected.
In fact, don't start selling until you are legally protected.
Only then can you start making money online legally.
Don't Forget To Pay Tax if you are serious about making money online
If you're making a lot of money through your online jobs, then you might have to pay income tax.
I believe you currently need to file a tax return if you earn $10,400 a year or more (but each state and country is different, so be sure to contact your account in your area).
It's highly likely you could be earning way more than that through your blog or online store, meaning you need to pay tax.
Too many online entrepreneurs forget about this and get hit with tax violations and penalty fares.
Keep track of your earnings to see if you need to pay tax or not.
I use this blog income tracker to track my income and if you are a freelancer, this free basic income tracker could also work.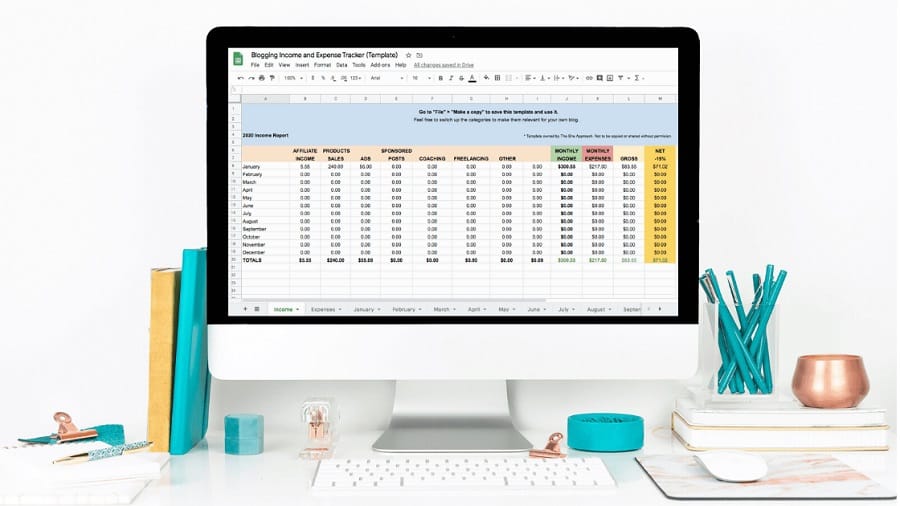 If you're earning any income blogging (or you're planning to), it's vital that you keep track of your expenses and potential tax deductions on a monthly basis.
That's why I'm sharing with you the exact template I use to put all blogging payments and outgoings into for easy tracking.
I know, thinking about legal issues is boring.
However, you need to know about them, or all your money could come under threat.
Follow these tips, and you'll make money the legal way.
Save money without breaking the law
We covered a few things about making money online legally, how about saving that money you made.
You can save all the money that you want.
Most people (me included), usually open up tax-free savings accounts to maximize our savings.
A Tax-Free Savings Account (also known as a TFSA) is a registered investment or savings account that allows for tax-free gains.
In the USA, I believe it is known as Roth IRA.
To save money without breaking the law using a TFSA (Roth IRA ), you need to know how much contribution room you have each year.
The amount of money that can be contributed to a TFSA (Roth IRA) is limited each year.
These accounts are considered tax-exempt to incentivize people to save for retirement or some other large purchase like a home.
Just make sure you do not max your contribution room each year and you will be fine.
Don't over-contribute; if you do you'll be assessed a 1% penalty on the excess contribution every month until it's withdrawn.

Understand TFSA or other tax-free savings account contribution rules; if you hope to replace the money you withdraw from these accounts, you'll have to wait until the year following your withdrawal to earn that contribution room back.
We hope we answered your basic questions about making money online legally and how to save money without breaking the law!
Other than that, always consult with your financial institution, accountant and a lawyer for up-to-date information.
Here are a few legal ways to make money from home:
We hope you try out all our creative ways to earn money online legally from home and that they truly help you get started on your journey.
Don't forget to document your progress here with this free income tracker!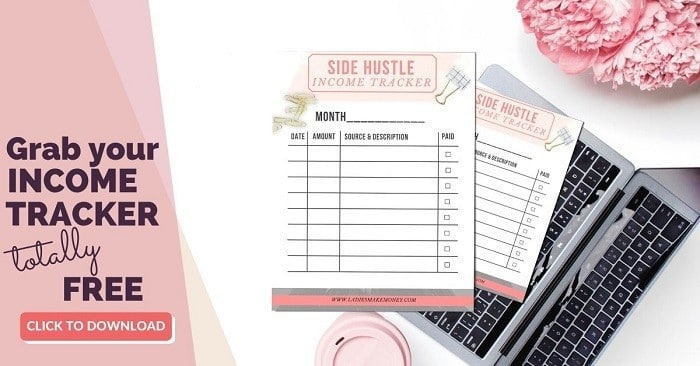 Read this to make money online: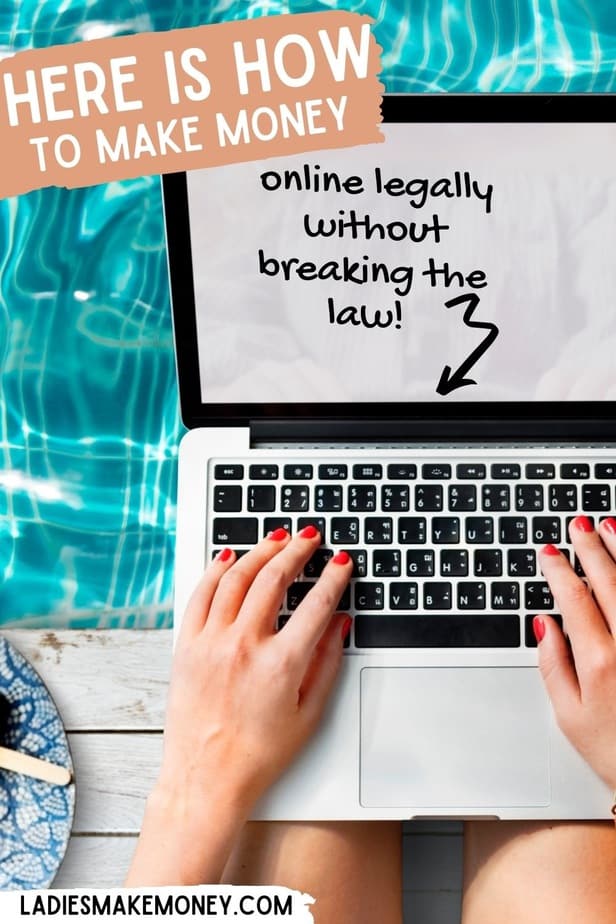 If you enjoyed our blog we would like to have you join our email list and receive weekly money-making tips, you can join now! Don't forget to join our Private Facebook page. The page is created to share your work, pitch your services, and learn from other experienced bloggers!
---
***We would like to note that this post and most posts on our blog may contain affiliate links. This means that if you purchase something that has an affiliate link, we will get a commission from it. Not all items recommended on our site are affiliate links. We only recommend items that we have used and tried. These items have brought us much success and we highly recommend them to you in order to be successful. Thank you for your trust!
Making Money Online Legally: How To Avoid Breaking The Law