Last Updated on April 12, 2021 by NandiNN
The Best Passive Money Making Apps
We are excited to share some easy passive income apps you can use to make extra money this year.
Who doesn't love making extra money especially with little effort?
I am not sure about you, but with a toddler and a house to care for, finding time to even shower can be difficult. Every time I look up, I feel like time has escaped me.
I am also planning a wedding so any extra money I can make, I will gladly try to make the extra income.
And that is why I found myself searching for passive income ideas to make the extra cash that I so need.
This year, my goal is to be able to work smarter to get great results.
No more wasting time on things that do not work.
So how do I generate passive income?
After doing a lot of extensive research, I found some amazing passive income apps you could use to make extra money from home.
Earning passive income through apps on your phone or computer is one of our best finds.
What exactly is passive income?
Before we get started, it is important to understand what we mean by passive and exactly how you can earn passive income using apps.
Passive income is really income that you can make with little to no effort required from you.
For example, if you own a rental property and you have people renting, you do not need to put extra effort to make that passive income you make every month.
That is why real estate investing is the best passive income out there!
And going to work every morning is not considered passive as you actually need to be at work to make money.
In other words, if you do not put in X amount of work hours, then you do not get paid at the end of your work shift.
Today we are going to be answering the following popular questions:
How can you earn Passive Income with Apps?

Are Passive Income Apps Safe?

What is the best app to get free money?

What Apps Pay you Instantly?

What are the best apps for passive income?
If you are as excited as we are to get started, then grab a coffee (or your favourite beverage) and keep reading.
HERE IS EVERYTHING YOU NEED TO KNOW ABOUT HOW TO MAKE PASSIVE INCOME WITH YOUR PHONE!
Before we get started on the Best Passive Income Apps, we would love for you to like our growing Facebook page right here! Be sure to follow us on Instagram here.
We also wanted to take the opportunity to let you know that we use Affiliate links on some of our blog posts. This means that we could make a commission if you click on an affiliate link and purchase something. Read our full disclosure and blog policy for more information.
Ready to make extra money using the Best Passive Income Apps?
Why should you use money making apps?
They are many reasons I feel that you should take advantage of this money-making opportunity.
Here are a few reasons that come to mind immediately for using passive income apps:
It's easy to use

You can make extra money effortlessly

In some cases, you can make money instantly

Some apps pay you in free Gift Cards which make for perfect gifts
With this in mind, we wanted to share with you some of the best passive income apps to earn money this year.
Can you make passive income from apps?
Making money using passive income apps is some of the best and easiest ways to make that side income.
Although this tactic won't make you rich instantly, you can start to see some sort of steady cash if you are consistent.
By setting some time aside to set up these passive side hustles, you could be making extra money with little to no effort required from you.
That is why we encourage them to at least try them out.
If you are ready to give any of these passive money-making apps a go, then keep reading.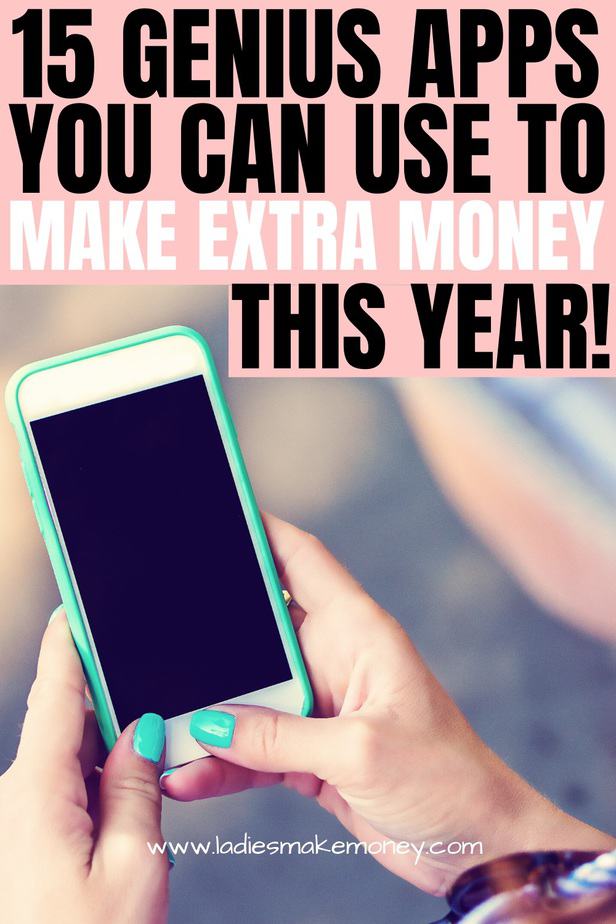 Best Passive Income Apps
Each year, money apps go and come.
We make it our business to update each post and only share the best apps there is out there, especially those that allow you to make some extra money.
These money apps have been tested and tried by us, so you have no excuse to sign up to start making more money this year.
1. Swagbucks
This is my number and most recommended money-making app. Swagbucks allows you to earn Swagbucks (SB) after completing several tasks.
Some of the ways you could earn some SB is to take their online surveys, play their amazing online games, shop, and many other things.
My absolute favourite way of making extra money with Swagbucks is to download their extension plug and browse the internet through their search engine.
This allows you to watch movies and get paid! Yes, you can get paid to watch movies online using the Swagbucks app!
Watching videos is really the easiest way to earn extra money.
The more I am on it, the more money I make.
The SB points you accumulate can be paid out with cash via PayPal or you can redeem them for free gift cards.
Is Swagbucks worth the time? I really think it is worth your time especially if you are trying to make extra money.
Here is how I was able to make over $500 using the Swagbuck app.
2. Rakuten
If you are not familiar with Rakuten, it used to be called Ebates for years.
They are now fully rebranded and have made their services so much better to serve their clients.
With Rakuten, you can earn cashback when you shop on their website.
This is the easiest way to earn more money. With over 100 online stores partnered with them, you can find a store that you can use to earn cashback easily.
Like Swagbucks, you can also download the Rakuten extension on your computer and get paid for browsing.
This is also one of the most amazing Passive Income Apps that also allows you to earn free gift cards.
3. Instacart
Instacart is an amazing app that allows you to easily shop for your groceries online.
Thank goodness for them.
As a busy mom, running to the grocery store with my daughter gets really hard at times, and I have found myself using this app more and more.
When you join Instacart, you can refer your friends to make extra money.
Instacart is definitely one of the best apps for passive income!
Not only does it save you time, but it also makes you extra money on the side.

4. Drop
Shop at the brands you love, and automatically get rewarded.
If you love to shop as I do, then you will really love the Drop App and you should be using it right now.
From your first coffee to your late-night food delivery, just a simple click on your phone can help you make money.
Find out everything you need to know about making money with Dosh right here.
5. Acorns
Did you know that you could get $10 when you sign up for Acorns?
Yes, you can and you can even make more with this amazing income app! All you have to do is invest.
Acorn is an investing app that lets people automatically invest their spare change by rounding up the purchases they make with a linked credit or debit card!
Be smart and invest your money.
When you sign up with Acorns, you get $5.00 upfront for FREE!
6. Poshmark
Are you looking for the best passive income apps?
Did you know you could make money on Poshmark? Poshmark is the leading marketplace to buy and sell fashion.
If you have clothes that you want to sell, then you consider doing it on Poshmark.
Create a few listings and start selling your clothes.
Downloading the app right now and use my code DIVINENANDI!
By using my code, you get a free $15 credit.
7. HealthyWage
I love the HealthyWage app for the simple fact that you can lose weight and get paid for it.
If your goal is to work out and staying fit, then you will need an app like HealthyWage to motivate you and help you stay on track.
HealthyWage is a website that was designed to help people like you lose weight by encouraging and motivating you to reach your weight loss goals.
They will pay for reaching your weight loss goal and then some.
8. AirBnB
Rent out your home using Airbnb today to make extra cash!
If you have a spare room or two in your home then use it to make some extra money today, which you can do by signing up for the Airbnb App (this will take less than half an hour)!
As soon as you are done, you can start to advertise the room on their worldwide network.
Find out how much you could be making right now on Airbnb!
If earning passive income is really what you want, then you should really consider using Airbnb.
9. Inbox Dollars
Search engine extensions are one of the best apps to make extra money!
We recommend using amazing companies like InboxDollars that will pay you to use their search engine platform instead of Google or Yahoo.
You simply have to earn some points (which can then be exchanged for gift cards) or cash!
But first, you need to go ahead and sign up for your FREE account – InboxDollars!
You will then automatically get a $5.00 bonus that you can hold on to until you have a lot more to redeem!
Get free gift cards fast by claiming your points and requesting your payout as gift cards when prompted!
10. Paribus
Do you want to keep money in your pocket?
I love to save money and anything that I can do to keep saving money, I will do. That is why I love the Paribus App.
The Paribus app will get you cash backs on items that you purchase online. If the price of the product drops, this amazing app will get you the difference.
Over the holidays, I did most if not all my shopping online on Amazon.
And a few products that I bought did drop in price and Paribus was great enough to refund me this balance.
Be sure to sign for the Paribus App here.
11. Shopkick
Shopkick is the shopping app that rewards you with FREE gift cards for the shopping you already do!
Refer friends and earn extra points.
Shopkick is on a mission to become your ​favourite rewards app and I highly recommend them to anyone that is looking for extra cash!
​Millions of people use Shopkick every day to discover new products, plan shopping trips and earn rewards online, in their app, and in stores everywhere.
Sign up Shopkick right now.
12. GetAround
The best way to make passive income with apps is to use reputable money-making apps.
Did you know that you could rent out your car and make extra money?
A good place to get started renting your car for cash is with GetAround Cars, a trusted platform that connects clients with people like you who want to make money!
You can turn your car into a second paycheck with no driving necessary required from you.
This is what I call, passive income!
You can get paid from GetAround Cars just for making your car available to those wanting to use your vehicle when not in use!
How much you make will really all depend on how often you rent out your car.
13. MyPoints
Collect points with the MyPoints App!
You can get paid for giving your opinion and the best way to do so is to use the MyPoints app which I really love!
MyPoints is the best way to get free gift cards for taking polls, answering surveys and so much more!
You can earn $5 when you take 5 surveys.
The good thing about MyPoints is that you still receive points even when you don't qualify for a survey.
They make it extremely easy to earn points as they offer multiple ways for you to stack up those points.
14. SurveyRewardz
Did you know that you could get paid for your opinion?
My favourite sites for making money in terms of sharing my opinion is Survey Junkie and or Survey Rewardz!
Brands and companies are frequently looking for your honest opinion when it comes to using their services and products.
If you have some spare time, use your phone to sign for downloading the Survey Rewardz!
It's honestly one of the best passive income apps out there.
15. Use Trim
Use the Trip App today to save money.
You can simply sign up for the Trim Saving App which is designed to help you save money by negotiating bills on your behalf.
Trim is great as it analyzes your accounts and determines where you can save by cancelling subscriptions for you, setting aside an amount of money in your savings, and finding cash back and refunds for you
This will allow you to save money on groceries, dining out, movies and so much more.
Just sign up for the free app and start saving money.
There you have it, a full list of automated income apps you can use to make extra money in your spare time.
How do Passive Income Apps Really Work?
Depending on which of these passive income apps you chose to work with, they all have different ways that they tend to work.
For example, if you chose to download the app extensions on your computer, the app will run in the background.
They will collect data based on your browsing history to share with brands based on what you do.
This will help them better target ads.
And you get paid for this!
This is mostly true for the following passive income apps: Swagbucks and the Rakuten extension!
Now if you choose apps that require you to refer your friends and get paid for them, all you need to do is find the special referral code assigned to you.
This is the code you use to refer to.
By using this special referral code, the brands can track how many referrals you are sending them and you get paid for each person you refer typically via PayPal.
It is as simple as that!
Which of these Passive Income Apps will you be using?
If you do use any apps to make money in your spare time, please tell us which are your favourites.
We really want to hear from you.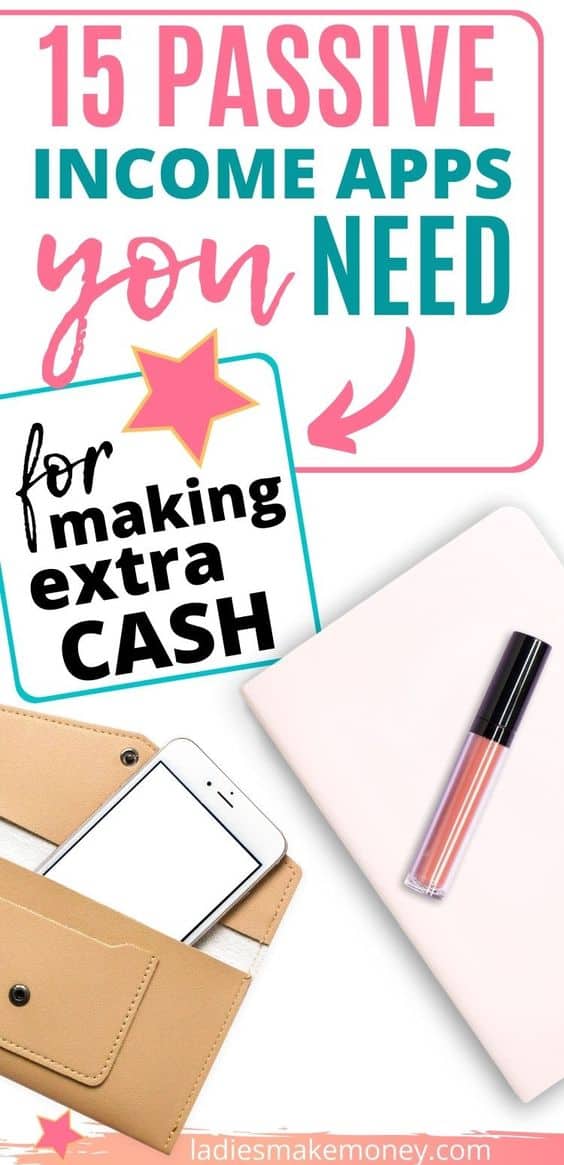 More Passive Income Apps you can use:
If you enjoyed our blog we would like to have you join our email list and receive weekly money-making tips, you can join now! Don't forget to like the Facebook page. The page is created to share your work, pitch your services and learn from other experienced bloggers!
---
***We would like to note that this post and most posts on our blog may contain affiliate links. This means that if you purchase something that has an affiliate link, we will get a commission from it. Not all items recommended on our site are affiliate links. We only recommend items that we have used and tried. These items have brought us much success and we highly recommend them to you in order to be successful. Thank you for your trust!
15 Legit Passive Income Apps You Can Use to Make Extra Money in 2020