Last Updated on March 29, 2020 by NandiNN
Side Hustle Jobs to Generate More Income
Looking for ways to generate extra income? Looking for side hustle ideas to generate that extra income? You first need to ask yourself, why do you need extra money. What is your current situation? Have you been in any of the situation listed below:
Have you ever seen something that you wanted to buy but couldn't afford? Maybe it was a new purse or video game, and you were forced to leave the store hanging your head, wishing you had more money to spare.
Or perhaps you just received the second notice to pay your cable bill, but your electric bill is due, and you can only afford one.
You've probably wondered what are the best side hustles out there that can actually help you earn extra money and fast.
Before we get started on side hustle ideas to try, we did want you to follow us on Facebook for more awesome ideas on saving or making more money. You can also follow us on Instagram for more tips.
We also wanted to take the opportunity to let you know that we use Affiliate links on some of our blog posts. This means that we could make a commission if you click on an affiliate link and purchase something. Please check out our full disclaimer and policy page here.
Through some quick google searches, you'll find there are tons of different ways to make extra income to start paying off your debts, continue paying bills on time, and even treat yourself to something every so often.
It's possible to work a full-time job and manage a side hustle job or a few. In fact, it's pretty common. You just need to find a few side hustle ideas that you can do.
The Best Side Hustles From Home Ideas
Imagine not having to leave your house, enjoying your new gig, and making a few extra hundred dollars a month, or perhaps even a full-time wage out of it.
Can you see it? With the right side hustle ideas, that can become a reality for you.
Ideas for a side hustle
Here are 10 easy side jobs that can help increase your monthly income.
1. Focus Groups
Participating in focus groups is one of the easiest side hustles out there. You'll literally get paid to have an opinion on something, and there are a lot of things to give opinions on.
If you're a makeup lover, you might find a focus group for a new makeup product.
You might get paid with Visa gift cards rather than cash, but it's still money you didn't have before!
Search for focus groups in your area on sites like 20|20 Panel and Focus Group Global.
You can also try:
FocusGroup.com
The goal here is to find easy side jobs that you can manage with your full-time job. You want to find side hustle ideas that can bring you extra income to help with bills.
2. Test New Websites
Platforms like UserTesting pay people to test new websites for extra income. You're basically a product tester for the internet! How much you make depends on how many tasks you're able to complete each month.
Working through this platform, if you're able to dedicate 10 hours each month, that's an extra $300 in your pocket.
3. Blogging
Do you love creating and trying new cocktails? Maybe your journey to find your spouse is filled with charming anecdotes of dates gone awry and lessons you learned along the way.
Whatever it may be, there are endless niches you can pick from as a blogger, and it can take as little as an hour to set one up!
There are many different ways you can make money through blogging. Signing up for affiliate links to include in your blog posts will get you paid a small percentage from any sales that are generated from your posts, and depending on your niche and style, you can create relationships with brands that pay you to promote their products in your posts.
These two examples only scratch the surface, so if you enjoy writing, this side hustle could potentially generate some nice income for you. You just need to find side hustles ideas that work for you.
Related:
How I make money through blogging
How to start a $2,500 a month Side Busines in Blog Flipping
4. Social Media Management
Are you still in need of side hustle ideas for extra income? Use Social Media! Do you have a large social media following that you built from the ground up? Have you researched when and how often to post on your accounts to get the most likes? Do your friends call you the hashtag king or queen?
Companies are constantly looking for freelancers to manage their social media platforms, like Pinterest, Facebook, Instagram, Snapchat, and more.
You can even search "#socialmediajobs" on Twitter to find people looking for someone with your talents.
5. Brand Ambassador
Even "normal" people can make some extra money on the side by being a brand ambassador. Side hustle ideas such as becoming a Brand Ambassador can make you some great money on the side.
Brands are starting to hire relatable people to show off their brand, and you could be their next ambassador.
Brand Ambassadors and Street Team can be used almost synonymously to find easy side jobs. Essentially, you'll be paid to work events to help promote the brand to those who attend.
To make yourself a good candidate for brand ambassador positions, the least you need to do is try out their product or become familiar with their business offerings.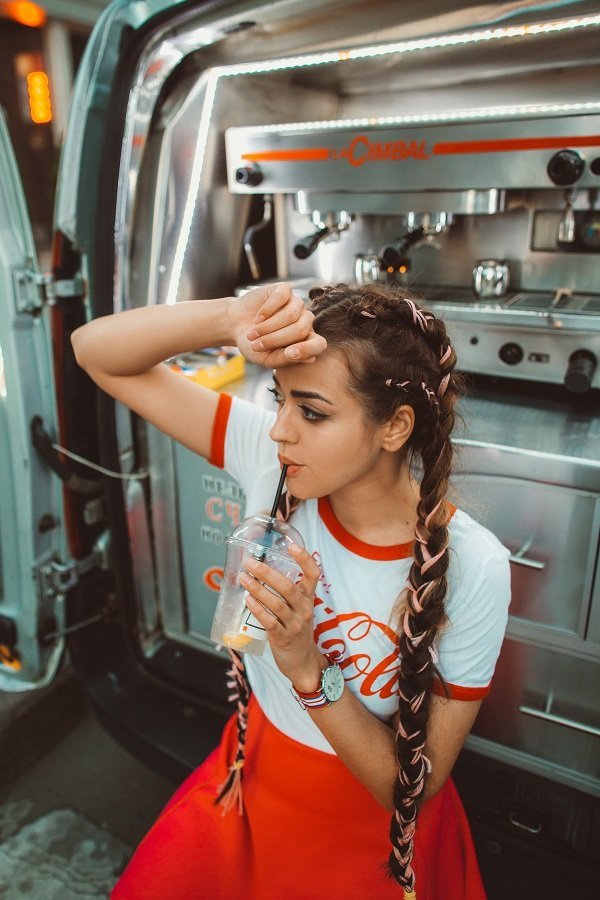 Example: Brand Ambassador working to promote Coke at an event.
6. Pet Sitting
Perhaps you love pets and aren't able to have one of your own. Here's a solution: pet sitting! It's easy to set up a profile on websites like Rover and Care.com to begin taking care of others fur babies.
The great thing about finding side hustle ideas like these is that you can set your own hours and rates, so you're in charge of making as much as you want.
The best thing about sites like this is the customer service that is available if you ever need help. You get your pet fix, and the owner knows their animal is being well cared for.
7. Fiverr
Has anyone ever offered you $5 to do a small task they didn't want to do themselves? It might have been as simple as proofreading an email, writing a love note, or editing a video. You can find many side hustle ideas like this on Fiverr!
On Fiverr, you can set up a profile with services like these and more to make quick money on the side. You will find plenty of easy side jobs that can be done in less than one hour.
Your rates can start at $5 per task and go up from there. If your services are popular, it is possible to eventually make a full-time income. I love finding side hustle ideas that can eventually turn into a full-time income.
Related:
9 High-Paying Side Jobs that can become your full-time Job
Easy to Make Printables makes this blogger $2 Million Dollars a Year
8. Side Hustle Ideas that involve Photography
Finding easy side jobs that involve photography is awesome. You can do this one with your cell phone camera or a fancier camera you may have.
If you have a good eye, you can sell your photos on sites like Zazzle, Pexels, and Foap. After creating your account, upload as many images as you'd like.
Buyers who need stock photos will select them, and you'll get a small payment each time it's purchased.
The more photos you upload, the greater chance one of yours could be selected which makes it one of the best side hustle ideas out there.

9. Voice Acting
Has anyone ever complimented you on your voice? If so, you may want to try out voice acting. You can apply for voice-over gigs on sites like Upwork to start building your portfolio.
While you're setting up your Fiverr account, add that as a service you offer as well.
Consider investing in a decent pair of headphones with a microphone to capture good quality sound to make a demo reel to send potential clients.
You could read the next New York Times bestseller on Audible or be the voice of everyone's favorite cartoon character. So many side hustle ideas to choose from.
10. Rent Your Car
Rather than spend your valuable time driving others, renting your car out is a great way to make some passive income. This is awesome if you have an extra vehicle or simply don't use yours often. I think this is genius and we want more side hustle ideas like these.
Get A Round and Turo allows you to list your car for rent, and they offer insurance and roadside assistance while your car is away.
When your car is returned, you can watch the extra bucks park themselves right in your bank account. Amazing side hustle ideas like this are easy to do.
You can find more easy side jobs like this on our blog – Make Money Online. Do you have any side hustle ideas that you think we should mention here? Tell us in the comments below.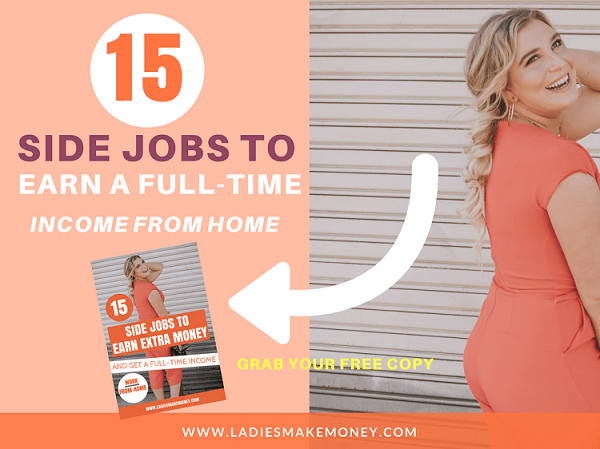 You can also check out our last post on the best side hustle ideas to make money without leaving the home.
Christine Yaged is a co-founding partner and Chief Product Officer of FinanceBuzz. Christine launches and scales brands. She is passionate about technology, digital marketing, and people.
Hope you enjoyed this guest post where we outlined a few side hustle ideas to make extra money with. These are easy side jobs that you can do even with a full-time income.
We Hope You Try some of The Side Hustle Ideas we Recommended!
If you enjoyed our blog we would like to have you join our email list and receive weekly money-making tips, you can join now! Don't forget to like the Facebook page. The page is created to share your work, pitch your services and learn from other experienced bloggers!
---
***We would like to note that this post and most posts on our blog may contain affiliate links. This means that if you purchase something that has an affiliate link, we will get a commission from it. Not all items recommended on our site are affiliate links. We only recommend items that we have used and tried.
These items have brought us much success and we highly recommend them to you in order to be successful. Thank you for your trust!
Top 10 Side Hustle Ideas to Generate You Extra Income