Last Updated on May 18, 2020 by NandiNN
How to Make Money Quickly
Looking for quick ways to make extra money from home?
If you are serious about making some extra money working from home or looking to pay off a few bills, then you have come to the right place.
We truly believe that if you put the extra effort and time, you can definitely earn some extra cash while working from home.
Whether you are looking to make an extra $1000 from home or even as little as just making $200 fast, we have some exciting tips for you!
Before we get started on the quick ways to make extra money today, we would love for you to like our growing Facebook page right here! Be sure to follow us on Instagram here.
We also wanted to take the opportunity to let you know that we use Affiliate links on some of our blog posts. This means that we could make a commission if you click on an affiliate link and purchase something. Read our full disclosure and blog policy for more information.
Quick ways to make extra money
Here is a detailed list of a few side hustles you can actually start today to bring an extra $50 to $100 per day.
This will work if you are committed to working hard on it.
The extra money earned can be used to make good money decisions such as:
Paying off debt

Saving money for big purchases – car, house

Paying off unexpected expenses

Paying off student loans and more or maybe a vacation
1// Rent out your home or extra room
Some quick ways to make extra money if you need it fast is to put up a listing on AirBnB and rent out any extra space you may have in your home.
You can charge anywhere between $100.00 up to $150.00 depending on where you are located.
This is how I made a few extra cash over the holidays to pay for gifts. Check out this amazing opportunity here.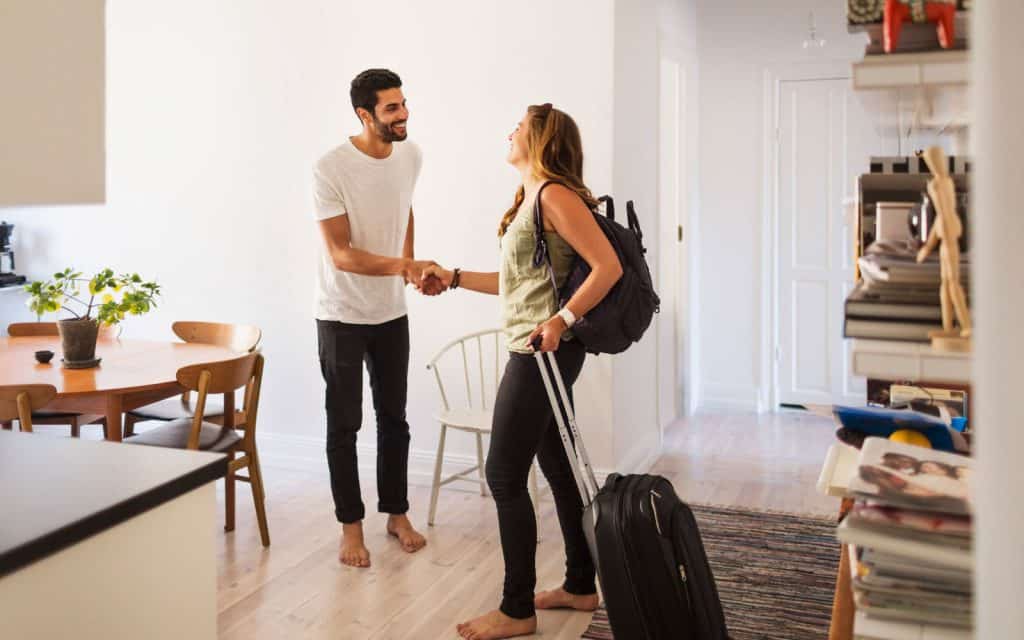 2// Start a side hustle such as a blog
If you do not already have a blog, I highly suggest starting one today!
I earn a steady income on my blog every month and you can read more about this in my monthly online income reports.
If you are interested in making extra money this month with a blog, you can go here to create your own blog with my easy-to-use tutorial.
You can start your blog for as low as $3.95 per month using Siteground plus you get a free domain if you sign-up through my tutorial.
I also have a free How To Start A Blog email course that I highly recommend signing up for.
3// Teach English online
So many people are choosing to tutor online students as one of the many quick ways to make extra money on the side.
This amazing side hustle has a flexible schedule and they pay up o $22.00 per hour.
You can teach English as a second language all from the comfort of your home.
As you can see, you can easily make at least $50.00 per day if you commit to putting in 2-3 hours a day of work – start today.
Other quick ways to make extra money is to sign up for other tutoring companies like Magic Ears!, QKids and SayABC!
The more companies you sign up with, the better.
You can read my full tutorial here where I discuss exactly how to make money from home teaching English online.
You might also like:
5 Ways to make money with your phone
4// Take Online Surveys
Surveys are a great way of making extra income especially if you have a few hours to spare each evening. Surveys like MyPoints pay up to $50.00 per survey. Swagbucks pays $25.00 per survey for voicing your opinion. And this Mom survey pays up to $75.00 per survey. Opinion City pays an amazing $100.00. Other amazing surveys we highly recommend are Survey Rewardz, Survey voices, and Pinecone Research.
They're ALL free to join and free to use! You get paid to answer surveys and to test products. It's best to sign up for as many as you can as that way you can receive the most surveys and make the most money.
Become an Uber Driver – Seriously! // 5
If you have some extra time each evening and you are looking for quick ways to make extra money today, consider becoming an Uber-partner drive to earn a few extra bucks.
Your bank account will thank you.
You can do it for about 2-3 hours each evening and make a great amount of money depending on how many rides you can get in. Get more information here.
This is not a working from home opportunity but it is one of the best quick ways to make extra money.
Bartend on your free nights // 6
Get a part-time job that won't take up too much of your time. Again this is an outside job but I had to include it. When I use to bartend at events (weddings), I would make a good $300 on a good night. This was just pocket money. Consider picking up extra shifts if you can. Check out Monster.com.
Consider Bartending as your option as one of the quick ways to make extra money as it is one job that is always in demand. The tips are really good, the hours not so good.
PS: Want to start a career working from home? Get all the details here!
Surf the Net and get paid // 7
Want more quick ways to make extra money from home? Nielsen digital voice will pay you to surf the net. In all, they are a research company that wants to know more about users' experience while browsing the internet. But guess what? You get paid for this. It's great to get paid for browsing the internet. You are on it all day, might as well get paid for it.
Swagbucks also pays for surfing the net. Install it on your laptop and surf the net as you would every day and get paid for it. You can sign up for Swagbucks here!
Get paid to lose weight // 8
Are you looking for some great motivation to lose weight? Sign up with WealthyWage and make money while losing weight. You can also win up to $10,000. That's pretty amazing. Some people are known to have made up to $200 and even $500 for losing up to 20 pounds. Why wait?
Sign Up. Join a Team. Lose Weight. Win up to $10,000!
Rent your unused items on Fat Lama // 9
We already mentioned renting your spare rooms on AirBnB. But now you can rent out things you do not use often from around your house on Fat Lama. This is an amazing idea. Make money on things that are just sitting around in your home. You now have up to nine quick ways to make extra money from home. Go ahead and give Fat Lama a chance. It comes with insurance and they ensure you always get your items back in the condition you sent them out.
Go ahead and create your account and post your first listing. Refer a friend and make an extra $25 per referral.
Related:
9 Ways to make money by referring friends
Sell your courses online // 10
Are you good at something? You can create a course on Teachable and sell it online for a profit. People are eager to learn and they will pay for online courses especially if you are given amazing information. It is way cheaper than going to college or paying for long classes at a university. Which means that they will rather pay for your course. You can teach anything online.
Check out this Travel blogger: Teaching people about traveling around the world.
And this fashion designer: Fashion restyling course.
We have an amazing course on how to make money blogging: From Hobby to Biz.
Go ahead and sign up for a FREE TEACHABLE account here and think of something creative to teach. It is really one of several quick ways to make extra money from home.
Get paid to post on social media // 11
Yes, this is not just for celebrities. You can also make money online by posting on social media. Do you have a large influence on social media? Specifically Twitter and Instagram? Why not make some serious money from them.
Sign up for a FREE account on IZEA. You can also sign up for Maven and make some serious money.
If you have a blog, be sure to include it on your profile for more sponsored paid opportunities. We have many ideas on quick ways to make extra money from home and social media is definitely it.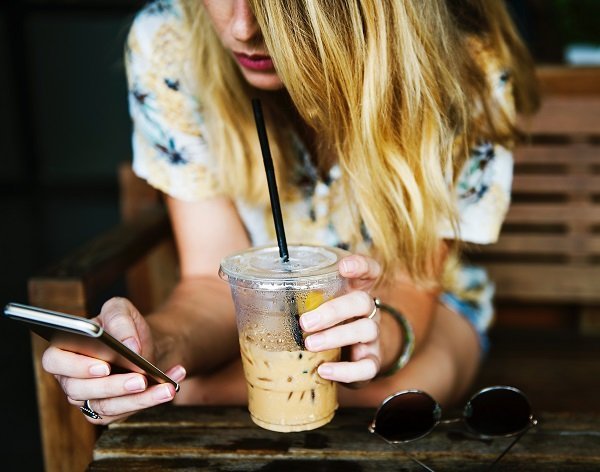 Become a Pinterest Virtual Assistant //12
Pinterest is so popular among online businesses and bloggers and thatès why you need to join everyone if you are looking for quick ways to make extra money from home. Mastering Pinterest is such a difficult and time-consuming task for many bloggers and online businesses. Your job as a Pinterest Virtual assistant can range broadly such as:
Planning, promoting and scheduling pins

Graphic designs

Editing old graphics on older blog posts

Researching keywords

Manual pinning and more
Become a Pinterest Virtual Assistant now. You can make a lot of money easily as this is such a popular request.
There you have it, 12 quick ways to make extra money every day from home. Pin this to your money-making board so you can refer back to it.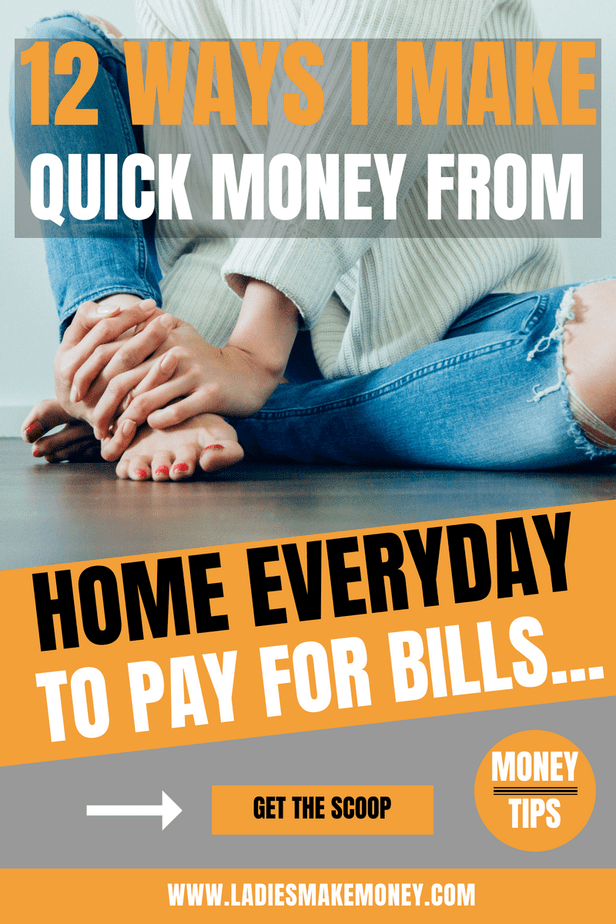 Read this too:
If you are looking for more quick ways to make extra money from home, we have a lot more posts here. Just click over at "Make Money Online."
If you enjoyed our blog on 12 quick ways to make extra money, we would like to have you join our email list and receive weekly money-making tips, you can join now! Don't forget to join our Private Facebook page. The page is created to share your work, pitch your services and learn from other experienced bloggers!
---
***We would like to note that this post and most posts on our blog may contain affiliate links. This means that if you purchase something that has an affiliate link, we will get a commission from it. Not all items recommended on our site are affiliate links. We only recommend items that we have used and tried. These items have brought us much success and we highly recommend them to you in order to be successful. Thank you for your trust!
12 Quick Ways to Make Some Extra Money Every Day From Home