Last Updated on August 24, 2021 by NandiNN
Work from Home Jobs for Ladies
Looking for the best stay at home jobs?
Everyone's dream is to find the perfect stay at home job so they can hopefully make some serious income.
With the amazing rise in technology, working from home is becoming a trend that is honestly here to stay.
We see Youtubers making thousands of dollars per month all the time!
We also see social media influencers making good money all from the comfort of their homes.
With the rise of work from home job opportunities, it is no wonder that everyone is trying to get a piece of the pie. And I don't blame them.
Whether you are looking for ways to make an extra $200 a day or you want to make $3000 a month, we are here to tell you that there is a way to do so.
With hard work and dedication, anything is truly possible.
The more stay at home jobs you can do, the more opportunities you have to make money from home!
Before you can start on that, be sure to grab this monthly income task list today to ensure you stay organized and on track with your money-making journey!
So what are some of the best stay at home jobs for women that you can start today that will earn you some serious money?
Before we get started on the best stay at home jobs for women, we would love for you to like our growing Facebook page right here! Be sure to follow us on Instagram here.
We also wanted to take the opportunity to let you know that we use Affiliate links on some of our blog posts. This means that we could make a commission if you click on an affiliate link and purchase something. Read our full disclosure and blog policy for more information.
Related posts:
Work from home jobs for women that pay
If you are career-oriented like us, then you should definitely invest some of your time and energy on working on your stay at home-work ethics right now.
You can make great money if you put your mind and effort into it.
The internet has created an environment that makes it easy to get started on stay-at-home jobs with little to no experience needed.
Today we will be sharing with you:
Some of the best job ideas for women

Some exciting and fun jobs for women for extra cash

Tips on how to make money online for women

You will also find easy jobs that make good money
If you want to make money from home, be sure to work on a side hustle that you truly love and are passionate about.
There is nothing worse than starting something and getting frustrated halfway through it.
Stay at home jobs come in various opportunities, you will just need to find one that you can connect with and that makes sense for you.
Here are the 9 best stay at home jobs for women you can start today that we highly recommend.
1. Teaching English online
If you are serious about finding a few stay at home jobs to eventually earn a full-time income, then you should look into teaching English online as a career option.
This career is so flexible that you can make as much as $22.00 per hour depending on your previous experiences.
You can teach English as a second language all from the comfort of your own home.
A few ladies I know have reported making as much as $2000 per month –teaching English online. Teaching English online as a way to make extra money is an amazing opportunity that you must take advantage of.
You do not need a teaching degree to start.
Stay at home jobs such as this one is ideal for those that require flexible hours to work on them.
If you are ready to get started, take a look at all the requirements and credentials needed right here.
Other places you can find stay at home jobs for tutoring:
2. Become a Freelancer for Stella and Dot
Here is the thing, back when I was selling jewelry and make-up for these companies, you had to go door to door.
I hated it for the simple fact that it took up so much time.
And the thought of going to a stranger's house was also not only unsafe but felt like you were trespassing somehow.
Now with access to the internet, and the power of blogging and social media, everything can be done online easily and much quicker.
In fact, I made just over $100 over the holidays just by sharing a few gift ideas on my Facebook page. When people purchased the items I recommended to them, I was able to make a small commission on the sale.
Yes, it was that easy.
If you have a blog like I do or an Instagram account, and Pinterest, you can make money now.
For every link you refer to, you make a great commission.
Just be sure to notify your potential buyers that it is an affiliate link like we did at the beginning of this post.
They pay between 25-35% in commission rates which is pretty great.
Other than that, start today and become a freelancer for Stella and Dot. This is one of the best stay at home jobs for women to do at home
Update: I made over $400.00 in just one weekend with this side hustle and this is now my topmost recommended stay at home job I ask that you try.
If you are not familiar with affiliate marketing, read this post first.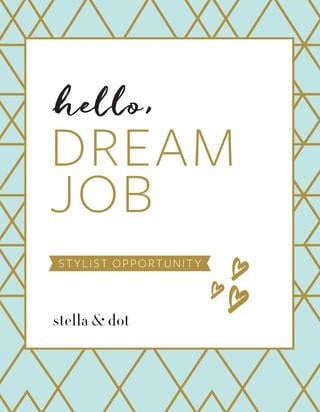 3. Work from Home As A Blogger
If you do not already have a blog, I highly suggest starting one today!
I earn a steady income with my blog every month and you can read more about this in my monthly online income reports.
It is one of the best stay at home jobs for women today and still earns me a relatively good income.
You can read about the full process of creating your own blog here with my easy-to-follow tutorial.
You can start your own blog for as low as $3.95 per month with Siteground plus you get a free domain if you sign-up through my tutorial.
Be sure to join my Free How To Start A Blog email course that I highly recommend signing up for.
Blog Income Strategies Simplified book to see better and faster results.
I explicitly outline all the blogging strategies that make me over $5, 000 per month with a blog.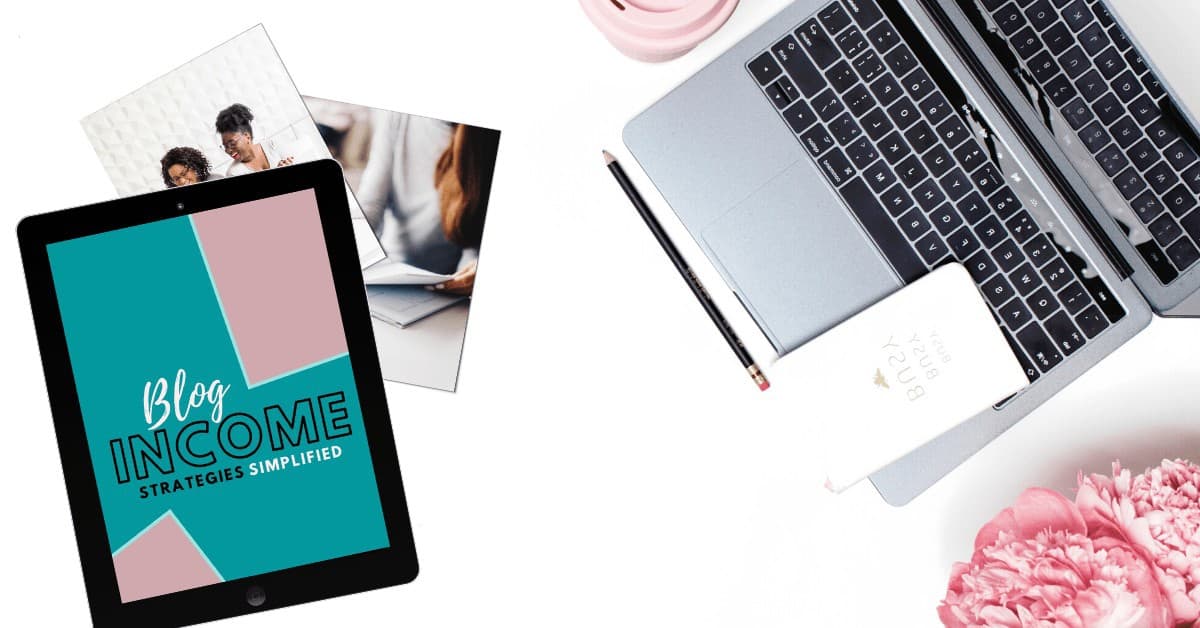 4. Stay at Home And Flip Blogs for Money
If you are looking for the best stay at home jobs for women, there is nothing better than flipping blogs.
In fact, I recently purchased a blog that I am totally revamping, making it better and I will flip it for a profit in a year or so.
I will definitely be back to share my experience and results.
I bought it for about $800 using this epic site (just tell them I recommended you)!
Website flipping or blog flipping as I like to call it myself can be a very profitable way to make money online for women and those looking for extra cash.
If you are extremely creative as I know you are, and you know how to make a website look good and get good blog traffic including sales, and social followers then you need to start flipping blogs for a profit.
So how do you get started flipping blogs for a profit?
If you don't already have one, you can either start your own website right here or buy an already established one.
To create your own website from scratch, follow our step by step guide on how to start a blog for free right here.
Now, it can sometimes take a while for a new blog to make money or to even see any improvements.
If you are in a hurry to flip the blog and make quick money, I would implement everything from this blog flipping course to quickly see results.
That way you can sell the blog much faster.
Don't leave a $30, 000 potential income opportunity on the table!
5. Stay at Home and Make Money Flipping Items
Now that you know about flipping blogs for money, it's time to learn about flipping items for profit.
Not sure what you could possibly flip to make a profit from home?
Think furniture, kids toys and clothing, electronics, books and more.
If you enjoy finding unique things at flea markets, garage sales or even the dollar store, you will definitely be successful in flipping things at a flea market.
According to the experts that enjoy flipping items for a profit, you can easily make an extra $1000, $2000, $5000 or even $10, 000 buying and selling stuff online!
Sound like something you can do?
I urge you to sign up for his free workshop where you will learn some great strategies on how to make money flipping items in as little as 14 days!
I am totally rooting for you.
Find out how to make $3000 a month by saving your seat right here! This is an amazing training program available for aspiring flippers called "Flipper University!"
6. Photography business
This work-from-home side gig is pretty cool.
It does involve you leaving the house and finding clients, but it's pretty amazing.
If you are really good at taking pictures or have an eye for unique details, then you should consider becoming a photographer.
They are a few ways you can really make some good money doing this.
We will tell you ways you can make money with photography:
I used to be a wedding planner and I now run a wedding blog that you can visit here.
I worked with a lot of amazing wedding photographers that were making almost $3000 or more per gig every weekend.
If you shoot 12 weddings a year, that means you could potentially make $36, 000.
I also worked with some wedding photographers that even charged as much as $4500 depending on experience. These are the more elite photographers.
It is a lot of work and long hours, but completely doable.
You can start this gig by first becoming a second shooter for other well-known photographers before attempting your own business.
It's not exactly one of those stay at home jobs you might have wished for, but you are home most of the week unless you are shooting or promoting a wedding.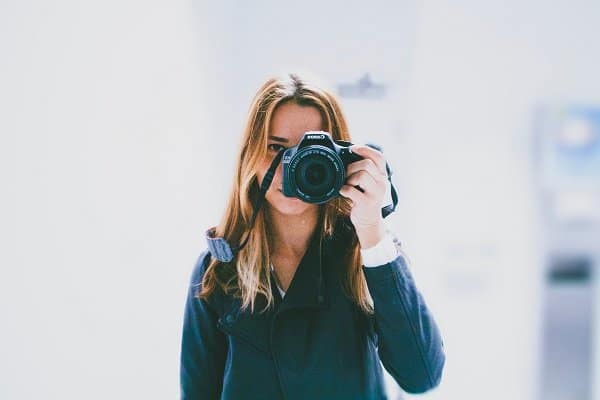 Another way you can use your photography talent as one of your stay at home jobs is to create a studio.
You can take this epic class.
Brit & co offers an extremely affordable class if you are interested in doing this.
See an example of a shoot below:
Photo: From a mom blogger I follow.
Selling your own photos as stock photos is extremely popular.
Here are two amazing bloggers that are profitable working from home selling photos.
You can create a stock photo business and sell your photos to other bloggers or businesses.
All of these will make you a pretty decent income all from working out of the comfort of your home.
Watch the video below to see how much you can make from selling stock photography:
7. Become a Pinterest Virtual Assistant
Yes, this is a thing.
The internet is full of amazing stay at home jobs for women and entrepreneurs and a lot more are being created each day.
Bloggers all over the world will pay you to manage their Pinterest marketing for them.
Pinterest is a hard game to play.
The change of algorithm, the constant need to monitor what works and what doesn't can become frustrating for many.
And lately, Pinterest has quested that creative pin only fresh content. If you spend your time on Pinterest and you are good at creating graphics, please outsource your services.
I know bloggers that are charging upwards of $700 and more per month to run Pinterest accounts.
This is really a thing.
The next step is to find out how to become a Pinterest Virtual Assistant and then you want to become qualified.
Get on the waitlist here.
As you can see, there is a demand for it.
Once, you get in and are fully qualified, be sure to work closely with your instructors to see where you can get paying Pinterest jobs.
I can tell you right now, Facebook groups are full of bloggers looking for Virtual Assistants. But if you are qualified for Pinterest, you get to be at the top of the list for most bloggers.
Be sure to learn everything about what you need to become a successful Pinterest VA right here.
You will be getting paid to pin in no time.
And if you want to learn more about other ways you can make money on Pinterest, read this post!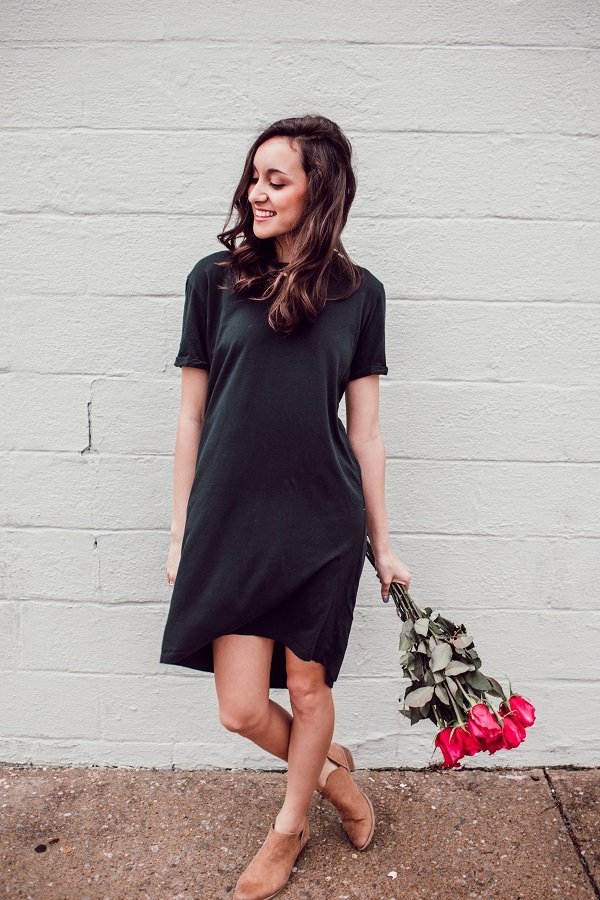 8. Get paid to write articles from home – Freelance Writer
You can start a stay at home side job as a freelance writer and thanks to the internet, this opportunity is completely on the rise.
With the advancement of technology, you can rest assured that you can make good money fast as a freelance writer!
I have used writers for the several blogs I own for years now.
Whether you are looking for extra cash, or great side hustles to make extra money on the side, becoming a Freelance Writer is the way to go!
This stay at home job can literary become your full-time 9-5 job if you put in the work!
What you will need to become a freelance writer:
A niche you want to write about

A portfolio

A list of potential clients

An Income tracker like this one

Internet & a computer

Determination
You might want to read this post to learn more about how to become a freelance writer and how to find the best stay at home jobs that pay well in that niche.
9. The best Stay at home jobs for women is selling Printables
Can you make money selling printables online?
Absolutely.
Printable products are one of the easiest ways to make passive income from home or anywhere.
There is no need to keep inventory and it really just requires your epic design efforts.
Sarah Titus, a very good blogger friend of mine, and was able to make over $2 Million a year selling Printables.
What if you do not know how to create Printables?
We these amazing courses you will be able to create extremely beautiful Printables in no time:
I personally took both and I do not regret it.
You will learn everything you need to know about how to make Printables for sale, how to sell them, and how to promote them for even more income.
It is the best stay at home job for those looking to make money on the side!
If you are looking for good-paying jobs for women without a degree that you can do from home, this is it.
Check out to make over $6, 000 per month a printable business.
Here are other "stay at home jobs for women" for you to consider:
We have shared a lot of amazing stay at home jobs, but here is a summary including more ideas for you to consider:
There you have it, 9 stay at home jobs for women and entrepreneurs that you can start today.
We also really really encourage you to check out this list full of small business ideas for women to make extra cash as well as this list filled with high paying careers for women!
Either way, you will find plenty of stay at home jobs for women listed on this website.
Find more money-making opportunities here.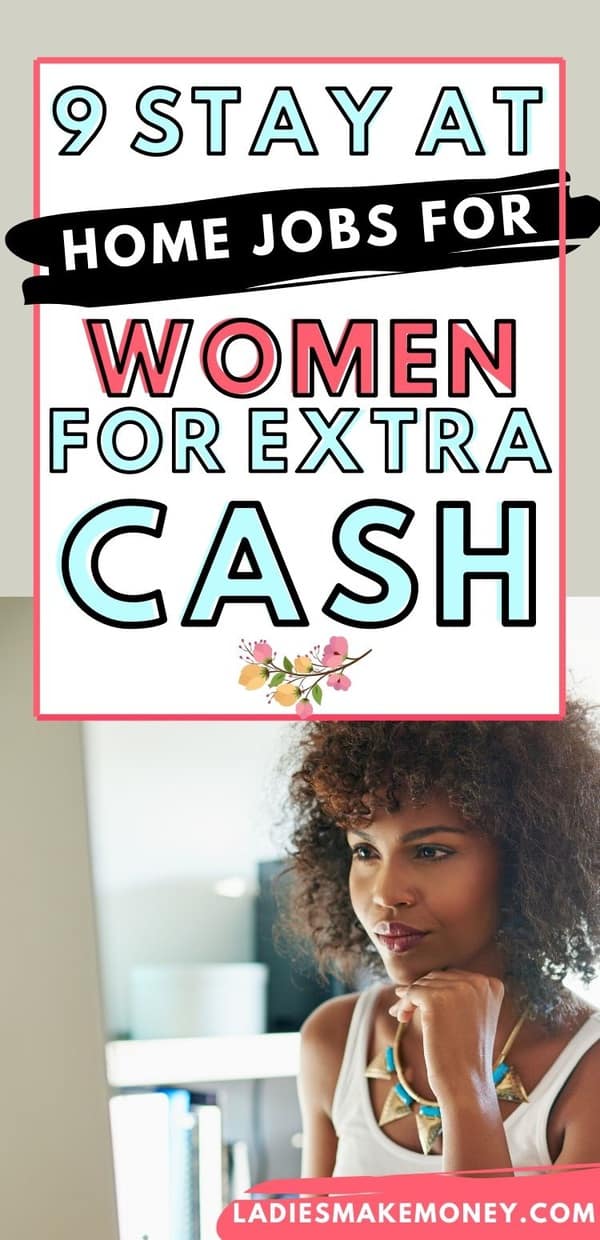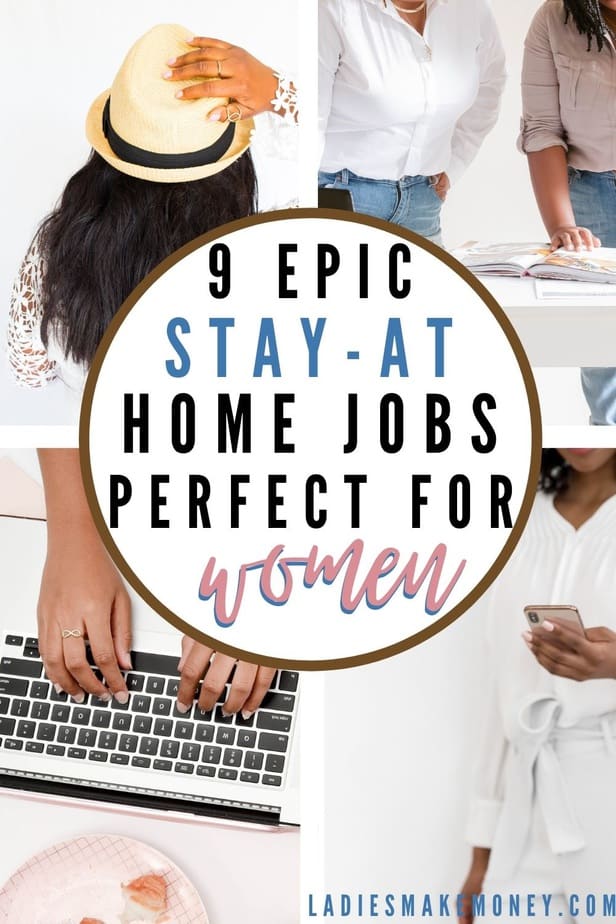 If you enjoyed our blog we would like to have you join our email list and receive weekly money-making tips, you can join now! Don't forget to like the Facebook page. The page is created to share your work, pitch your services, and learn from other experienced bloggers!
---
***We would like to note that this post and most posts on our blog may contain affiliate links. This means that if you purchase something that has an affiliate link, we will get a commission from it. Not all items recommended on our site are affiliate links. We only recommend items that we have used and tried. These items have brought us much success and we highly recommend them to you in order to be successful. Thank you for your trust!
9 Stay at Home Jobs for Women at Home That You Can Start Today