Last Updated on August 26, 2021 by NandiNN
How To Afford Christmas if You Have No Money
If you have no money for Christmas this year, it doesn't mean that all is lost.
You are here today because you are wondering how to pay for Christmas with no money. You might even be feeling ashamed.
I am here to tell you, that it is absolutely possible to have wonderful Christmas even if you have no money.
After all, the holidays are all about spending more time with your loved ones.
Having no money is always hard regardless of if it's Christmas or not.
In fact, I have been there!
There were two or three Christmases ago that I remember when either my family couldn't afford Christmas Gifts or we simply couldn't do anything.
But guess what?
Christmas was never canceled.
Even if my mother had to go to work, or work late that night, we made it happen because we love Christmas.
You can always find plenty of ways on how to enjoy Christmas with no money.
Why? Because it will bring you joy and it brings the family together.
At the end of the day, Christmas is all about the love and joy it brings to families and those around us.
It shouldn't be made into something that it clearly is not.
Even with that in mind, we are going to show you exactly what to do when you have no money for Christmas!
First, I want you to grab this absolutely free holiday budget planner to help you budget more efficiently this holiday season.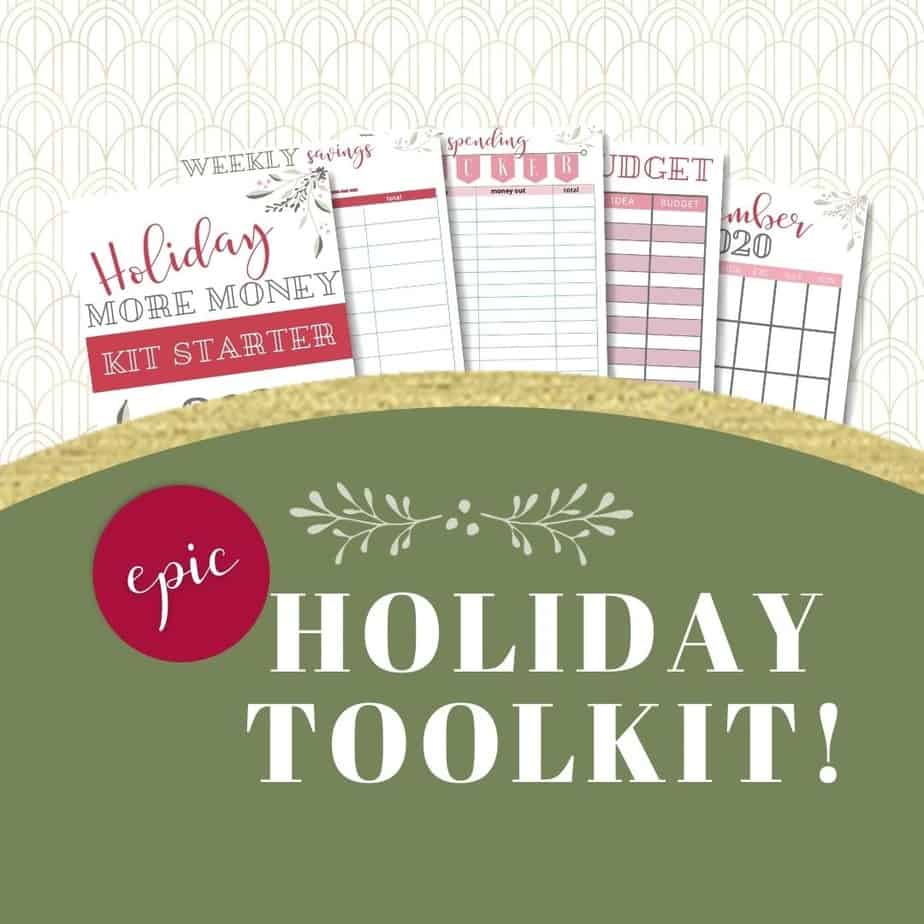 How To Afford Christmas When You Are Just Broke
Is it really possible to survive Christmas with no money?
I get that we all want to be able to give a little something to our family, or friends or our children, but when you have no money for Christmas, things might just seem totally impossible.
I know how it feels like to look into your bank account closer to Christmas time and you only have enough for rent or those pilling bills you keep putting off!
But we are here to encourage you and tell you can still have the perfect holiday this year even when you feel totally broke!
Christmas On A Budget
The best way to have a great holiday even when you have no money for Christmas is to plan ahead!
With enough planning, almost anything is possible.
Keeping things to the last minute is always stressful and you tend to overspend anyways due to the pressures around you.
As you know, Christmas is the most expensive time of the year but this doesn't mean you have to look for gifts as soon as December hits!
You also do need to wait until December to start all the holiday planning.
As long as you can plan your year in advance, the more likely it is that you are going to have a great holiday.
But before you can even start planning, you will need to start with a Christmas Budget plan, this is where you will lay out what you need and work on it all year round!
If you have no money at Christmas, keep reading to get by!
Before we get started on what you can do if you have no money for Christmas, we would love for you to like our growing Facebook page right here! Be sure to follow us on Instagram here.
We also wanted to take the opportunity to let you know that we use Affiliate links on some of our blog posts. This means that we could make a commission if you click on an affiliate link and purchase something. Read our full disclosure and blog policy for more information.
No Money For Christmas? Here Are 15 Ways To Get Through it
Now we are going to show you the ultimate ways to enjoy the holidays with no money.
With a little encouragement and careful planning, you can plan the perfect time even if you have no money for Christmas this year!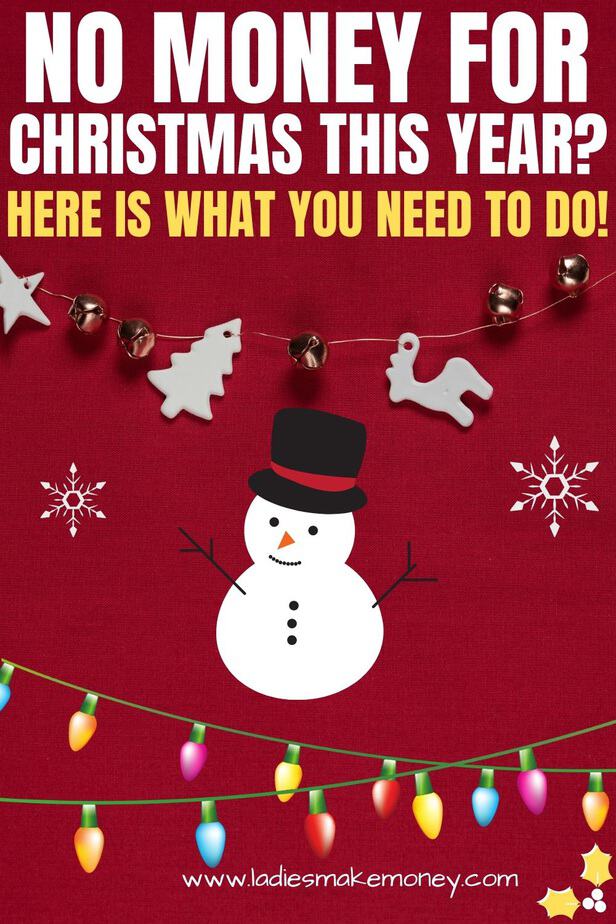 How to have a good Christmas with no money
1. Need Money For Christmas? Save It!
Don't wait for December to come around to start saving for Christmas.
Either open a second bank account or use an envelope system to start saving money for Christmas.
Putting just $20.00 a week aside for 52 weeks will easily give you $1040.00 that you can use on what you want for Christmas this year!
That is pretty good for Christmas!
I never spend more than $1500 during Christmas and that is a lot. But I also have a huge family that got even bigger in the last two years!
So bumping my $20.00 a week saving to $30.00 a week made more sense.
Another huge tip I have for you is to sign up for an app like Paribus to save money this holiday season!
Paribus is a price-tracking app, which syncs with your email account to scan for receipts and negotiates with online companies to refund the difference if there is a price drop shortly after purchase.
This is great even after you have done your Christmas shopping as you can get refunds for certain things especially following the Black Friday sales!
2. Take Advantage of The Day After Christmas Sales
After Christmas, they are usually huge sales that are done to get rid of Christmas items.
You need to really take advantage of this! It doesn't mean that you need to do this right after Christmas, it can be done the weeks after that.
Usually, these sales go on until the first week of January! Sometimes longer depending on what stores you visit.
But you want to get in there and try to buy some Christmas cards that maybe 50-70% off, some toys for the kids, a few Christmas decorations that you can use year after year and whatever makes sense!
What you will not do is to shop just for the sake of shopping because there is a sale! Be wise with how you spend money and don't buy junk that you will not ever use!

3. No Money For Christmas Presents
We know how hard Christmas can be with all the expenses and if you can't afford Christmas presents, it makes it even harder!
If you really can not afford Christmas gifts this year and you absolutely have no money for Christmas presents, don't take on more debt just to make it happen.
Here are a few things you can do to relieve the stress this may cause:
Don't be afraid to tell your family that you won't be doing gifts this year due to budget constraints

If you can do gifts, keep it to a $5.00 budget or go for the simple homemade gift ideas

You can also lower expenses by buying gifts for only one person, everyone can pick a name out of a hat to see who they will purchase the gift for this year

Have a talk with your children and tell them the truth
If presents are absolutely out of the question this year, consider homemade Christmas gifts this year!
When you don't have money for Christmas, you absolutely need to be creative.
Other things you can do if you have no money for Christmas presents this year is to go through your home and see if you can sell things around the house to make quick cash for gifts.
If you can make some decent cash, then use this money to buy or make Christmas gifts for your loved ones.
If you have gift cards, use them to buy Christmas gifts this year!
Where Can I get Free Christmas Presents?
If you are really struggling with this, they are a number of places you can register to get free Christmas presents around your area.
Start by asking a community center in your area for some help!
Your local churches, different children's foundations and some YMCAs collect Christmas gifts that they give out to those that really need them!
Make sure you inquire well ahead of time (at least 3-4 months before) to see if you will be eligible for these gifts?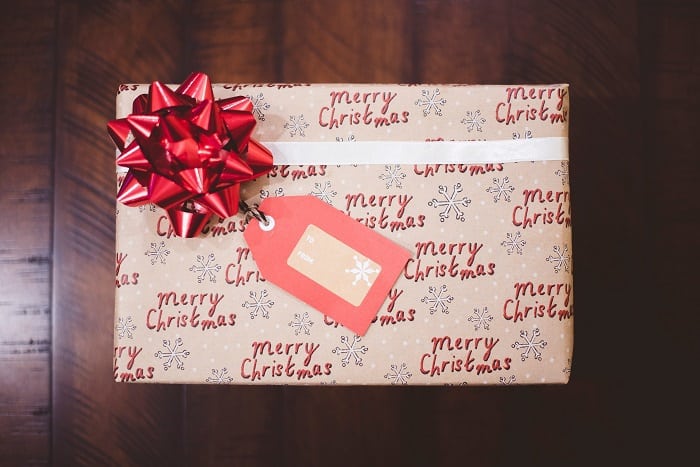 5. No Money For Christmas? Use FREE Gift Cards
Gift cards are great to give away as a gift as is or can be used to purchase presents when you need them.
You need to think of gift cards like cash as they do have a monetary value attached to them, the only thing is you can not redeem them as actual tangible cash.
But they do help in many ways.
If you would like to get your hands on a couple of them, they are easy ways to get free gift cards online which you can then use for Christmas this year!
The best ways to get free gift cards fast is to use online survey sites like these ones:
These are the ones I frequently use to get free gift cards and they have worked well for me for years!
If you are on social media, using a platform like Instagram is a great way and the easiest way to find more free gift cards to use over the coming holiday season.
Simply search using the hashtags:
#freegiftcards
#contestgiveaway
#Amazongiftcard
#freebie
#freebiefriday
If you can rack up as many free gift cards as possible, you will be able to afford Christmas gifts easily this year!
6. Find Ways To Make Extra Money For Christmas
If you have no money for Christmas this year, why not make extra money on the side?
For example, applying for a side job with Postmates or simply walking dogs for extra cash can help you have a memorable Christmas this year!
We have a lot of amazing resources on this blog about how you can make extra money fast.
Our favourite reads are these two:
These will fast track your success and get you into the money-making mode as soon as possible.
Finding ways to make extra money for Christmas when you are broke is the first step of getting through things!
Remember, take it one step at a time!
If you want a quick overview of what you can do to make extra money for Christmas, try these right now:
We have given you plenty of ways to make quick cash for the holidays.
These opportunities are perfect for those that have no money for Christmas but are looking to make the holidays work for them this year!
7. Use Cash Back Sites To Make Extra Money For The Holidays
By using cashback sites to save extra money is the best way to keep the little money you have in your account especially if you literally have no money for Christmas!
I use a lot of these sites to either save extra money or get huge savings. This means I have more money in my account than paying full price for things online.
By using simple online shopping hacks like these, you are guaranteed to save plenty of cash!
Here is how to get free Christmas money using cashback sites.
Simply sign up for them, and when you shop throughout the year, you will accumulate points that can be used to redeem free cash.
Here are 9 more amazing free apps that pay you real money right now that you can use to make some extra cash!
Don't wait, the sooner you start, the more prepared you will be for the holidays this year. Christmas is literally around the corner.
8. Volunteer Your Time Over The Holiday Season
The holidays are a lot more than just passing gifts around. It's about coming together as a family, or as a community to help others around.
You may think you hit low bottom but they are others that may be in an even worse situation than you are.
Take the time to volunteer at your local church or community center and feel a sense of joy doing it.
This is especially great to do if you have no money but you can at least get out and do something for the greater good!
They are many people that need help and if you can help even one person, then you have made a positive impact.
9. Create New Christmas Traditions
Christmas is all about what you want it to be!
If you feel like you do not want to decorate a whole tree for Christmas and you prefer to just cook and dance all day, then go for it, there is no right or wrong way of doing it.
Christmas traditions are really overrated and you can pick and choose which you want to do.
And we typically carry on Christmas traditions from when we were we kids and do the same into our adulthood years. But did you know you can make your own traditions?
That way no one expects grand if you can't deliver grand!
Here are a few ideas:
If your hometown does Christmas lights or light shows, make it a tradition to visit that every year (it's free)

Watch a Christmas Movie after dinner (I watch Christmas movies for the entire month of December)

Have a Christmas Talent Shows with your family each year (it's fun and costs nothing but effort)

Have A Hot Chocolate Christmas party every year – who can make the best hot chocolate?
Whatever new Christmas Tradition you decide to make up, make sure it has nothing to do with spending any cash!
If you do come up with any cool and interesting New Christmas Traditions, let me know and I will add them to my list.
10. Don't Be Afraid to Buy Used Items
My gorgeous Sister-In-Law is all about buying used or doing second-hand item projects.
She is a very talented crafty person and does a lot of DIY things when the opportunity presents. But she is not afraid to buy used items if she has to and you shouldn't have to either.
For those looking for ways on how to survive Christmas with no money, remember to look at alternative solutions first.
Craigslist or Facebook Marketplace is the best place to find used items.
I bought a lot of my baby second-hand toys from craigslist and I just did a deep wash and painted certain places and it looked all brand new.
A toy that would cost me $500 at Toys R Us only cost me $35 in good condition second-hand.
If you can find half the things in second-hand stores or online in groups, you will have a winner.
11. DIY Christmas This Year
Just like you are able to DIY your Wedding, you can now DIY your Christmas day.
You can make all your Christmas Decorations, add festive things around the house to make it more Christmas-like by using Christmas-like colors.
For example, I found a red table cloth and covered my dining table with this.
And cook your regular foods as usual and serve them in red, white, and green dishes if you have any.
This is the time to get really creative and you can use Pinterest to find some more creative ideas.
Don't forget to play Christmas songs to set the mood and feel!
Find out how to decorate your home for Christmas on a frugal budget and trust me, you will find lots of ideas on Pinterest!
12. Family things to do at Christmas with no money
By incorporating some Christmas activities into your day, you will make the day feel more holiday-like.
They are so many free things you can do as a family that are fun and exciting.
We have already talked about watching Christmas movies, you can play Christmas inspired games as well or you can make Christmas crafts as a family to either sell or to gift them.
The possibilities are endless for sure.
You can also hold a Christmas photo session by creating a photo booth and taking turns taking photos!
You can also just visit Santa at the mall or enjoy some free activities around your home town.
13. Scoop Up Last Minute Christmas Deals
Just as you can find last minute travel deals, you sometimes can get last-minute Christmas deals especially if you enjoy online shopping!
Most of the big bucks stores offer last-minute deals to get more sales before the season completely ends!
This is where you can save some money if you proceed wisely.
Take your time if you are going to try to snag these last-minute Christmas deals.
Ensure that you are actually getting a deal and that they are just not selling you something shiny that you may not want.
That two for one price may sound exciting, but do you really need two? Or that 50% off deal on a $5000 TV sounds like a steal but do you absolutely need a new TV?
Only scoop up last-minute Christmas deals if they absolutely make sense to do so!
14. Money Apps You Need To Use To Save Money For Christmas
We have already shared a few money apps you can use to save money such as the Paribus but they are a lot more money-saving apps you can use.
For example, Groupon has amazing deals you can use to snatch daily deals for Christmas!
By using apps that allow you to save a great amount of money frequently, means you will be doing yourself a huge favor as you end up saving big!
Try to get into the habit of using these money-saving apps before buying anything online. You will be amazed at how much you can actually save.
15. Create A Christmas List and Check It Twice
If you have no money, it is especially important that you create a list with everything you need and are planning for Christmas this year!
It is easy to lose track and completely lose control of what's going on without a solid plan.
Make a quick Christmas list of everything you need, what you want to buy, and what you would love to do for the holidays this year. An example could be:
You need to buy Christmas gifts

You need Turkey

You want Christmas Lights

A Christmas Tree

Wrapping Paper

Christmas Cards to give

You plan on hosting dinner/party
Once you have your full list, check it twice (in other words go through the list again) and decide what you really need.
Can you really afford to host that Christmas party? Can you host a bit of Pot luck instead?
Can you afford gifts? How about making your own gifts to give away?
Just go through the list and cut out any fluff or things that are absolutely a big NO!
Use my free Christmas list budget printable to help stick to the budget.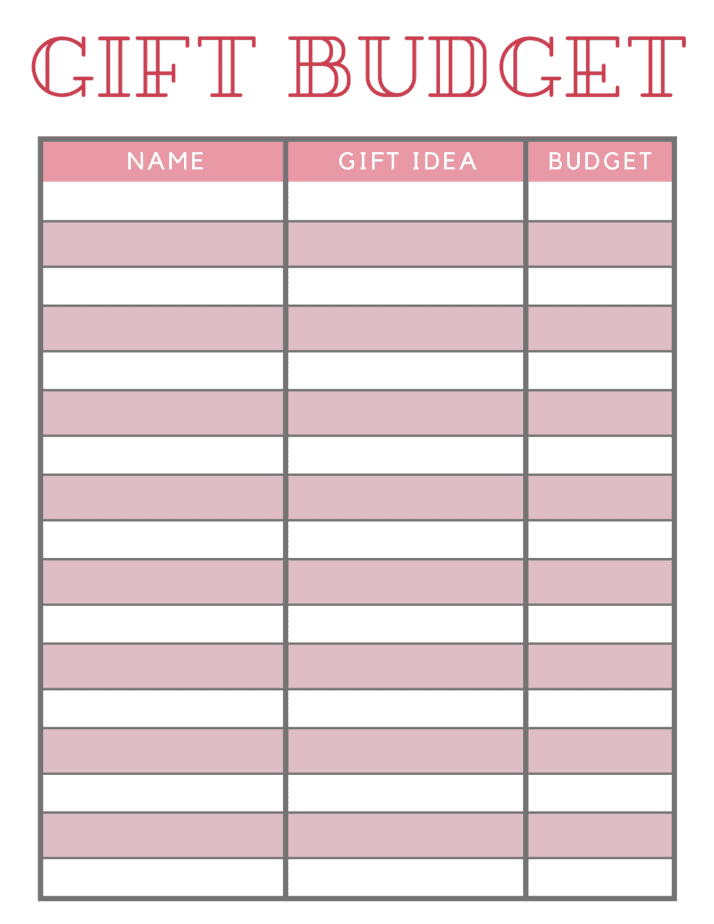 And there you have it, everything you need to know about enjoying Christmas without spending money!
Read this next: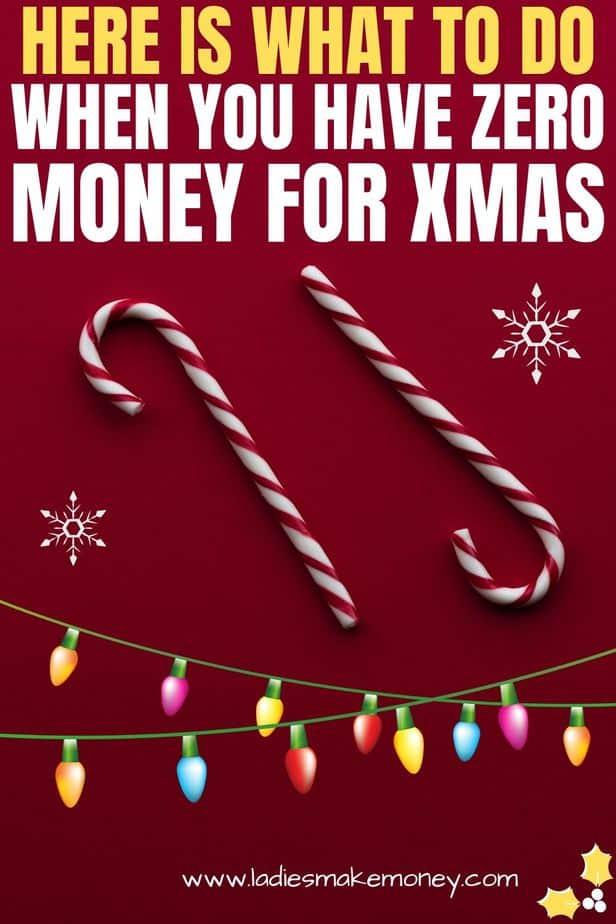 Need Money For Christmas?
What are some of the things you have done to make extra money over the holiday season? We want to hear your tips.
If you enjoyed our blog we would like to have you join our email list and receive weekly money-making tips, you can join now! Don't forget to join our Private Facebook page. The page is created to share your work, pitch your services and learn from other experienced bloggers!
---
***We would like to note that this post and most posts on our blog may contain affiliate links. This means that if you purchase something that has an affiliate link, we will get a commission from it. Not all items recommended on our site are affiliate links. We only recommend items that we have used and tried. These items have brought us much success and we highly recommend them to you in order to be successful. Thank you for your trust!
No Money For Christmas This Year? Here Is How To Get By!