Last Updated on April 6, 2019 by admin
It's hard to believe that December is right around the corner and that it means its almost Christmas. This means that holiday season is upon us and spending cash is about to start. With so many people to shop for, it's hard to know exactly what to get for everyone. Let alone finding the perfect gift guide for her.
If you have a female boss entrepreneur that you are thinking of gifting this year, then we have you covered in this post. We want to bring you unique Christmas gifts for her that hopefully won't break the bank.
PS: We wrote an amazing post about 13 Inspiring girl bosses you should totally follow! Check it out!
Before we get started on a few exciting unique Christmas gifts for her to inspire you, we did want you to follow us on Facebook for more awesome ideas on saving or making more money. You can also follow us on Instagram for more tips.
We also wanted to take the opportunity to let you know that we use Affiliate links on some of our blog posts. This means that we could make a commission if you click on an affiliate link and purchase something. Please check out our full disclaimer and policy page here.
If you are looking at starting your own profitable (money making) blog, we have a step by step guide below:

Finding Ideas using the Ultimate Gift guide for her Online
I feel like we have all made some really good friends over the course or starting and launching our online businesses. I consider a lot of you my friends, co-workers, teams, why not get each other a little gift to thank gifts for showing continuous support.
Did other entrepreneurs purchase tons of products from you, did they promote your work on social media frequently or maybe they were your accountability partner?
What better way to thank them, by getting them a little holiday gift as a sign of appreciation. If you are not sure what to get, you, my friend, are in luck! We created the perfect gift guide for her- the female boss!
Related:
8 Reasons why your blog is not making money
The best blogging courses worth taking that will make your blog money
How I made $83.14 in the first month of blogging
The perfect gift guide for that awesome girl Boss entrepreneur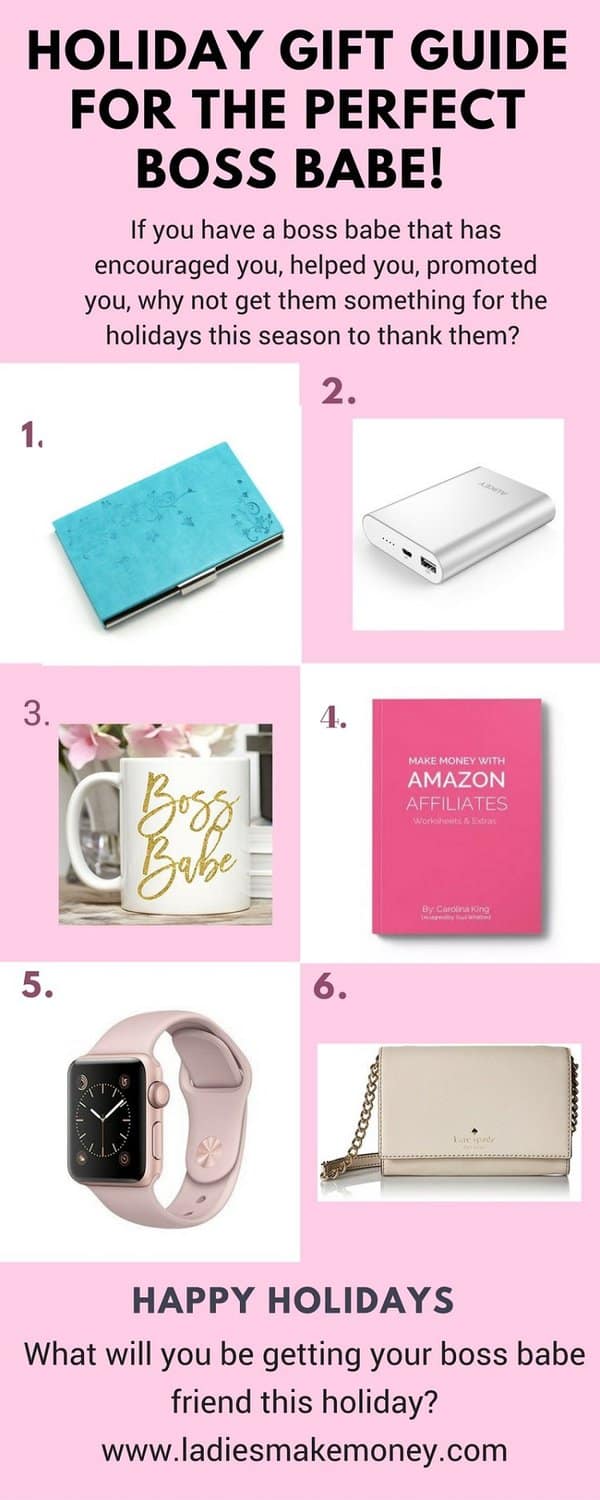 Let's break down the gift guide for her a little more:
Get this stunning "Fashion Wood Grain Leather & Stainless steel Business Name Card" holder and wallet credit card holder in a lovely blue! You can get the Business card holder today as a gift for your Boss Babe friend! The blue is definitely very gorgeous and extremely chic! The perfect way to look professional at your networking events. This amazing number had to be featured in our holiday perfect gift guide for her special!
Who doesn't need an external battery charger for those days when you are on the run? I surely do. This amazing portable charger is amazing for iPhone, Samsung and more (NOT Compatible with Motorola Cell Phones). Get one for yourself and that busy boss babe friend of yours! Your phone will always be charged.
Boss Babe Mug / Entrepreneur Gift

– Get this mug for your female boss friend! We just had to include this in our gift guide as it makes for the perfect gifting idea. A fresh cup of coffee before getting your day started is always a great idea.

If you feel like splurging, why not get the Apple Watch Series 2-Rose Gold Aluminum Case with Pink Sand sports

Band? Or even better, get one for yourself. Great for iPhone users, you can get updates and notification right on your watch! This amazing product made its way into our gift guide for her based on the look and functionality.

If you know anyone that is trying to boost their affiliate sales with Amazon but are not getting anywhere, then this is the gift that they need. "Want to make over $1,000 with Amazon Affiliates?" is an e-book created by Caroline King and Suzi Whitford. Even if your blog is small, you can do this! Carolina made over $1,000/month from Amazon while her blog was under 10K page views and has increased her affiliate income as her blog has grown. She is here to show you how can you too can make money using Amazon affiliates. While you are it, get one for yourself. Always great to have multiple streams of income.
This Kate Spade purse is perfect for gifting and we need to add it to our perfect gift guide for her collection. It comes in a variety of colors and will make any boss babe happy over the holidays. I was thinking of getting myself one. A great treat after a long year of blogging. (Running two blogs is extremely exhausting!).

Holidays are definitely the perfect time for gifting. These holiday gift ideas are perfect for all year round gifting. Picture a little smile on your friends face when she receives a gift from you.
Female bosses are known for hustling all year round, especially if you are in the business of blogging. Take some time this season to gift someone with something special.
A little thank you goes a long way. What gift are you considering getting from the list for that special friend or for yourself? If you got something else, please let us know in the comment.

Tips for women looking to make extra money
8 Tools for Bloggers to help Grow your Blog and Make Money
10 Female Entrepreneurs Making Money Online + Income Report
Happy Holidays!
Don't forget to pin this post here to your holiday board.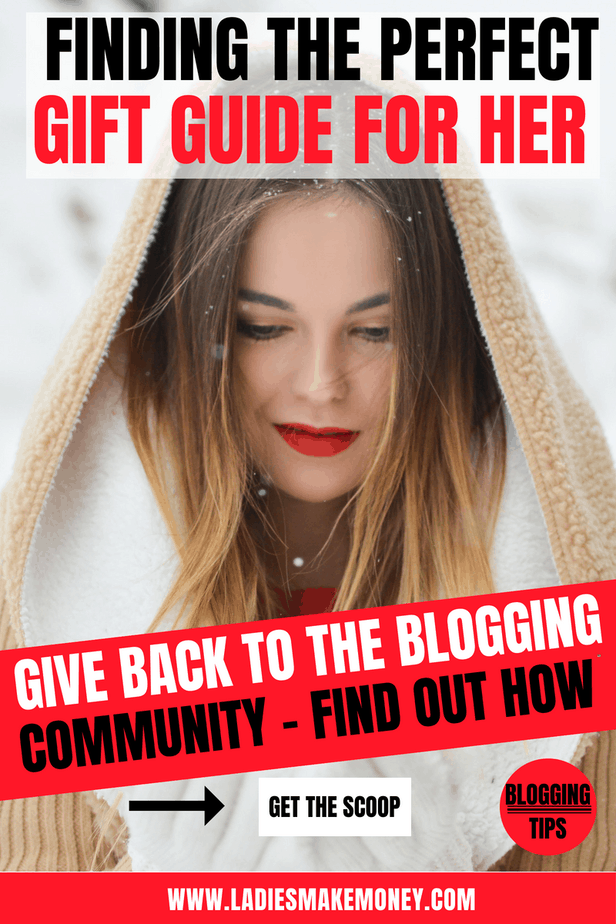 If you enjoyed our blog we would like to have you join our email list and receive weekly money-making tips, you can join now! Don't forget to join our Private Facebook page. The page is created to share your work, pitch your services and learn from other experienced bloggers!
---
***We would like to note that this post and most posts on our blog may contain affiliate links. This means that if you purchase something that has an affiliate link, we will get a commission from it. Not all items recommended on our site are affiliate links. We only recommend items that we have used and tried. These items have brought us much success and we highly recommend them to you in order to be successful. Thank you for your trust!