Last Updated on
Free Monthly Budget Template
Do you have a hard time managing money? Following a strict budget especially if you are living below your means can be frustrating. That is why we found the best and FREE monthly budget template worksheets you can use to help manage money better.
If you love free and monthly budget planners, you will love this amazing list full of free monthly budget template ideas, budget planner printable templates and a lot of amazing other free monthly budget template printables you can use to better budget!
The task of managing money and knowing how to save more money every month is extremely difficult for so many people. If you are one of those people living paycheck to paycheck then you should really consider grabbing yourself one of these FREE monthly budget templates in order to get your finances in order.
These budgets are especially helpful for those living on a tight budget and need some help getting through!
Before we look into the amazing FREE monthly budget template worksheets you need, we would love for you to like our growing Facebook page right here! Be sure to follow us on Instagram here.
We also wanted to take the opportunity to let you know that we use Affiliate links on some of our blog posts. This means that we could make a commission if you click on an affiliate link and purchase something. Read our full disclosure and blog policy for more information.
Are you ready to take control of your finances and make a change to your spending habits that are getting you into debt? Then go ahead and download these FREE monthly Budget template worksheets today.
What exactly are Budget Templates?
If you have never budgeted before or even created a budget, you might find that starting a budget can be scary. Most people do not actually take the time to understand where all their money is going.
A budget should give you a clear picture of what is coming in and out of your account.
In order to properly understand what is going on with your income, you need to create a simple budget template where you document your activities as well as to keep track of everything. This way you will know how to properly manage your funds.
If creating this simple budget template seems overwhelming, you can search the internet for free templates. The internet is full of FREE monthly budget template worksheets you can use and customize for your needs.
A few budget templates that you can find on the internet include:
Weekly Budget Template

A monthly Household budget template

Family Budget Planner Google sheets

Weekly Paycheck Budget template
And much more. But to make things easier on you, we listed a few free monthly budget templates to use right away.
Ladies Make Money Online Budget Template //1
We want you to focus on creative ways you can save money each month. It's much easier to save money if the goals set are realistic which will make it more achievable.
You may want to get started by creating a budget that defines your need and shows your spending habits.
Be sure to download your FREE monthly budget template worksheets (download this budget template) and then work on your saving goals. This is a strict budget template to help you eliminate your bills!
We have also included a Saving area as well as debt repayment area to help you fully gain control of your monthly budget. Be sure to grab your FREE monthly budget template today.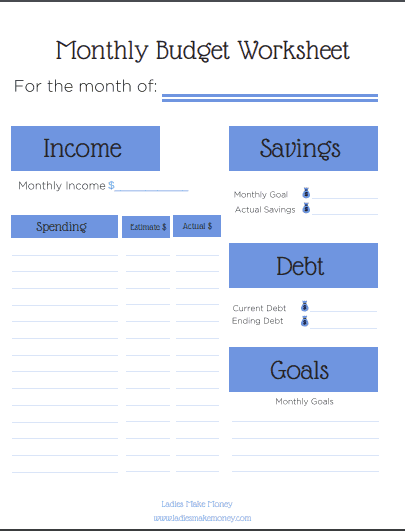 FREE Monthly Budget Template from the Frugal Fanatic// 2
The Frugal Fanatic has an amazing Free Monthly budget template that you can use to help your family get a better understanding of your overall finances.
It is also designed to help you grow your savings each month as easily track your income and expenses.
This way you can track where you are overspending and find a way to cut back on unnecessary expenses.
Grab your Budget template worksheets from The Frugal Fanatic today. They also feature a lot of free printable budget templates you can grab off the site!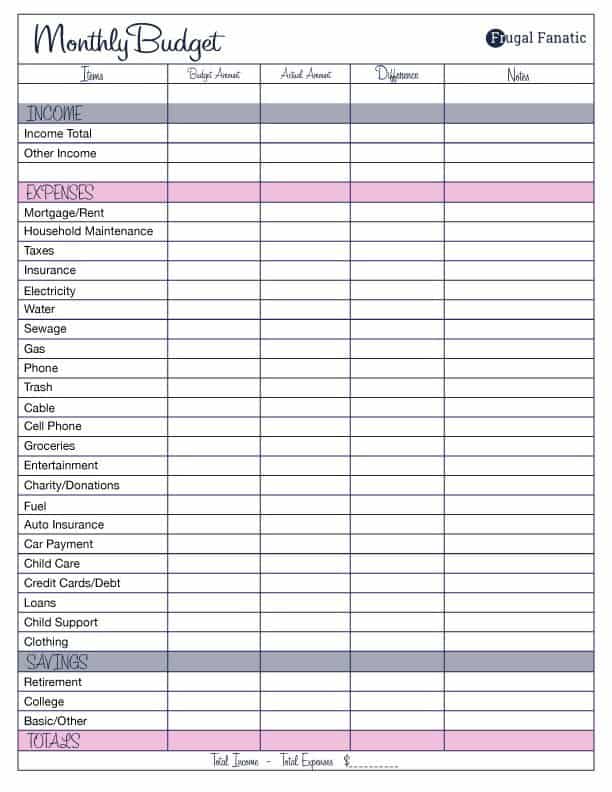 FREE Monthly Budget Template Planner// 3
This amazing Budget template was found on Savor + Savvy, and it must be downloaded immediately.
The FREE Monthly budget planner has been created in such a way that it makes it easy for you to look at the month ahead and see exactly what is happening with your money.
I love the note that Jazmin adds about how it is important to account for regular expenses as well as the little things that you tend to spend money on.
It is really true, as little things tend to go by us such as spending money on coffee, smokes, or getting your nails done.
Keep all of this in mind when budgeting.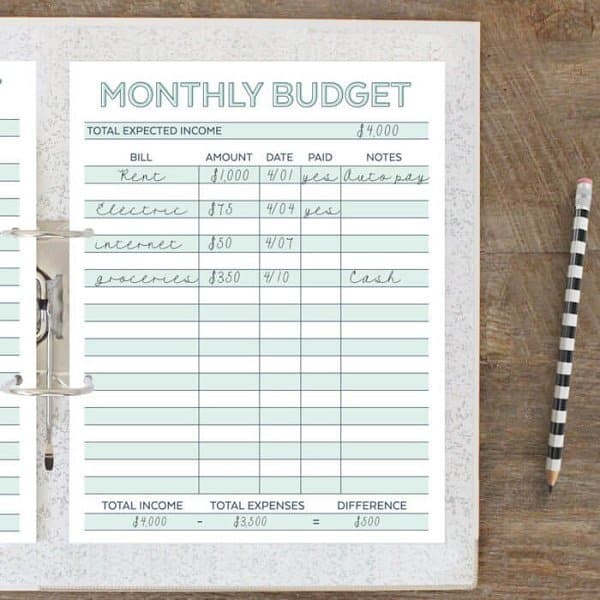 FREE Budget Worksheet from Pretty Presets// 4
If you are struggling to get out of debt, then you need to grab this FREE Budget worksheet from Pretty Presets right now. It is extremely detailed and also comes with a section to help you save money each month.
They use Dave Ramsey's guideline for saving money which I am a big fan of. If you are really struggling to save money every month, be sure to get a copy of this FREE Monthly Budget Template today.
Infographic from Pretty Presets for Lightroom
Weekly Spending budget tracker// 5
If you are one of those budget conscious people that would rather check your weekly budget instead of having a monthly overview, then this weekly spending budget is awesome.
The weekly budget planner will ensure you are on top of your budget more strictly than if you use a monthly budget.
We hope that you are enjoying and downloading all the free monthly budget template ideas we are sharing today!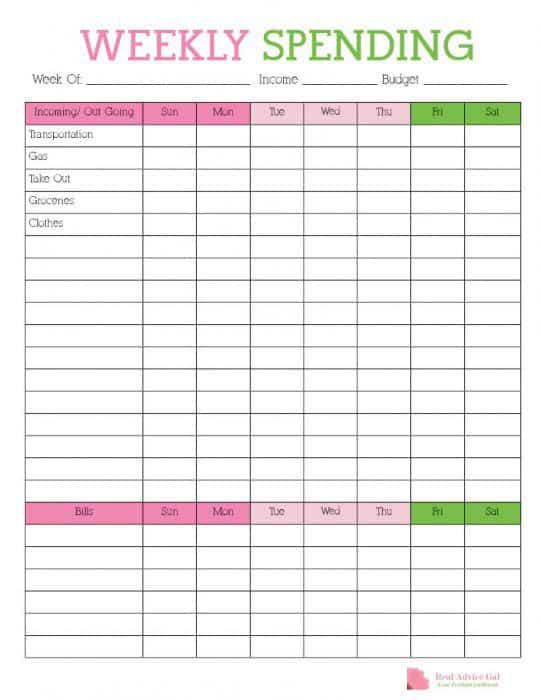 Related:
12 Insane ways to save money even on a tight Budget
10 Ways to Save money every Month
Monthly Family Budget Printables// 6
If you are looking for a fresh FREE Monthly Budget Template, then look no further than Scattered Squirrel's Budget Printables. She even has half-size monthly budget printables for your budget planning. Everything about her printables is user-friendly which makes saving money so much more enjoyable.
Don't forget to check out her home management binder.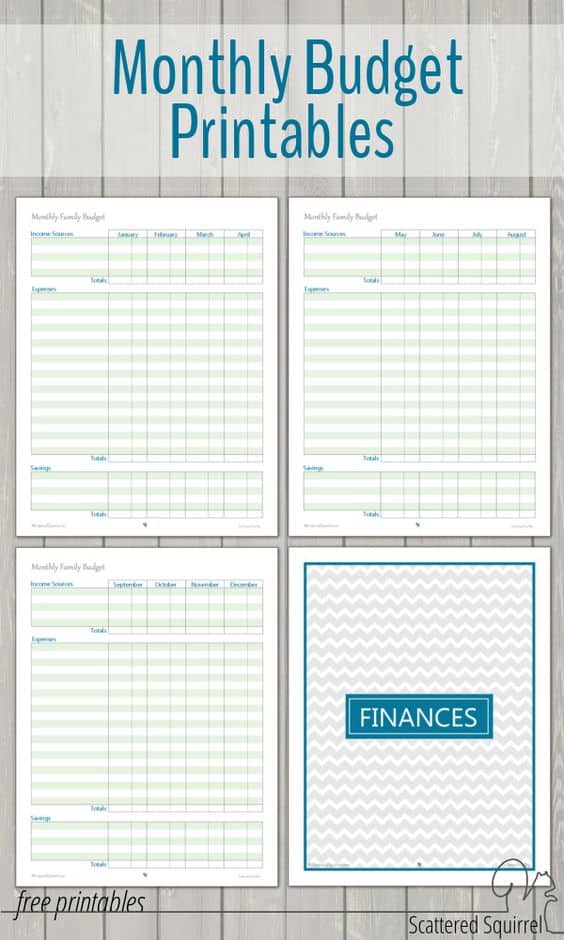 Monthly Budget Planner// 7
Kayleigh created this monthly budget planner to help plan money while she was still in university. We love how colorful and bright it is as money talk is usually so dull. Be sure to hole punch them and add it to a ring binder and use them as normal.
The full monthly budget planner includes plan the day to do list, plan the week, plan the month, shopping list pack and much more. Be sure to print this FREE Monthly Budget Template from Kaleigh's Crafty Creations today!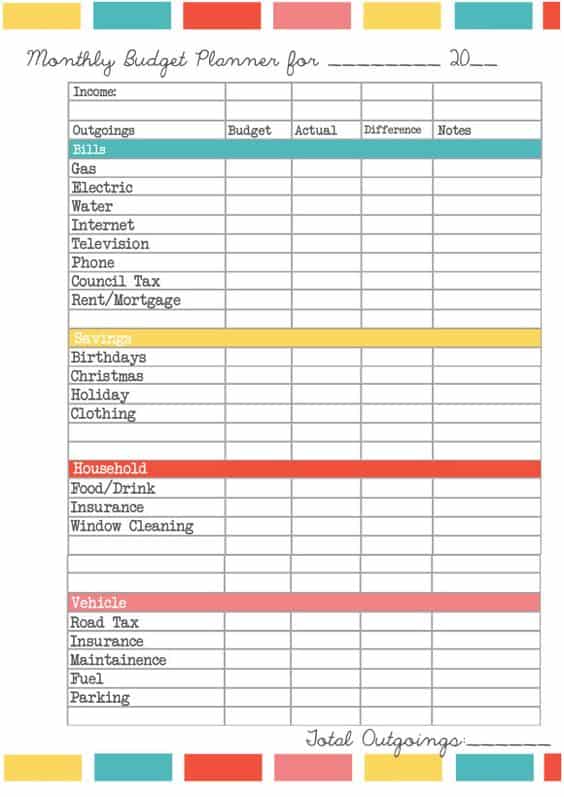 FREE Paycheck Budget Printable// 8
Do you live Paycheck to Paycheck? You still have some debt to pay off? Then you may want to grab this free Paycheck budget printable to plan out exactly how much of your budget you spend biweekly, weekly or monthly.
Its a neat take on budgeting and it might work for you.
The good thing about this Paycheck budget printable is that you will easily be able to keep track of where all your money from your pay is going!
It is completely visual!
Make sure to grab this paycheck to paycheck budget printable today to better manage your finances!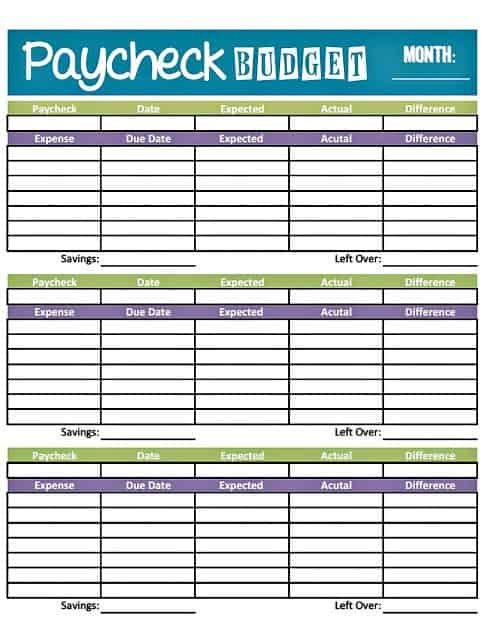 Free Printable Family Budget Worksheets// 9
Here is another family budget template you can grab thanks to Money Saving Mom. Budgeting as a family is much more realistic as it gives you an overview of how much you are spending as a family. You can also clearly see where you are able to cut expenses if needed.
Be sure to grab this FREE Monthly Budget Template from Money Saving Mom today.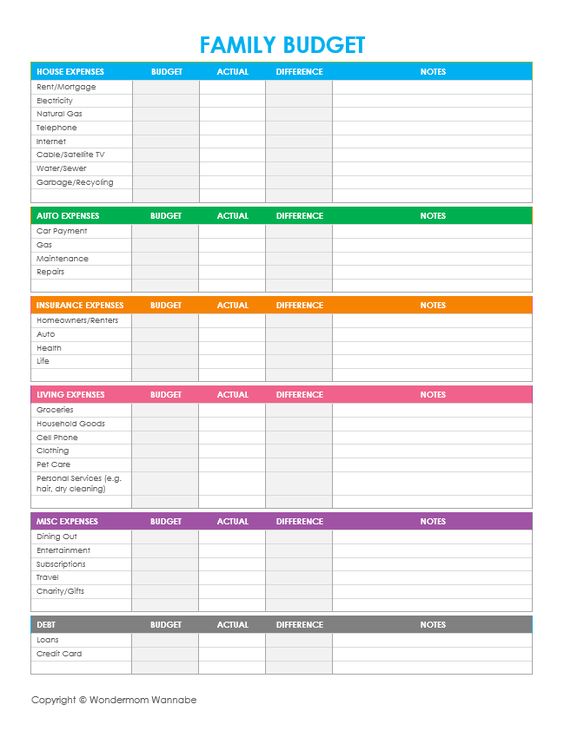 Budget Expense Tracker// 10
Ready to get your financial accounts in order, then download this Expense Tracker. An expense tracker is the best way to exactly how much you are spending every month. I love using this expense track to see exactly where all my money is going. Add it your list of FREE Monthly Budget Template worksheets and include it in your binder.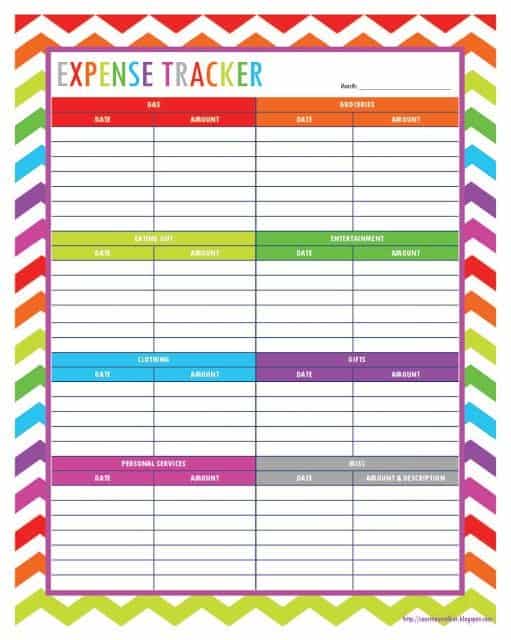 Household Budget Worksheet // 11
I love this FREE Monthly Budget Template from A Mom's take. It's a very pen and paper type and it is really easy to use. If you are looking for an easy budget template to use, be sure to grab this one.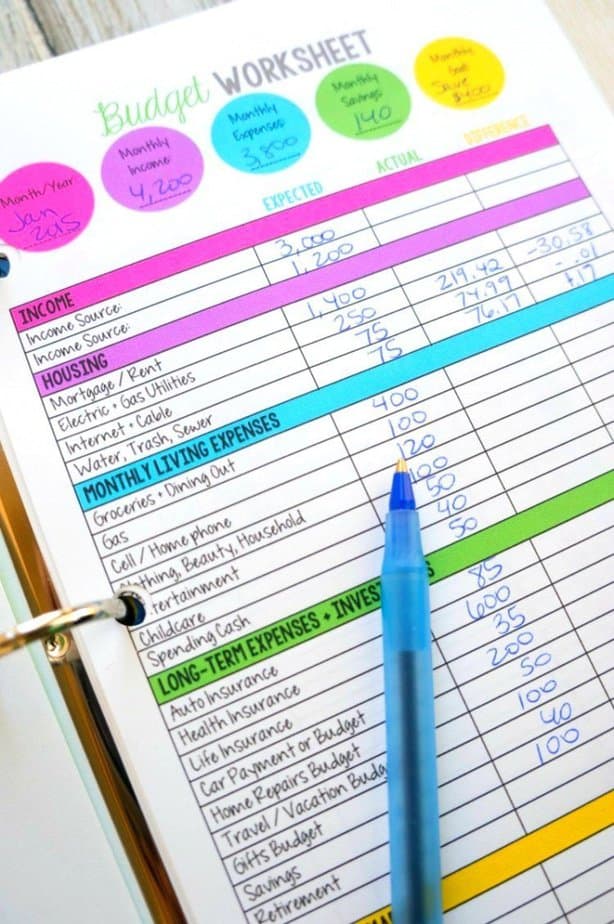 FREE Printable Monthly Bill Payment Checklist// 12
This Free Printable Monthly Bill Payment Checklist is a must-have for any home binder. Print it out and never forget a payment or bill. It's a great idea to add this to your FREE Monthly Budget Template worksheet collection.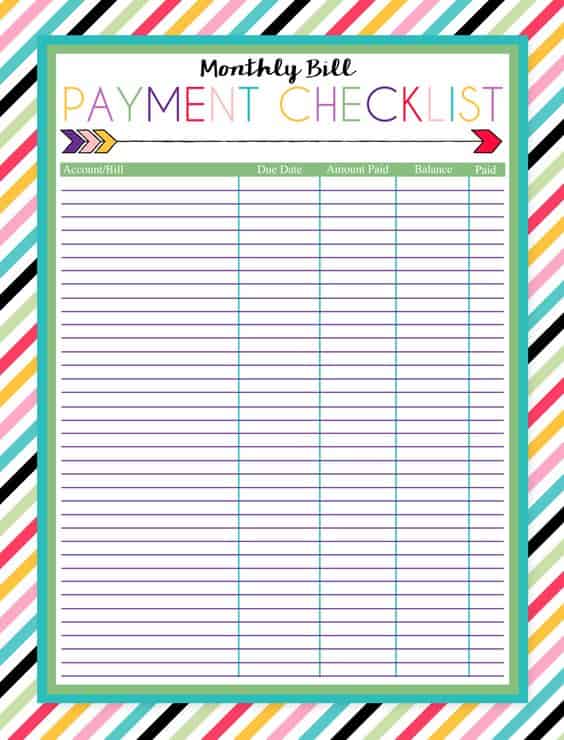 Debt Payoff Planner – Free Printable// 13
Loving this debt payoff planner by the Frugal Fanatic. If you are in the process of paying off any debt, be sure to grab this planner and it to your FREE Monthly Budget Template worksheet collection.
Don't forget to pin this post here to your money saving group board.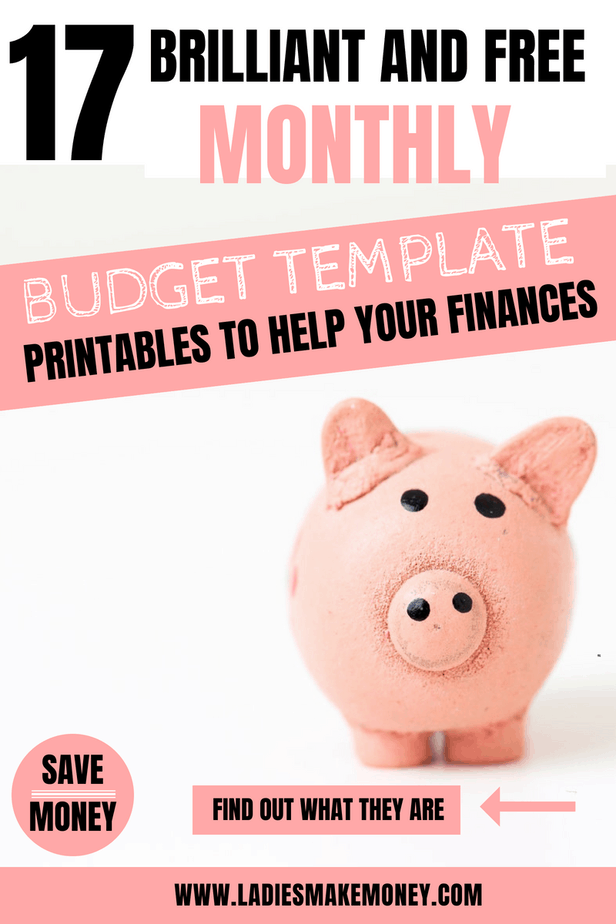 Which of these free Monthly Budget Template worksheets will you grab? Are you ready to budget? We would love to hear from you below!
Monthly Budget Template for Budgeting
If you enjoyed our blog we would like to have you join our email list and receive weekly money-making tips, you can join now! Don't forget to join our Private Facebook page. The page is created to share your work, pitch your services and learn from other experienced bloggers!
---
***We would like to note that this post and most posts on our blog may contain affiliate links. This means that if you purchase something that has an affiliate link, we will get a commission from it. Not all items recommended on our site are affiliate links. We only recommend items that we have used and tried. These items have brought us much success and we highly recommend them to you in order to be successful. Thank you for your trust!
17 Brilliant and FREE Monthly Budget Template Printables you need to Grab