Last Updated on June 18, 2018 by admin
Welcome to our Affiliate marketing blog series. We are sharing the best strategies to help you boost your affiliate sales. Today we will be focusing on how to make consistent sales with your affiliate blog posts to increase sales. We want to share with you the exact strategies we use to increase sales from our blog on a monthly basis. If you are interested in knowing what affiliate programs we recommend, get the list of our top earning affiliate programs here:  full list of 20+ more affiliate programs! 
Before we get started, we would love for you to join our growing Facebook group right here! You can also join our Pinterest group by scrolling to the bottom of this page! If you are looking for guest blogging opportunities or if you need a personal affordable coach to take you from A-Z, we can help you. Get all the juicy details right here! Have you seen our brand new shop! 
We also wanted to take the opportunity to let you know that we use Affiliate links on some of our blog posts. This means that we could make a commission if you click on an affiliate link and purchase something.
Want to catch up on the Affili

ate Marketing Series?: 
How to ensure you make consistent sales with your affiliate blog posts is something we will look into a little more closely today. Don't expect to make any sales by splashing your affiliate links into all your posts and expect to make thousands of dollars from it. It just doesn't work like that! So what is the secret to making consistent sales from affiliate marketing? 
YOUR READERS NEED TO TRUST AND BELIEVE IN THE PRODUCT OR SERVICE YOU ARE REFERRING THEM TO.
Don't forget to pin this to your "Best Blogging tips" board. Pin it now to reference later.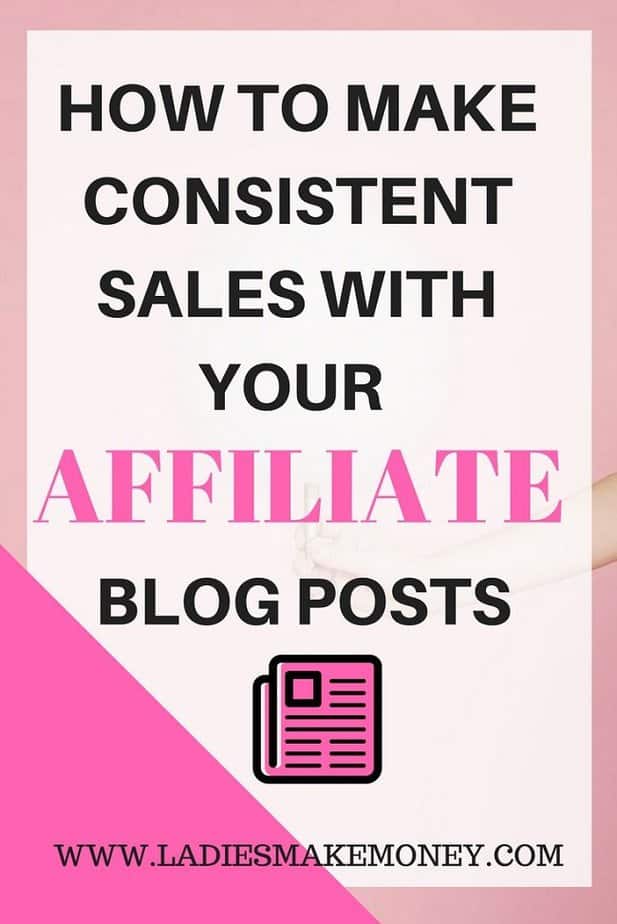 If you haven't already made a sale with your affiliate marketing strategy, then we highly suggest you take a look at how to make your next affiliate sale in the next 24 hours. Once you have that mastered come back here to see how you can keep the sales going. The goal is to get you to make consistent sales with your affiliate blog. 
Making consistent sales with your Affiliate Blog posts
This will require that you test out the service or product for yourself before recommending it. For example, I am a big breakfast fan! I love to eat at great places (I am a foodie at heart). A friend of mine recommended a restaurant to me the other day, but she had never eaten there before. She mentioned that she drove by it every morning and it was always packed full of clients. So my boyfriend and I decided to give it a try. You better believe it, we hated it. The service was slow, the tables were dirty and the food was extremely salty. Needless to say, I am not recommending it and I will never go back to it. 
It was a waste of $30.00 and I could have made better breakfast at home. I would have been okay with some cereal that morning. If you want to make good on your word, ensure you have tested the product in some way.
Can you imagine if your clients stop following you or stop reading your work because you sent them to one bad place? They will never trust your word again. The perfect way of ensuring trust is by writing a blog review.
STEP 1: WRITE A REVIEW ON YOUR PRODUCT OR SERVICE YOU WANT TO RECOMMEND
Do you want to make consistent sales with your affiliate blog? Don't confuse your readers with too many products or services. Create a blog post focusing on just one item that you really believe in. Get this post and ensure you promote the heck out of it. Consistently promote it and market it to make consistent sales with your affiliate blog post. Your post should be extremely in depth about the product. Here is what to include:
It should be over 1000 words (use keywords) – More words, the better. 

Outline the pros and cons of the particular product 

An honest opinion of how it has helped you 

Any benefits of the product that your clients might enjoy

Do you have concrete proof of how it has helped you? Highlight it. 
Here is an example of a post that makes me sales: How to make money in affiliate marketing within 24 hours using Pinterest!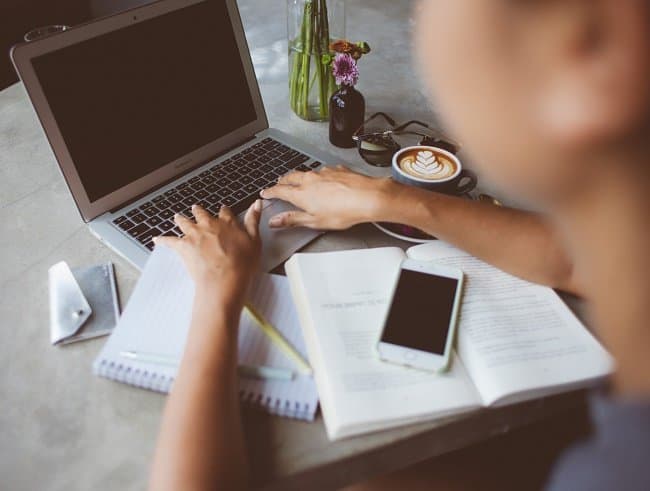 STEP 2: SHOW SOCIAL PROOF AND CONCRETE EXAMPLES 
Your readers want to believe you. You have one shot to impress a first-time reader to your blog and to turn them into a potential client. Every reader that lands on your blog should be converted into a long time client. Entice and capture your client by showing them examples and proof of your achievements from using a particular product or a service.
Why should they sign up for a product that you are recommending? Why is that product better than product B? Show proof with screenshots of your progress, how to use a product and include videos if you can. Every time I want to know something, I go to YouTube. I love visuals and step by step video tutorials. To make consistent sales with your affiliate blog concrete examples are needed. 
STEP 3: GROW YOUR EMAIL LIST
If you want to make consistent sales with your affiliate posts, you need to grow your email list. This is an engaged mailing list of your most loyal supporters that will read and potentially purchase what you recommend. The bigger your list, the more money you can make! 40 to 30% of your email list will actually open what you send. Out of that amount, between 2-5% will make a purchase. That is why we recommend always growing your list every chance you can. Want to learn how to grow your list? 
I use mailerlite to capture my subscribers. It's free for the first 1000 readers and the open rate is way better than MailChimp. 
You might also like: How to effectively grow your email list fast! 
Once you have a list going, start by nurturing your list. Send them useful weekly information, direct them to your blogs and then you can eventually add affiliate links to your email marketing to promote sales. This is an amazing way to keep making sales with affiliate links. They are bloggers that have over 10, 000 people on their email list. This means they can easily make over $5000 per months depending on what they are promoting. 
STEP 4: GENERATE TRAFFIC TO THAT POST 
Next step to making consistent sales with your Affiliate Blog posts is by driving consistent traffic to that particular posts. You can do this by using Pinterest. Create 3 to 4 different images for that blog post and promote the heck out of it on Pinterest and every social media platform you have. Don't forget to share it with your email list at least twice every month. And when we say promote, we mean to make it your job to promote this post multiple times a day, multiple times per week and per month. Link it to older or newer posts if it is relevant.
Sign up for Maven and promote the product on it. When you sign up for maven, fill out your profile and include your blog URL for extra push! 
Here is a post to get you started: 10 Places to promote your blog after you hit the publish button! 
I hope you enjoyed this post. Don't forget to download our FREE list of 20+ affiliate programs we use every day to make money online. Our next post will feature a round up of tips and tricks from professional bloggers that earn a living from Affiliate sales. Don't miss out! 
Did you miss our last two blog series? Catch up here:
Did you like this post on the different ways to make consistent sales with your affiliate blog? Don't forget to pin this to your "Best Blogging tips" board. Pin it now to reference later. 
If you enjoyed our blog we would like to have you join our email list and receive weekly money-making tips, you can join now! Don't forget to join our Private Facebook group. The page is created to share your work, pitch your services and learn from other experienced bloggers!
---
***We would like to note that this post and most posts on our blog may contain affiliate links. This means that if you purchase something that has an affiliate link, we will get a commission from it. Not all items recommended on our site are affiliate links. We only recommend items that we have used and tried. These items have brought us much success and we highly recommend them to you in order to be successful. Thank you for your trust!