Last Updated on March 11, 2020 by admin
Shareasale Affiliate Program
If you are looking to make extra money with your blog using the Shareasale Affiliate program, please read and save this post.
You most likely landed on this blog post because you are trying to find a way to make money with your blog.
They are so many ways to make money with Shareasale, so we are really excited that you are here today.
You can find all the amazing blogging tips for growing your blog here as well as ways to make money with it.
The secret to making money with your blog is to use properly use Affiliate Marketing.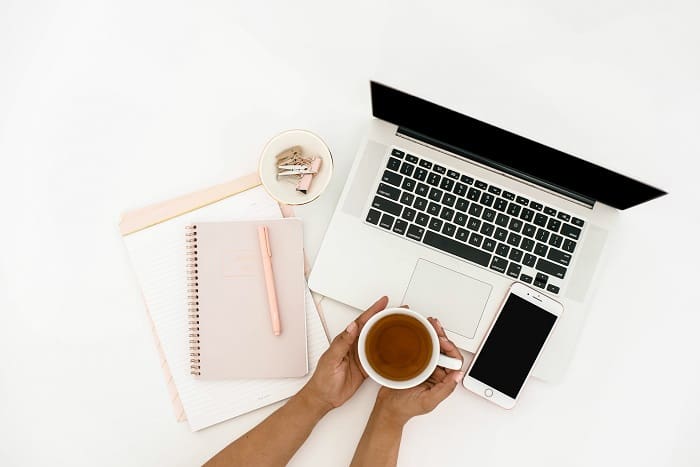 If you are serious about making money with your blog, then consider joining the Free Shareasale Affiliate program which is perfect for new bloggers with a small following.
Contrary to popular beliefs, you do not need a lot of page views to make money with your blog.
In fact, a lot of things will make an impact on how you chose to monetize your blog.
If you are a new blogger and you are pumping out epic content, chances are you can find an affiliate merchant on Shareasale to promote.
The Shareasale merchant list is full of amazing selection that I trust works for most niches.
For example, I have a wedding and a travel lifestyle blog, and I have great success using the affiliate merchants on Shareasale.
Today we will be focusing on proven ways on how to make money with Shareasale.
Before we get started on how to make money with Shareasale, we did want you to follow us on Facebook for more awesome ideas on saving or making more money. You can also follow us on Instagram for more tips.
We also wanted to take the opportunity to let you know that we use Affiliate links on some of our blog posts. This means that we could make a commission if you click on an affiliate link and purchase something. Read our full disclosure and blog policy for more information.
We want you make the best of this Shareasale review and use it to make money with your blog.
With this in mind, we will be answering some of our readers questions such as:
What is Shareasale Affiliate Program?

How do I become a ShareASale affiliate?

What are Shareasale sign up requirements

How to find merchants to promote on your blog?

And how to make money with the Shareasale affiliate program
The Shareasale affiliate program is a popular platform that has tons of bloggers making hundreds of dollars just from affiliate recommendations.
That is why we consider it the best Affiliate program for bloggers.
I have made a couple of hundred dollars using this Affiliate program and that's why you need to sign up.
Affiliate marketing is all about referring your current readers to products and services that you totally love.
Once a reader signs up, you make a decent commission depending on what you recommend.
By using the Shareasale affiliate links you can potentially earn money for your blog by getting paid pay-per-sale, pay-per-lead, and pay-per-click programs.
You also need to make a minimum of $50.00 to get paid monthly which is easy to do using these Affiliate marketing strategies.
Honestly, you don't even need a large audience to start making money with Affiliate Marketing, all you need is a targeted audience that love you.
We are hoping by the time we are done with our Shareasale Review, you would have joined it in order to monetize your blog.

What is Shareasale Affiliate Program?
Shareasale is an affiliate marketing network based in Chicago.
It is an Affiliate Marketing Network that houses top merchants you can use as a blogger to promote and earn some extra money.
With over over 4,000 merchants on their platform, they have a wide range of amazing affiliate merchant that are just perfect for bloggers like you and I to promote on a daily basis.
Their platforms makes it really to use from the get -go and they have a lot of trusted brands you can market on your blog no matter what your niche is.


How does Shareasale work?
We are going to show you the step by step way of how to use the Shareasale Affiliate program to grow your affiliate income from zero to hundreds of dollars per month.
You can choose to use ads to get income, but if you are barely getting any blog traffic, Media.net or any other ad platform you join won't do much for you.
I don't want you to make a mere 40 cents every month.
Don't get us wrong, ads are not bad, in fact I use ads on most of my blogs, but because I get decent traffic. You can check out how these bloggers make money using ads.
They are so many ways to make money from your blog and we talk more about it on this blog post.
Some of the different ways you can make money blogging include:
Affiliate marketing is what we highly recommend to bloggers if you really want to make money blogging next to creating products and offering services.
Without in mind, picking the best Affiliate programs for bloggers can be challenging.
You want to choose one that will make you real money.
So why should you join the Shareasale Affiliate program?
Why Join the Shareasale Referral Program?
We decided to join the Shareasale affiliate program after it was highly recommended as one of the best affiliate programs to join in a course we took about making sense of Affiliate marketing.
If you can not afford that course, the alternative is Affiliate marketing strategies!
Regardless, a lot of other amazing bloggers had great success with the Shareasale program and we decided that this was one of the best Affiliate programs for bloggers.
I saw social proof on their monthly blog income reports and I was sold.
It is FREE and easy to join which makes it even more enticing.
Our Honest Shareasale Review Below – Check it out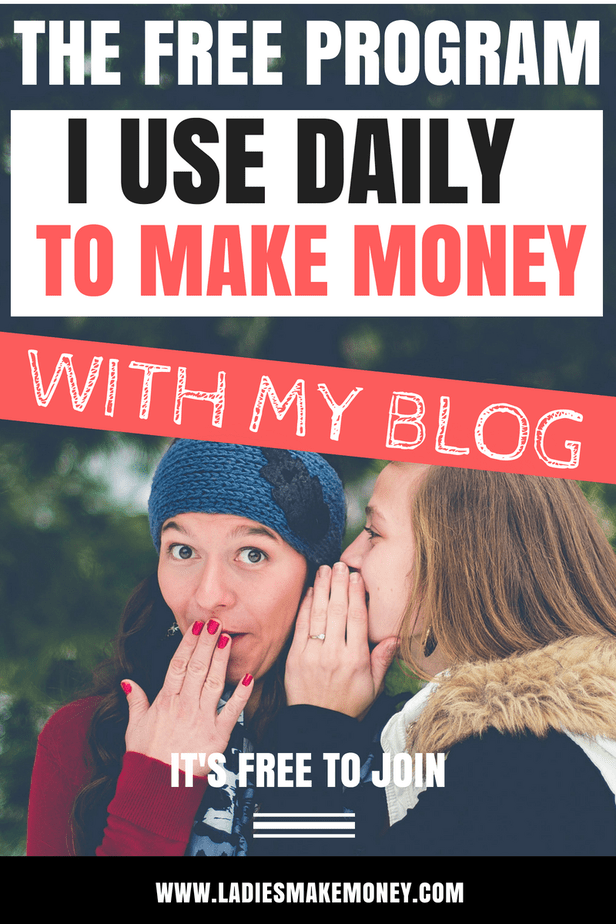 HOW CAN YOU MAKE MONEY WITH THE SHAREASALE AFFILIATE PROGRAM?
ShareASale Affiliate program pays you to promote any product that is registered with them.
You can also register your products on their sites if you want people to promote your products which is a really great ideas as they are known.
For those that run a stores on Etsy or Shopify, you can easily sign up for a FREE account on Shareasale and get people to promote your store for you.
For example, I was really excited about promoting a theme I loved for my wedding blog, and I found out they where on Shareasale – Restored 316!
And if you know me, you know I love blog planners, and when I found that Restored 316 had a business planner I could use and promote, I was even more thrilled.
And those are just the many reasons we encourage you to use the Shareasale affiliate program with your affiliate marketing strategies.
If you are not sure about utilizing Affiliate Marketing, read this post before getting started with it.
WHY DO WE LOVE AND RECOMMEND SHAREASALE?
We often recommend other affiliate programs for bloggers to join and one of them is Shareasale.
We have had so many amazing success with it to date and making money is easy through them.
You just need to find and pick a program that will work well with your blog and niche.
Under the Shareasale Affiliate program, they are over 4000 different companies and brands you can work with.
Here are some of the reasons why we totally love this amazing affiliate program and why we are doing a Shareasale Review today:
If you are a new blogger, this program is so easy to join. They won't reject your application because you are new. In fact, I applied for it before I even started this blog. Just sign up here.

A few bloggers have complained about how some interfaces are complicated to use on other Affiliate programs. Shareasale has a user-friendly interface in my opinion. And I am part of a few programs. If you have issues, simply email them or look for a quick YouTube tutorial. Very easy!

They are so many amazing programs & brands you can sign up for. This makes it easy for bloggers that feel like they won't have a program for them under the platform to promote. Really, they have over 3,900+ Affiliate Programs spanning 40 different categories + growing!

Oh, and you make great money if you choose the right company to promote (more about this below).
You might like: 8 Tools for Bloggers to help Grow your Blog and Make Money

HOW DO YOU KNOW IF THIS IS THE RIGHT AFFILIATE PROGRAM FOR YOU
The Shareasale affiliate program is available and open to everyone and all bloggers.
If you are a blogger, a YouTube influencer or you have the means to reach and connect with an audience, then you can find an affiliate merchant to work with on Shareasale.
A long as you can promote the different program links, somehow, then this is the right program for you.
With our Shareasale affiliate program review, you will learn more about why you should join them.

Not sure if they have something in your blog niche? Let's see:
These are just to name a few of the niches, but they do have a lot more.
Depending on what you want to promote, I am sure you can find it on Shareasale. It's FREE to join and even if you are not ready to start promoting, sign up for it anyways.
A STEP BY STEP GUIDE TO SIGNING UP FOR SHAREASALE AFFILIATE PROGRAM
We are going to share our step by step guide you can use to get started and get approved by the Shareasale affiliate program.
It is honestly not hard and the money opportunity you can possibly make with them is mind blowing.
First, we are going to start with the Shareasale sign up requirements:
Make sure you have an email address, ideally with your blog URL. So for example mine would be

[email protected]

. Using domain email will result in faster approval. If not, I have used a gmail account with no issues.

You will need to provide your blog URL so they can approve faster

Enter your contact information

Give a description of what you are about, including how you plan on using the merchant links to promote and and sales
These are our best tips for getting approved with Shareasale.
No go ahead and check out our Shareasale affiliate sign up tutorial below.
STEP 1: SIGN UP FOR THE PROGRAM
Go to the Shareasale website to start by clicking right here.

Next, a form will pop which will require you to fill out some basic information. Once this is filled, you will need to wait for a confirmation and approval. It really doesn't take long. Check your email in about 2 or 3 days.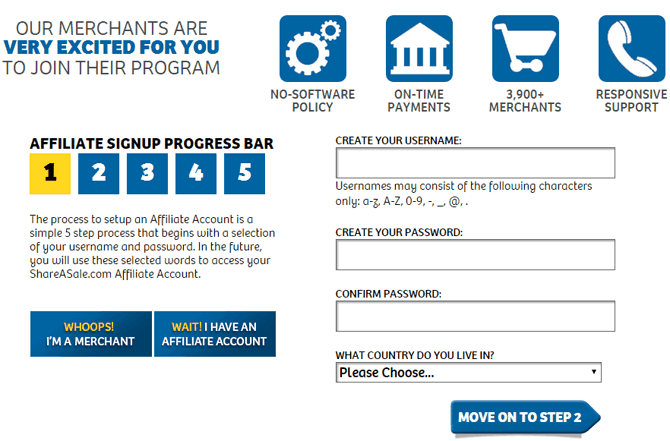 We recommend using your business email, but any email will do! With a regular email, they might be an additional step such as confirming you are the owner of the website.
STEP 2: CONFIRMING AND THE APPROVAL OF YOUR ACCOUNT
You will be sent an email to your account. Click on the approval link that was sent to the email you registered with. If you are asked to confirm your site, you will be sent a code that you will need to add between the <head> and </head> section of your website.
STEP 3: WORKING THE SHAREASALE AFFILIATE PROGRAM DASHBOARD
As we mentioned earlier, this interface is so easy to navigate and work with.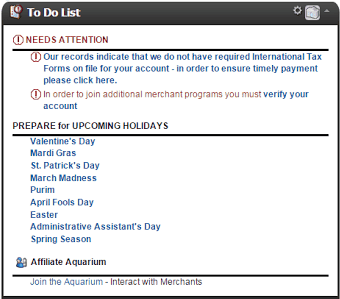 You will notice a to-do list that will prompt you to find and complete any tasks you need to complete.

Some of the tasks include confirming your tax information, verifying your site and completing payment area.

You get paid by direct transfer to your bank or by check.

The minimum amount to get paid by Shareasale is $50.00 and payments are made on the 20th of each month.

You can view your earnings daily.

And we are so glad that you are signed up and ready to make money online with your blog
STEP 4: WORKING YOUR SHAREASALE AFFILIATE PROGRAM
Now that you are signed up, don't just sit there and wait. Sign up for programs that you would like to promote.

Play around by searching for some programs that you might be interested in. Click on the product and apply for the program.

Once you successfully apply for the Shareasale Affiliate program, wait a day or two for your approval.
Once approved, select and work with programs that will bring you the big bucks.
Honestly, it doesn't take long to get approved to work with brands. I have waited the most for two days before getting approved.
Some brands do a manual approval which may take a while longer, that's why we recommend applying now so that when you are ready to promote, you would already have been approved for the programs you would like to join.
Once you are approved, you can get the link or the banner for the brands which you can add to your blog or social media platforms to start promoting.

And you are all set to start promoting.
Top Merchants I use on Shareasale:
I use these merchants frequently on blogs to earn sales via Shareasale.
But I also personally use them on my day-to-day blogging routine.
A FEW TIPS TO INCREASE YOUR AFFILIATE SALES WITH SHAREASALE AFFILIATE PROGRAM
Here are a few ways bloggers can make money with affiliate marketing through ShareASale Affiliate programs:
Try to sign up for programs that pay a lot in terms of commission rate. You don't want to sign up with brands that pay low rate commission like 2%. In fact, aim for flat rate brands.
Only promote products that are in your niche and target audience. If not, no one will purchase from you and you risk the chance of turning readers away. If you are a blogger that attracts moms and you are promoting marketing products, you will get zero sales.
Promote products that you can testify for. If you have never used a product, it becomes a little difficult to promote it. It's easier to promote items that you are familiar with, as you can swear by it.
Customize your affiliate links by using Pretty Link Lite. It is a plugin that you can use to create a more user-friendly link. This is great especially for promoting links on social media.

Update

: I no longer use it (the less plugins you have the better)
Writing blog reviews, tutorials, interviews and product recommendations is the best way to increase your affiliate sales. Write about 1 or 2 blogs per month that are targeted at using your affiliate links.
You can find out more how I was able to make affiliate sales within 24 hours. Honestly, with the right strategies, you can do it as well.
NOW GO AHEAD AND ACTIVELY PROMOTE YOUR NEW BLOG AND LINKS.
If you want to learn more about affiliate marketing, we took a great course with Michelle who teaches Making Sense of Affiliate Marketing as well as Carly's course Affiliate marketing strategies.
This is one course that is helping me succeed with marketing and I am making great money with my blog.
Shareasale Payment Methods:
Shareasale pays on time and I have never had an issue with them.
I have been with them since I started this blog, so here are three modes of payments:
Payoneer

Wire deposit (Which I use)

Via check (fees may apply)
They on the 20th of every month and you will need to have made at least $50.00 to be paid out.
If so, how do you like it? If not, join today! It is totally amazing.

List of high paying affiliate programs for bloggers
Affiliate marketing is the best way to make monthly income from your blog.
This is a review of just one of the best affiliate programs for bloggers to use to monetize their blogs.
But we have a bunch more that we use as we love to diversify where our income comes from.
If you feel the same way, here is a list of 15 Affiliate programs for bloggers to use to make money blogging.
If your goal is to blog to make money, don't waste any more time. Here is 45 Not so obvious lessons one blogger learned on the way to making $20,000/month!
DON'T FORGET TO PIN THIS.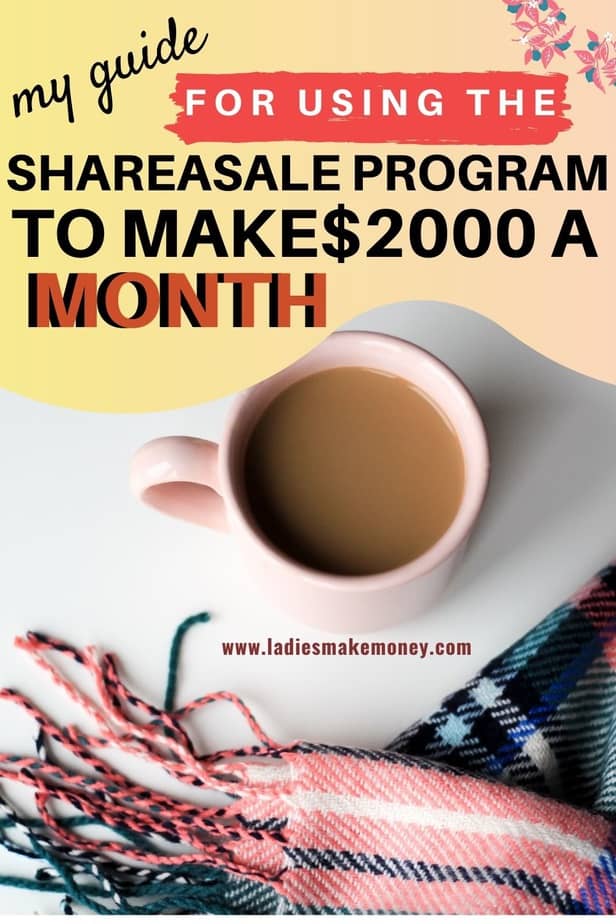 If you enjoyed our blog we would like to have you join our email list and receive weekly money-making tips, you can join now! Don't forget to join our Private Facebook group. The page is created to share your work, pitch your services and learn from other experienced bloggers!
---
***We would like to note that this post and most posts on our blog may contain affiliate links. This means that if you purchase something that has an affiliate link, we will get a commission from it. Not all items recommended on our site are affiliate links. We only recommend items that we have used and tried. These items have brought us much success and we highly recommend them to you in order to be successful. Thank you for your trust!
Shareasale Affiliate Program – The Ultimate Shareasale Review for Bloggers